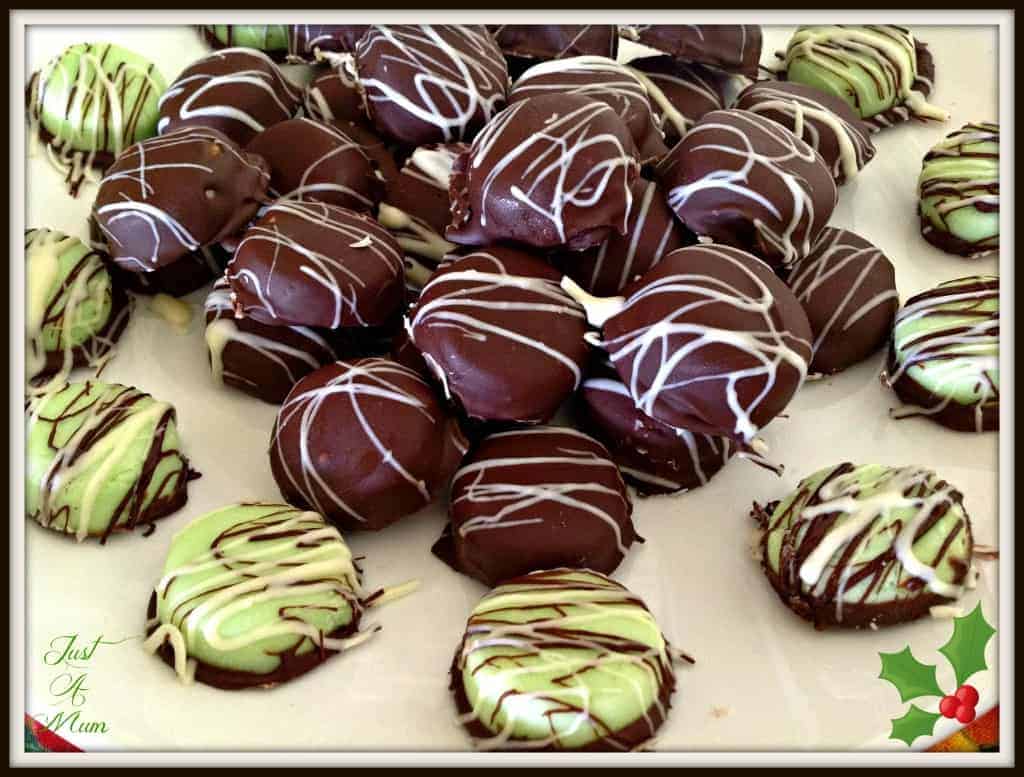 I love getting recipes from family and this recipe comes from my husbands Mum, although she does not remember it lol! 😉
I recently had a disaster with a peppermint slice so I was a little hesitant making up this recipe in case I was cursed with icing sugar mint creations – and I have to admit I did have to tinker with the original recipe to get it to a good consistency, but if the feedback I got today from a group of ladies is anything to go by they were a hit!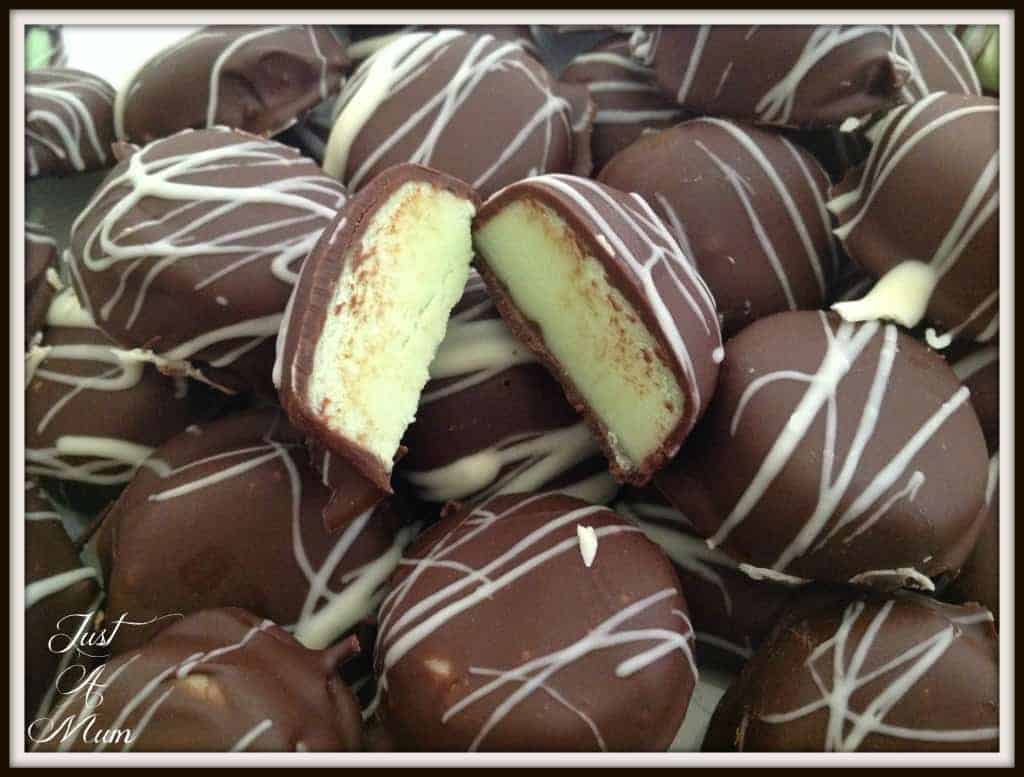 They were compared to an after dinner mint, and I can see the resemblance, although the centre is a little drier than a soft after dinner mint is still tastes lovely, minty and chocolately!  It is a little fiddly but it is one of those things that you figure out with trial and error. I quite like doing different things at Christmas time so I didn't mind! I am looking forward to making strawberry hearts for Valentines day!
The final product is more grainy than creamy – this is totally normal and does not seem to detract from the taste – if it were too soft and creamy you could not roll it out so bear that in mind when you create them 🙂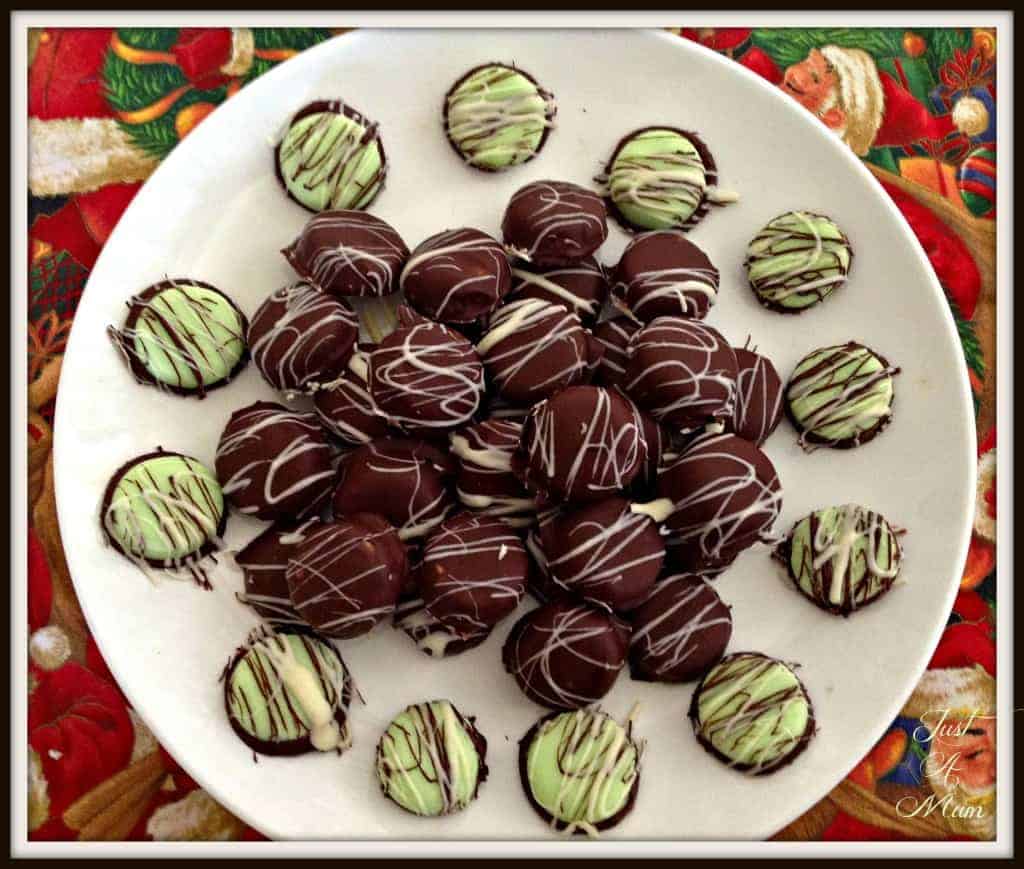 Peppermint Creams
Recipe type:
Confectionary
Ingredients
56g butter
3-4 TBSP Milk
½ teaspoon peppermint essence
3-5 Drops Green Food Colouring
455g Icing Sugar (Powdered)
200-250g Good Quality Chocolate (I used Cadbury Old Gold Dark)
Optional White Chocolate
Method
Prepare a tray or two with baking paper (I spray lightly with cooking spray so paper sticks to tray)
In a large saucepan place butter, 3 TBSP milk, essence and colouring in a pan and heat slowly until butter is melted. DO NOT BOIL
Remove from the heat and cool slightly
Add Icing sugar and mix well to form a soft ball - if not coming together easily then add an extra tablespoon of milk to make pliable dough or more if necessary - mix with hands too to see if ball forms.
Taste at this stage to see if it has enough essence flavour and add a few drops more if need be.
Turn mixture on to a bench sprinkled with icing sugar and knead into a ball.
Roll out to 1cm thickness.
I used an icing tip to cut my circles as it is the perfect size, but you can use a small cookie cutter or lid, anything that will give you desired shape that is hanging around in the back of your drawer!
Cut into rounds and set aside on a tray covered in baking paper.
Melt the chocolate in a double boiler or the microwave. If you do it in the microwave heat for 30 seconds then stir, then melt for a further 10 seconds at a time stirring in between until it is just completely melted.
I did a few different methods of decorating, see below for more instructions on each style.
Cool these in the fridge - I keep mine in the fridge until it is time to serve as it is summer here but in cooler months these should be ok out of the fridge for a time.
Please see below for a few photos to better explain the processes – first the making of the peppermint creams
Then you roll out the dough
Then it comes to the decorating – you can go as simple or as decadent as you like! This one is a simple method of dipping the bottom of the cream in chocolate then flicking melted chocolate over the top with a teaspoon in quick flicks.
My favourite way to decorate these was to dip them completely in chocolate – then add melted white chocolate drizzles over the top once they had nearly set. You need to hang it off the end of a large spoon – you will get the hang of the balance so that the chocolate drizzles off but the cream does not fall back into the chocolate – trial and error! Have patience and fun! 🙂
I hope you have fun with this recipe – it would make the perfect gifts in little cellophane bags or to serve at one of your many Christmas functions!
Do not be daunted, there are a few steps but it is fun to play around with these ingredients. Kids and adult alike will love them!
Store them in the fridge until you are ready to use them.
Thank so much for stopping by – please follow me on Facebook Here and be sure to register your email on the right hand side so you can receive all  my recipes as I post them.
If you want more Christmas Inspiration check out this link – lots of yummy Christmas Recipes and adding more each day!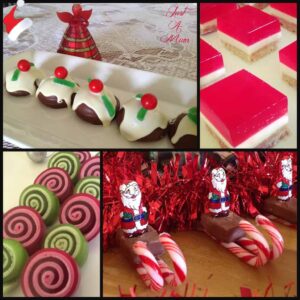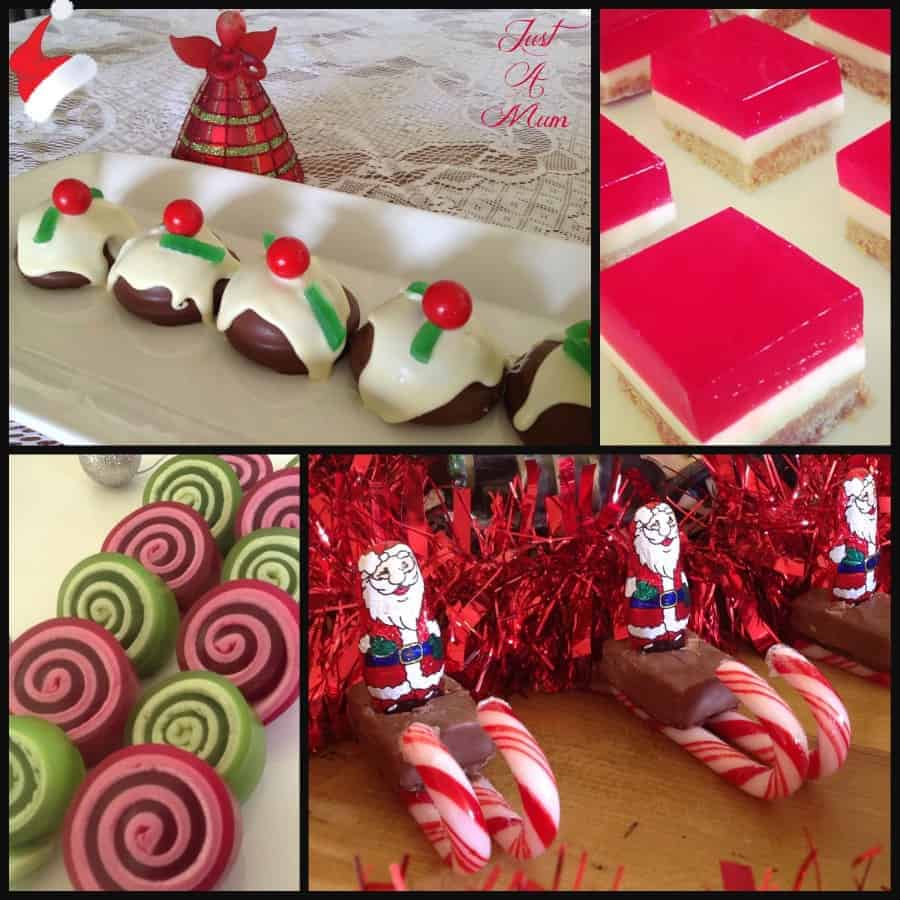 I love to hear from you so comment below or like and let me know what you think! Happy Baking! Anna 🙂