I love easy slice recipes. I am certain you can never have too many at your fingertips that are quick and use every day ingredients! The combination of chocolate and coconut is always a winner!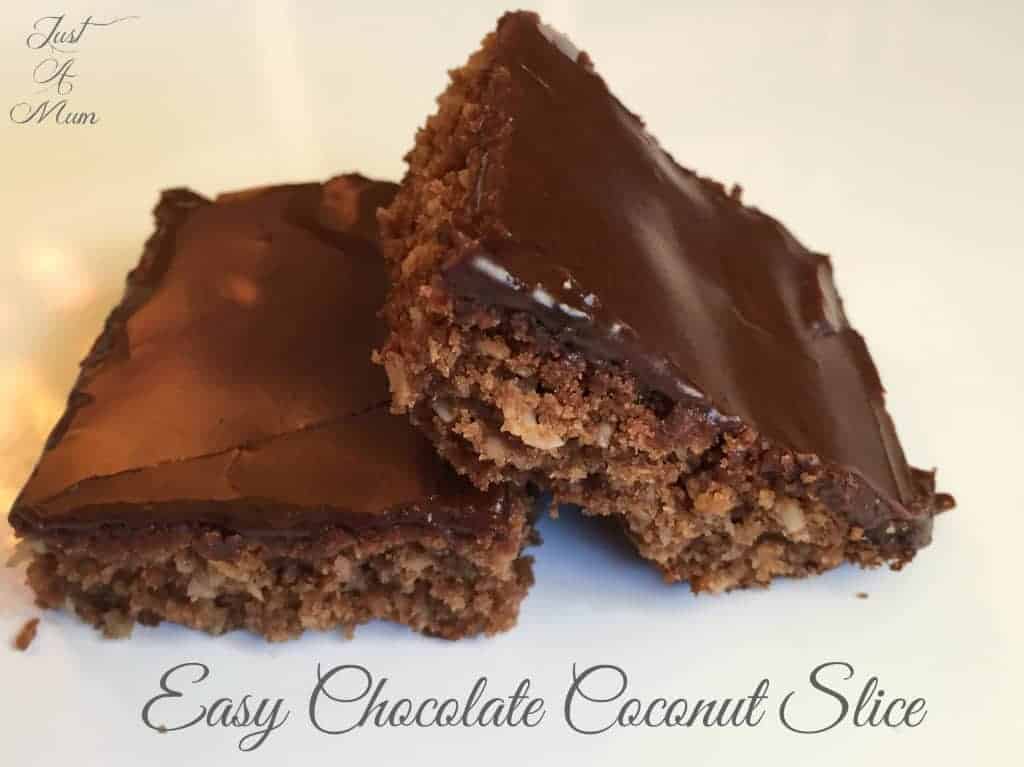 School camps are such a magical time in our kids lives, they get to head off with their friends in the trusted arms of their teachers and the cool parents that get to go, plus the food, my son always tells me, is so good. I love to hear that he ate the best dinner of his life there, something he would never in a million years touch if I made it! 😉 And the best part of course is supper, where all the different containers come out so kids get to sample lots of different home baking and choose their favourite. We are blessed that where we live has stunning camp locations around our lakes and the kids have a blast, I just try and keep busy so that I don't miss him too much!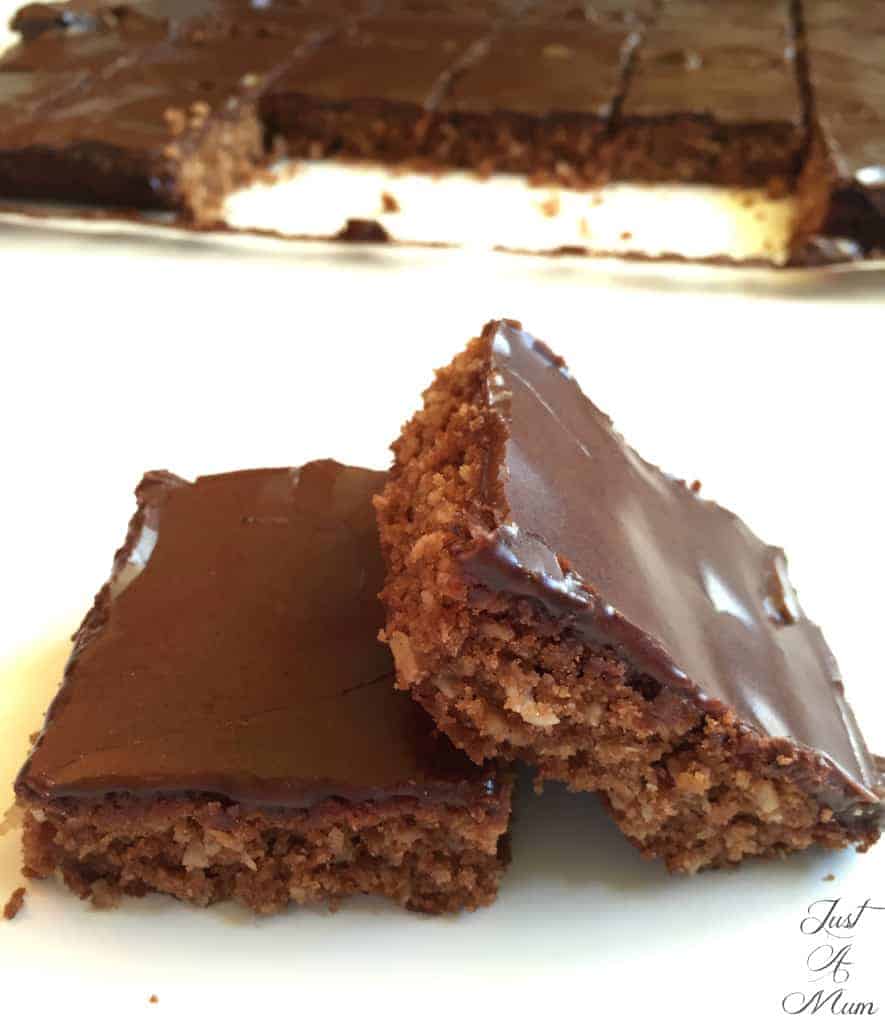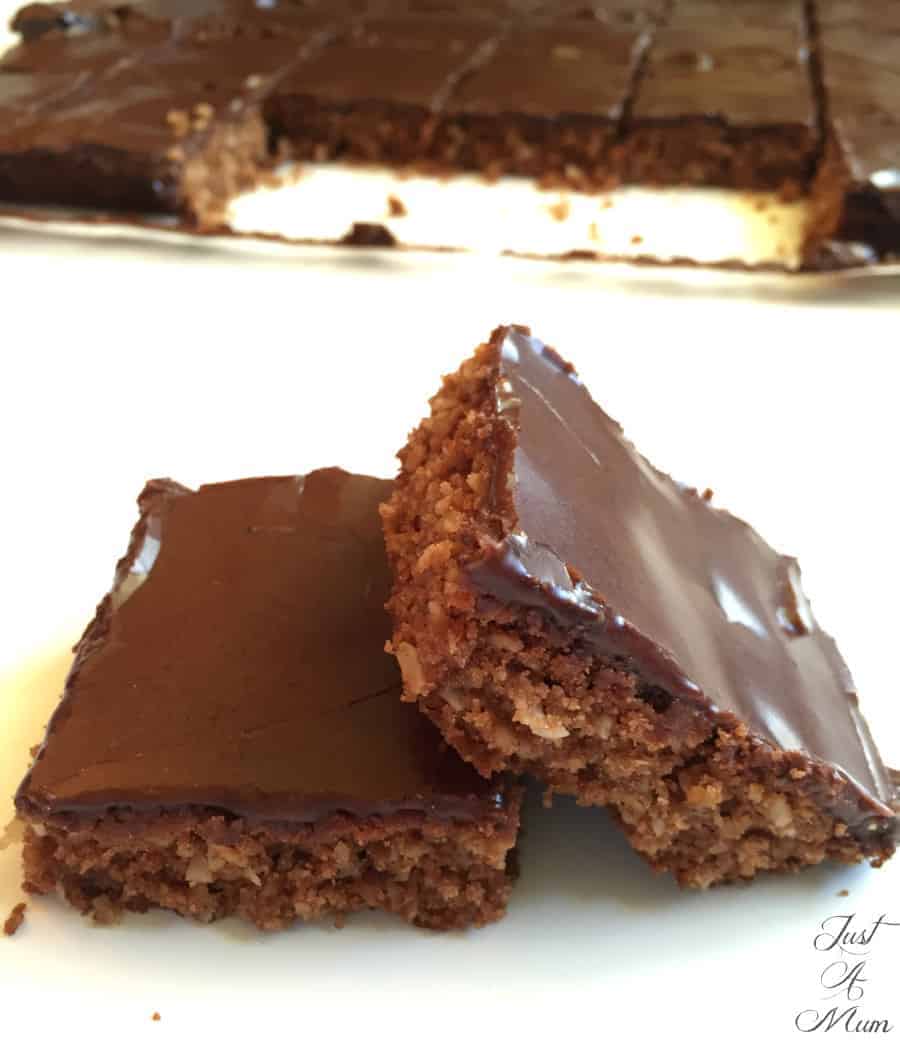 So as my son was heading away on camp and the cupboard was a little bare (and I may have forgotten baking was on the "things to bring" list!) so I decided to come up with a recipe that works with what we had! This is a hybrid version of a few recipes and it worked really well. I have a recipe that feels similar with my Grandma's Chocolate Squares which is just delicious with sultanas added too, but this recipe is even more simple than that!
It follows the basic idea of mixing the dry ingredients then adding the wet, combining and baking, it would be a perfect recipe for the kids to bake on their own to try or for you to whip up when you need a recipe in a hurry!

I used brown sugar in this one and it is just lovely, adding a nice depth to the flavours and also a grand idea when you are completely out of white sugar like I was!
So please enjoy making this recipe, it is quick and sure to become a favourite in your home! I doubled this recipe for the camp, simply using our large roasting dish for the tin, preparing it the same way as the recipe states below.

Chocolate Coconut Slice
Ingredients
Base
125 g Butter, Melted
½ Cup Brown Sugar, Firmly Packed
1 Cup Desiccated Coconut
½ Cup Plain Flour
½ Cup Self-Raising Flour
1 Tablespoon Cocoa
1 Medium Egg
Icing
1½ Cups Icing Sugar
1 Tablespoon Cocoa
1 Teaspoon Butter, Melted
½ teaspoon Vanilla Essence
1-2 Tablespoons Water
Method
Base
Preheat Oven to 180C
Prepare a 25cm Slice or Square Cake Tin with baking paper (I spray with baking spray first to help it stick!)
Melt the butter in the microwave (covered) in 30 second bursts and set aside
Combine the sugar, coconut, flour, self raising flour and cocoa in a medium bowl.
Make a well in the centre and add to this the melted butter and lightly whisked egg.
Combine well and pour into the prepared tin and using your hands or the back of a spoon if you wish spread the mixture evenly.
Bake for 15 minutes or until firm to touch.
Remove from the oven, set aside and make the icing
Icing
In a medium bowl place the icing sugar, cocoa, melted butter and vanilla and gently mix
Add water a teaspoonful at a time to the mixture until you get the desired consistency similar to thick but runny peanut butter
Spread over the still warm base and set aside for half an hour, feel free to add sprinkles or chocolate hail if you like to jazz it up!
Cut while still a little warm with a clean warm knife then allow to completely cool in the tin.
Store in an airtight container.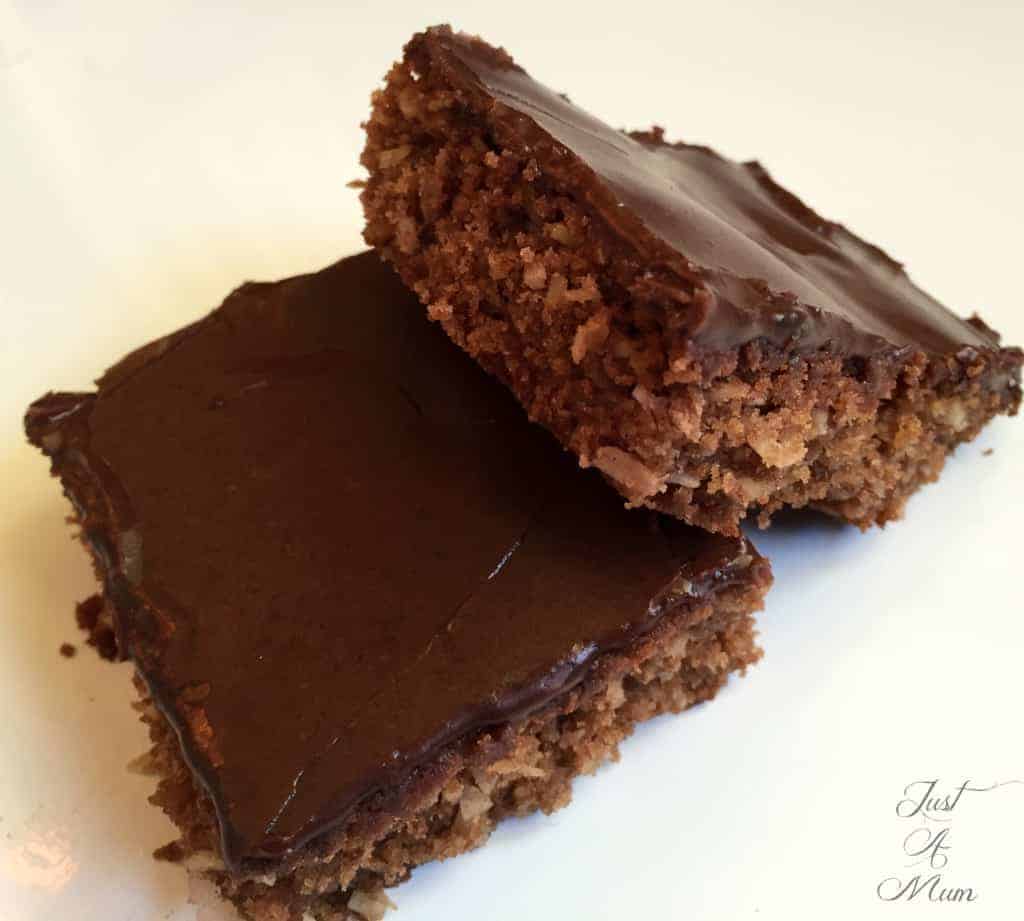 So as you can see it is really very simple, you can use your own favourite chocolate icing for this recipe, this is my go to simple chocolate icing that is delicious every time.
Thank you so much for stopping by to check out this recipe, you can follow me on Facebook to see more of the recipes I adore, and also subscribe above left with your email address to receive all my recipes as I publish them!
Happy Baking
Anna 🙂