I have been wanting to try this recipe for years, I am so pleased to have found a simple quick version of Chocolate Lava Cakes to share with you all!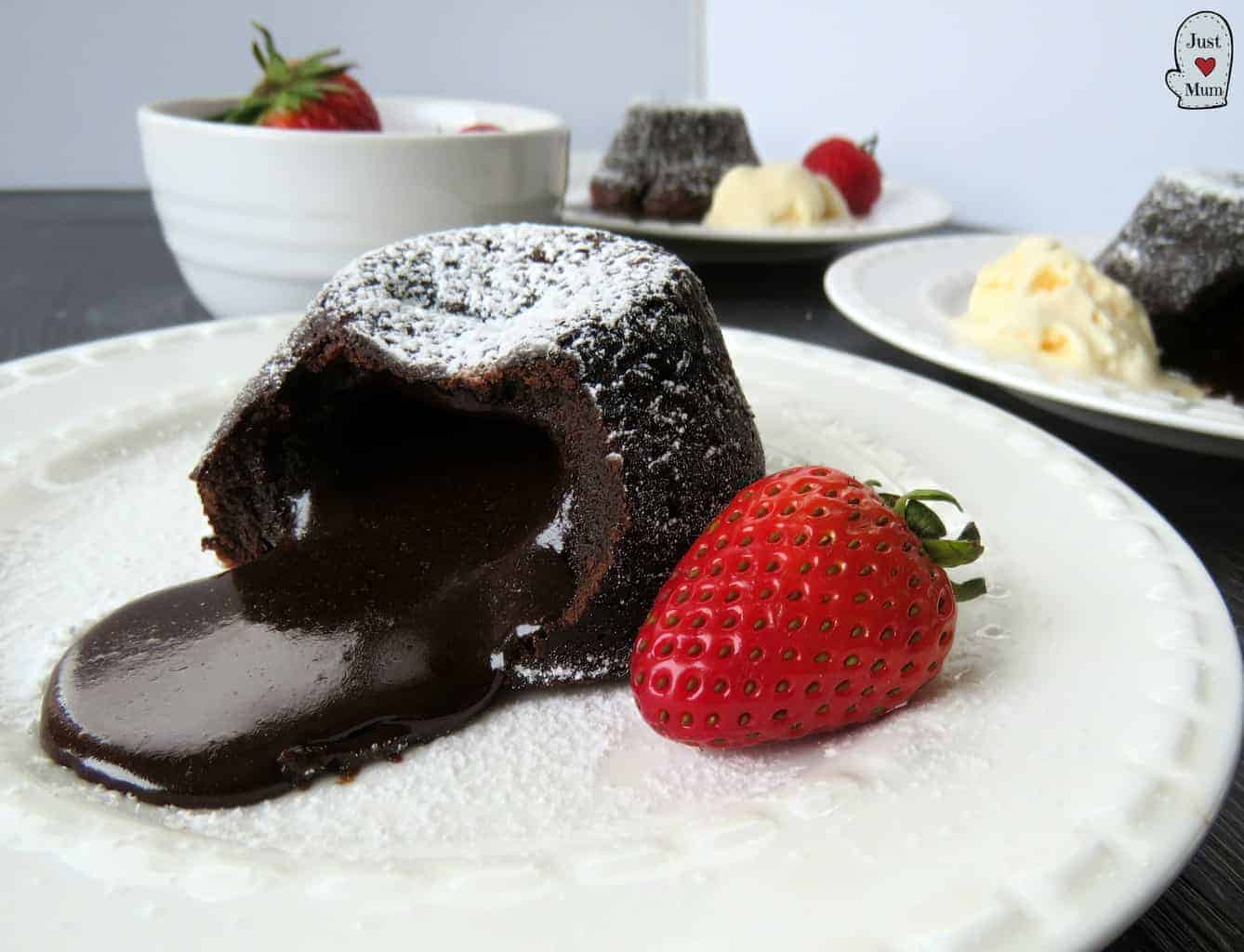 If you are not a fan of rich dreamy chocolately decadence then this is not the recipe for you. There is no getting around the fact that this is a chocolate hit like no other. I always assumed these would be tricky little things to make, and while there are a few little techniques to get the end result this version is simple and oh so good.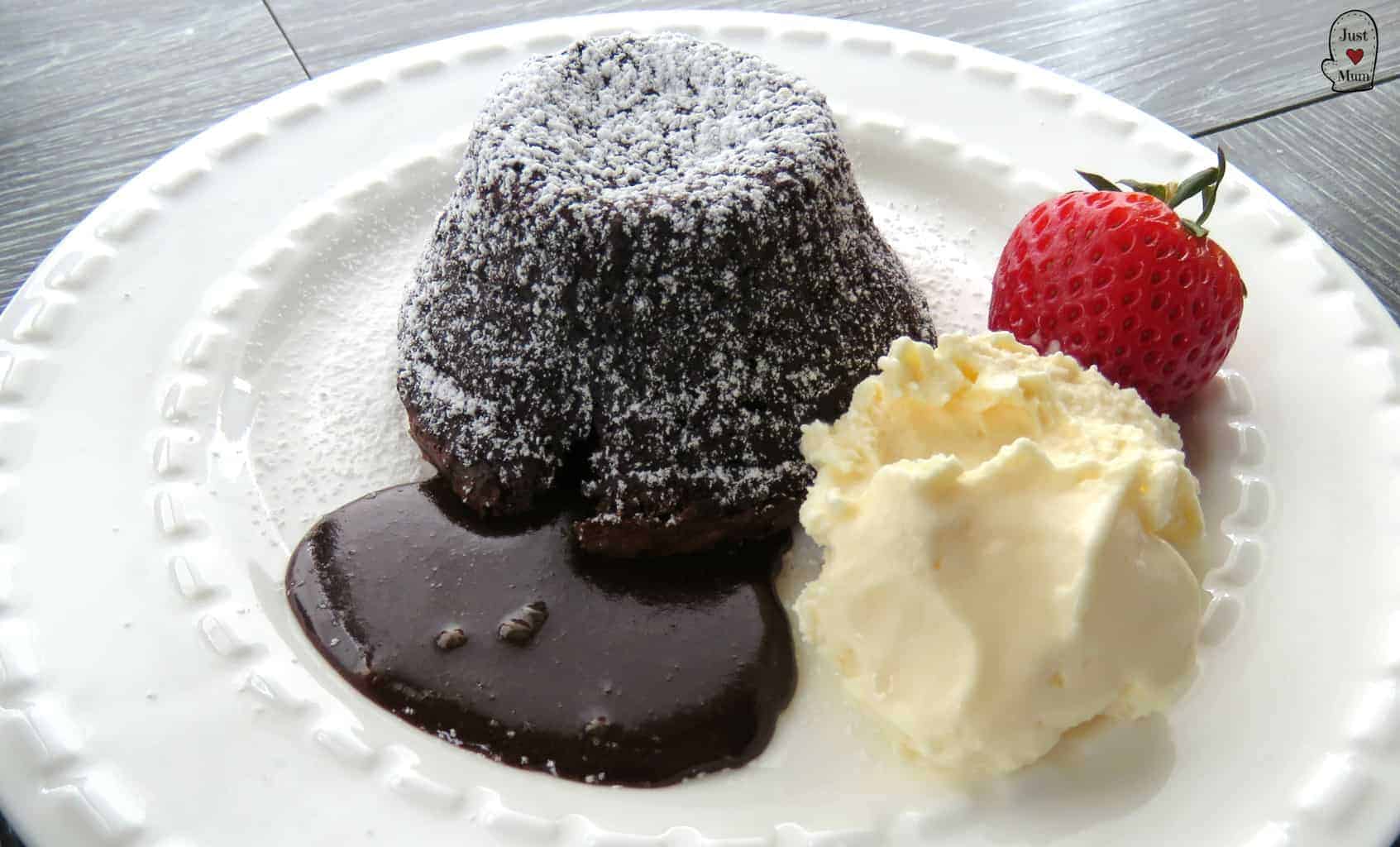 Before we go any further I want to let you in on a little secret, if these 'fail' the worst things that will happen are:
A.  They won't come out of the ramekin whole
B.  They will over-cook
C.  They will under-cook.
BUT none of this matters, OK you might be sad if you are preparing this dish for Gordon Ramsey and he is breathing down your neck. But honestly what will happen is that it will still taste AMAZING! Whether it is whole and perfect, or it splits in half as you upend it, or half of it sticks to the inside of the ramekin. So please do not be too precious about this! I had some delicious fails preparing this for you and nobody complained about trying them.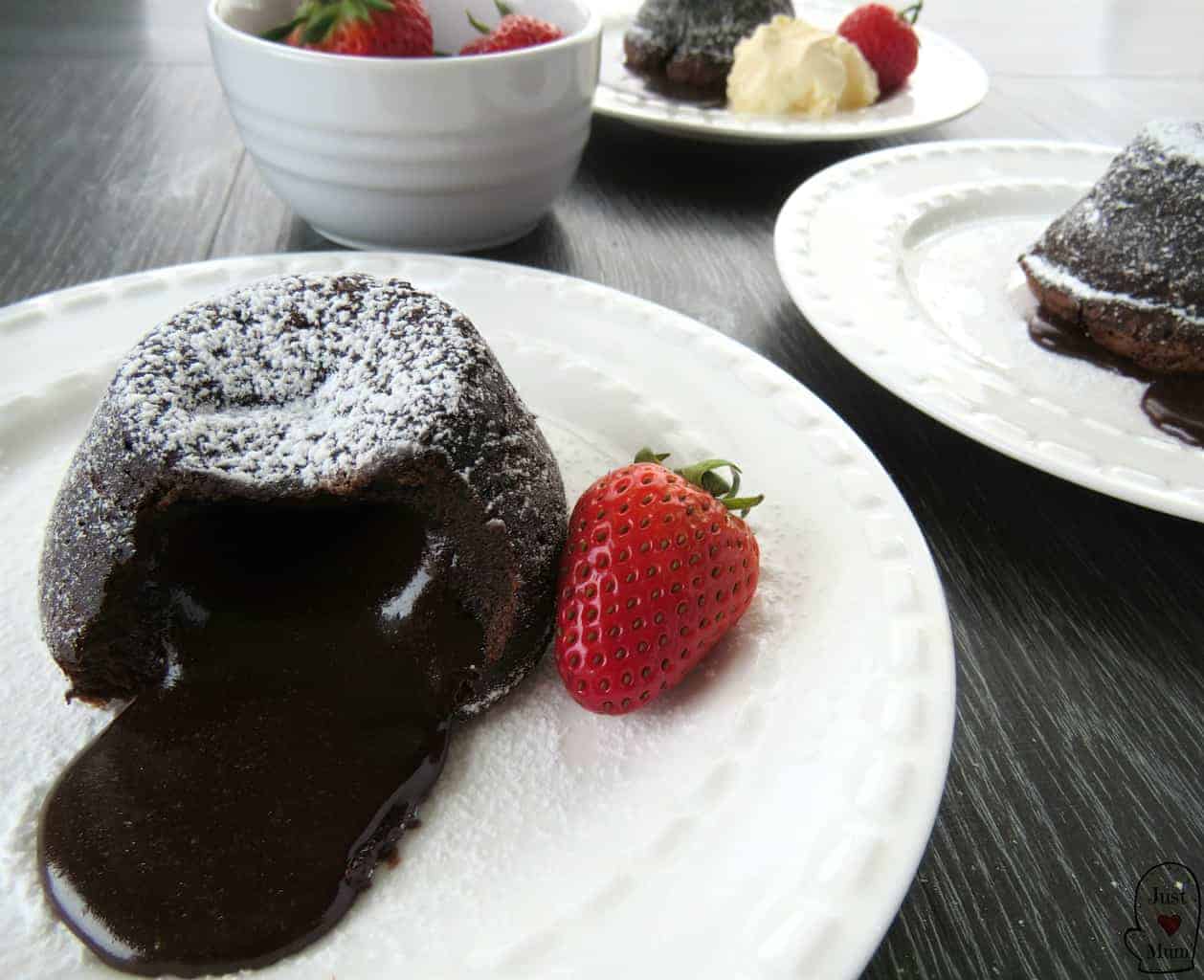 Many serve these directly in the ramekins so that would take away any concern about them coming out whole.
The very nature of these little puddings is that the outside shell of the cake is cooked but the inside is liquid, hence the names of Molten Lava Cakes, the inside is supposed to ooze out in the most delicious chocolately way. So if depending on your oven the outside part of the cake is thin then you will find the cake may split or the chocolate inner finds a way out, and this is totally ok by me! It all tastes amazing, just serve and enjoy!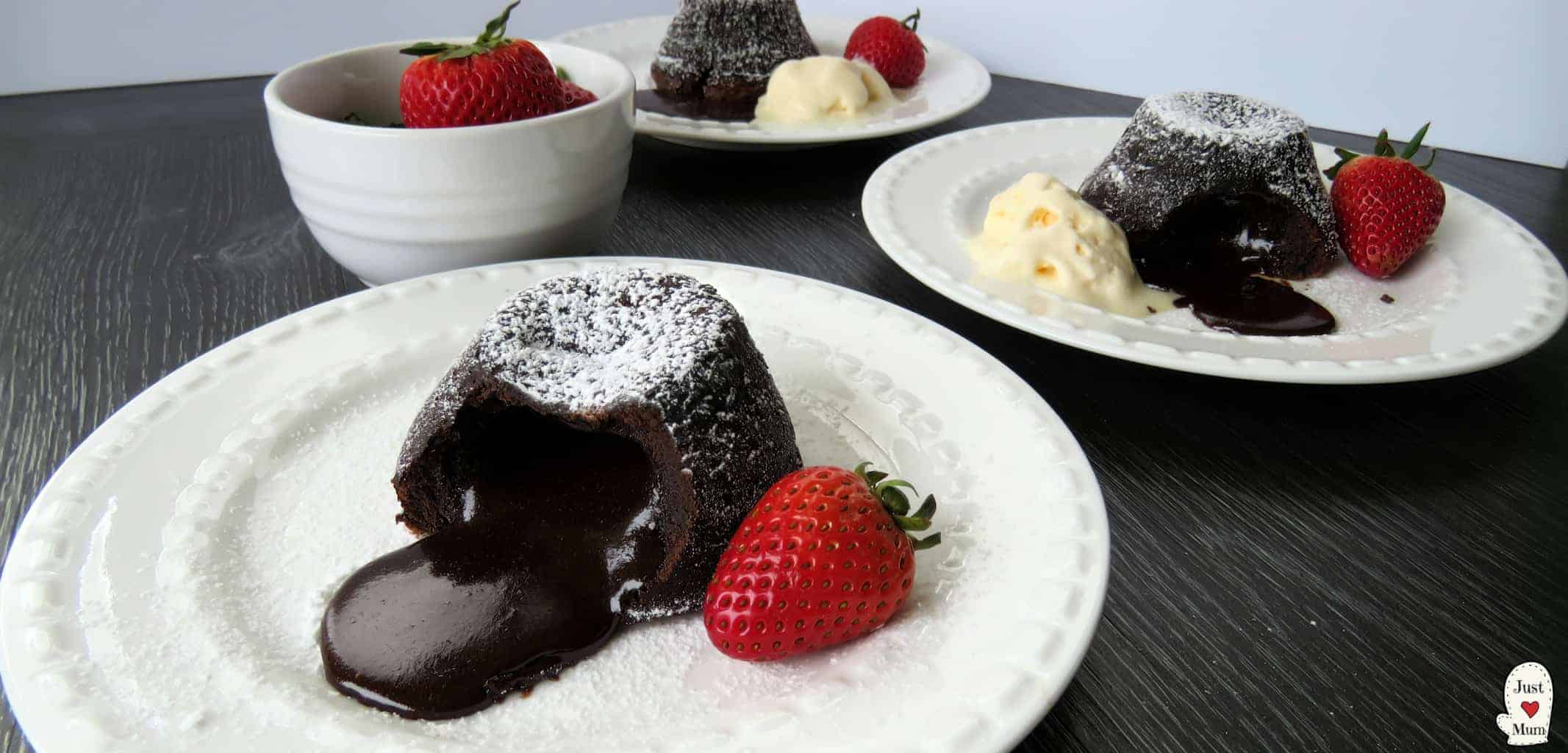 The preparation of this recipe is quite simple, the ingredients and methods are very easy to follow. The size of the ramekin is something you want to consider, I used 9.5cm ramekins, I would personally not go any bigger than that as it is a generous serving size, if you go smaller you will make more from one recipe, obviously reduce the cooking time, but also this gives you a chance to make them slightly smaller which will cut back on some of that richness! Some even make these in muffin trays!
Take a minute to watch this quick video of me making Chocolate Lava Cakes!
In terms of the cooking time, always be aware that our ovens are all quite different. There are many different descriptions about how to know if these puddings are cooked, for me I make sure that the top of the fondant had cooked over but that it still felt wobbly underneath. Others say that the middle of the top still has a small shine, but I found that they would split if I took them out this early. Again, because mine were bigger I had a little more room to move.
Preparing the ramekins is worth the time, you can easily just generously butter the inside, for extra insurance I also like to dust with cocoa, feel free to try just one or both to see if you need that extra step.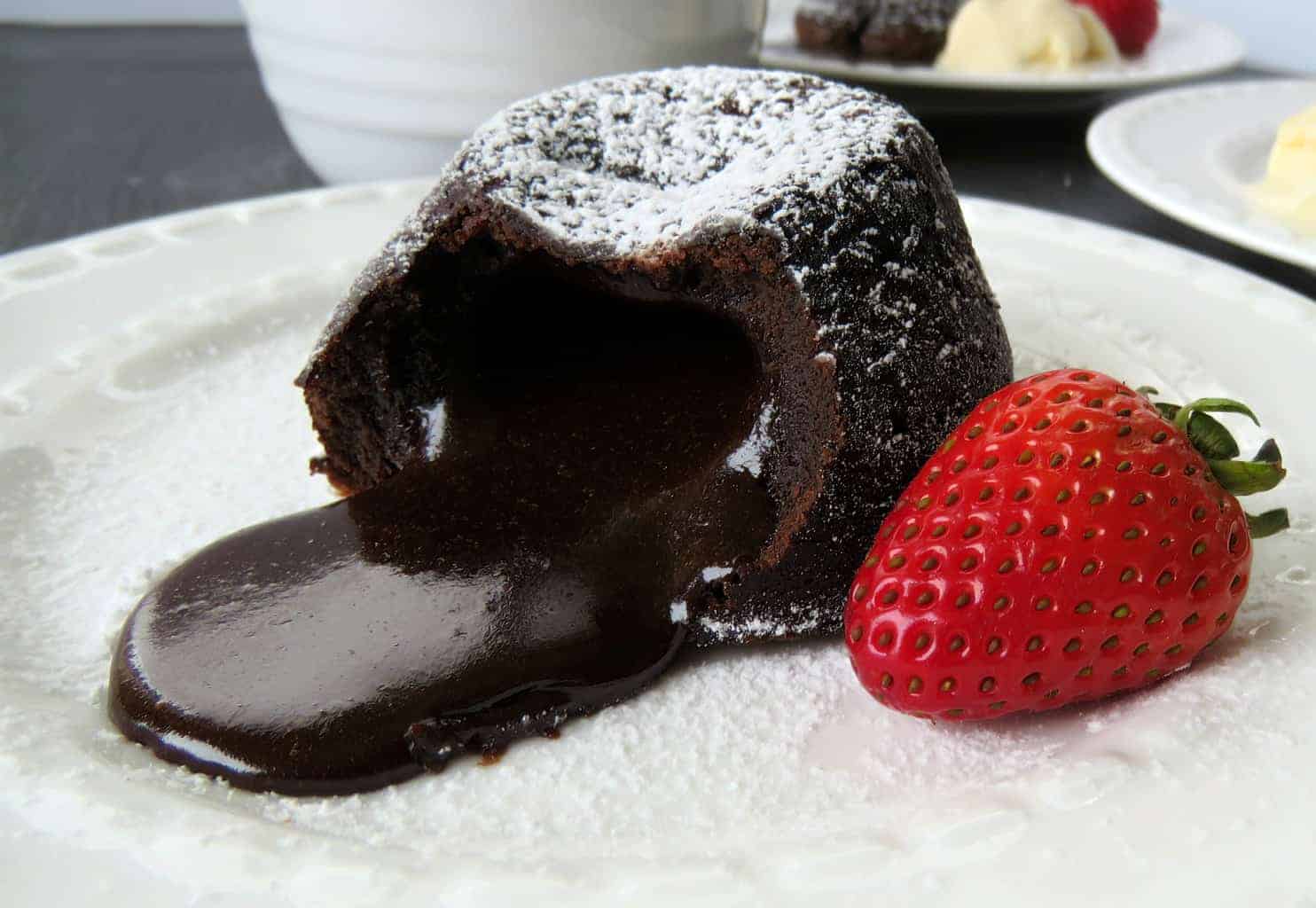 There are SO many versions of this recipe, I have found this one to be the easiest with the simplist methods. I love that once you have prepared the pudding mixture you can store it in the fridge until you are ready to bake it. These are of course best eaten just after they are cooked, and only take around 15 minutes to bake.
Pin It – Chocolate Lava Cakes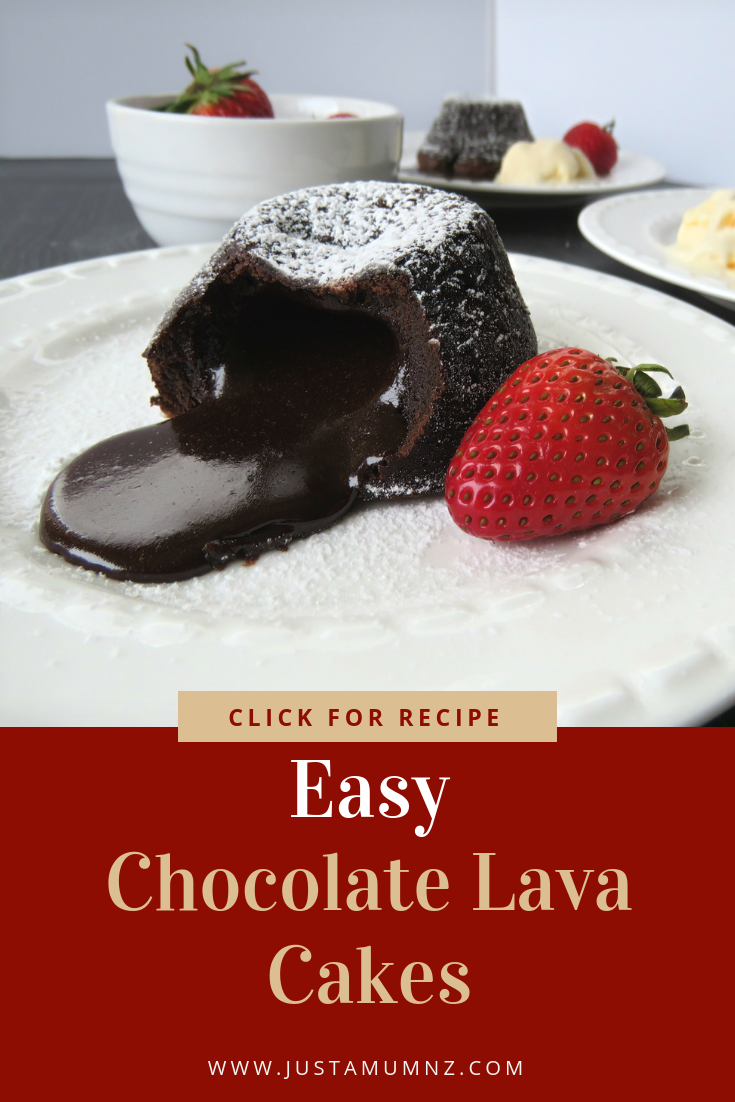 So now, onto the recipe, I cannot wait to hear what you think of this one and send through your photos, the good, the bad and the delicious!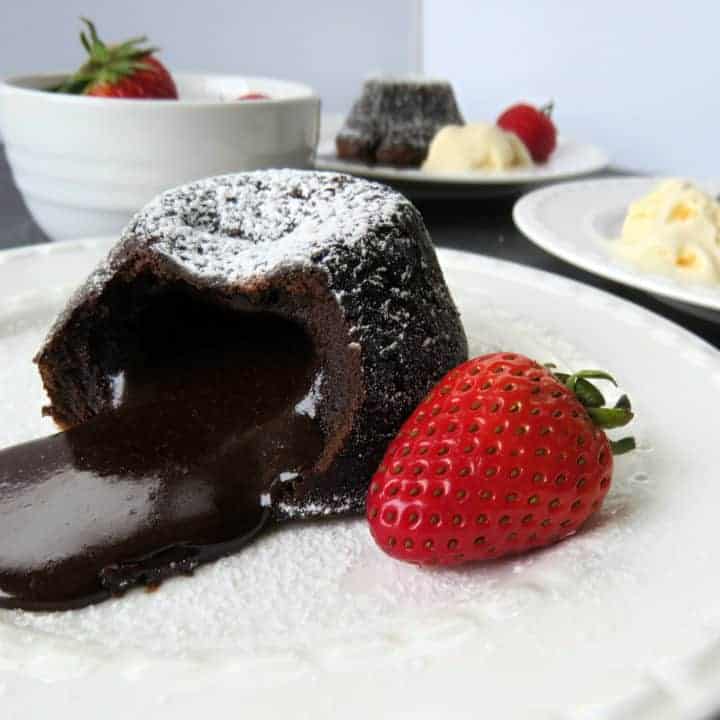 Chocolate Molten Puddings
Yield: 4

Prep Time: 25 minutes

Cook Time: 15 minutes

Total Time: 40 minutes

I used 9.5cm ramekins, please alter your cooking times accordingly if you use a larger or smaller size.
Ingredients
100 grams Dark Chocolate
100 g Butter
150 grams Brown Sugar
3 Eggs
1/2 teaspoon Vanilla Essence
50 grams Plain White Flour
Instructions
Preheat the oven to 200C Bake
In a medium microwave proof bowl melt the chocolate and butter, 30 seconds at a time in the microwave, stirring well in between until the chocolate is completely melted, alternatively you can do this step using a bowl over simmering water on the stove top.
Set this aside for 15 minutes to cool to warm.
During this time prepare the ramekins, I made four 9.5 cm ramekins with this recipe.
To prepare the ramekins, use softened butter on a kitchen paper towel to spread around the inside of the ramekin generously.
You can then dust the insides of the ramekins with cocoa, place half a teaspoon of cocoa in each ramekin and over a plate shake, bang and turn to cover the insides entirely.
Place these on a baking tray and set aside.
To the slightly cooled chocolate mixture add the brown sugar and whisk this in well
Add to this one egg at a time whisking well in between.
Add the vanilla essence and combine
Finally add the plain white flour and whisk this well into the chocolate mixture.
Pour even amounts into the prepared ramekins.
You can either bake them now or set them aside for up to 12 hours before baking
Bake for 15 minutes, or until the top of the pudding has just set but the inside still feels wobbly.
Remove from the oven and set aside for 1-2 minutes to cool slightly.
The ramekins will be hot so use tea towels or oven mits for the next steps.
Run a knife around the inside of the ramekin gently but thoroughly.
Place a small serving plate or bowl over the top of the ramekin, then flip them over together and the pudding should come free onto the plate (DO NOT WORRY IF IT DOESN'T* see above)
Repeat with the remaining ramekins, or serve in the ramekins.
Serve dusted with icing sugar, your favourite fresh berries, cream or ice cream.
Enjoy


I hope that you enjoy trying this recipe and a dessert that seems tricky becomes a firm favourite when you realise just how easy it is!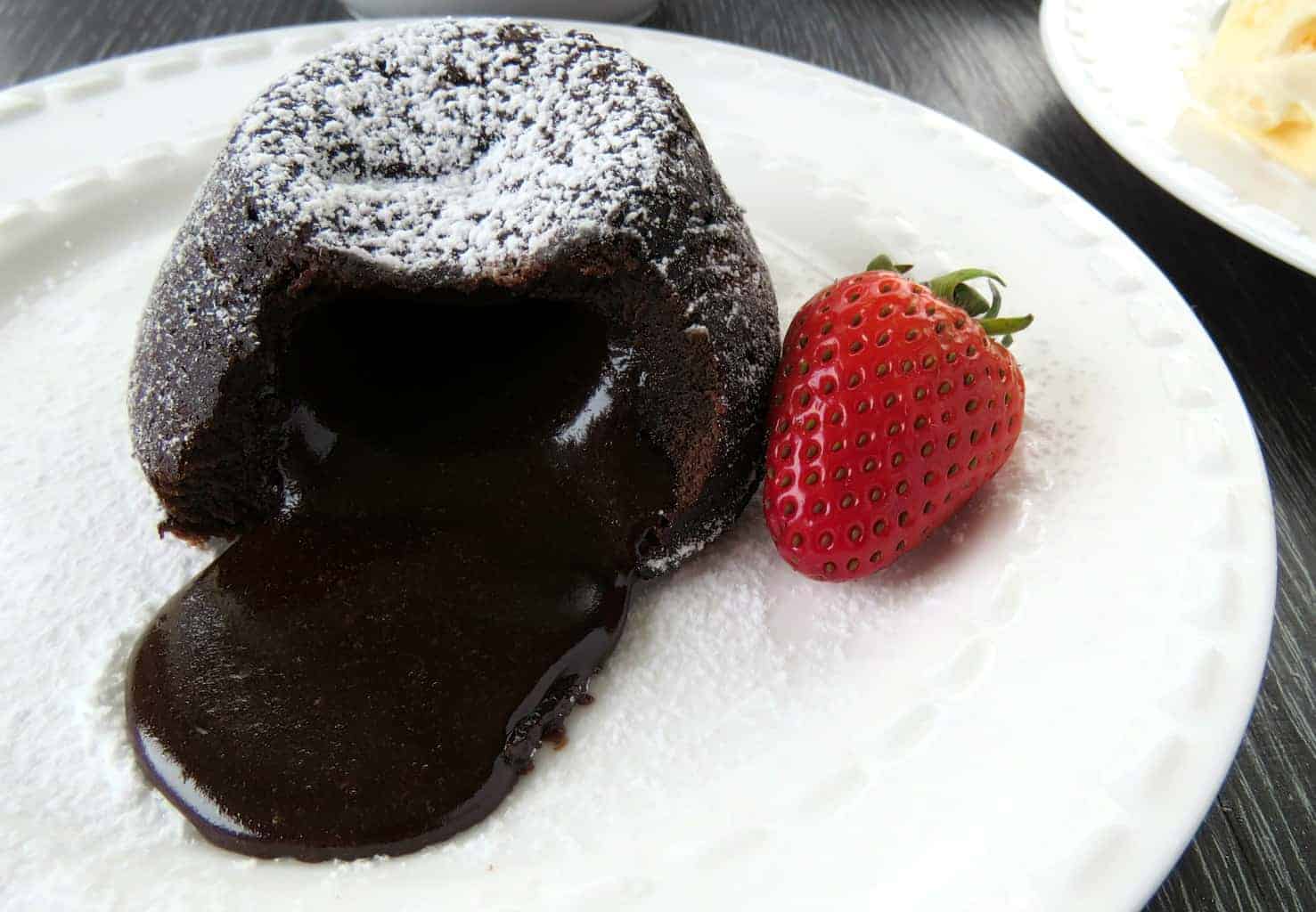 Thank you so much for stopping by to check out this recipe and others on my blog. If you are not already be sure to follow me on Facebook or Instagram for more deliciousness, and you can register your email in the subscription box below to receive all my recipes as I publish them.
Happy Baking!
Anna
Love chocolate? Check out more delicious treats here