Delicious Kumara & Bacon Salad packed with lovely flavours, textures and an easy dressing, this is a bright and colourful salad that is perfect for summer BBQ time.
This is a very versatile recipe, feel free to make amendments depending on what your family enjoys, but the basic preparation steps will be the same. These are the flavours I love so I hope you do also. In my version is golden Kumara (sometimes known as sweet potato), bacon, red capsicum, toasted pinenuts, coriander and a lovely simple curry sour cream dressing. The blend of flavours works so well.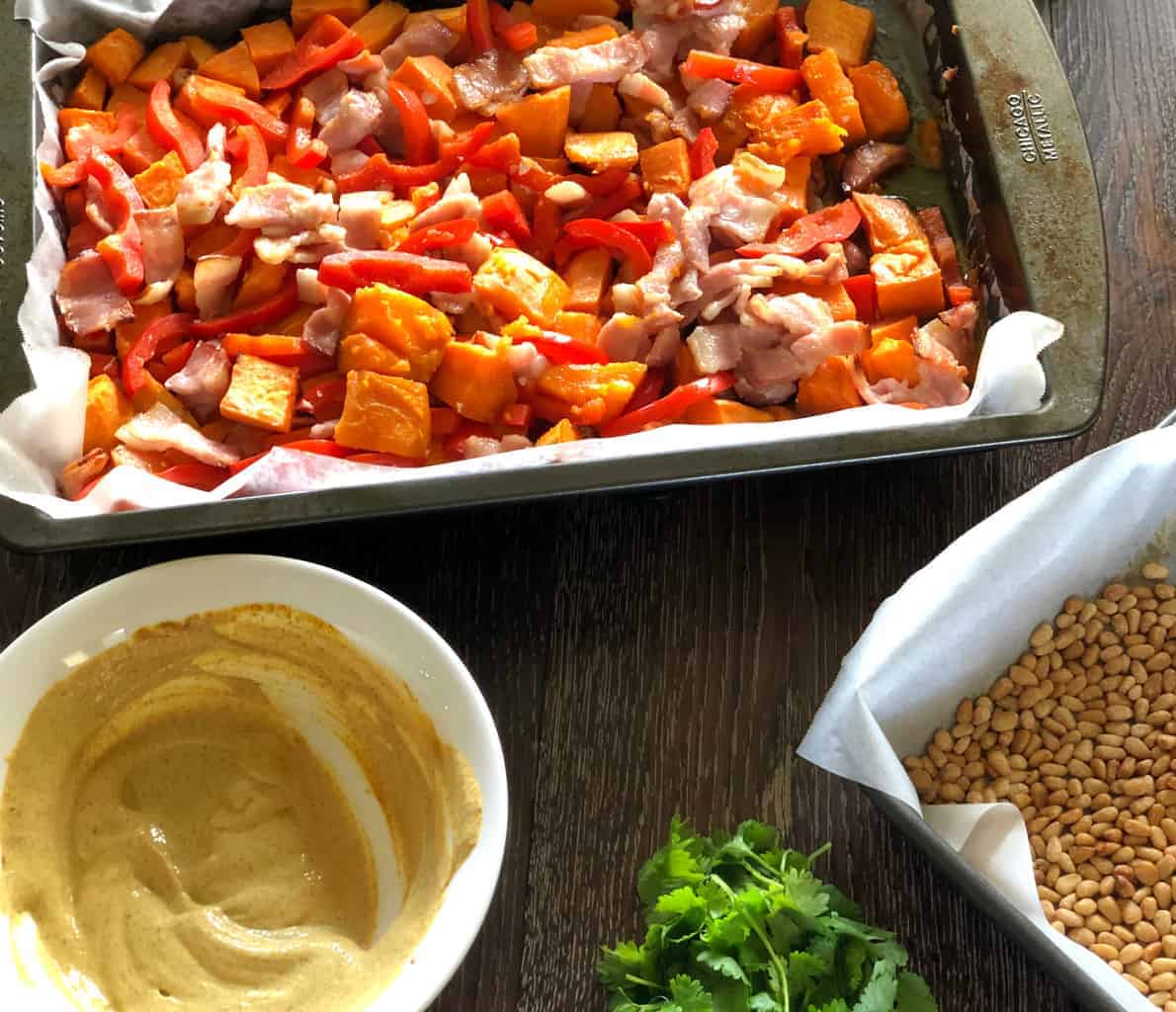 It is pretty much a one pot recipe, I use my roasting dish to layer each ingredient and cook it in in stages. You could also easily fry the bacon separately if you would prefer to have it more crispy. I have been making this recipe for a while, it makes a lovely large salad, you can easily reduce the quantity of kumara to make a smaller salad.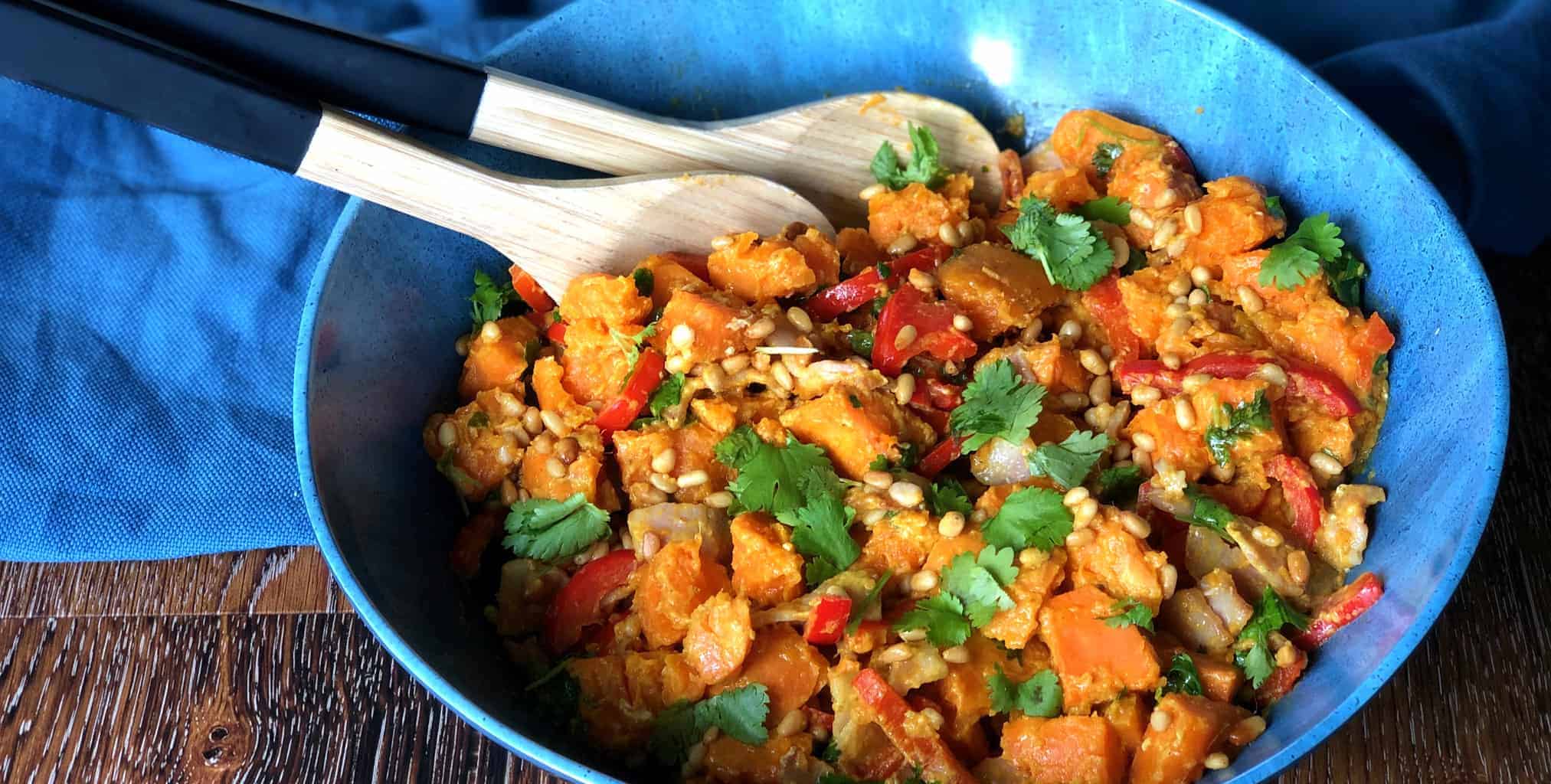 I find these sorts of salads perfect for taking to a friends house or to a BBQ – it can be served warm or cold and adds some bright colour to the table. The flavours are not too overpowering as to startle anyone and but it adds something different. I also like to take my Best Ever Scalloped Potatoes recipe, it is a big crowd pleaser so I can recommend both of these simple but tasty dishes for a pot luck dinner.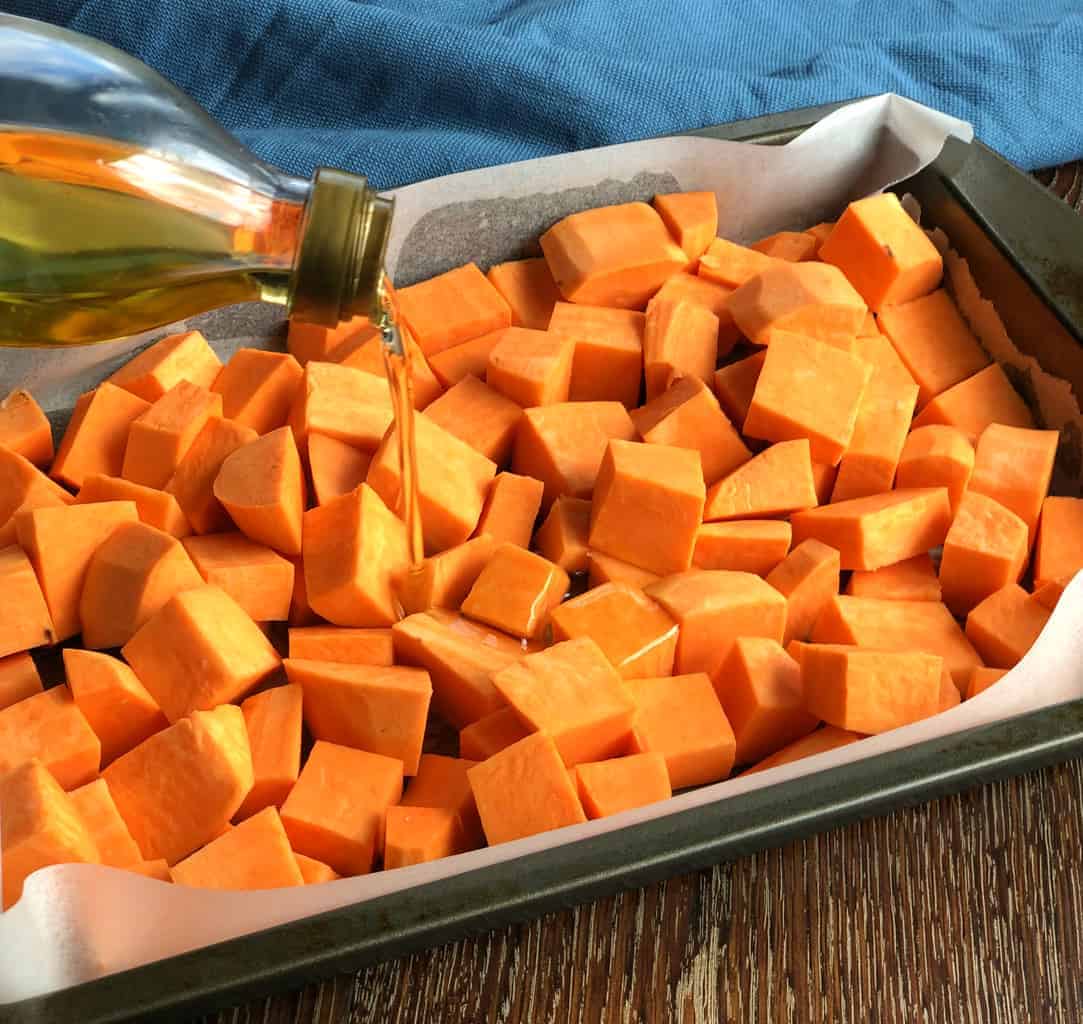 The first step is to begin to bake the Kumara, do so by peeling them and cutting into even sized chunks, about an inch in size. I use baking paper as I do not want the ingredients to stick. You par bake the Kumara before adding the bacon – or as I said above you can fry this off separately.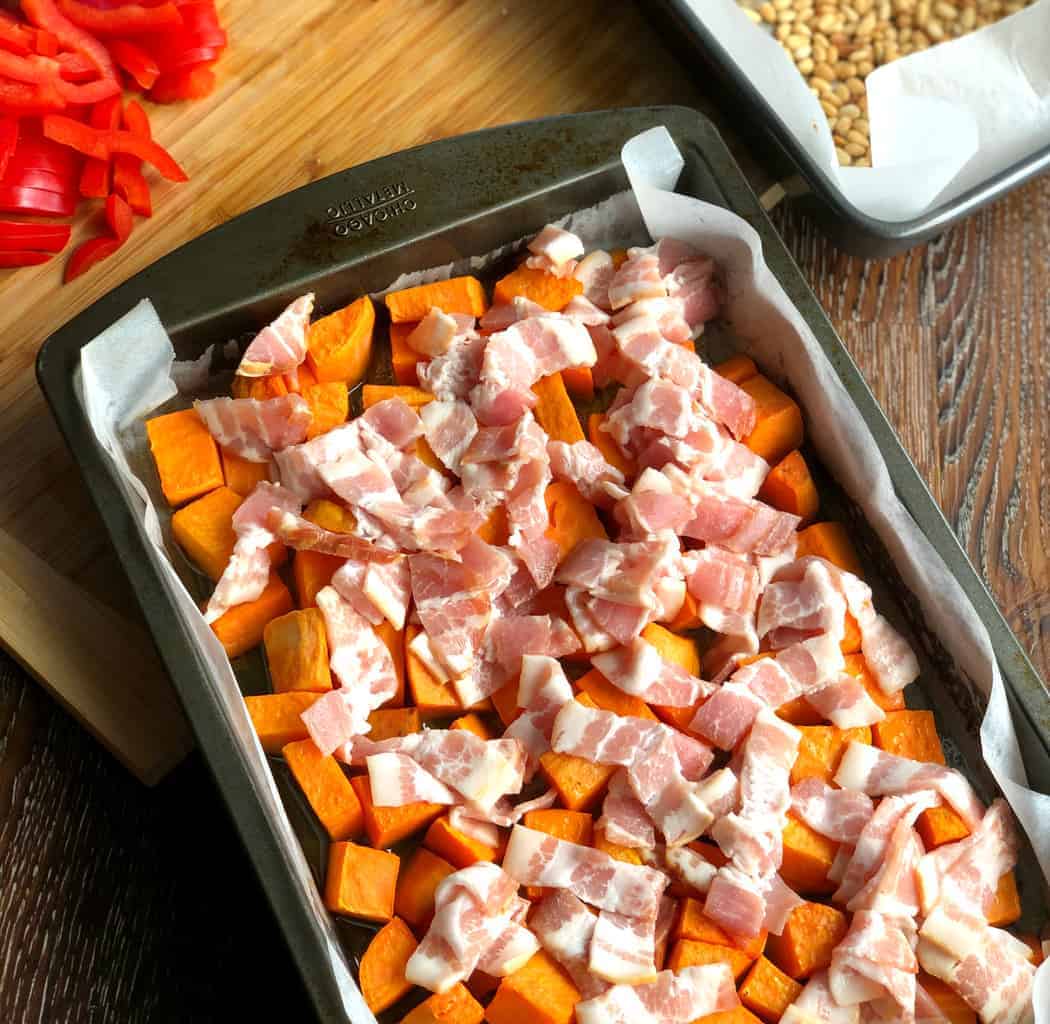 Continue to cook the bacon and kumara until there is 5 minutes cooking time remaining, add the sliced capsicum and bake. After it has been baked and cooled you can add the pinenuts, dressing and finally the shredded coriander. I am a huge fan of coriander so I love adding a generous bunch to it and then some to garnish.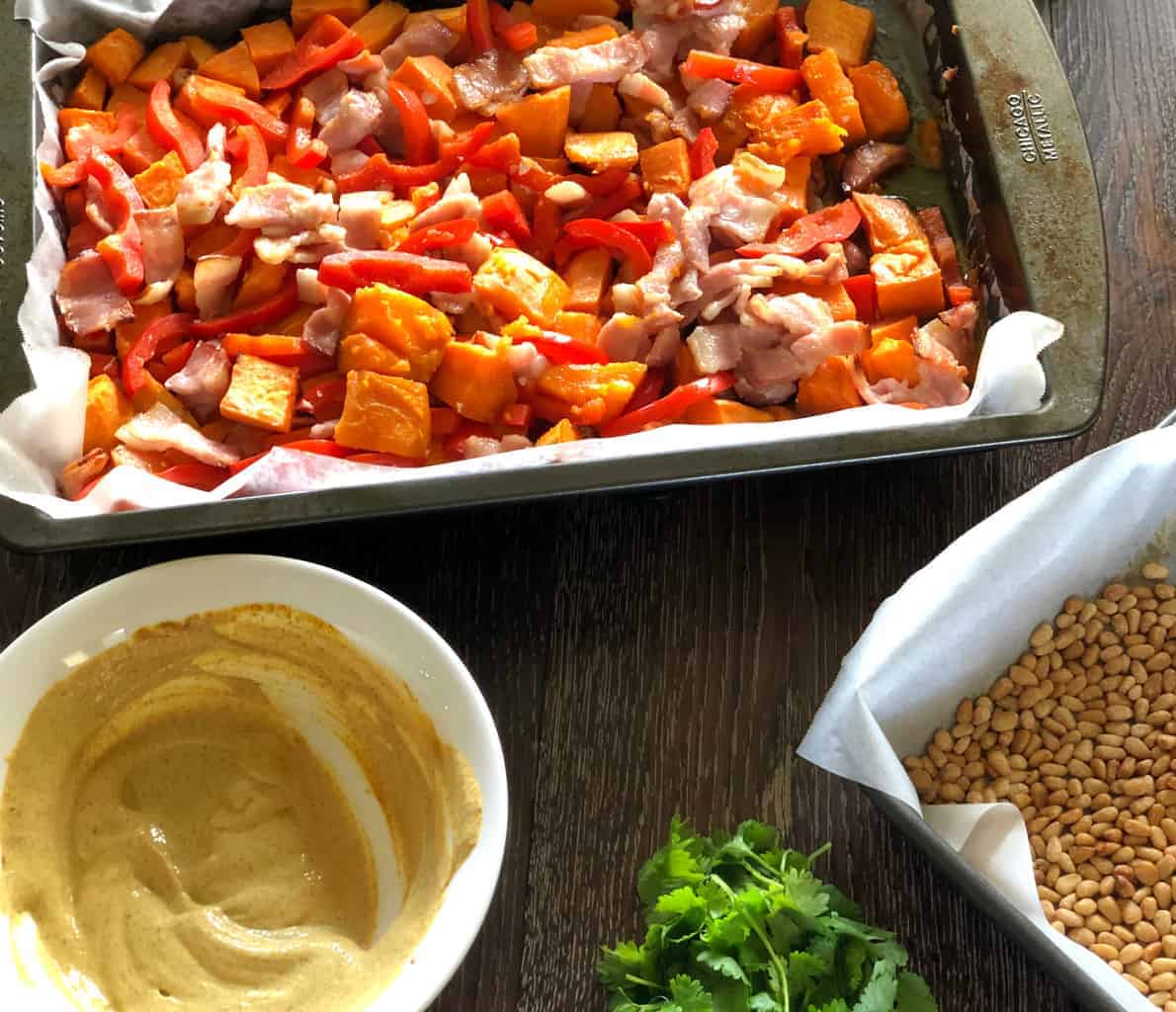 Do not be concerned that the curry flavour is overpowering, it marries perfectly with the sweetness of the other ingredients and just provides a light cover rather than a thick dressing. You can also play with those flavours if you choose. It is as I mention very versatile. Some would replace the pinenuts with walnuts or omit all together. I like having some changes to texture in salads so I think they work well.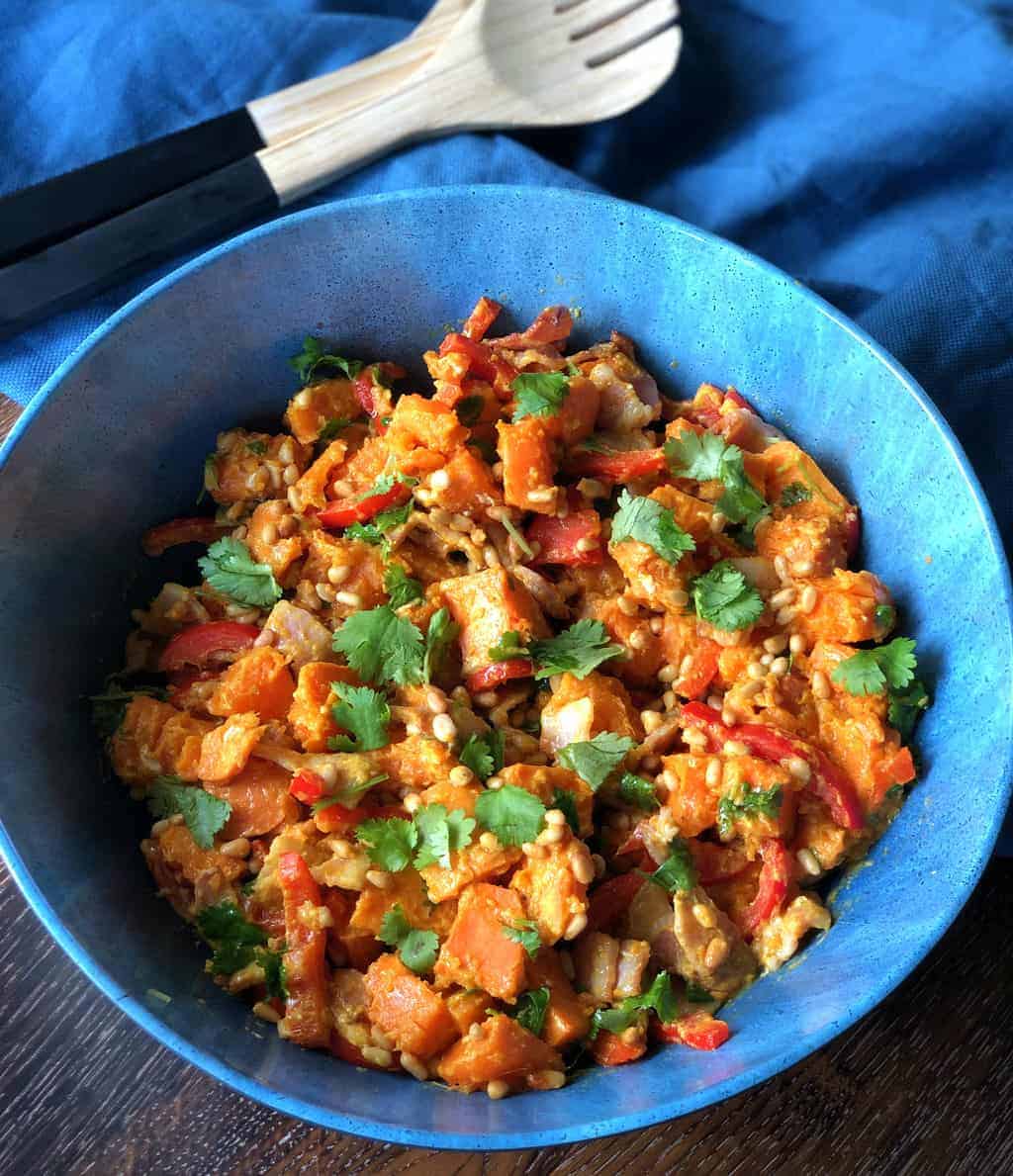 I hope you enjoy this delicious recipe, if you would like to try another salad using delicious golden Kumara you can try my Roasted Kumara, Carrot & Orange Salad also, just as delicious and popular
Onto the recipe! Easy and simple.
I hope you enjoy this recipe, I love sharing ideas that will inspire you to try something new to share with friends and family.
Thank you so much for stopping by to check out my latest recipes on my blog. If you are not already be sure to follow me on Facebook or Instagram for more deliciousness, and you can register your email in the subscription box below to receive all my recipes as I publish them.
Happy Baking!
Pin Me! Pinterest