This post may include sponsored content.
A delicious cupcake for any special occasion. These Maple Syrup Surprise Inside Cupcakes are so easy to make and will be a hit wherever you take them.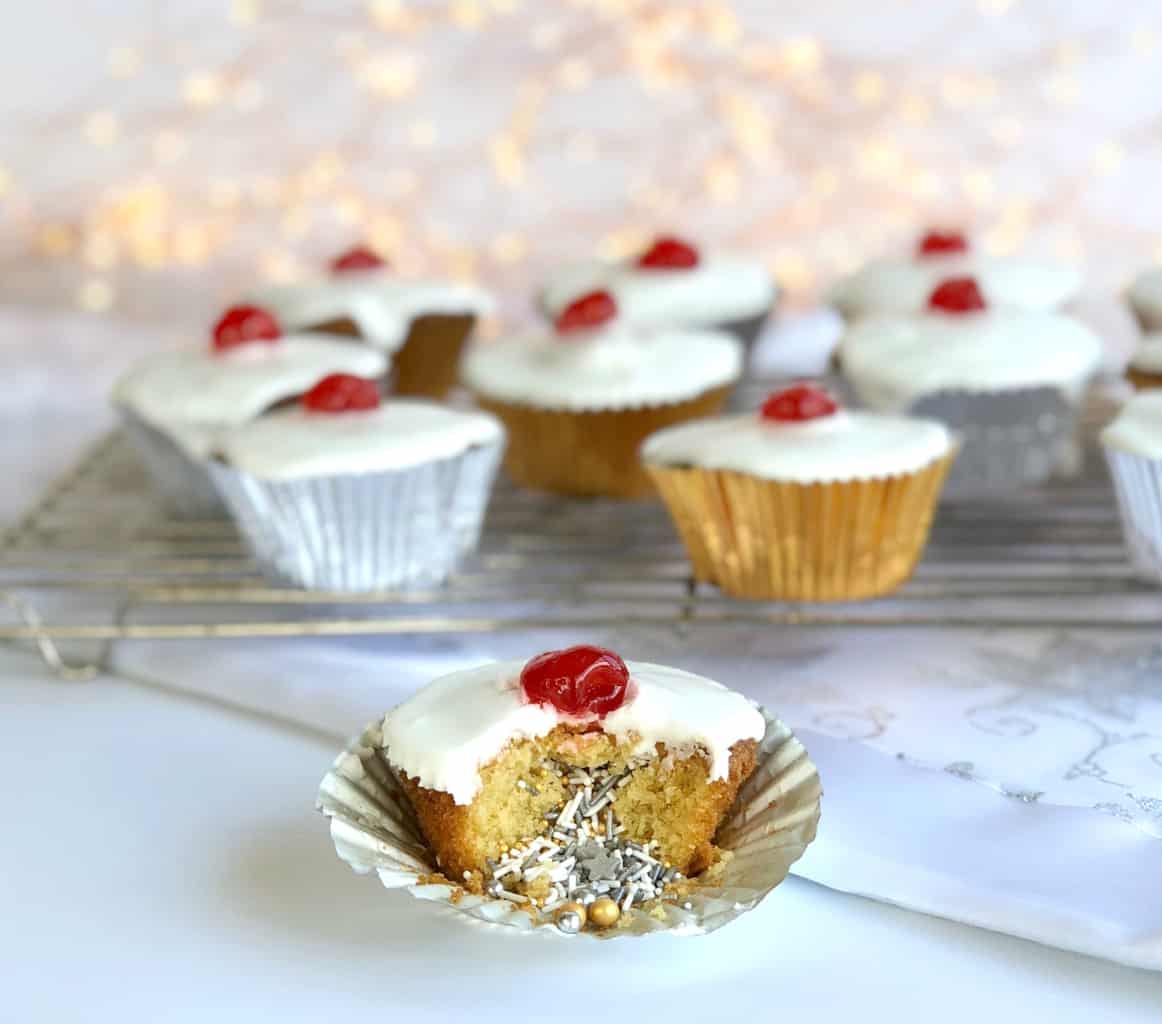 This idea can so easily be applied to any flavour cupcake you like but I just love this combination of flavours. The delicious sweet maple syrup cupcake works perfectly with the lovely royal icing, and of course who can resist the sprinkles inside!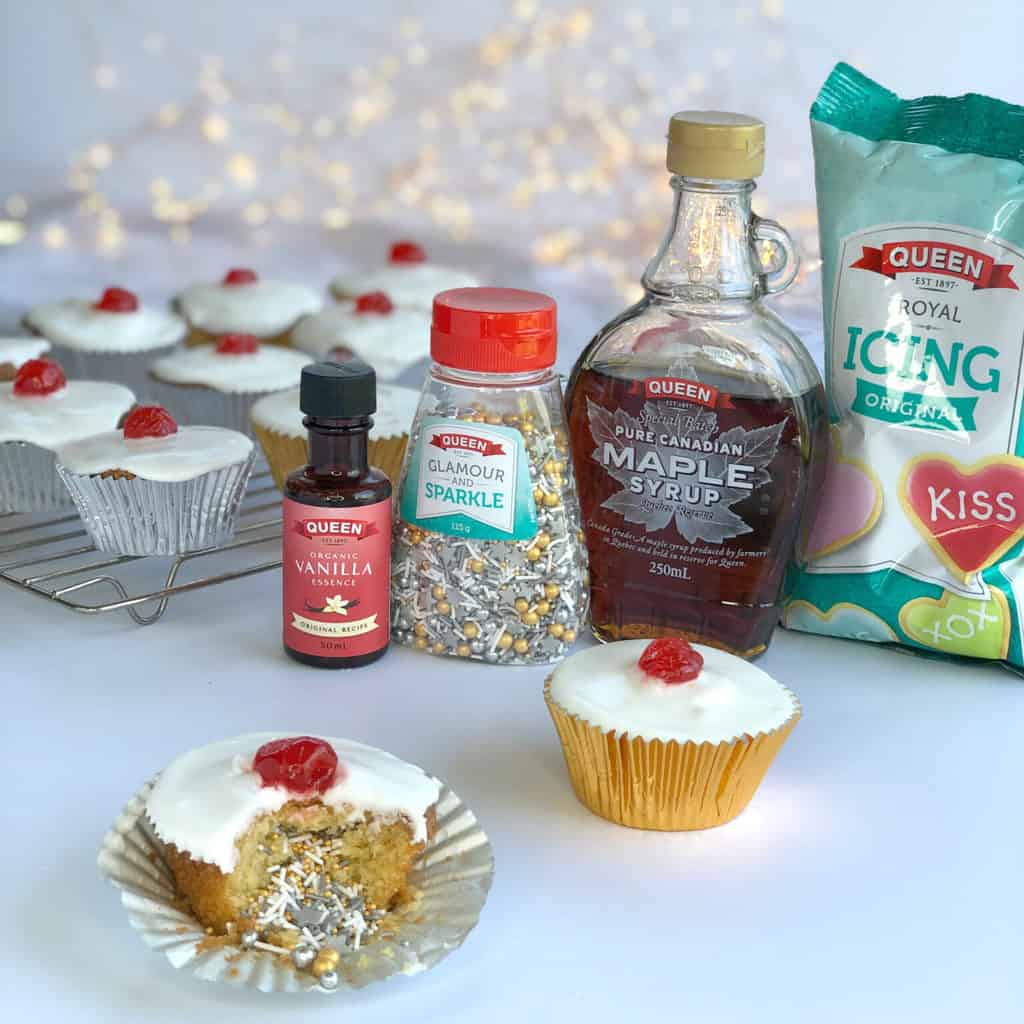 I am delighted to have partnered with a brand I have long used in our home and in baking. Queen Fine Foods have partnered with me to allow me to bring you these gorgeous cupcakes using their delicious products. Many of you will already be familiar with this brand, you may even have their vanilla, maple syrup or food colourings in your home. My cake decorating box is full of these wonderful products so it was very easy for me to come up with this recipe to showcase just four of their quality products. And hopefully inspire you to give it a go!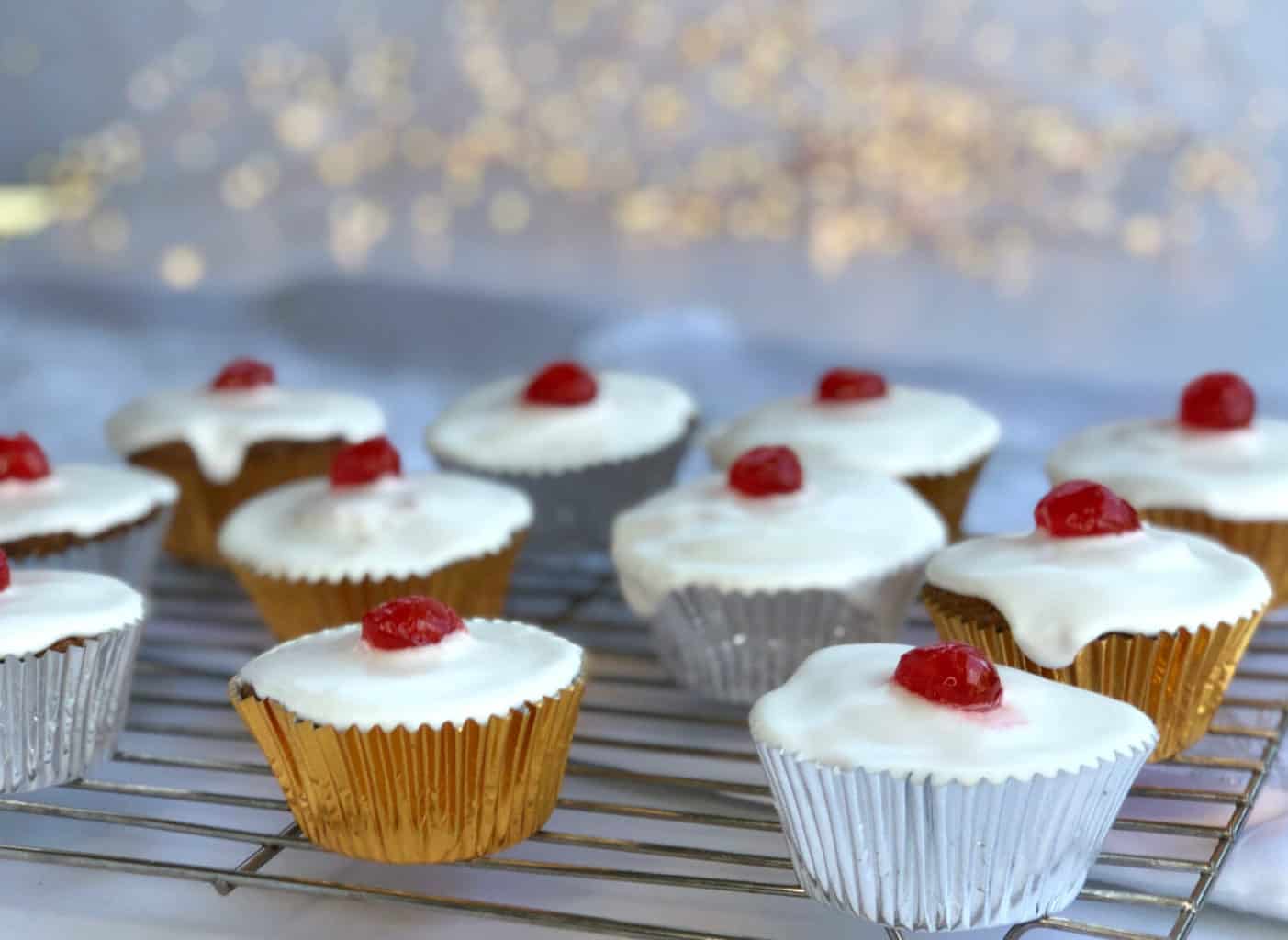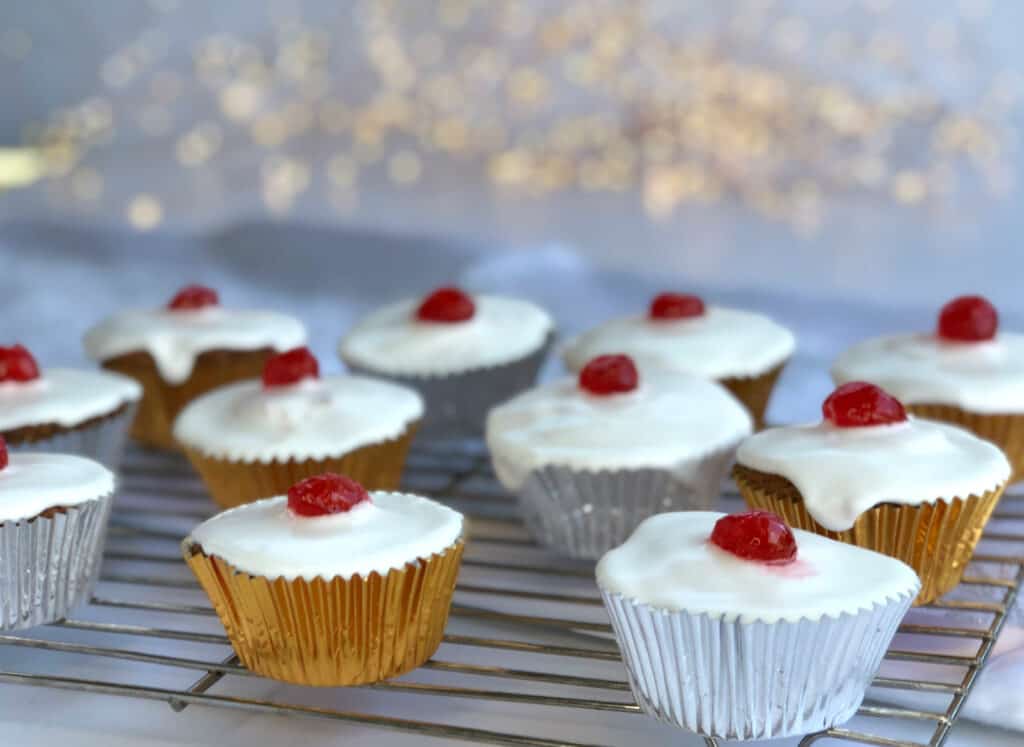 I love creating new Christmas content, these are a favourite as they are so quick and easy to make yet look so pretty and are such fun to take to a party or for a shared celebration meal as once people bite into it they get the sprinkle surprise! I have used a lovely Maple Syrup Cupcake recipe today, but you could so easily make this with my Vanilla Cupcake Recipe or Chocolate Cupcake Recipe for something different!
The process is so easy! Simply make the cupcakes, you can do this the day ahead. You want them to be completely cold before you scoop out the middle and ice them. This is a slightly different cupcake mix than what you might be used to, the key is to follow the ingredients and not to overmix. Because it is a dense mix if you add too much liquid or overmix they can sink in the middle. However if they do that is ok! You are scooping out the middle anyway.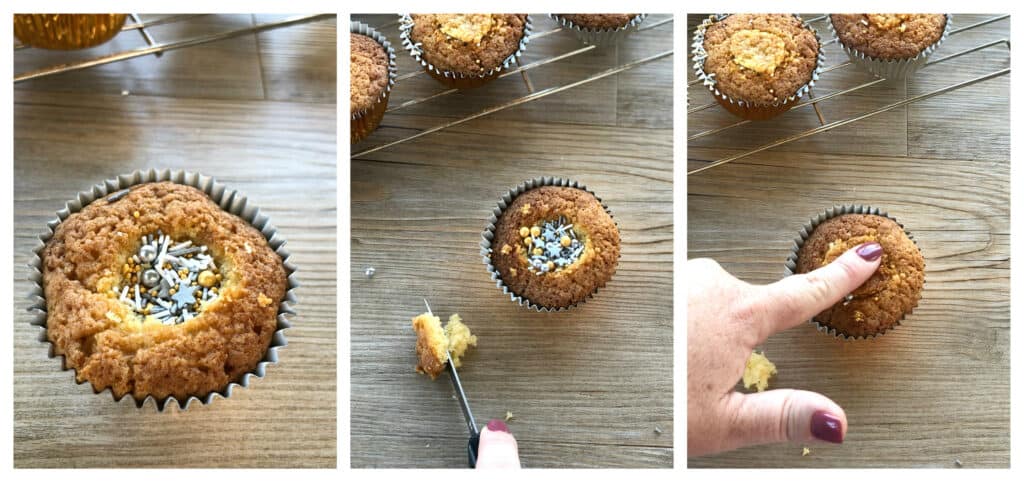 The next step once the cupcakes have completely cooled, is to use a small knife to scoop out a cone shape from each cupcake, large enough to add plenty of sprinkles, almost to the bottom of each cupcake. Remove the centre piece and add the sprinkles of your choice, today I have used these gorgeously festive Glamour & Sparkle Sprinkles. Then slice the top in half and add the top piece back on and press into place.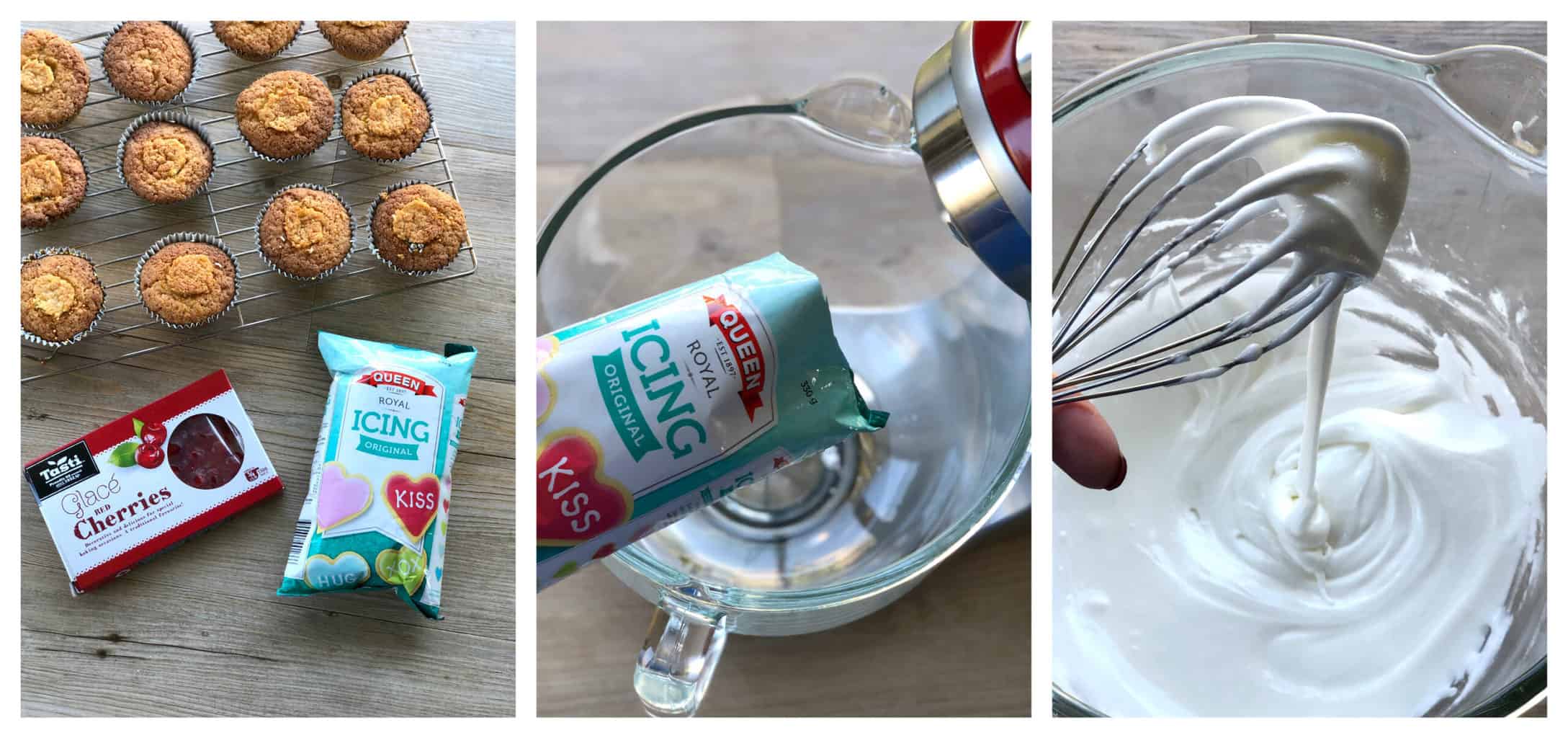 For the icing I have done something a little different, I have used royal icing in place of buttercream! If you are not familiar with royal icing it is what I use to decorate cookies such as these ones here. It is a lovely product to work with. All you do with the Queen Royal Icing is add it to your mixer bowl and add water! I simply add small amounts of water until I get the desired consistency. It then spreads beautifully over the cupcake.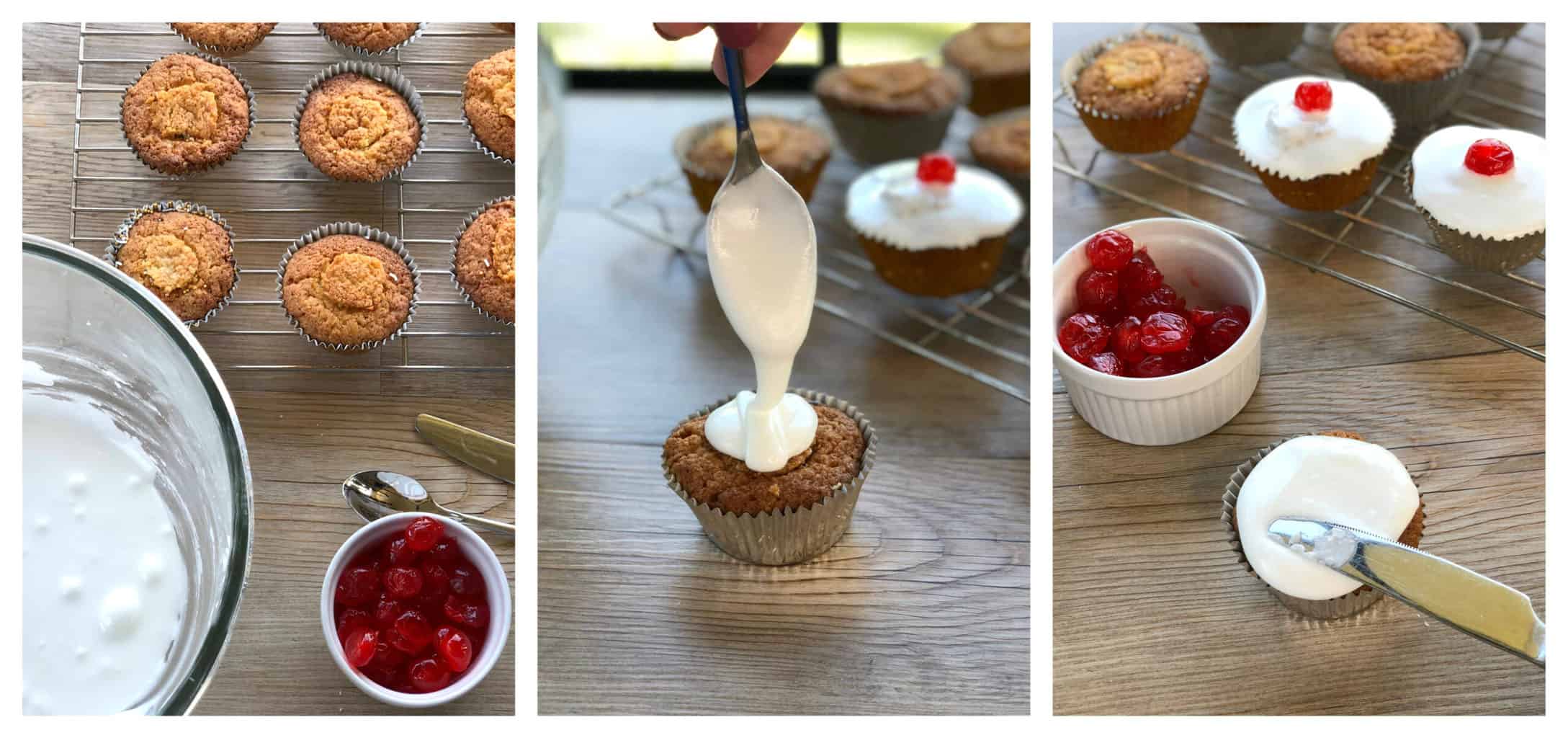 The finish will be a firm icing once it sets, that has a delicious subtle sweet flavour. You can add a little vanilla or maple syrup to the icing also to compliment the cupcake flavour. I kept mine plain to ensure a pure white colour, then a cherry to finish to add the Christmassy touch! You could use anything that suits your theme or even add a few of the sprinkles on top.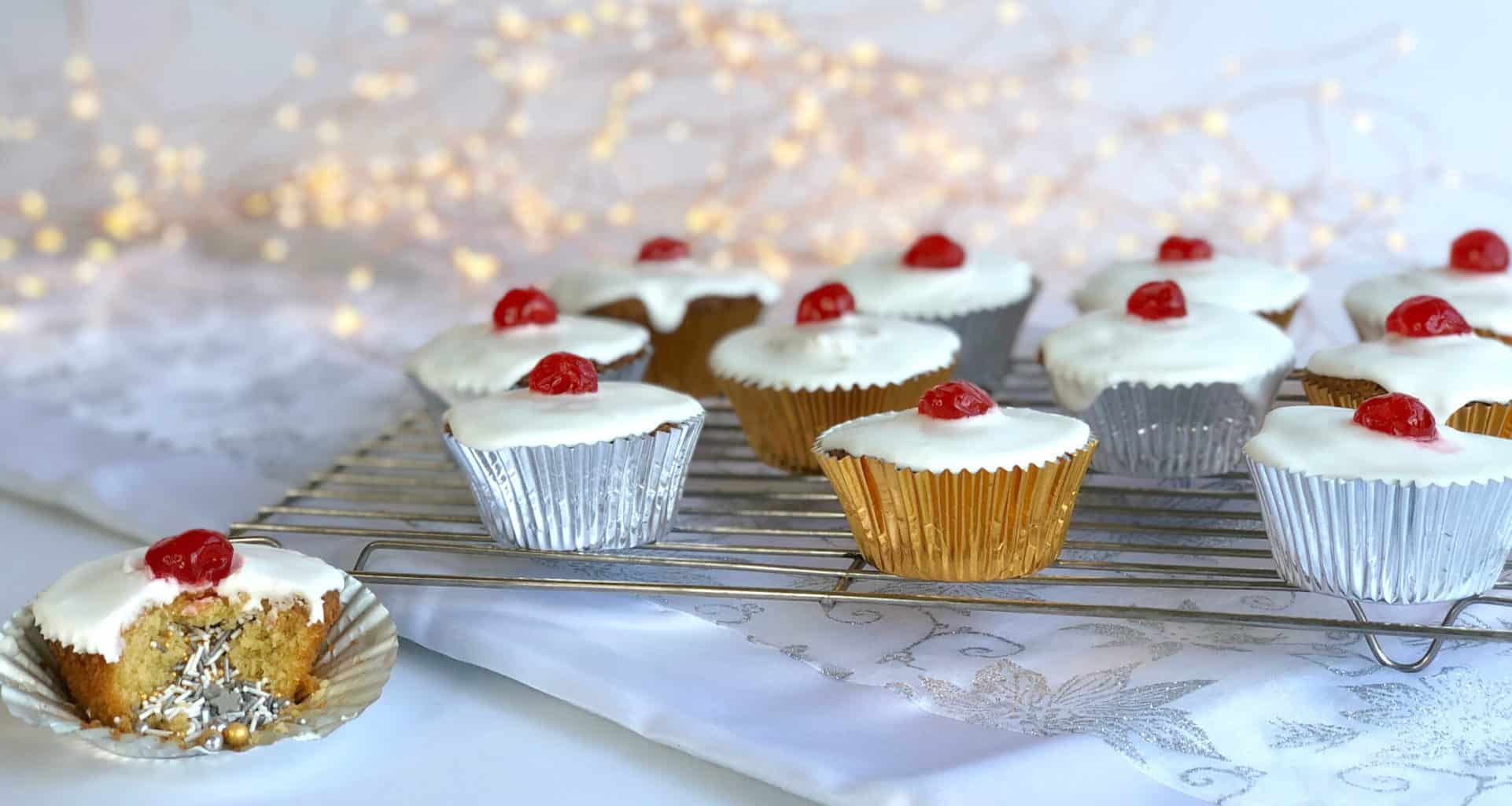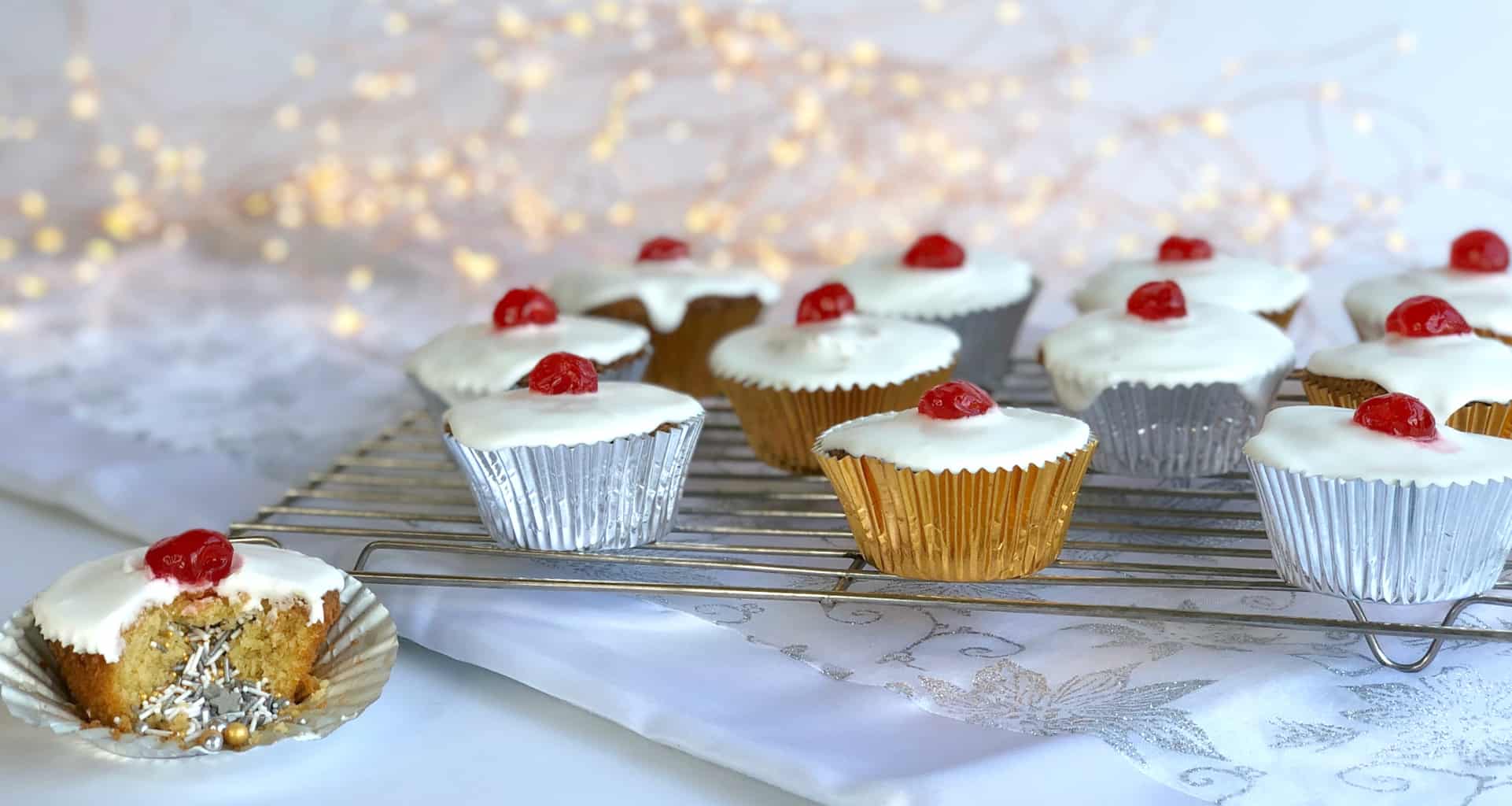 Onto the recipe, I hope you enjoy this lovely simple recipe for my Maple Syrup Surprise Inside Cupcakes, I cannot wait to see your versions!
Very easy! Such a delicious treat, I hope you enjoy this recipe the next time you have a special celebration or just because!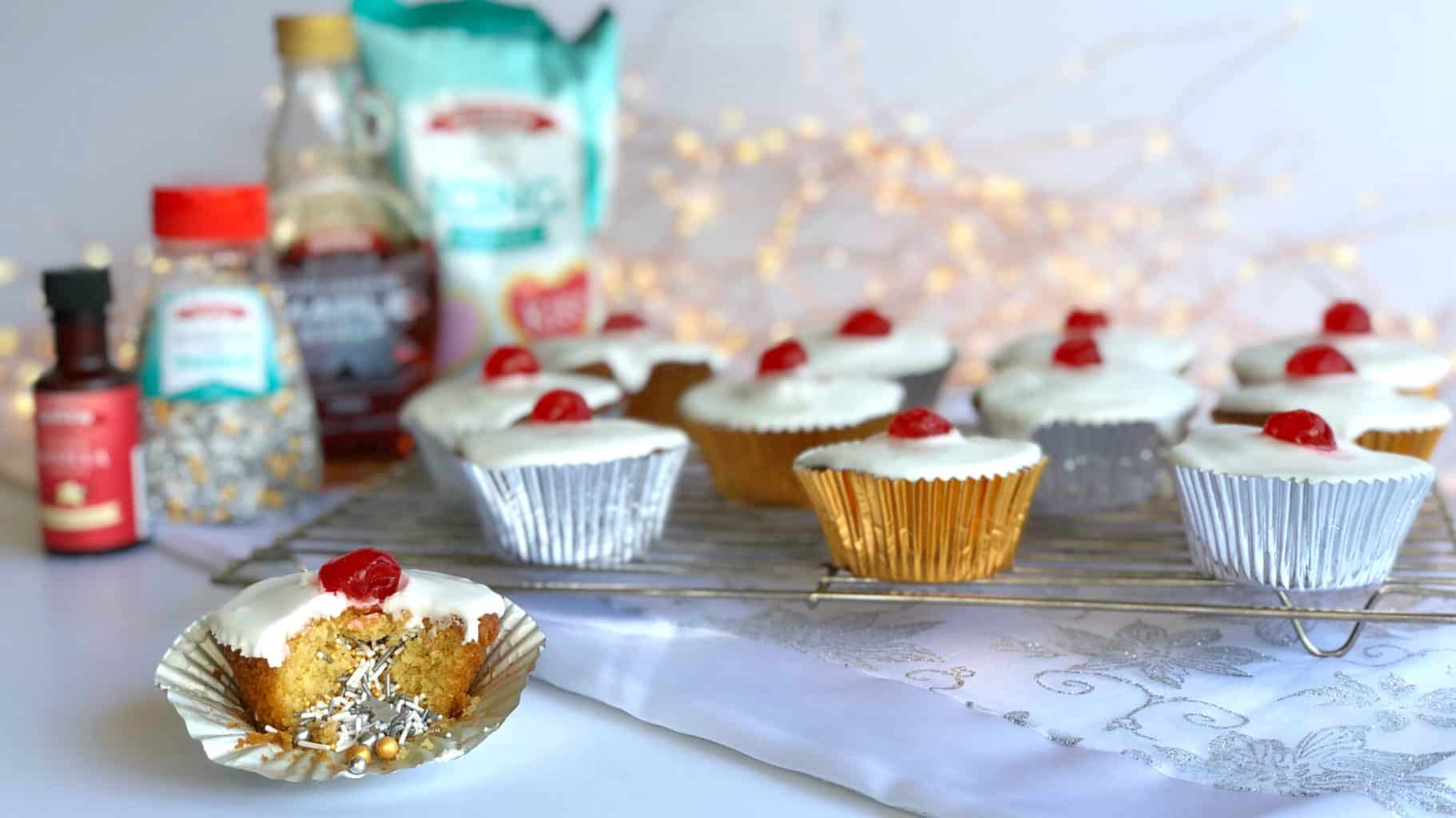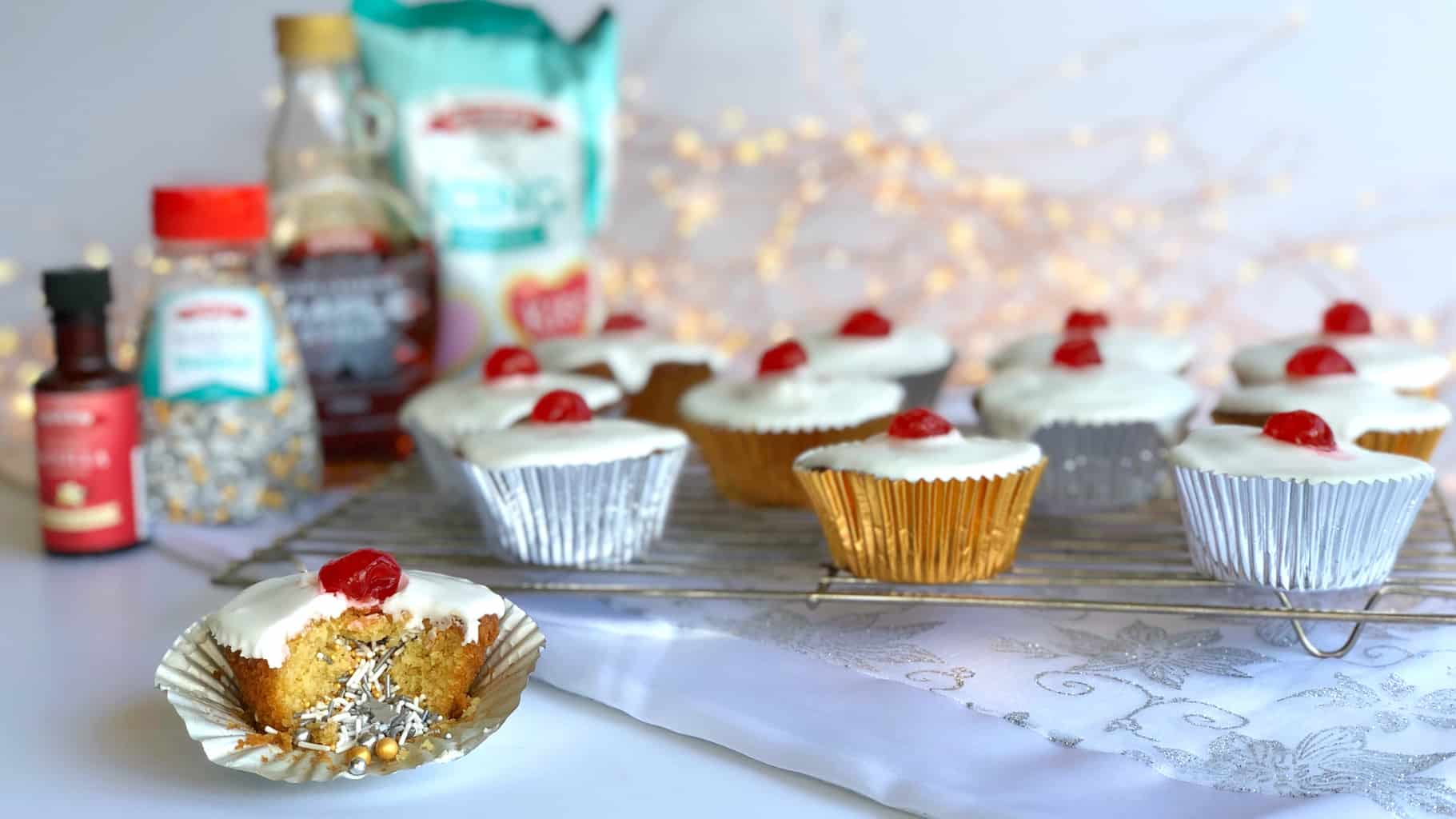 A huge thank you to Queen Fine Foods, so lovely to collaborate with a brand that we already know and trust. You can find their products in your favourite supermarket.
Thank you so much for stopping by to check out my latest recipes on my blog. If you are not already be sure to follow me on Facebook or Instagram for more deliciousness, and you can register your email in the subscription box below to receive all my recipes as I publish them.
Happy Baking!
Anna