Delicious Stuffed Focaccia, a garlic and rosemary infused crusty bread with a centre filled with feta, basil, olives and mozzarella.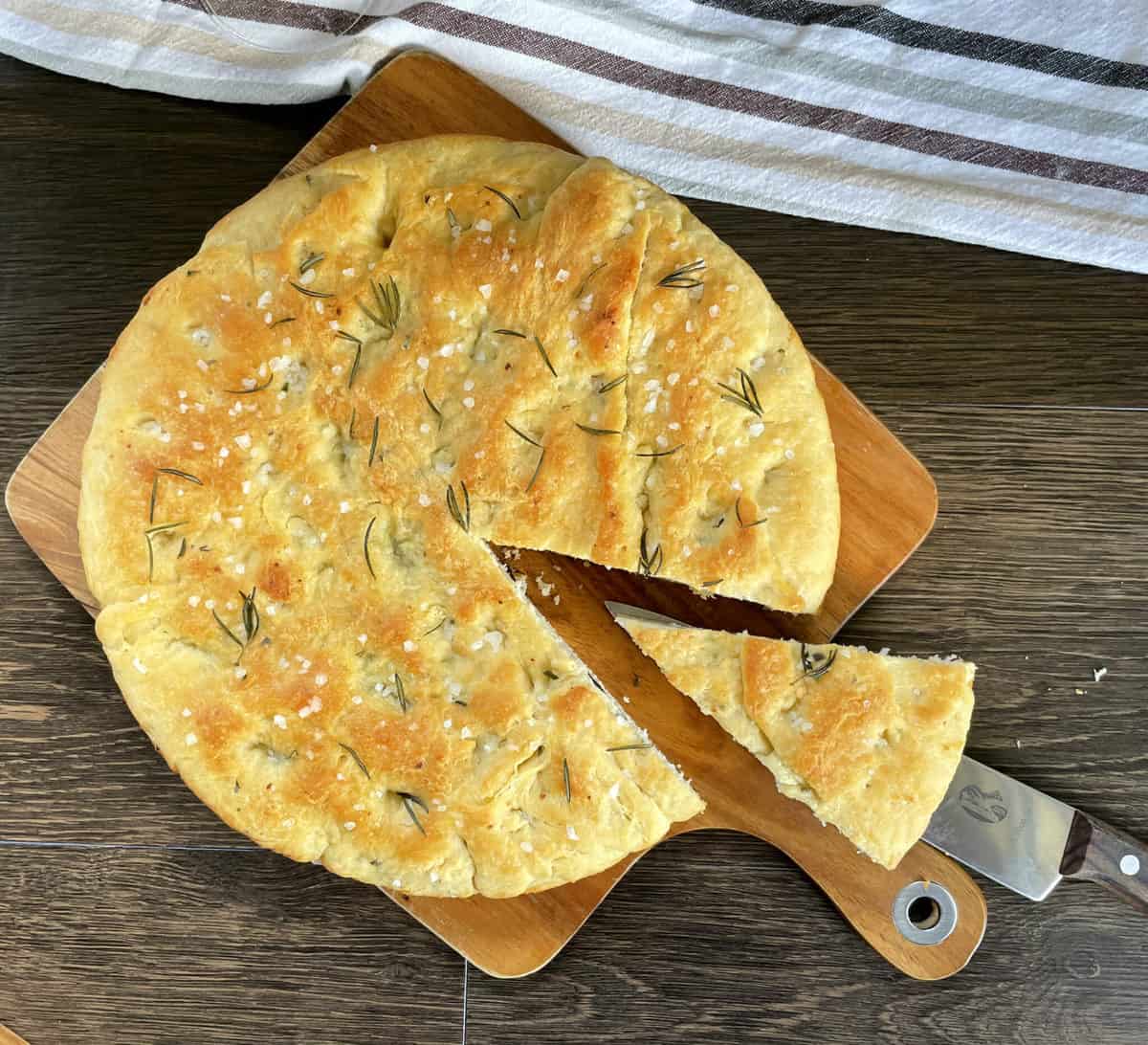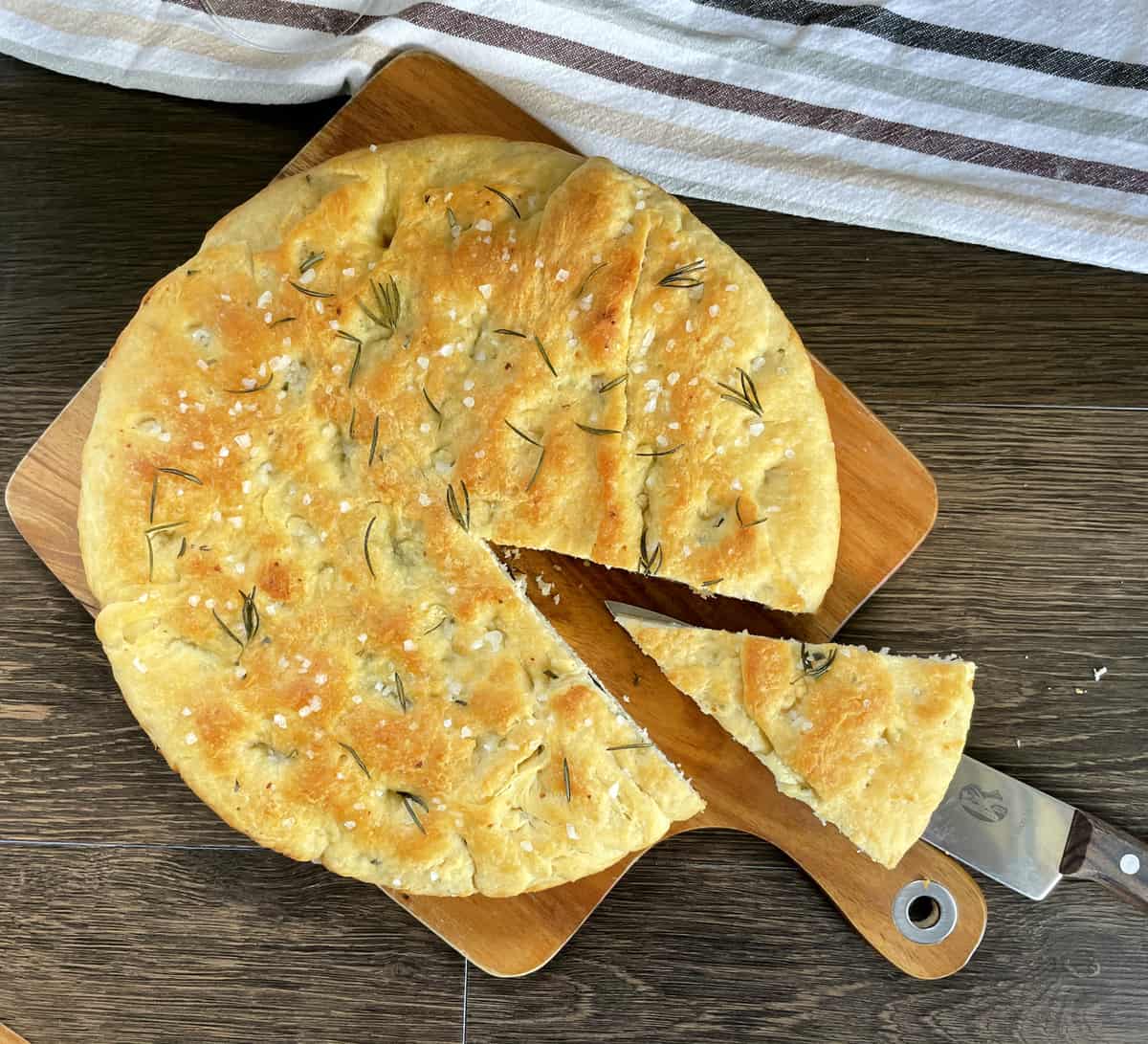 This crowd pleasing Focaccia bread is sure to impress but is so easy to make! Even for those who have never worked with yeast or bread making before.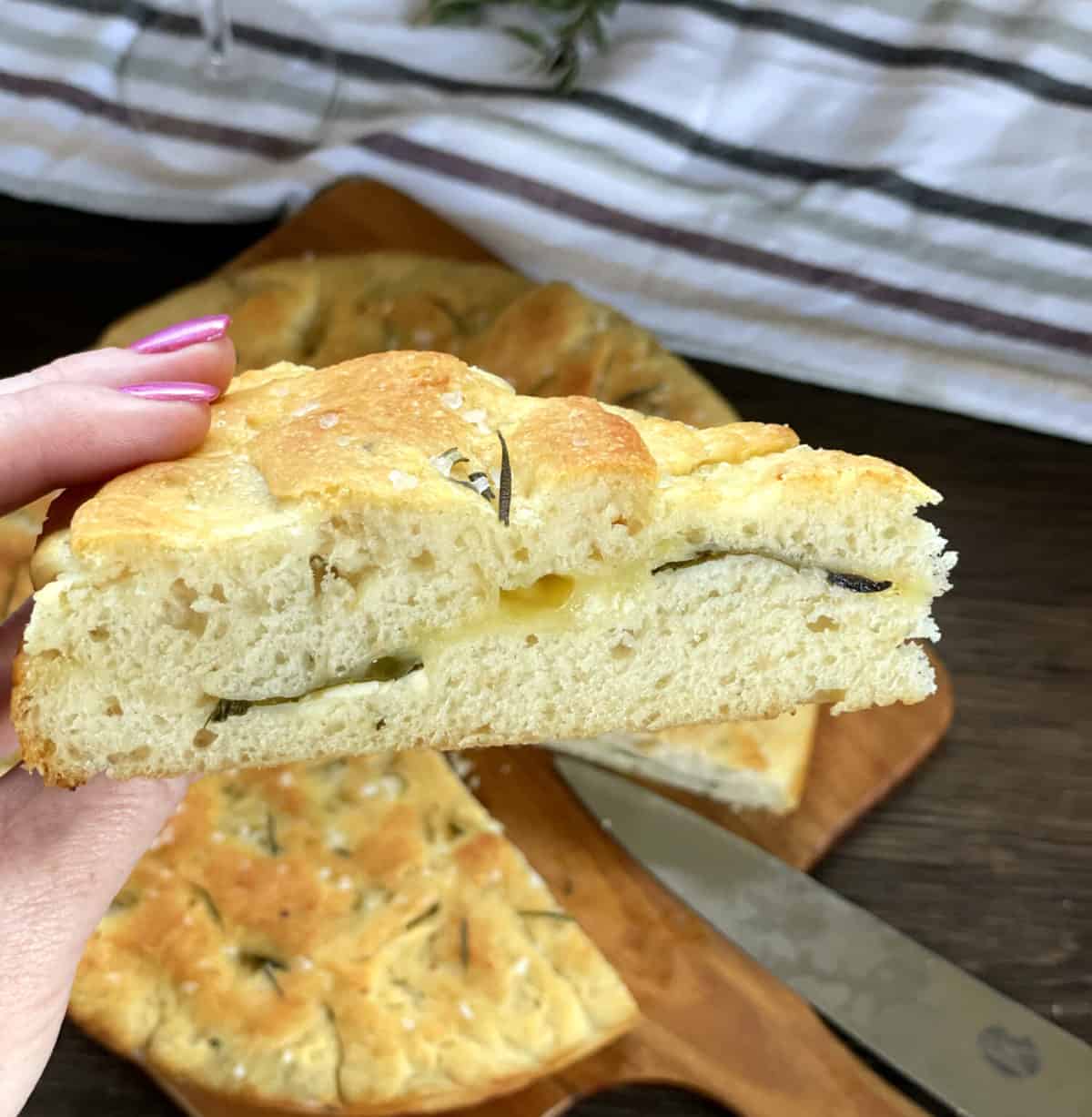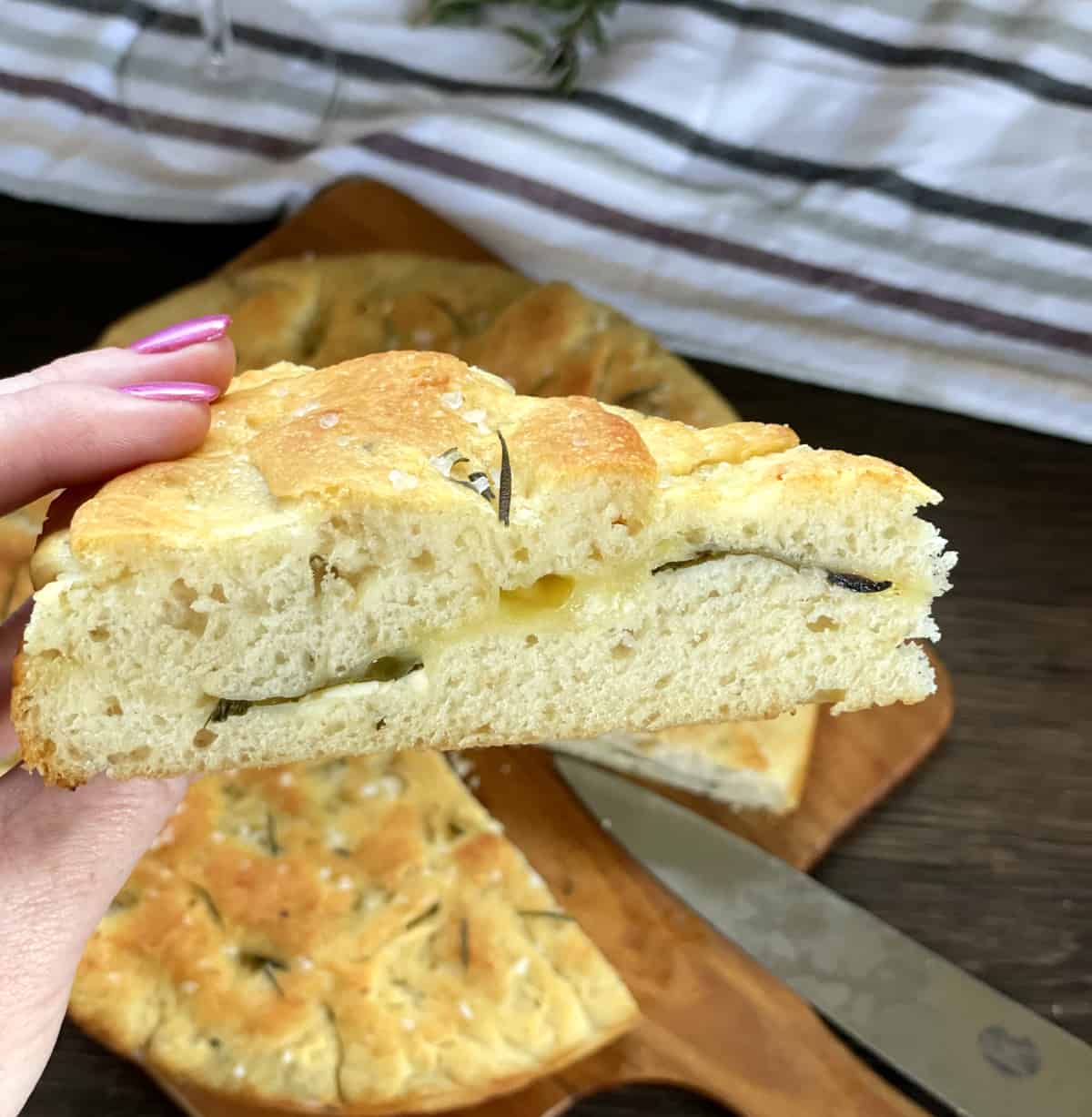 I have created this step by step post so we can all become experts in no time.
Focaccia is a lovely light airy dough with a crusty edge, perfect for dipping into oils and with a variety of spreads. Stuffing it as I have done here adds lots of extra flavour so it will work well as a side dish for a soup or a hearty meal.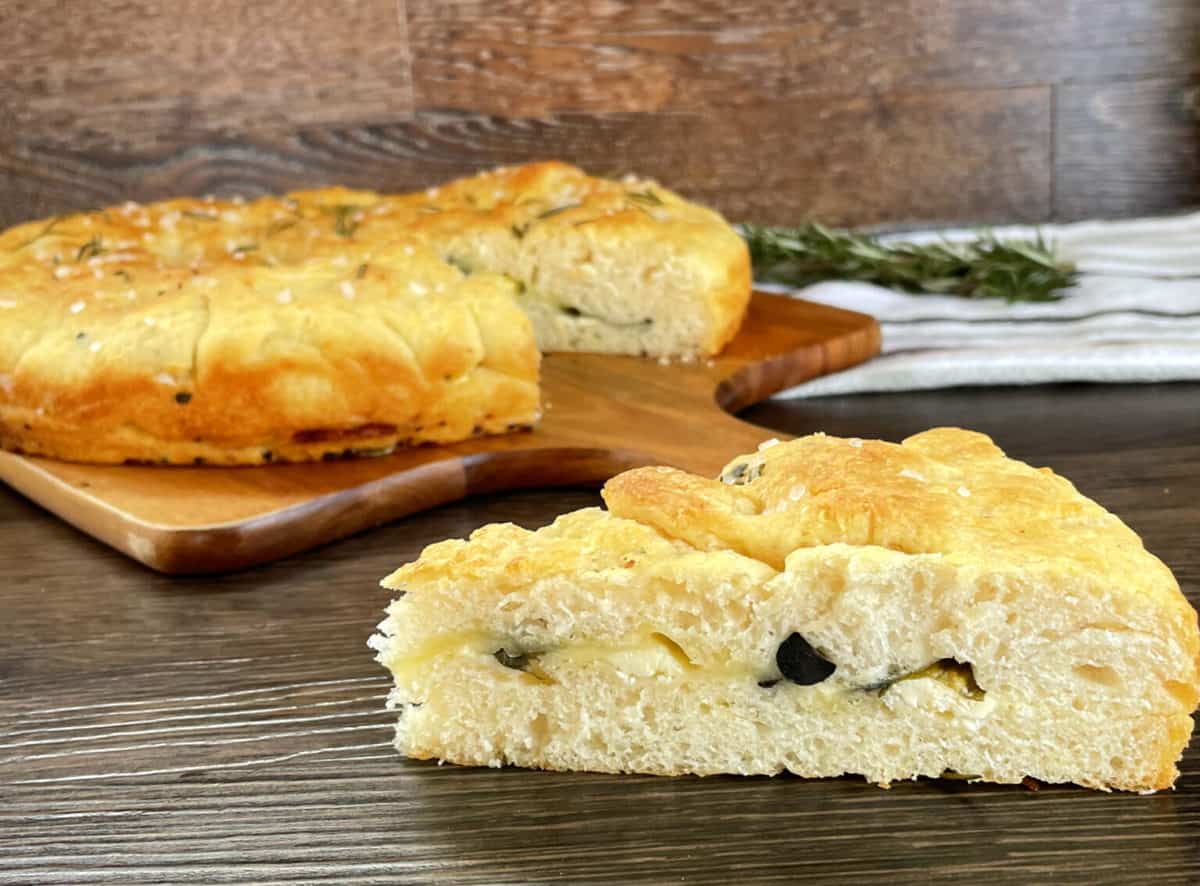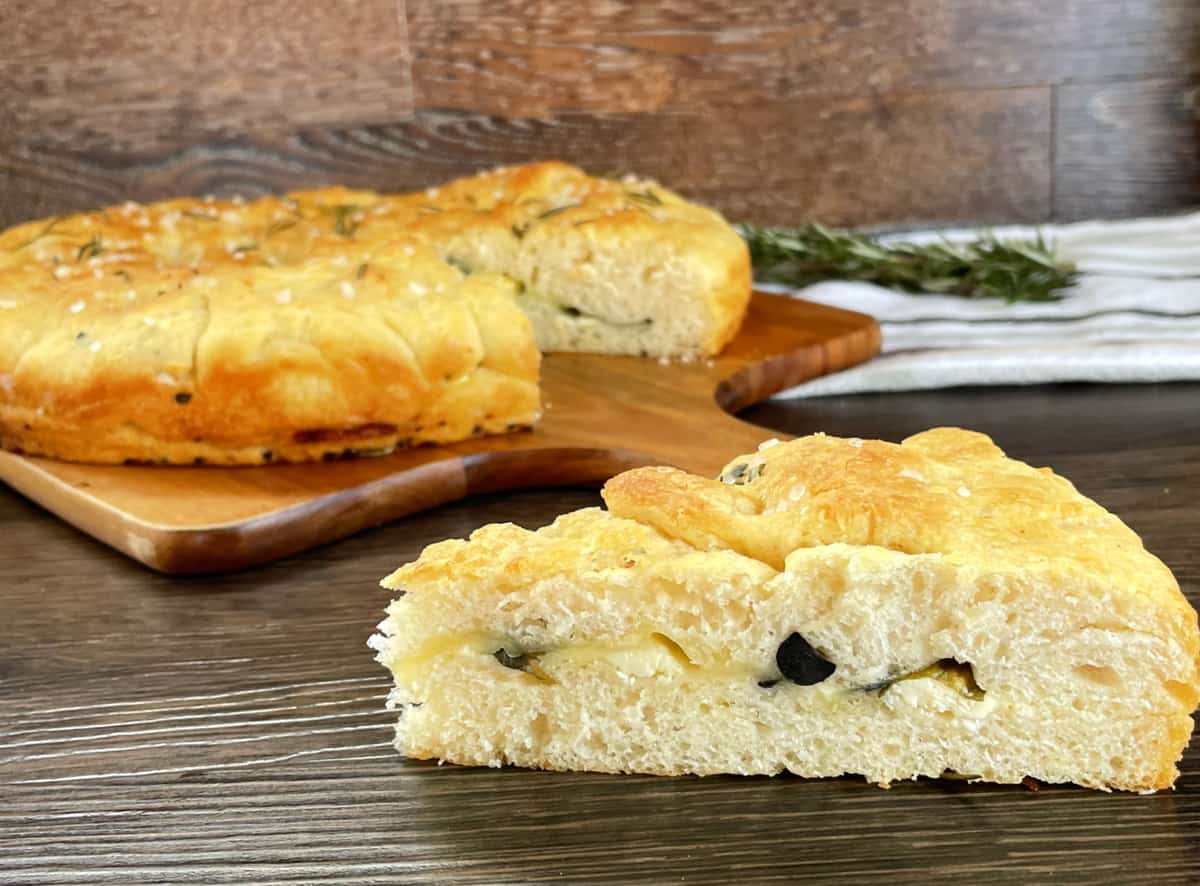 There are many versions of Focaccia but they all follow the same basic principle. Using a white flour (sometimes a strong bread flour) olive oil, yeast, salt and often flavoured with rosemary and sea salt.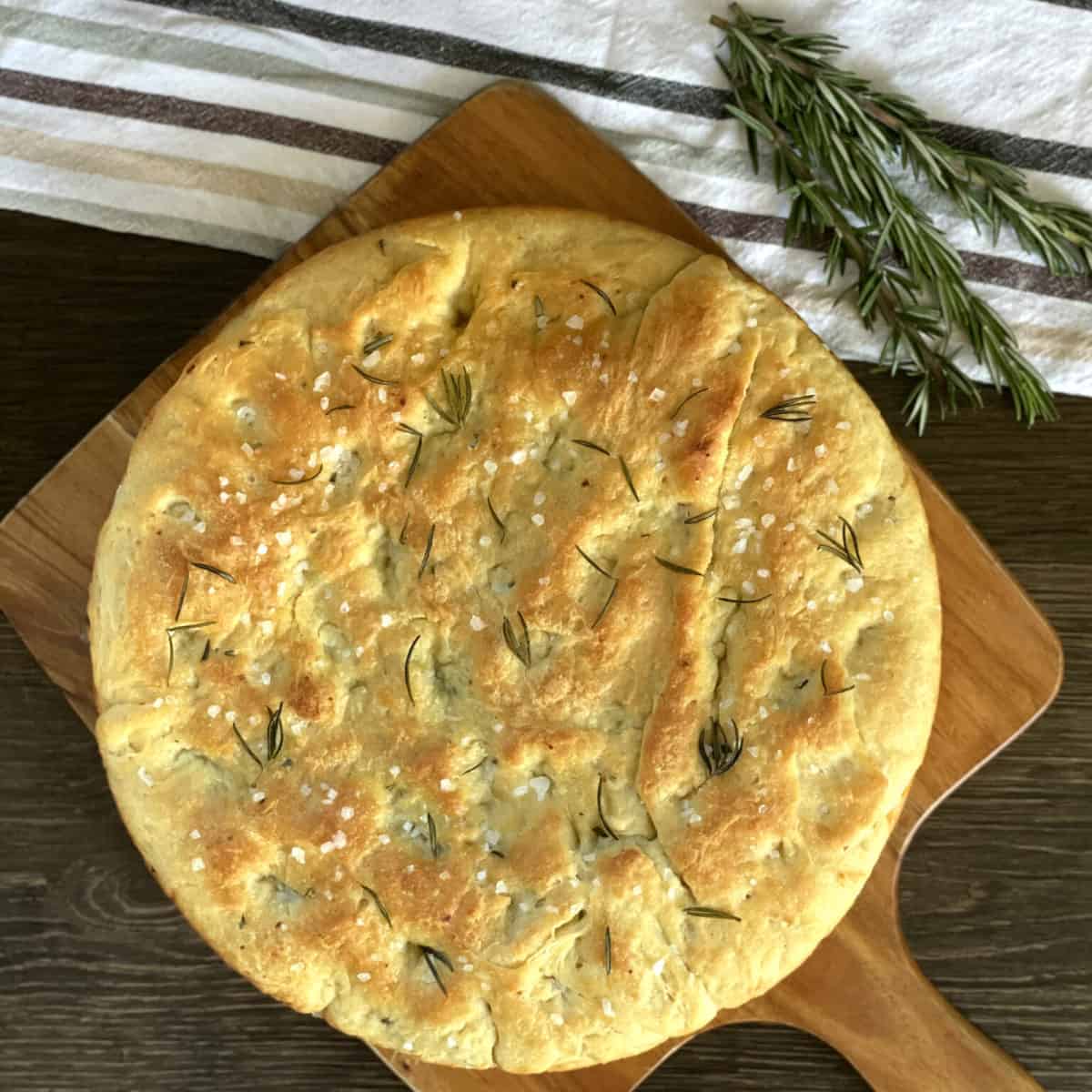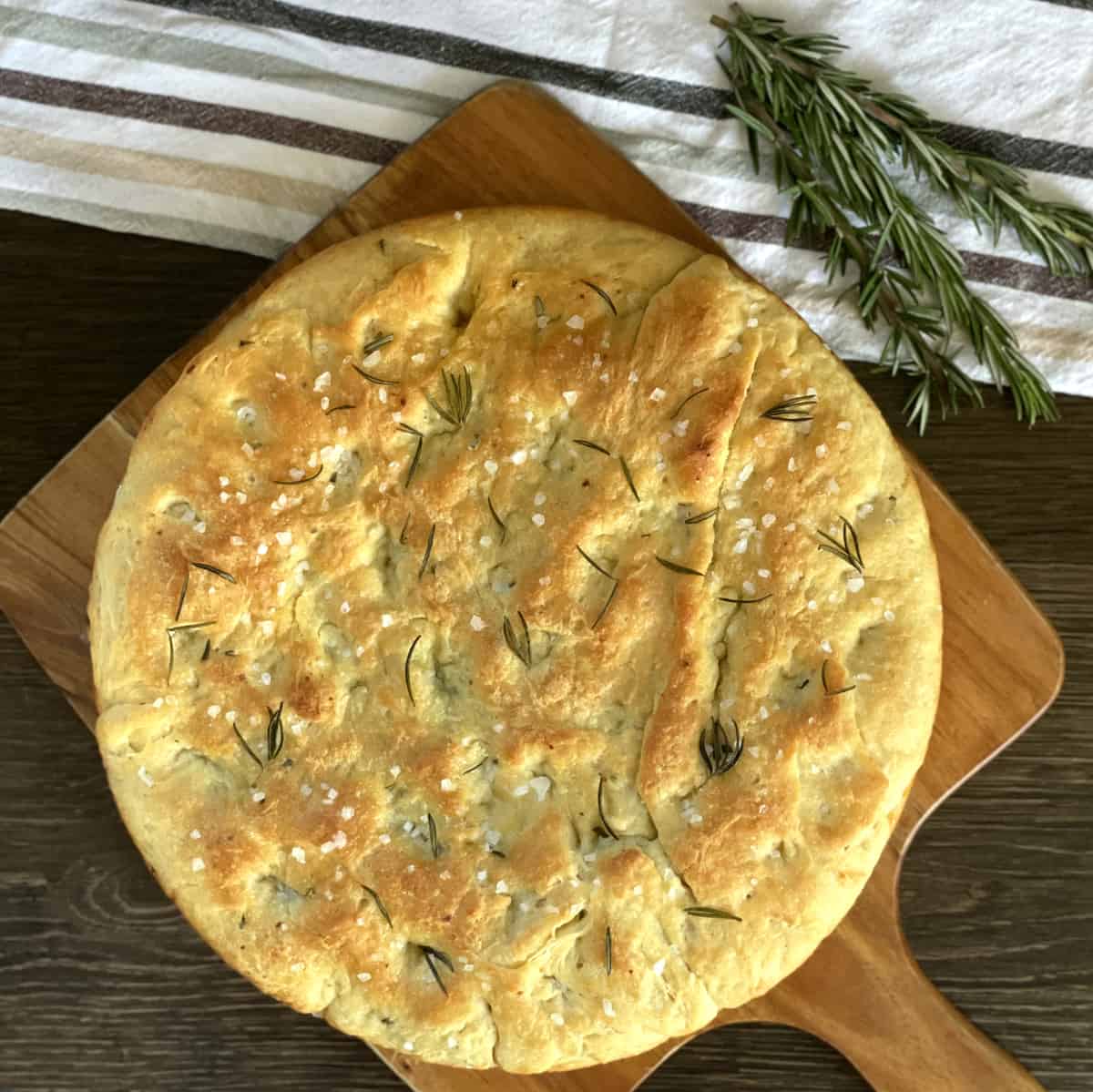 I have added a few extra flavours to enhance the entire loaf which I hope you love. No two loaves will be the same, which is the beauty of bread making.
If this is your first time baking bread then I hope you enjoy following along the process. I will expand on a few tips here in the post, or you can jump straight to the recipe and get baking!
You will need the following ingredients for this Stuffed Focaccia Bread
Olive Oil

Garlic

Rosemary

Warm Water

Yeast (I use quick acting)

Honey, ideally runny honey

Flour

Sea Salt

Feta

Basil

Olives

Mozzarella
You could add any fillings you like in the stuffing, even just using mozzarella with one or two other things would work well. I think adding semi sundried tomatoes would also be lovely. If you have other ideas be sure to add them in the comments below to inspire others!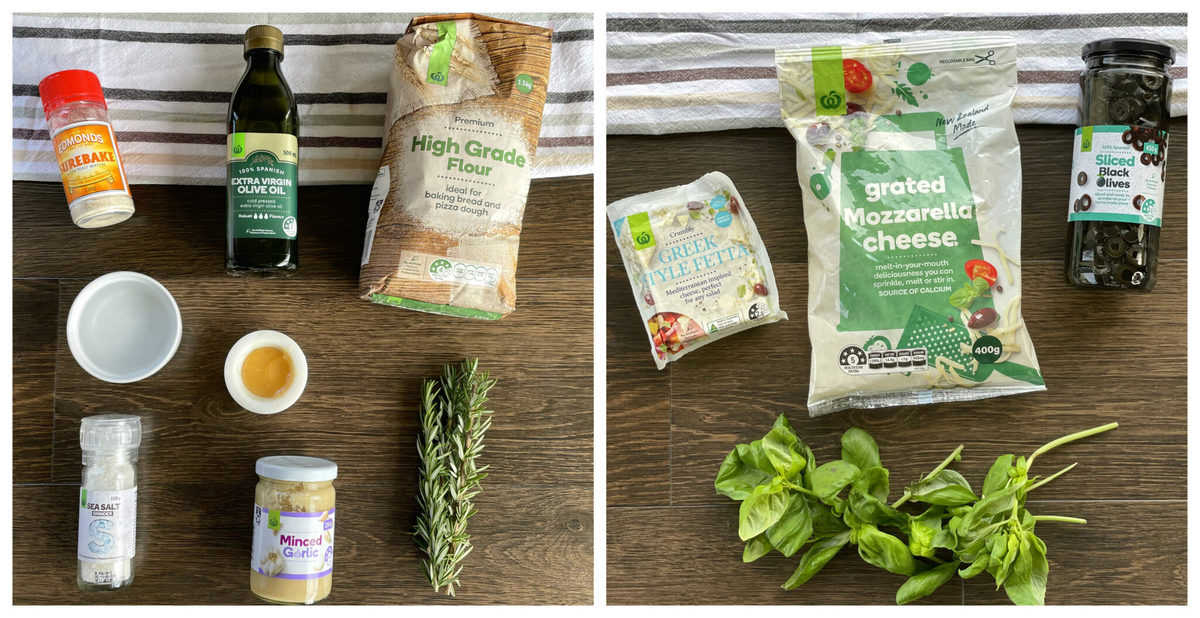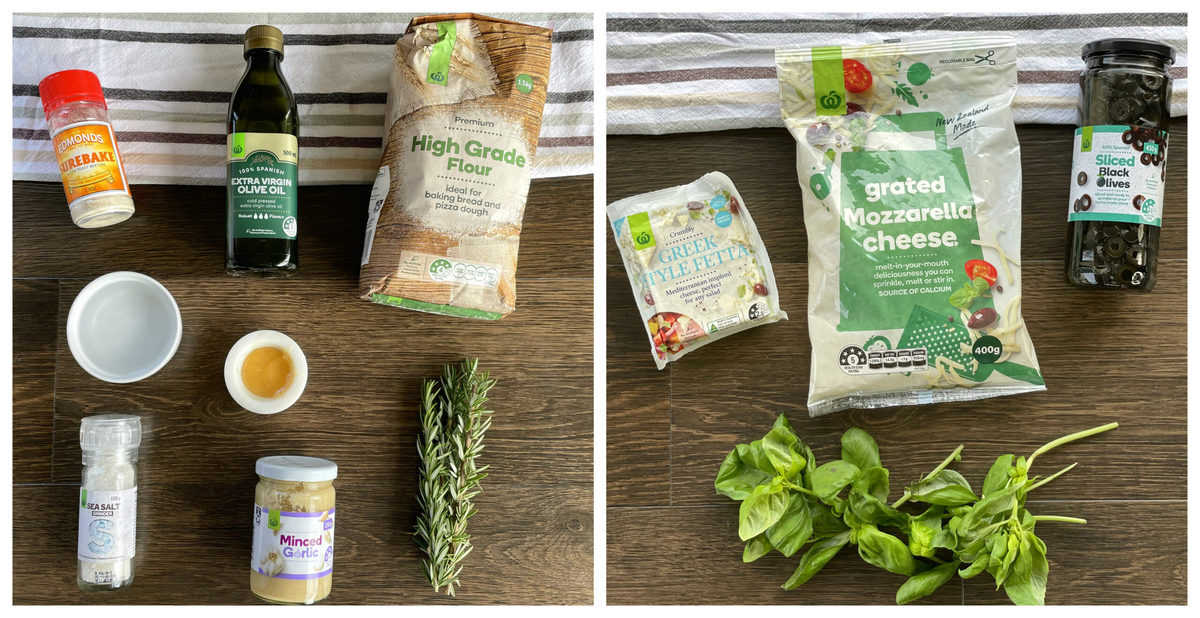 How to Make Stuffed Focaccia Bread – Step by Step
First you prepare the infused olive oil. This is quite simple, in a cold frying pan add the olive oil, garlic and rosemary and on a very low heat simmer the oil for 5-6 minutes until it begins to smell quite fragrant but not to brown the garlic.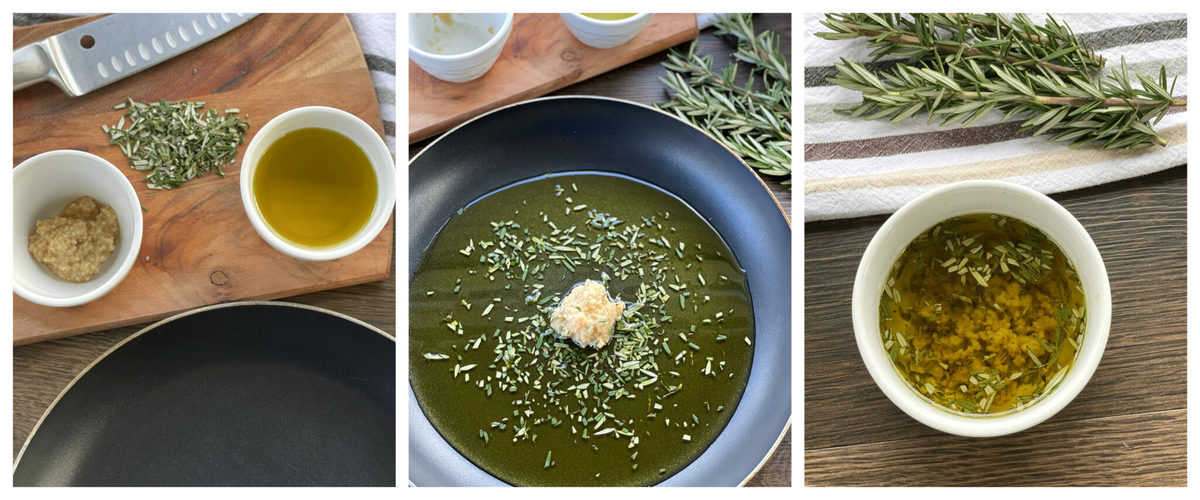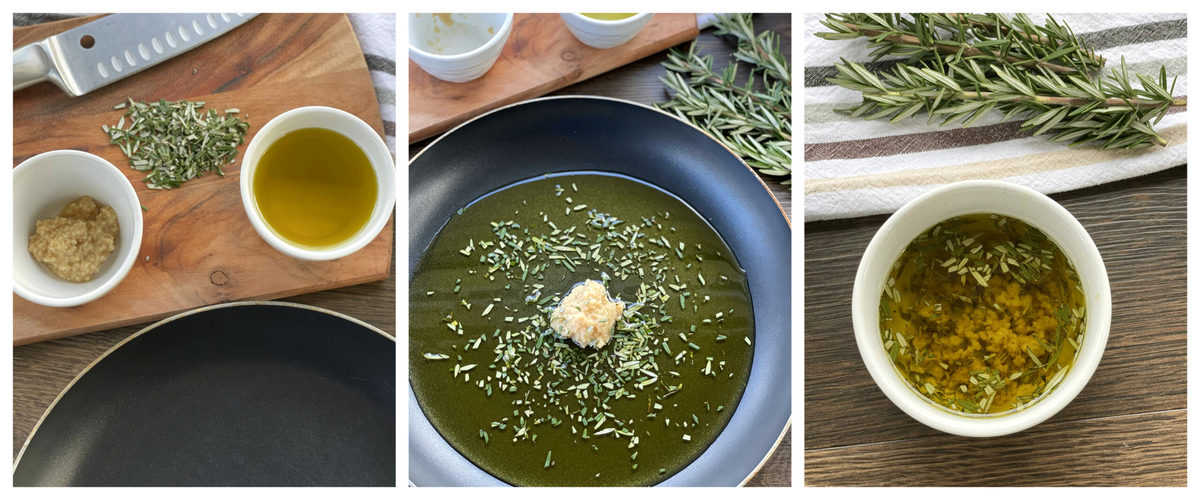 For the next step you will prepare the yeast. To do this you add the warm water to a large bowl, this is often called luke warm water, tap water is fine, not hot from the tap but warm.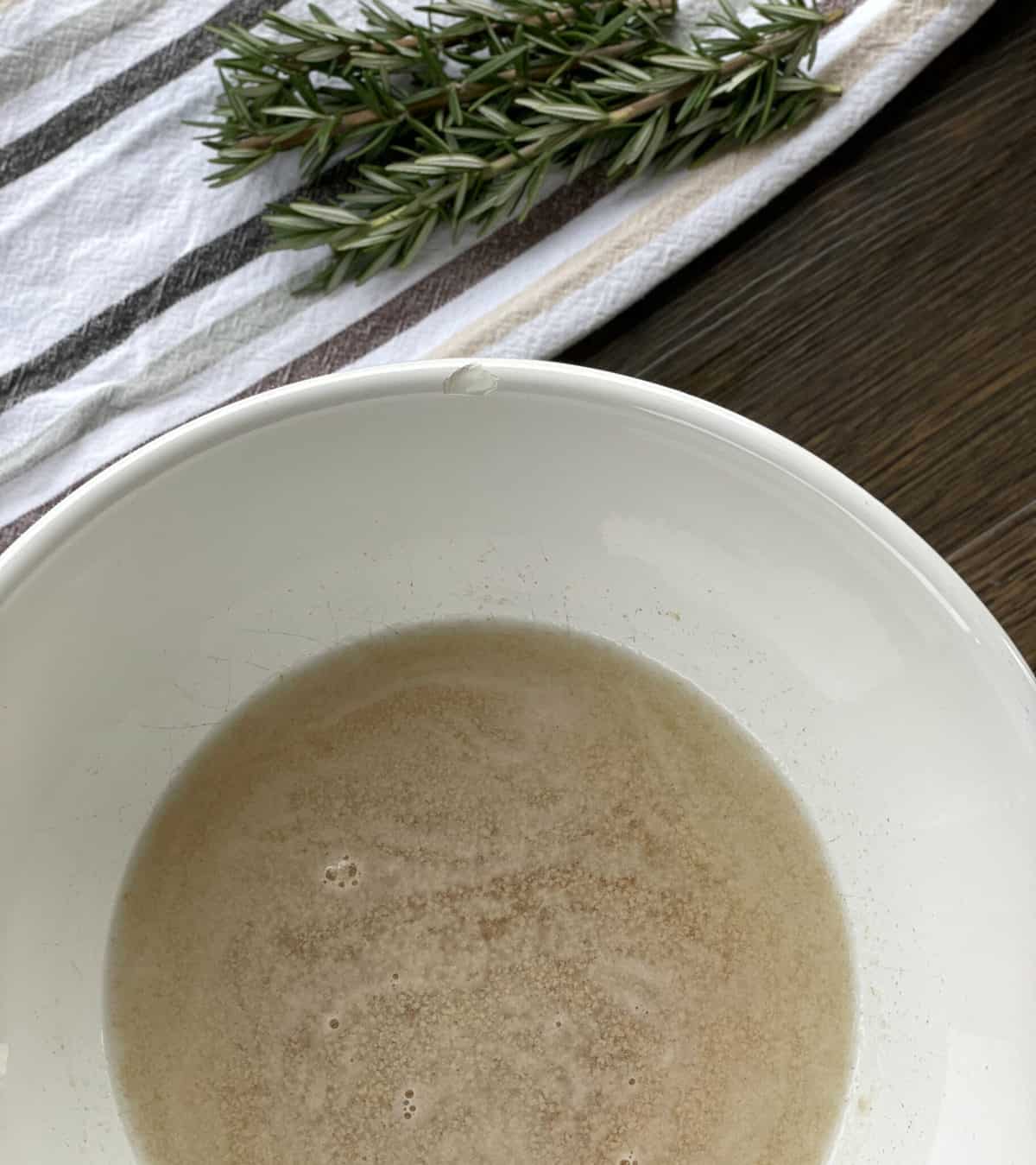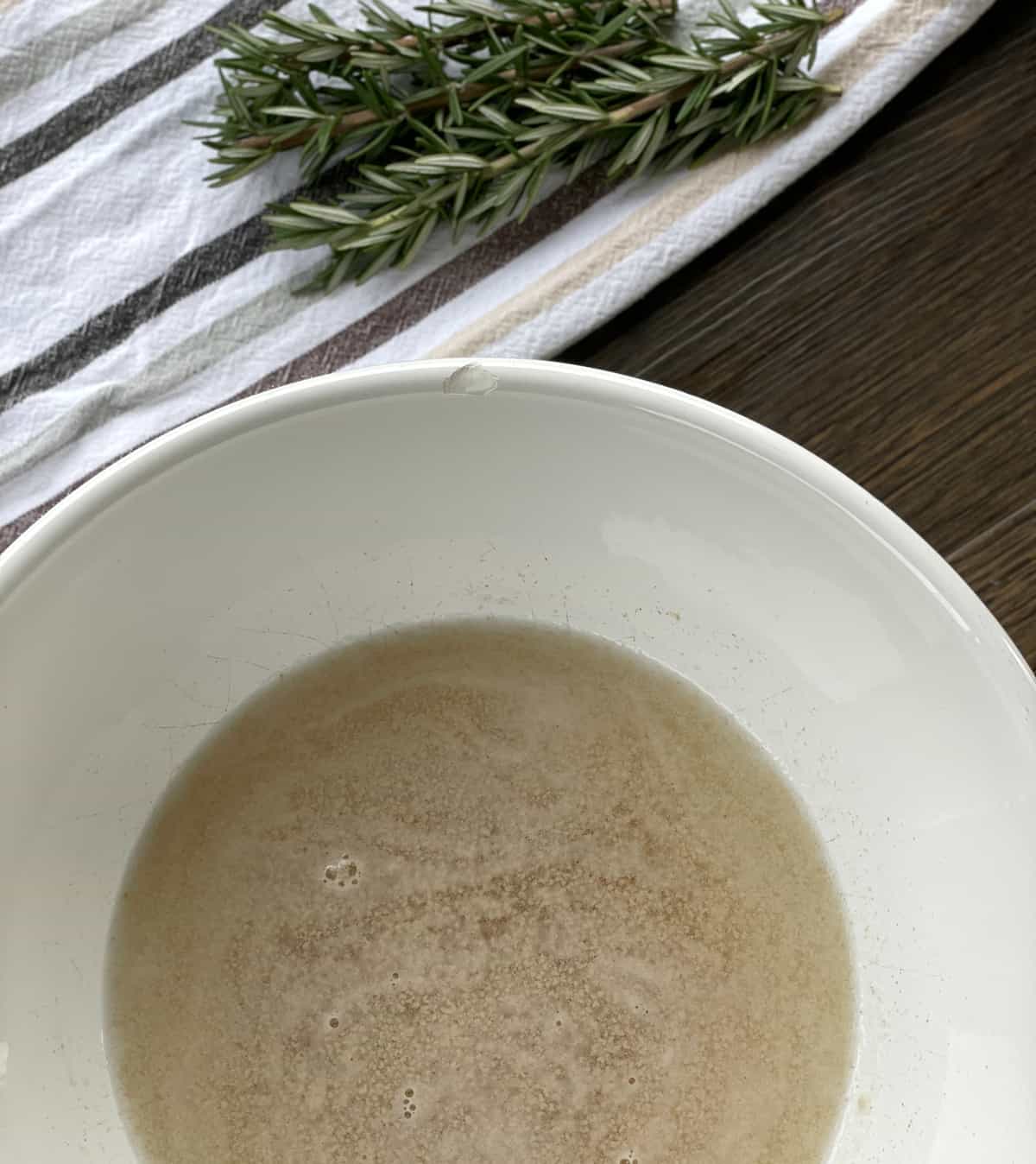 Add to the water the honey which acts with the yeast to allow it to bloom, you could also use a small amount of sugar if you don't have honey.
Then you sprinkle over this the yeast, gently combine and allow this to sit for up to ten minutes, it will begin to foam so you know this is working.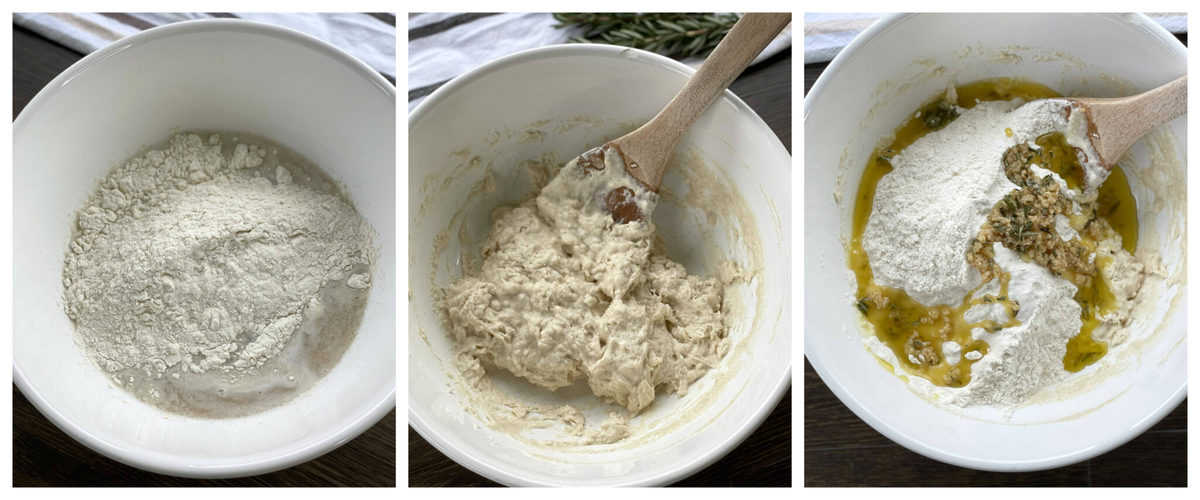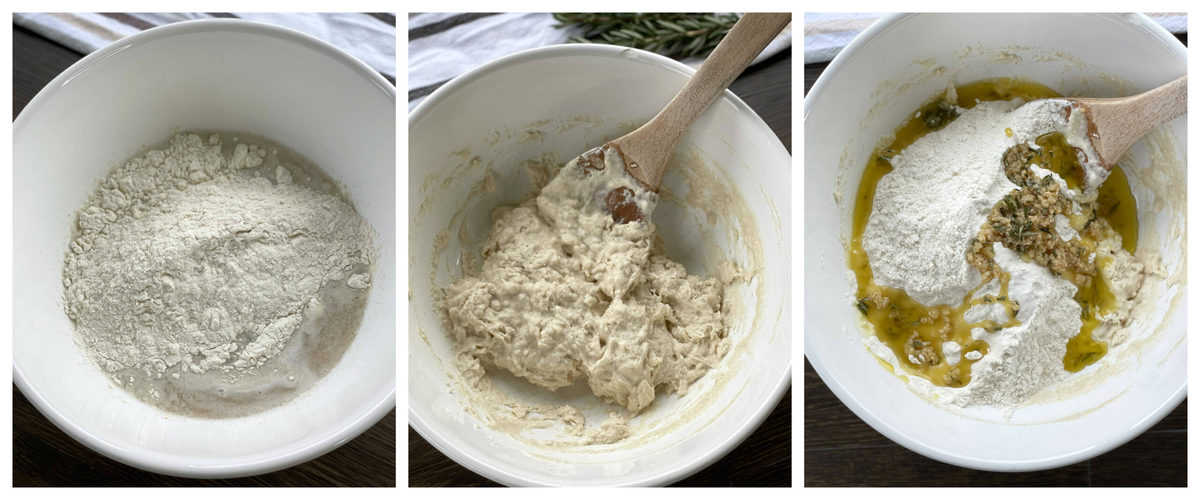 Add to this some flour and salt, stir then add the remaining flour and some of the infused oil. I like to add a lot of the garlic with this oil, so that the garlic is mostly IN the bread and not on the outside where it may burn upon baking.
Then you gently stir this to come together before turning it out onto a floured bench, then kneading it only slightly, I find about 15-20 kneads is all I do for it to come together. Then I split this dough into two portions and place in two oiled bowls. It pays to roll the dough around the bowl to coat it in oil so it does not stick as it rises.


The dough then needs to be covered and placed in a warm place until it has doubled in size, which takes approximately one hour.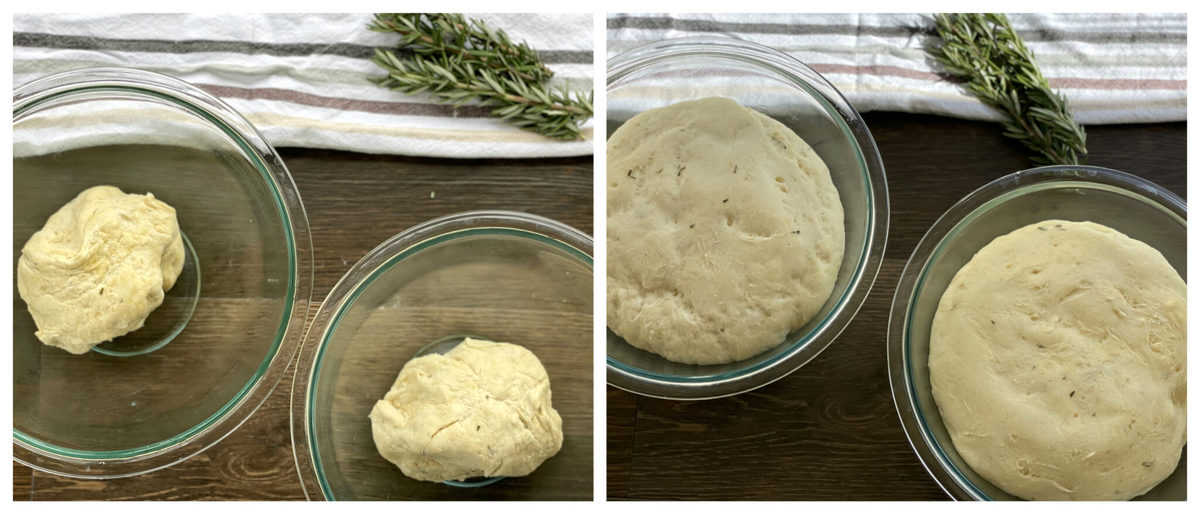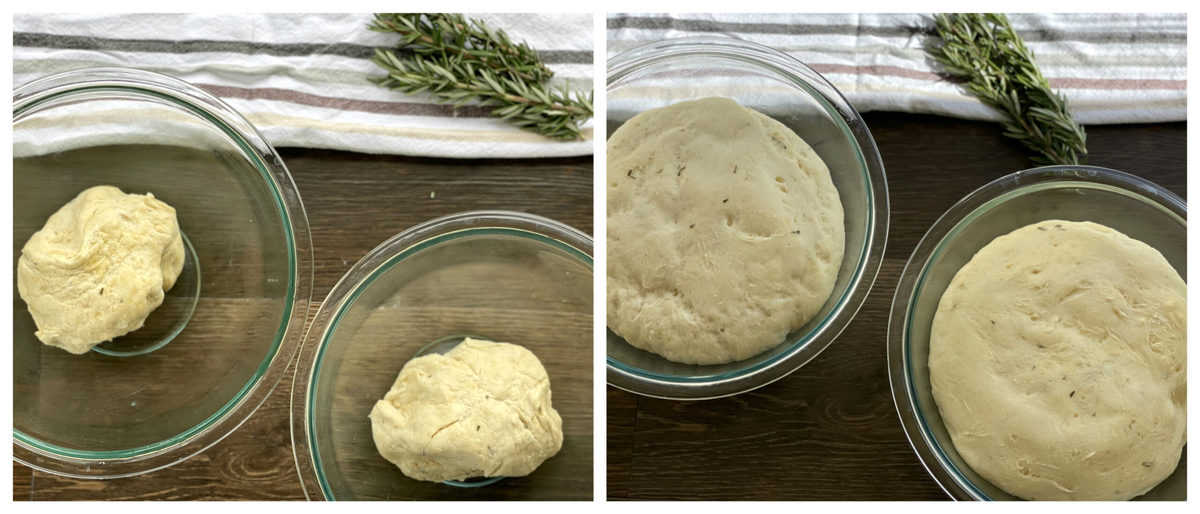 I then punch down the dough, spread one of the portions into an oiled lipped baking tray or large spring form tin, and spread to the edges.

Add to this the stuffing ingredients, the amount is up to you. You can add a lot and have quite a high loaf, or like I have done just enough to give it a lovely flavour. I leave as small gap around the edge.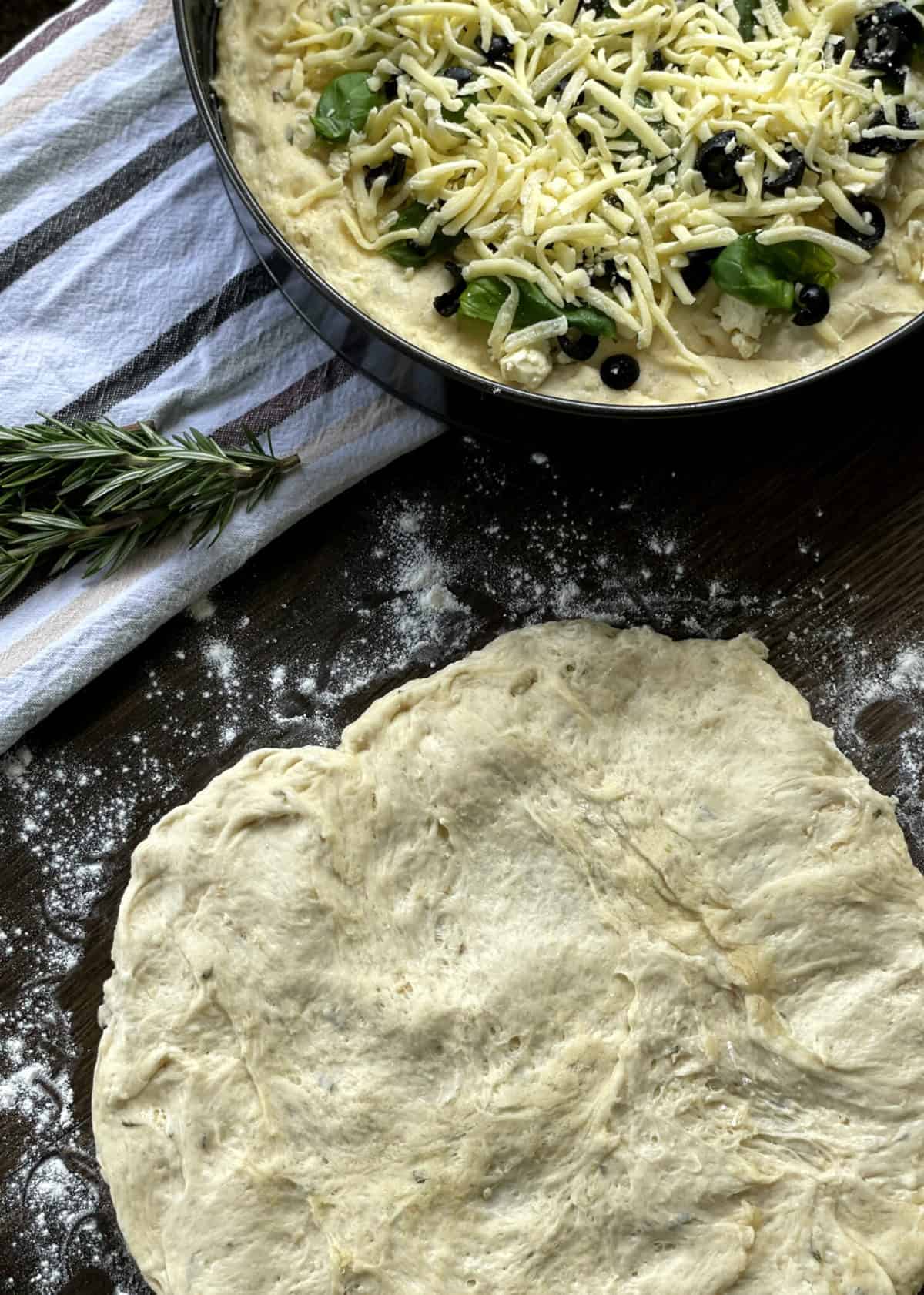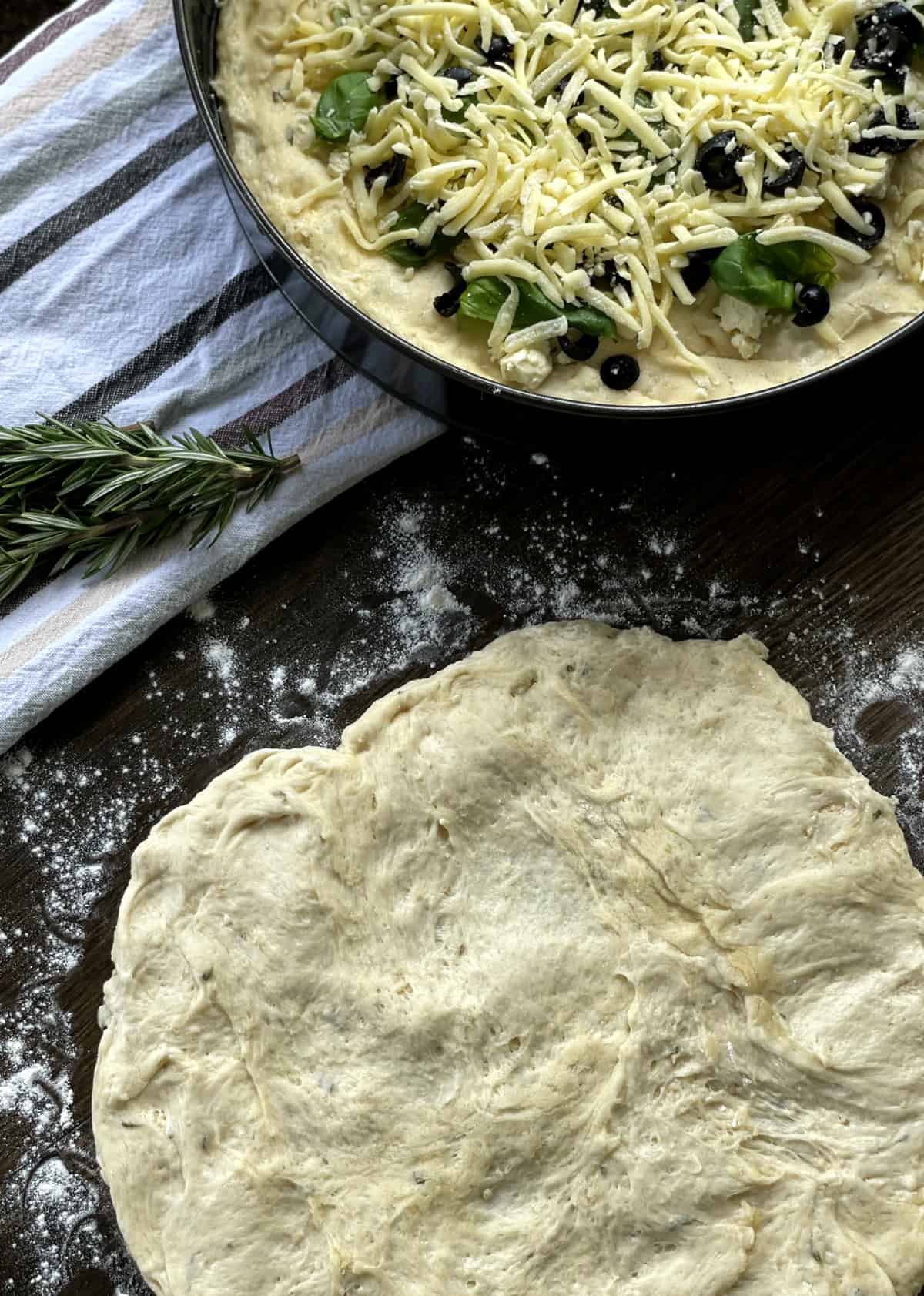 Then carefully work with the second portion on a floured surface to pull it into a similar shape to the original dish and gently lift this onto the stuffing and pull it into shape. If it breaks that is ok, you can simply pinch together the dough.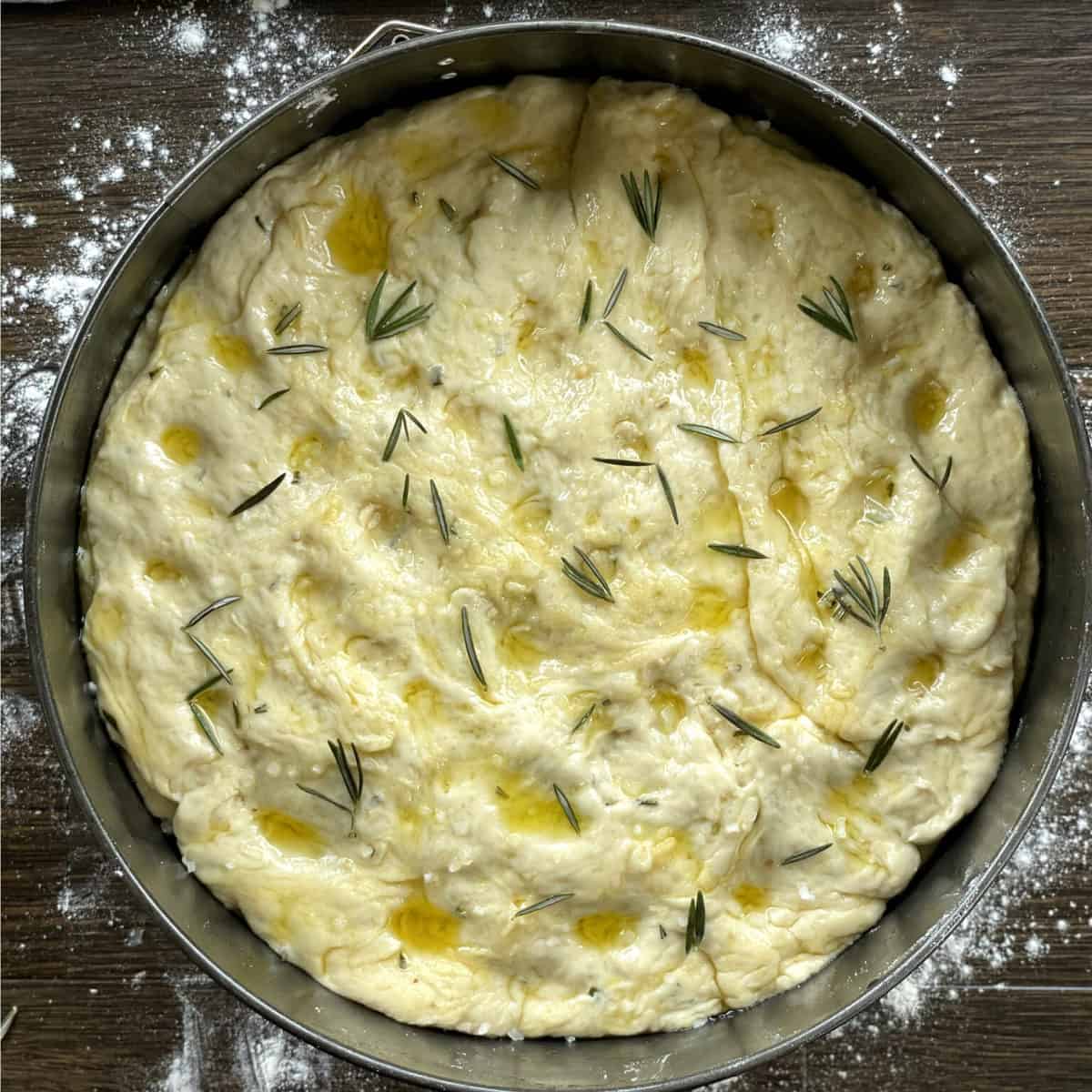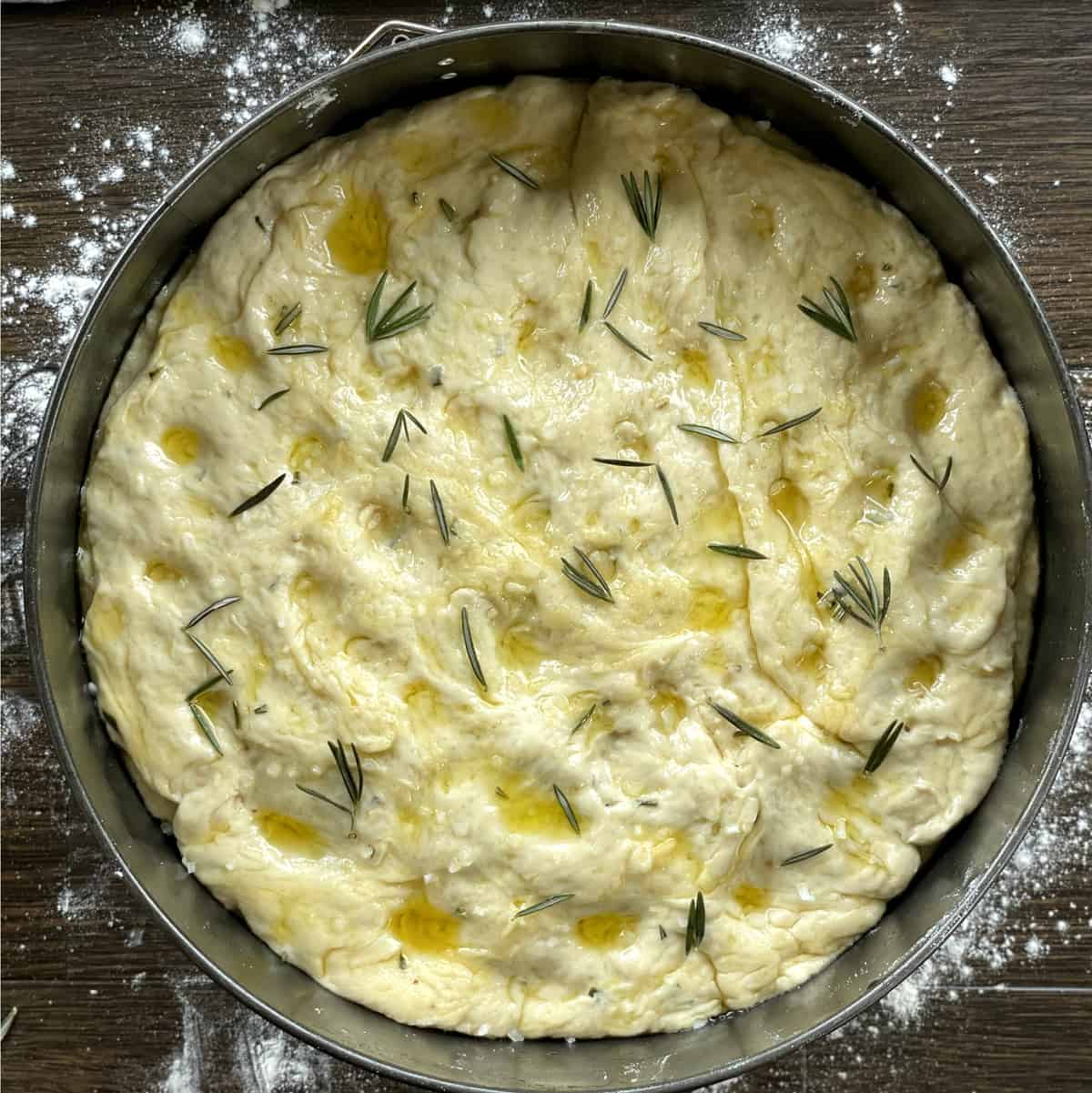 Using your finger tips press indents all over the dough and then pour over the remaining infused oil and spread to cover. Allow this to rest for ten minutes in a warm place before cooking in a hot oven.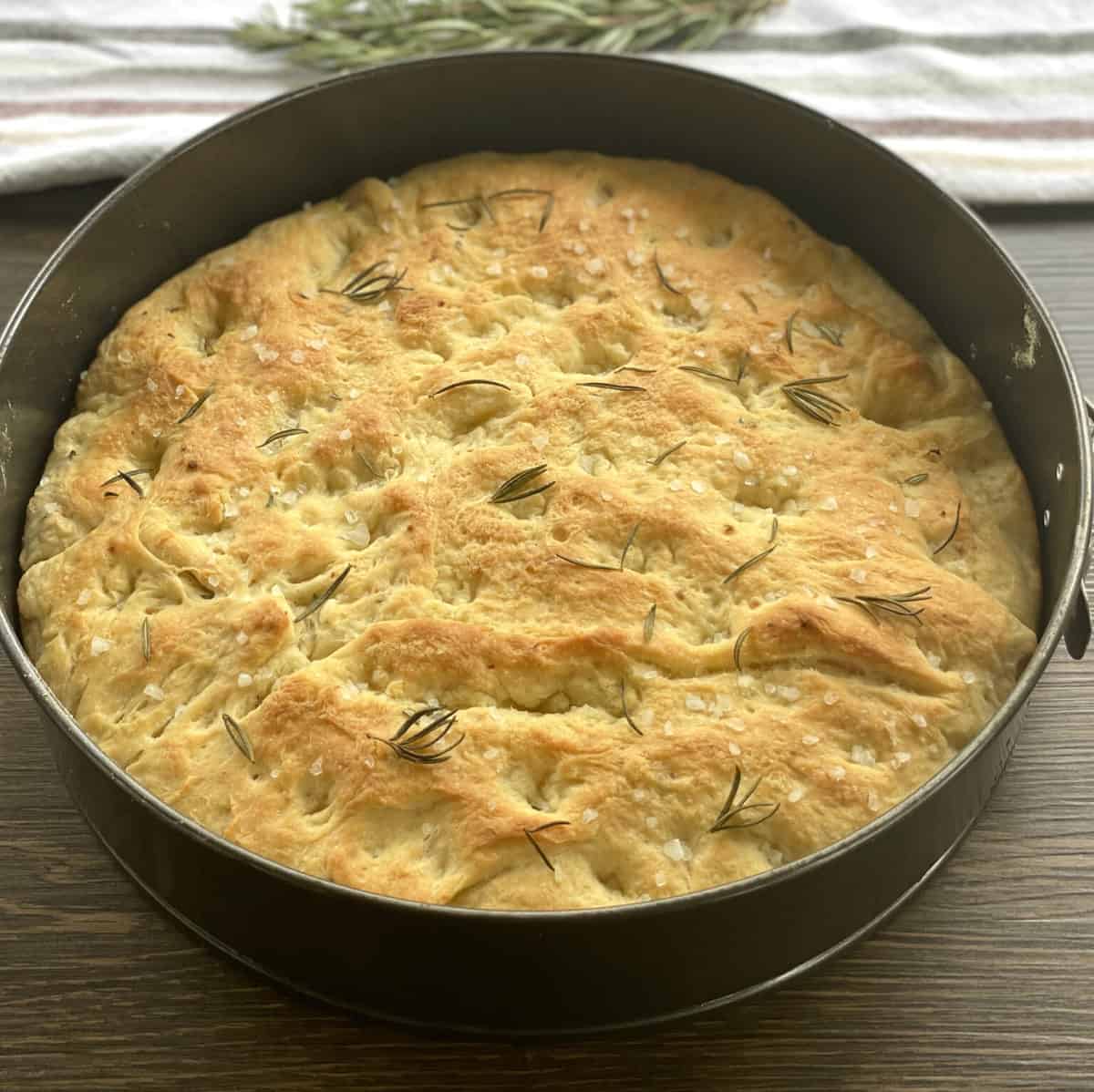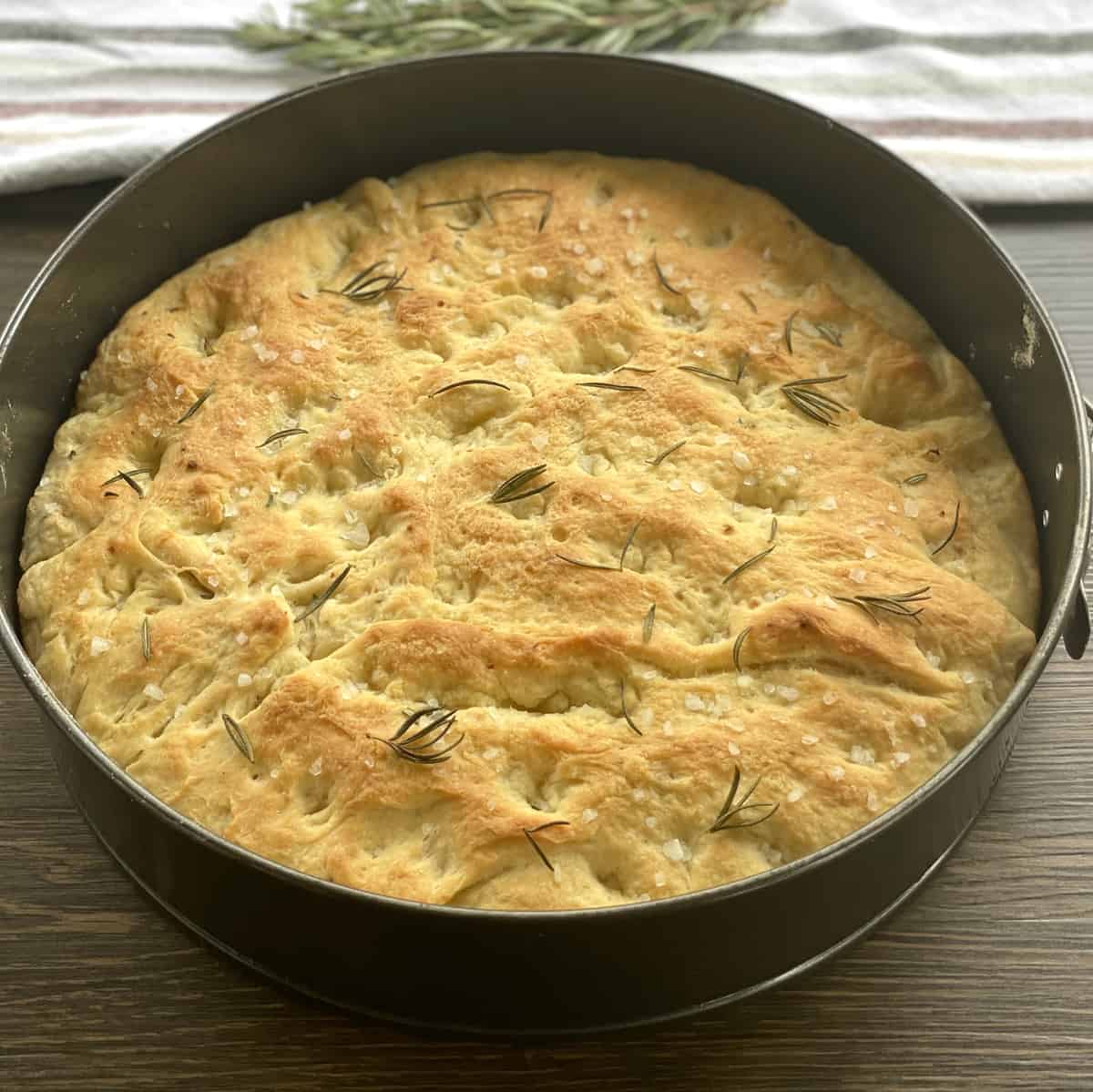 The dough is cooked completely when it is golden brown and sounds hollow when you tap it. Remove it from the oven and allow it to cool slightly before placing it on a wire rack to cool further.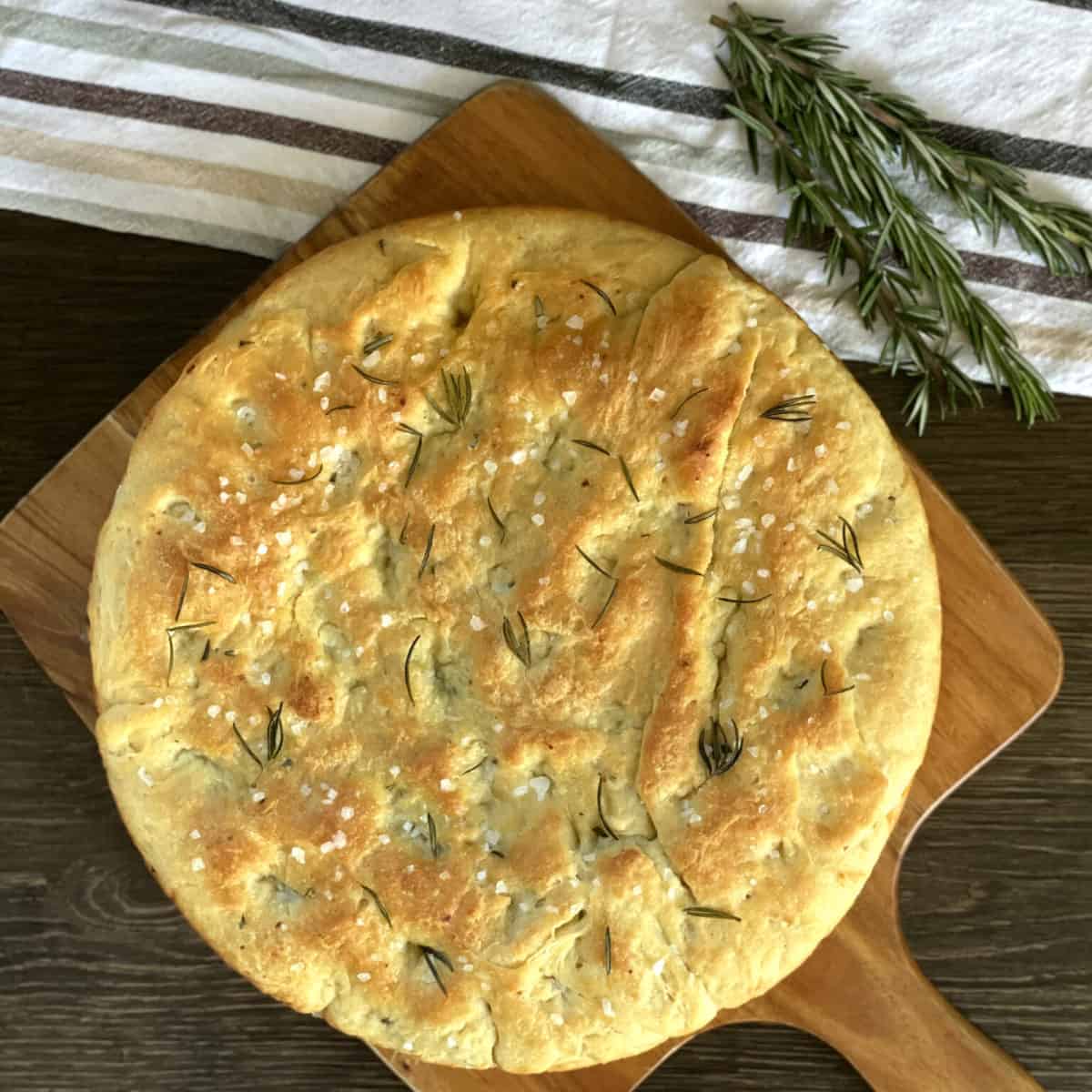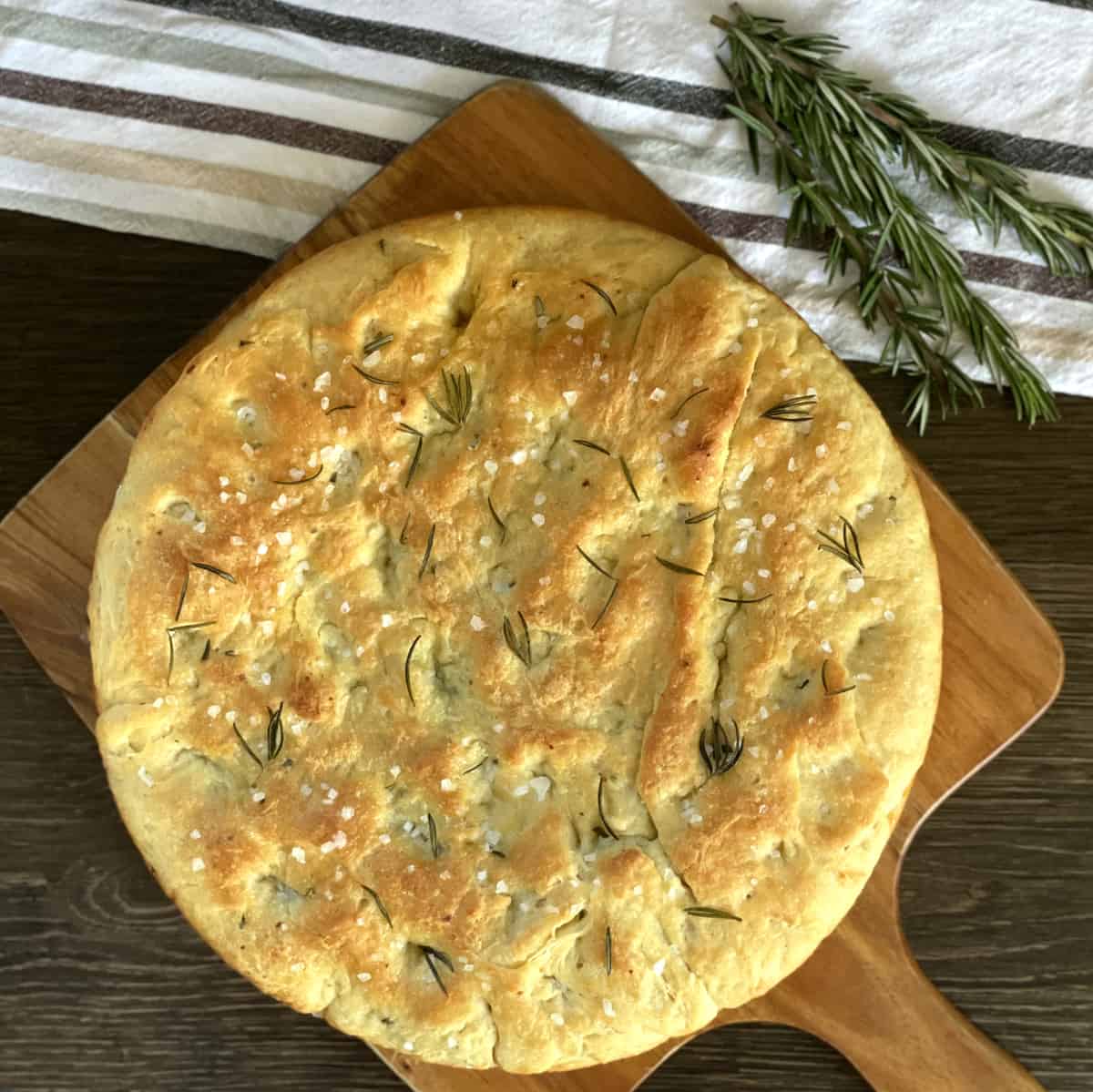 It is out of this world tasty and smells divine if I do say so myself and cannot wait to hear what you think of it!
Onto the recipe for Stuffed Focaccia Bread with Feta, Basil, Olives and Mozzarella
I hope this has inspired you to try out Focaccia for the first time or with a different flavour. Be sure to let me know in the comments below what you think.
Thank you so much for stopping by to check out my latest recipes on my blog. If you are not already, be sure to follow me on Facebook or Instagram for more deliciousness, and you can register your email in the subscription box below to receive all my recipes as I publish them.
Happy Cooking
Anna
Do you love baking bread? Try this slow cooker version, so simple and no yeast!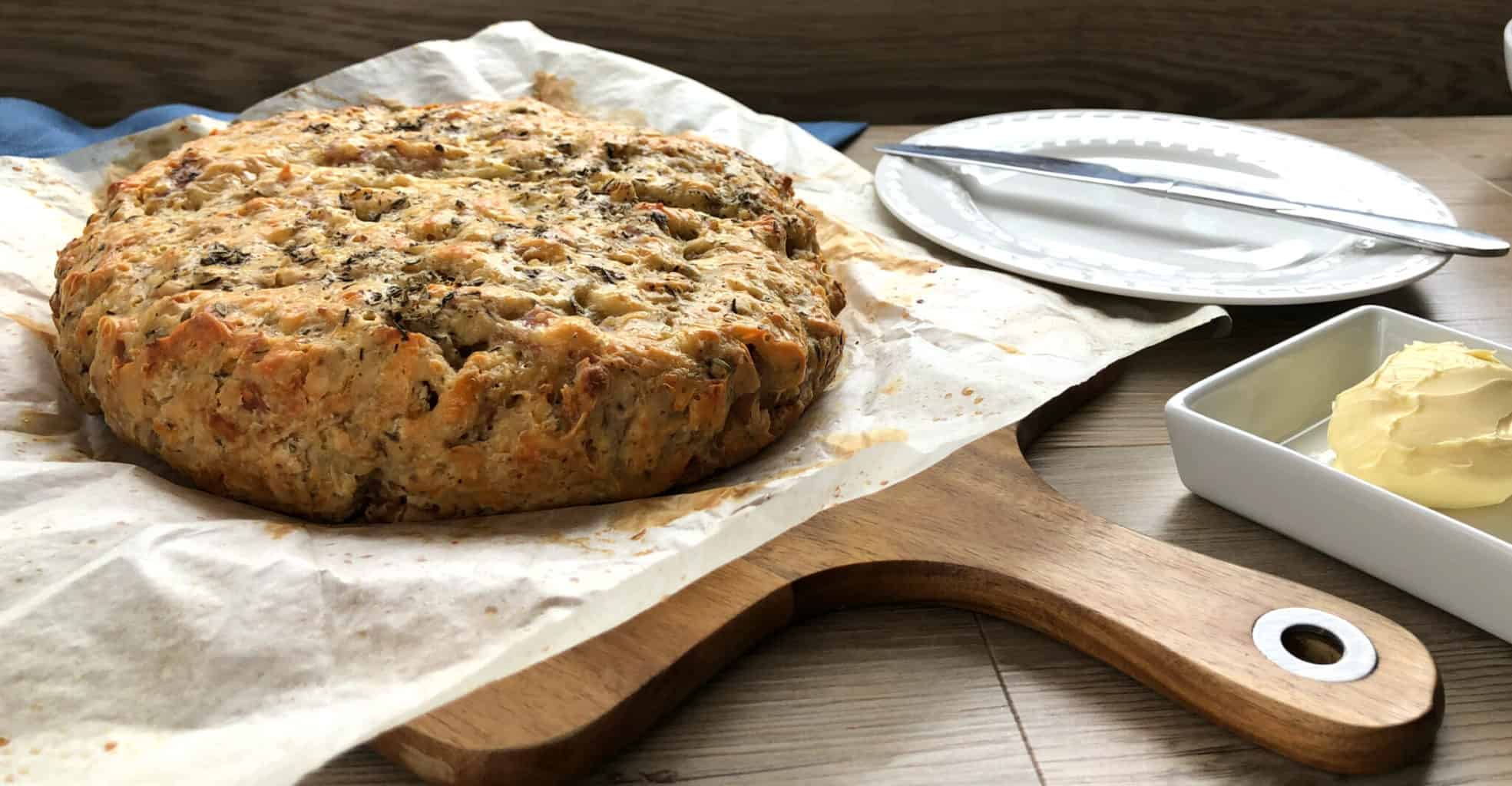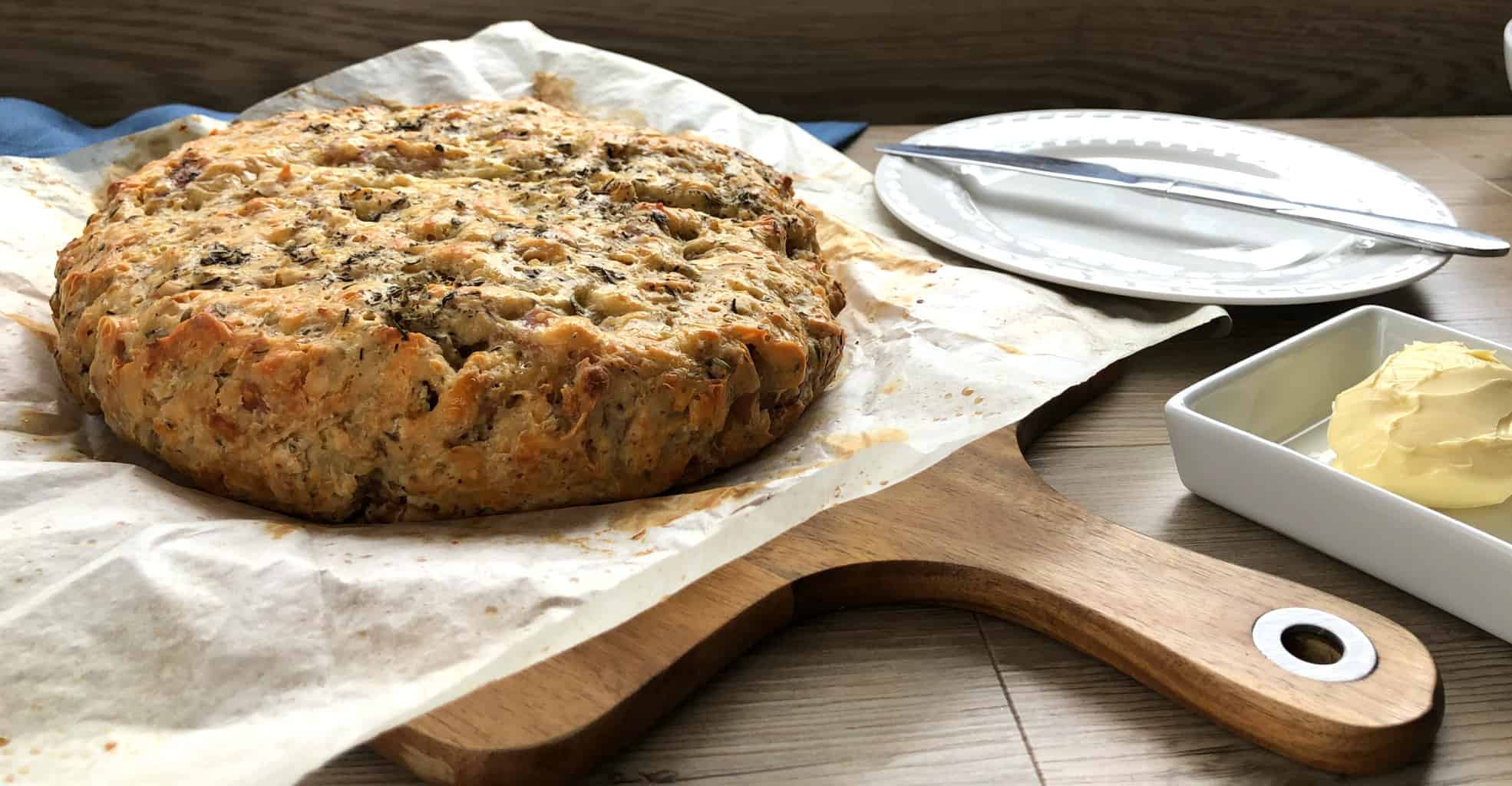 Pin It! Pinterest