Meringues are such a lovely easy recipe to master, I hope you enjoy this version of them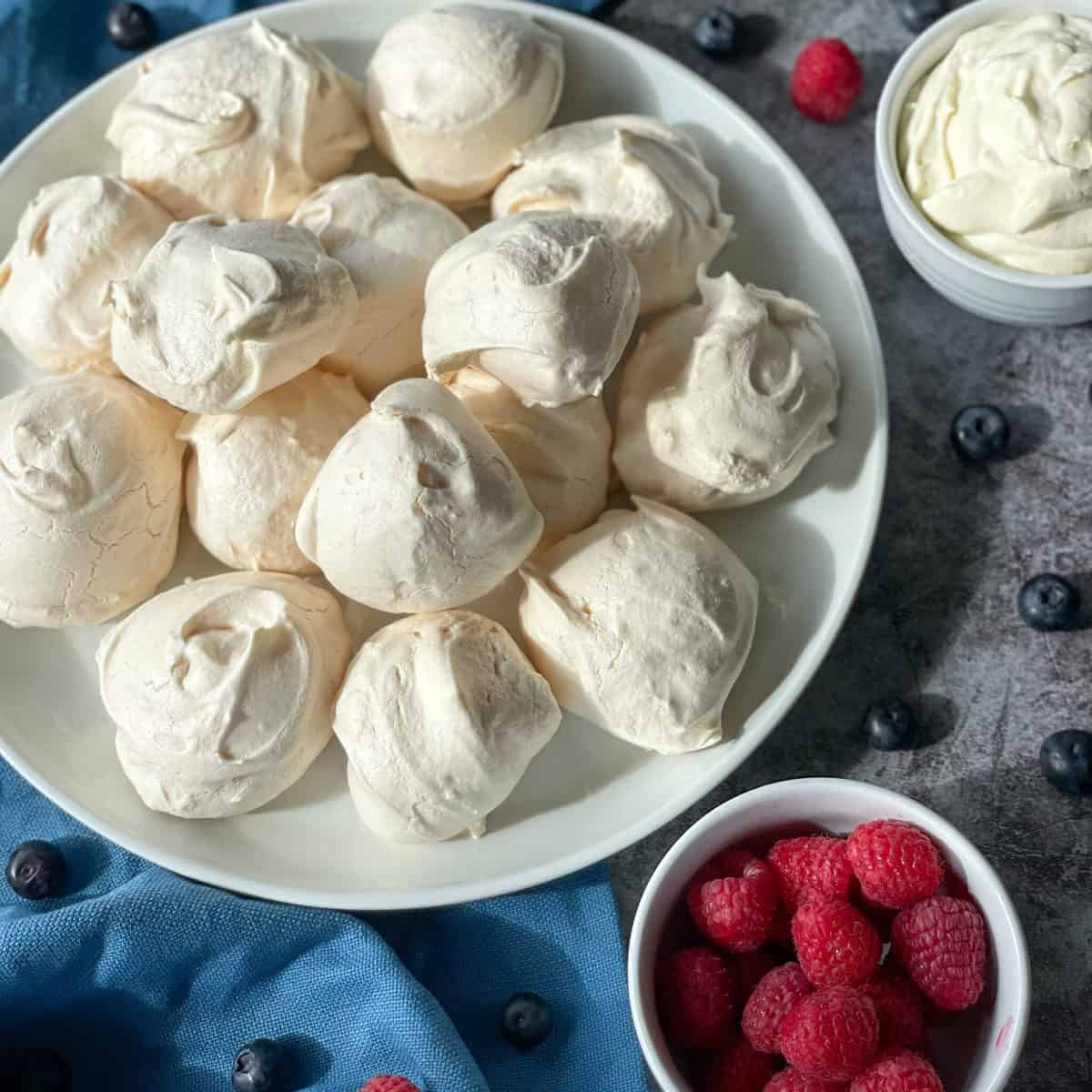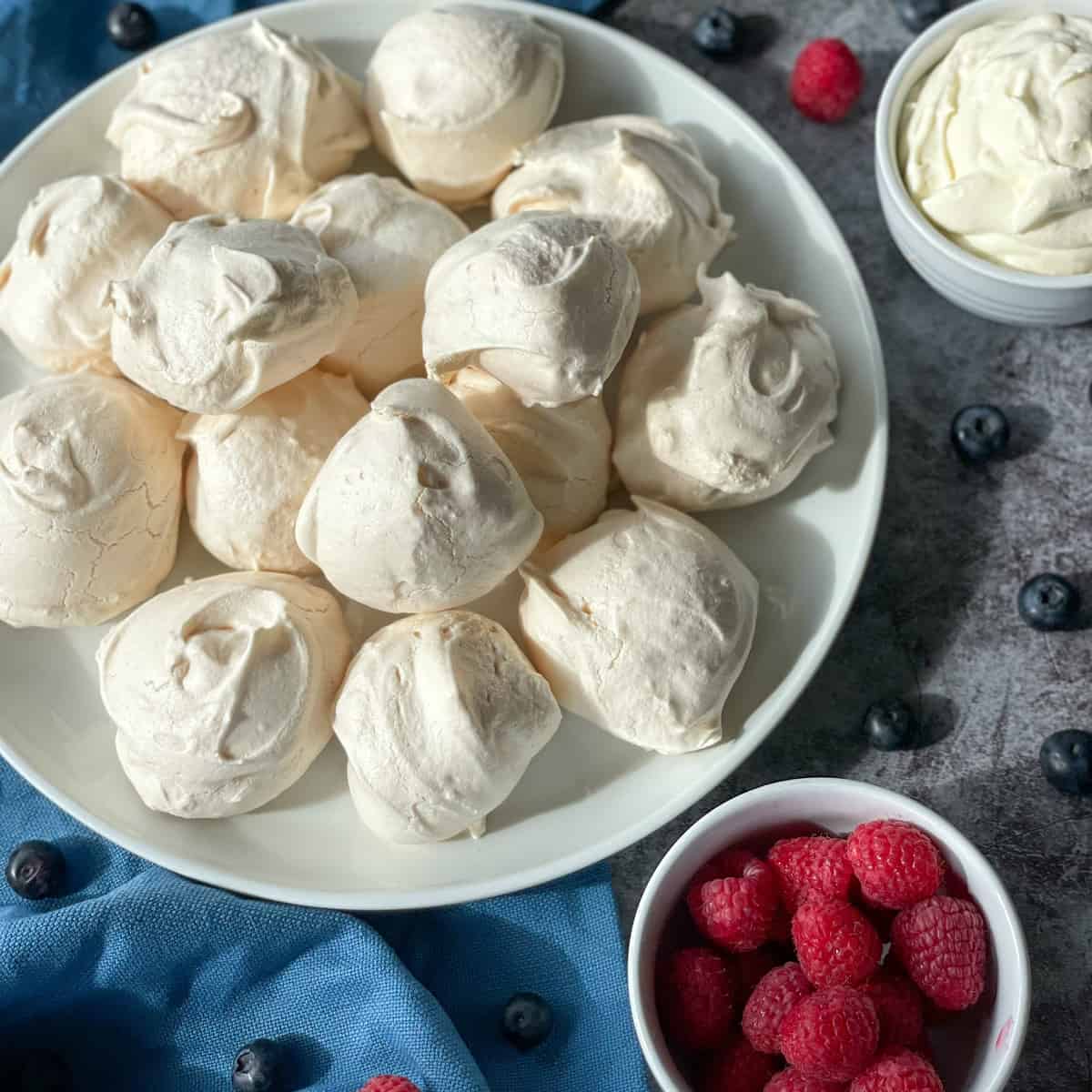 Ingredients for this recipe have been kindly provided by Countdown Supermarkets as Brand Ambassador, all opinions are my own
I have been wanting to share a few methods for making meringues for years now but never quite got around to it, so my first recipes of 2022 are to be TWO version of meringues.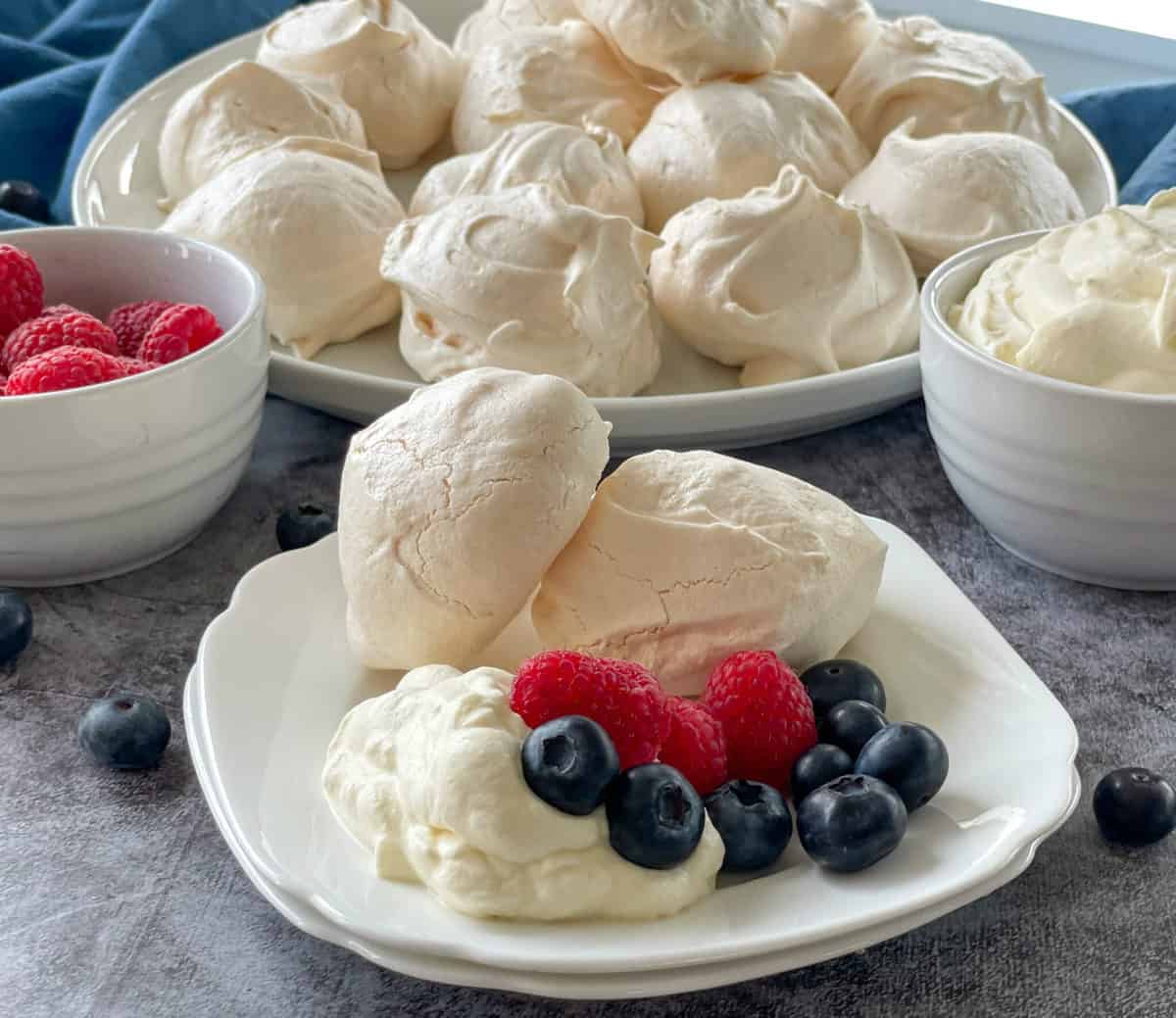 Meringues for those that are not in the know are lovely little crispy pillows made from combining egg whites and sugar. There are a few different variations. You will often find homemade ones have a crispy exterior and a chewy or softer interior.
Store bought meringues are often crisp all the way through.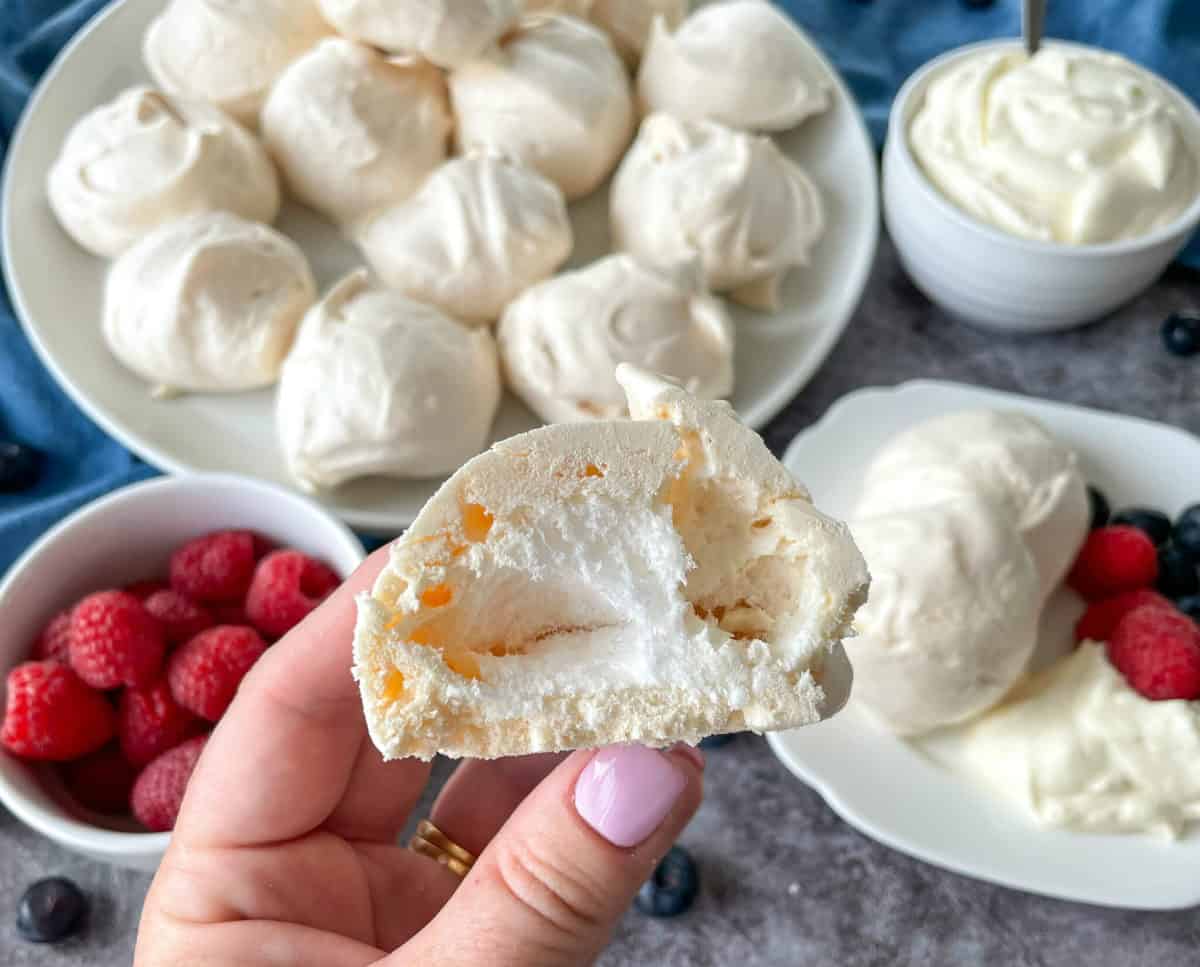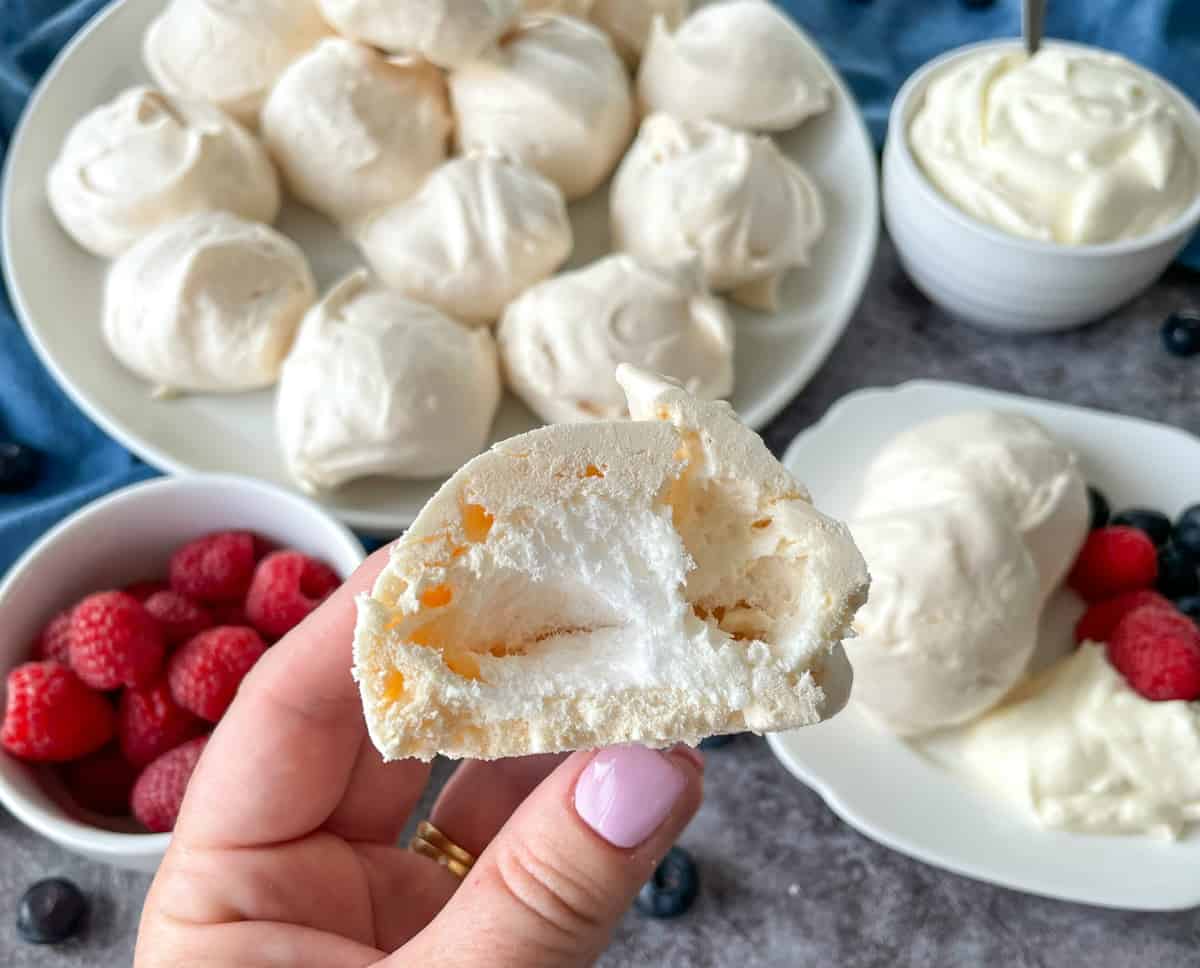 The two versions I have are very similar except for one ingredient, the use of icing sugar vs sugar. The difference it makes is sometimes noticed in the colour and also the all sugar version is often more crispy throughout rather than chewy as this one is.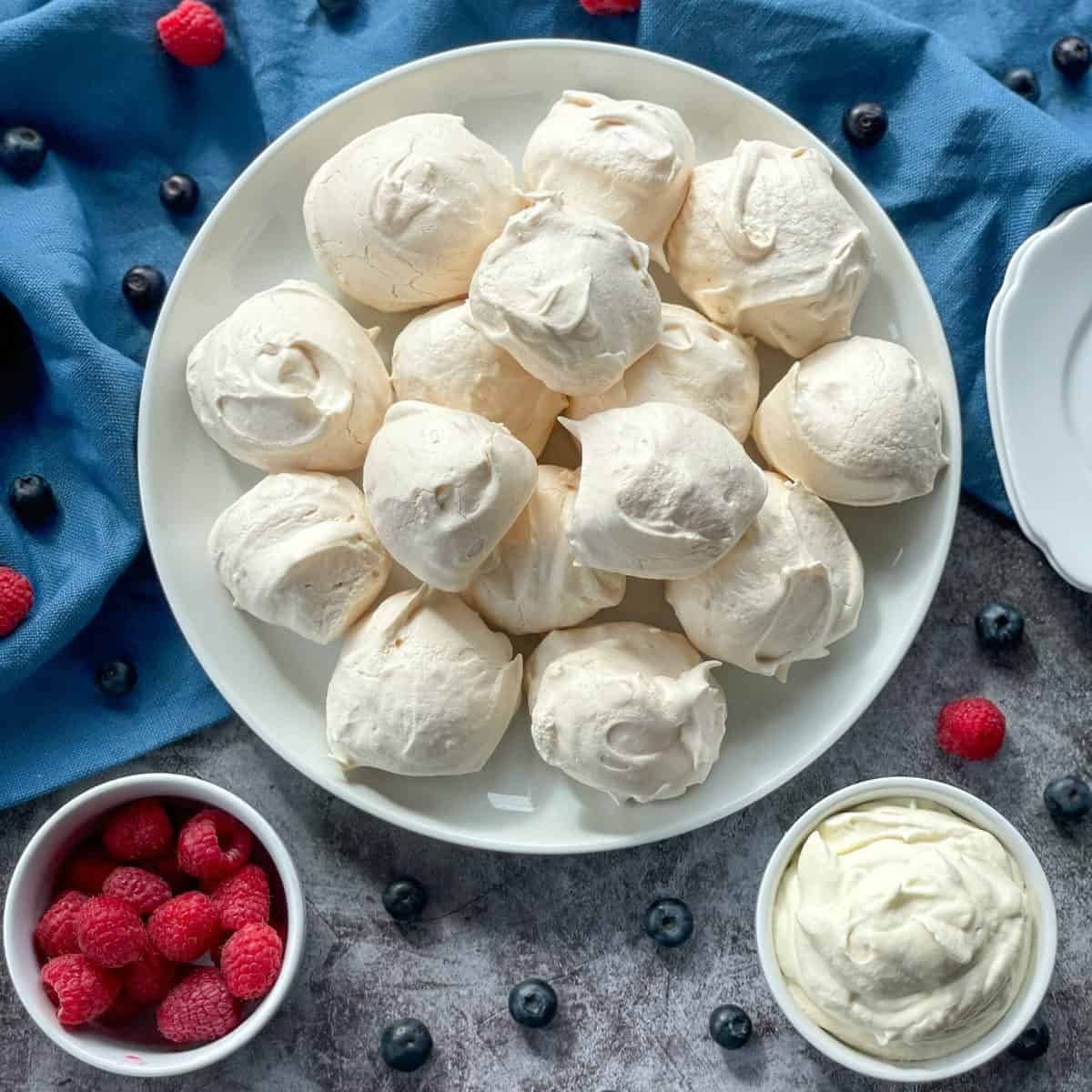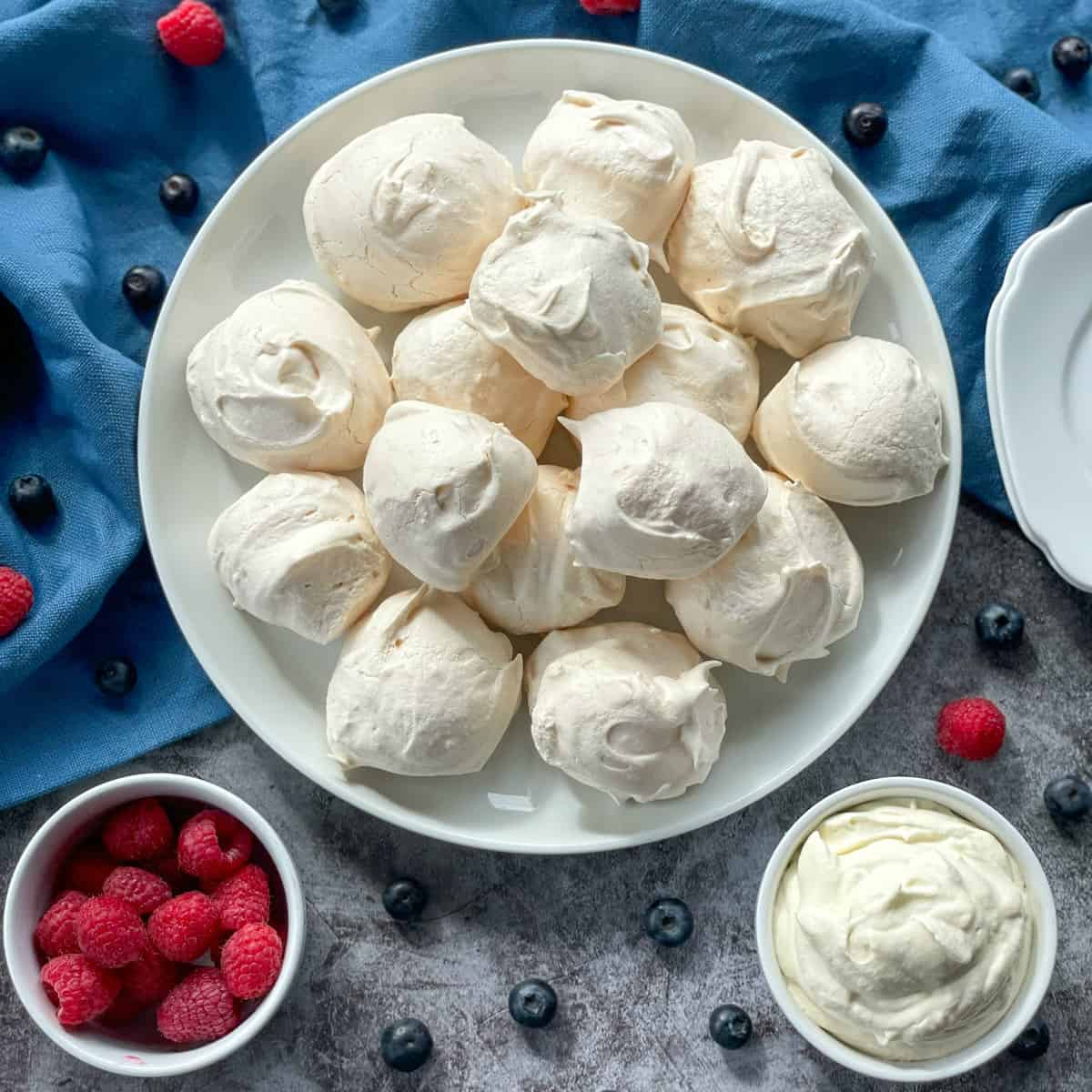 There are several tips I have to help you get the very best meringue, if you are already an expert feel free to hit the Jump to Recipe button, otherwise have a look through these tips before you begin
Tips for Perfect Meringues
Ensure your mixing bowl and whisk are completely clean, dry and free from any oils at all. Oils or any grease will mean the egg whites do not whip up and hold their shape.

Use a food mixer and the whisk attachment – a hand held beater can be used but is a little trickier and does not completely whisk all ingredients together in a consistent way.

Use fresh eggs, the fresher the better for holding their shape once whisked

I use 3 bowls to separate eggs, one to separate the egg over that catches the egg white, then I pour the egg yolks in the second bowl and transfer that egg white to the third bowl in between eggs. This way if one of the eggs breaks I don't ruin all the egg whites!

Make sure the eggs are at room temperature

When whisking the egg whites you want to whip them until they form stiff peaks. Stiff peaks are when the whisk attachment is lifted and the egg whites lift with the whisk hold their own shape

Also you want to make sure no unwhisked egg white remains at the bottom of the mixing bowl.

You must add the caster sugar very slowly and combine in between. I use a dessert spoon to do this, I pour it slowly down the side then count to 6 before slowly adding the next spoonful until it is all combined. The reason for this is so the meringues do not weep once baked.

Sift the icing sugar over the meringue one third at at time to ensure the meringue does not loose its pillowy goodness as you carefully combine it with a large metal spoon.

Use two dessert spoons to place the blobs of meringue on the prepared tray, one to scoop the mixture and the other to gently scrape the mixture off the spoon.

Cook long and slow, and allow the meringues to cool completely in the oven once the cooking time is over, this prevents cracking and ensures they are lovely and crispy on the outside rather than sticky.
Seems like a lot of information but they are little things that can make the process much easier in the end.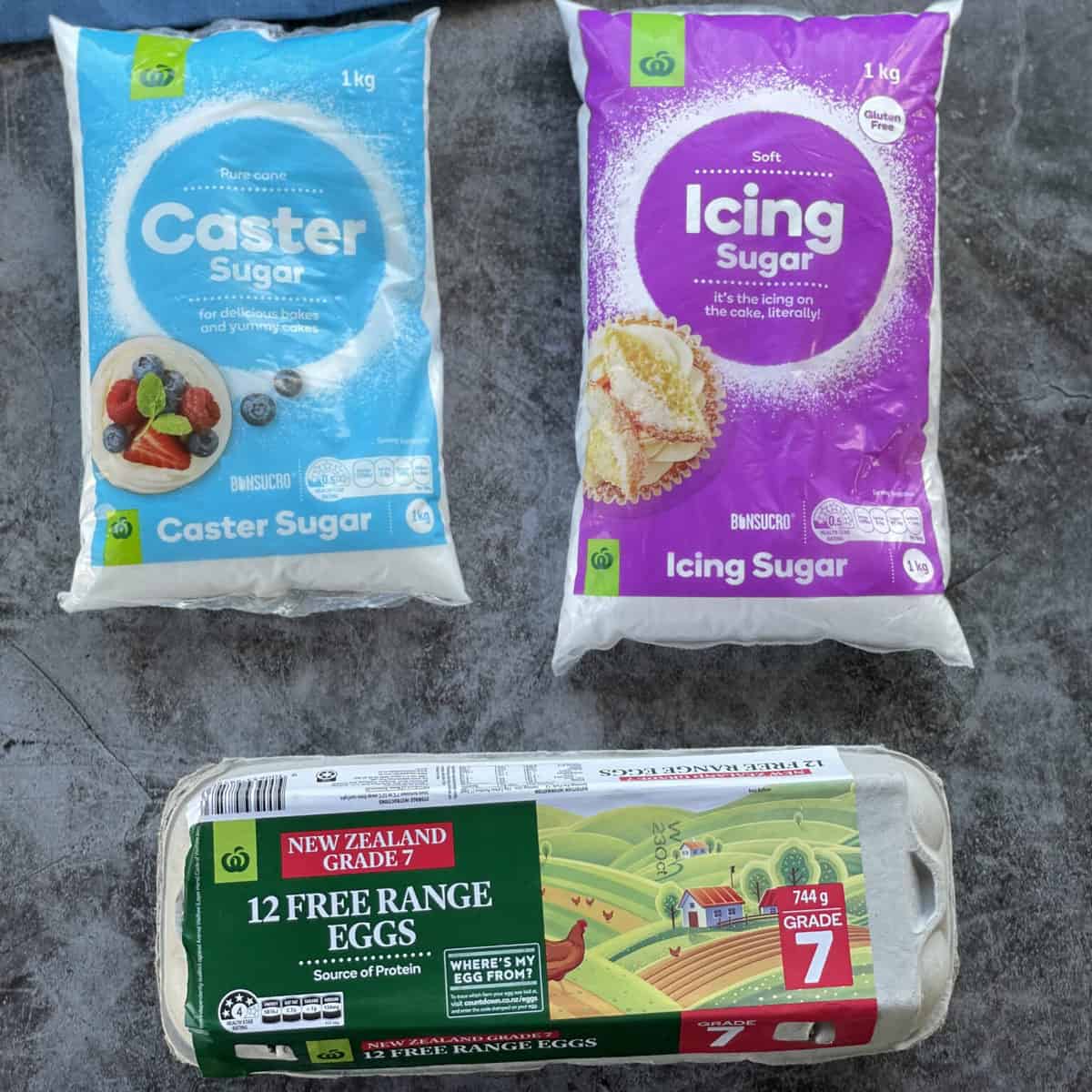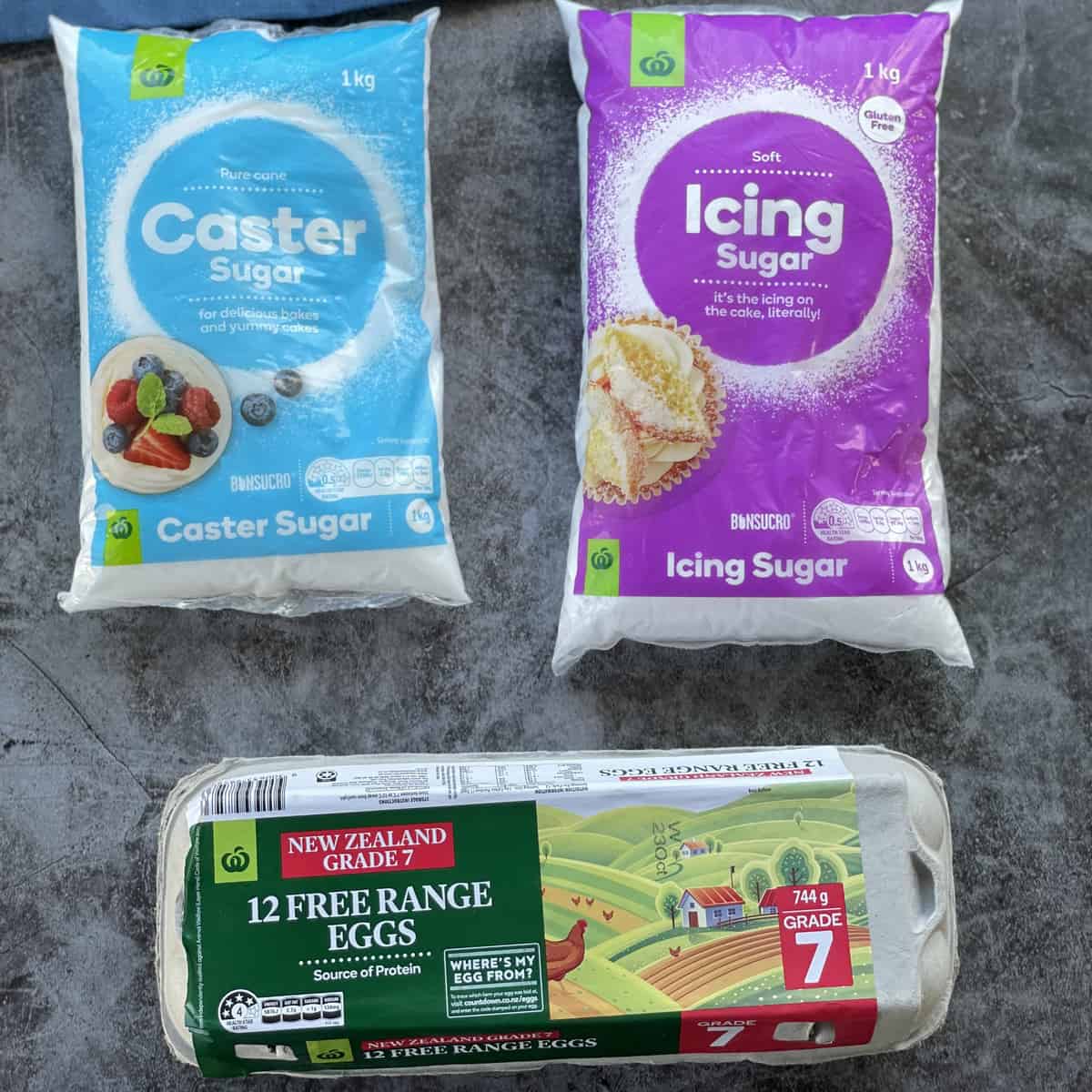 You will need
Egg Whites

Caster Sugar (superfine sugar)

Icing Sugar (confectioners powdered sugar)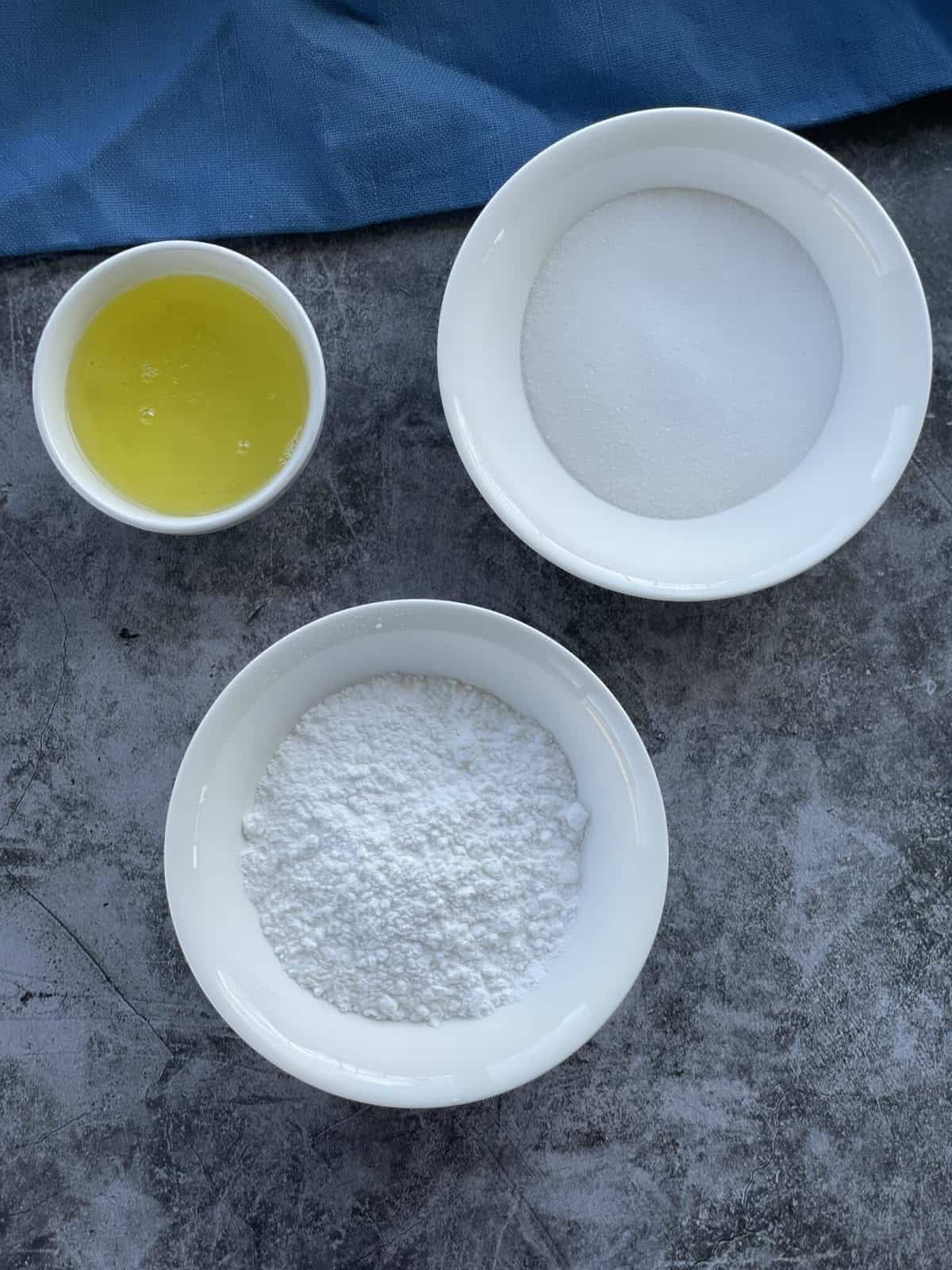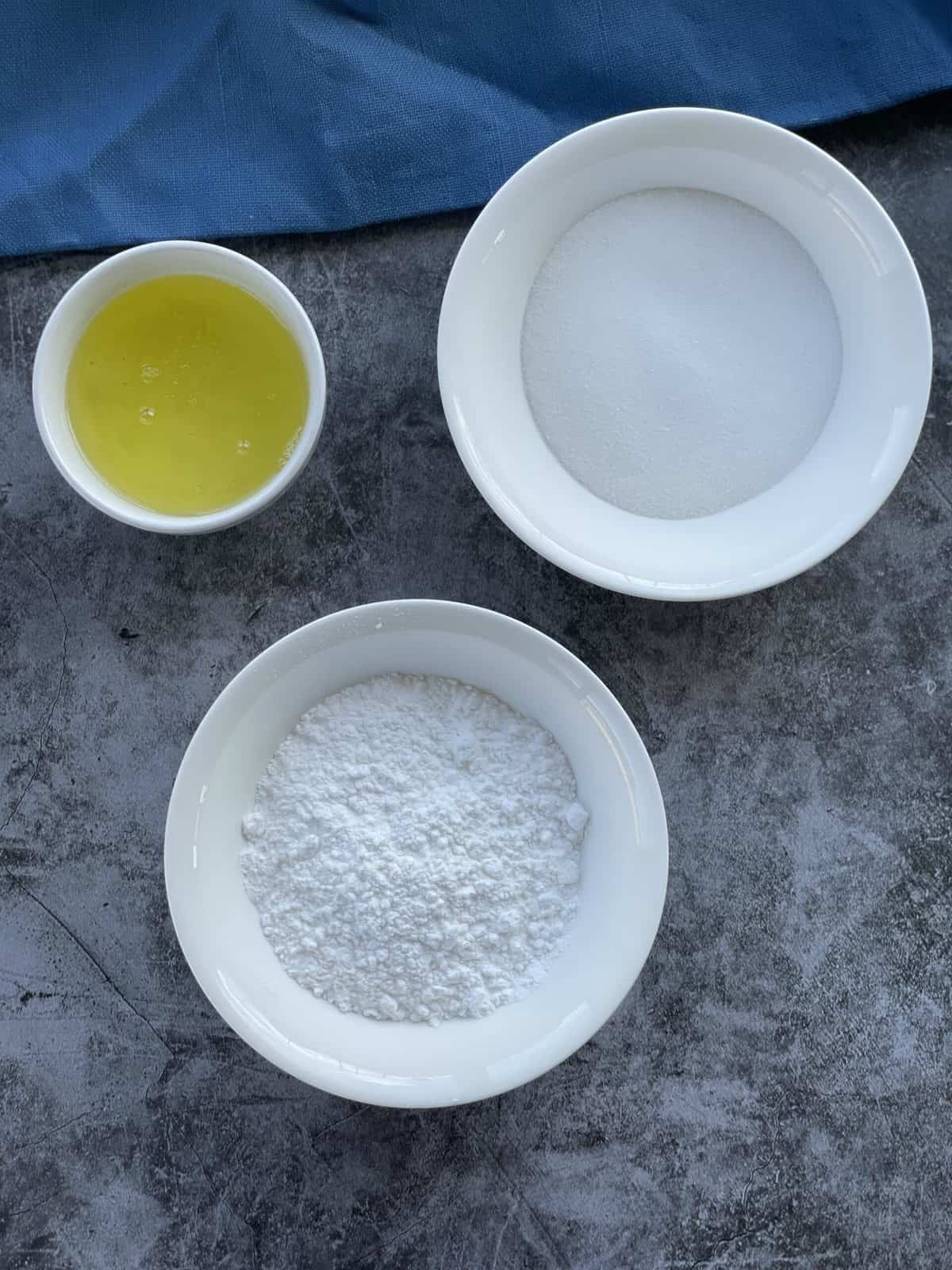 Meringues store so well in an airtight container, and can be used in a number of ways. They are lovely served with fresh cream and berries, or with lemon curd, or crushed through an Eton Mess. How do you like to eat yours?
After making this you will find you have 4 egg yolks left over – so you can now make my lovely dreamy Lemon Curd with the yolks! Lemon curd is a lovely thing to accompany your meringues too.
Here is my recipe for Crispy Chewy Meringues
I cannot wait to hear what you think of this one, be sure to let me know in the comments below.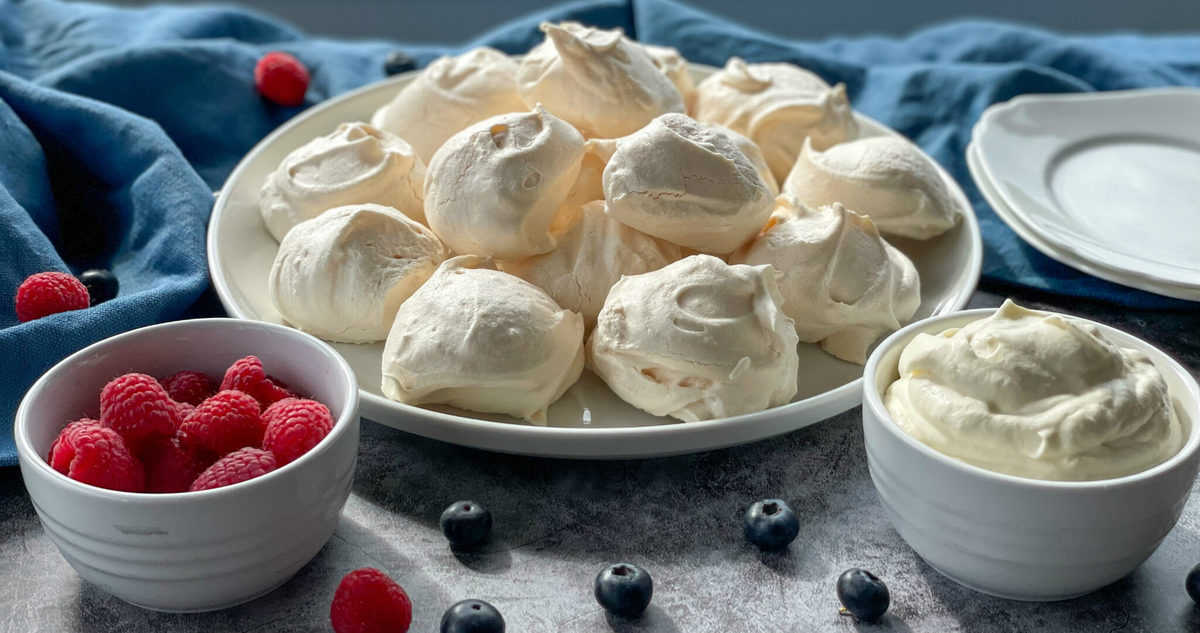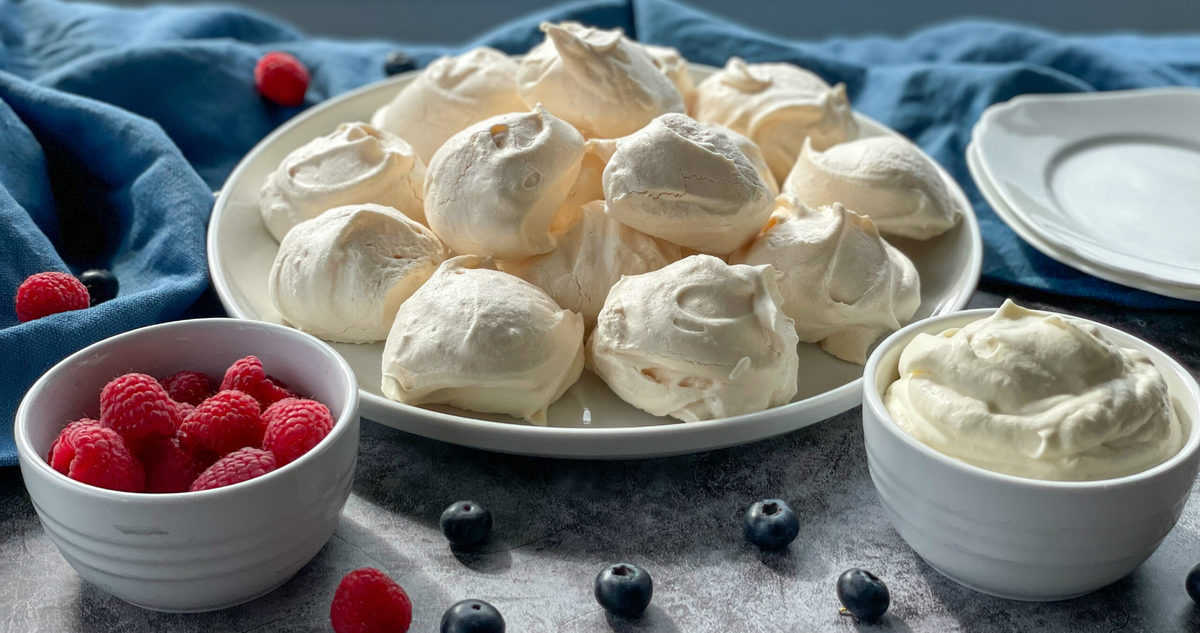 Thank you so much for stopping by to check out my latest recipe and others on my blog. If you are not already be sure to follow me on Facebook or Instagram for more deliciousness, and you can register your email in the subscription box below to receive all my recipes as I publish them.
Happy Baking!
Anna
Pin It! Pinterest