A lovely simple tasty salad, I hope you enjoy this Summer Chicken Quinoa & Peach Salad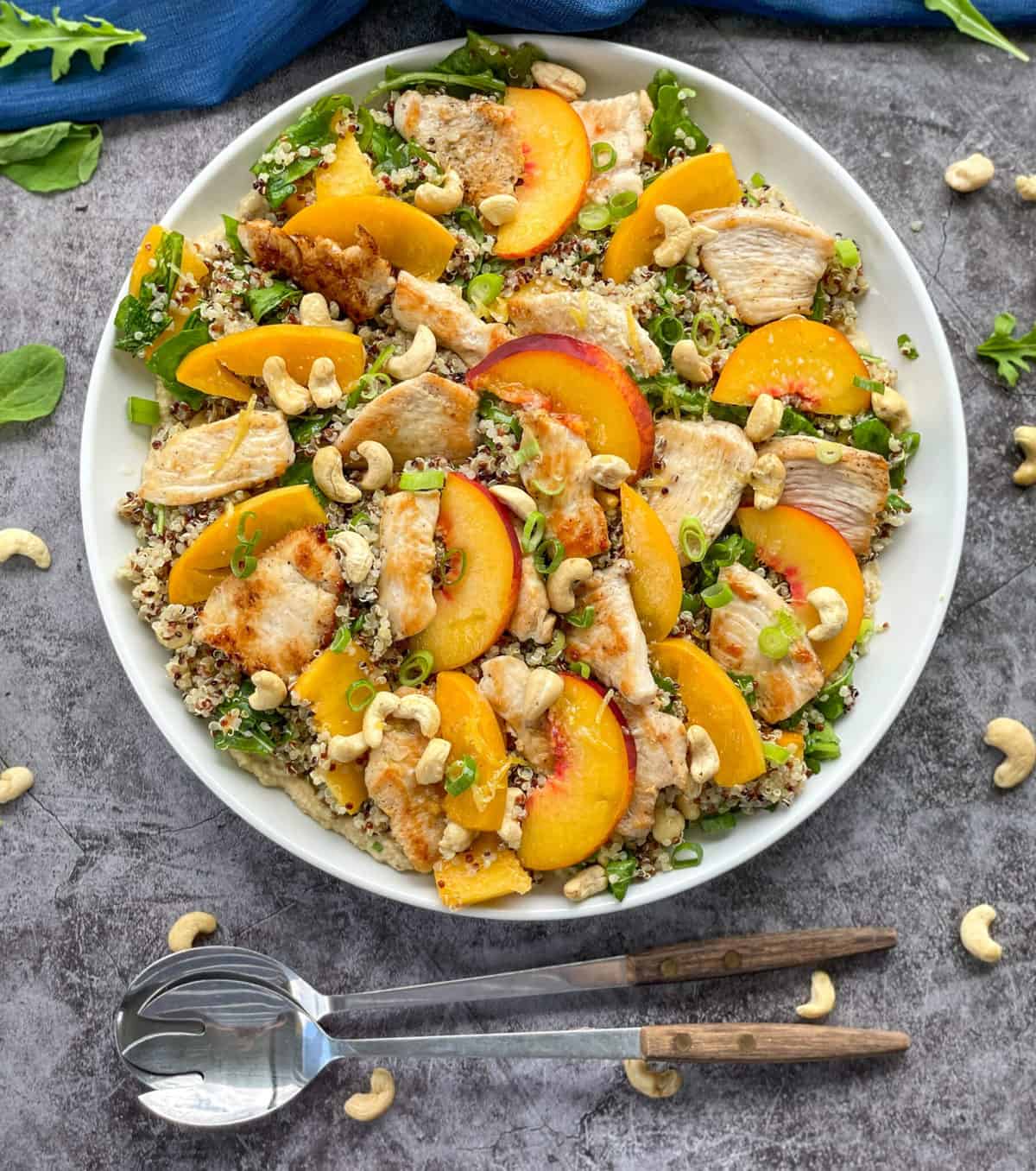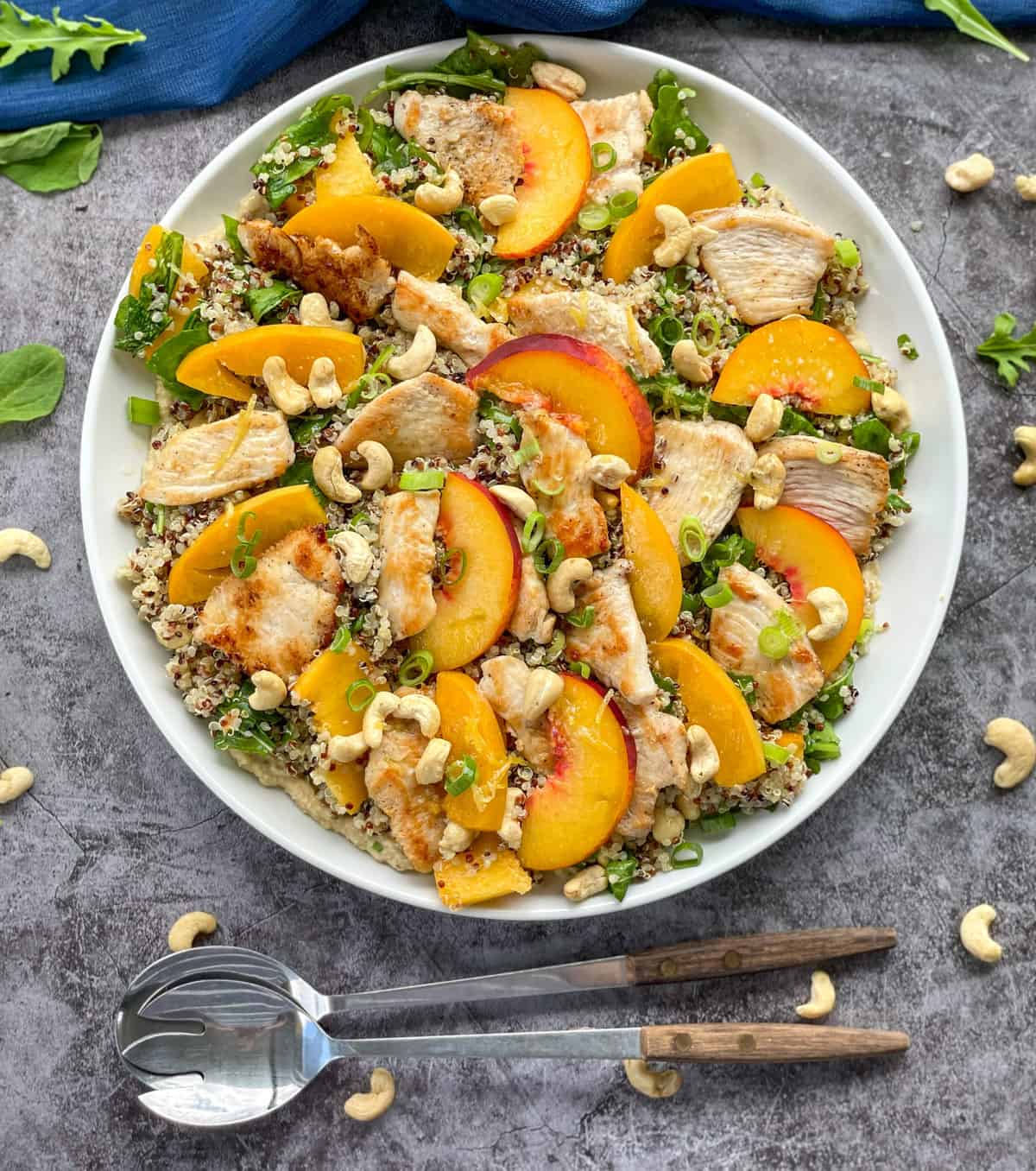 This recipe has been sponsored by Countdown Supermarkets, and products supplied by them. All opinions are my own
This salad is a lovely layered salad where each mouthful provides a little bit of everything in terms of both flavour and texture. I love simple salads for this reason. Just a few ingredients that all complement each other.
We are big fans of this one, great for meal prepping and for lunches as it keeps well in the refrigerator.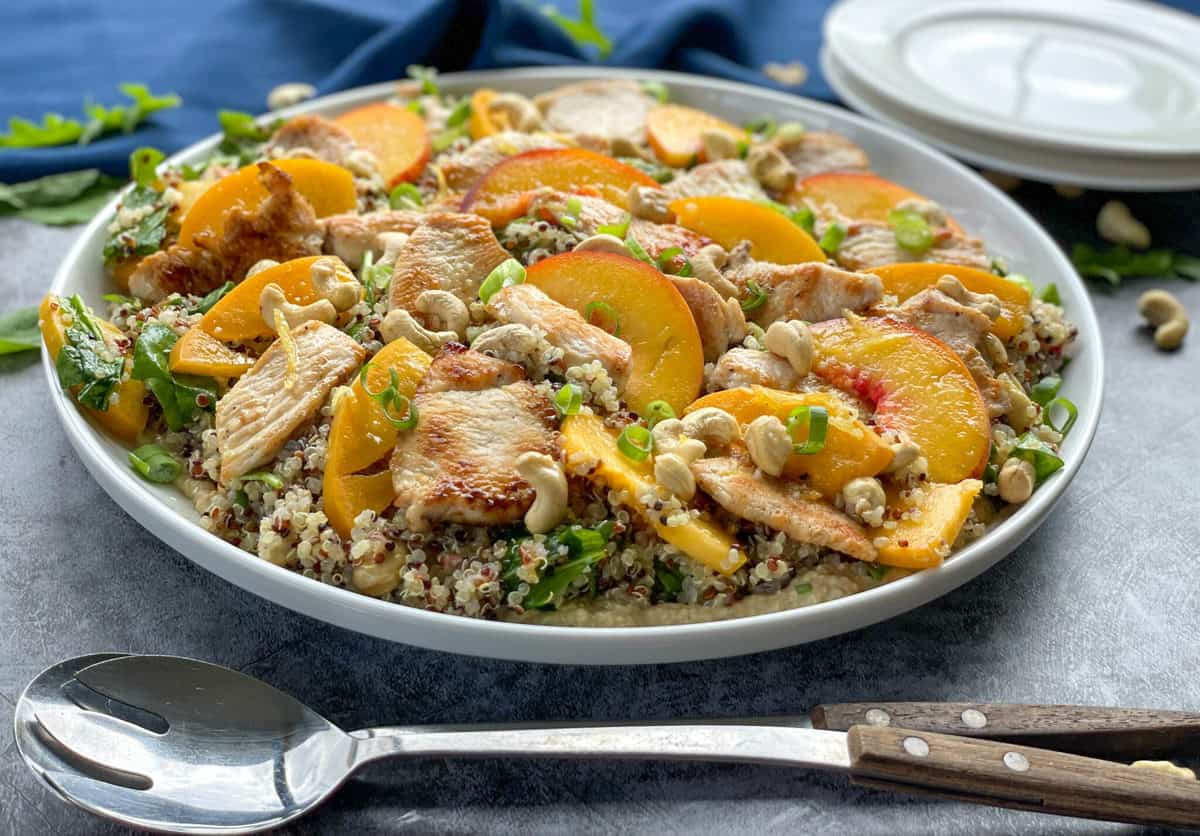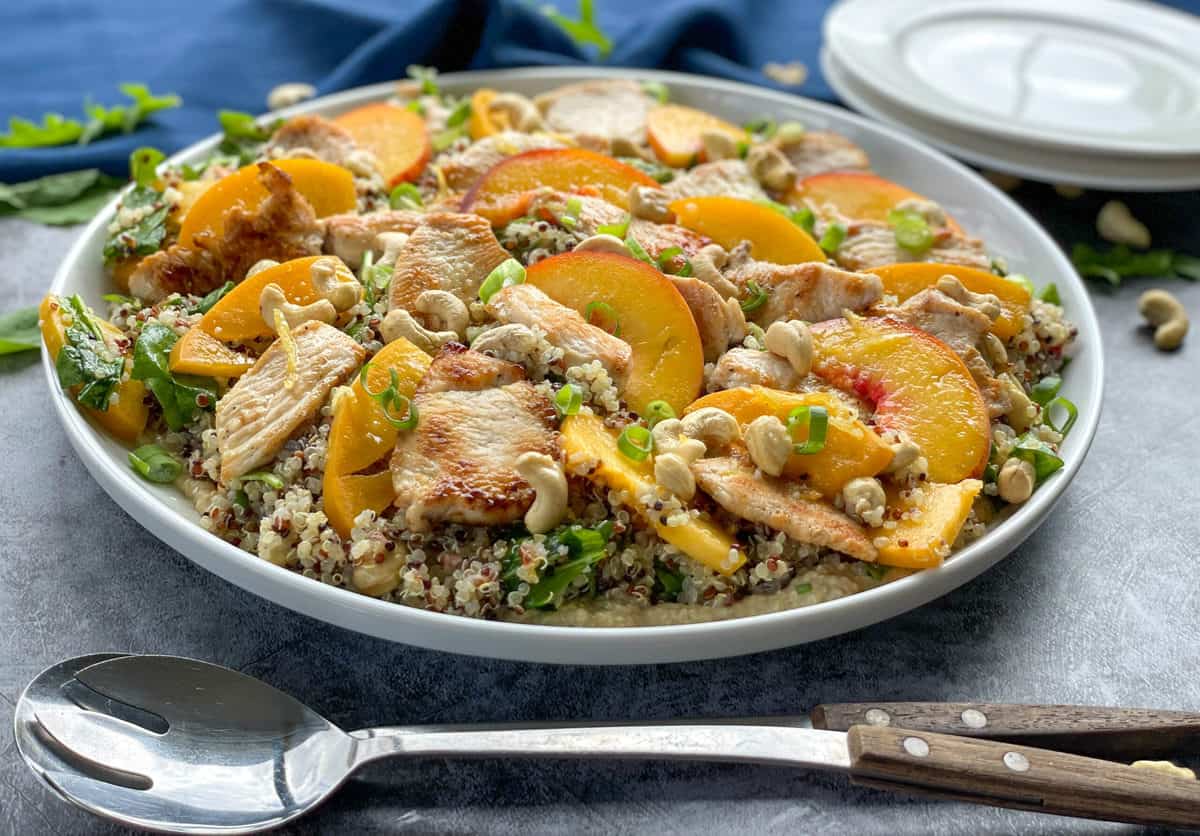 In summer here in NZ we are blessed with an abundance of delicious stone fruit. In our family we always cannot wait to be able to add these to the trolley.
Countdown Supermarkets has a delicious assortment of stone fruit and when asked to showcase some of it for you, I knew I wanted to do this salad and showcase Peaches.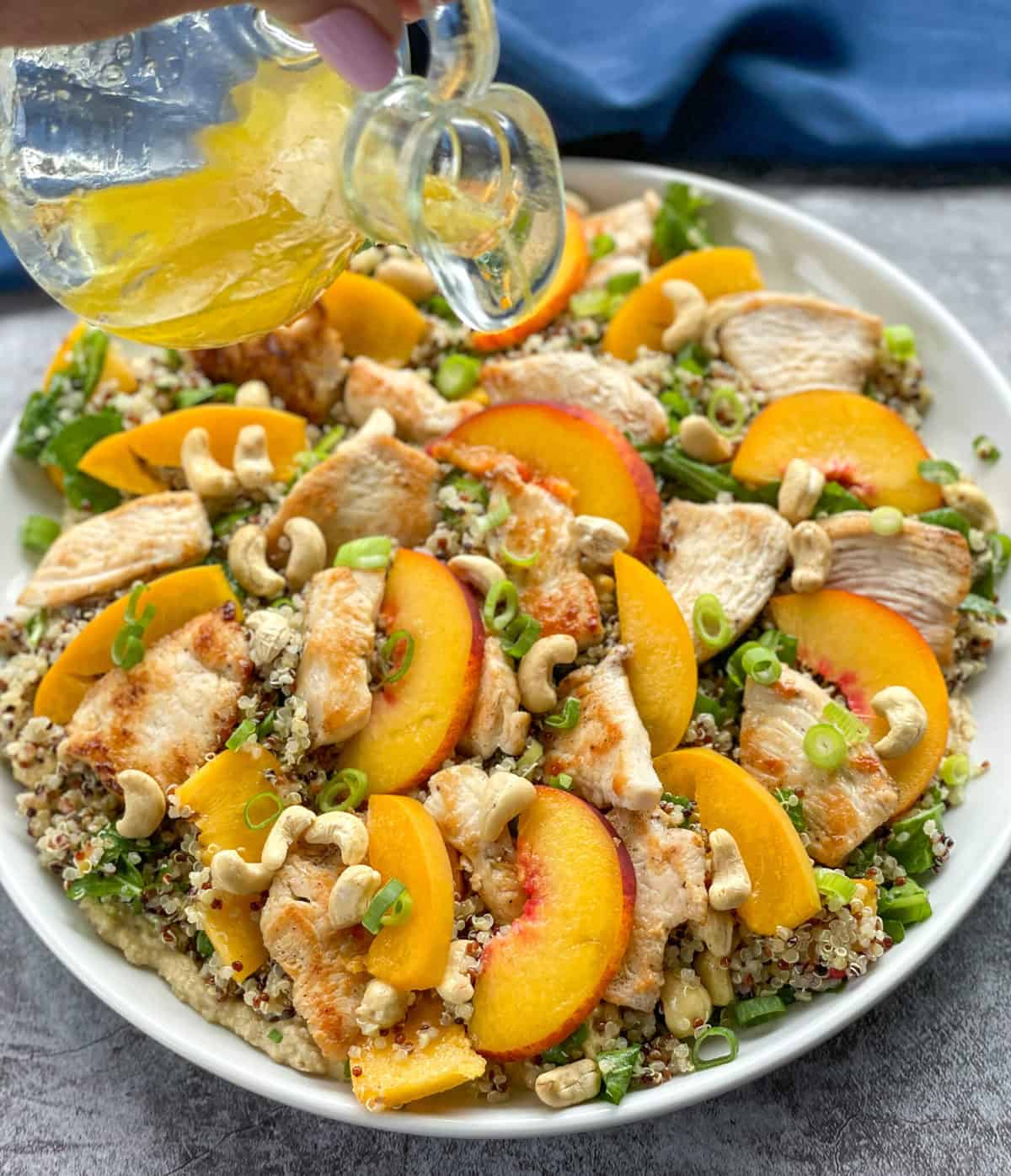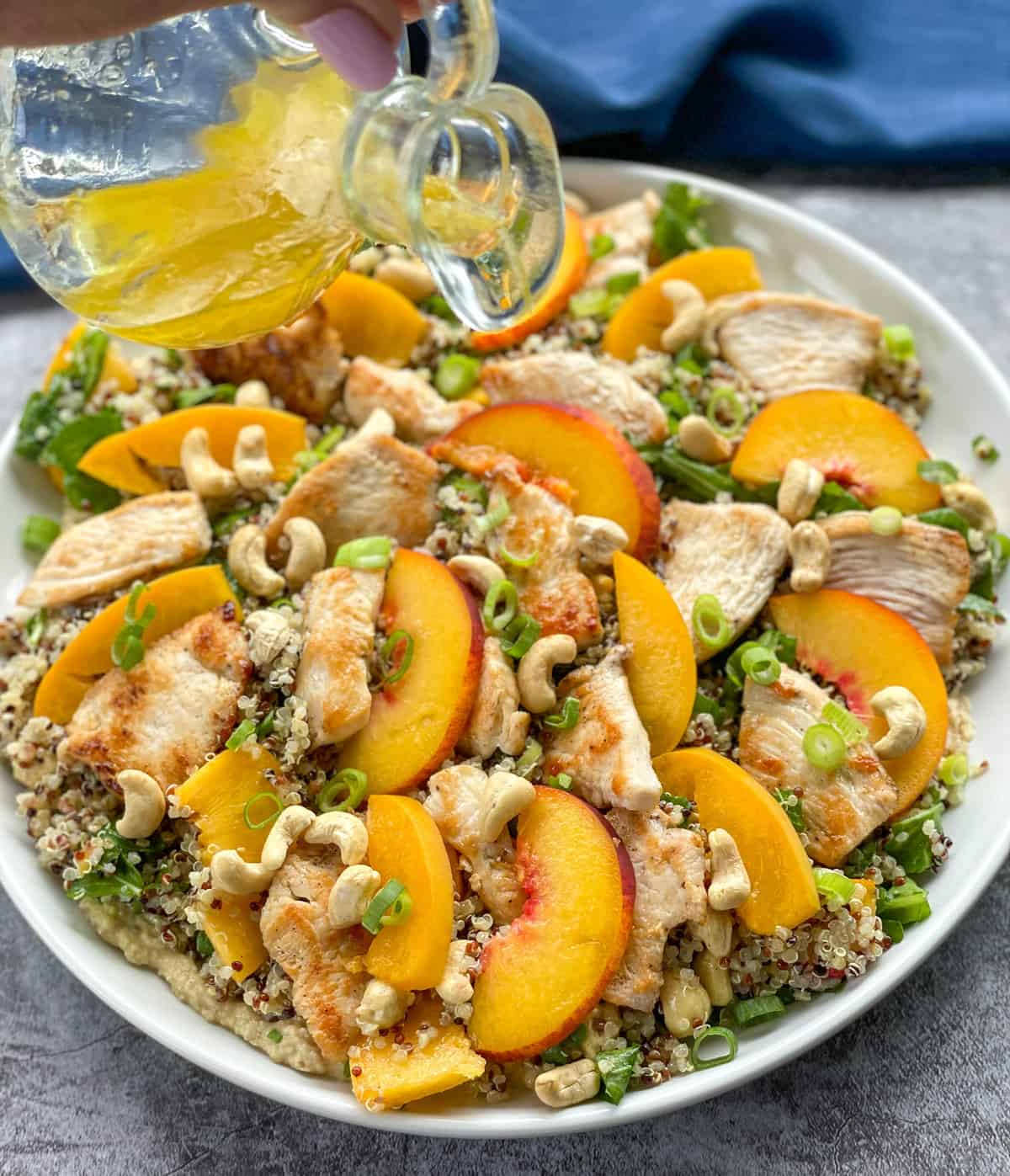 Peaches are such a versatile fruit with a stunning flavour and texture. They can be used in both sweet and savoury recipes with equal success. I have matched them today with Countdowns delicious Macro Tri Colour Quinoa and free range Macro Chicken breast.
Plus a few other bits and pieces to lift the whole dish.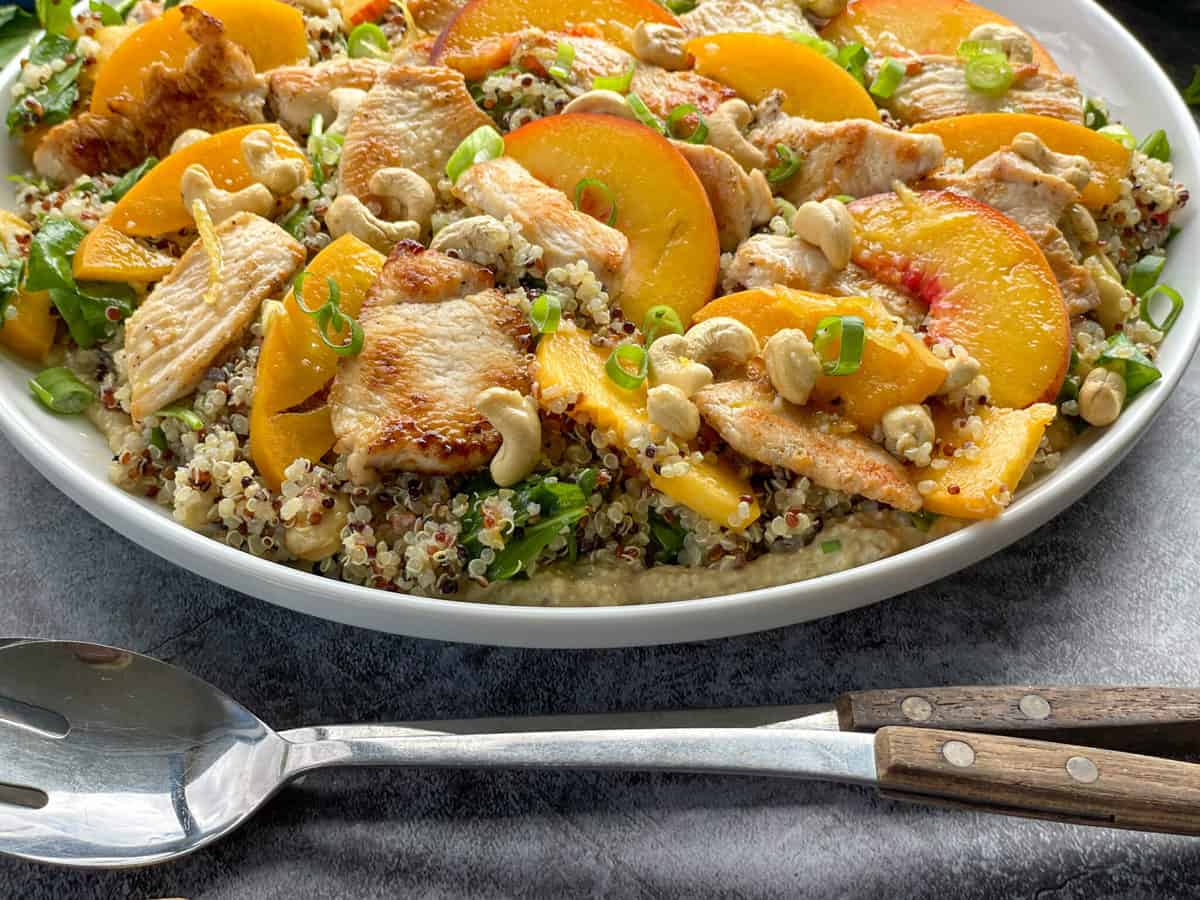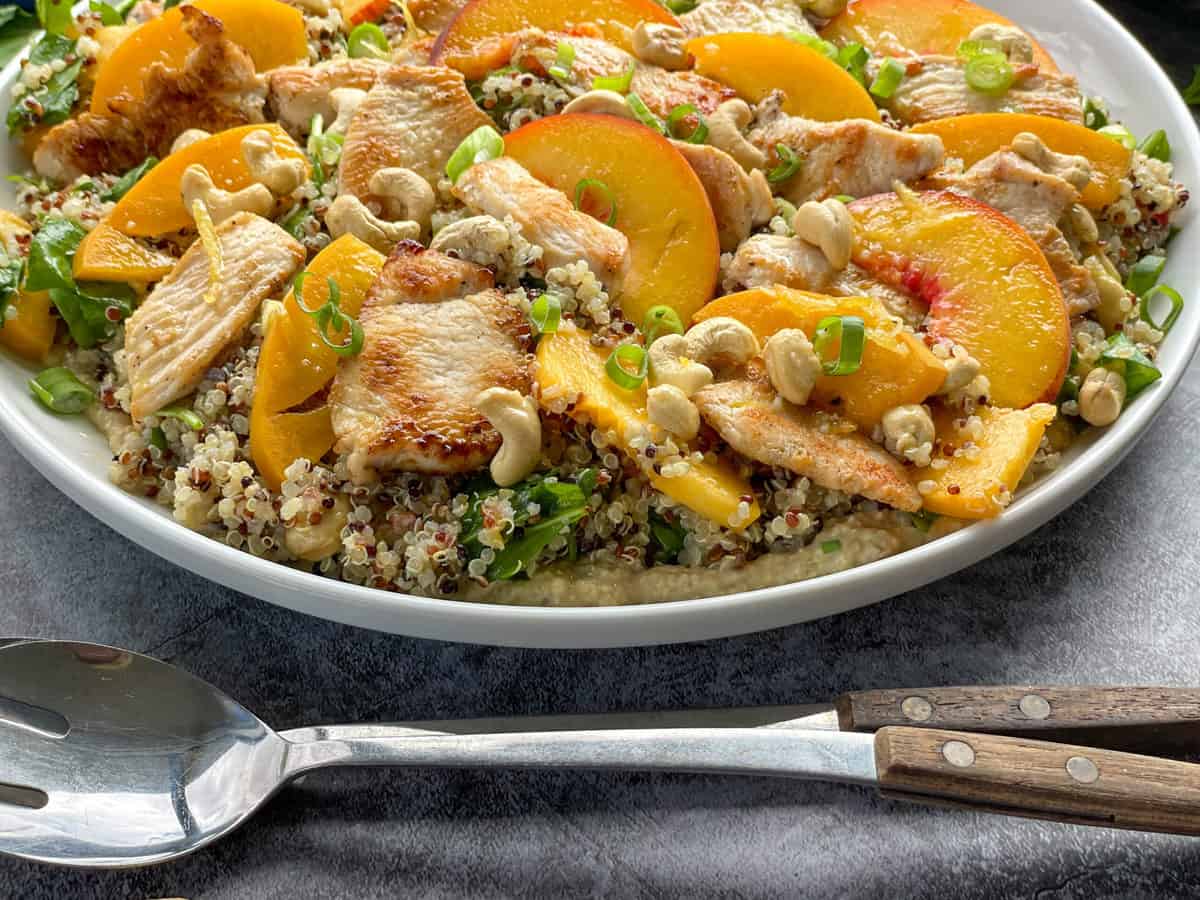 Today I have used both the Golden Peaches and the Yellow Flesh Peaches to show they can be interchanged depending on what is available. Both are delicious in this salad.
I like my quinoa salads to have a lovely fresh flavour, so I have included a simple dressing to pour over the salad to lift everything. It is one of those salads you can build from the base up or combine all in one bowl.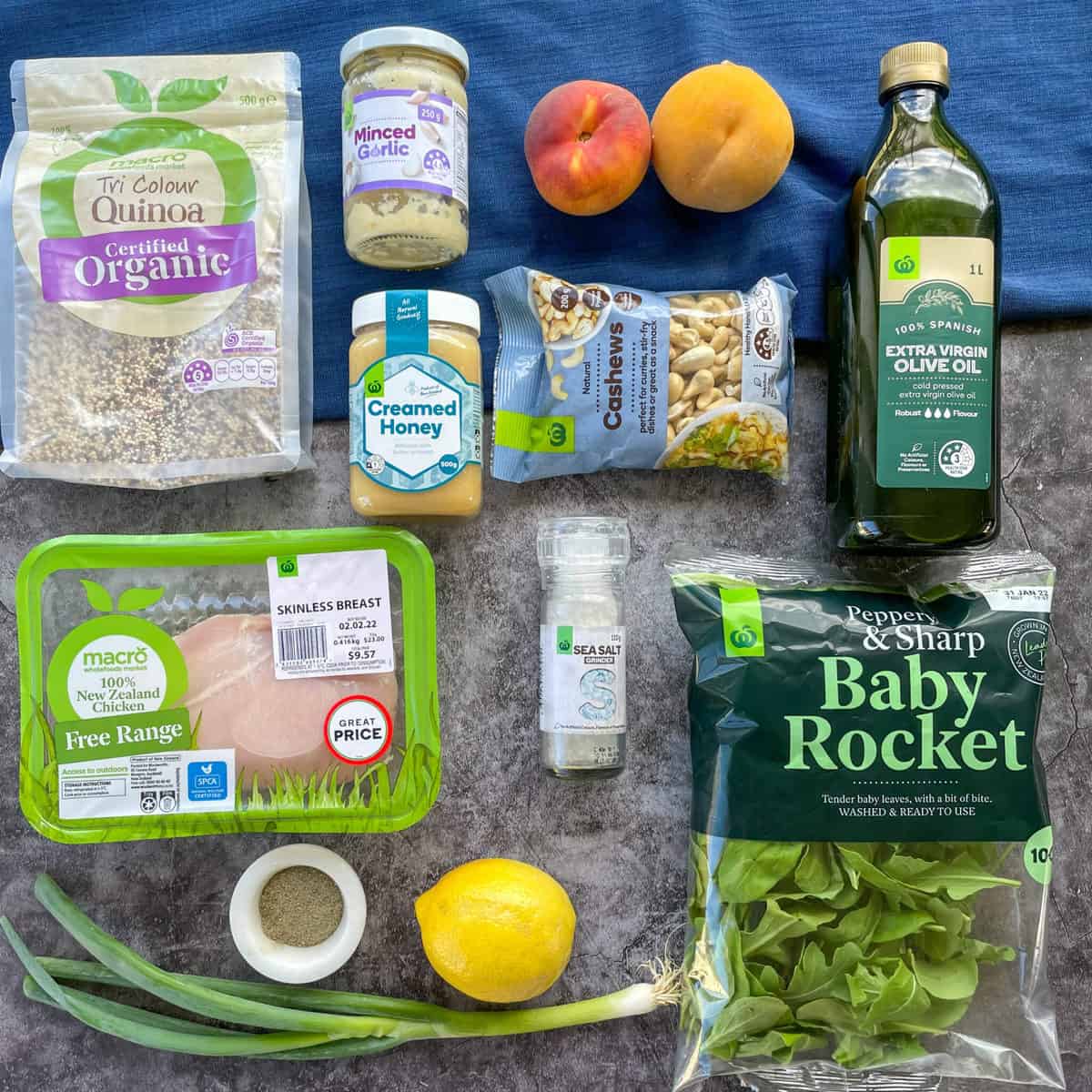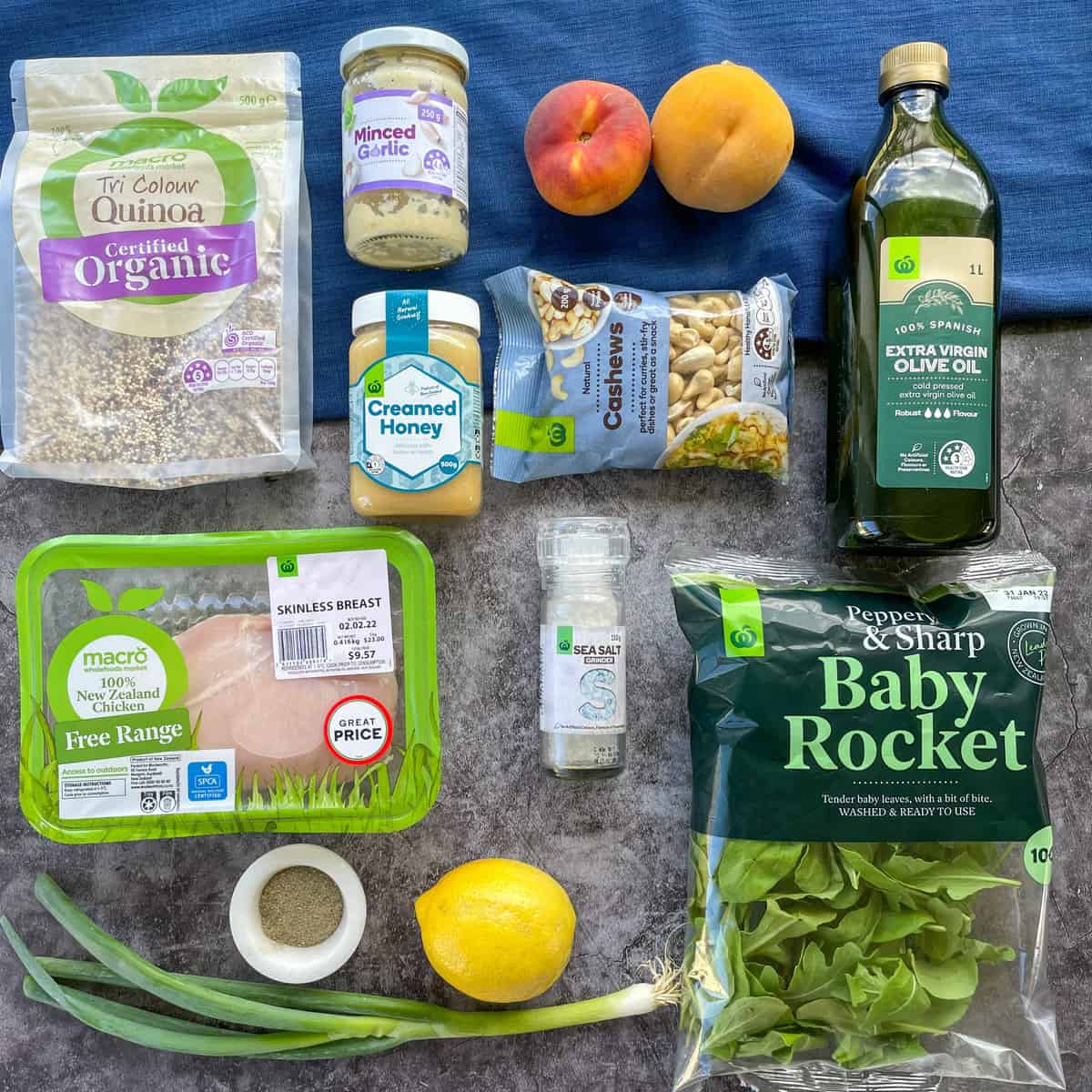 To recreate this recipe you will need
Macro Tri Colour Quinoa

Macro Free Range Chicken Breast

Peaches (Golden or Yellow Flesh)

Walnuts or Cashews

Olive Oil

Lemon, Juice & Zest

Garlic

Honey

Salt & Pepper

Rocket (Arugula)

Spring Onions to garnish

Hummus as an optional extra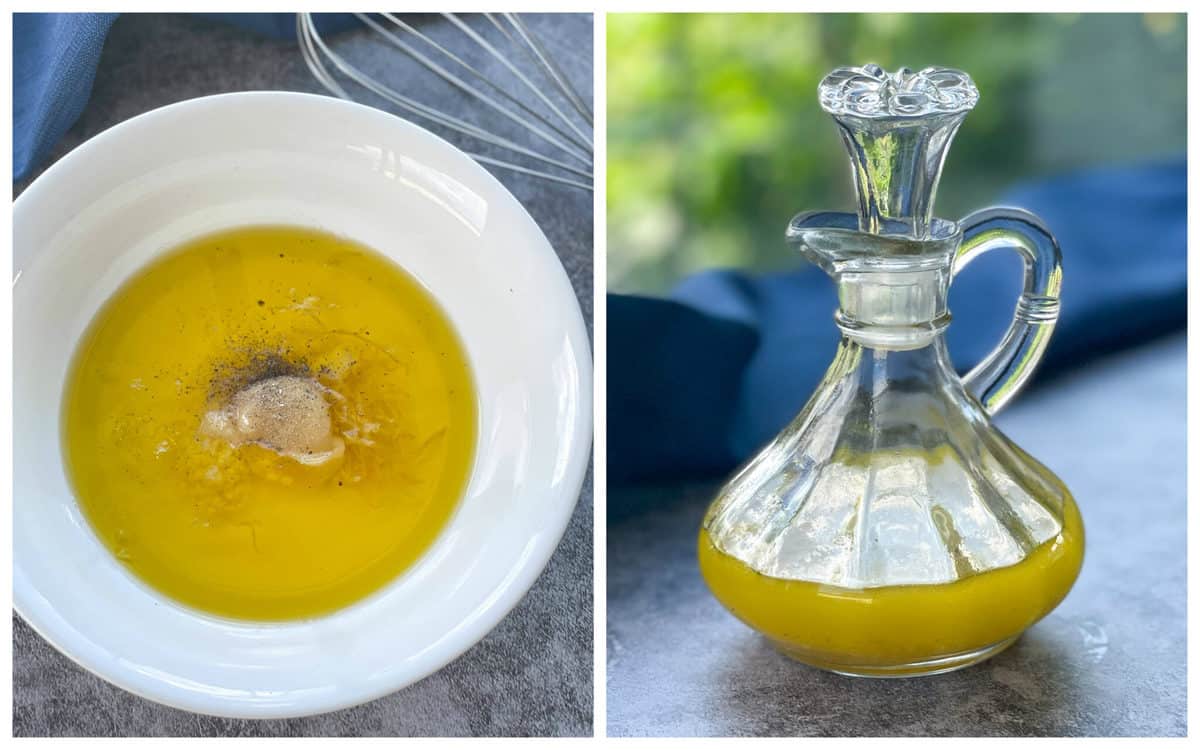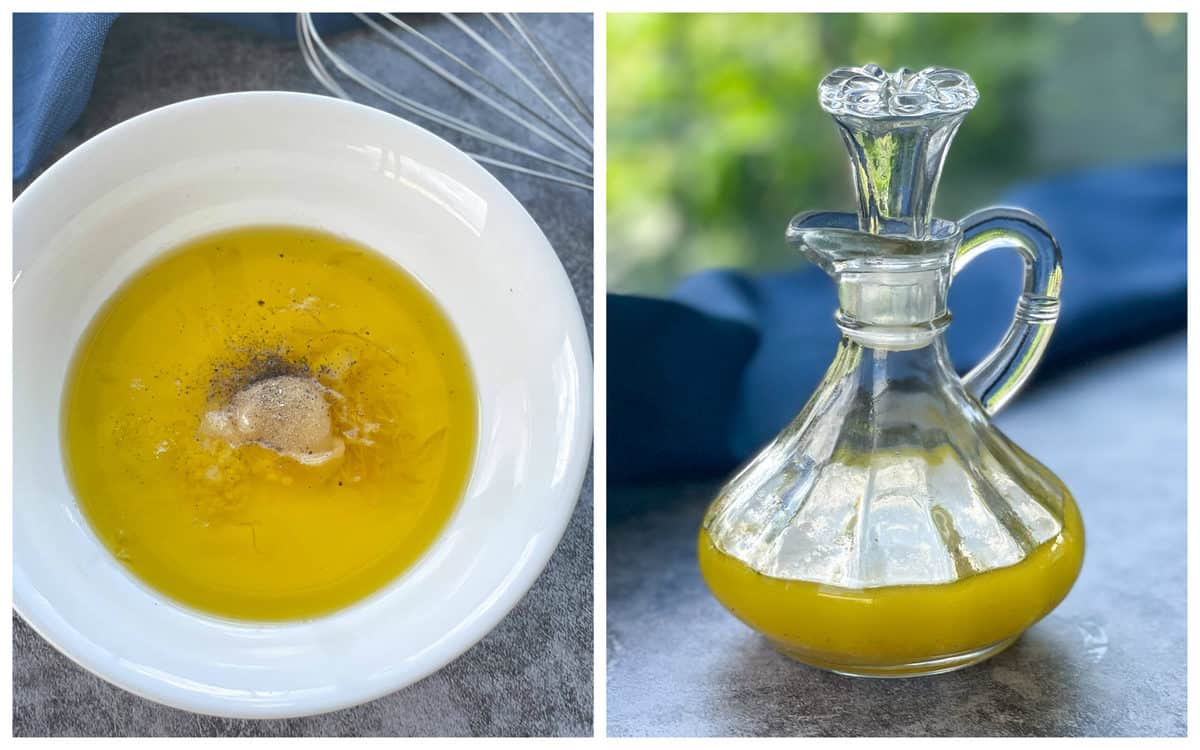 Of course the beauty of salads is you can add or amend the ingredients to suit your tastes. Sometimes I add a little dried herbs to the dressing, thyme or rosemary is lovely.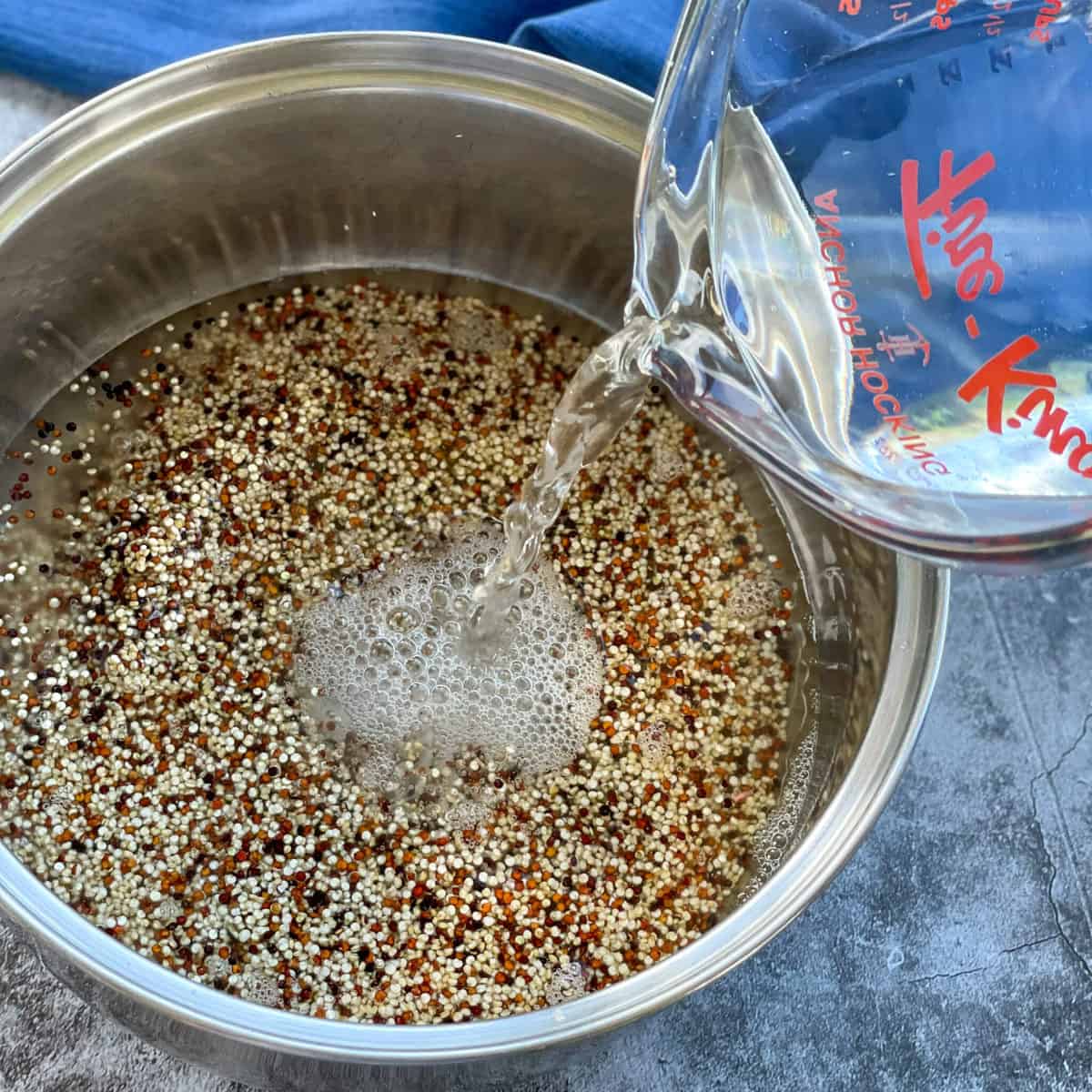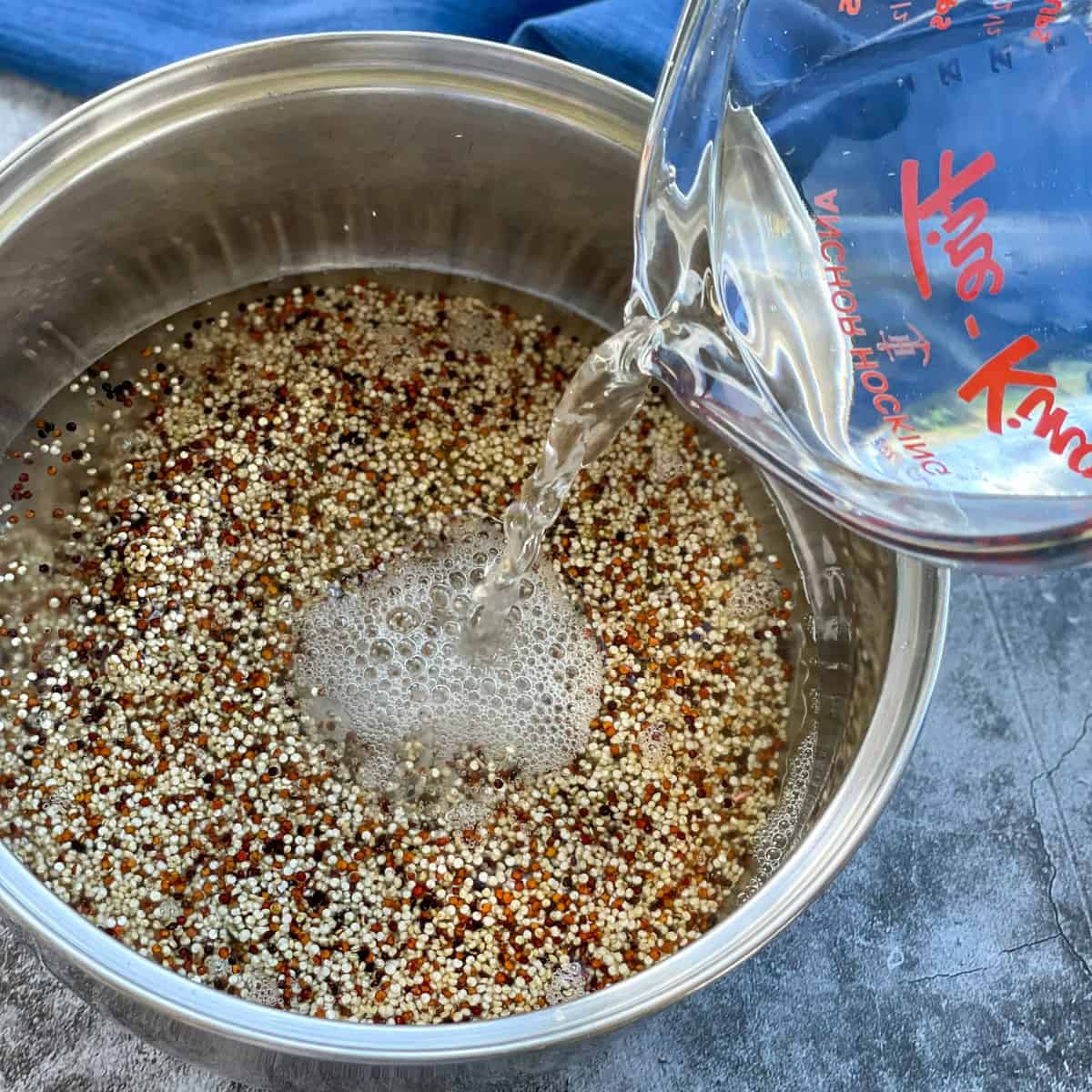 If you are not familiar with quinoa the one I use is an organic tri colour one that is lovely for adding texture to many dishes. Quinoa (said keen-wah) is a naturally gluten free seed that is sometimes referred to as a grain despite not technically being one.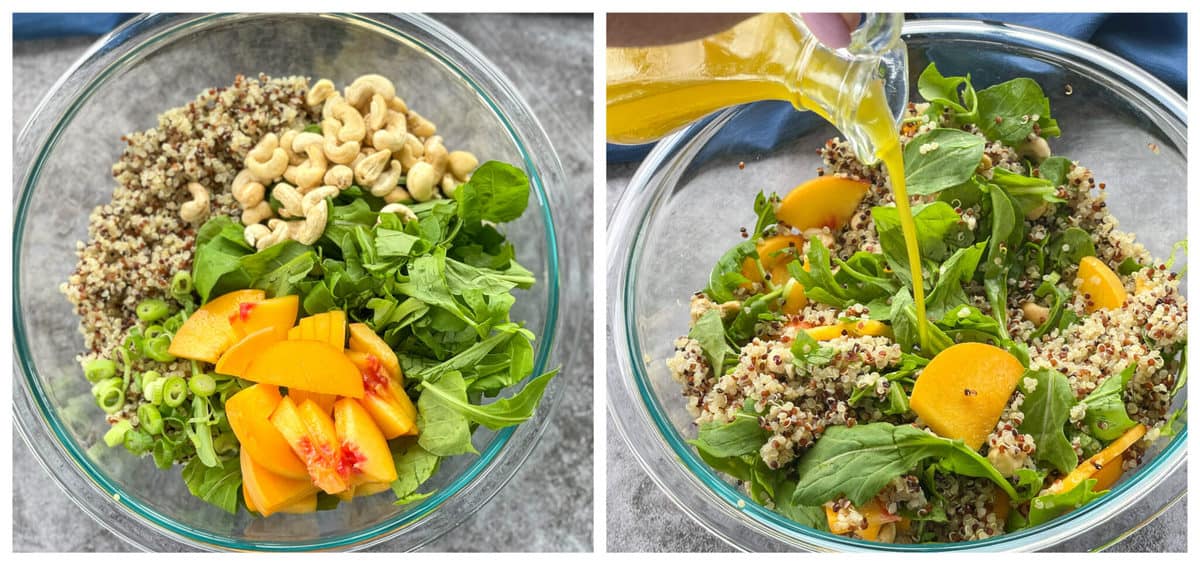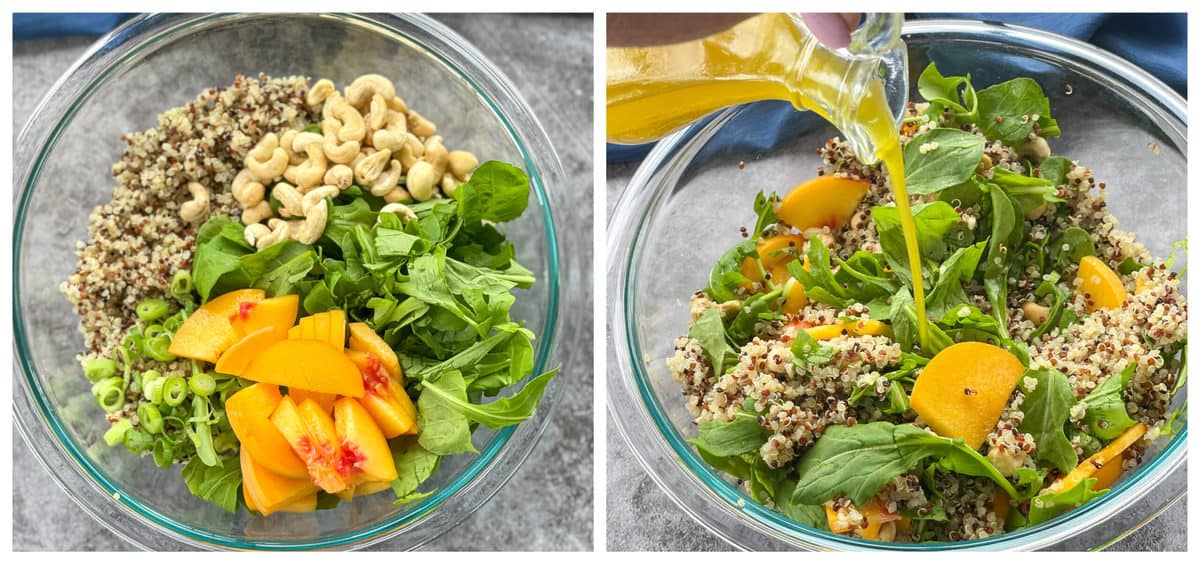 It has a sweet nutty flavour and often referred to as a superfood or supergrain it is a lovely ingredient to add to your dishes and great for your health and gut!
To cook your quinoa you can do this either in the microwave or on the stove top on a boil as you would for rice. Quinoa is cooked when the grain turns translucent and the germ of the kernel spirals out.

Before cooking your quinoa you want to rinse it really well in cold water, until the water runs clear. This will ensure any remaining husk is removed and any possible bitter aftertaste.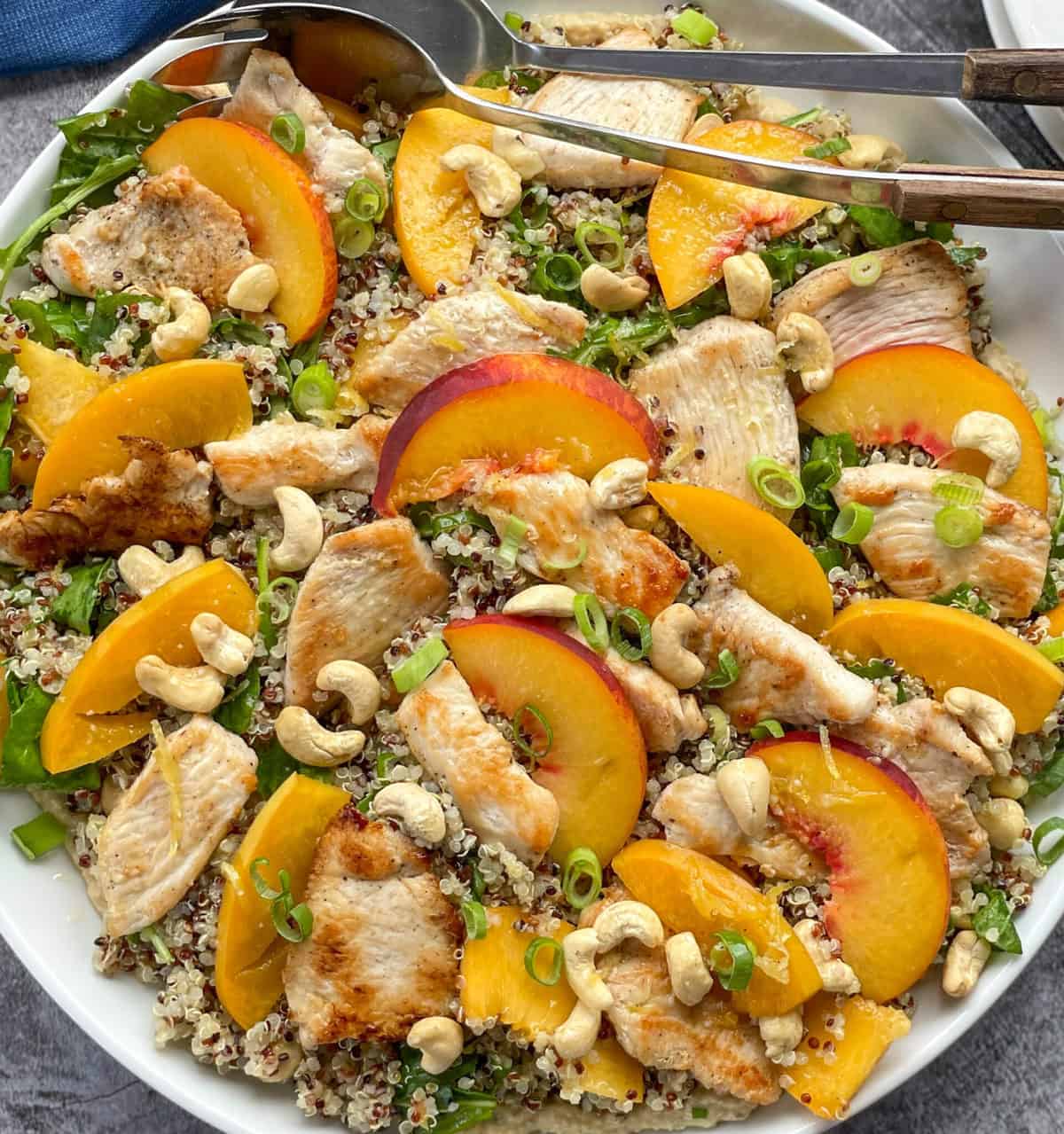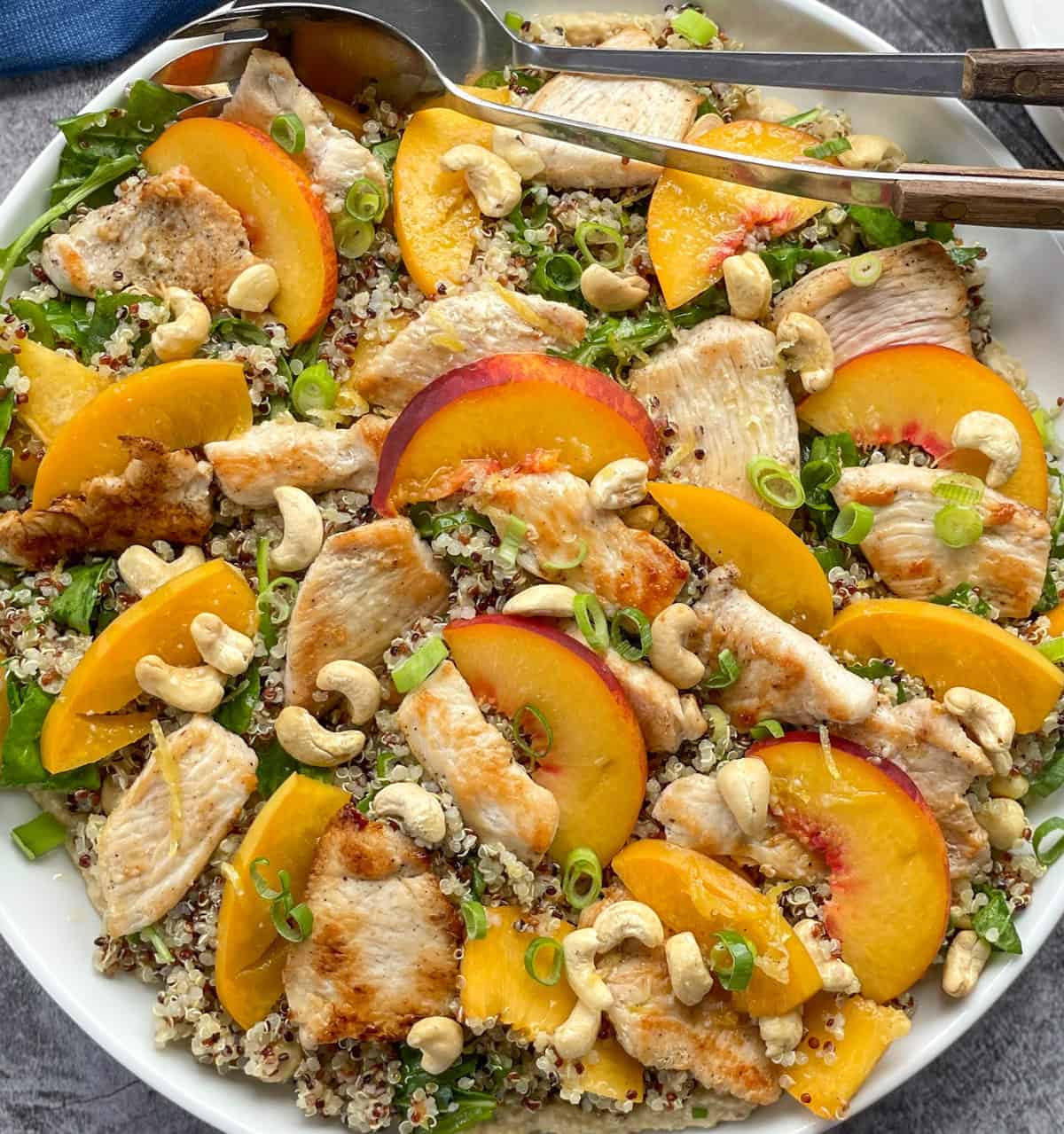 I simply pan fry my chicken breast with a simple salt & pepper seasoning, you can of course marinate it but I find with the other flavours it is more than enough to keep it simple.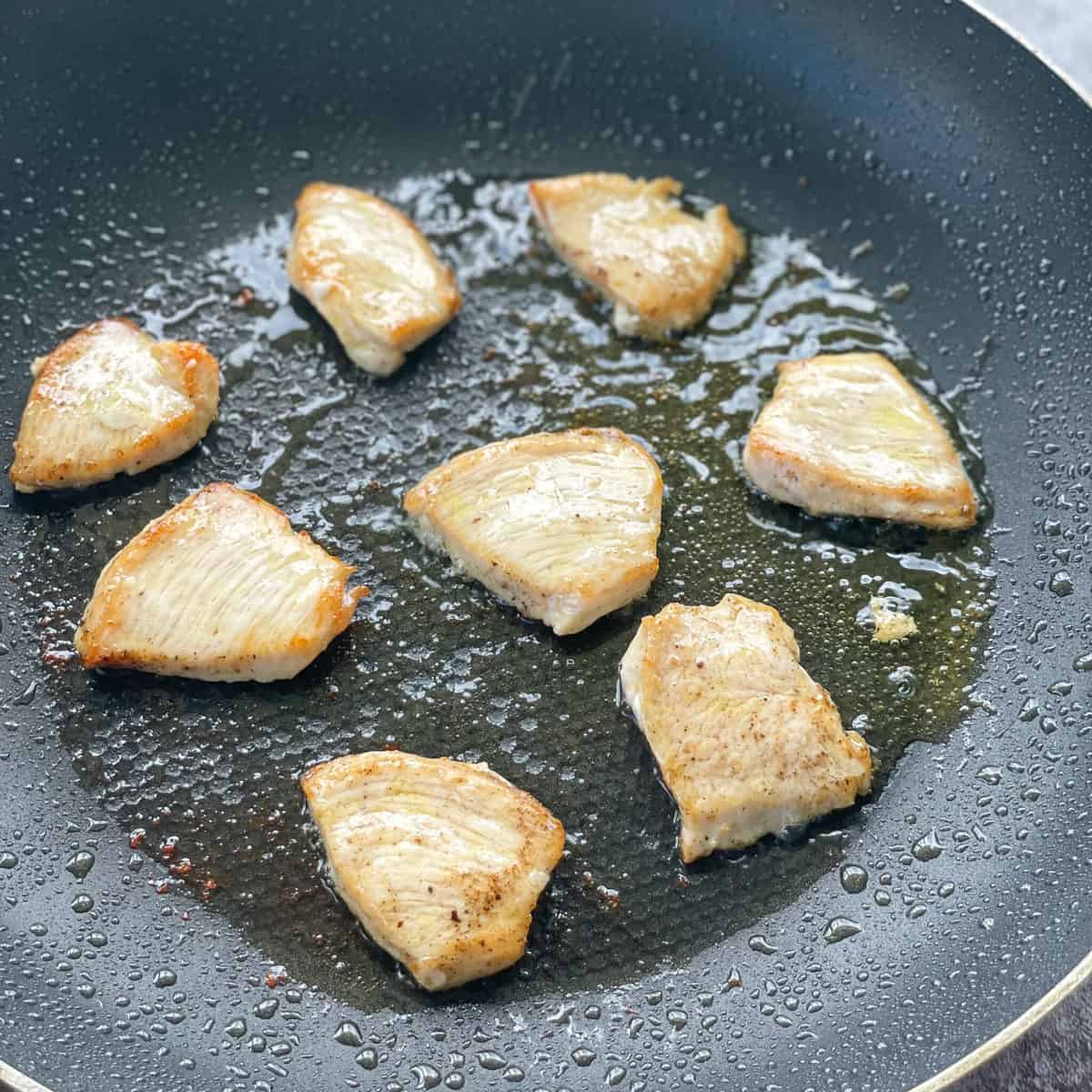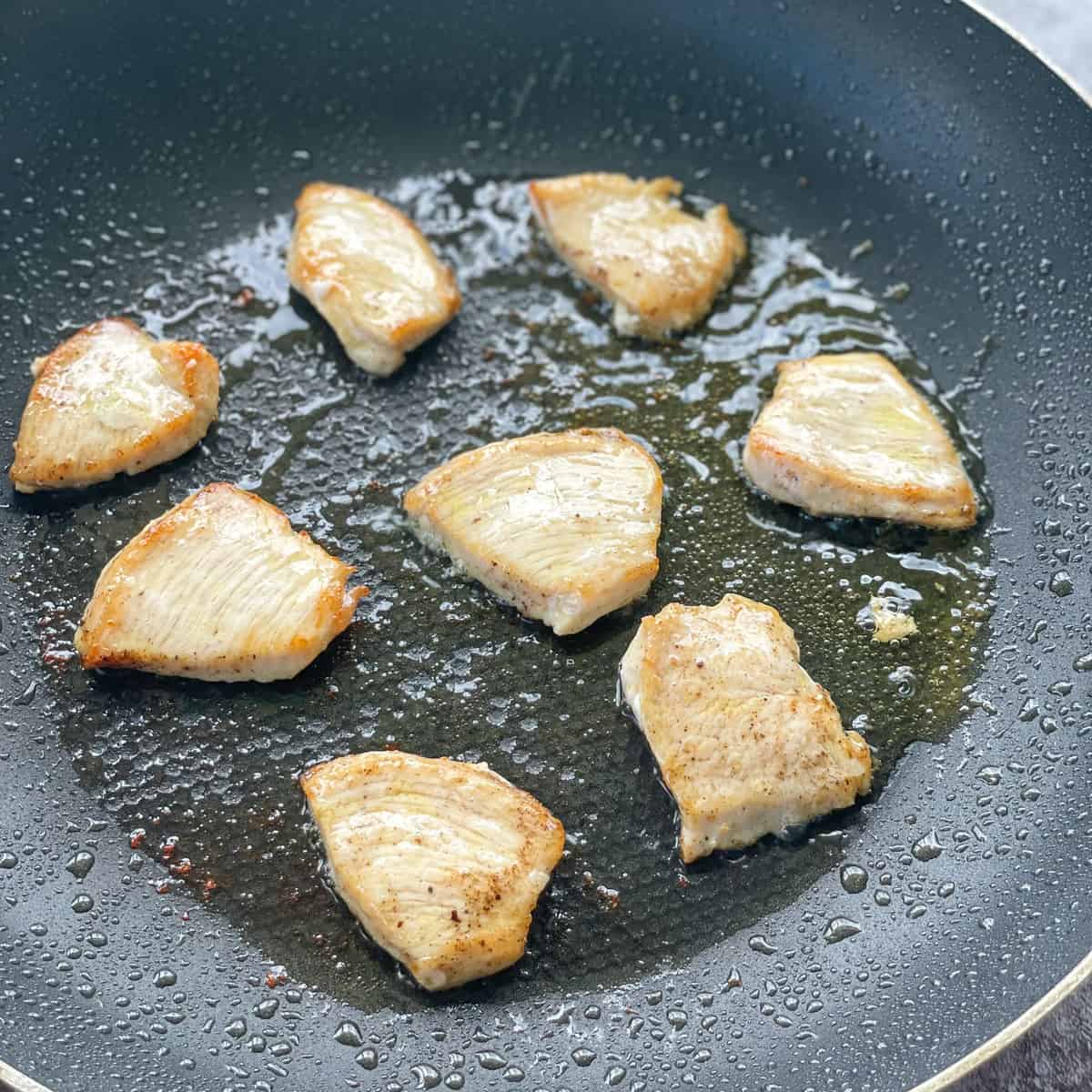 I often like to serve this over a smear of hummus, Countdown do a lovely Lemon & Pepper hummus that is perfect to go with this dish. It means on each scoop you get a added bit of flavour!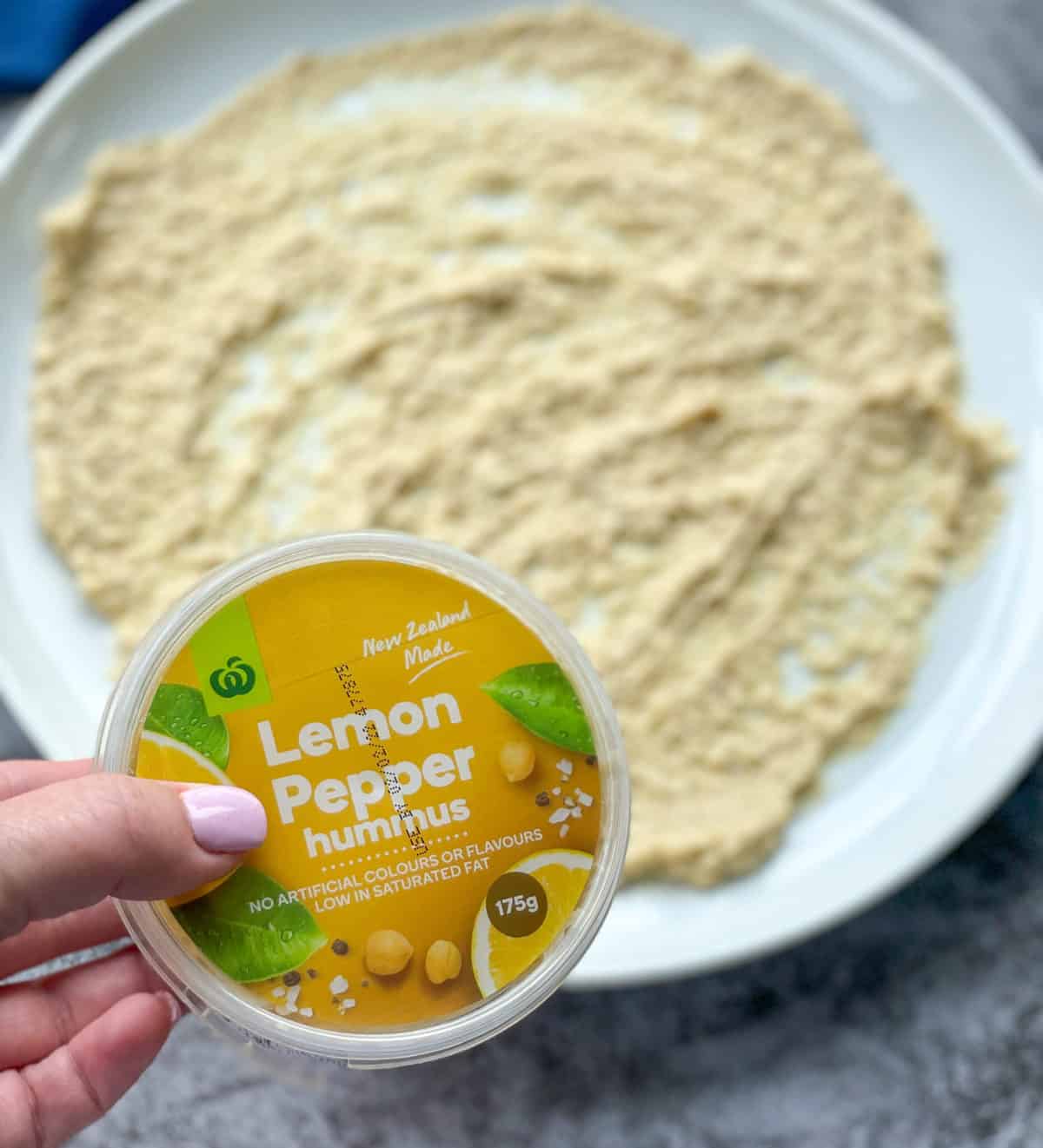 You can easily make this salad ahead of time, the flavours will meld together even more, it stores well in the refrigerator for up to 3-4 days if stored correctly.
If you like the idea of stonefruit in a salad be sure to check out this delicious Chicken & Nectarine Salad loaded with lovely flavours.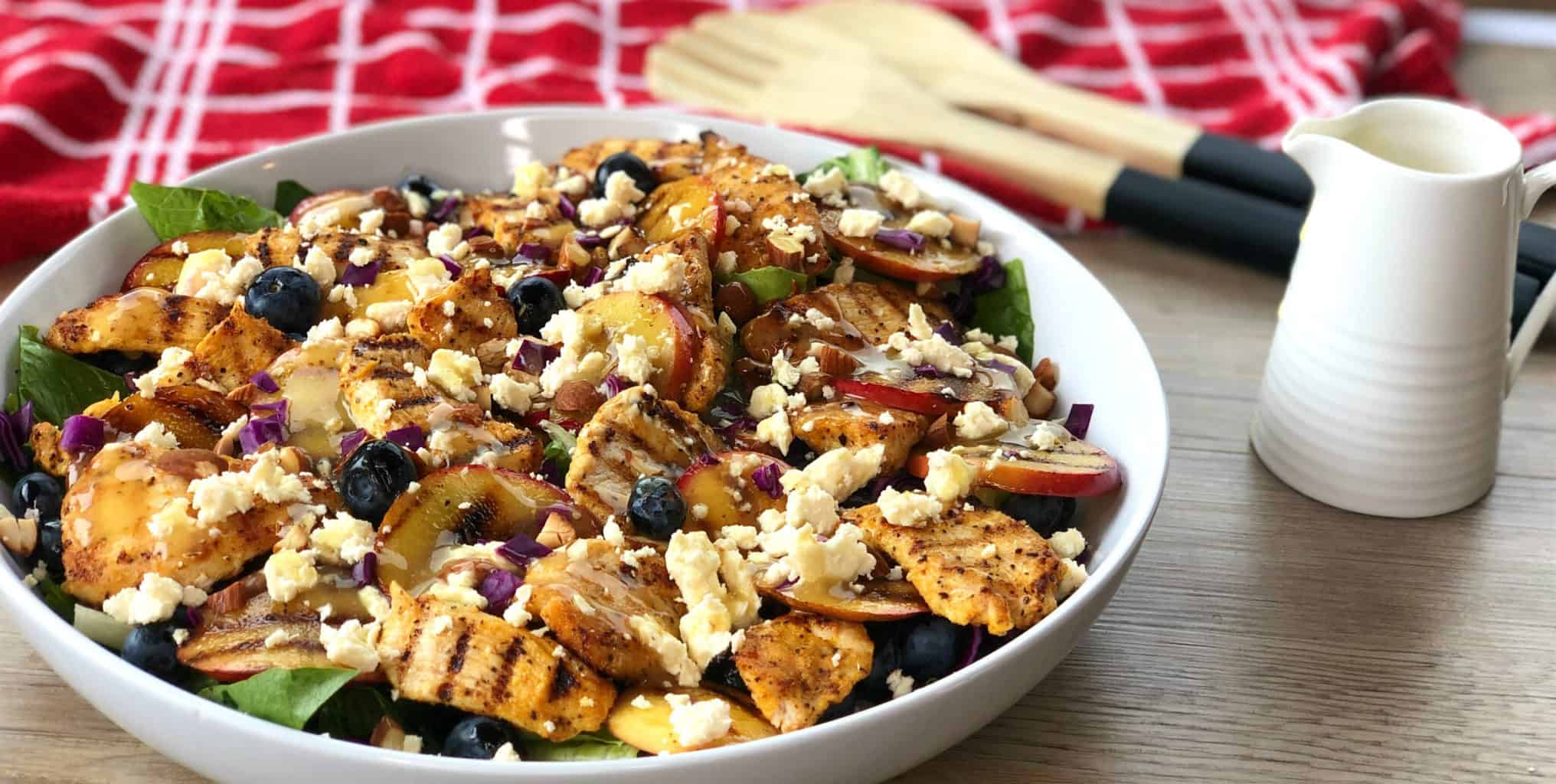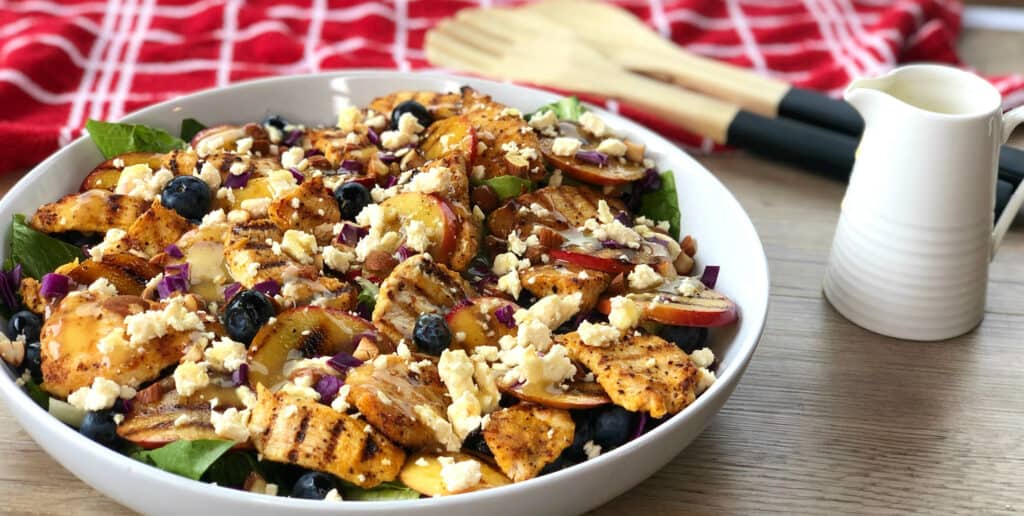 Onto this recipe for Chicken Quinoa & Peach Salad
I cannot wait to hear what you think of this recipe. It would be perfect for both dinners and lunches, we find one bowl is never enough!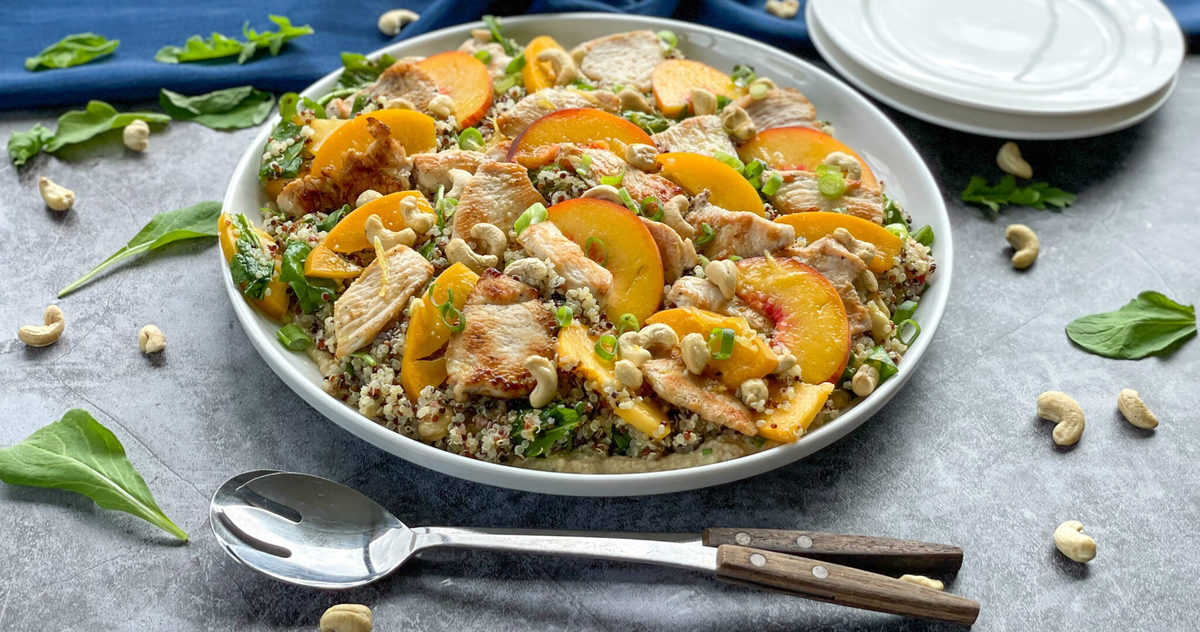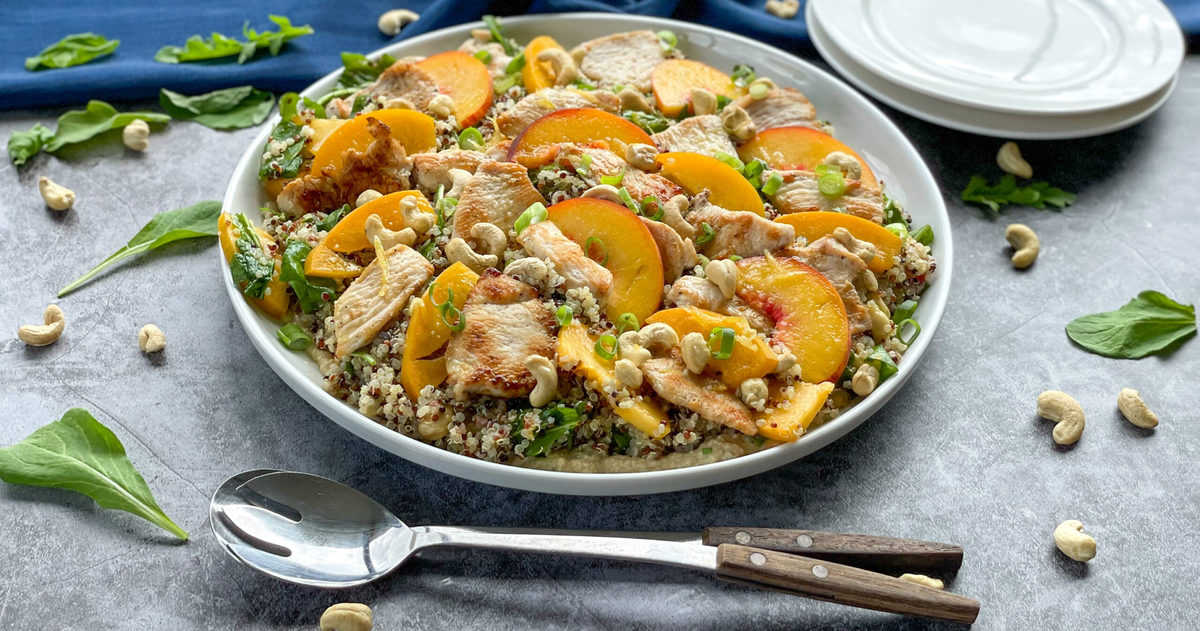 Thank you so much for stopping by to check out my latest recipes on my blog. If you are not already, be sure to follow me on Facebook or Instagram for more deliciousness, and you can register your email in the subscription box below to receive all my recipes as I publish them.
Happy Cooking!
Anna
Pin It! Pinterest