Delicious, lemony and so incredibly simple, I hope you enjoy trying this easy version of lemon curd.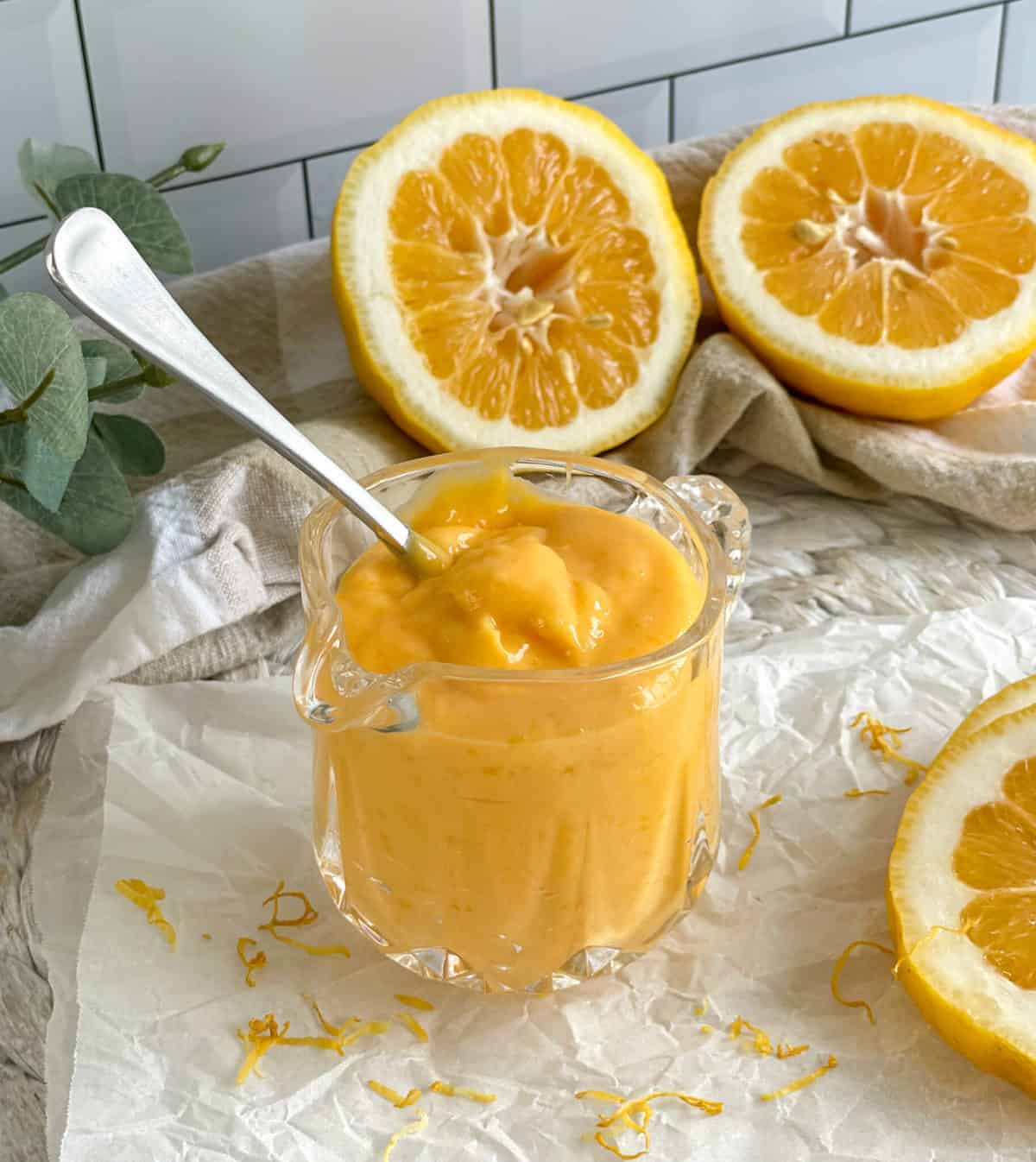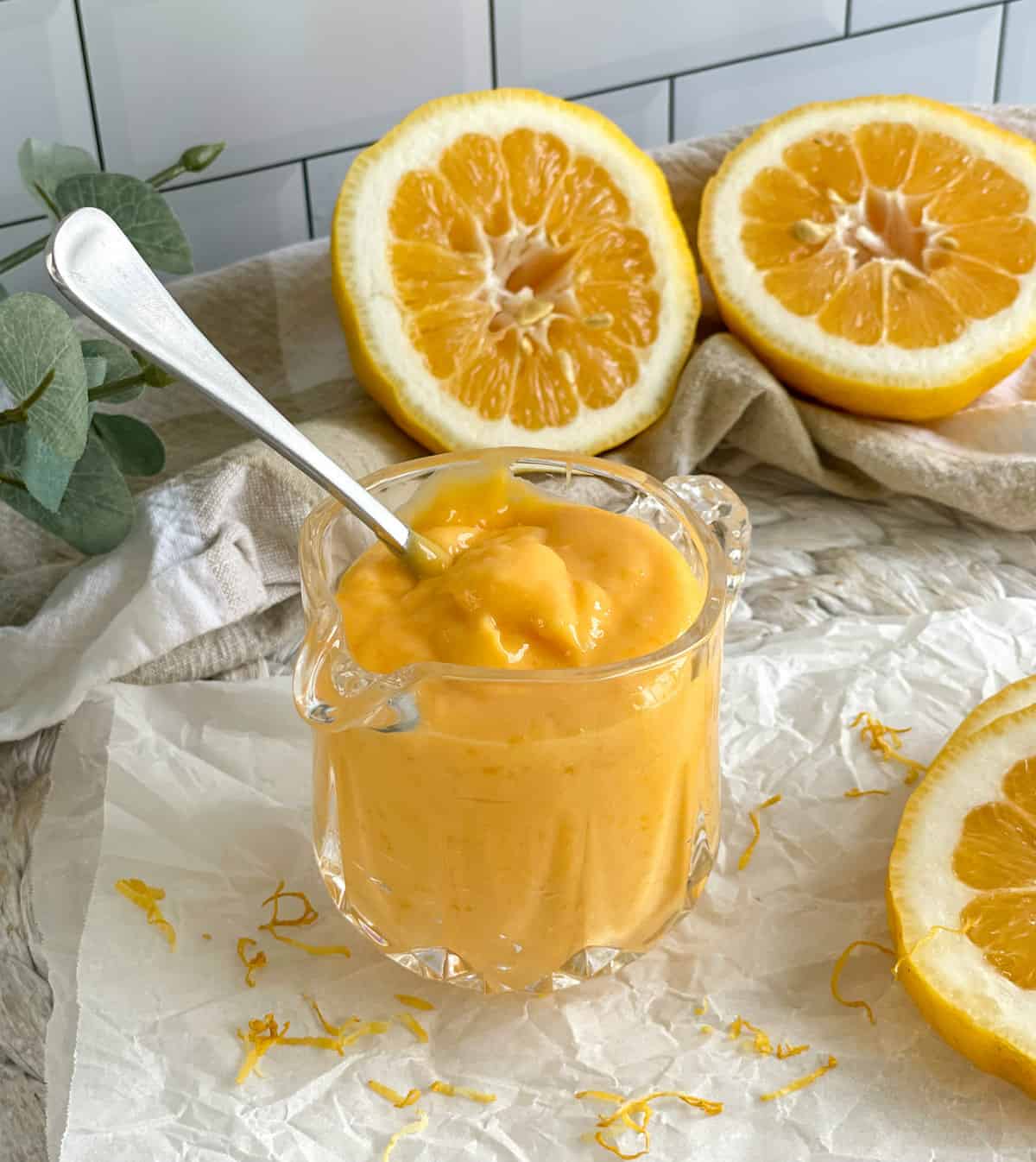 The ingredients in this recipe have kindly been provided by Countdown Supermarkets as Brand Ambassador
Lemon curd is so easy to make, if you can get your hands on some lemons then this is the next recipe for you to try. I was lucky enough to get a bag full of my dads wonderful large lemons the other day so set to work to share some delicious ways to use them.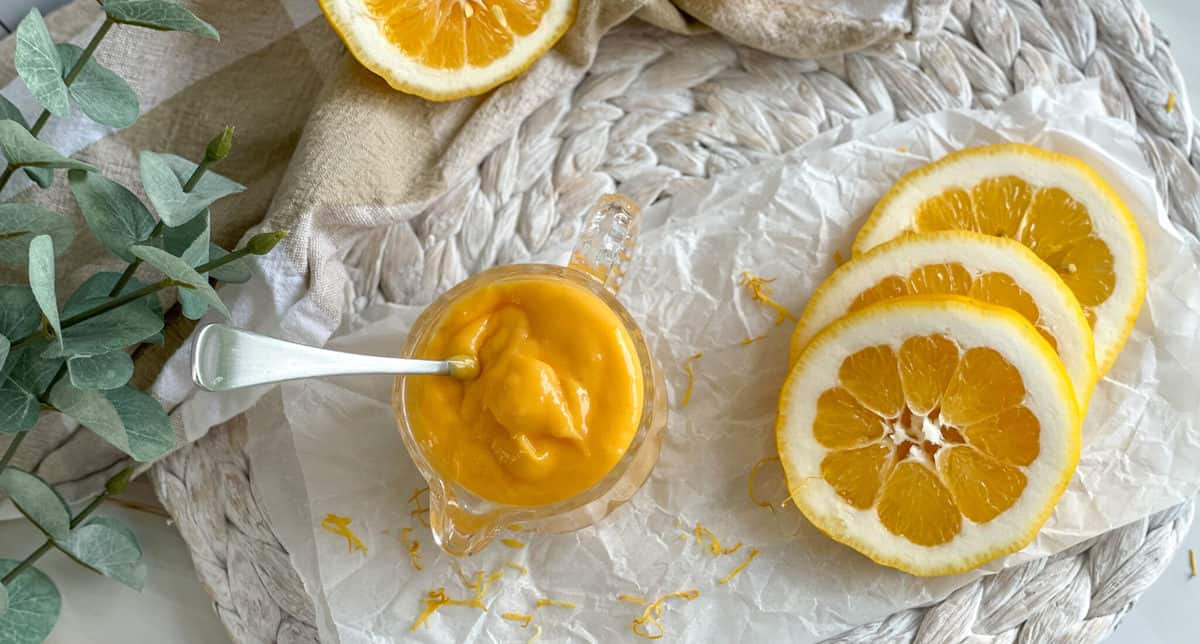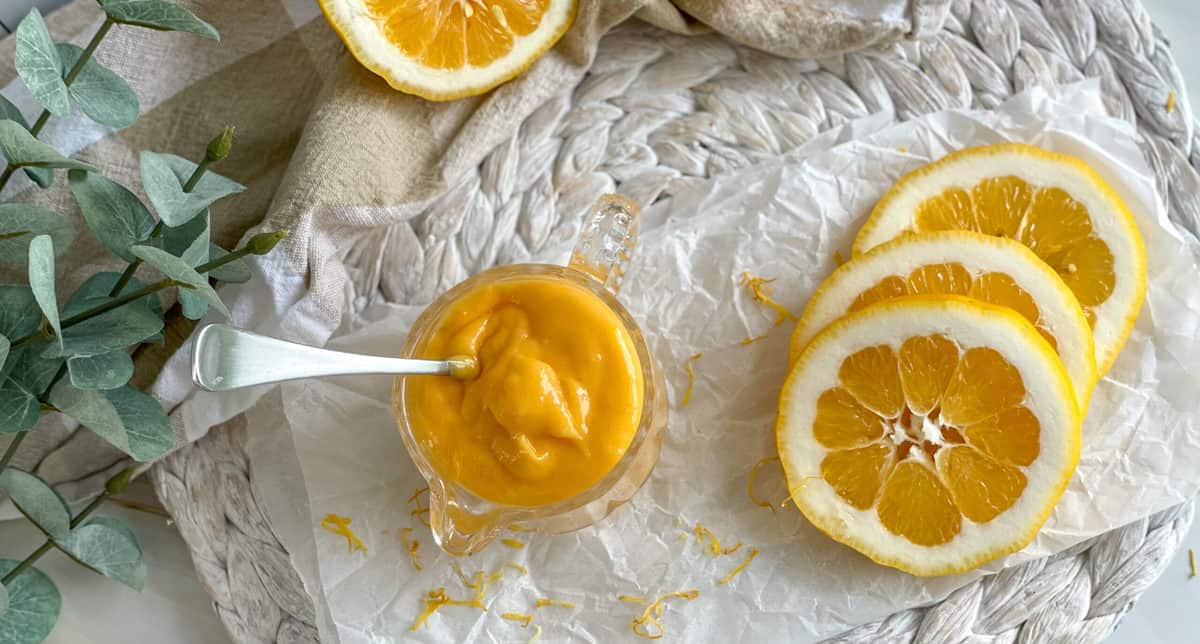 Lemon Curd (or Lemon Butter) is such a versatile item that you can use in a number of ways once it is made. It can be used in baking, such as tarts, muffins and cheesecakes. It can also be used as a topping for scones, meringues, crepes, waffles and more. Some love it on their toast, others enjoy it as a topping for ice cream.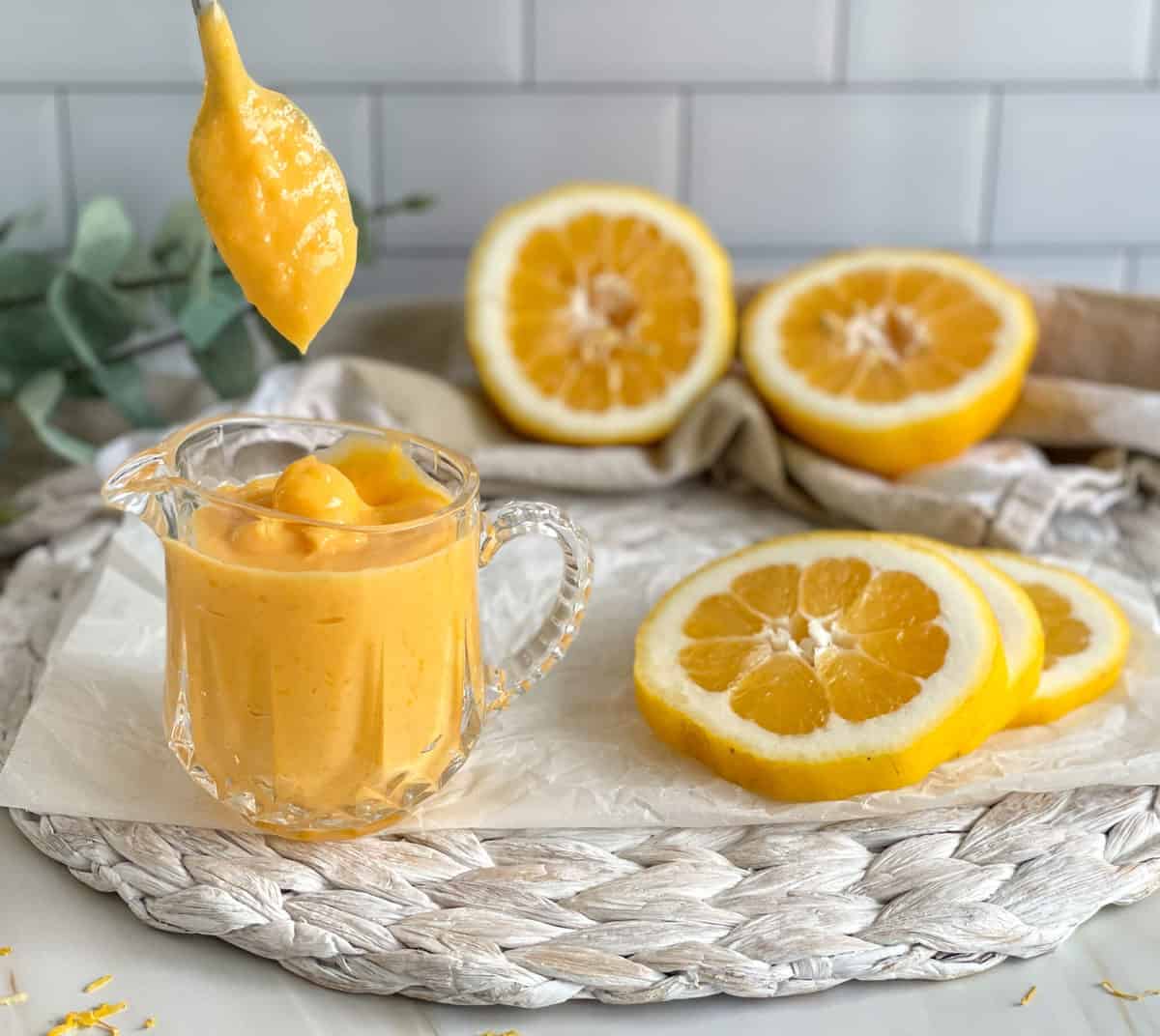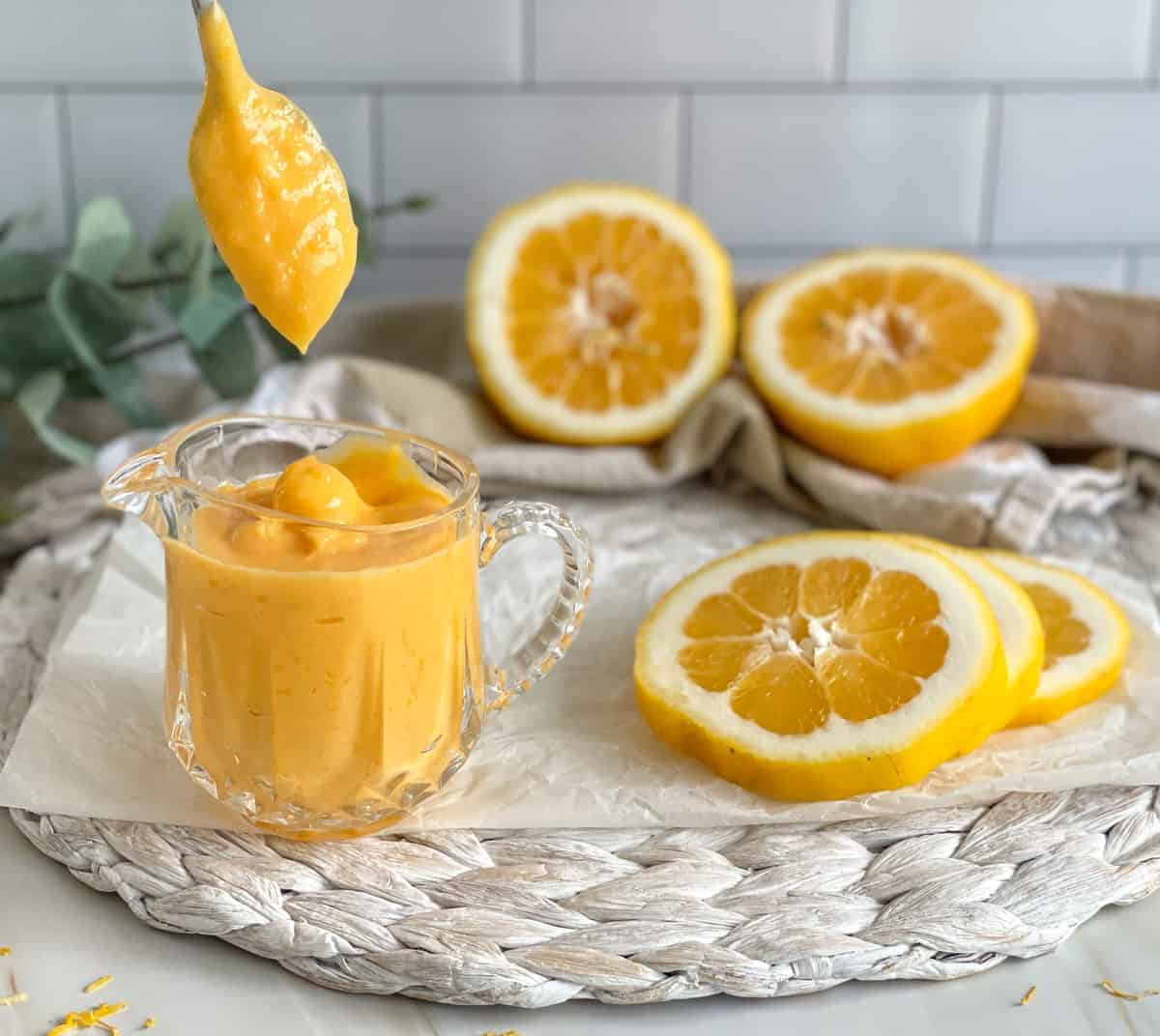 This recipe makes a small amount, around 3/4 of a cup which I find is plenty for what I use it for. Lemon curd will keep well in the fridge covered for up to a week, any longer and you might wish to look into freezing it or taking more care to can it properly. But for us it never lasts that long!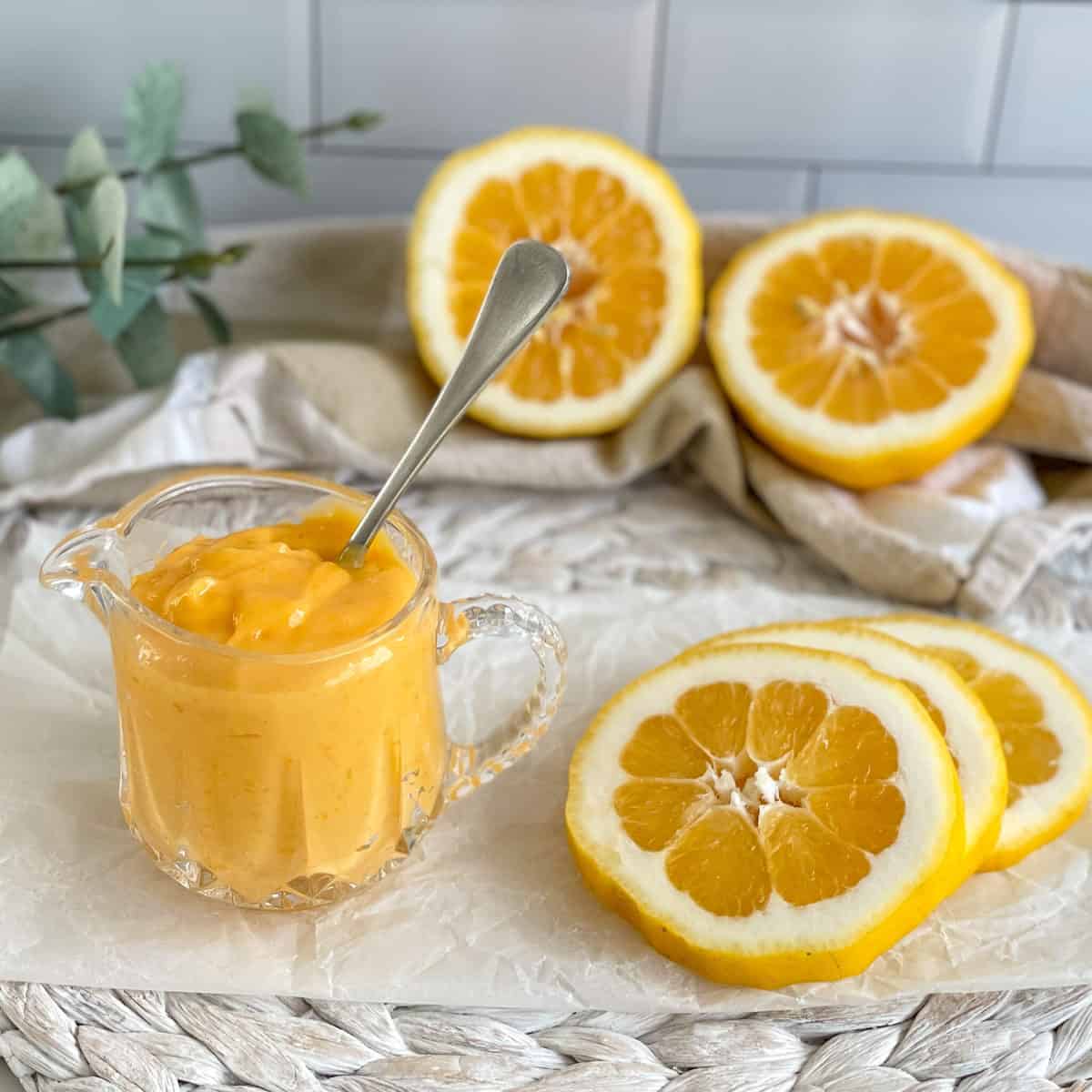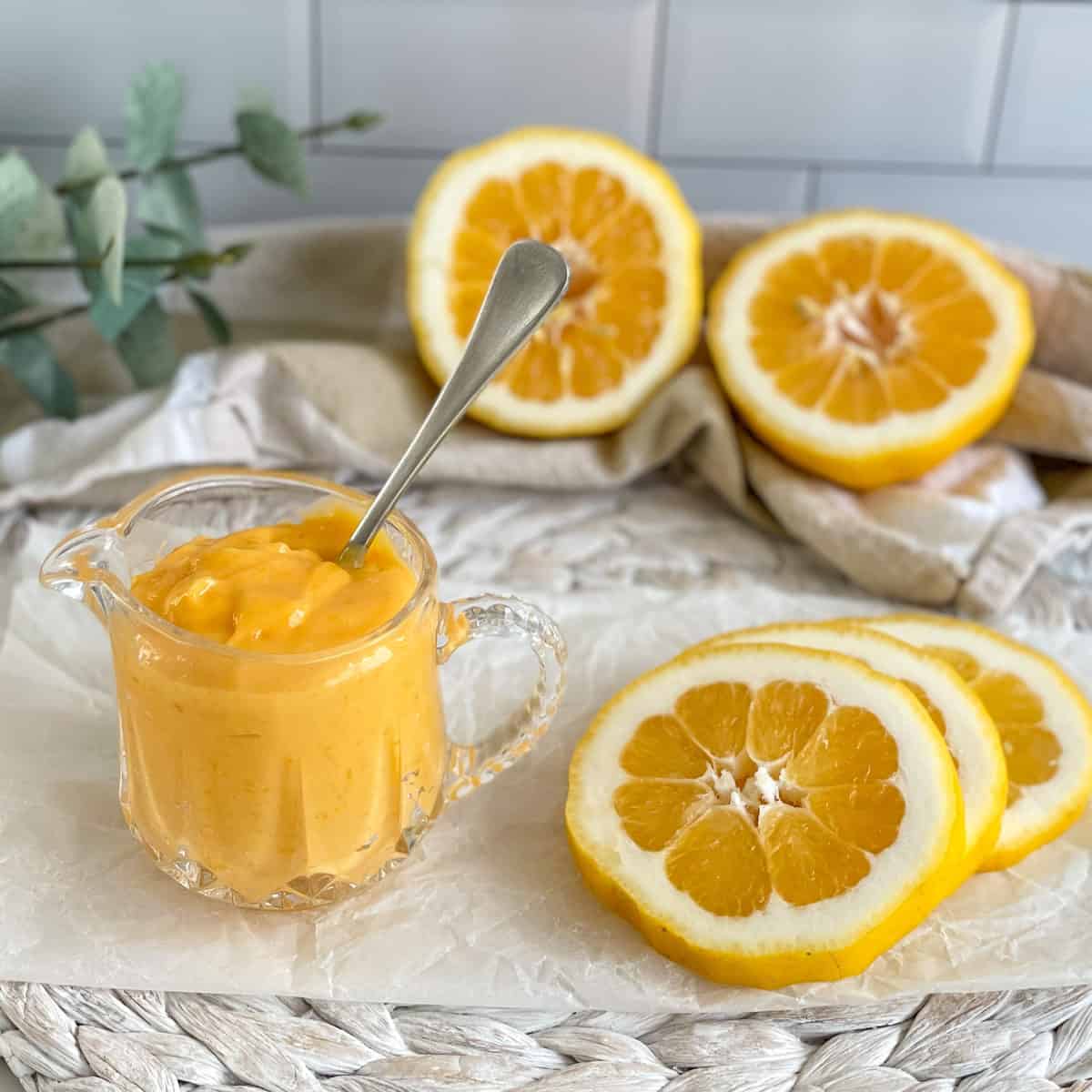 What is the difference between Lemon Curd & Lemon Butter?
Nothing these days. They are basically the same thing and the name can be interchanged. Originally Lemon Curd was quite a different recipe, but now both tend to be made using lemons, butter and sugar. Lemon honey differs slightly in that it uses honey in place of sugar.
The ingredients are very simple and pantry basics, whether you use store bought lemons or are lucky enough to access a lemon tree, the difference in the end result with lemons comes down to the variety. Lemons will be either super tart or tend more to sweet, so try a few varieties to see which you like.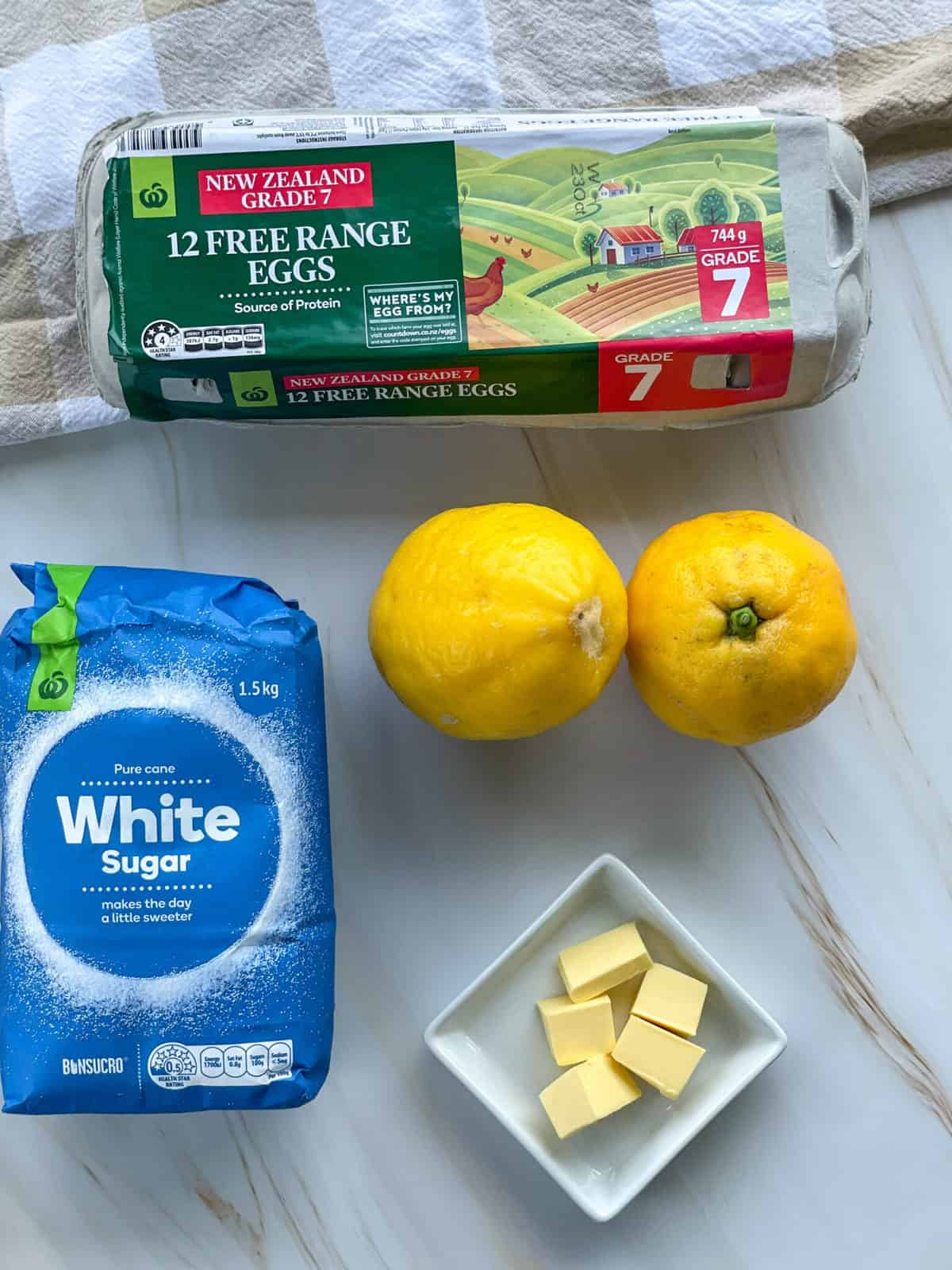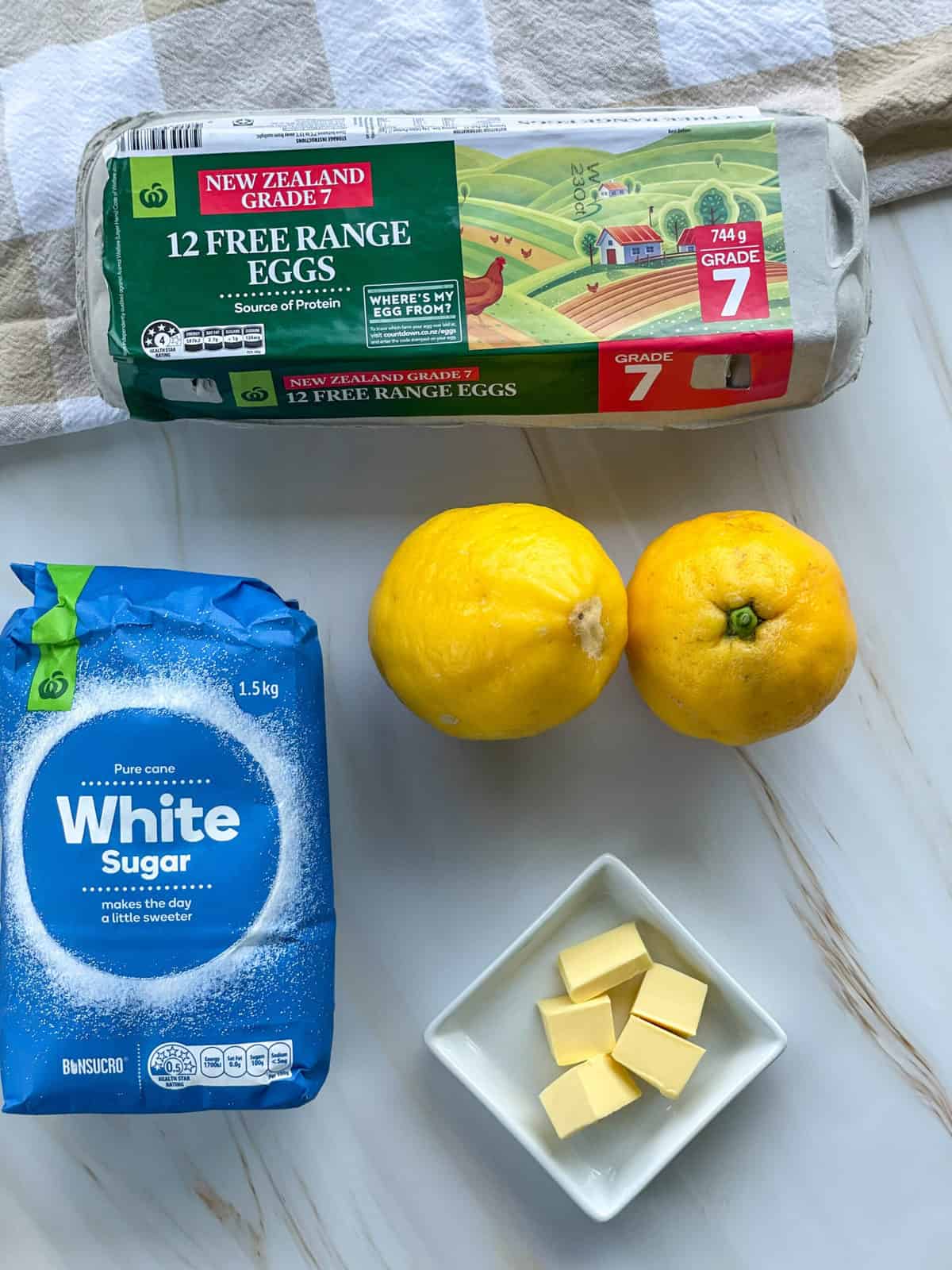 All you will need is
Lemons, juice & zest

Sugar

Butter

Egg Yolks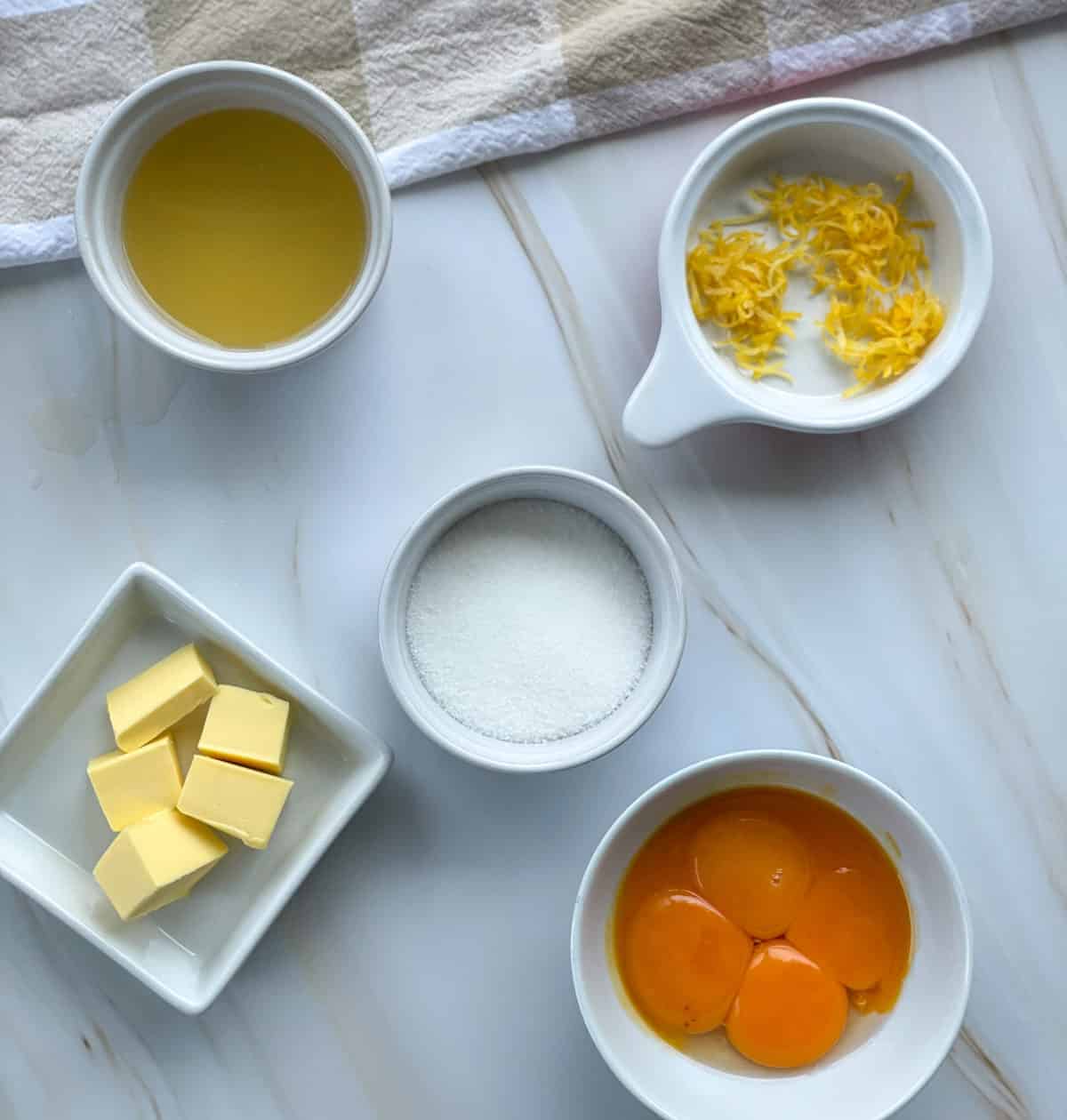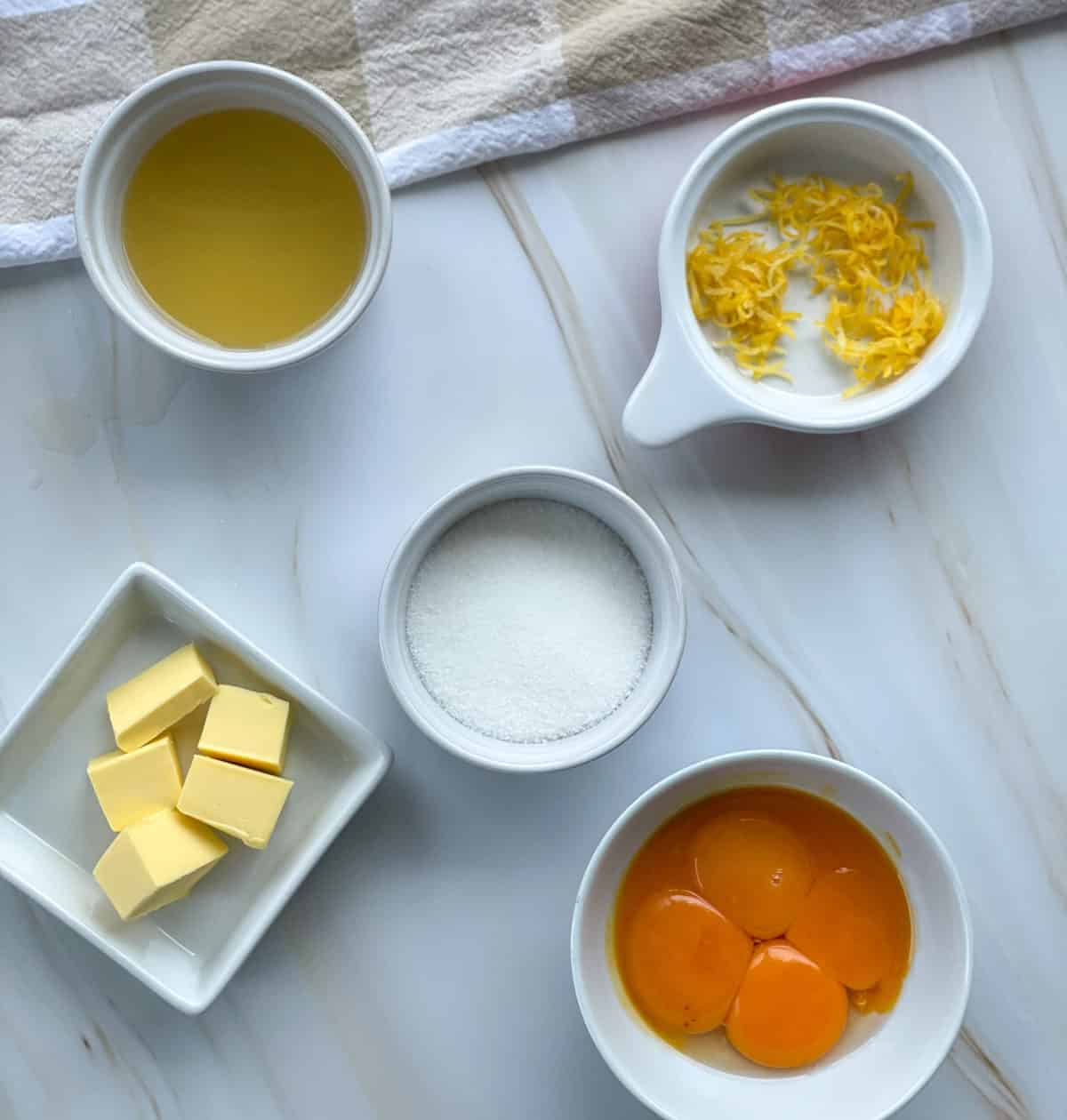 The method is simple, and does not take much time and is all made in one pot which is lovely! There are so many different methods for making lemon curd but I like this one as it is easy!
You will need to either use a double boiler or use a metal bowl that can sit on top of a saucepan with a small amount of gently simmering water. Because you are working with eggs you want them to gently heat rather than creating scrambled eggs! Scrambled eggs with lemon, sugar and butter not ideal…..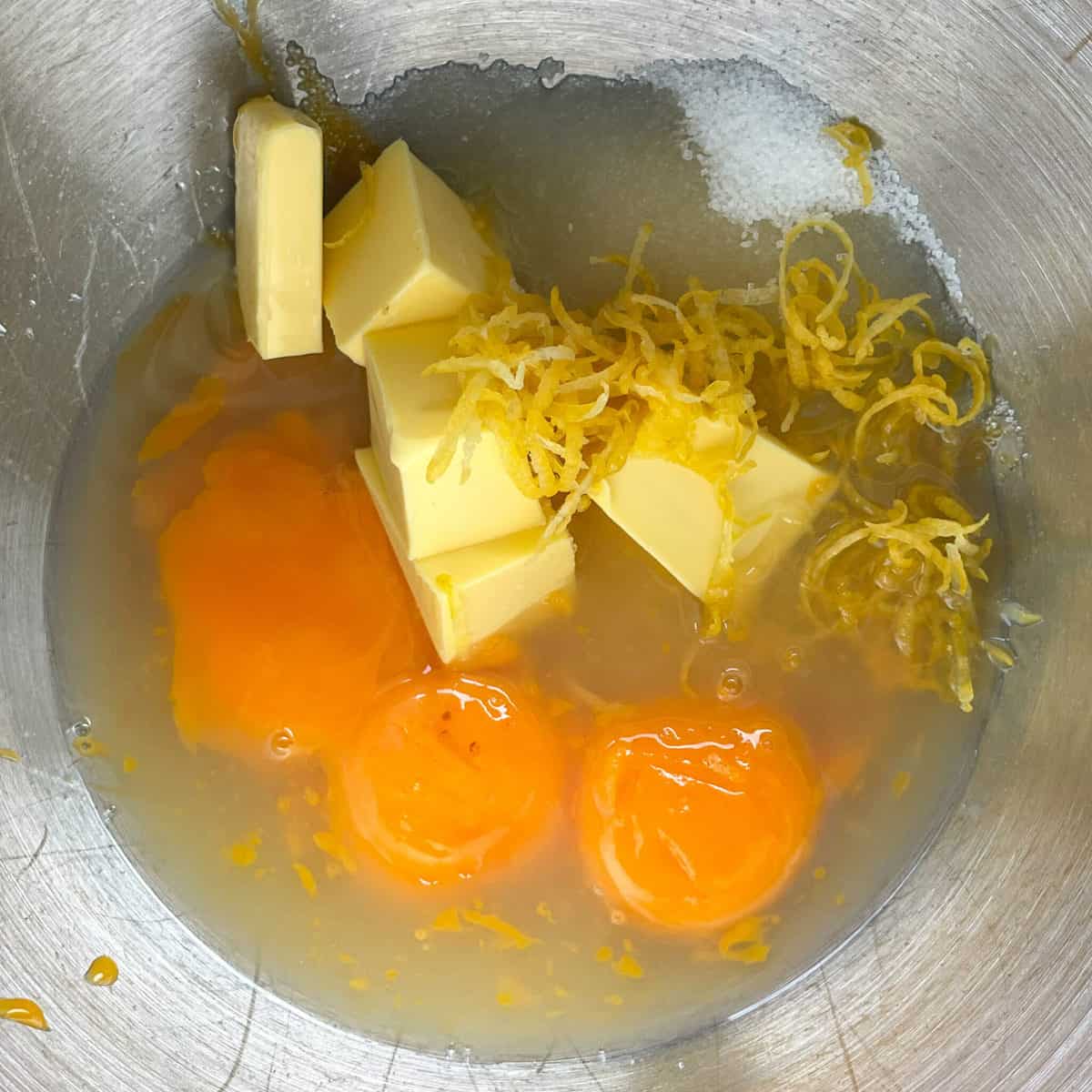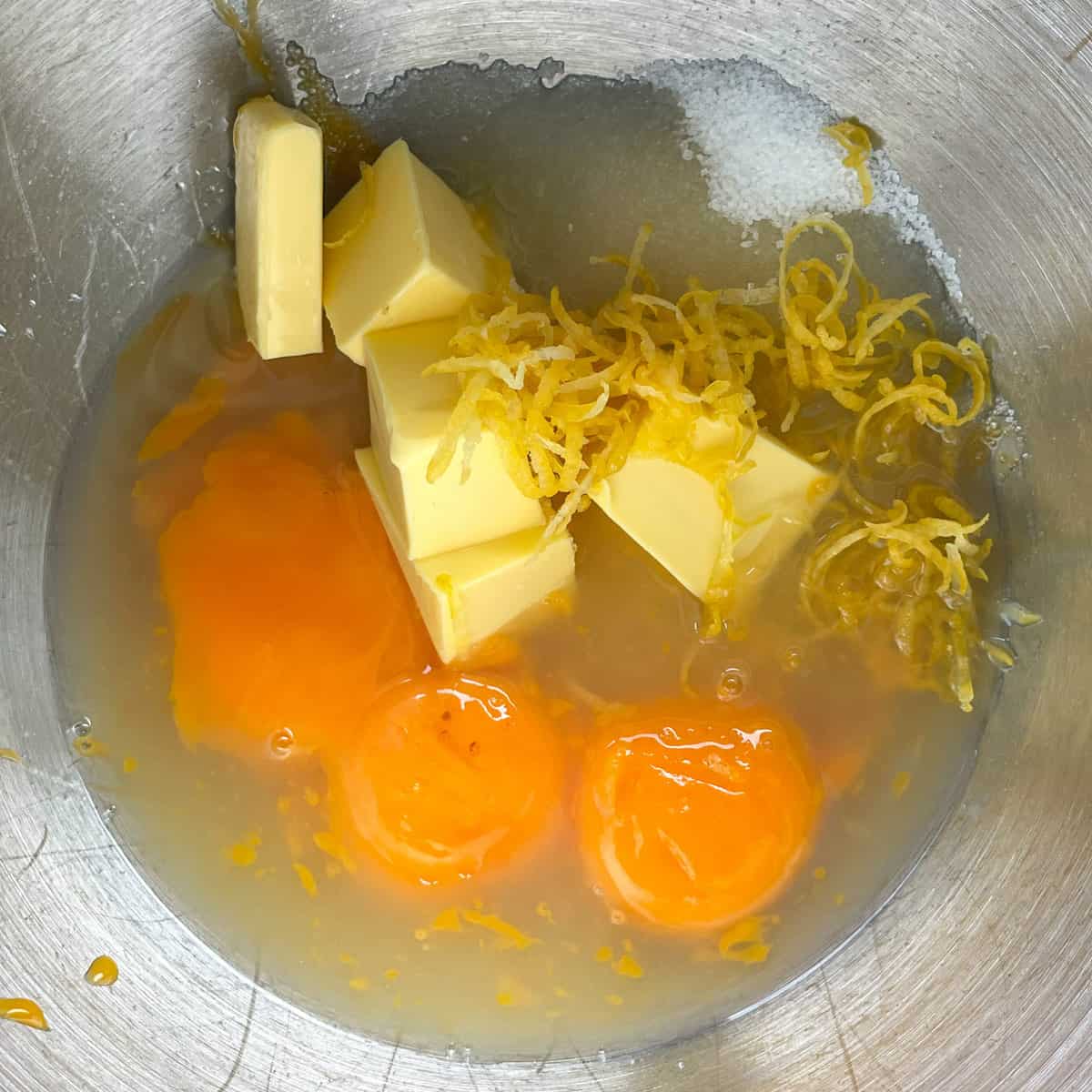 To make the recipe you add all the ingredients together in a metal bowl then slowly heat them over the double boiler, whisking the whole time. It does not take too long for it to thicken and form the ideal consistency.
The consistency you are after is a thick sauce similar to a hollandaise sauce or an instant pudding. If it goes too thick, more like a jelly then you can easily remedy this by adding more lemon juice to it.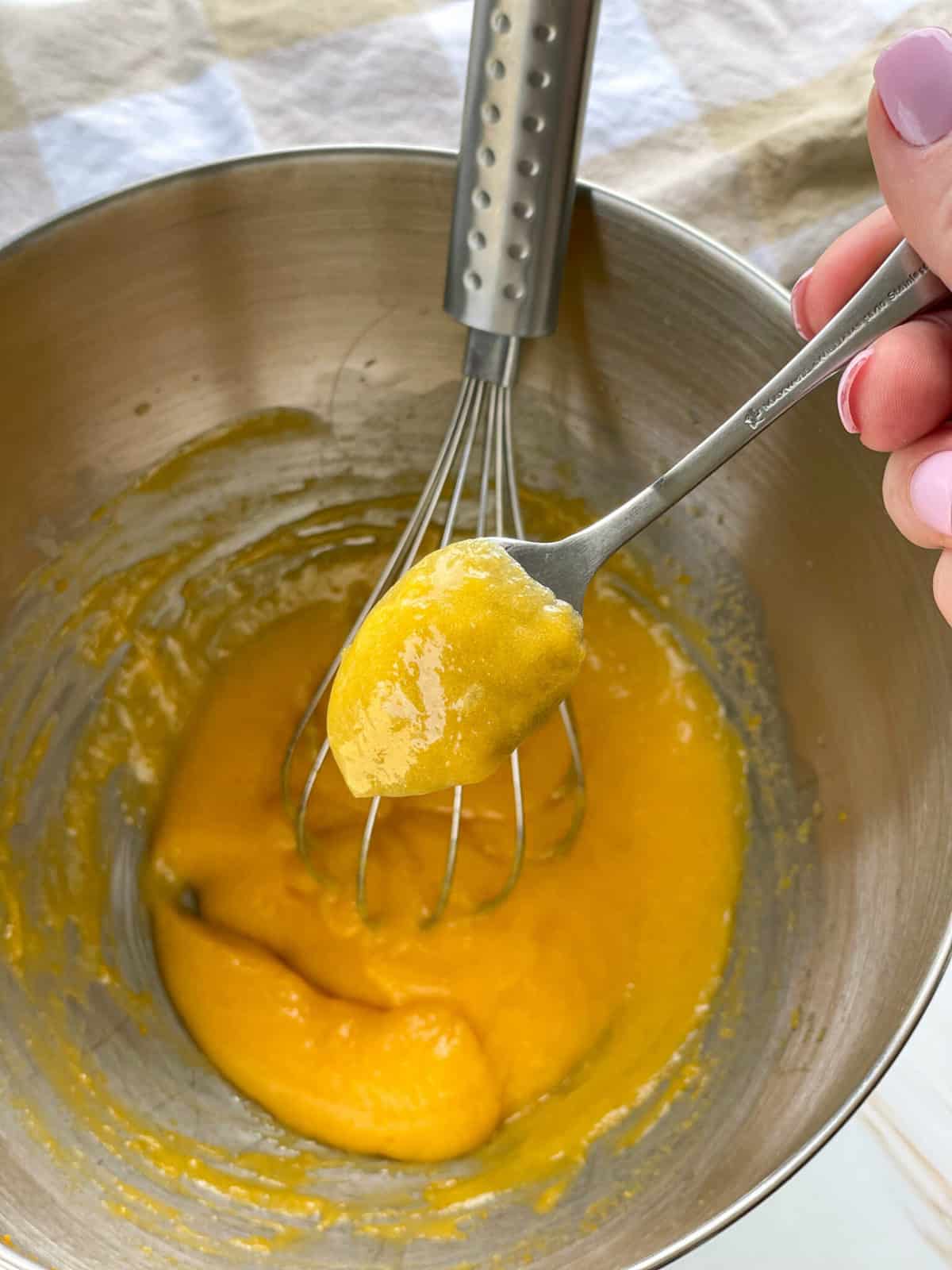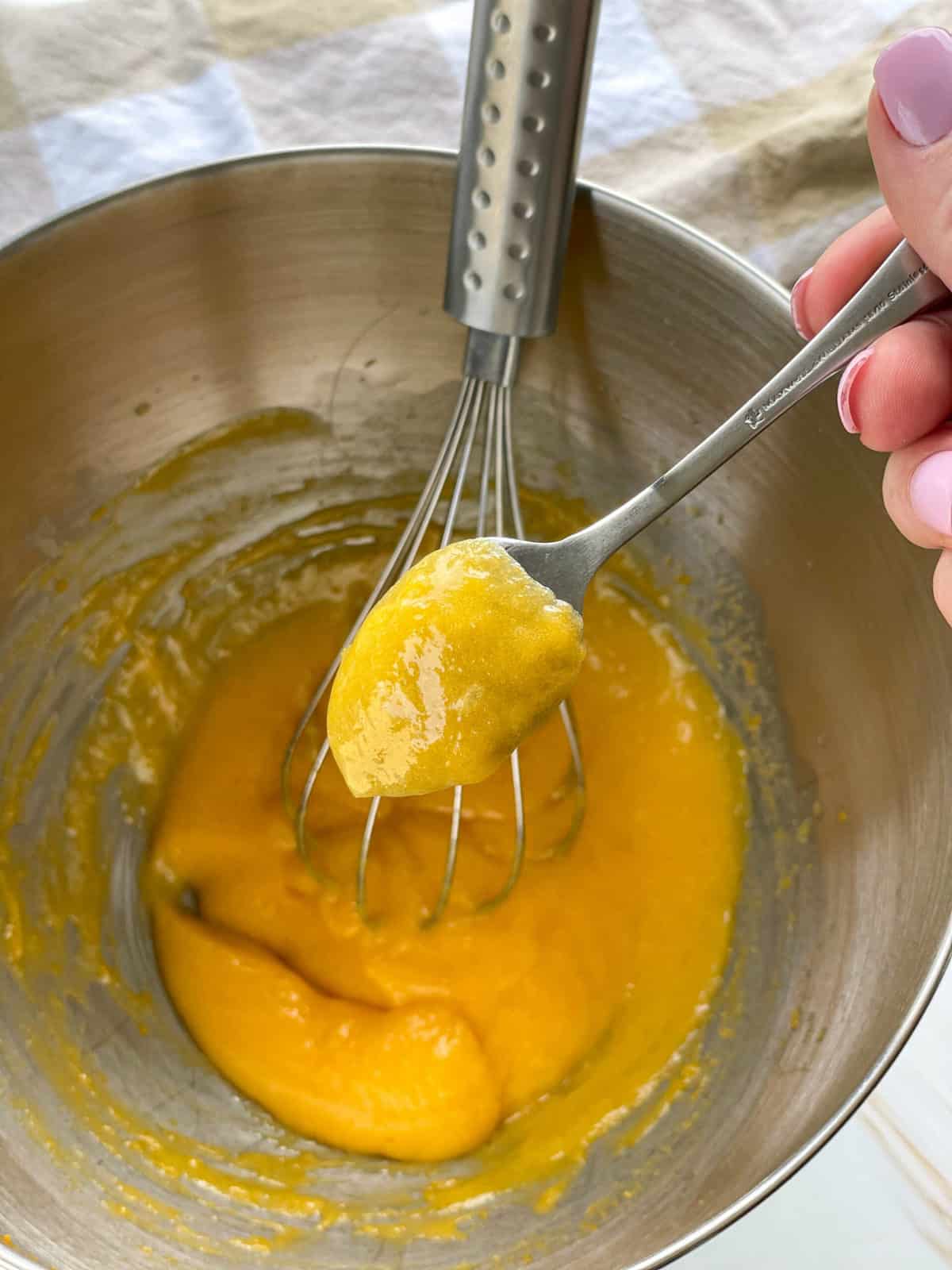 If you have a thermometer it is ready at 160-170 Degrees Celsius, but I tend to just eyeball it. Once it coats the back of the spoon and you can run your finger through with it holding its shape before dropping off it is ready to go!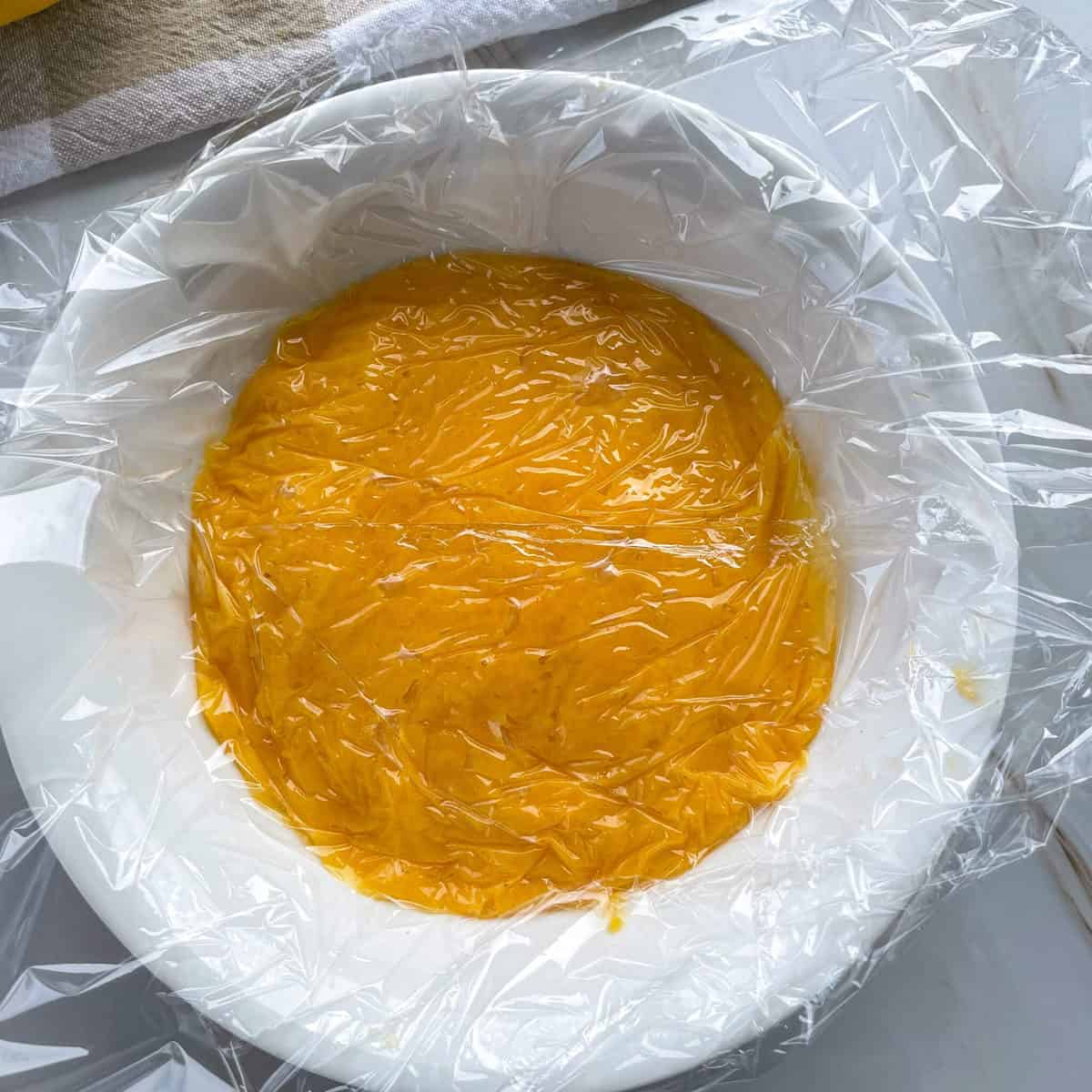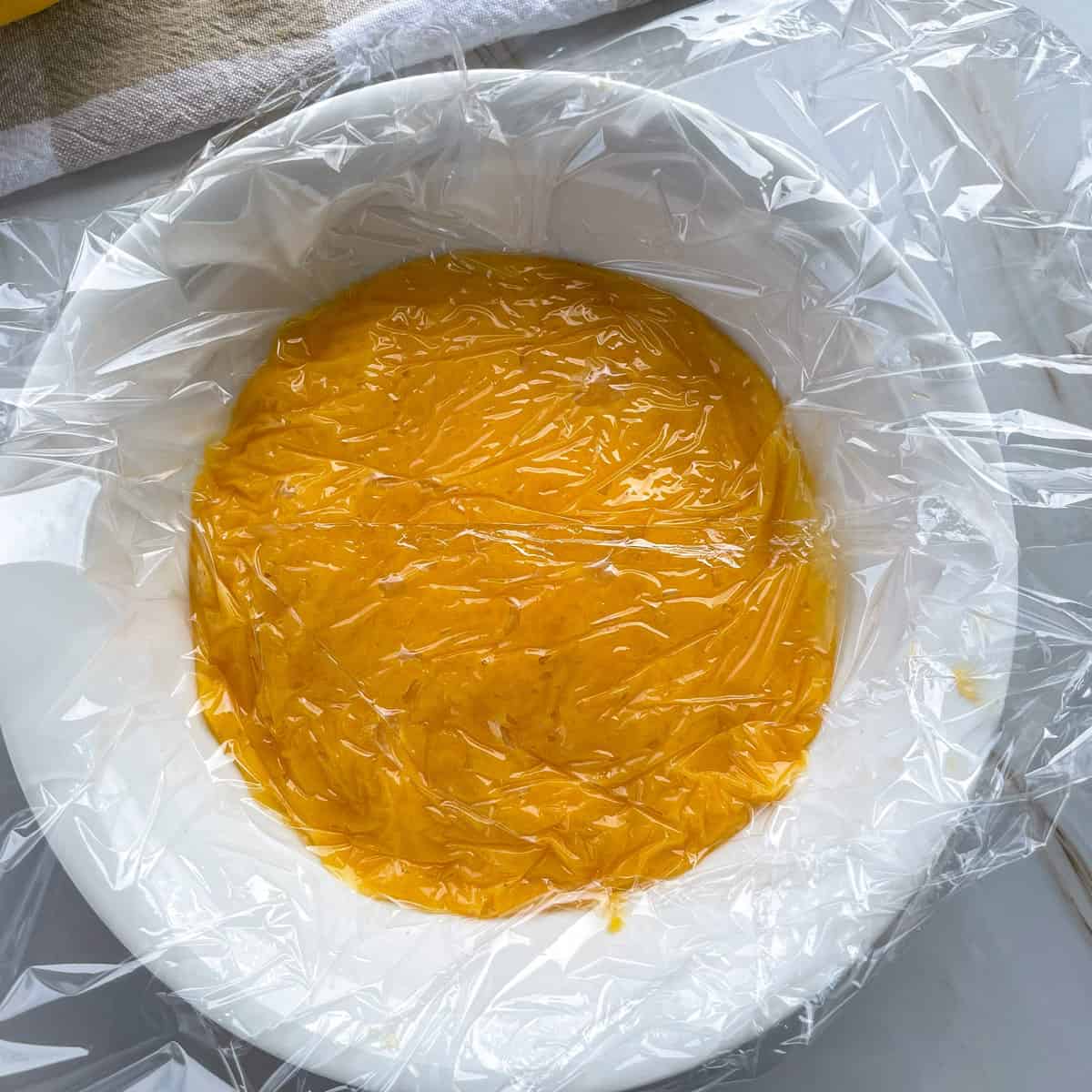 Then once cooked, add it to a bowl and cover with plastic wrap, ensuring the wrap touches the lemon curd so that it does not form a skin. Then cool it completely before adding it to a jar or using in your recipes.
My lemon curd is more orange than yellow due to the lemons I have used.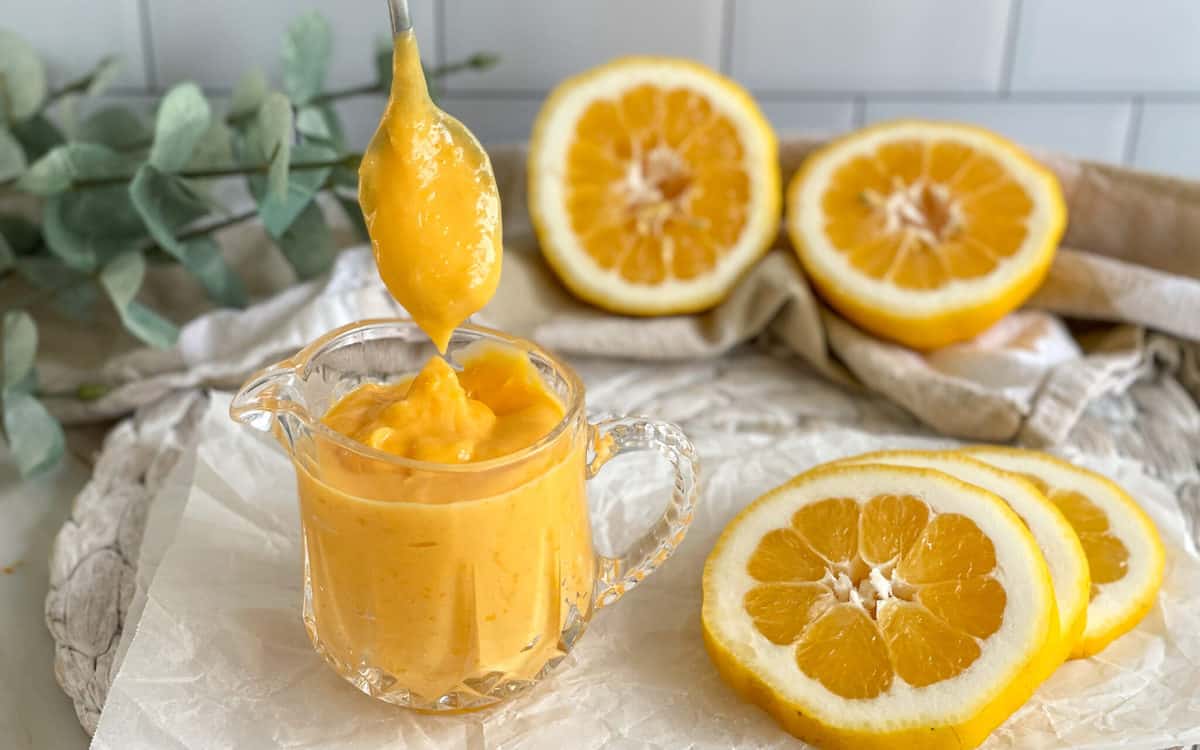 I look forward to hearing what you use your lemon curd in. You might like to try it in either of these lemon muffin recipes, simply pop some muffin mixture in the muffin tray, add a dollop of curd then top with muffin mixture and bake!
Or try it in my delicious lemon profiteroles recipe Here
OR try these lovely Lemon Curd Muffins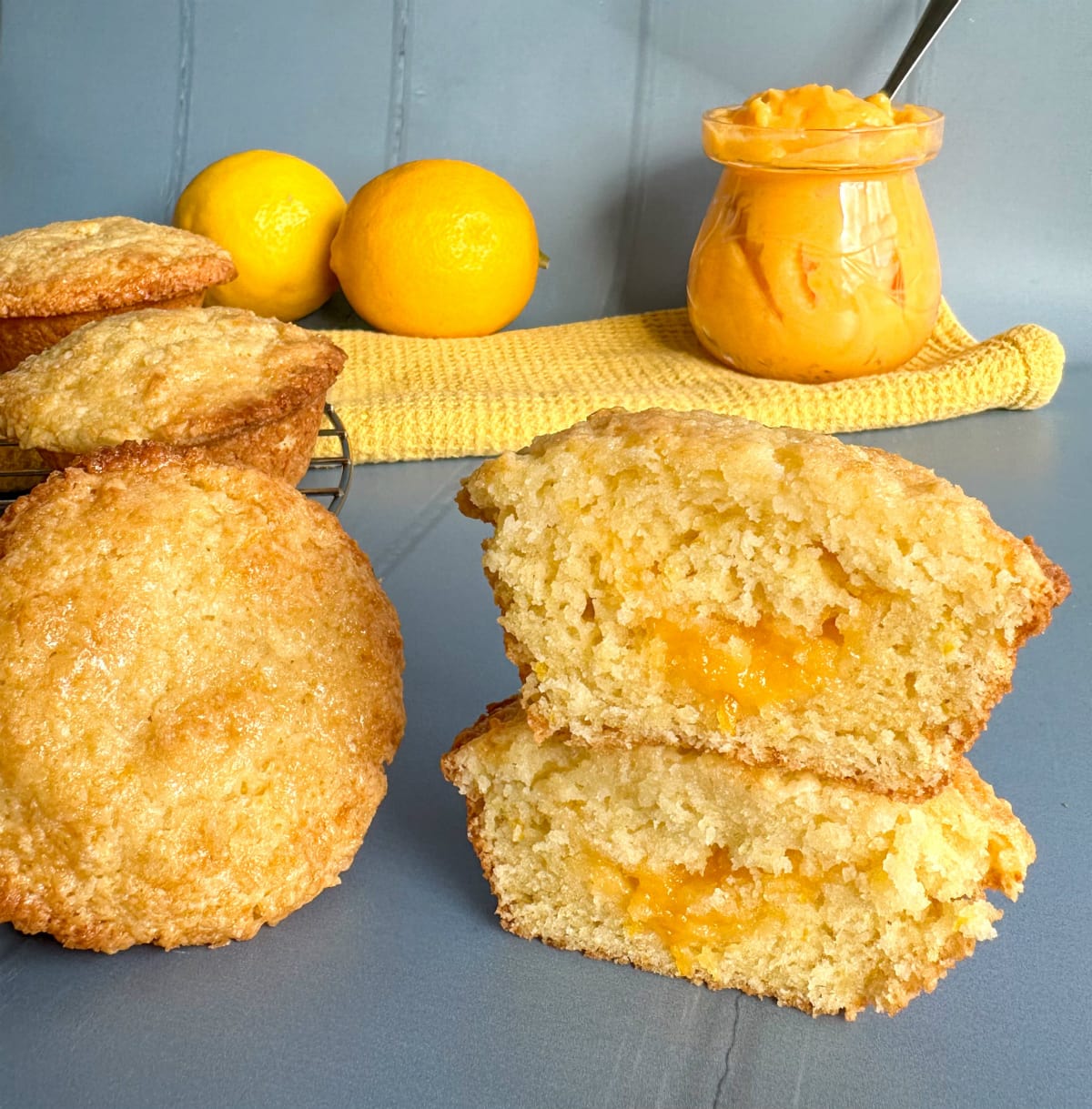 Onto the recipe for Lemon Curd or Lemon Butter
How easy is that! Be sure to let me know what you think in the comments below. Lemon curd is a lovely mixture of sweet and tart. I hope you love it.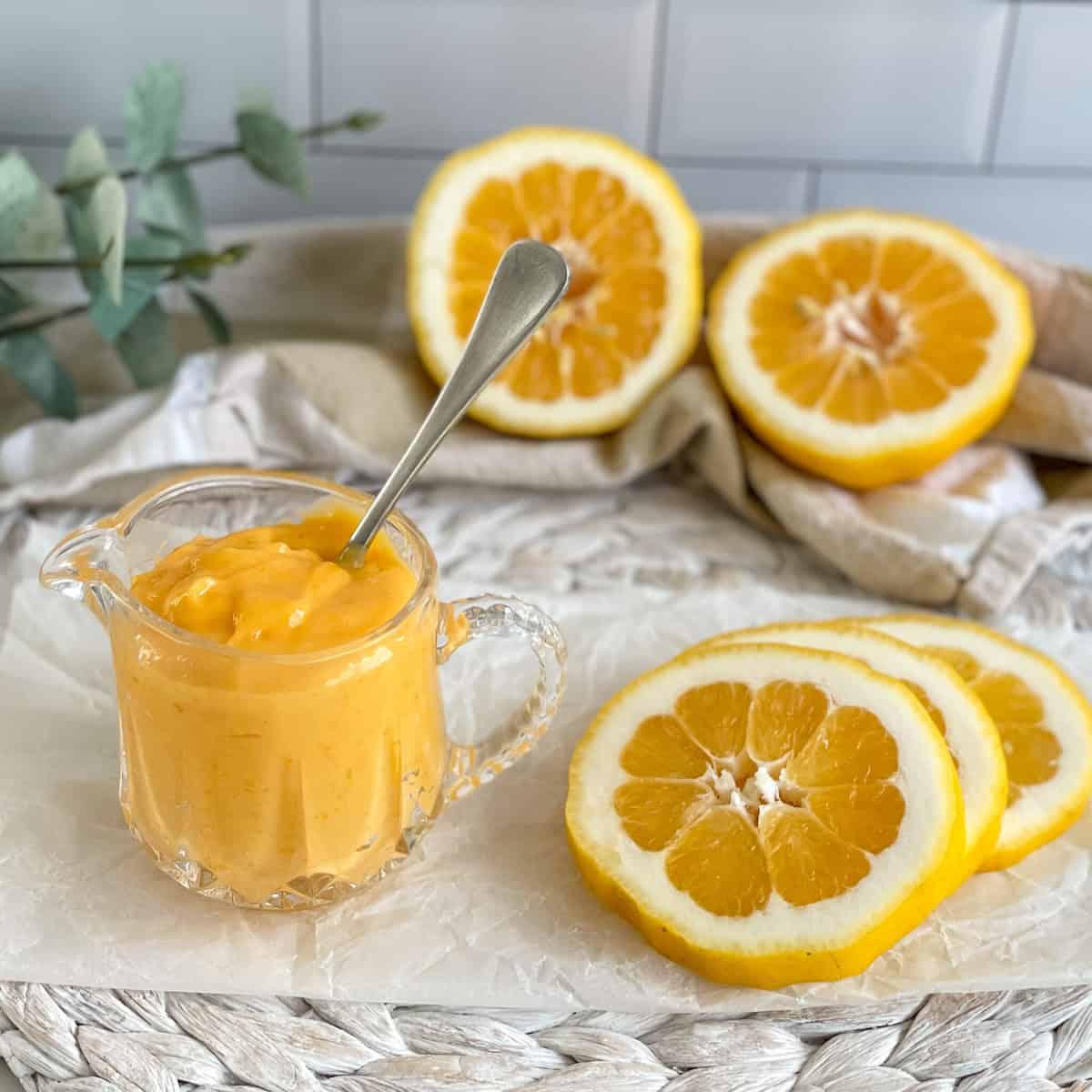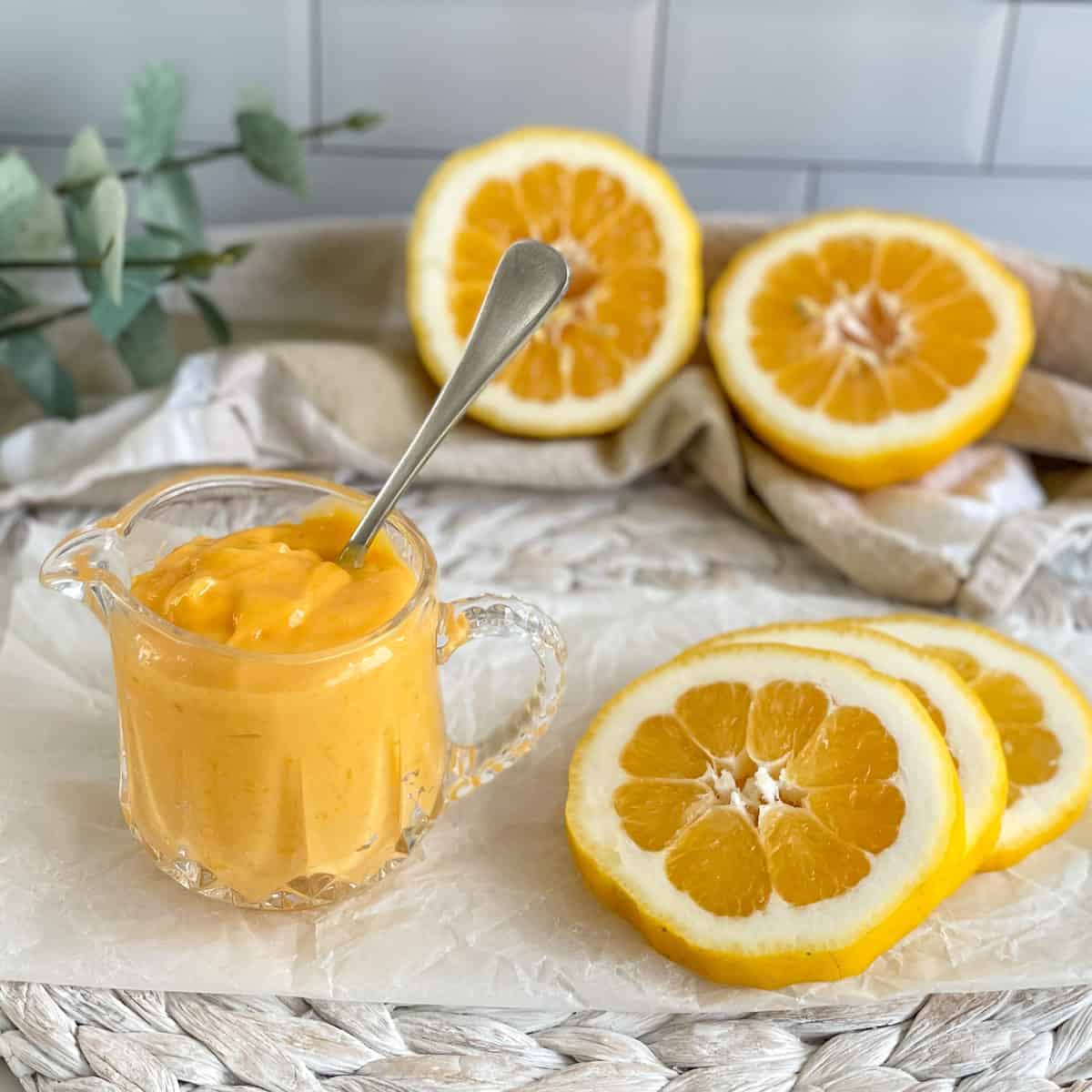 Thank you so much for stopping by to check out my latest recipe and others on my blog. If you are not already be sure to follow me on Facebook or Instagram for more deliciousness, and you can register your email in the subscription box below to receive all my recipes as I publish them.
Happy Baking!
Anna
Pin It! Pinterest