A combination of delicious flavours in one recipe, this Caramel Nut Slice is absolutely divine, so easy to make too.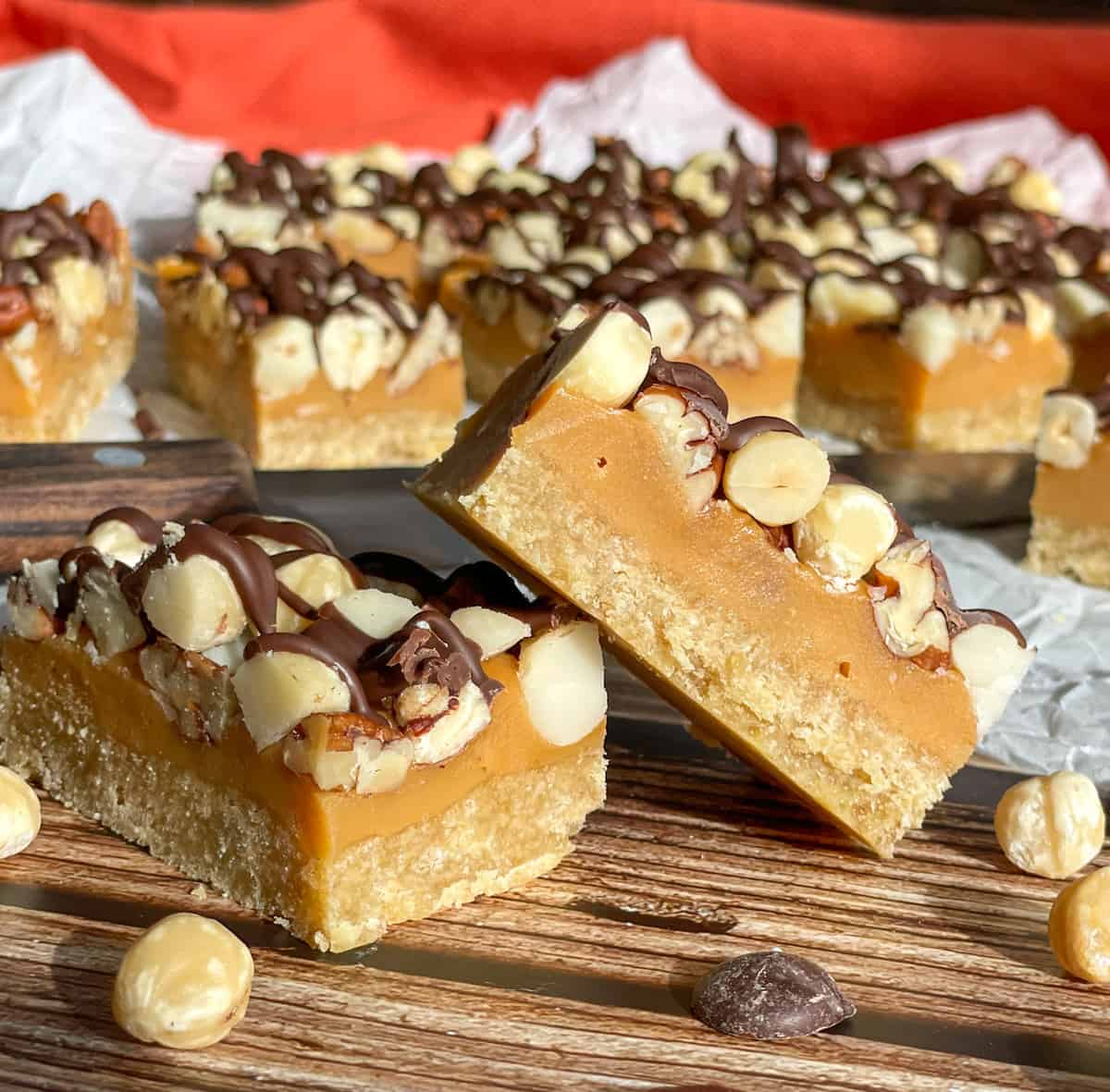 This recipe includes ingredients supplied by Countdown Supermarkets as Brand Ambassador, all opinions are my own
It seems that anything caramel is super popular, and for good reason! I am always on the look out for ways to create recipes that are easy but include caramel somewhere.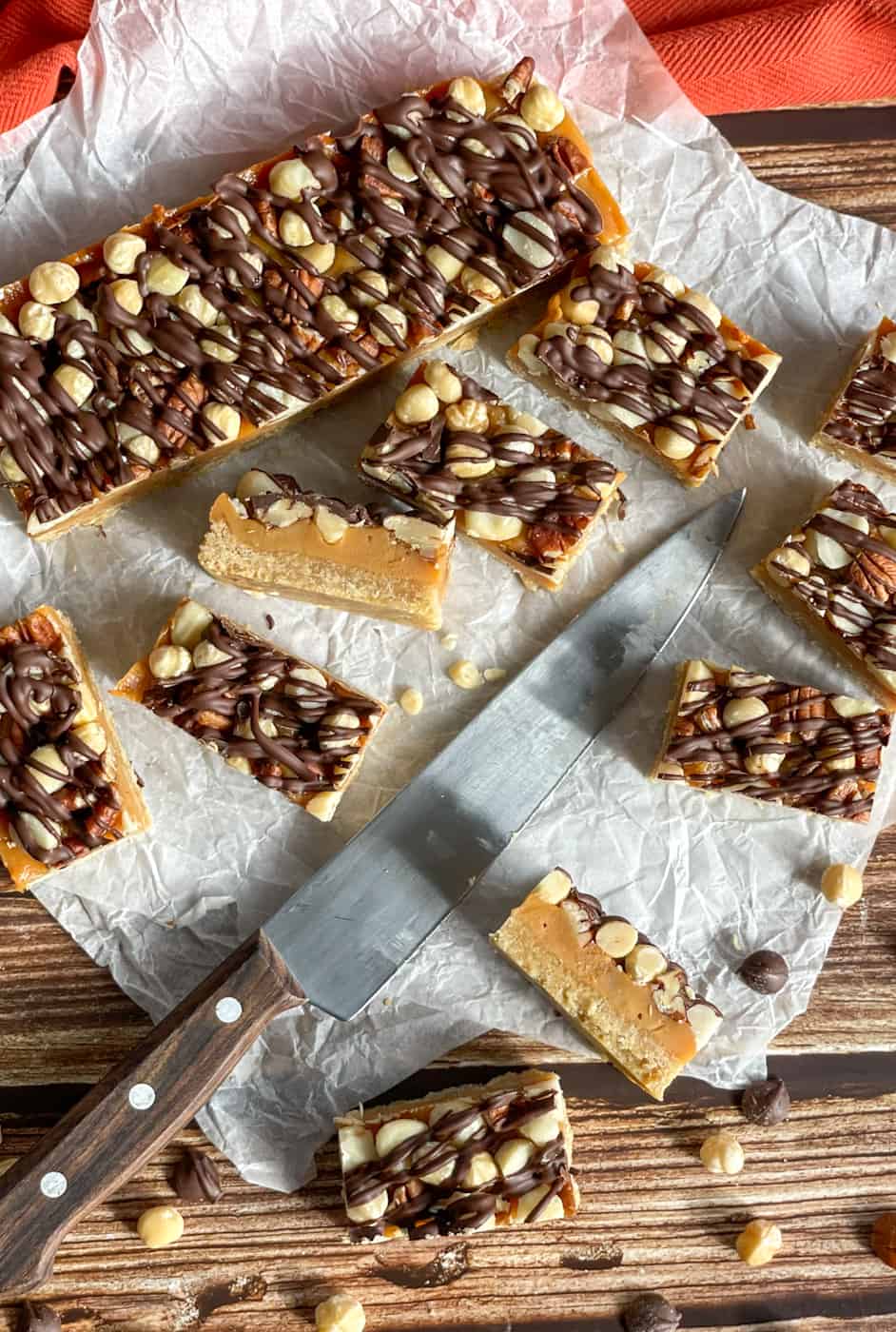 I was inspired to create this recipe after seeing a caramel nut slice in a café recently, I decided that I could recreate it with my classic chocolate caramel slice recipe. I think it has worked out better than the café one! The caramel is so much tastier.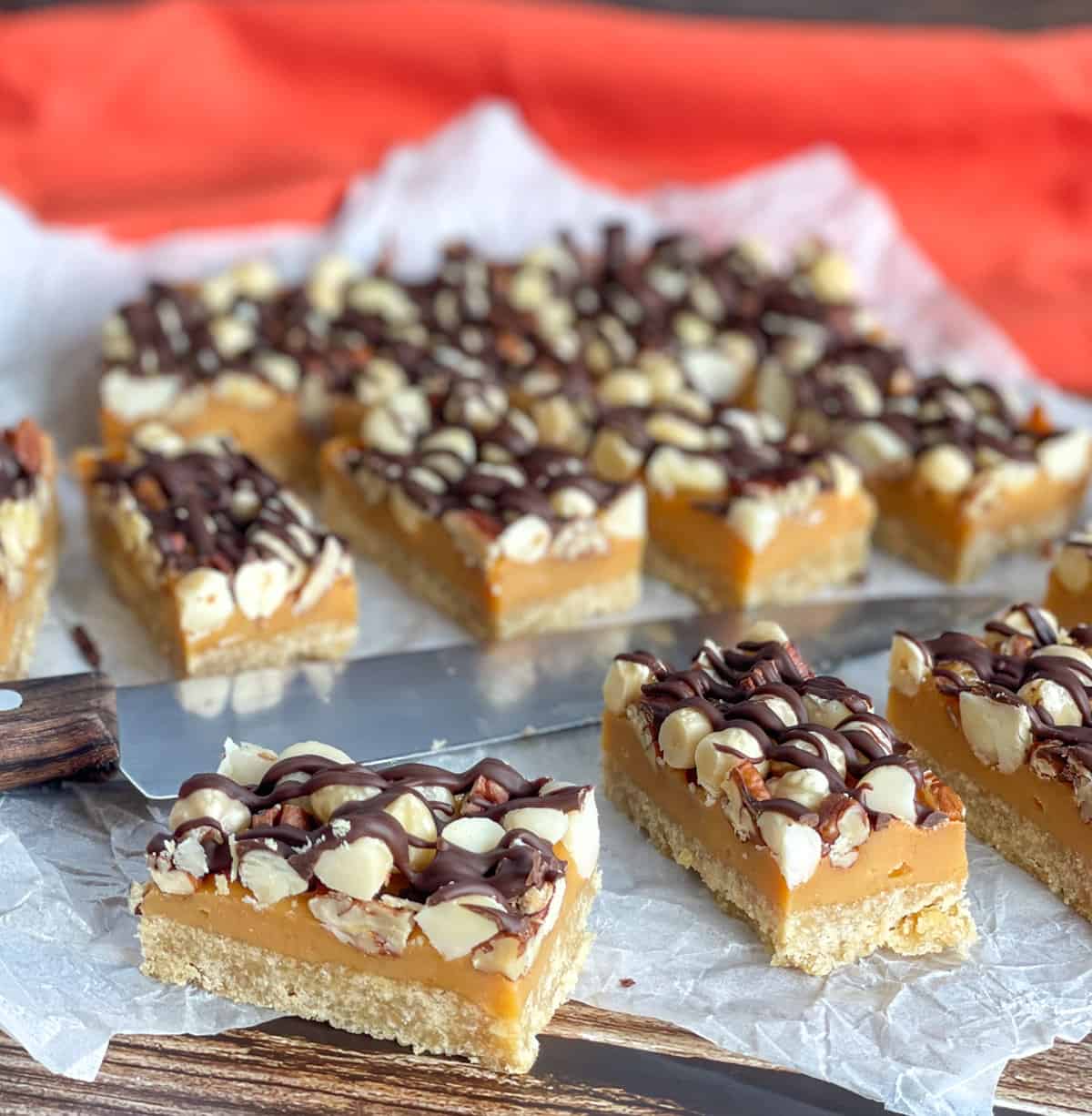 This is a very decadent recipe, and of course nuts can be pricey so feel free to amend the nuts to suit your taste and budget! Today I have used macadamias, hazelnuts and pecans, but this would be lovely with any of those plus almonds, walnuts or even just roasted peanuts!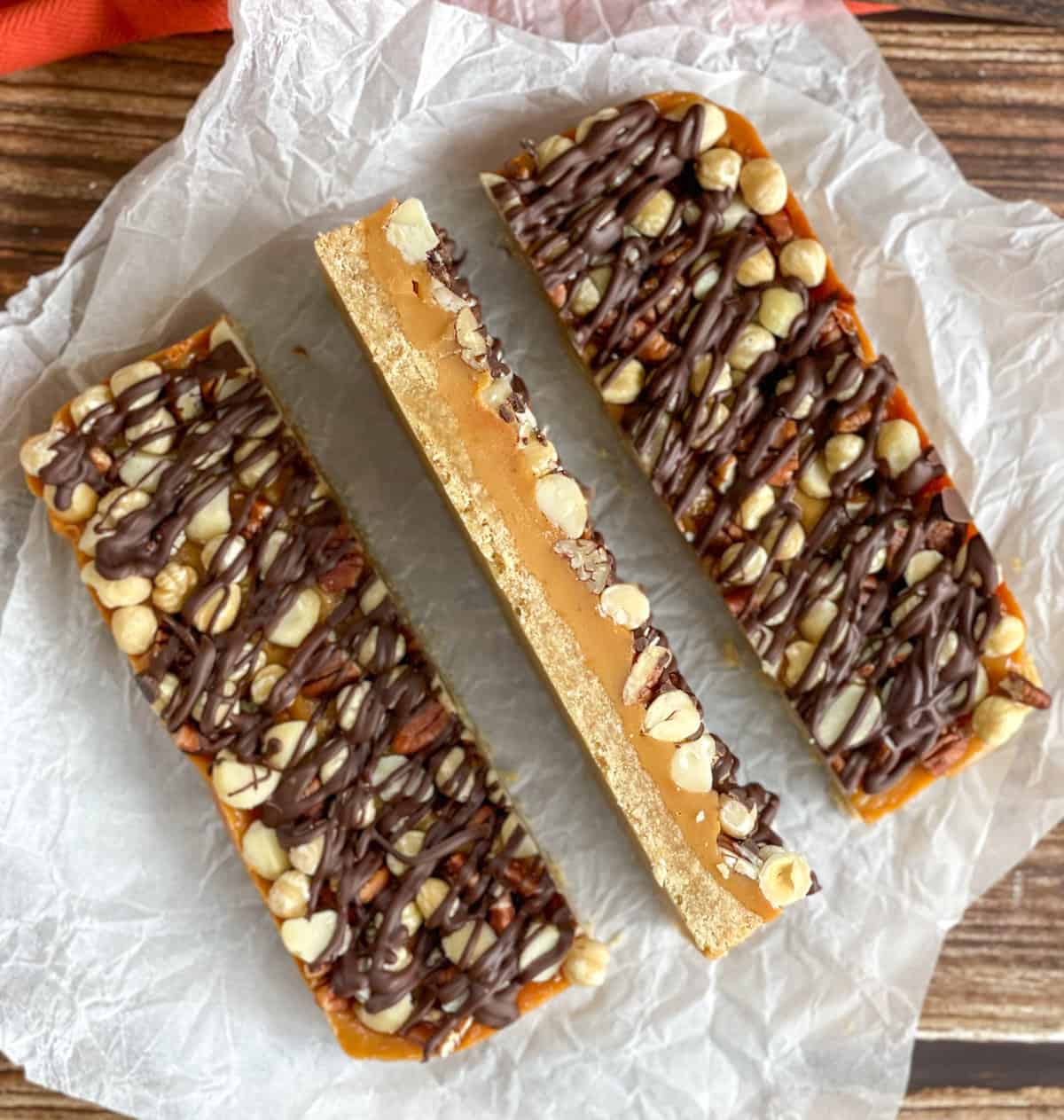 Feel free to have a try with your favourites. Some nuts come toasted, if not I recommend you lightly toast the nuts for extra flavour in a 180C oven for 5-7 minutes until very lightly golden and fragrant.
The ingredients you will need are
Plain White Flour

Brown Sugar

Desiccated Coconut

Butter

Condensed Milk

Golden Syrup

Nuts (Macadamias, Hazelnuts and Pecans)

Chocolate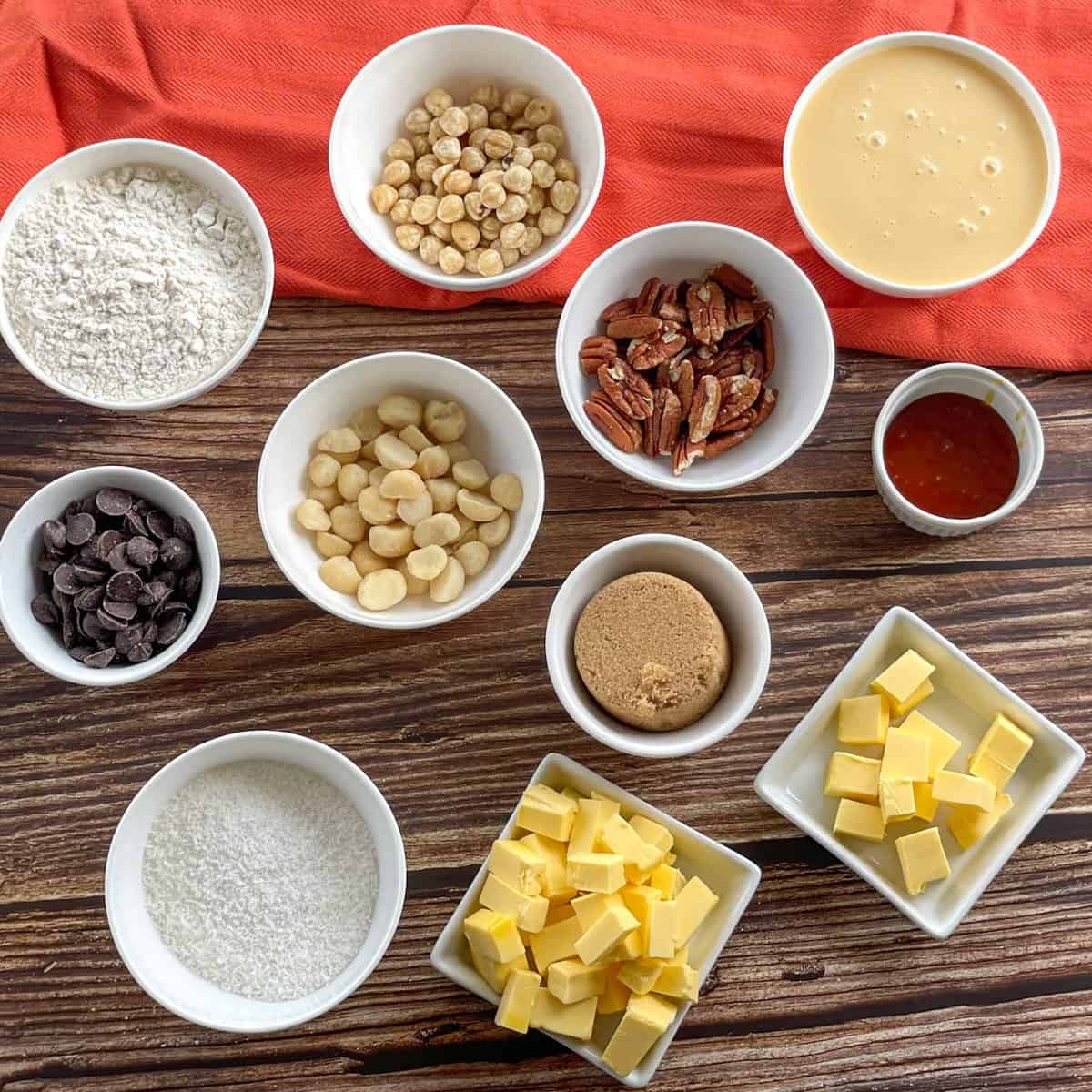 This method for this recipe can be broken down into three parts, cooking the base, the caramel, then finally finishing it off with nuts before chilling it for 3-4 hours.
The base is a lovely simple mix of just 4 ingredients, very easy to put together and you bake this first then set it aside to cool while you make the caramel topping.


The caramel is such a lovely recipe, twice cooked so it is firm but chewy and so delicious. Better than store bought I assure you! The key to this caramel is to stir it continuously in the first step, it catches so easily so I stir over a low heat with a rubber spatula so I can scrape the sides and base constantly.
A few bits of browned caramel is totally fine but be careful not to burn it.


Once this is cooked for the allotted time pour over the base and cook for a further 12 minutes until it is golden brown and firm. The caramel is very hot at all of these stages so be super careful.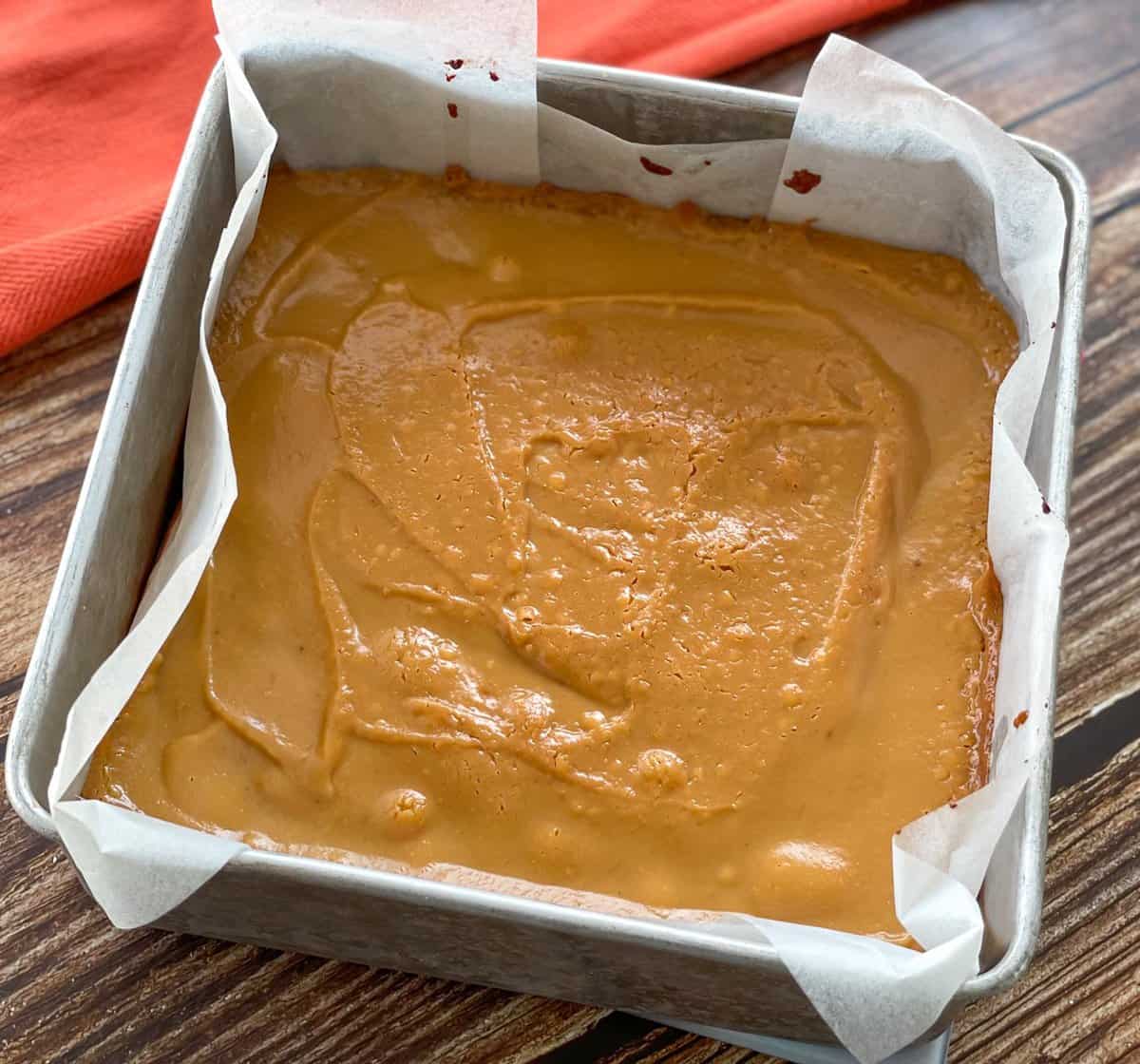 While the caramel is still hot and soft, sprinkle over the nuts of your choice, I have halved the pecans and macadamias, you lightly toast the nuts initially, see how in the recipe below.
Once they are evenly sprinkled over I lightly press them into the caramel.


Last step is to drizzle over the chocolate topping. I like to add a little oil to the chocolate to stop it from cracking when I slice it. I have used a small plastic ziplock bag to fill with chocolate, slice off a small corner and use this to drizzle the chocolate over the slice.
Alternatively you can drizzle the chocolate off the end of a teaspoon, there is no right or wrong way to drizzle! Just any old pattern will look lovely.


Once this has chilled it can be stored in an airtight container either in the fridge or at air temperature if cool.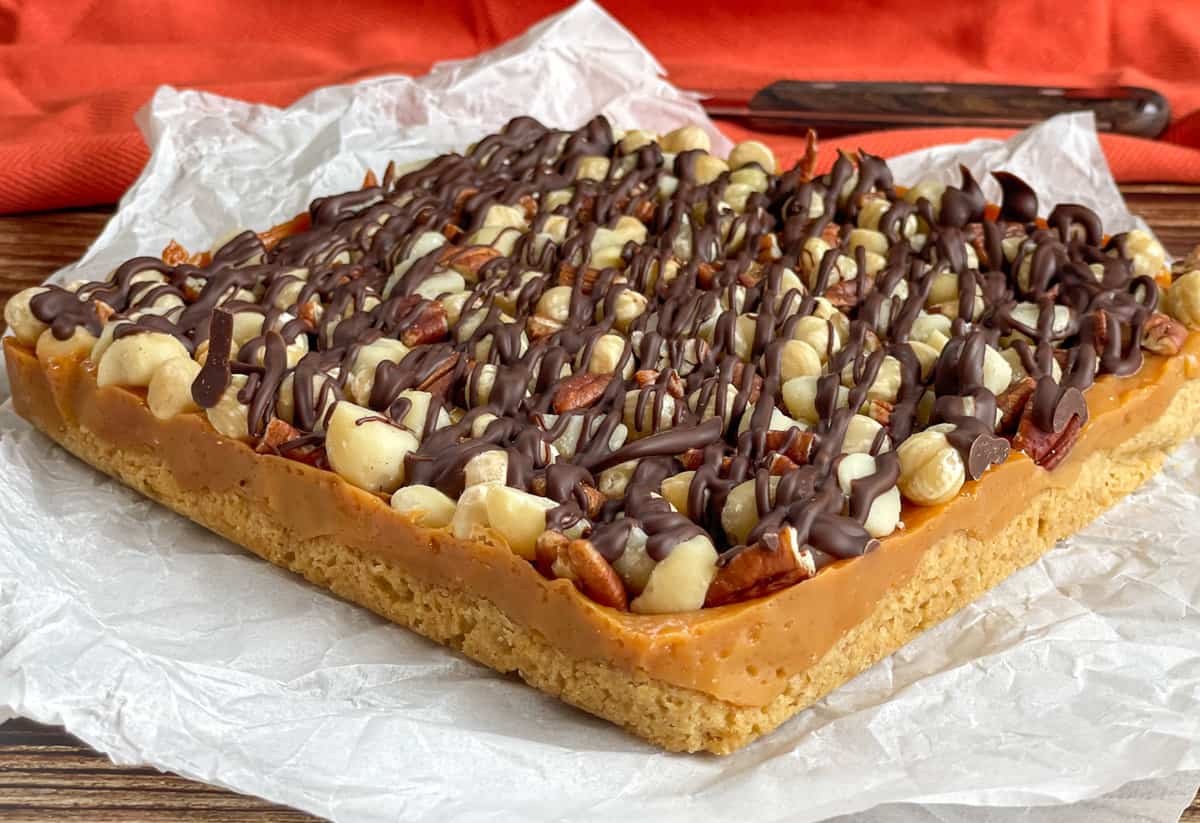 A few common questions before we hit the recipe!
What nuts can I use for Caramel Nut Slice?
You can use any of your choice! I have used Macadamia, Pecans and Hazelnuts today, but you could use almonds, walnuts or even peanuts?
Can I make this a Salted Caramel Nut Slice?
Yes of course! Add 1-2 teaspoons of sea salt flakes, not table salt, to the caramel once you bring it off the stove top and mix in carefully
What size tin do I bake this in?
Today I have used a 20cm x 20cm square cake tin so that they layers are a little thicker, if you wish you can use a 25×25 but it will be much thinner, only cook the base for 15 minutes.
What sort of chocolate should I use for the topping?
I used dark chocolate, but milk or even white would be lovely!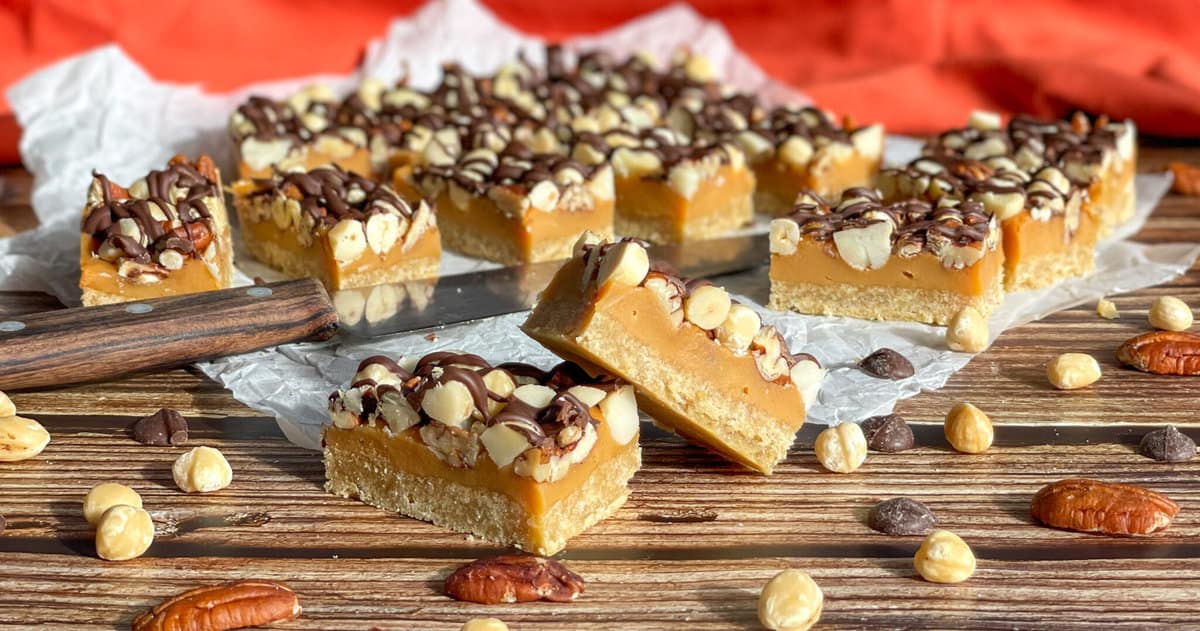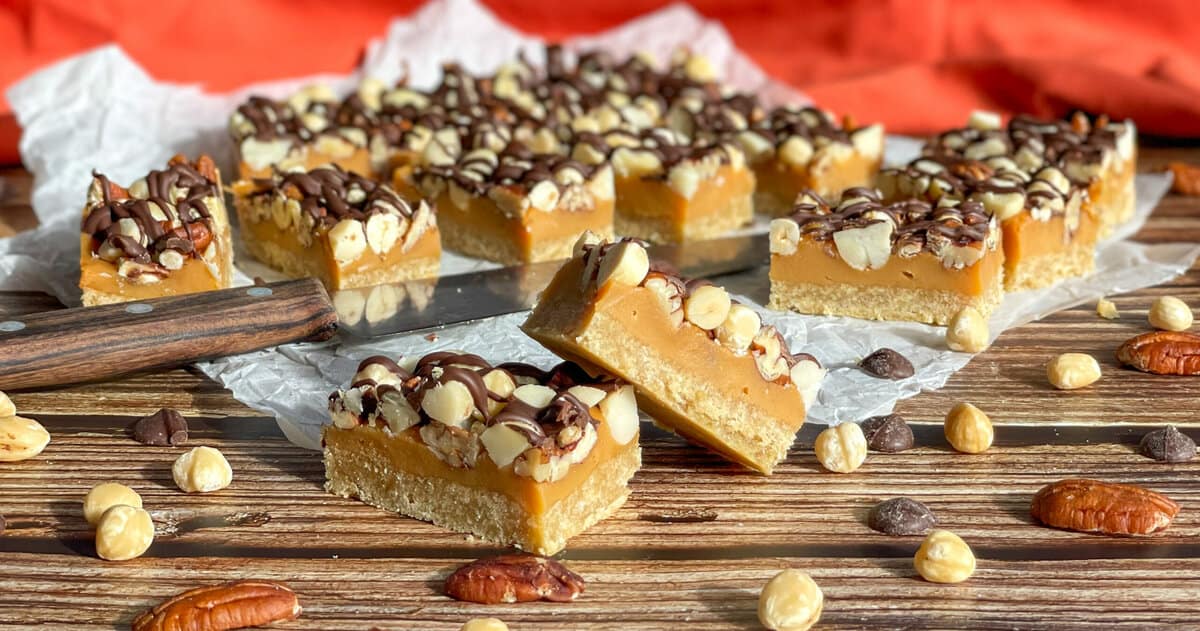 If you are after my classic chocolate caramel slice check it out here
So onto the recipe, I think this would make a lovely gift or afternoon tea treat
Caramel Nut Slice Recipe
I hope you enjoy this recipe! Be sure to let me know in the comments below if you try it.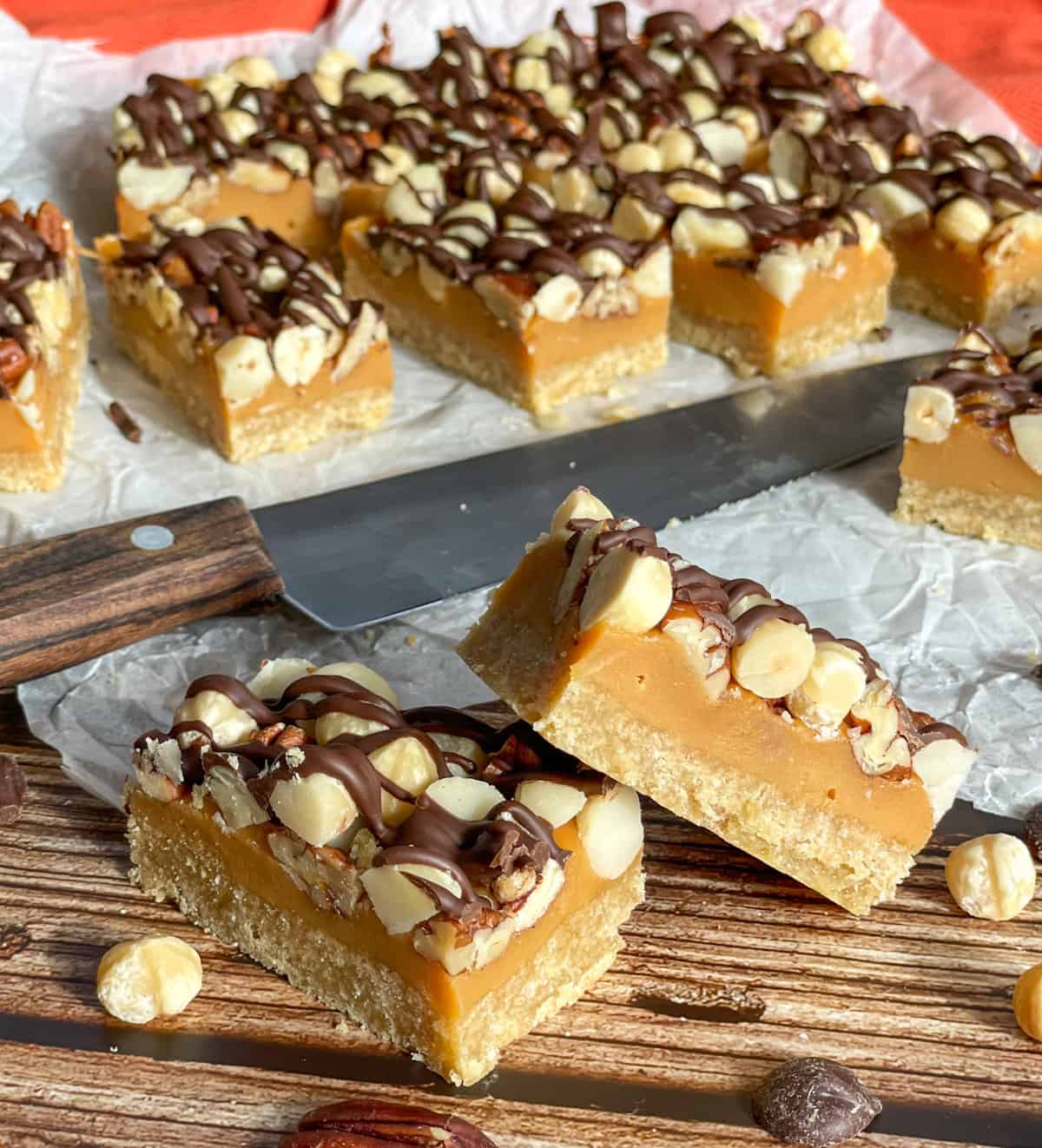 Thank you so much for stopping by to check out my latest recipes on my blog. If you are not already be sure to follow me on Facebook or Instagram for more deliciousness, and you can register your email in the subscription box below to receive all my recipes as I publish them.
Happy Baking!
Anna
Pin it! Pinterest