A delicious fun fresh way to serve your sandwiches in time for summer! This layered picnic sandwich is sure to impress.
The ingredients for this recipe have been provided by Countdown Supermarkets and this is a sponsored recipe, all opinions are my own.
Summer means long lovely days and hopefully a few picnics and road trips thrown in the mix also. I wanted to share a fun idea to jazz up your picnic sandwiches.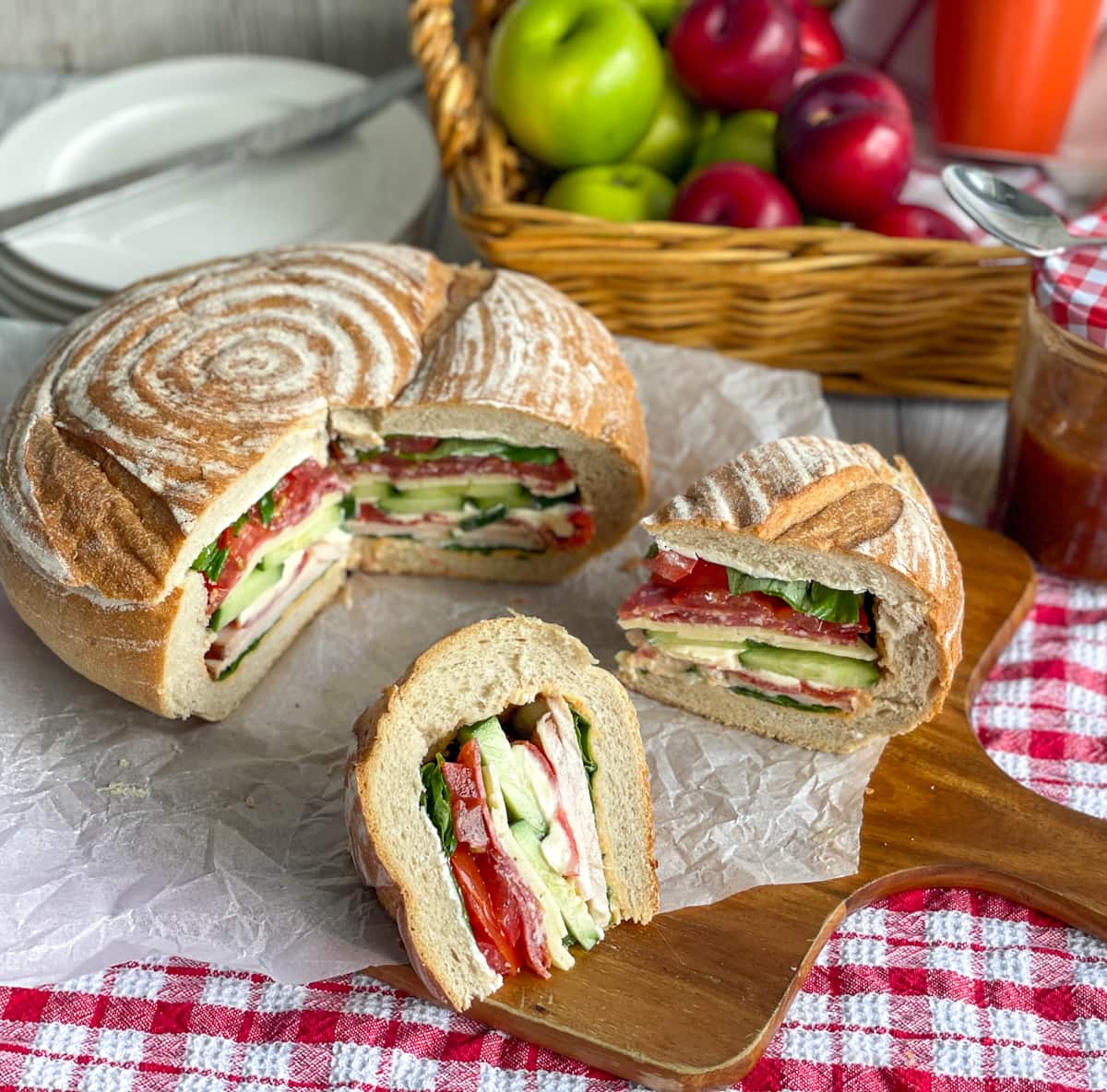 This recipe is not a new one, there are variations to be found everywhere but I wanted to show you how I make mine, then you can take the wheel and make it your own.
This recipe is all about fresh ingredients, all you really need is a little time in the Countdown bakery, deli and fruit and vegetable department to come up with a bunch of ingredients to create your favourite flavour combos.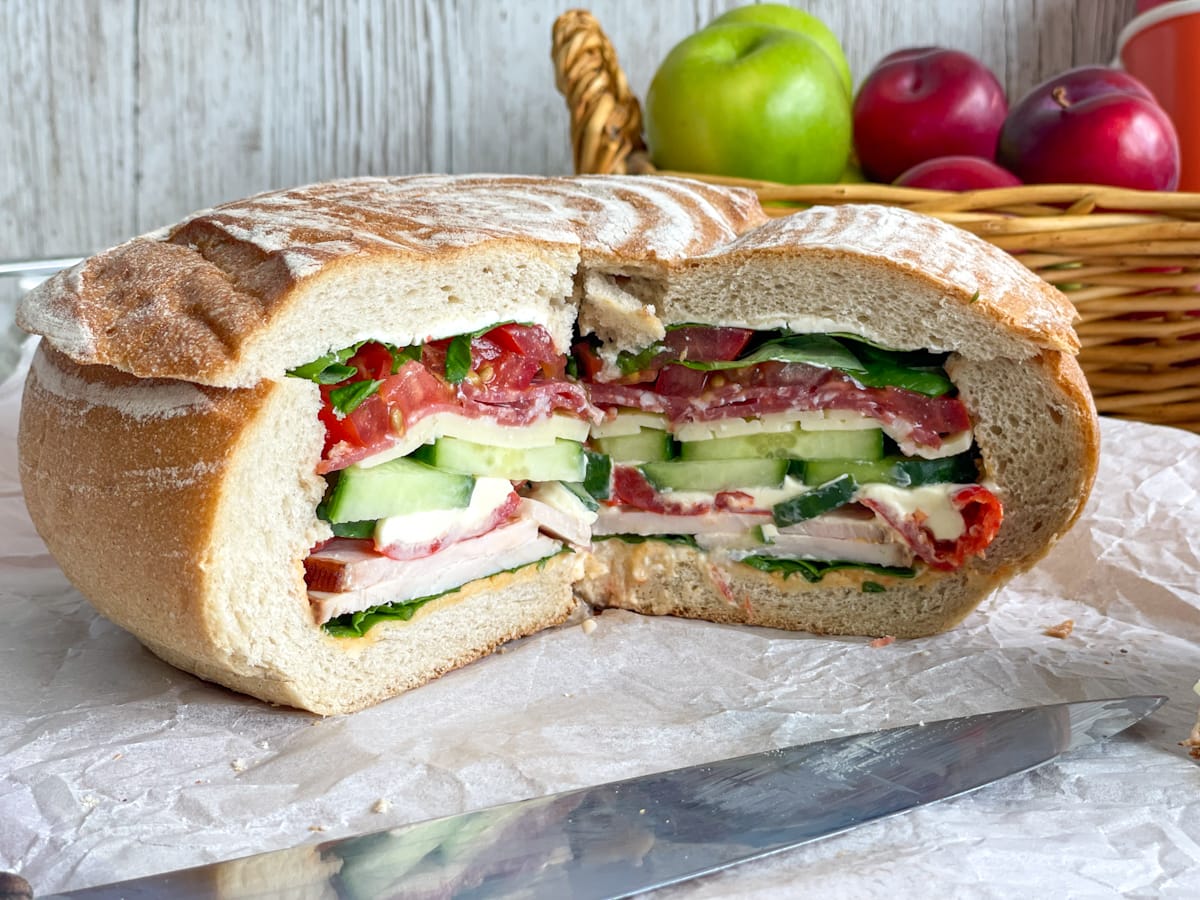 The more colour, texture and flavours you can combine the better. A layered or stuffed picnic loaf is simply a mega sandwich with several fillings which is more like a sandwich cake!
The base of this recipe is a loaf of your favourite bread, you can use a round sourdough cob loaf as I have done, or any large uncut loaf of bread will do.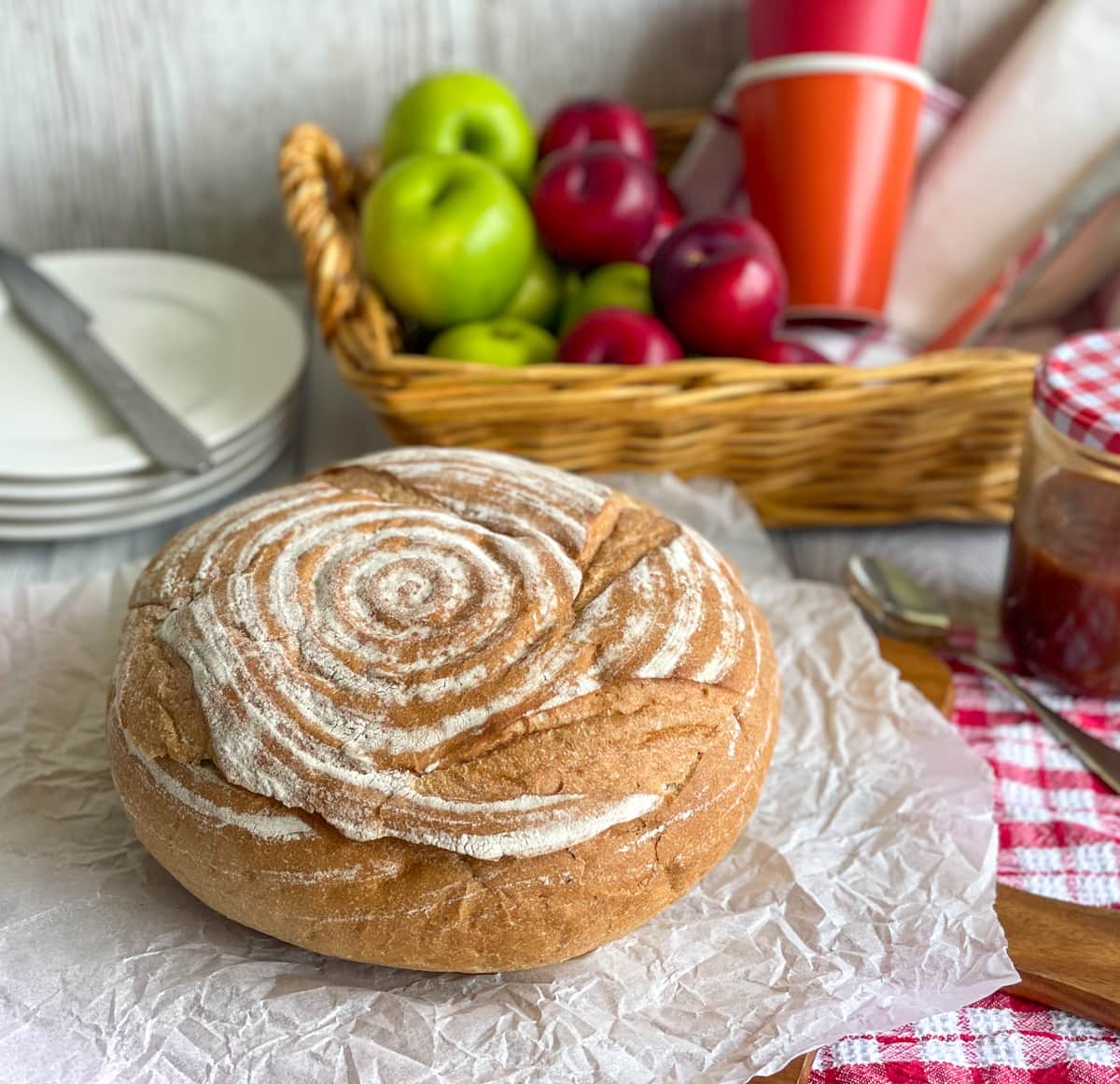 The filling as I have mentioned is entirely up to you! I will share below in the recipe card exactly what I have used, but really you can complete your layers with any fresh salads, meats and spreads you like. Be sure to add some different textures and flavours.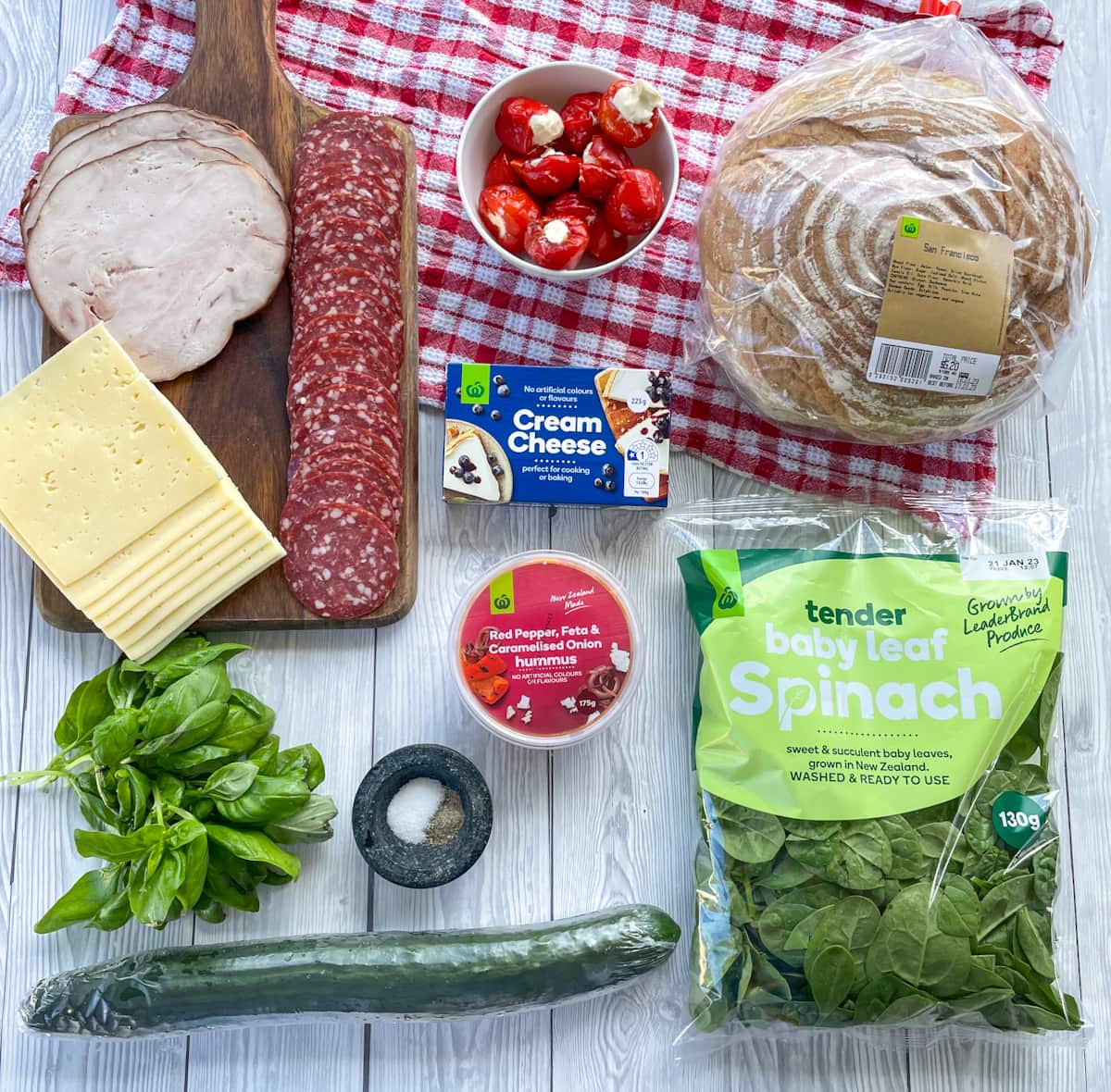 The fillings I have chosen today are
Cream Cheese

Red Pepper Hummus

Spinach

Turkey, Shaved

Mini Stuffed Bell Peppers

Cucumber

Havarti Cheese

Salami

Tomatoes

Basil

Salt & Pepper

The method is super simple also. You will want to allow a few hours for the loaf to sit and meld together the flavours and squish the ingredients together.
First step is to cut the top of the loaf off, about a quarter of the way down. Then remove the bread from inside both the base and the lid, leaving about a 1 cm thickness around the side of the loaf to hold its shape.
You can use the stuffing to make breadcrumbs, I will share my method for this at the end of this post so check that out too.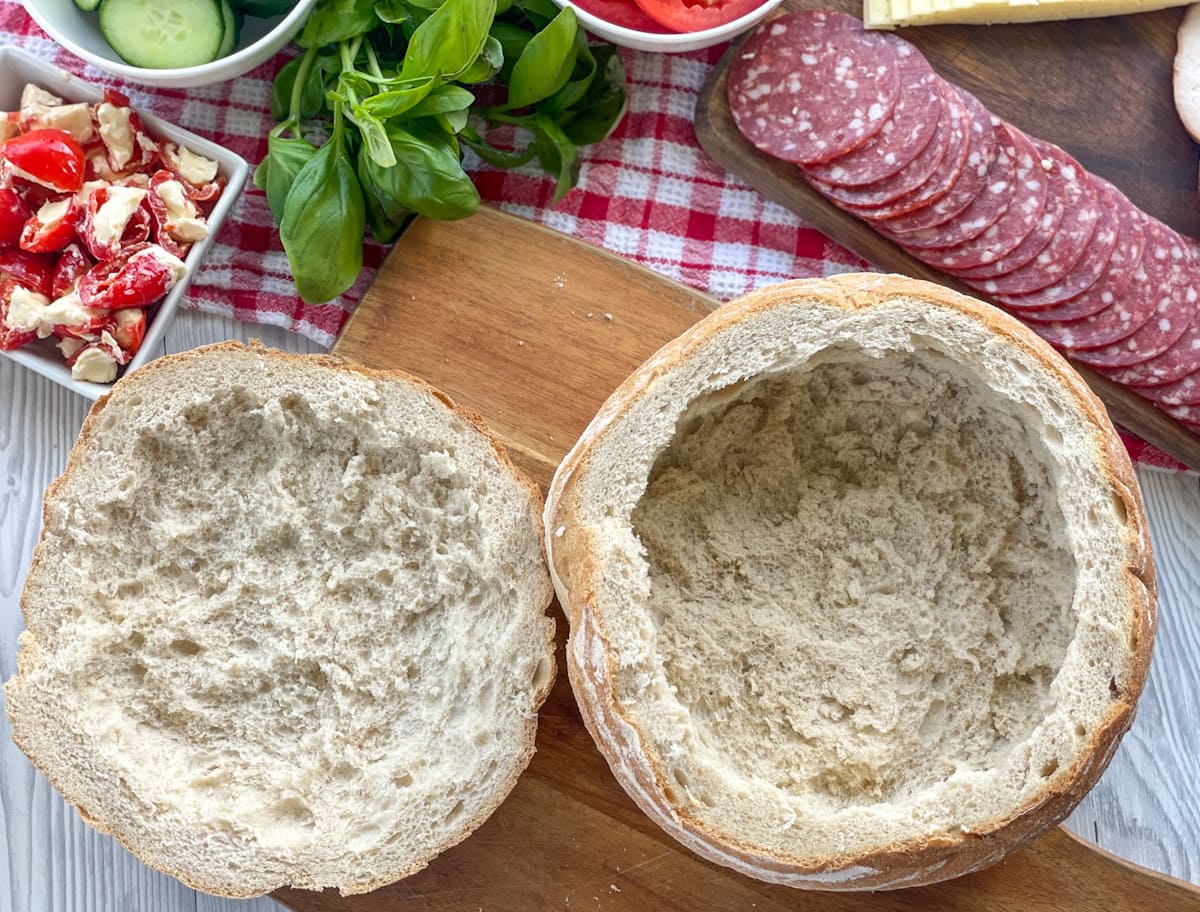 Then spread around the dip or spread of your choice. I have chosen a lovely red pepper hummus for the inside of the base and cream cheese for the inside of the lid of the loaf.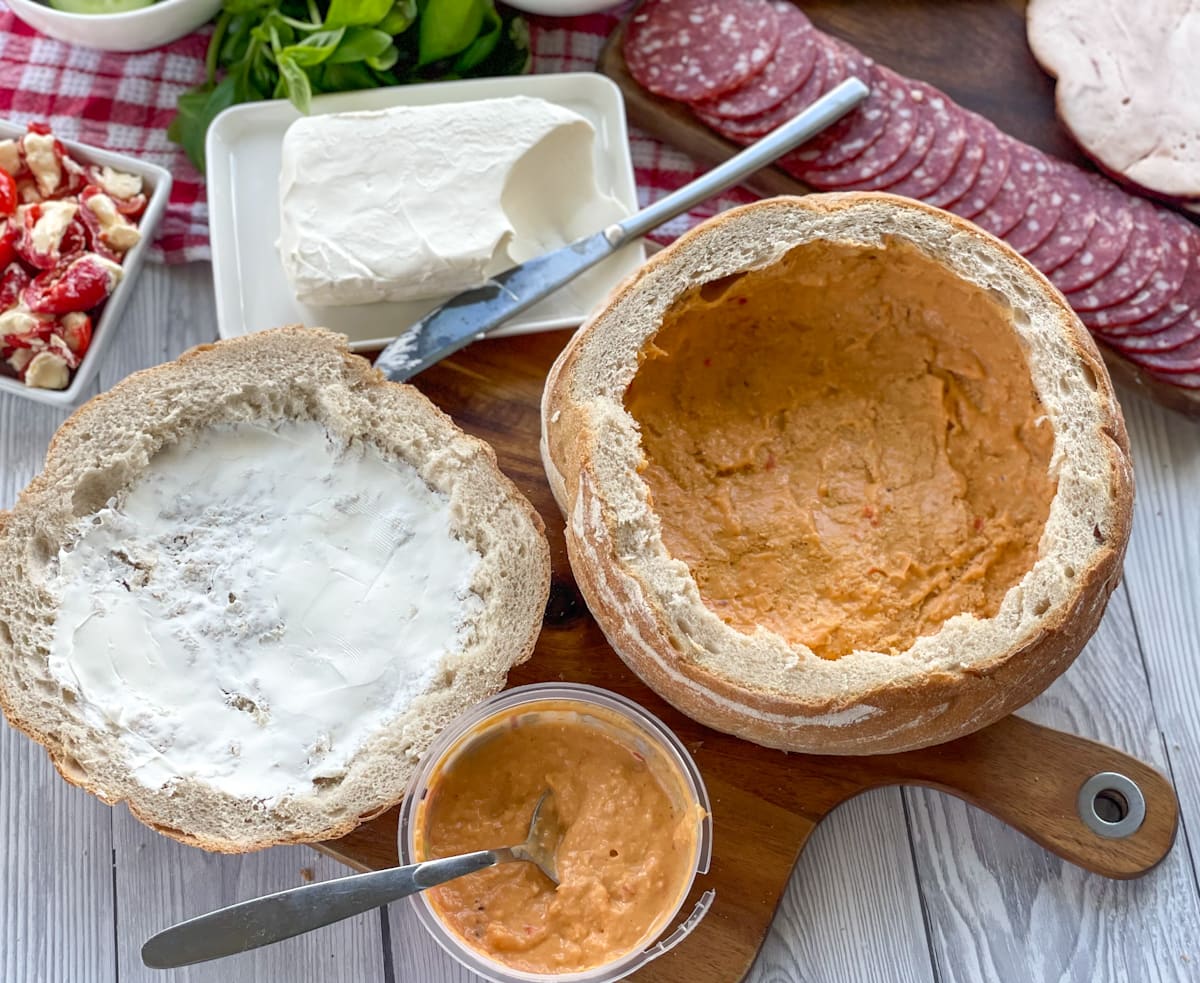 Then you simply add your layers! I like to use a few different cuts of deli meat, shaved turkey and salami is what I have used today and a lovely flavourful cheese.

Then think of vegetables that will complement your flavours, and add the layers in a way where any wet ingredients are unlikely to cause the sandwich to go soggy. My stuffed peppers and salami have a wee spice hit and garlic flavours so this adds to the overall balance.

You will want to fill the inside really well and press each layer in firmly and right to the edges, so that it is quite tightly packed when you place on the lid. Then wrap firmly in plastic wrap and place on a plate with another large plate on top to press down the ingredients.

Chill for a few hours or overnight before serving. If you are taking this on the road take it whole and slice like a cake with a large sharp knife when you are ready to serve.
I hope you love this idea and I really look forward to seeing the variations you come up with.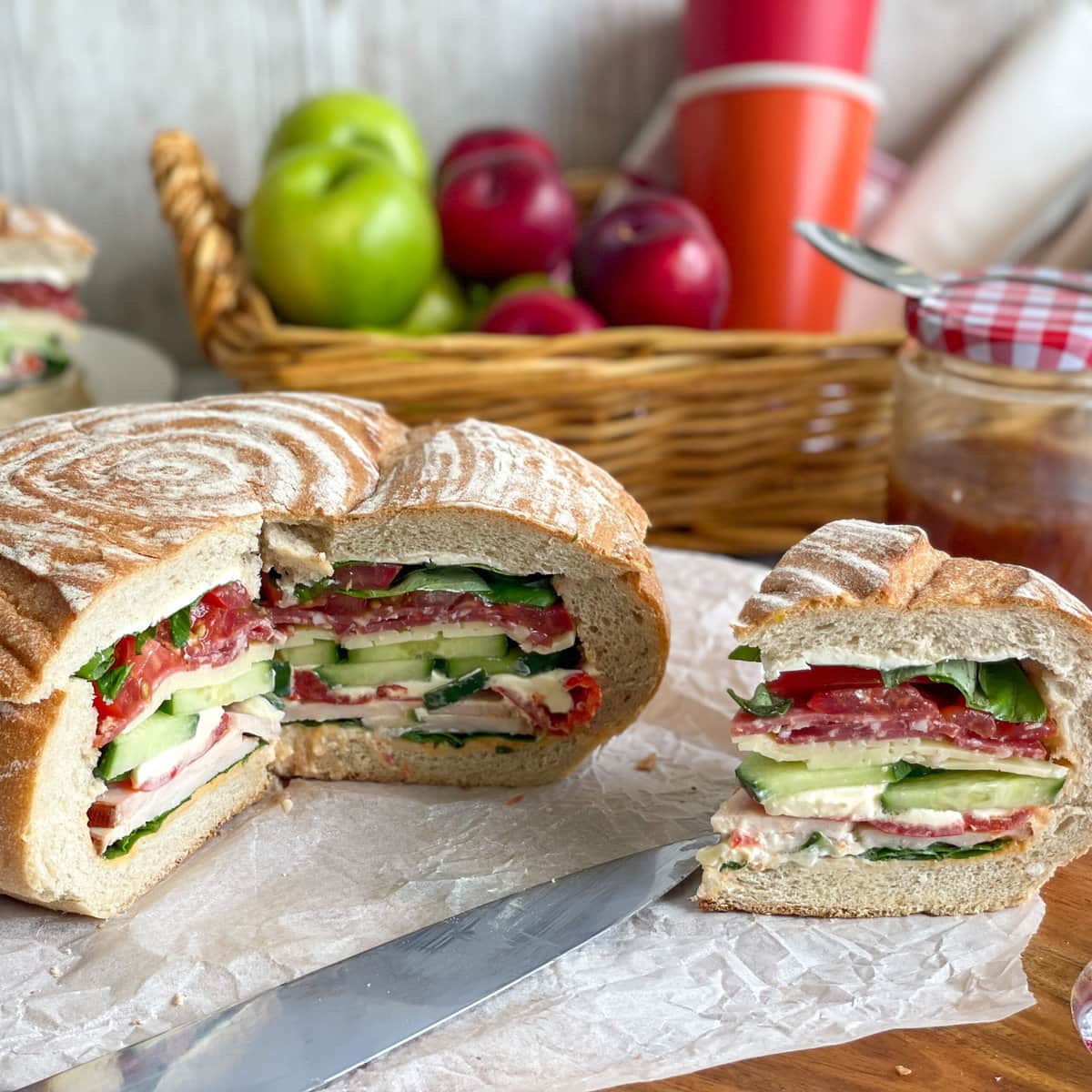 Onto my recipe for Layered Picnic Loaf
I cannot wait to hear what you think of this one, be sure to let me know in the comments below what fillings you chose to give others ideas.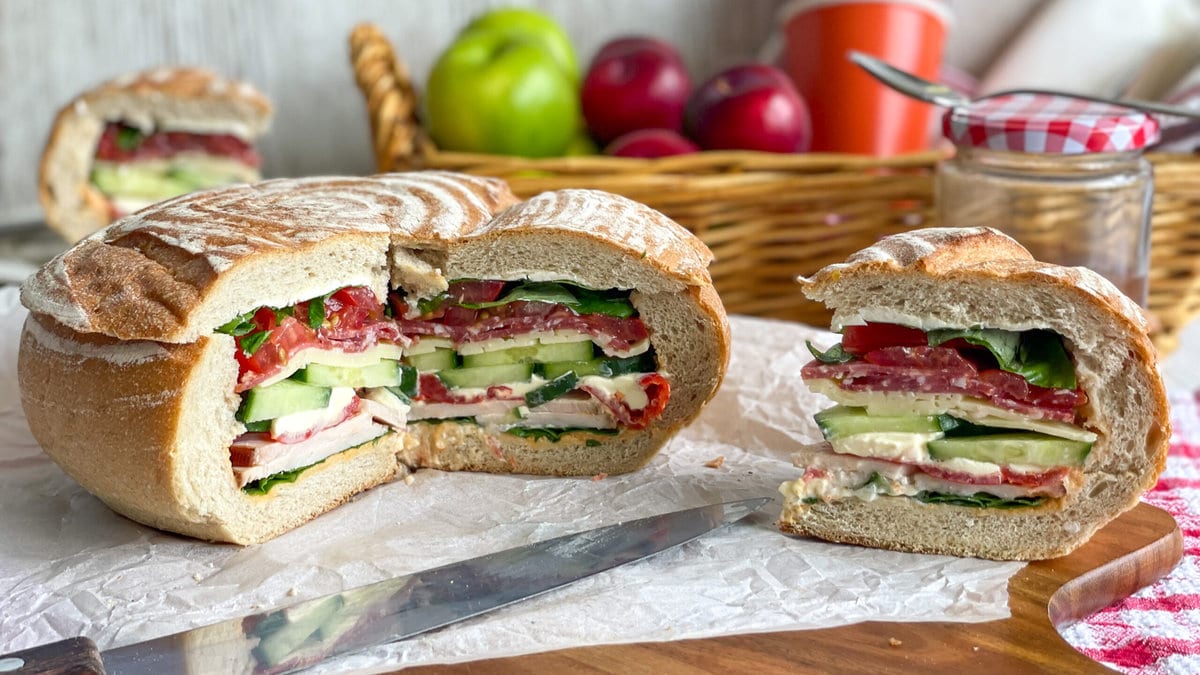 Thank you so much for stopping by to check out my latest recipes on my blog. If you are not already, be sure to follow me on Facebook or Instagram for more deliciousness, and you can register your email in the subscription box below to receive all my recipes as I publish them.
If you like the idea of using a loaf for a fun treat then be sure to check out my Cheesy Loaf Dip! It is amazing.
Happy Baking!
Anna
Pin It! Pinterest