Something very special and easy for all the Frozen fans out there, my version of a Princess Elsa Cake. Here I share my step by step process of how to make this cake.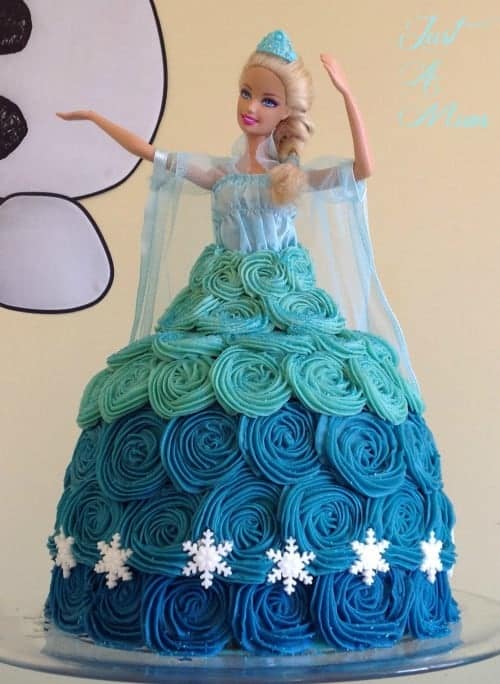 My daughter recently had a Frozen birthday party for her 4th Birthday – if you have young children or know of some chances are you have heard of this movie and they simply cannot "Let it Go"! And with the release of Frozen two coming out I thought it was the perfect time to share more ideas with you.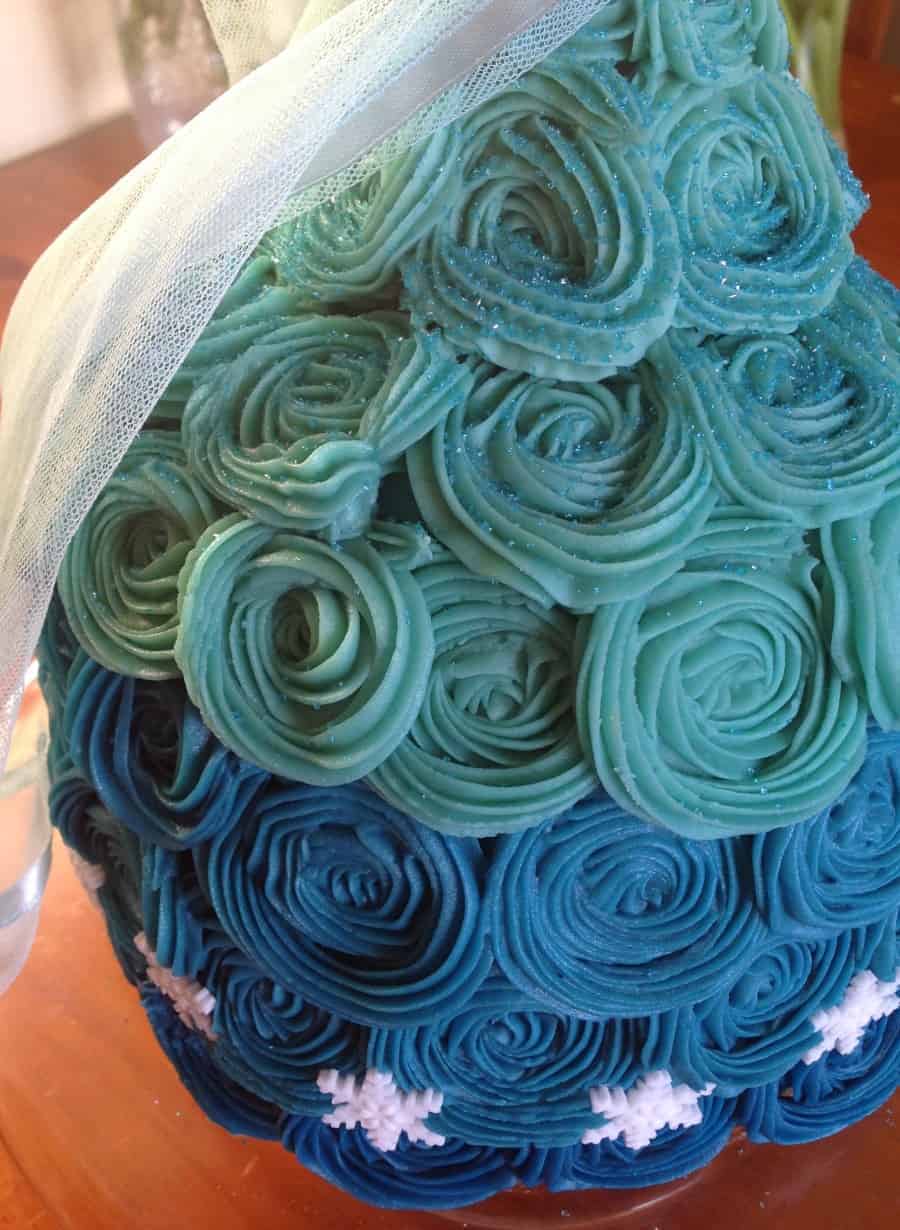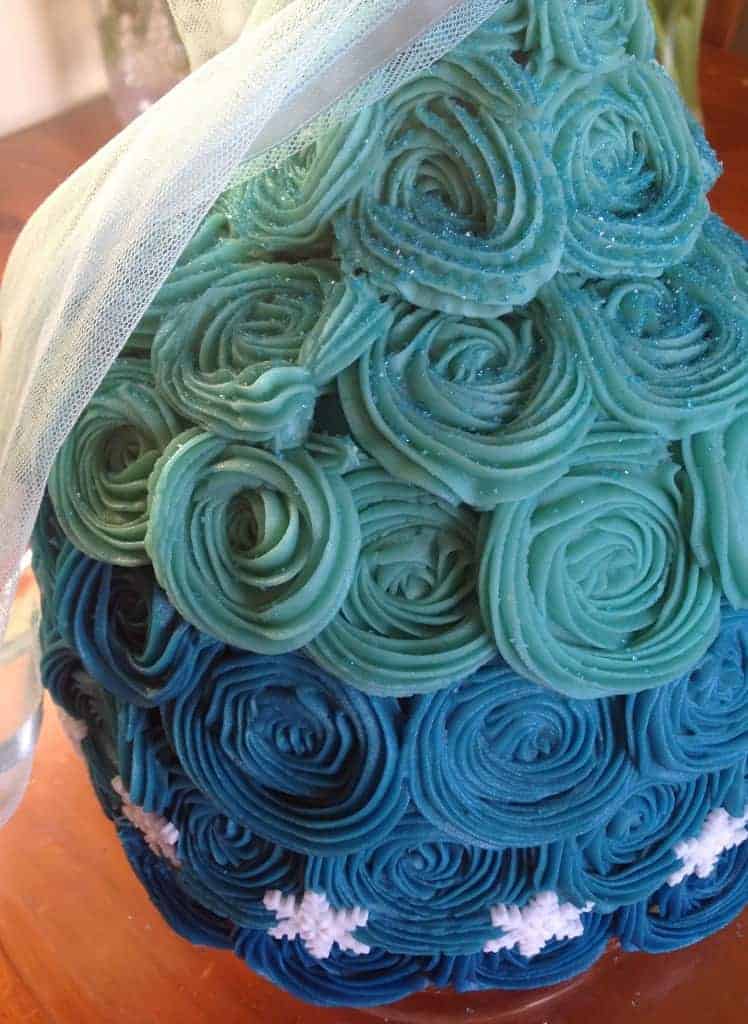 So I was tasked with creating a blue and white wonderland of a party for her and we had so much fun. The final task was to come up with a birthday cake for her and despite my suggesting lots of easier cakes she was insistent that I give her a Princess Elsa cake and she loved what I came up with. Best of all it was pretty simple, all I needed were the right equipment and a bit of time.
Piping buttercream in this way is the easiest icing you can do – it looks amazing and negates the need for trying to get things smooth and perfect. Imperfections are pretty easily hidden!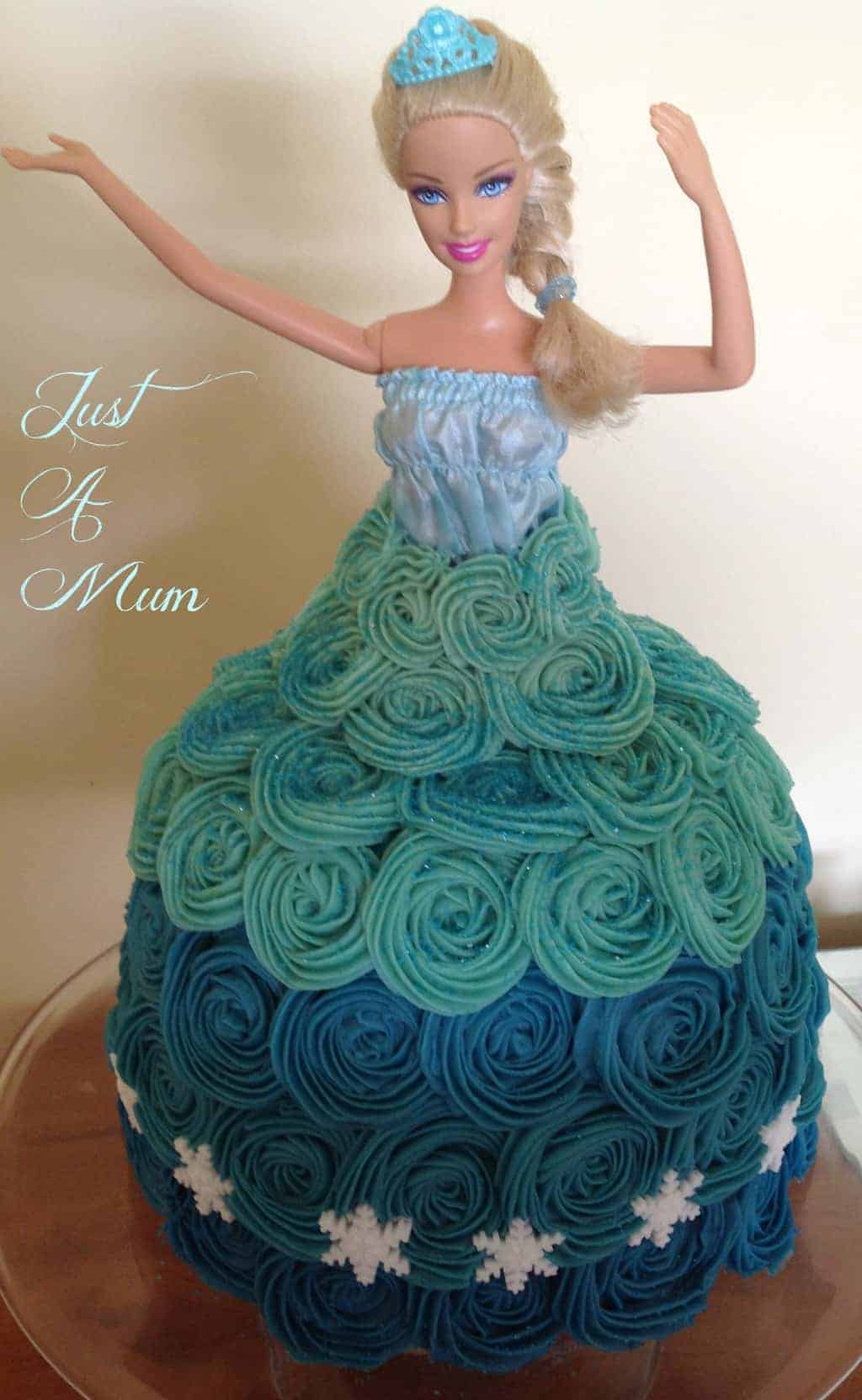 I used my Grandmas Wondercake Recipe but my Easy Rich Chocolate Cake would be perfect too, and made two cakes – one in a round cake tin and the other in a glass bowl. You then have to choose the doll – we just used a Barbie but if you have her the original Princess Elsa would look great! A bit of hairstyling and a wee tiara and Barbie looked the part!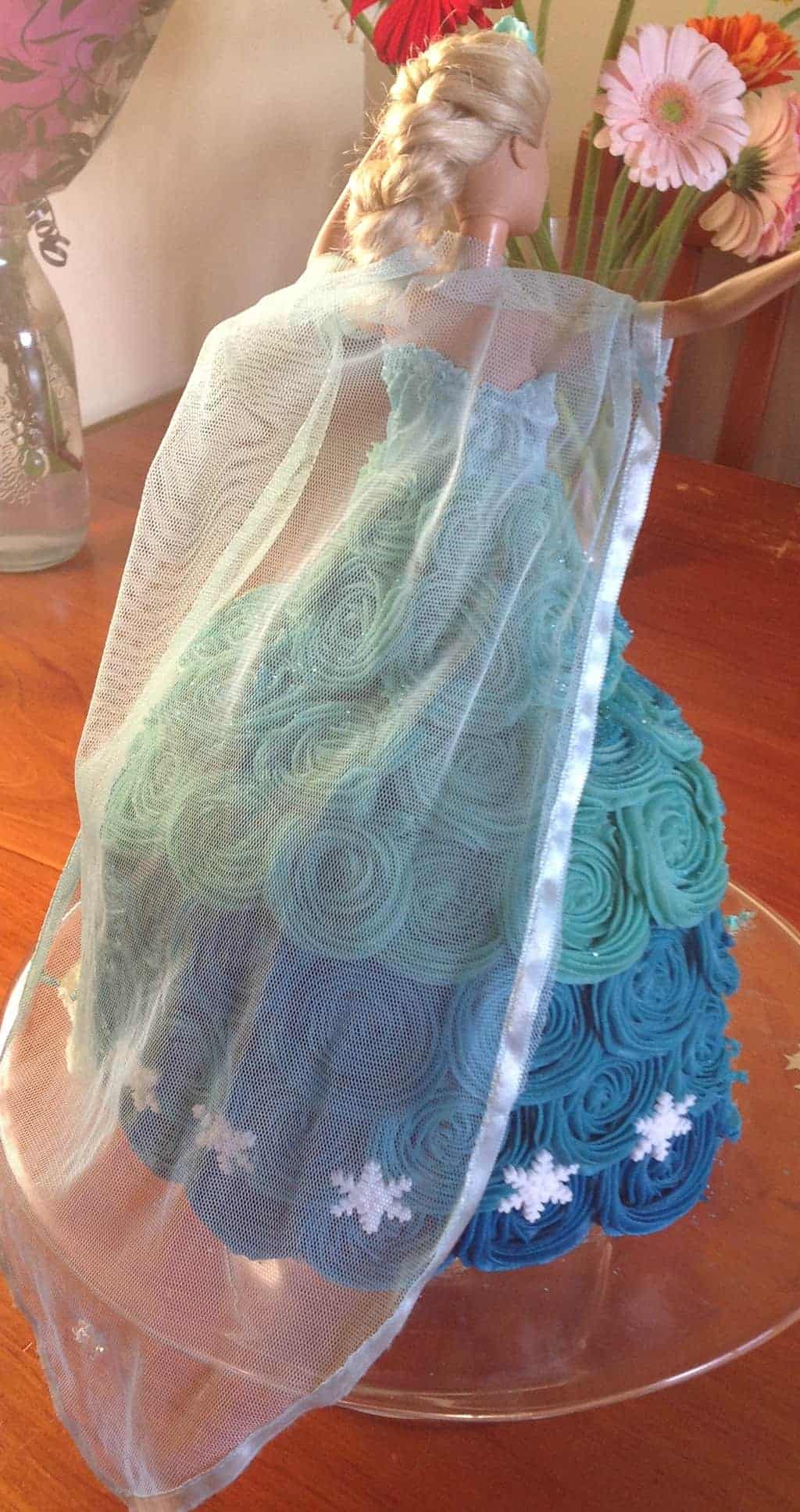 Once I had made the cakes I allowed to completely cool overnight. I level both of the cakes and using a cookie cutter cut out a hole in the exact middle of each cake, for the taller bowl cake you can cut from the top and bottom of cake with circle cookie cutter to get whole centre clear.
I then wrapped Barbie's lower half in plastic wrap and inserted her into the cake – you will need a doll that is not too tall or short so test it first before you begin icing. My doll was quite tall so if you look closely you will see that I built the dress up to cover more of her body.
The clothes and cape of Elsa were made out of an old fairy dress of my daughters and some super glue – fancy stuff here at Just a Mum!! 😉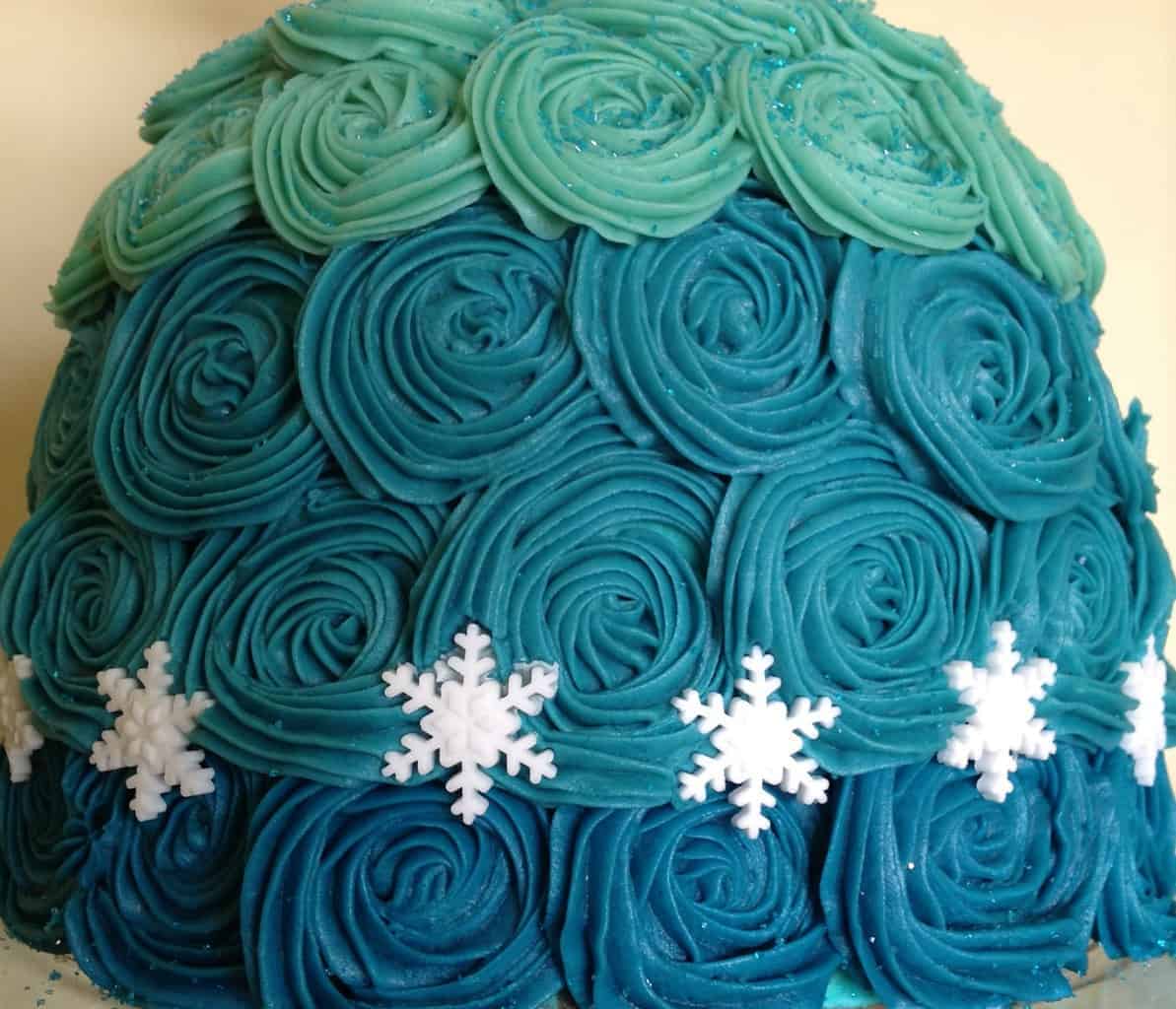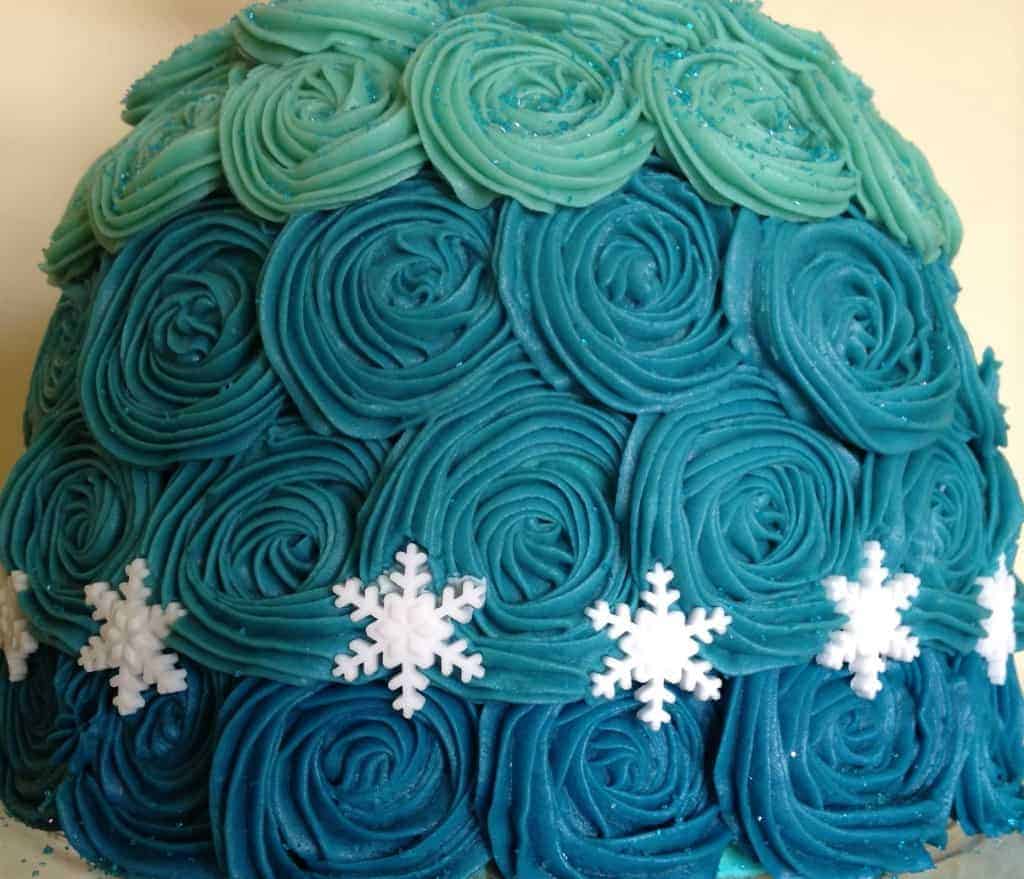 I iced the bottom tier round cake in a crumb layer of light blue buttercream icing (link to my buttercream recipe HERE) and then placed the bowl shaped tier in top and iced all over that in the same icing – smoothing the bottom and top tiers completely. You will need 3 or 4x my icing recipe to complete this doll.
The plan was for me to make her gown in decreasing shades of blue – in the end there are just 3 shades and these are not as nicely blended as I would have hoped but as our buttercream icing is still quite creamy in colour blue is harder to achieve. You you can always use shortening in place of butter for a whiter buttercream. However, you get the idea!
Using a small star shaped nozzle I began with small "rose" pattern, where you start in the middle of the swirl and pipe around that starting point – and repeat! I began at the bottom of her dress and did one band of the gown the darkest colour, then two of the next shade, then finished the dress the lightest shade. I had to build up the top of her skirt near her Torso with buttercream and let that set before finishing the swirls at her waist. Take your time, assess what you need to do before you begin each layer so you have the right amount of room and buttercream.
I had earlier made snowflake fondant embossed cut-outs so used these around the lower part of her gown as you can see in the picture – I then sprinkled the entire gown with a blue sugar crystal from our local cake store to give some interest and shine to the finished product.
Once the gown was completed and set I added the cape to Princess Elsa (with super glue because I am classy like that!) and we are done!
If you have any questions about any of the components of this cake please feel free to ask, I will get back to you as soon as I can and am more than happy to help in any way I can.
We had so much fun with this party, so many ideas to share!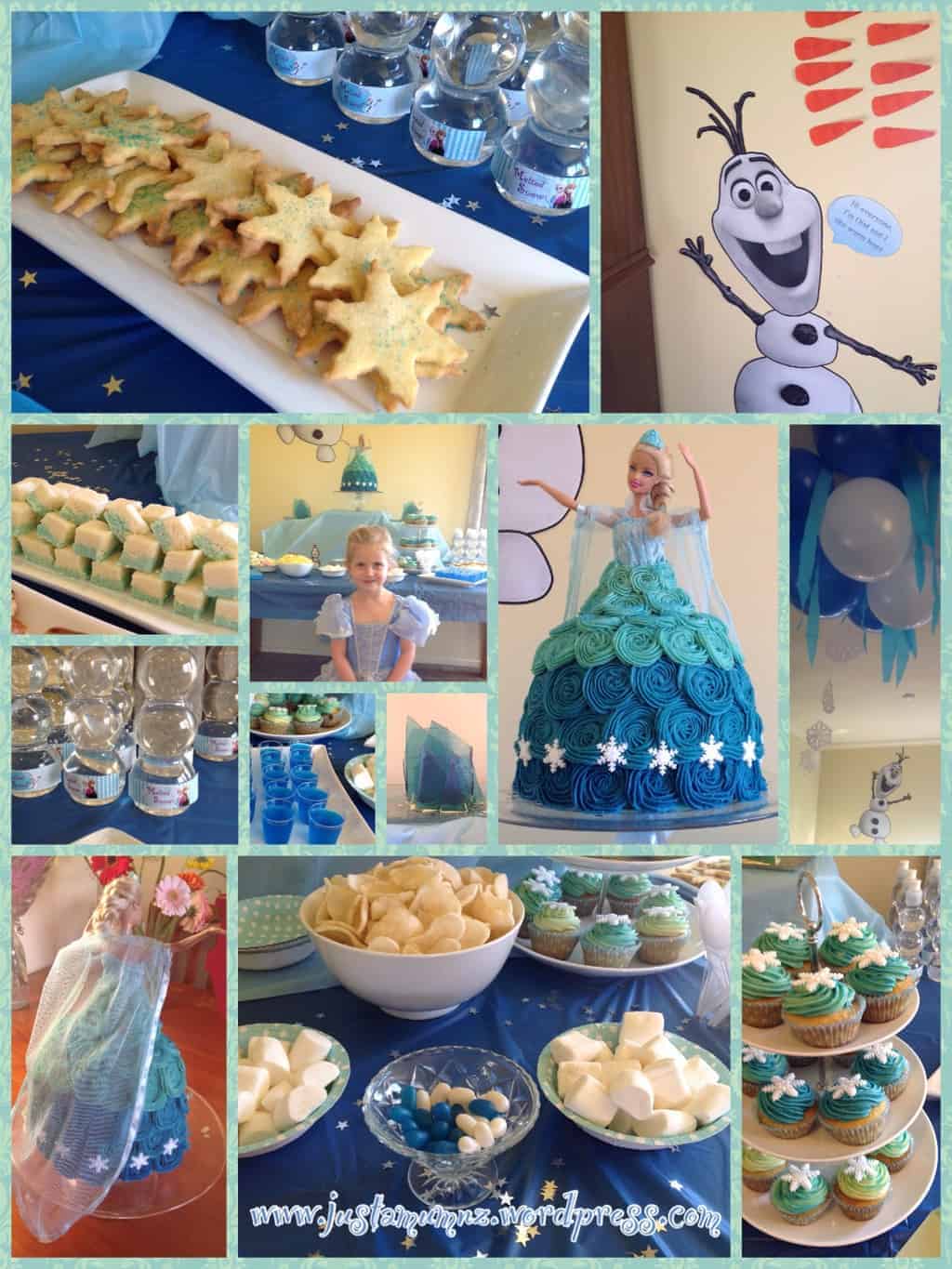 I am Just a Mum not a professional cake maker, at the end of the day the kids love any effort you make so it is all about just having fun and doing your best for your little ones. There are several tutorials on You Tube for this type of doll cake and also for piping with buttercream and I always recommend checking these out before you begin for other tips and tricks.
Thank you so much for stopping by to check out my latest recipes on my blog. If you are not already be sure to follow me on Facebook or Instagram for more deliciousness, and you can register your email in the subscription box below to receive all my recipes as I publish them.
Happy Baking
Anna