A truly Flourless Chocolate Cake is a thing of beauty! This one is beautiful, so easy rich, dense and fudgy.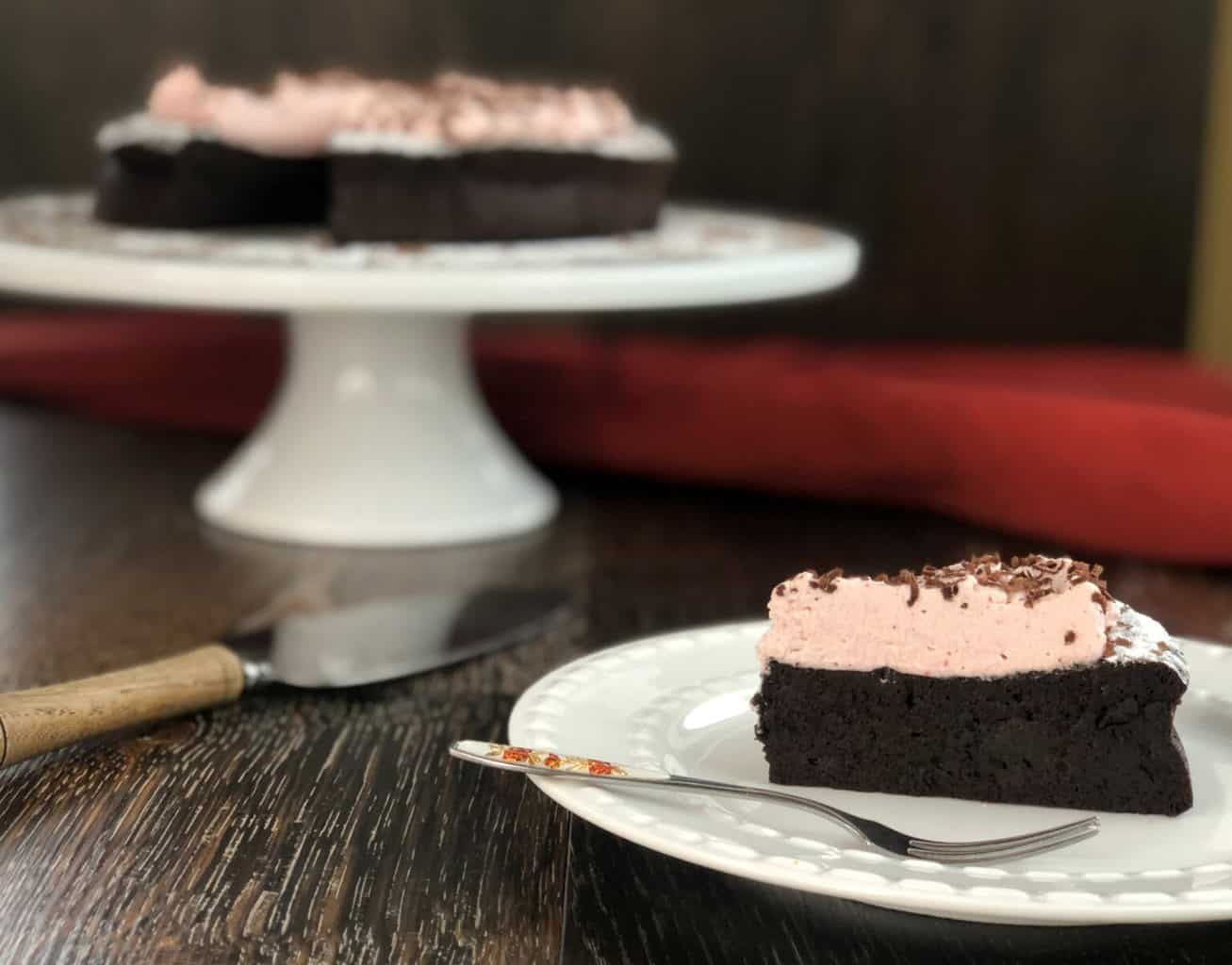 There are many versions of this available, everyone has their own versions, and tips and tricks to create the best. Here I do my usual of combining a bunch of ideas to create an easy and delicious version.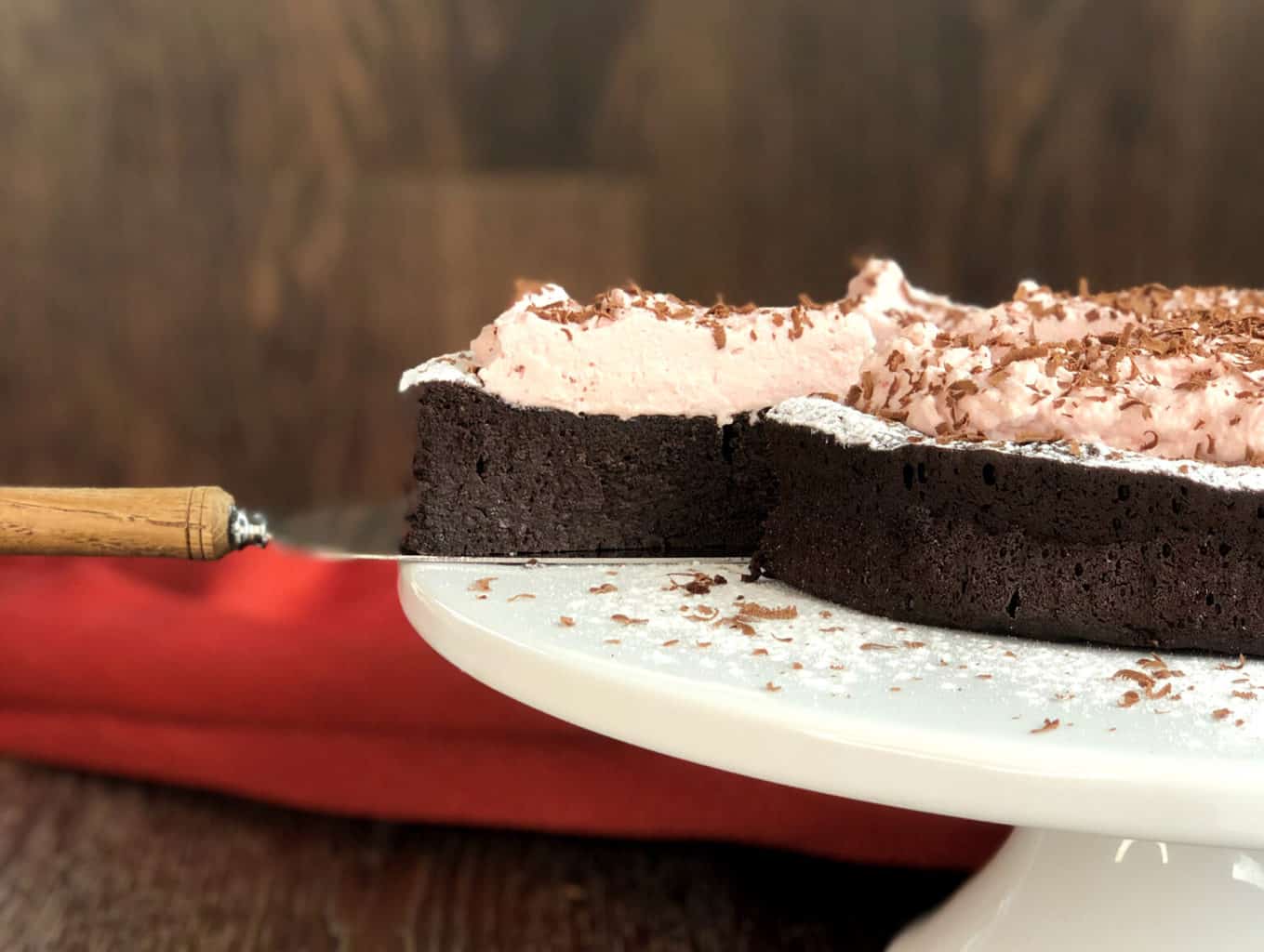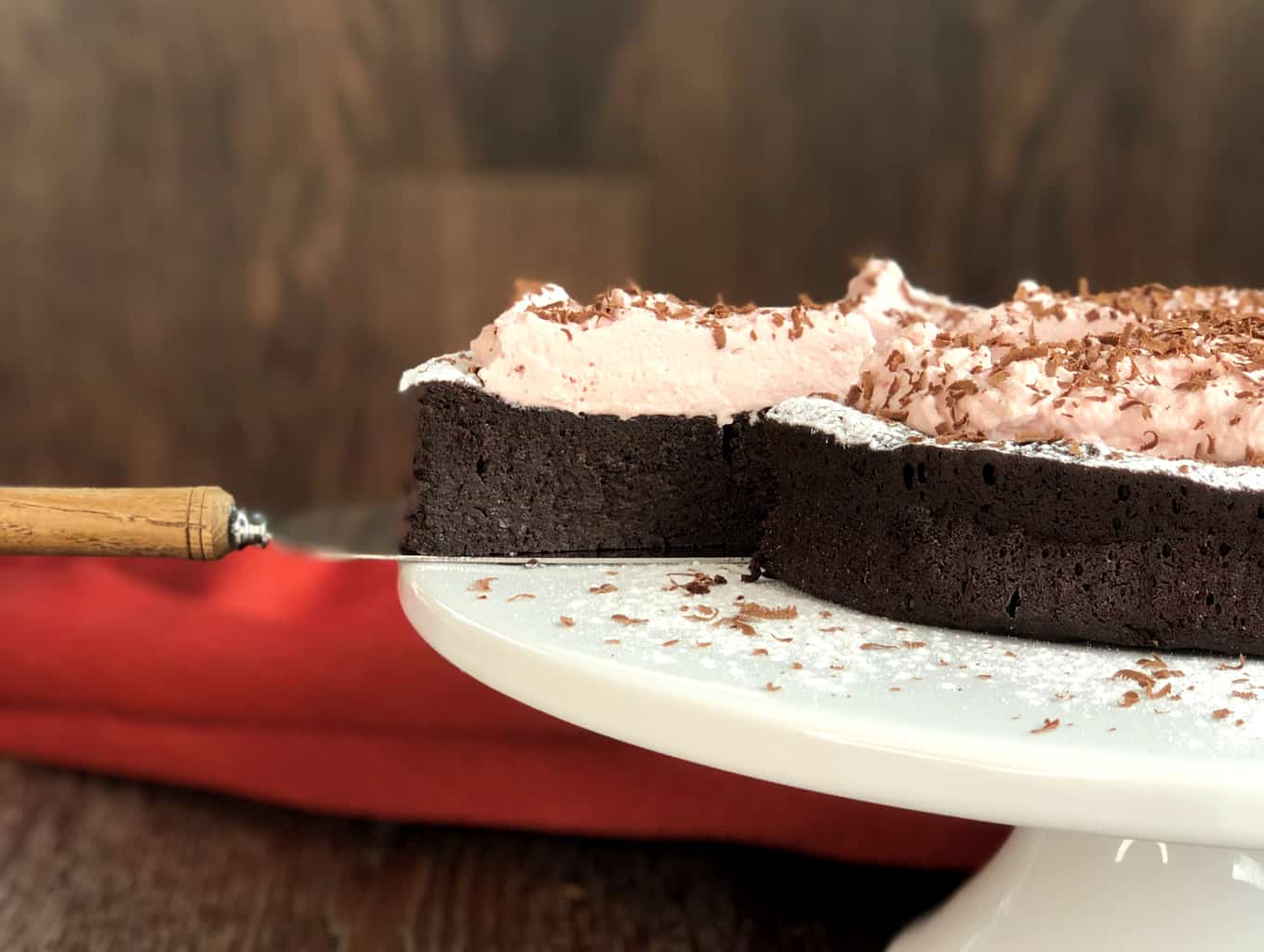 Many flour free or gluten free recipes use replacements for the flour, almond flour, GF flour etc, but I wanted to share a truly Flour free recipe. This recipe is gluten free as long as you use all GF products for the other ingredients. I don't like recipes that use too many random ingredients or substitutes, this one is just so easy.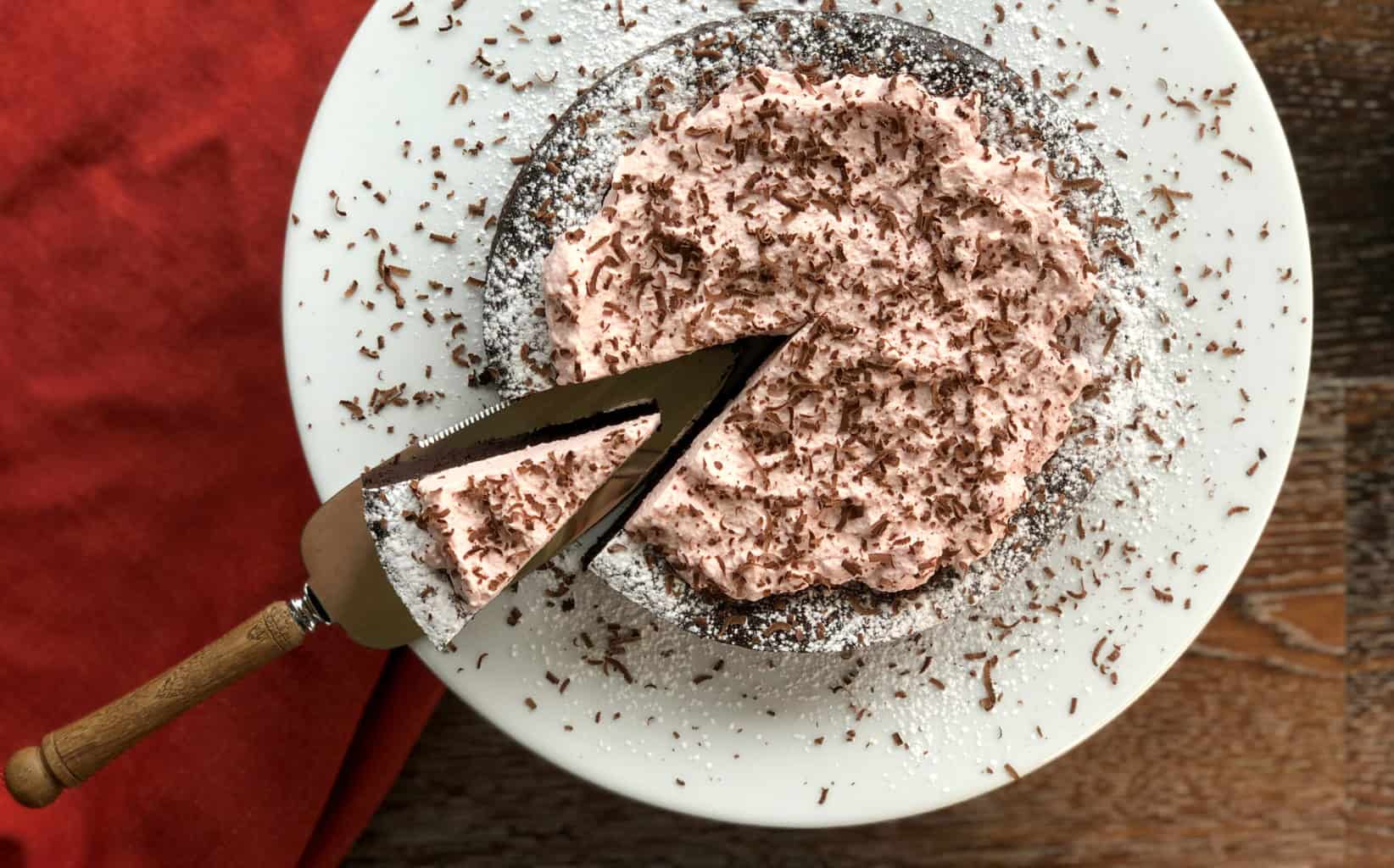 This is one of those recipes that you want to make with the exact ingredients and techniques if you want to ensure a good outcome. I know so many of you like to reduce things, or use substitutes. Of course you are welcome to but in this instance I suggest you follow my steps.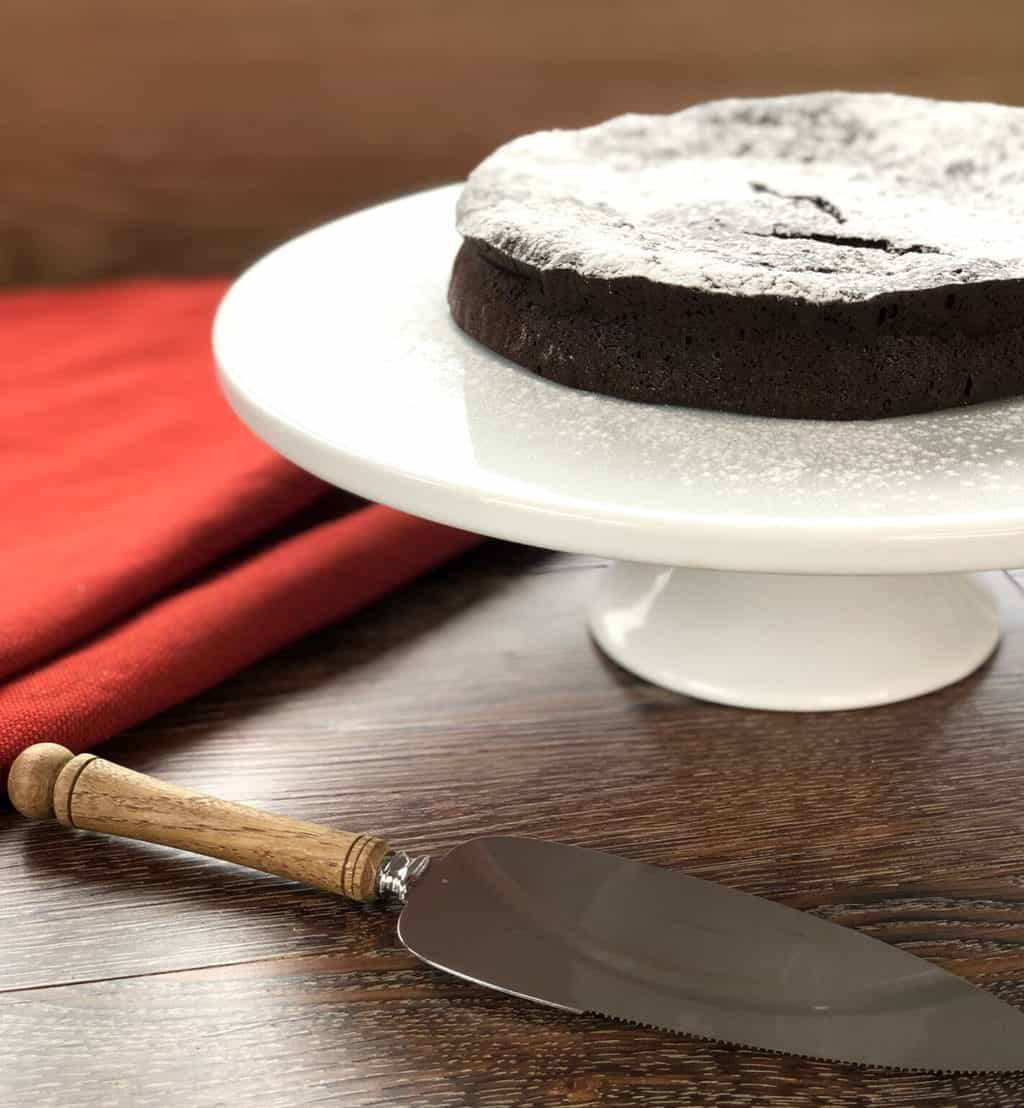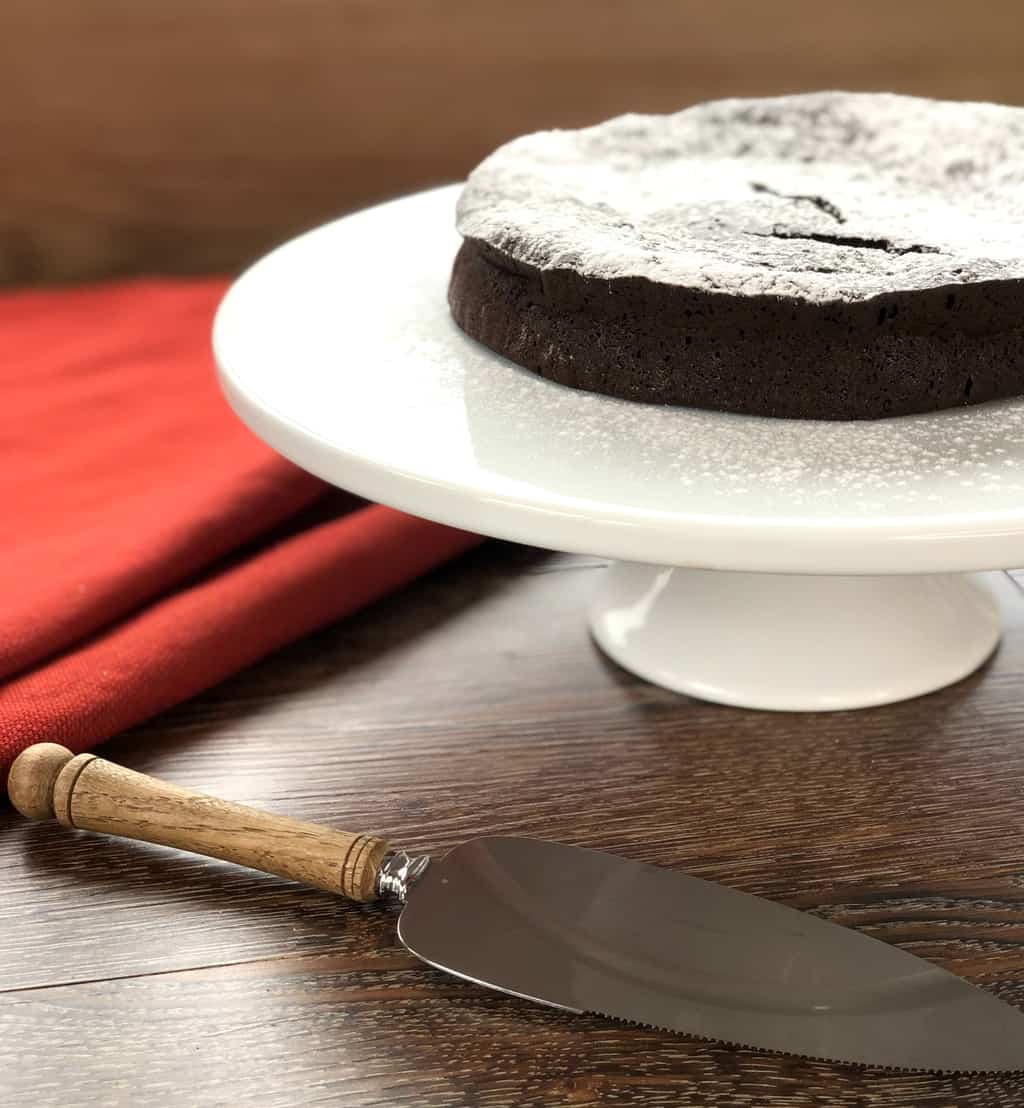 There are a few easy techniques that you will want to use to make this recipe for Flourless Chocolate Cake a success. They are all easy so have no fear!
Lining the Cake Tin
Super important step, this cake will stick so better to be safe than sorry. I use a 20 cm (8 inch) cake tin, you can use a 23cm (9 inch) but it will be thinner. Grease the cake tin, add paper to the base and around the sides, and then grease the paper too. I use cooking spray as it is so easy! Butter is a good substitute.
Melting Butter & Chocolate
You can use a double boiler but I never do. I just use the microwave, all microwaves are different so better to heat for less time than more. For me I do 30 second bursts to ensure the chocolate does not burn, after the first two 30 second bursts you may only need 10-15 seconds more. Stir well.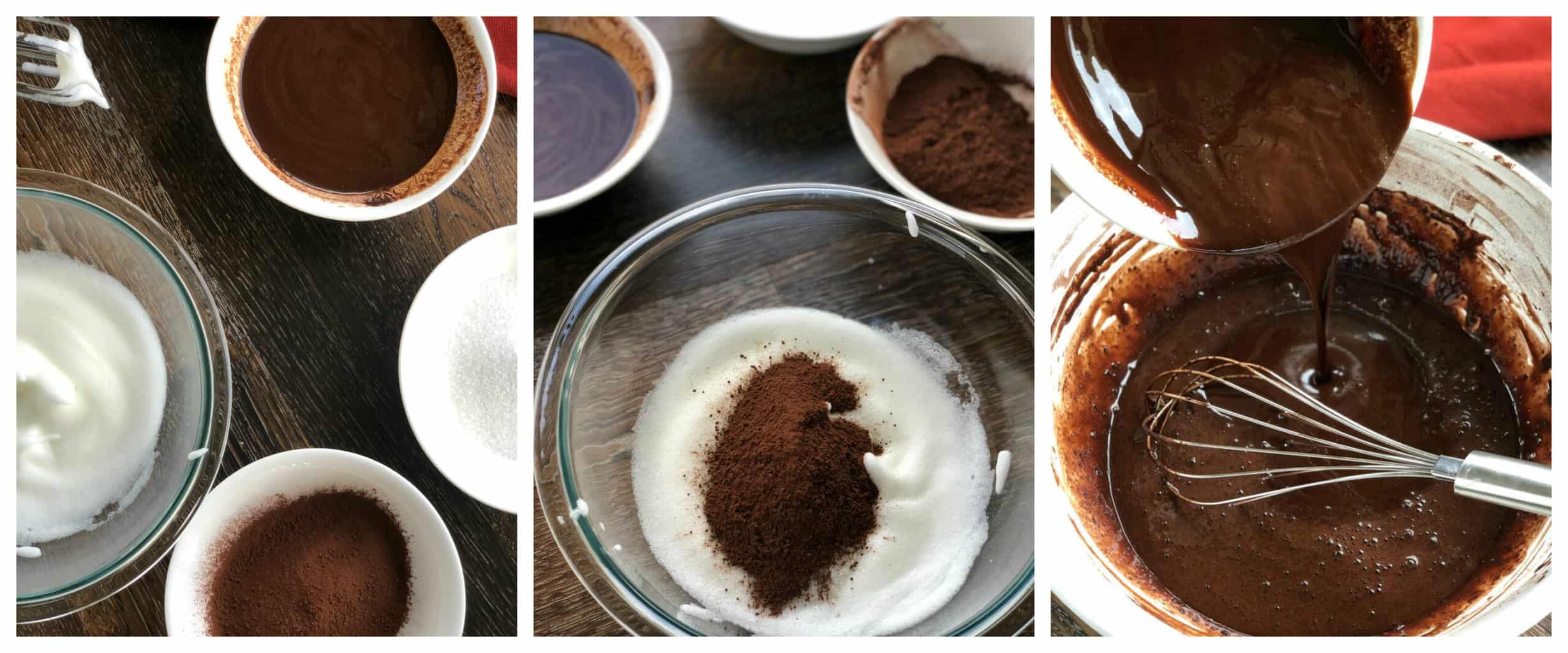 Sifting
I tend not to sift most of my recipes, call me lazy! But cocoa is one of those ingredients that does like to be sifted as lumps can easily form. So in this case I will suggest sifting!
Whisking Egg Whites Separately – Soft Peaks
For this recipe you will need to whisk the egg whites, this is easy, made even easier if you have a stand mixer or an electric beater. If not you can use a whisk and a very strong arm! Soft peaks are when you hold the whisk away and the egg whites are just starting to hold, and bend back into themselves after a few seconds.
Water to Create Steam
You don't want to fuss with a water bath, but steam does help this recipe remain moist and delicious. You do not HAVE to do this step, but its easy so no harm. All you do is pop an oven rack on the bottom of the oven and another in the middle. On the bottom rack pop in a roasting tray, when you are ready to bake fill the roasting dish with very hot water. Shut the door quickly to trap the steam.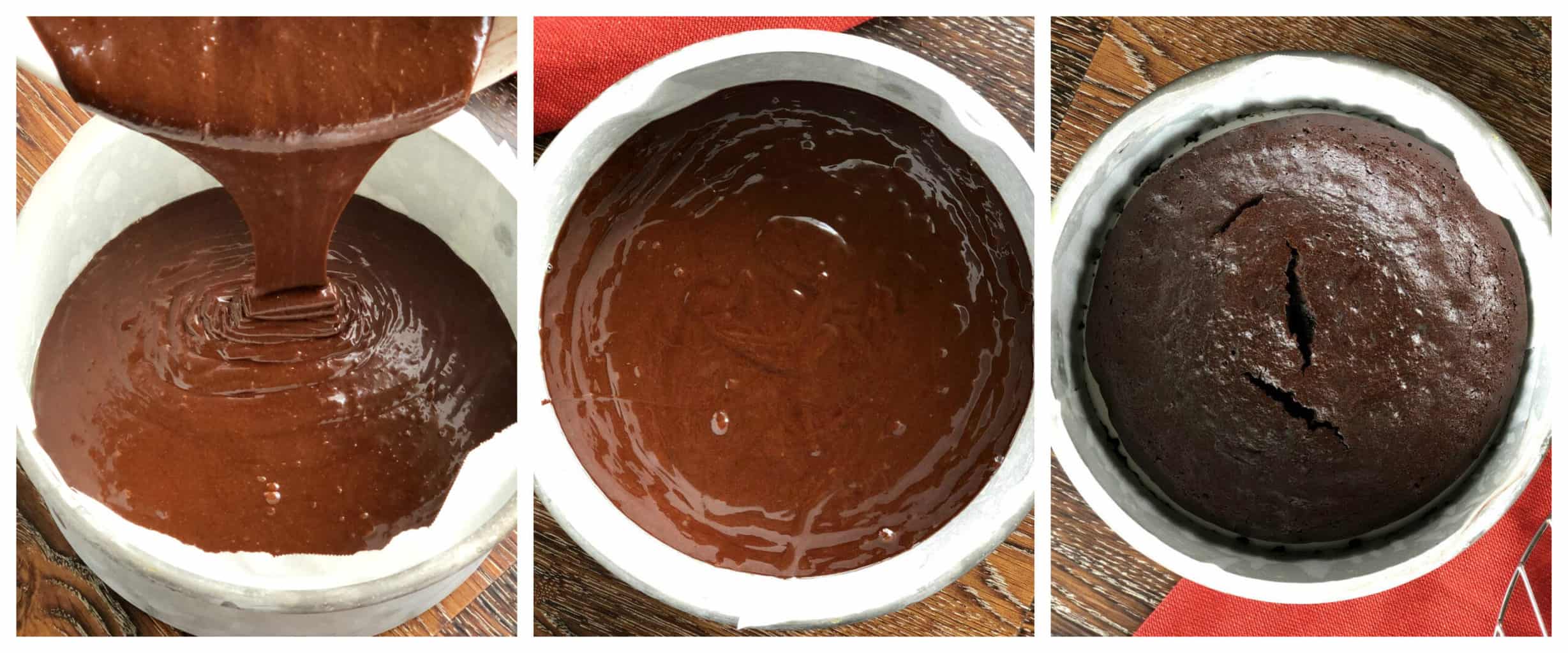 It will sink!
I actually love that this one sinks a little in the middle. It means you can be creative with how you serve it. it will rise weirdly at the edges and then possibly sink once it cools. Today I have served this with an easy raspberry whipped cream. You can serve yours however you like. SCROLL DOWN FOR MY QUICK RASPBERRY WHIPPED CREAM RECIPE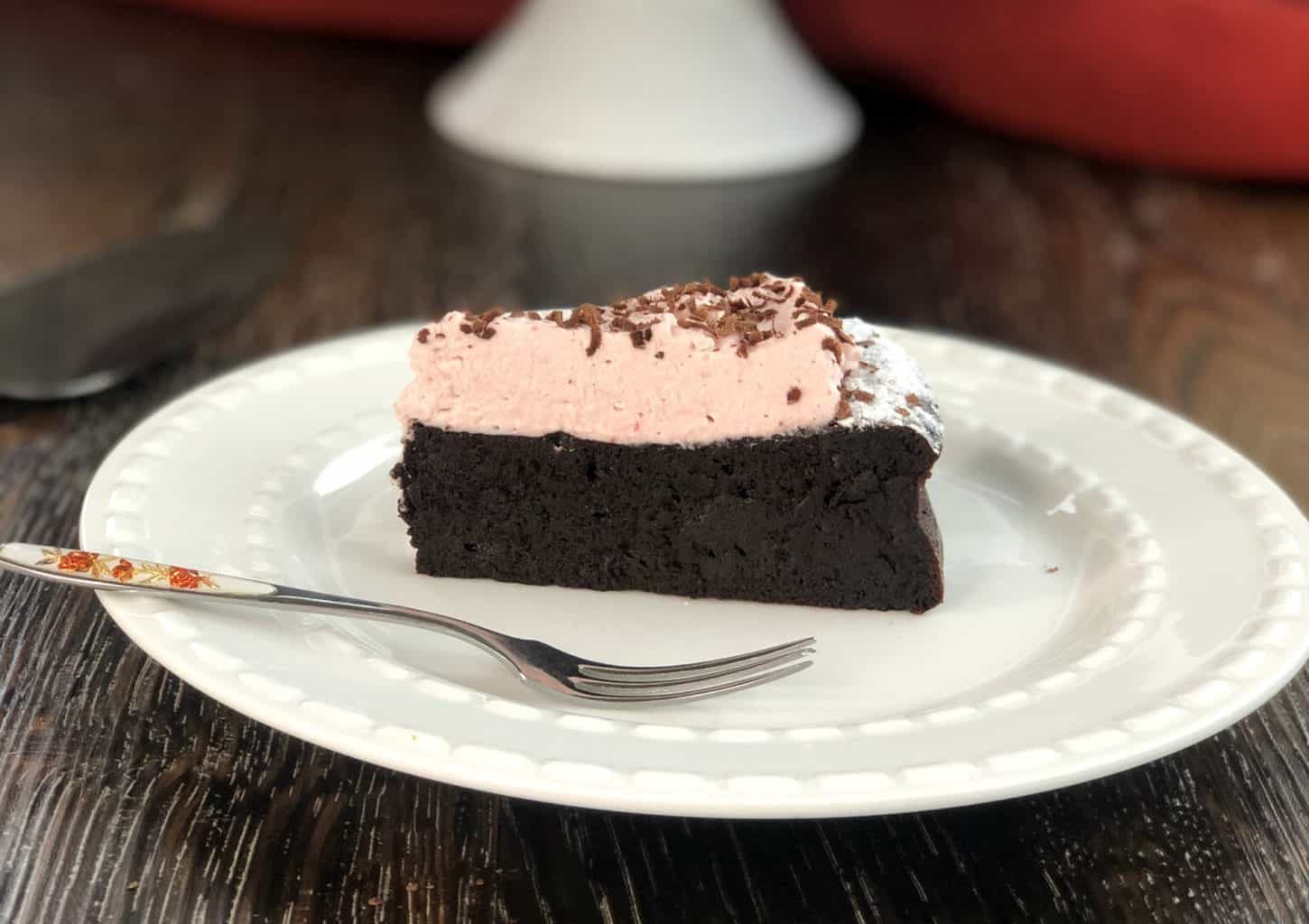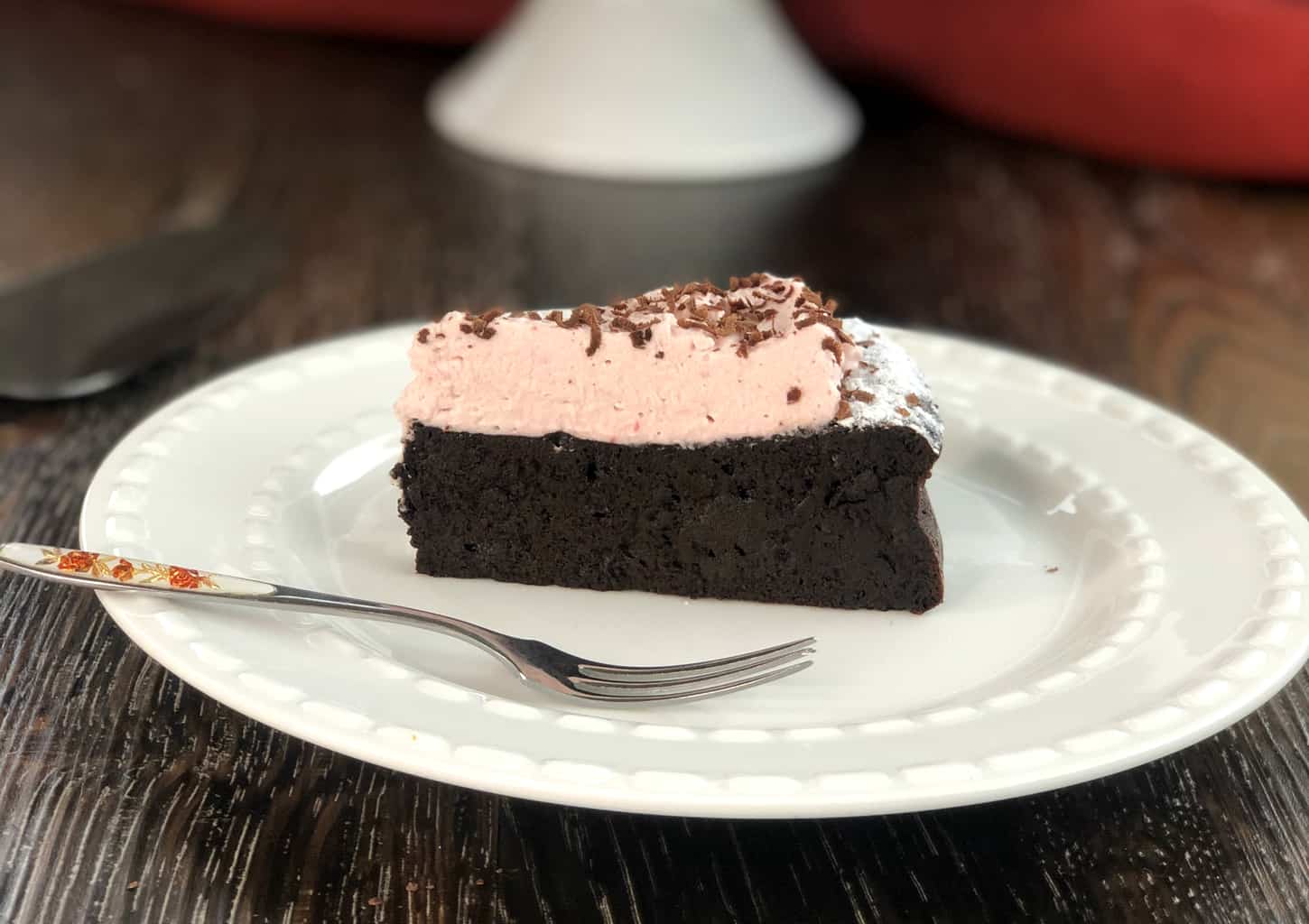 I cannot wait to see what you think of this rich indulgent cake. See below for my easy cheats version of raspberry couli whipped cream using frozen raspberries.
If you love Chocolate Cakes that use flour I have you covered there too! Some divine recipes here, click on the title to go to the recipe.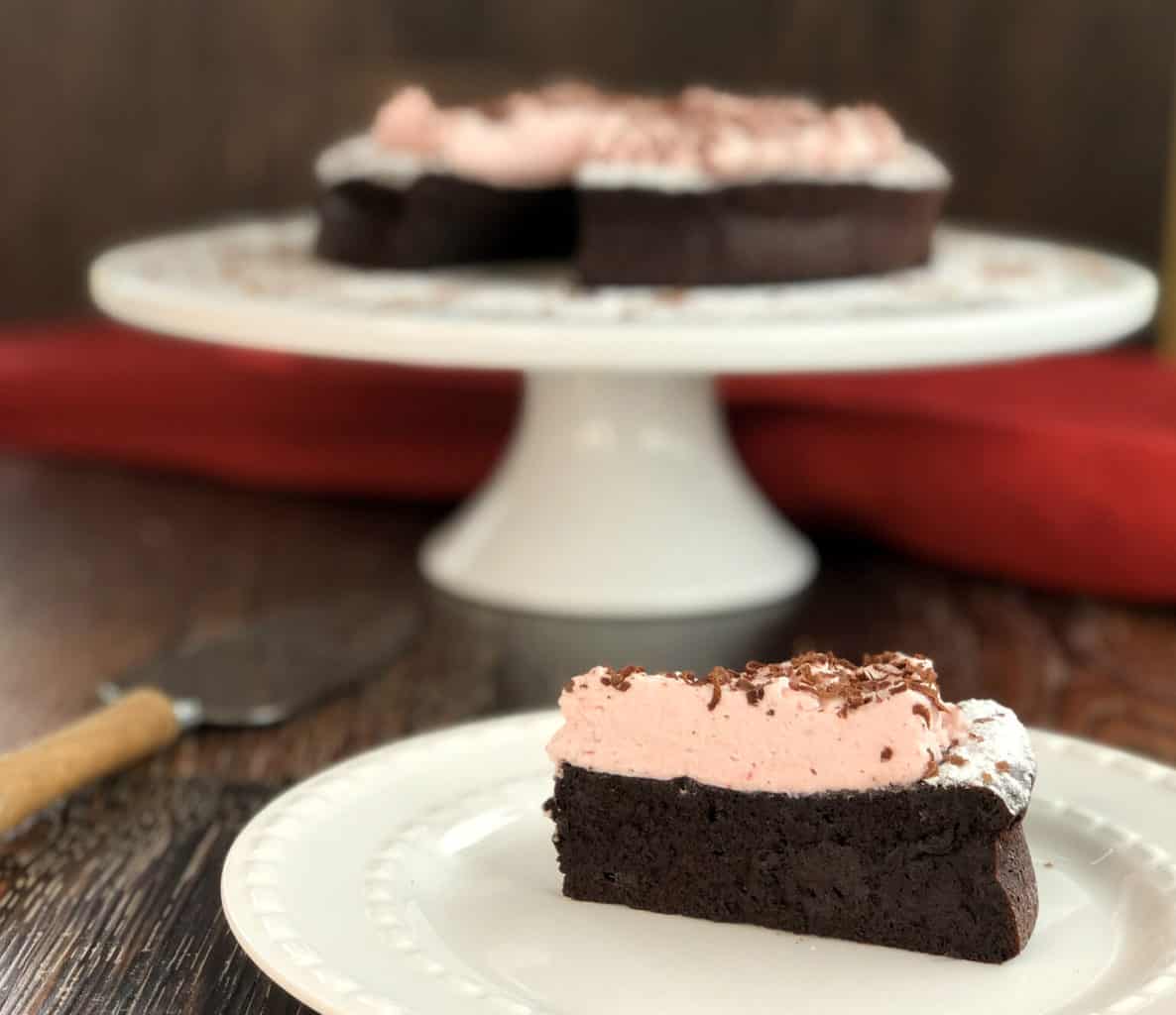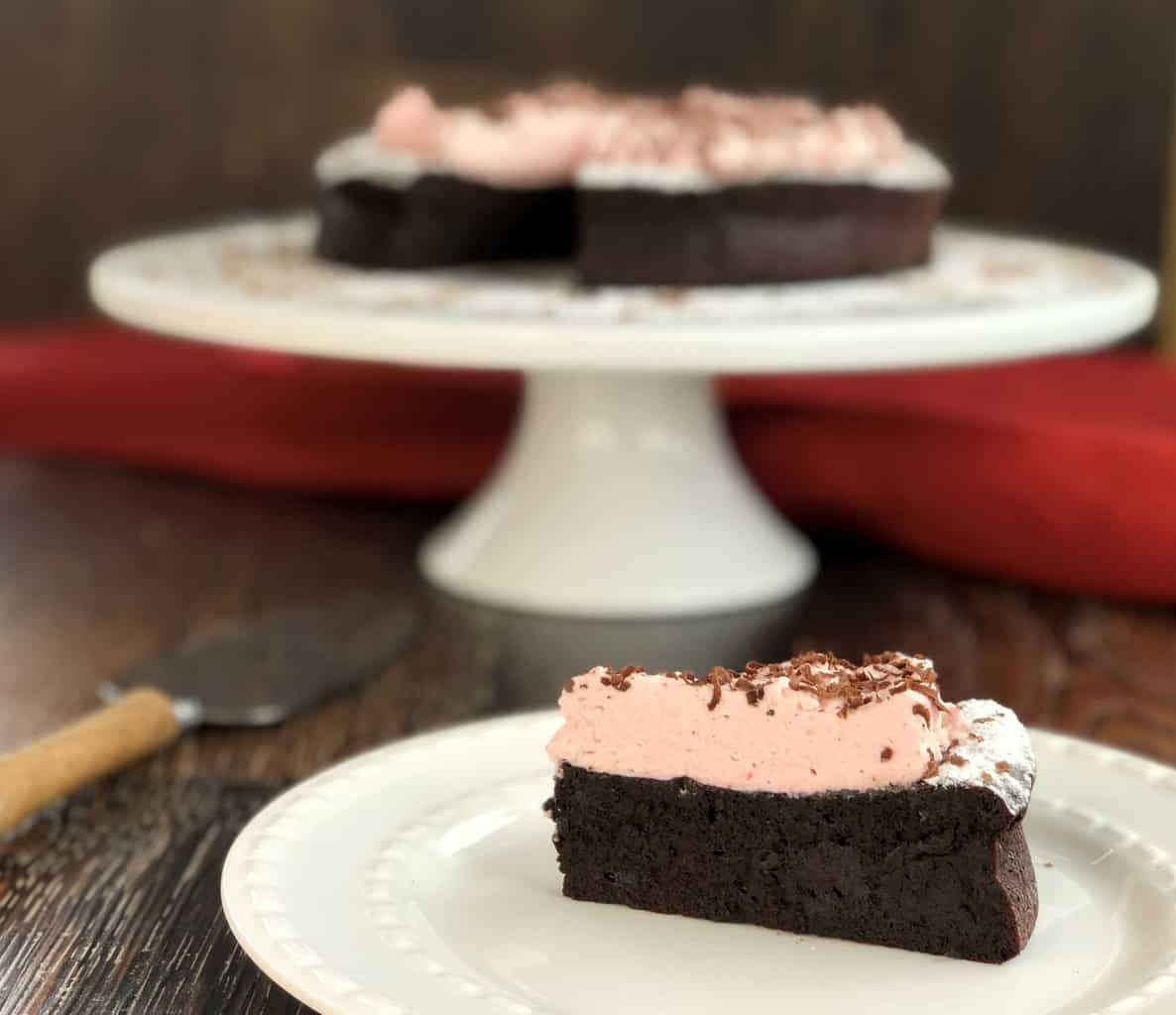 Onto the recipe for this delicious easy Flourless Chocolate Cake, let me know in the comments below when you make it!
It is that easy! I hope this becomes a firm favourite in your household, something for those that are Gluten Free but totally delicious for all!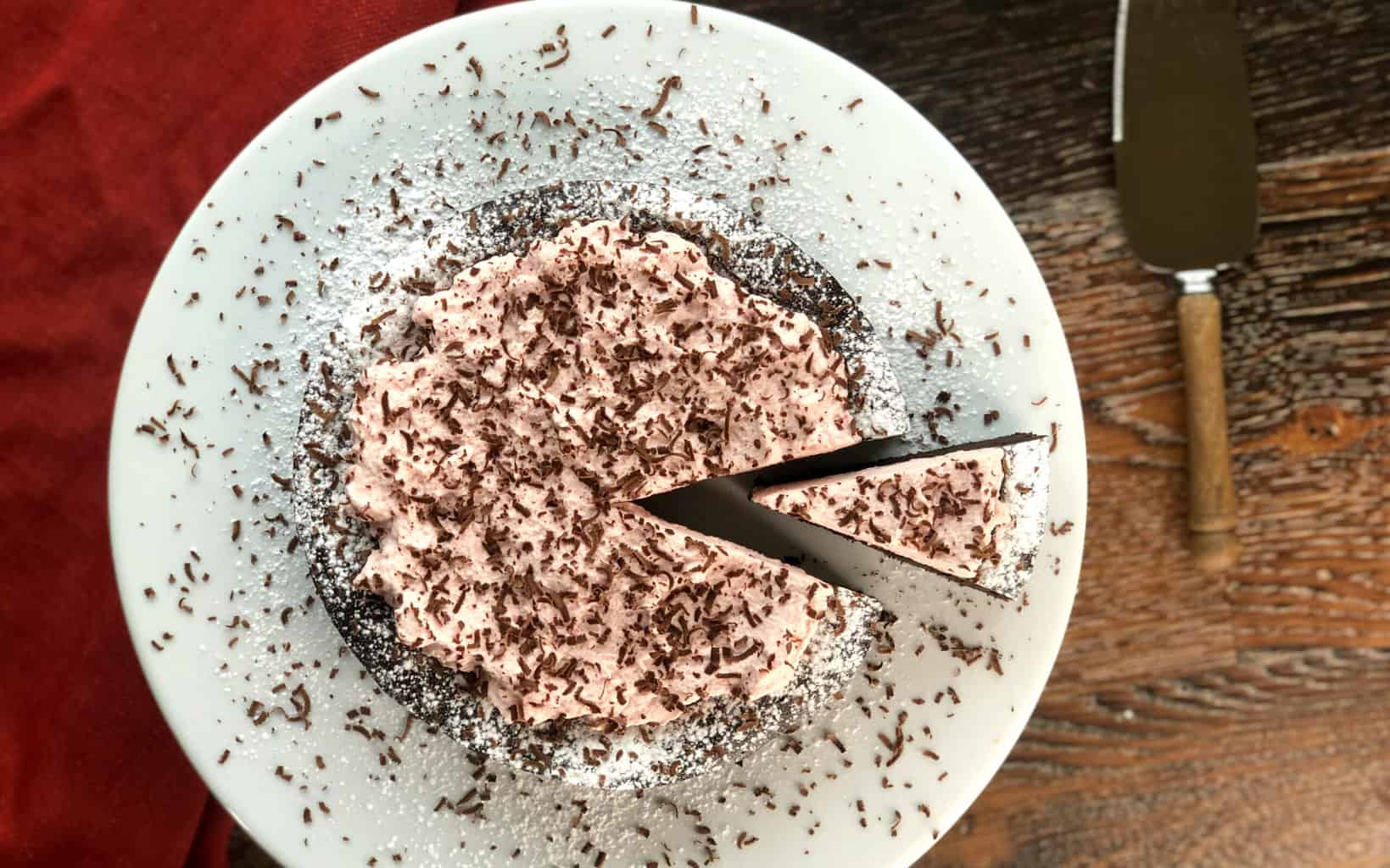 Thank you so much for stopping by to check out my latest recipe and others on my blog. If you are not already be sure to follow me on Facebook or Instagram for more deliciousness, and you can register your email in the subscription box below to receive all my recipes as I publish them.
Happy Baking!
Anna
Pin It – Pinterest! Just A Mum's Flourless Chocolate Cake