These delicious Halloween Rice Krispie treats are decorated to resemble a Mummy, so easy to make and super tasty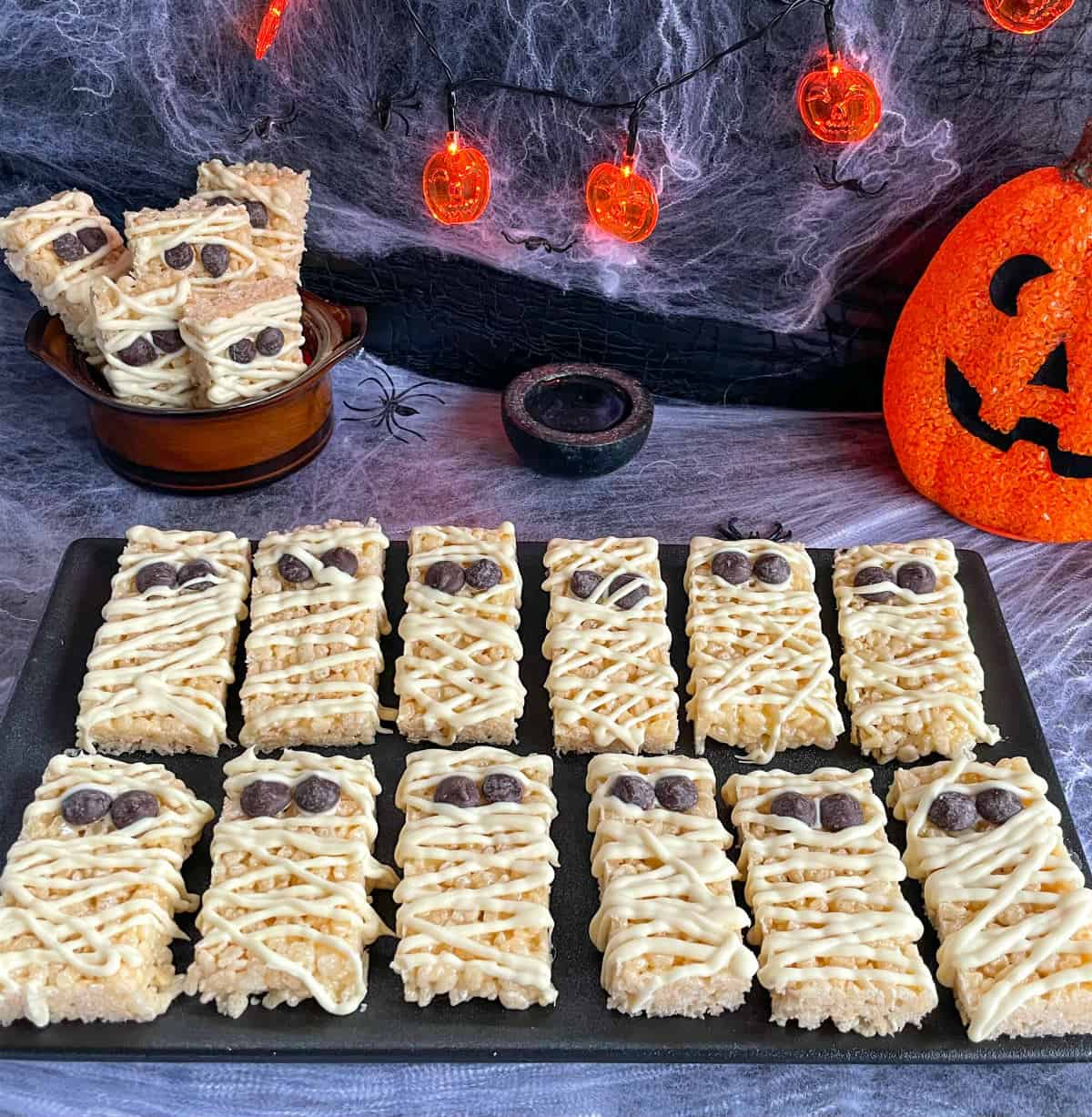 This recipe is sponsored by Countdown Supermarkets, using their ingredients, all opinions are my own.
Here in New Zealand Halloween is still a new thing to us, but it is BIG overseas. So we are able to pick and choose what we do here, and for those that do celebrate it I love hearing of the amazing food people create to share with friends and family.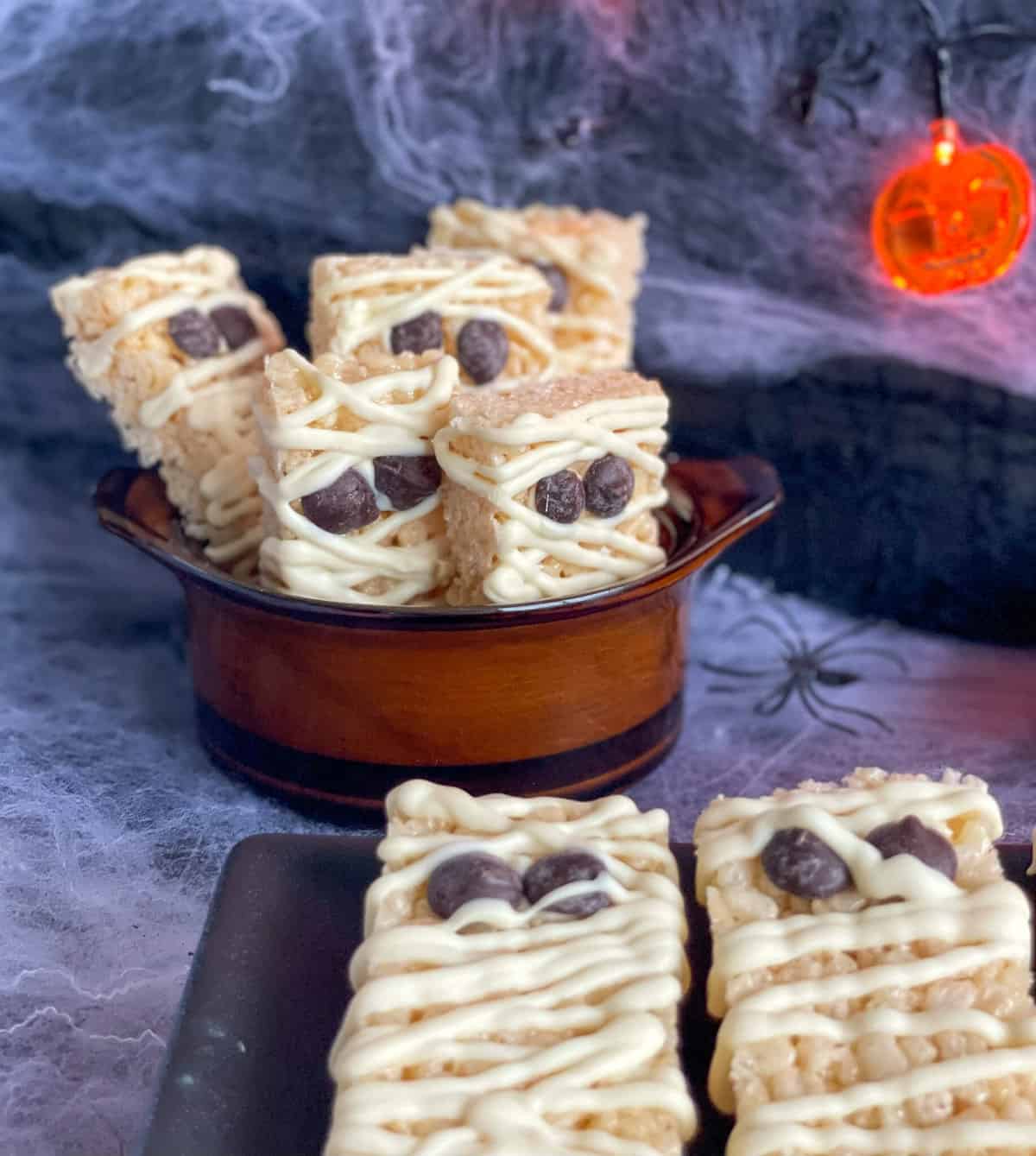 I wanted to show how you can make a fun treat for the kids that will look fun in the lunch box or around the party table. Using all pantry basics from Countdown and my Marshmallow Rice Bubble Treat recipe this one is a winner!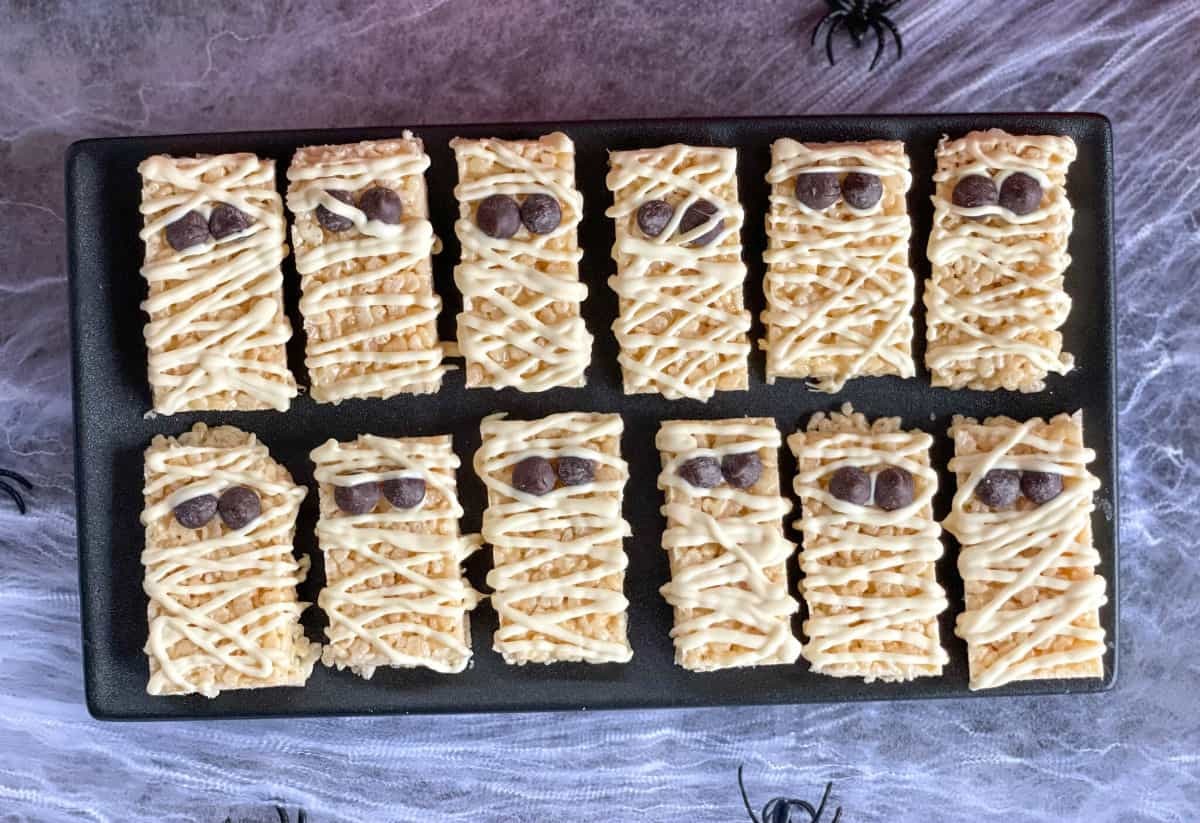 Many of you will be aware of the popular Honey Rice Bubble Slice, this is a version of that. You can absolutely use the honey version of rice bubble slice if you prefer, but these are wonderful made with marshmallow and slightly softer so less likely to crumble everywhere when slicing and decorating.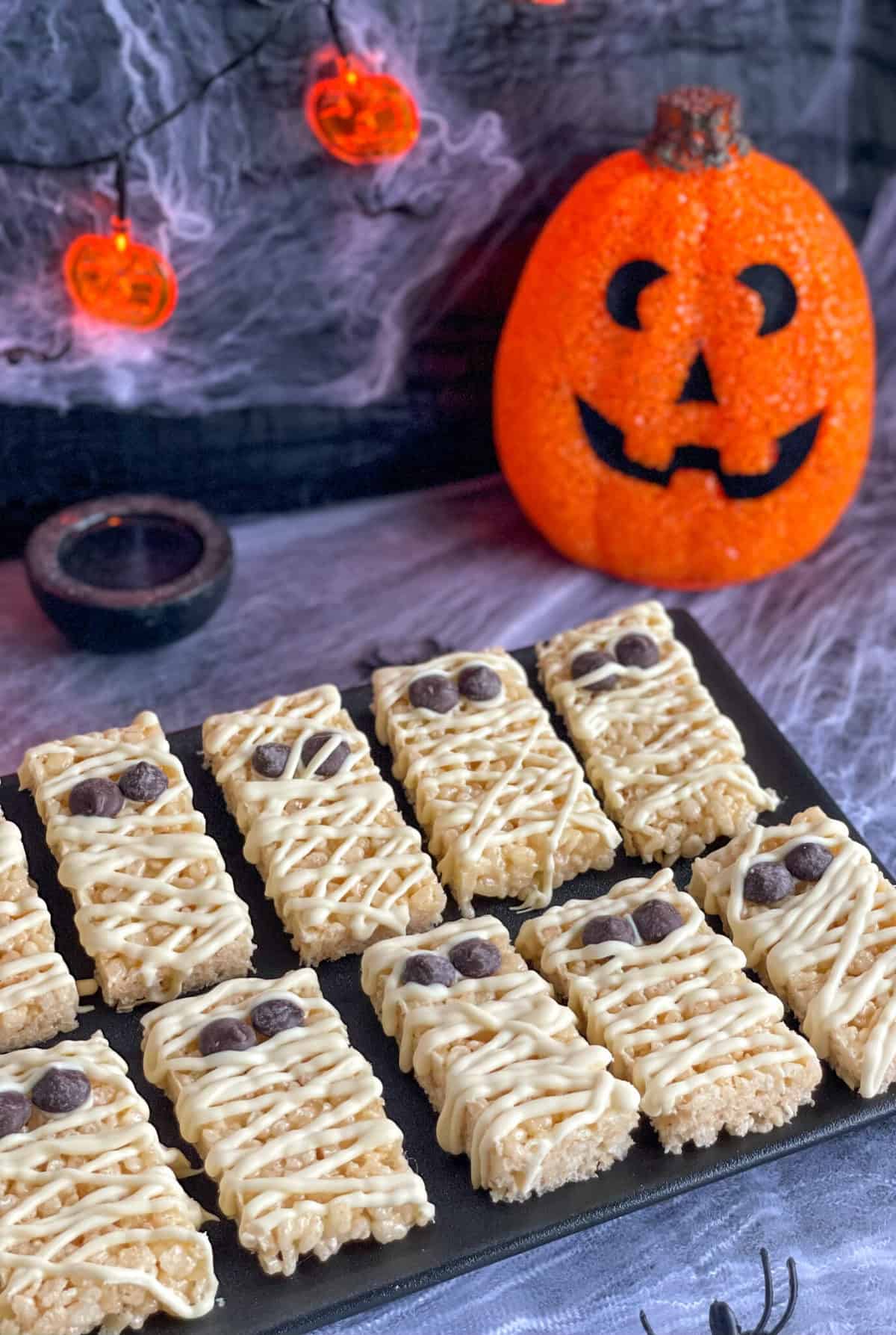 Countdown have a fun range of Halloween props and treats instore each year, this year we picked up some new cobwebs and the gorgeous pumpkin lantern lights you can see in the images which makes a fun little decoration.
All the ingredients I have used are in their Own Brand Range, so super affordable and easy to come across.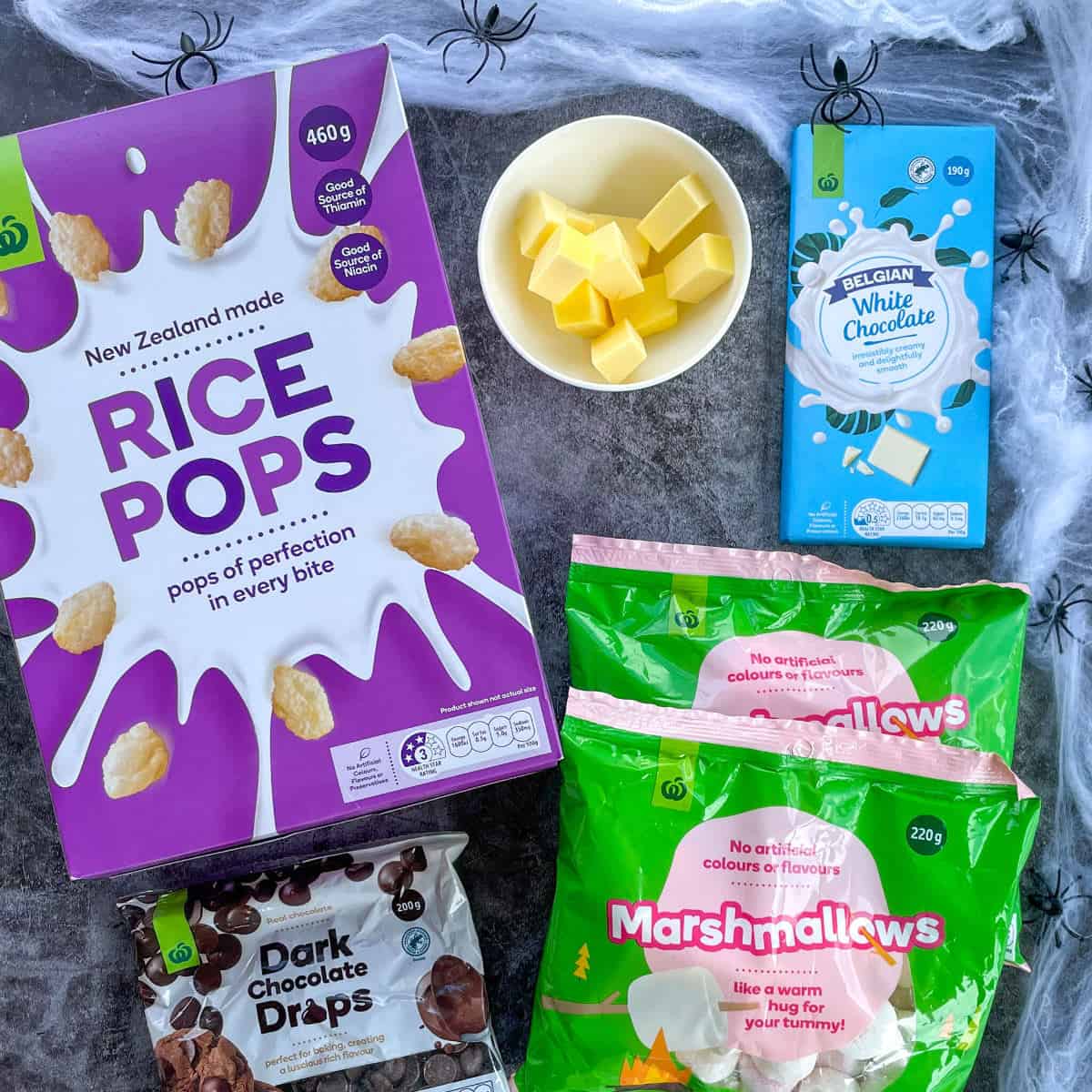 All you will need for this recipe is:
Butter

Marshmallows

Rice Bubbles

Dark Chocolate Drops

White Chocolate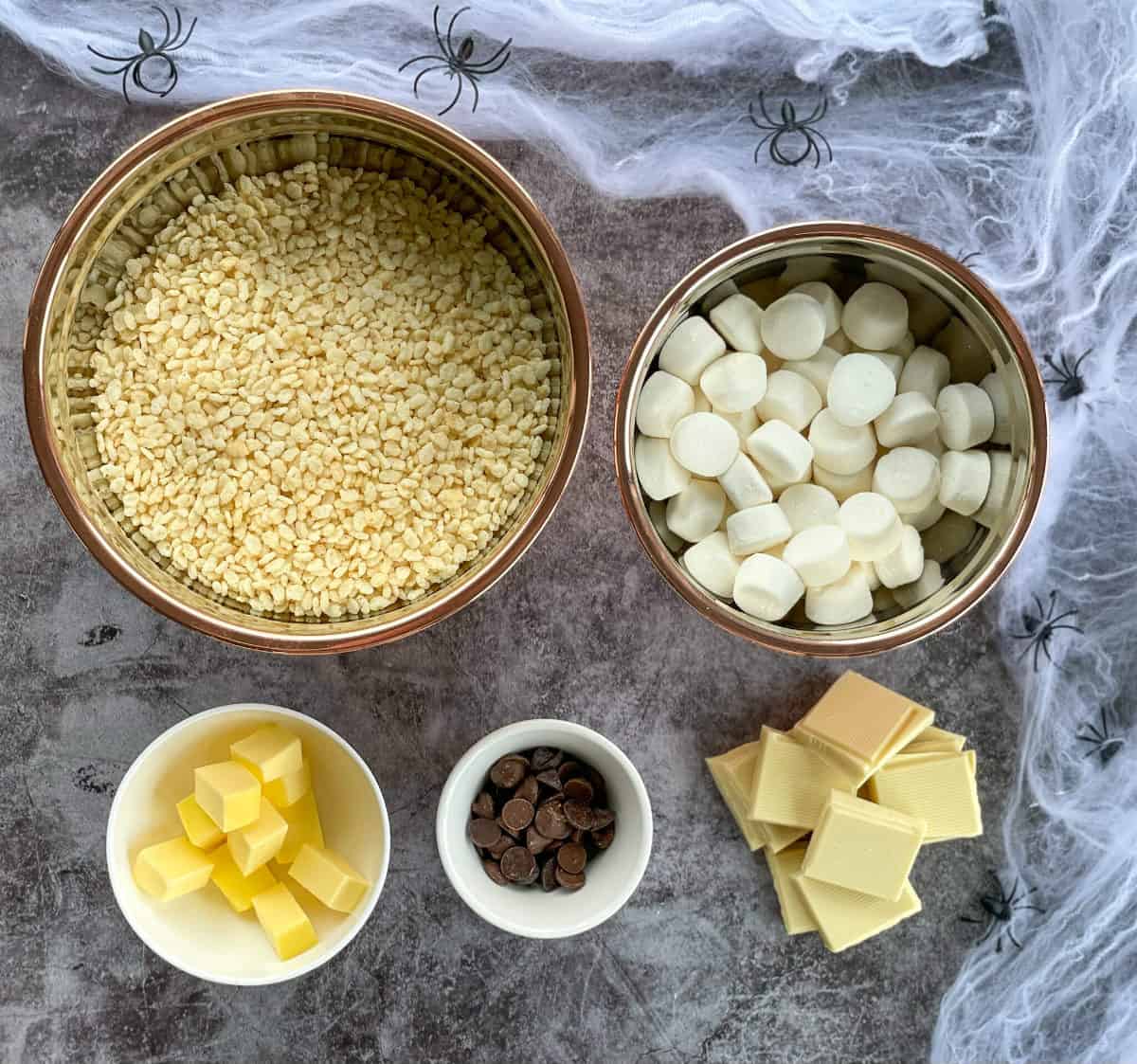 You will see that I have only used white marshmallows, that is to give it a distinctive white mummy look – you can absolutely add the pink marshmallows in their, it will just turn your mummy's pink!
Which is fine too. I have popped my pink marshmallows away in the freezer to make THIS recipe at another time.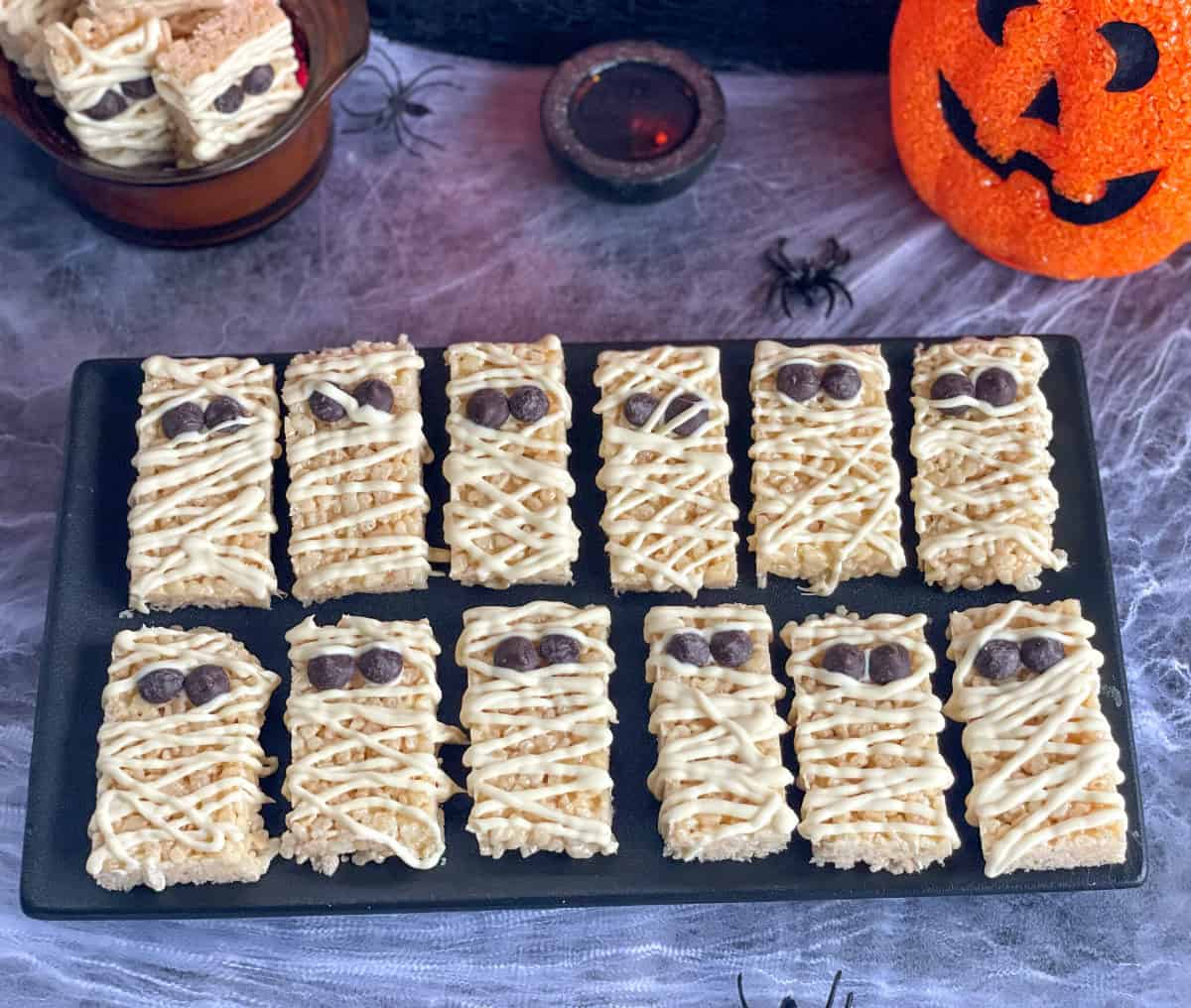 To make this recipe is so easy, you will need to check the ingredients and the tin size I use before starting as once you begin to cook it moves quickly and the ingredients are very very hot. So please take care.
The first step is to prepare the pan, I have used a cookie sheet for this, mine has a lip around the edge of around 1-2cm which is the perfect height as you want these to be quite thin, and it is around 23 x 33 cm (9 x 13inches).
If you do not have something like this you might find your roasting dish is a similar size. Grease the pan well to ensure you can get the mixture out later.
Next step is to slowly and carefully melt down the marshmallows and butter in a large saucepan, you will need to add 5 cups of rice bubbles to this later so the size is important.
Slow and steady is best, stirring constantly to ensure the mixture does not stick and keeping the temperature very low. Once the marshmallows have completely melted into the butter you can remove from the heat and add the rice bubbles straight away.
Folding the rice bubbles through with a large wooden or rubber spoon to ensure they are fully coated with the marshmallow mixture.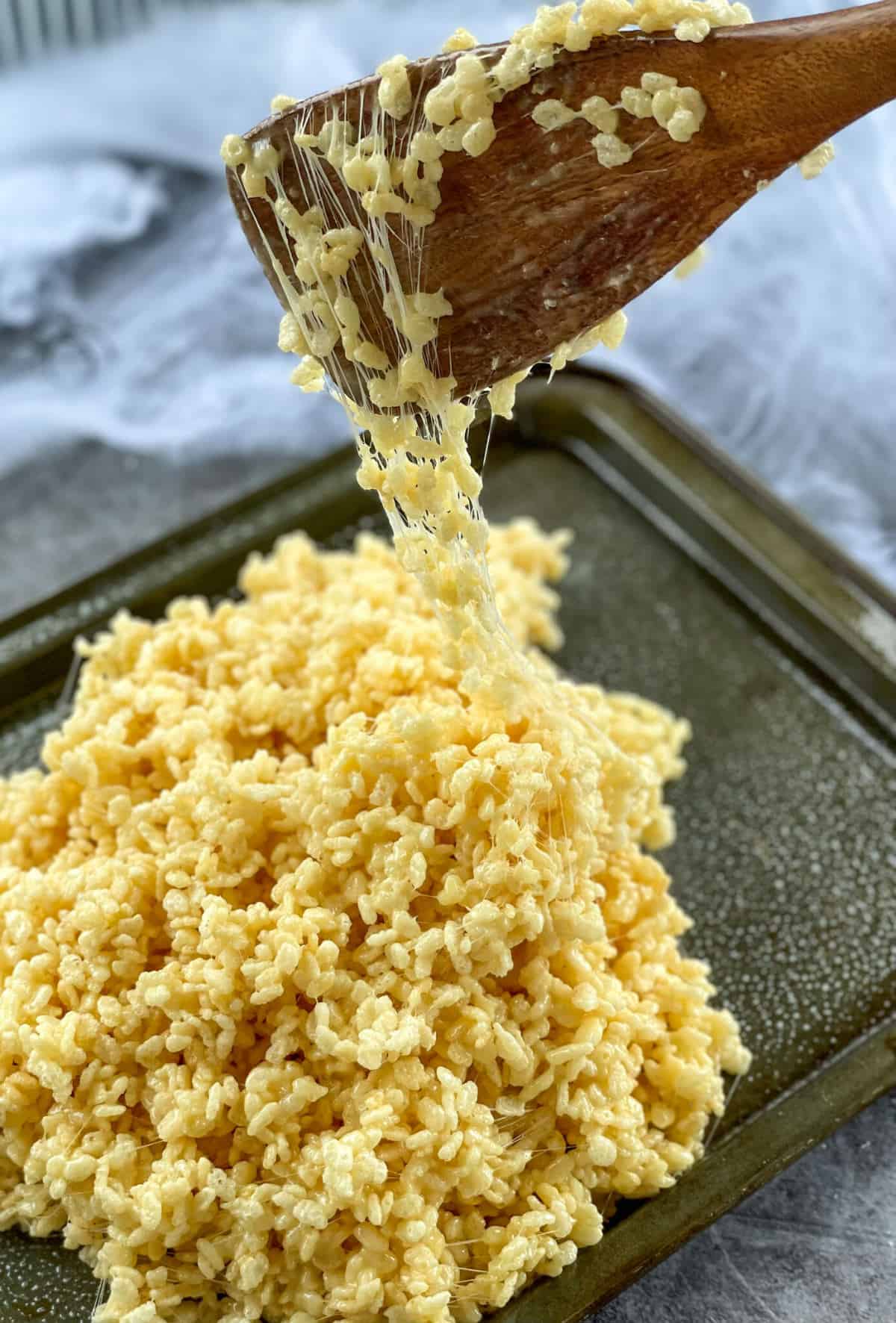 This is a very hot mixture, do not be tempted to lick your fingers! Tip this onto the prepared pan and as best you can begin to flatten out the mixture with the wooden or rubber spatula.
The mixture is VERY sticky and resembles cobwebs, so I tend to get a large piece of baking paper, and lay this across the top and press the mixture down with my hands until it is flat and pressed evenly into the pan. Again take care as it will still be very warm.

Once it is even and flat, simply allow it to completely cool at room temperature, around 4 hours, before you remove if from the pan and slice into rectangles.

I sliced and measured mine to ensure they were even. I sliced mine to be 8 x 4 cm, once I had the three long rectangles cut I measured one of the long strips at 4cm then I used that as a guide to cut the rest.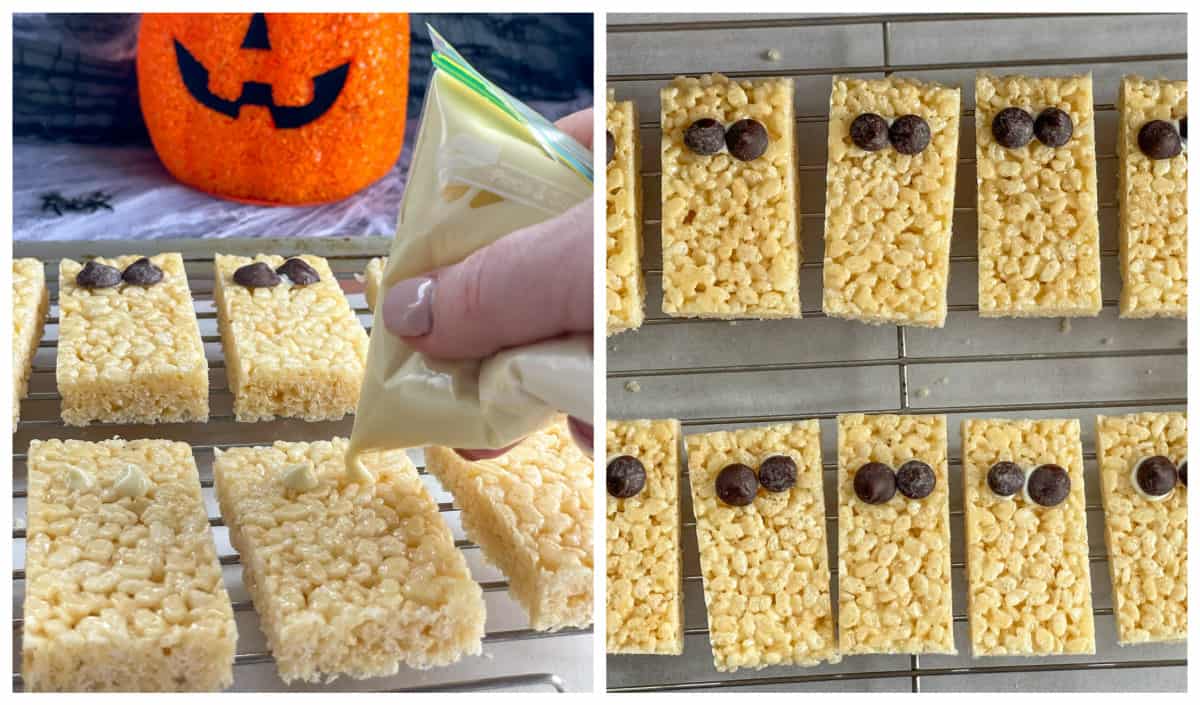 For the Mummy features, I have used melted white chocolate. I have used a small zip lock bag for the piping. Simply slice a tiny corner off.
For the eyes I add a drop of chocolate then place on the dark chocolate drops in place, then drizzled melted chocolate all over the treats to resemble bandages in one direction and then the other.
You will get the hang of the direction the more you do, but it does not need to be perfect to be enjoyed.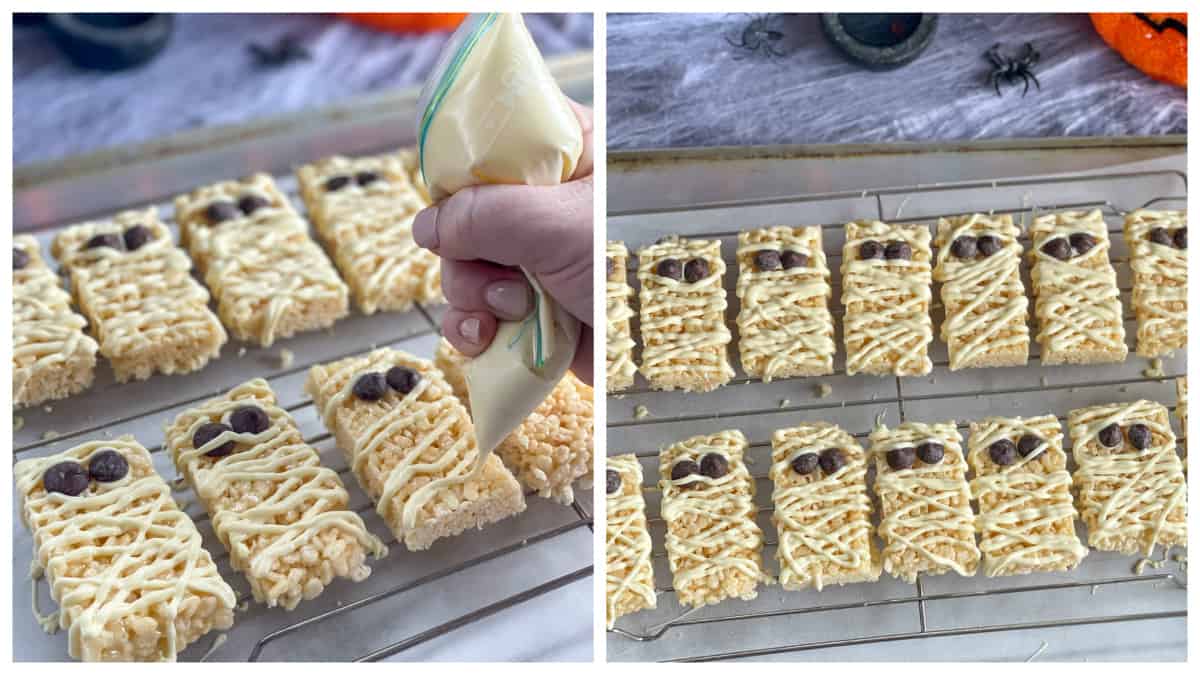 I hope you love this fun wee Halloween Treat, be sure to send me photos on my social media pages if you make these.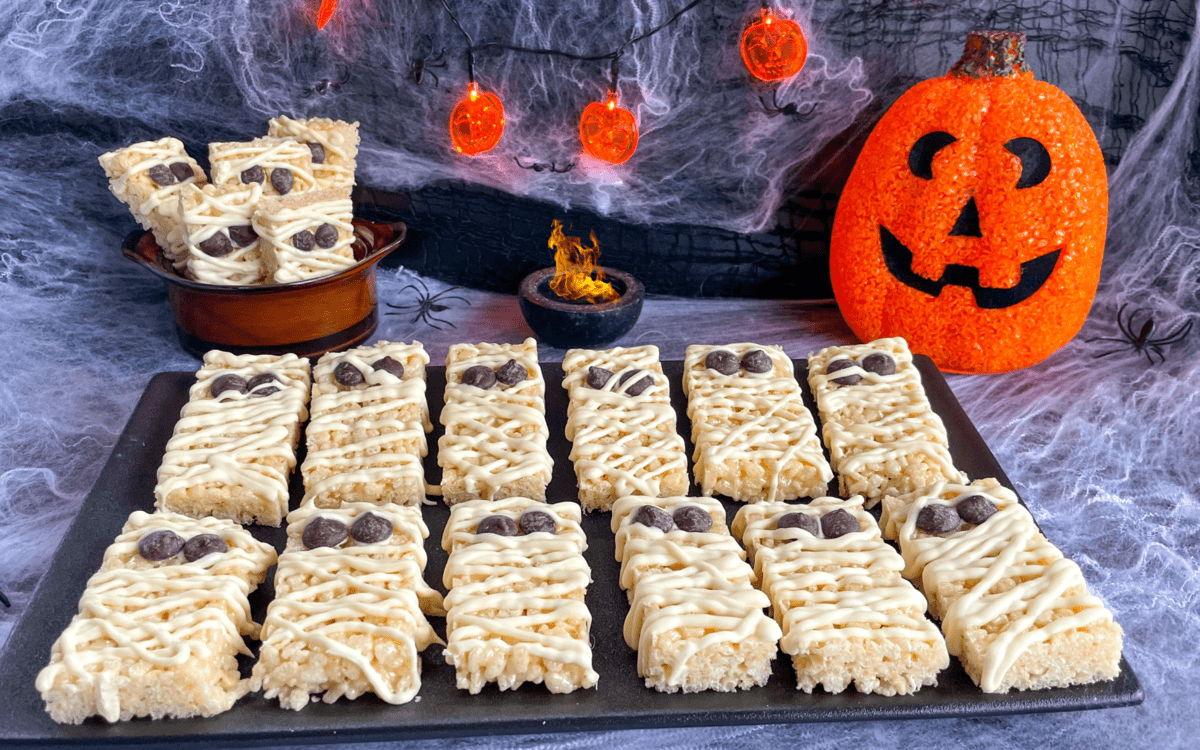 Here is my recipe for Easy Mummy Rice Krispie Halloween Treats.
Be sure to let me know in the comments below if you make this one! So fun and easy to do.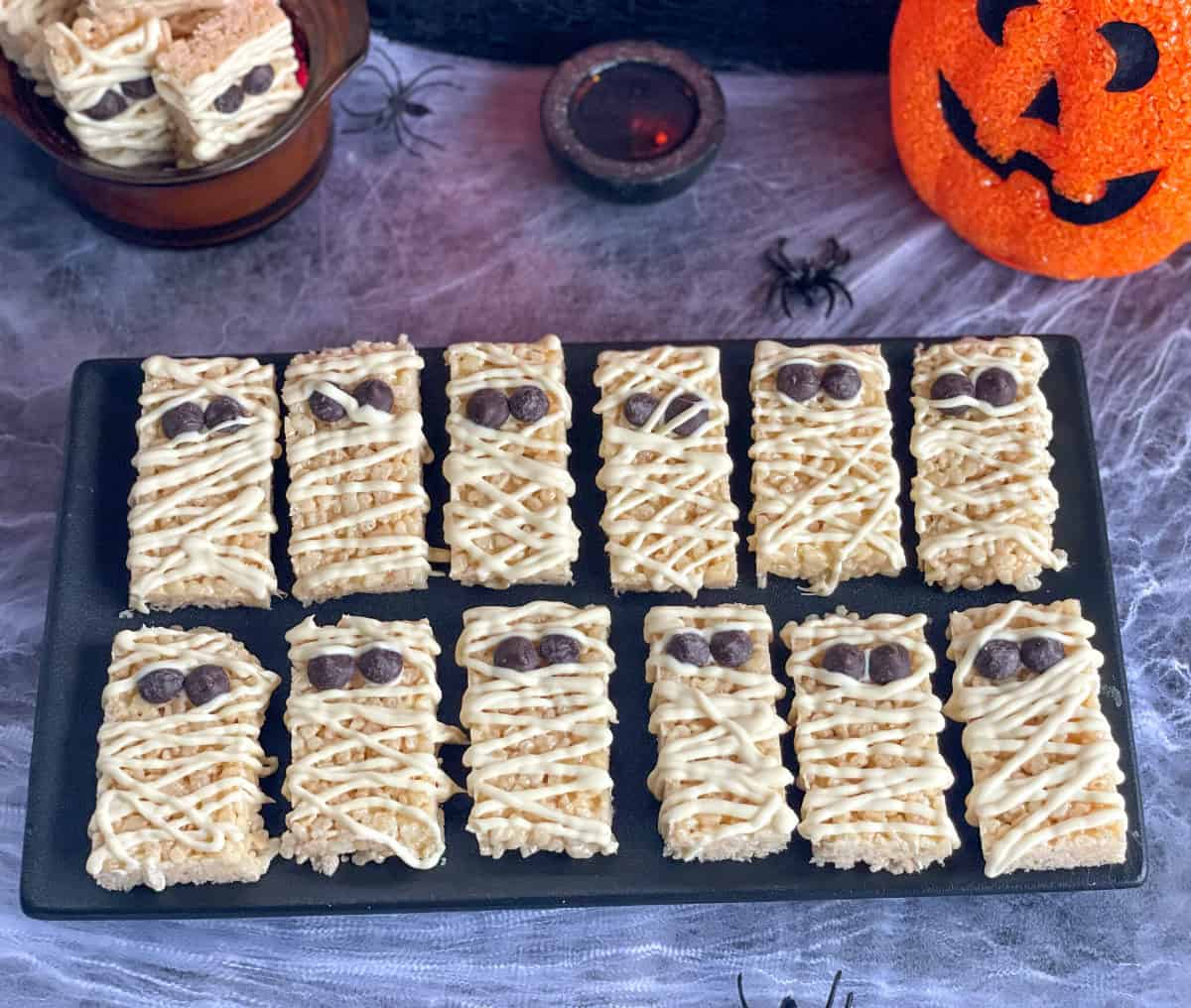 Thank you so much for stopping by to check out my latest recipes on my blog. If you are not already, be sure to follow me on Facebook or Instagram for more deliciousness, and you can register your email in the subscription box below to receive all my recipes as I publish them.
Happy Baking!
Anna
Pin It! Pinterest