These are absolutely delicious, the best seeded crackers I have tried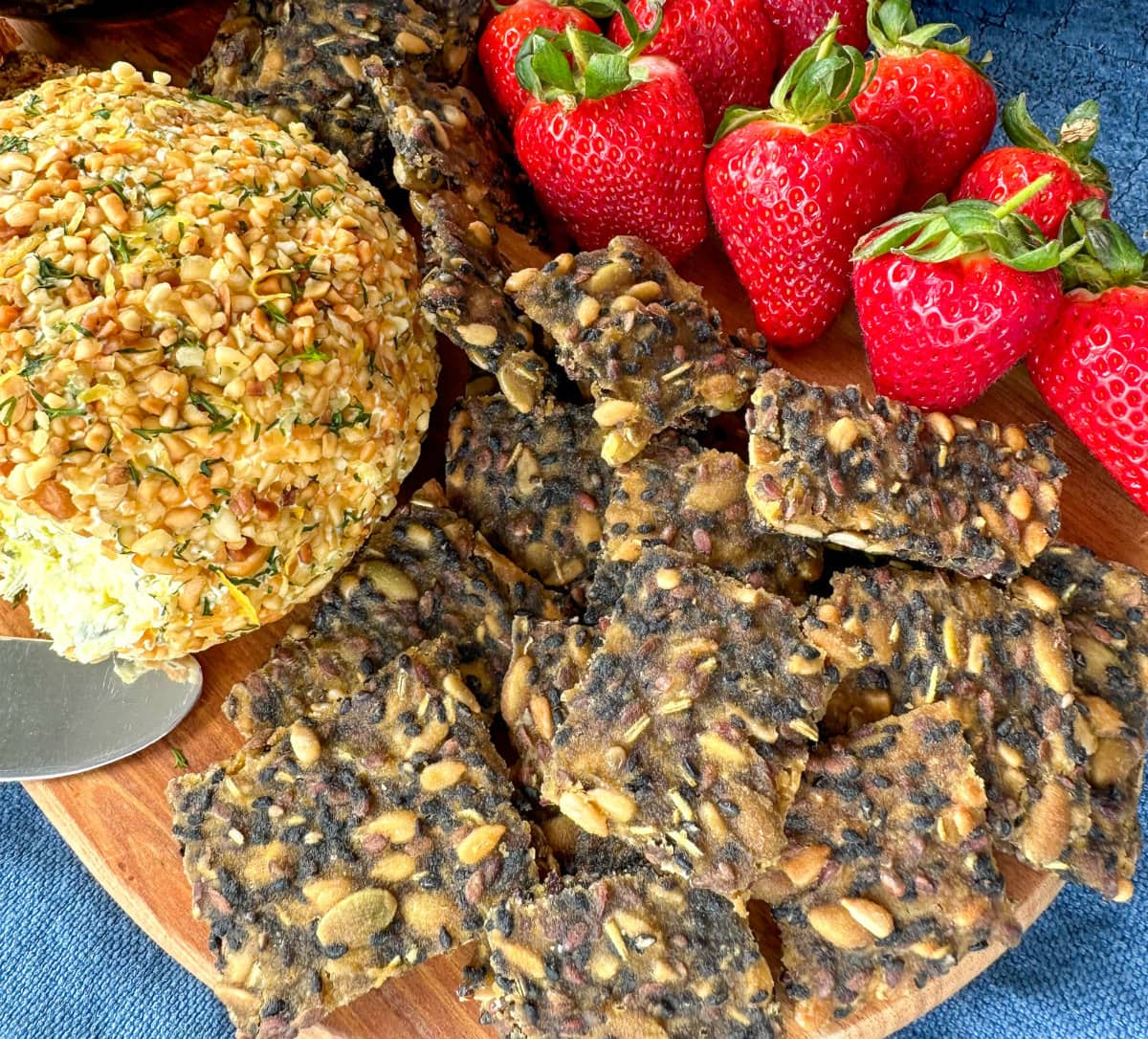 I am lucky enough to often get sent recipes from followers of my page, I save them to a file and then sometimes it takes me a while to come back to them.
This recipe was sent to me by the lovely Wendy in May 2022 and I have just now got around to testing them, and boy was she right when she said "be warned they are addictive".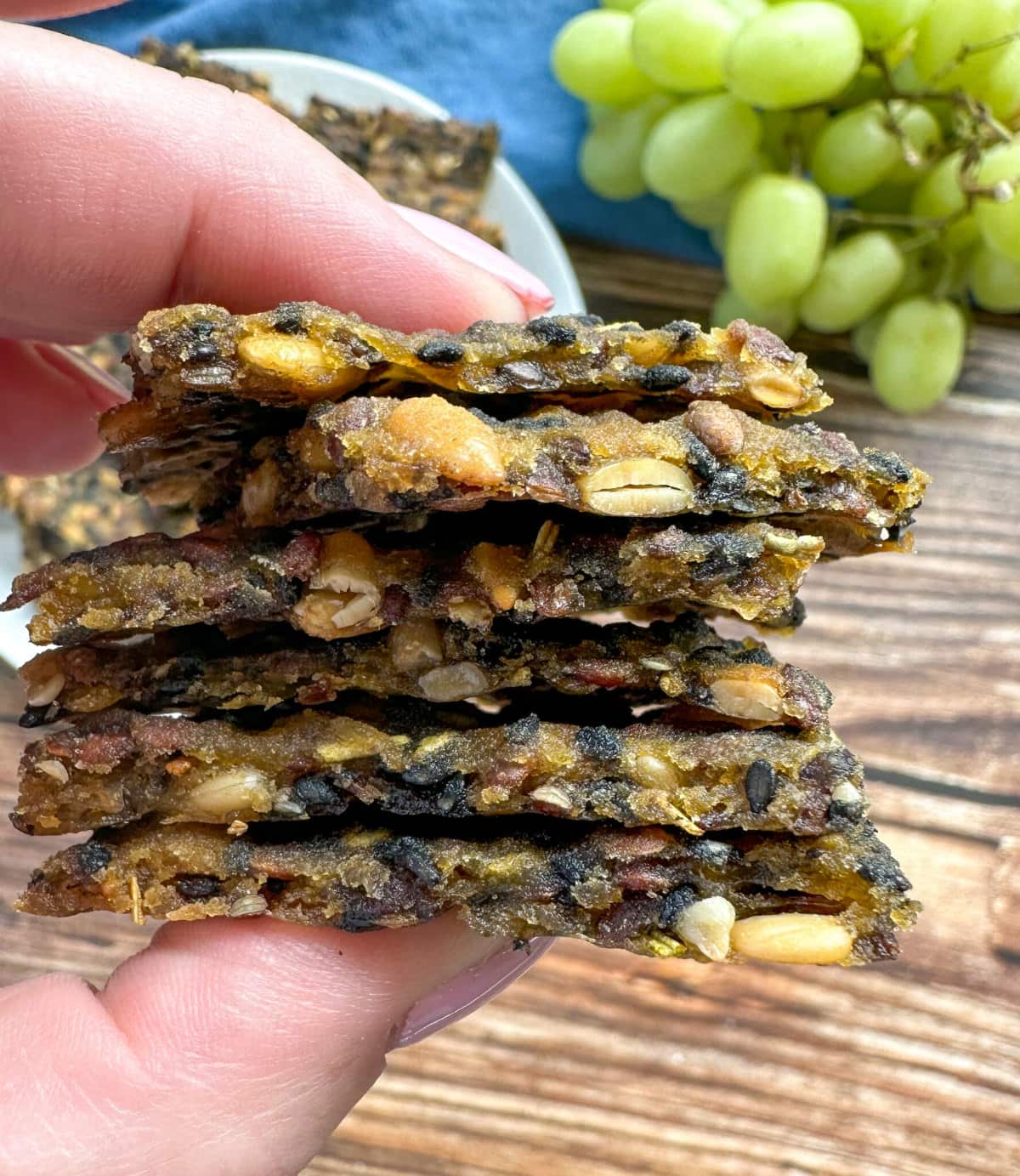 These are completely gluten free, dairy free, sugar free crackers that are seriously tasty. They are healthy too, and that can help alleviate some of the guilt as you reach for a few more.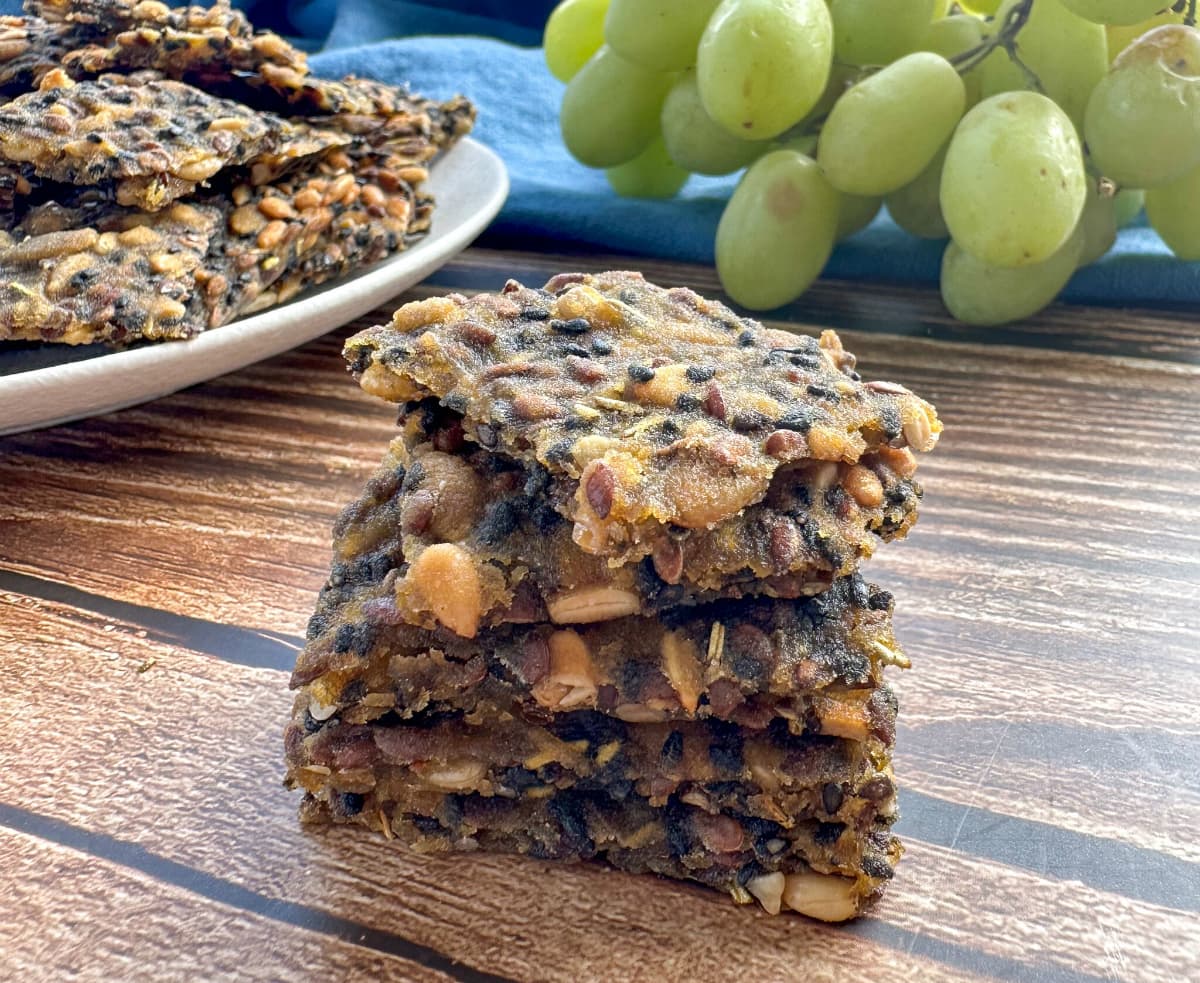 I have added dried rosemary to the recipe as the only change, cumin seeds would also be divine so I will try those next. Otherwise this is the amazing recipe as sent in by Wendy.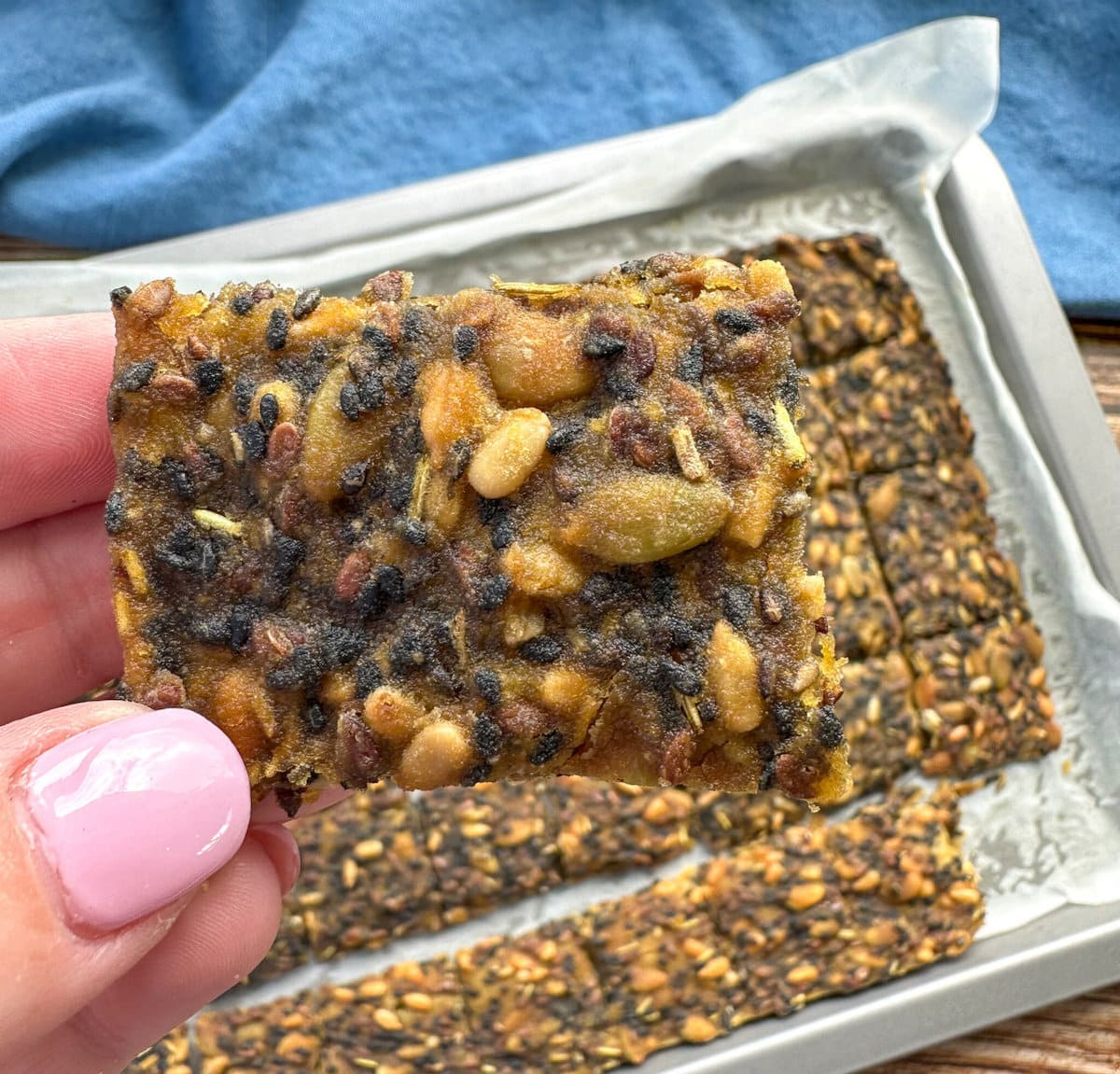 All you need is
Scroll down to see the full printable recipe card and method below
Cornmeal Flour

Pink Himalayan Salt

Linseeds

Black Sesame Seeds

Sunflower Seeds

Pumpkin Seeds

Oil

Boiling Water

Dried Rosemary or Cumin (optional)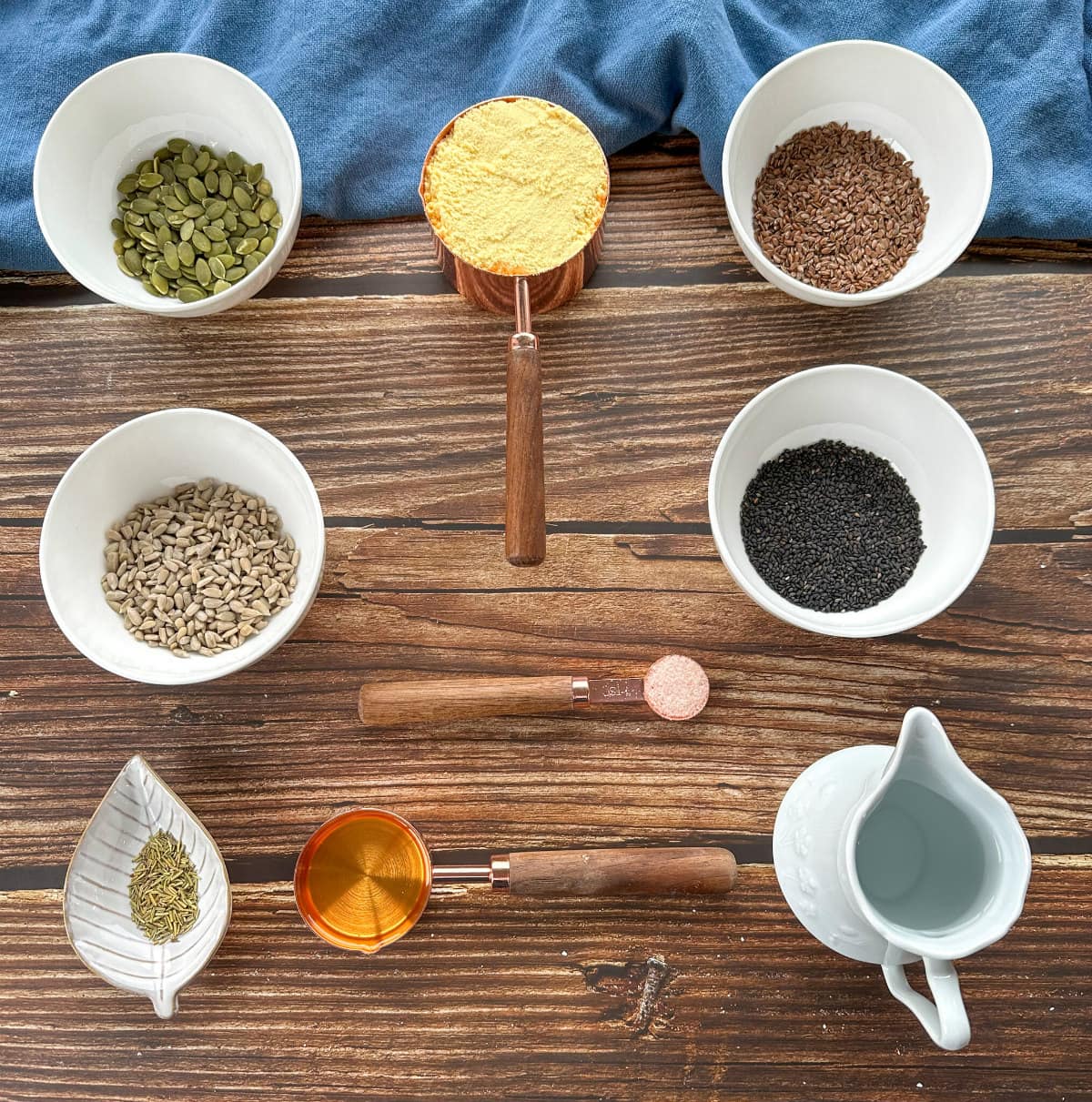 Making these crackers is so incredibly easy. You only need small quantities of the seeds, which means you may have plenty left over to make them once a week to keep the tin topped up.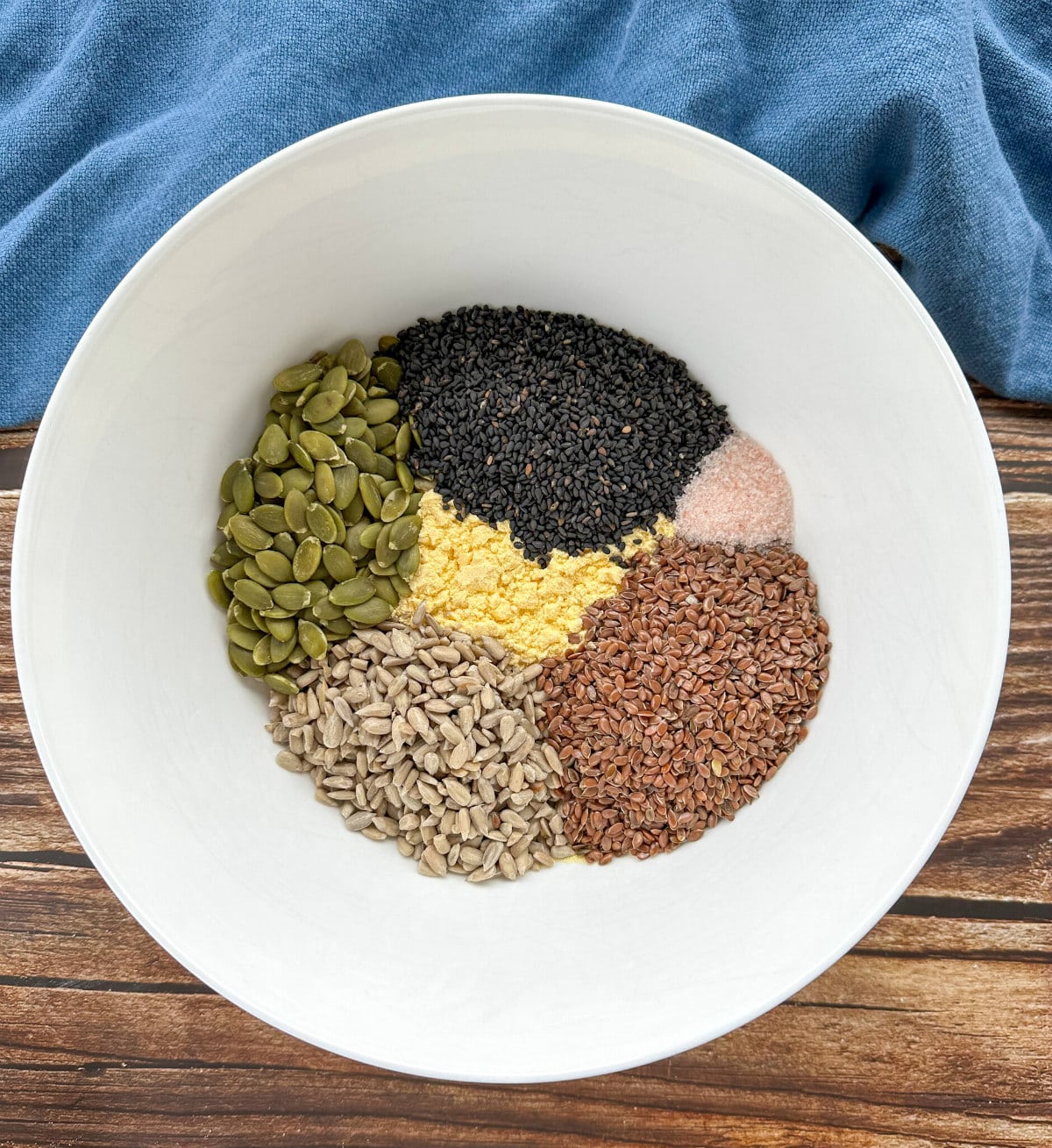 I found everything except the black sesame at my local supermarket, but our local Asian stores had the black sesame seeds. Cornmeal Flour is different to cornflour so please do not confuse the two!
The method is so easy, simply measure out the ingredients into a bowl, add the oil and boiling water and stir to combine. Then cover a large baking tray (ideally one with a lip) in baking paper and then spread the mixture in a thin even layer over the tray.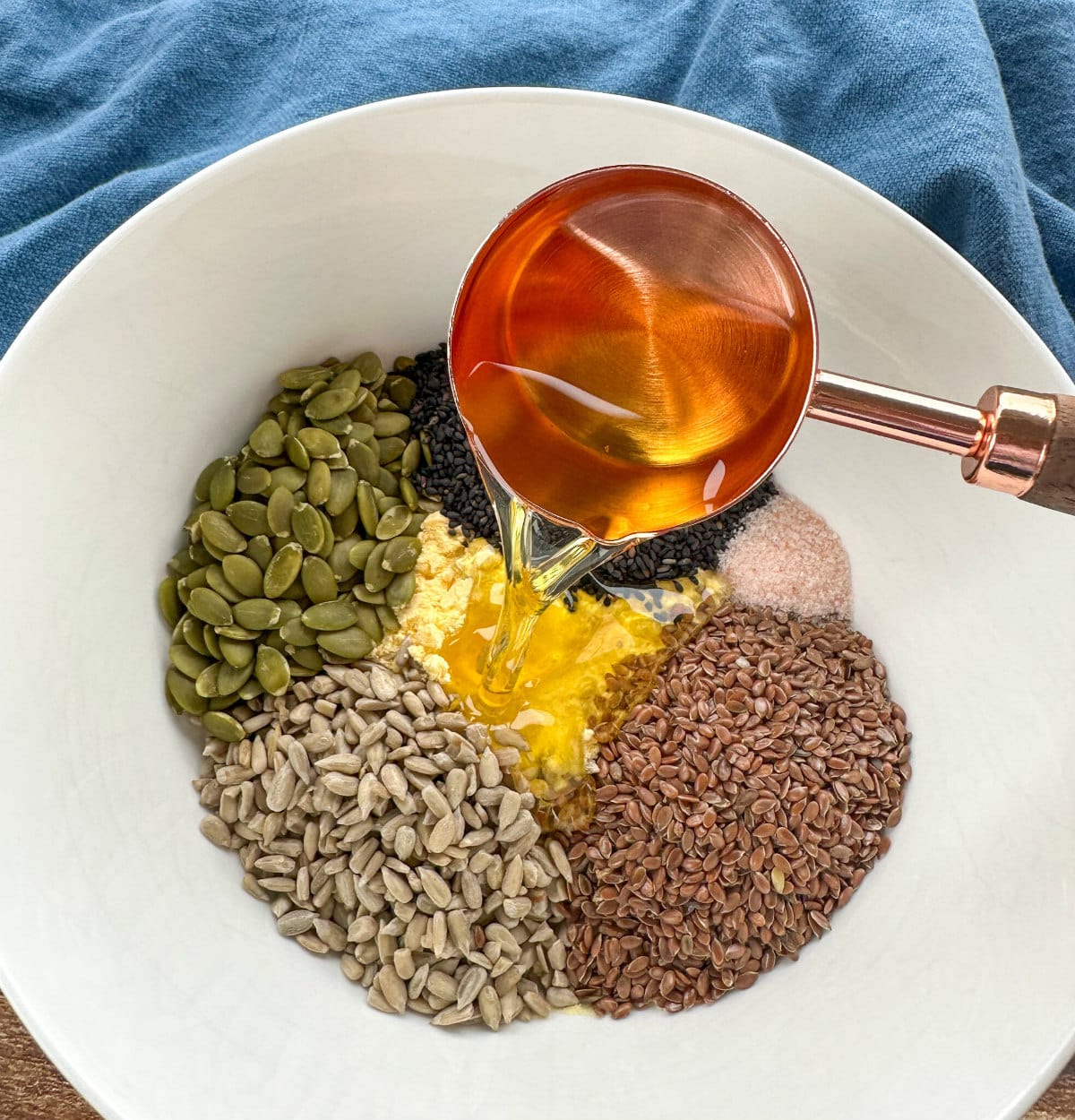 Do you love this Rose Gold Measuring Cup? Be sure to check out my online store where I share some of my favourite kitchenware
If you only have small trays you may wish to use two. My crackers are around 3-4 ml thick.
The total baking time is around 1 1/4 to 1 1/2 hours long on a medium heat, I took my crackers out at the 30 minute mark to run a pizza cutter over it to make the cuts for the size crackers I want. If you just want to break it up into rustic chunks later you can skip this step.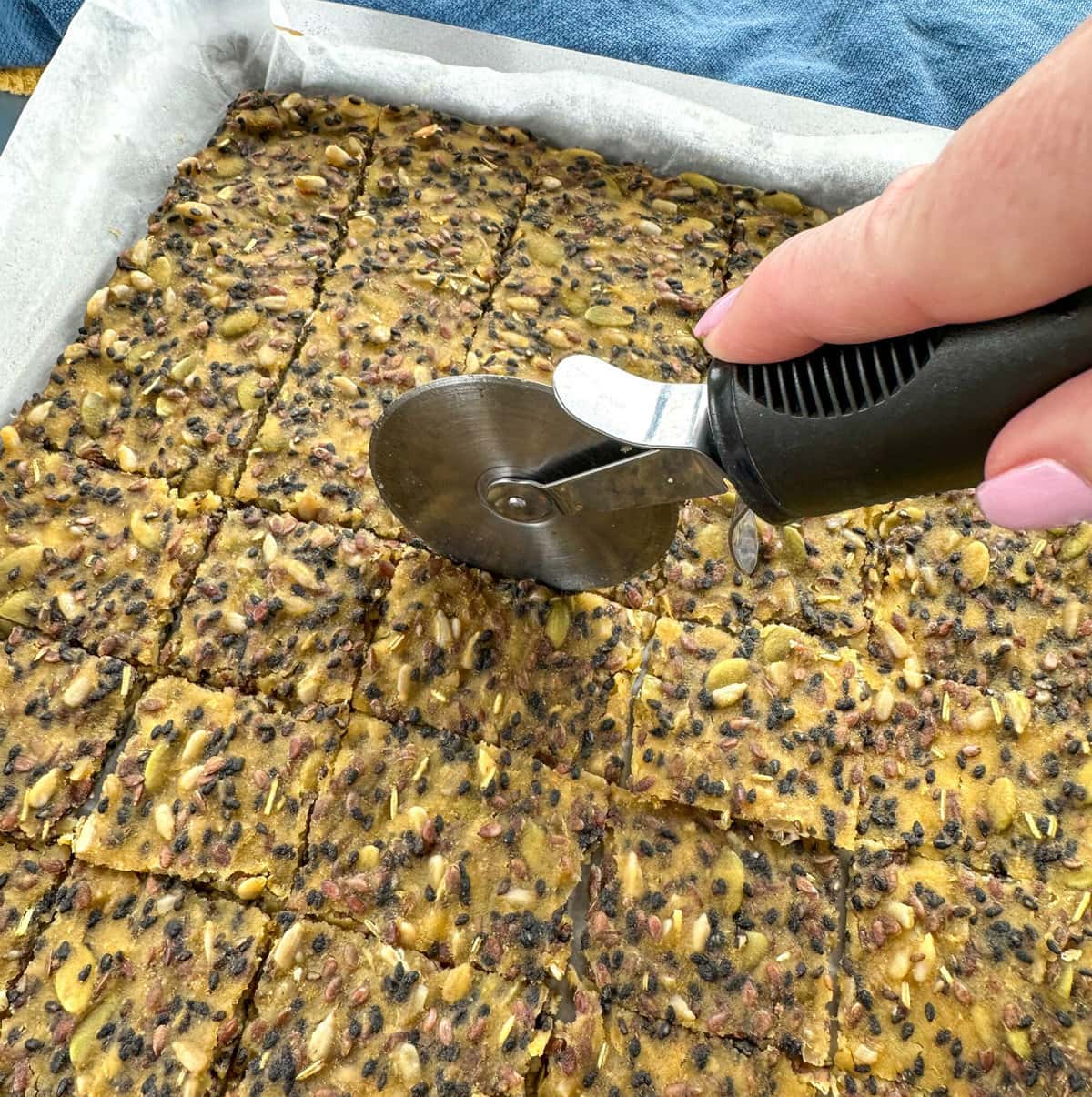 Then bake until the edges are lovely and crispy, and the middle feels firm and crisping up also. Then reove from the oven and cool completely before breaking into pieces.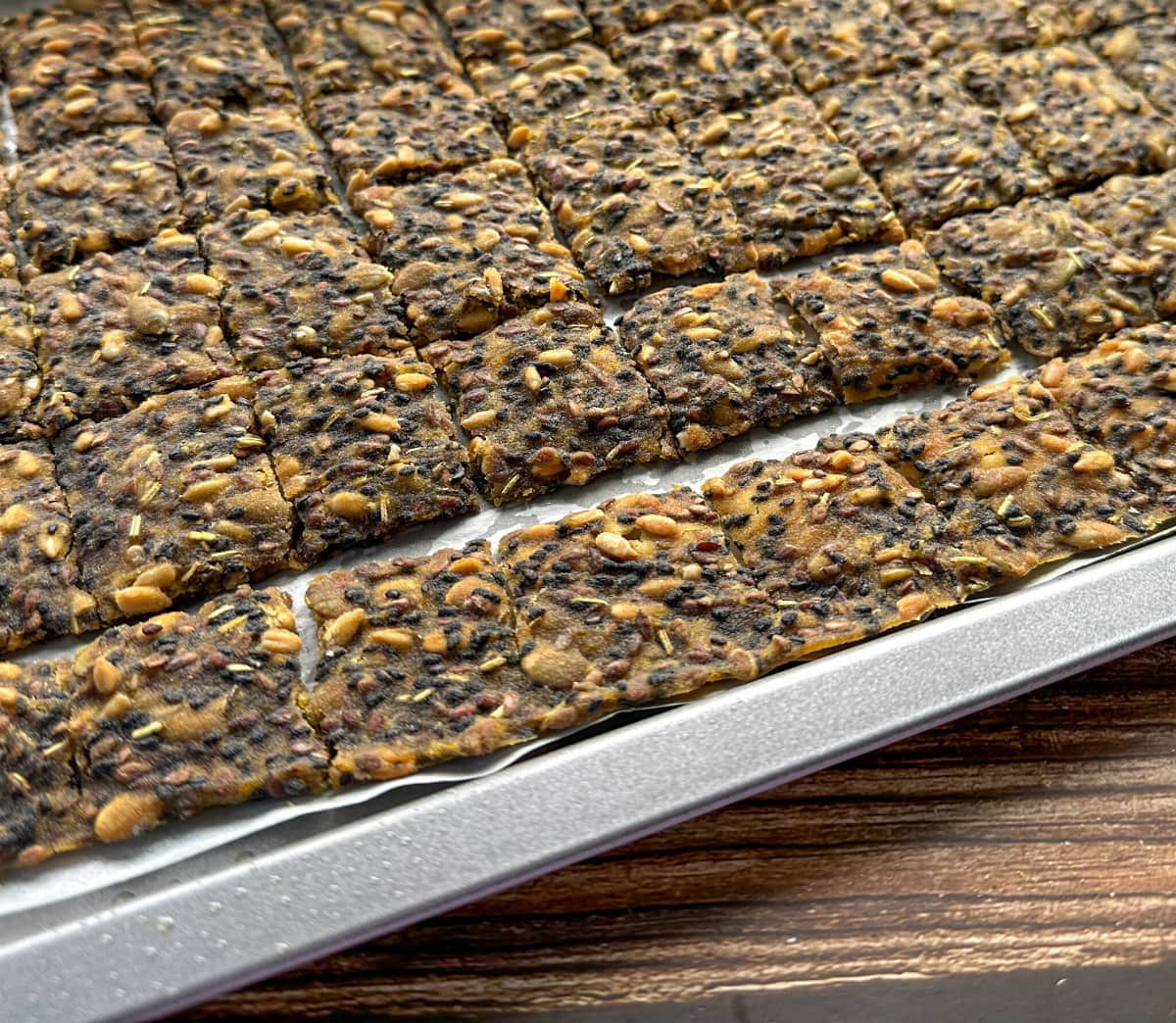 If stored properly these will last for weeks in an airtight container, if they get a chance to last that long. Lovely served with dip, guacamole, hummus, with a little cheese or just on its own.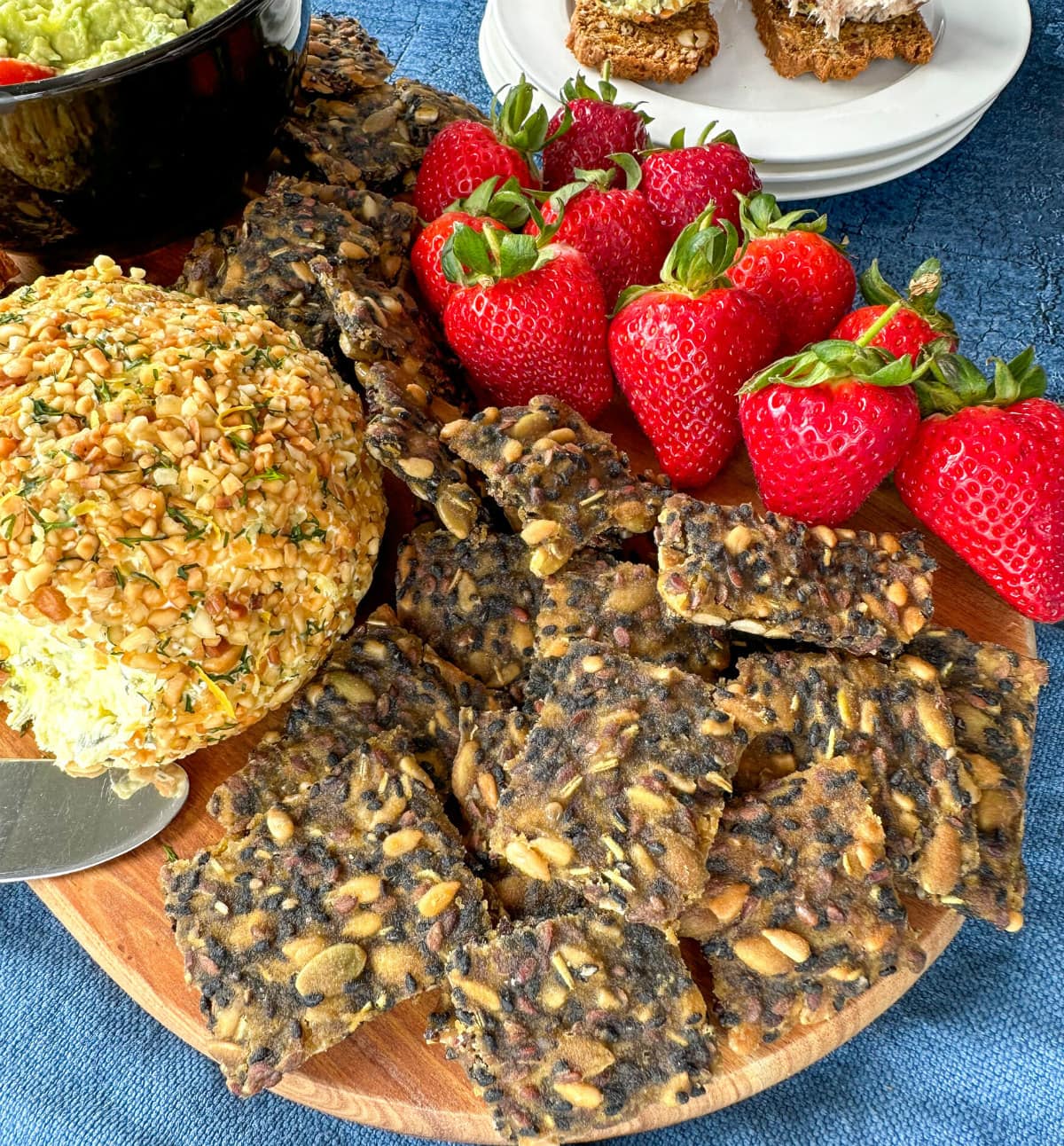 I have other delicious cracker recipes to try also, check out my Curried Cheese Crackers if you want to add to your platter game.
Onto Wendy's recipe for The Best Seeded Crackers
I hope you love this one, apologies that they are so incredibly good and moreish. If you ever want to share a favourite recipe reach out to me via social media DMs. I love to hear from you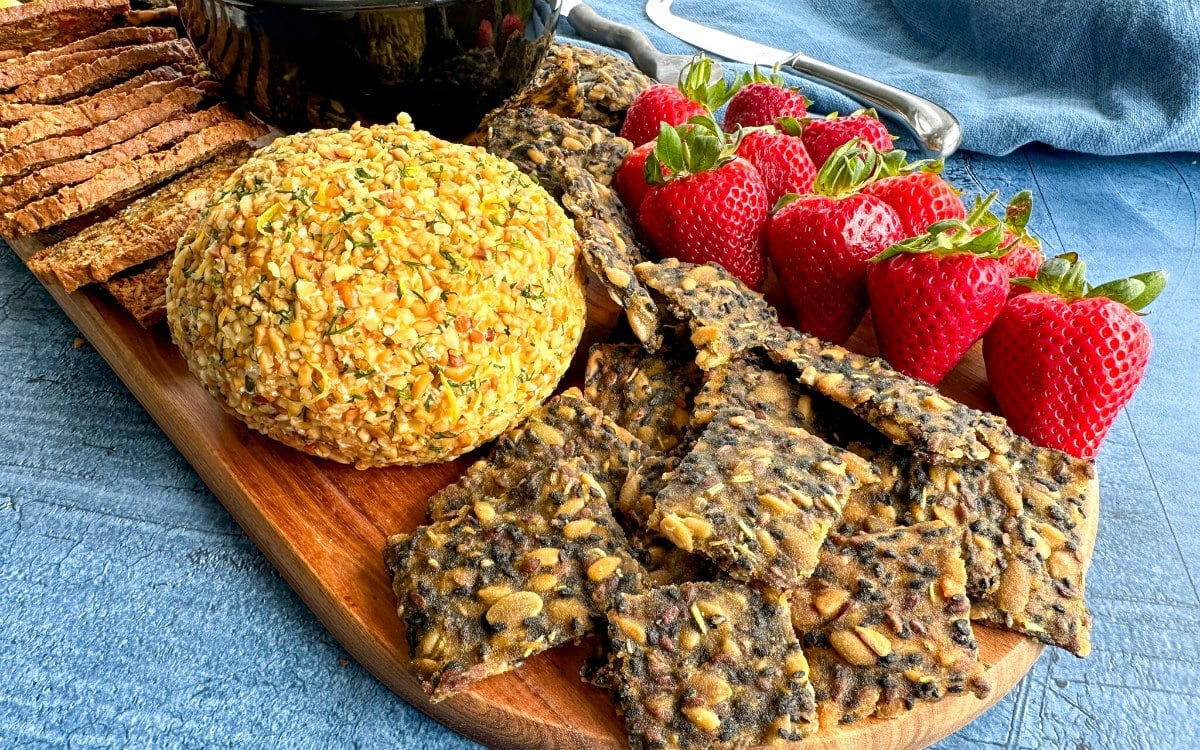 Thank you so much for stopping by to check out this recipe. If you are not already please do follow me on Facebook and Instagram for more delicious ideas.
Happy Baking!
Anna
Pin It! Pinterest