Dill Pickle Cheese Ball, a delicious and classic combo of flavours for yet another in my cheeseball & log series!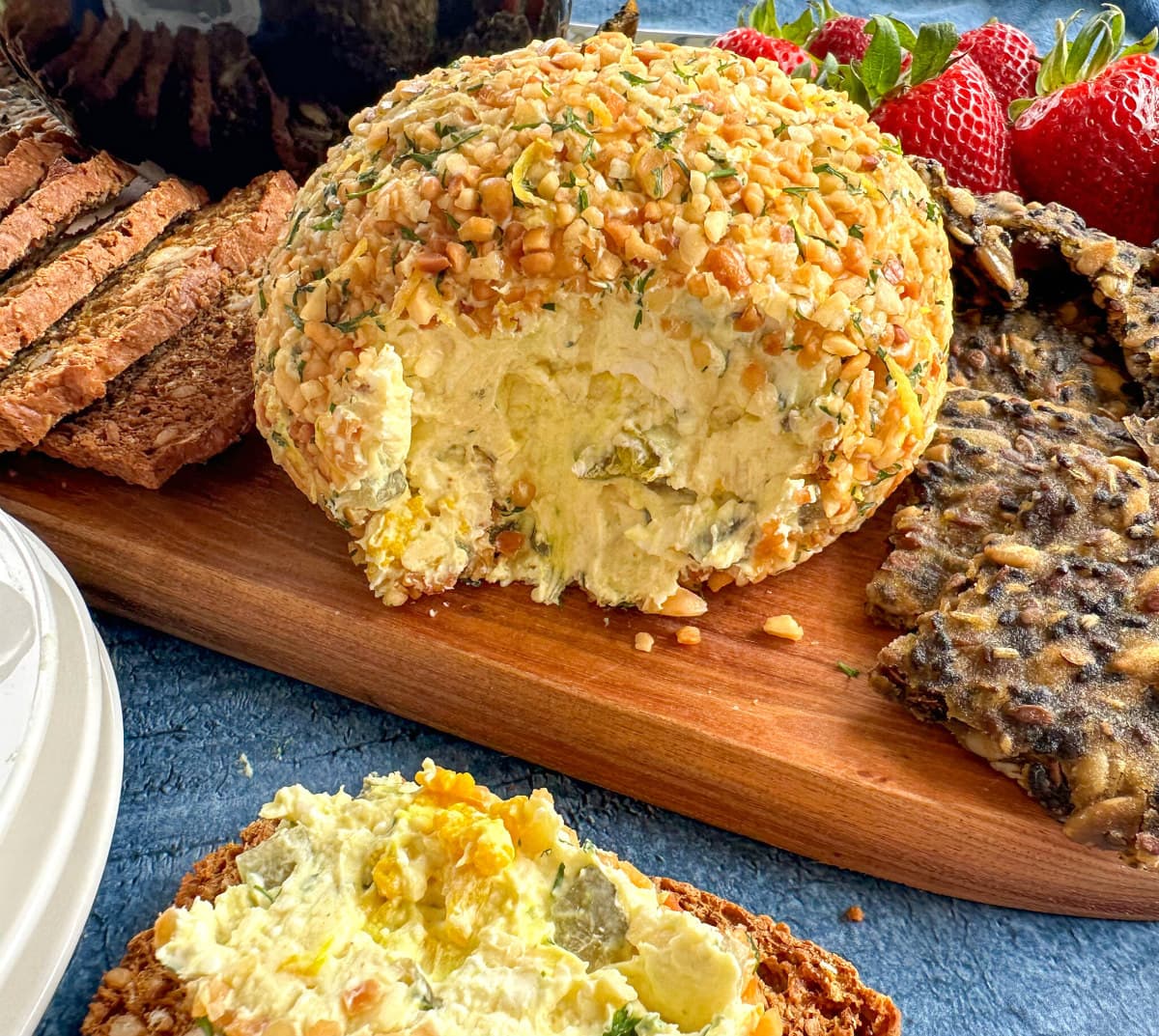 The ingredients for this recipe have kindly been provided by Countdown Supermarkets as Brand Ambassador, all opinions are my own.
I have loved sharing now six varieties of Cheeseballs, they are such a retro recipe I wanted to keep them top of mind for a fun idea when creating a grazing table or cheese platter.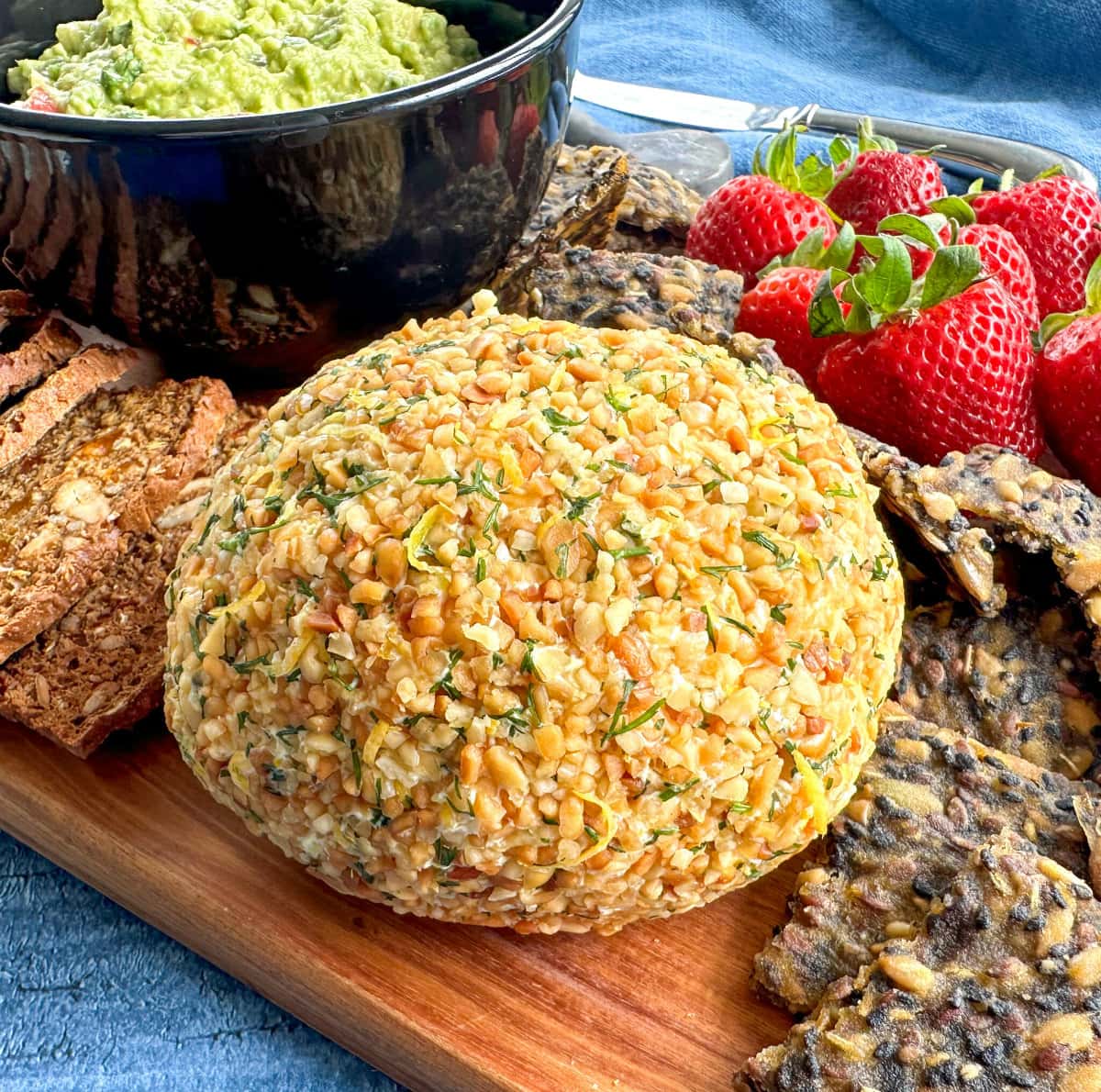 This version is dill pickle, or dill gherkin depending on where you are and what ingredients you have access to. The flavours are the same and as always it is oh so easy.
Cheeseballs are always loaded with ingredients that complement each other, but are versatile in that you can easily omit, change or add ingredients to everything from the filling to the crumb on the outside.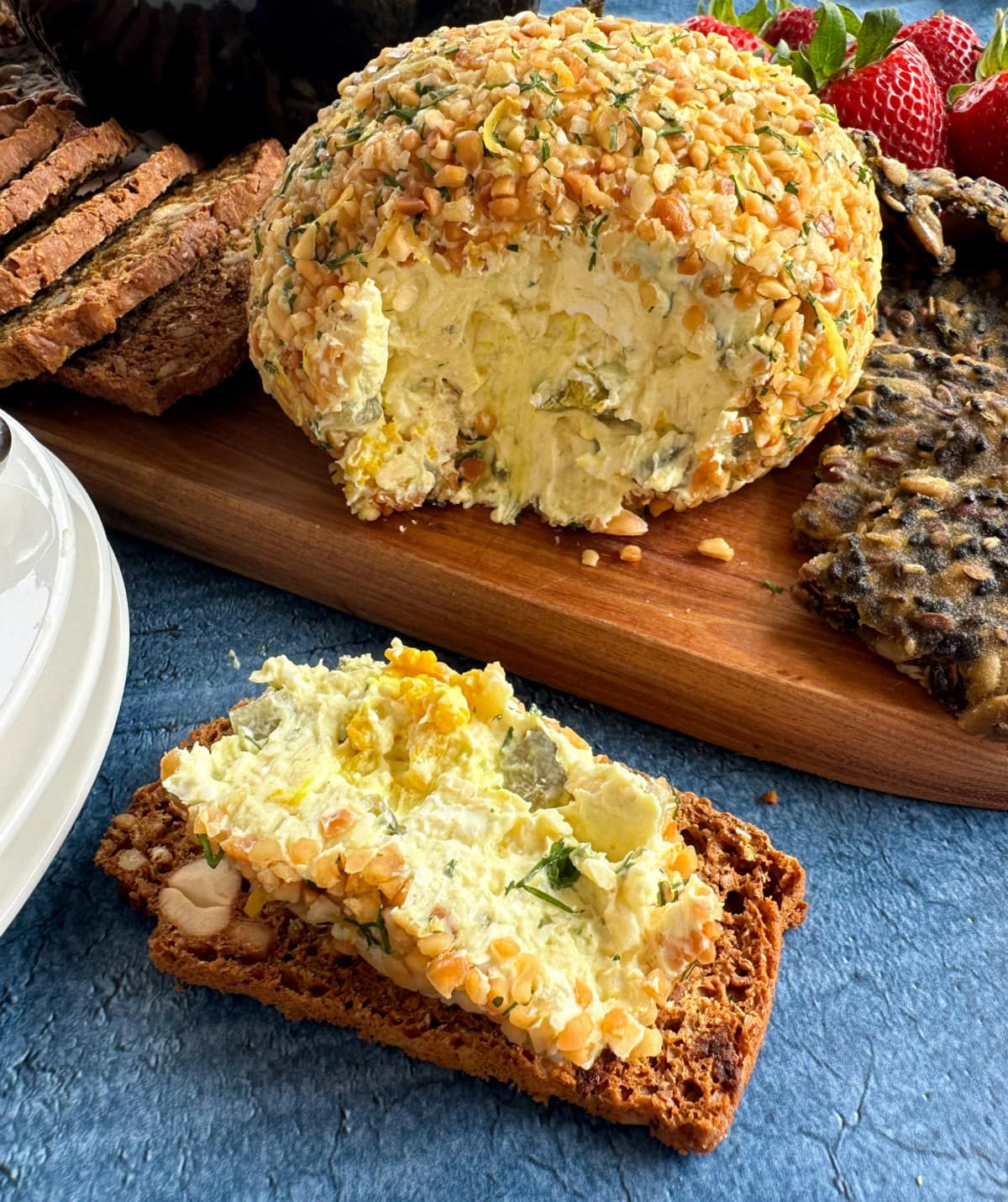 I have coated this cheeseball with crushed nuts but you can use other sorts of nuts, crackers, seeds, cornchips, cornflakes, herbs and more. So feel free to get creative to suit your tastes.
Dill is an aromatic herb that is part of the parsley family (which is also why you can easily sub parsley in this recipe if you prefer). It has soft fine and feathery leaves and is sweet and grassy – which is a good thing! It goes well with pickles so it works beautifully here.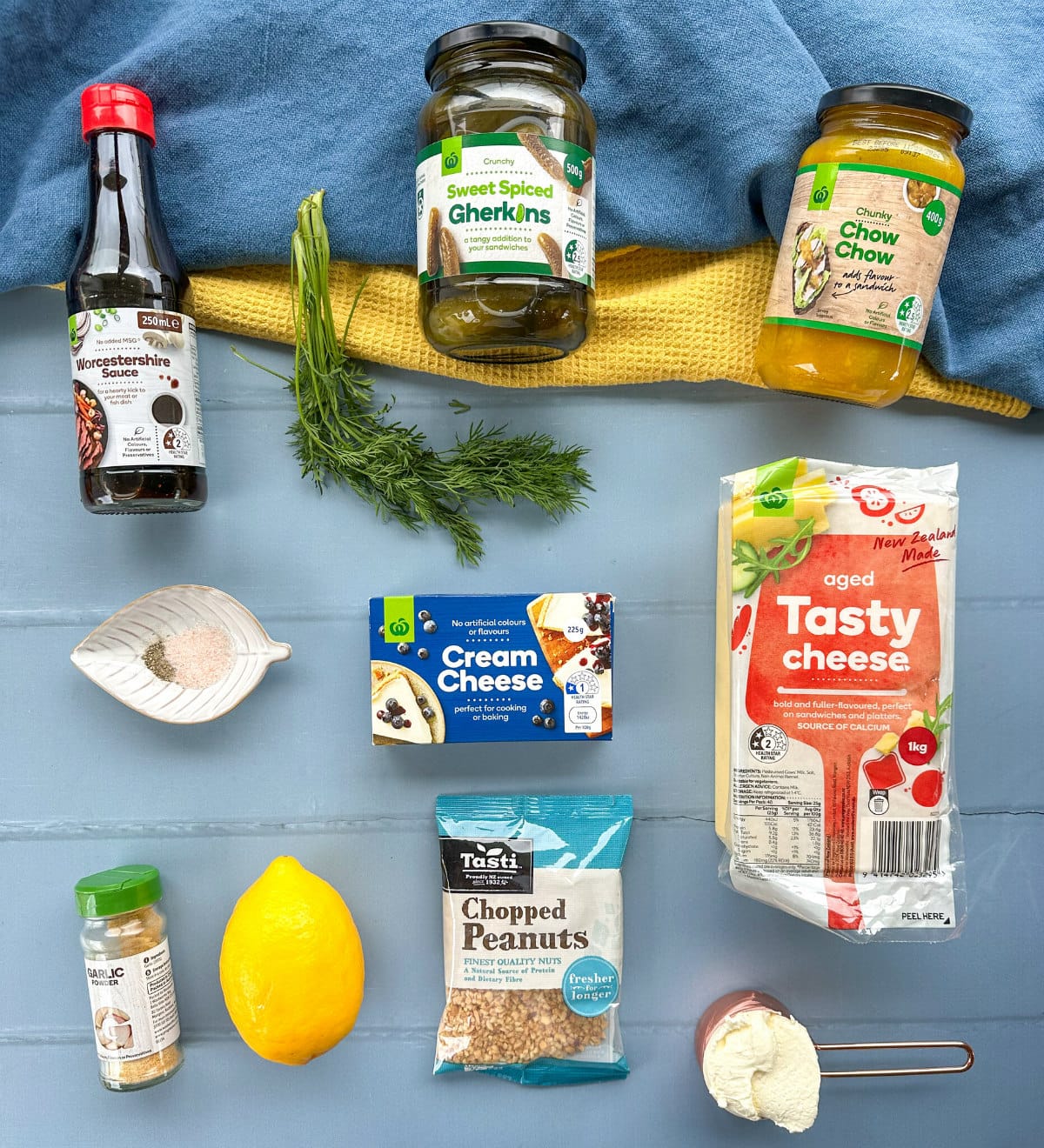 The ingredients I have used for this recipe are as follows
Please scroll down to the full printable recipe card for the ingredients list and full method
Cream Cheese

Pickle Relish – Chow Chow or Piccalilli

Pickles or Gherkins

Sour Cream

Garlic Powder

Worcestershire Sauce

Lemon Juice

Cheese

Fresh Dill

Salt & Pepper

Crushed Nuts

Lemon Zest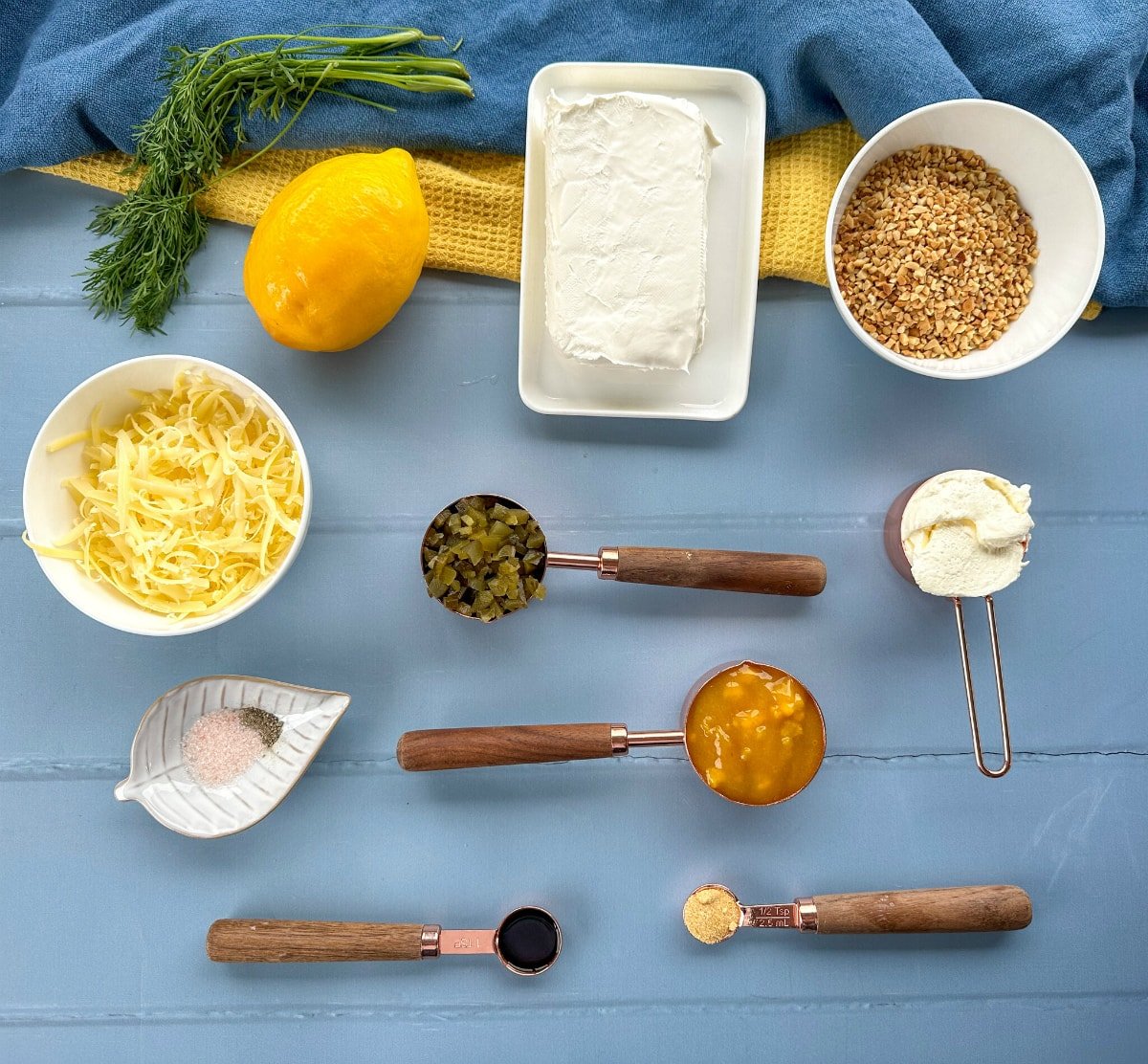 I have a few tips for making these a breeze each time. The key is to have everything prepped ready to go, you will firstly need a large bowl for the cheeseball ingredients.
Then have ready the crumb ingredients. You can buy crushed nuts if that is what you are using, that makes this step super easy. If you are using something else be sure to chop them finely and in a uniform size.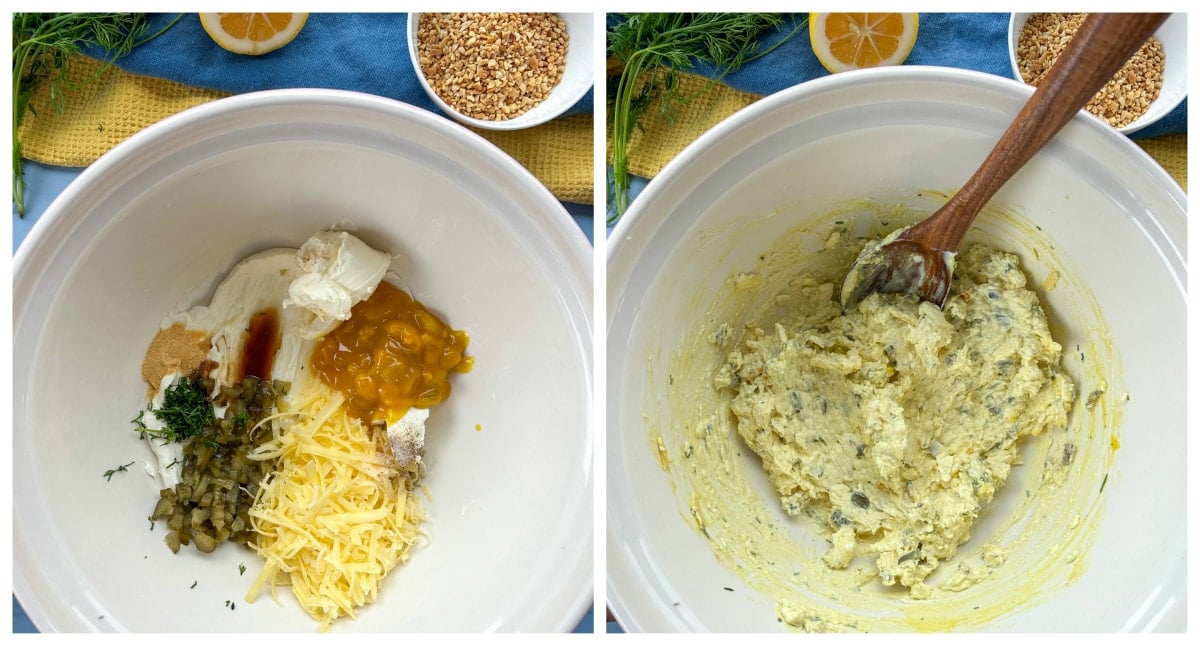 I like to have the cream cheese at room temperature, this ensures that all the additional ingredients blend in well and no lumps of cream cheese remain at the end. Then it really is just a matter of combining all the cheeseball ingredients into the cream cheese and mixing super well.
I have a few tips for combining the cheeseball into the actual ball. Once it is all combined use a rubber spatula to bring the ingredients into a sort of ball shape in the bowl. Make sure your crumb is ready on the plate and the plastic wrap laid waiting also. This next step is messy!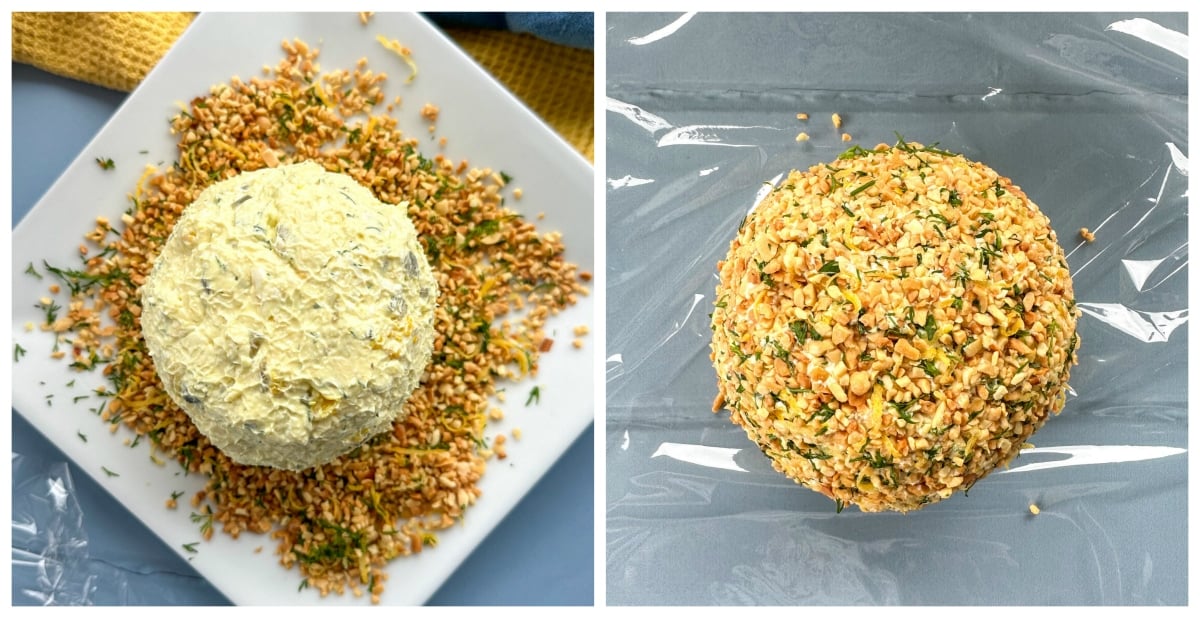 With damp hands lift up the cheeseball into your hands to mould into a ball shape, then pop that on the crumb, rotate the ball into the nuts to coat all sides, all the while reshaping into a ball.
Then gently place onto the plastic wrap and cover, again moulding into a ball shape as you pop this into the refrigerator for a few hours to set.
So what is your favourite Cheese Ball flavour combo? Are there any I have missed?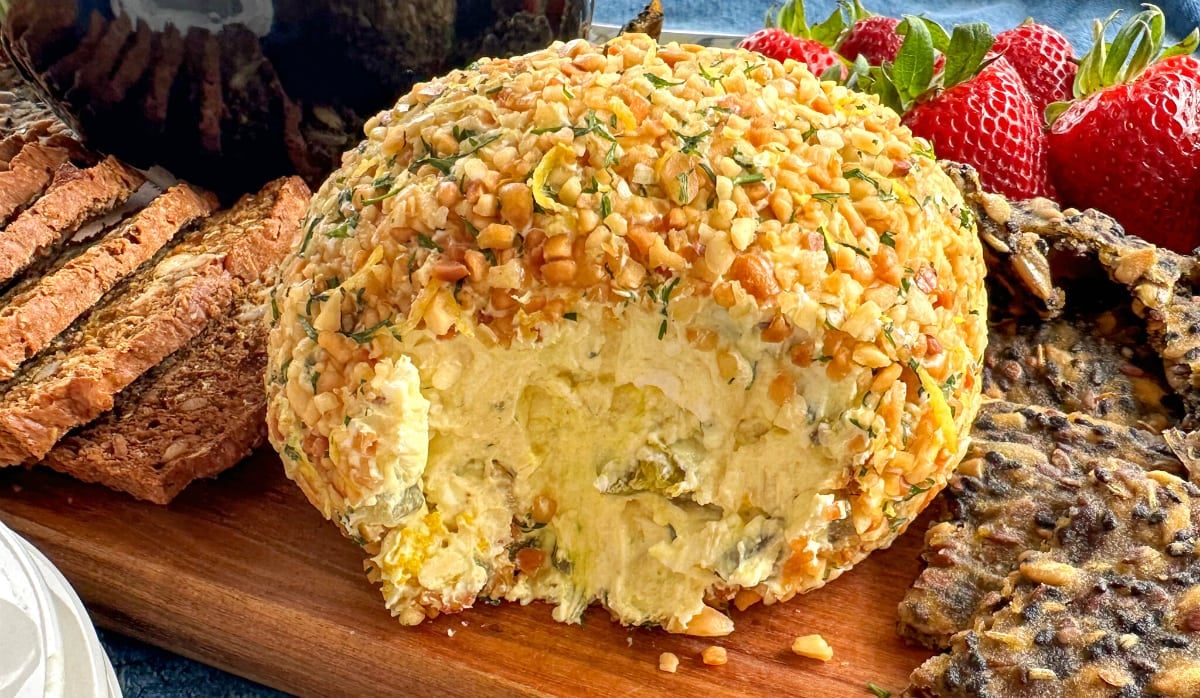 Onto my recipe for a Dill Pickle Cheese Ball
I hope you love this recipe! Be sure to let me know in the comments below when you make it.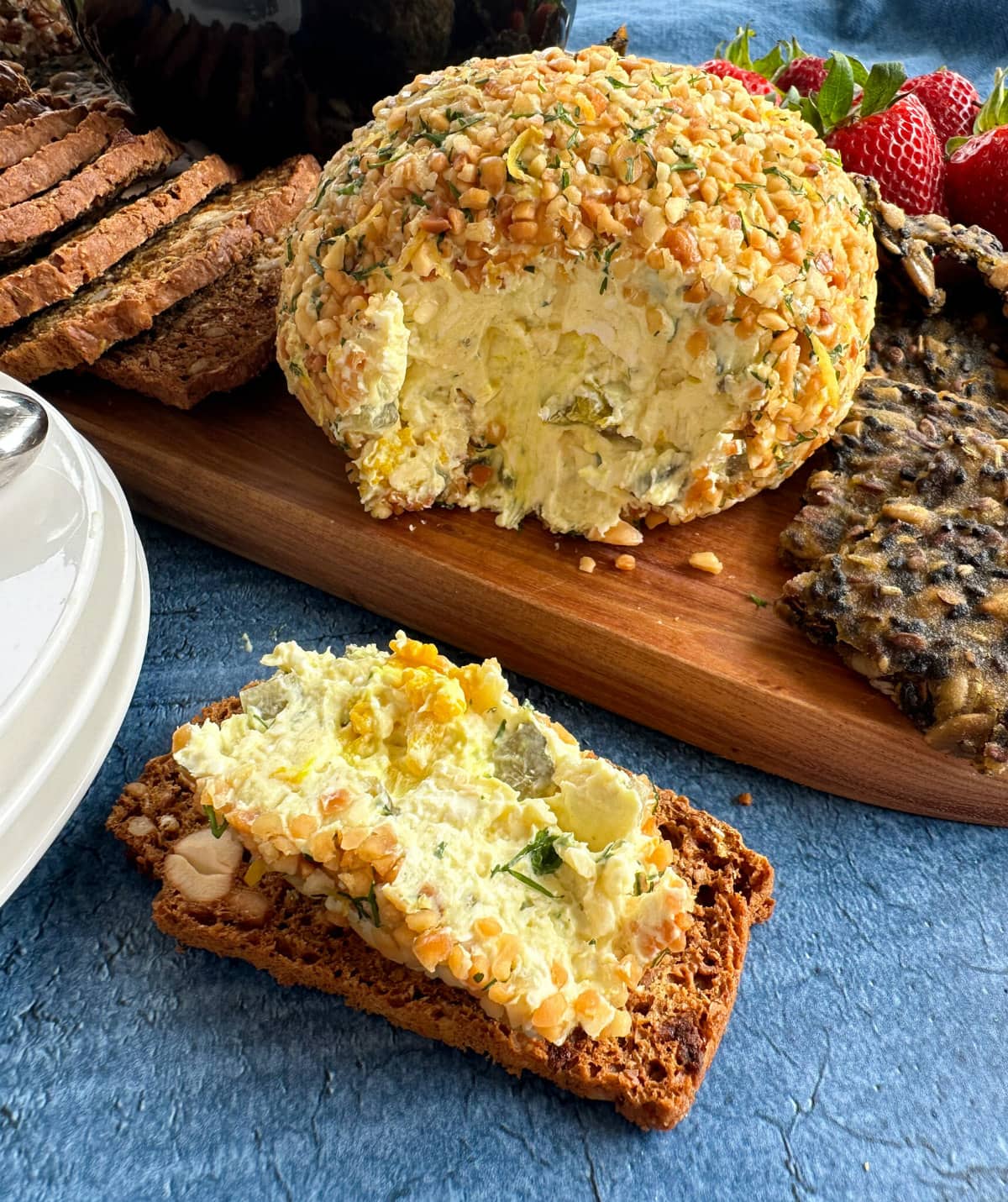 Thank you so much for stopping by to check out this recipe. If you are not already please do follow me on Facebook and Instagram for more delicious ideas.
Happy Baking!
Anna
Pin It! Pinterest