One of my favourite flavour combinations combined with cream cheese, this Apricot Almond Cheese Log is totally delicious.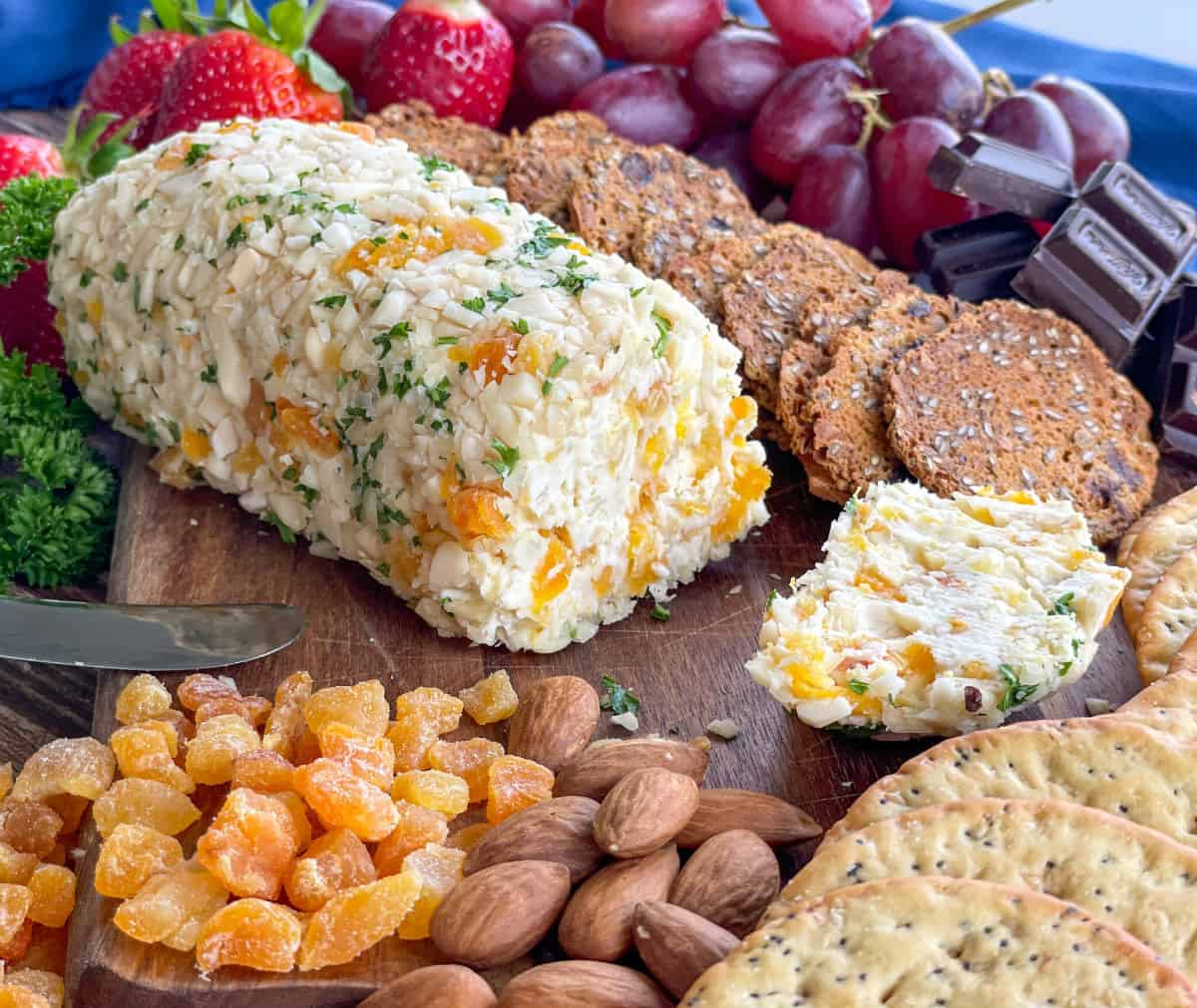 I have recreated one of my favourite cheese platter treats. I have gone a little cheeseball crazy recently, trying different combinations and sharing recipes I have enjoyed over the years.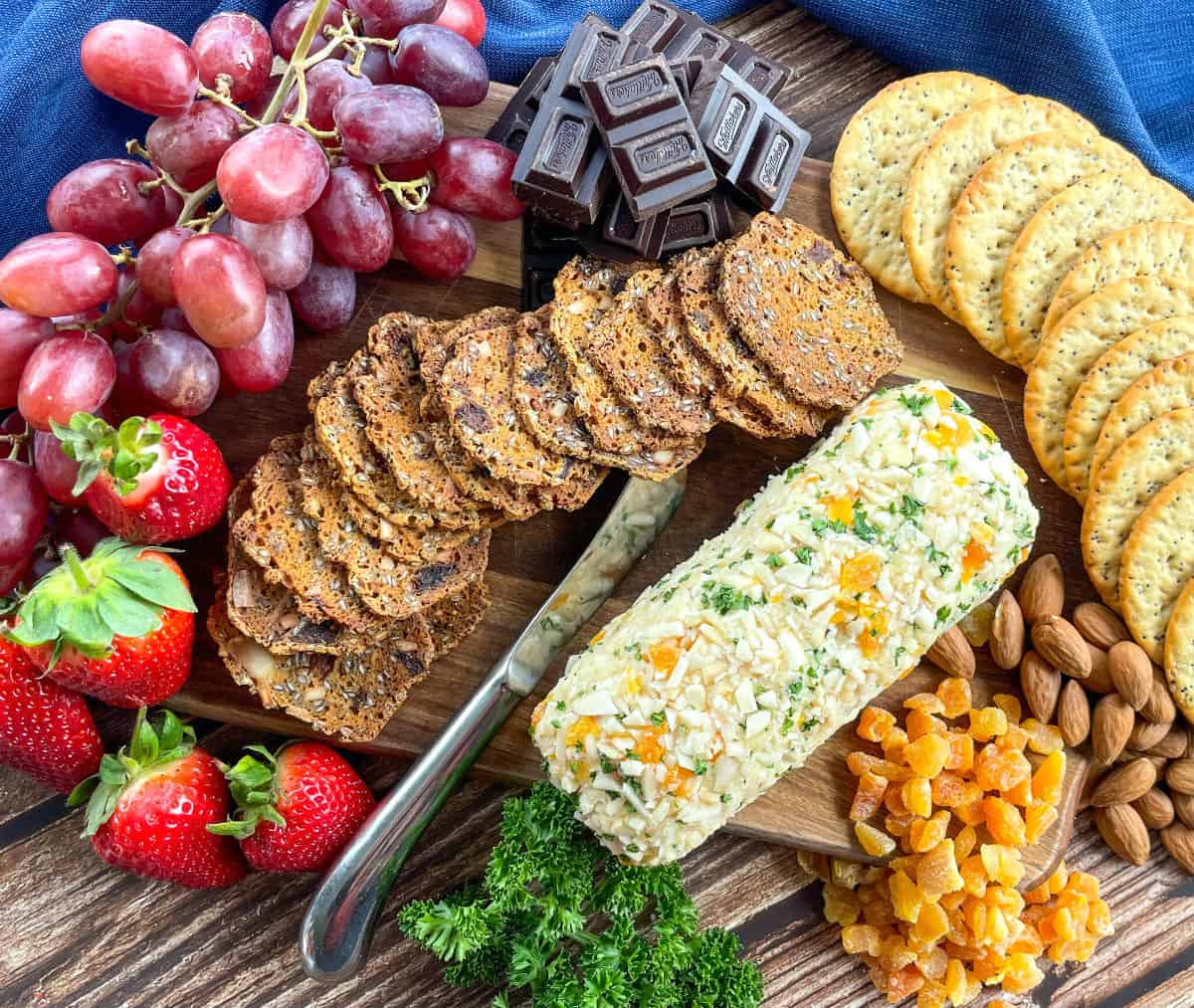 Cheeseballs or Cheese Logs are lovely ways to create something homemade and special to add to your party snacks or cheese platter. They are super simple to make and really versatile.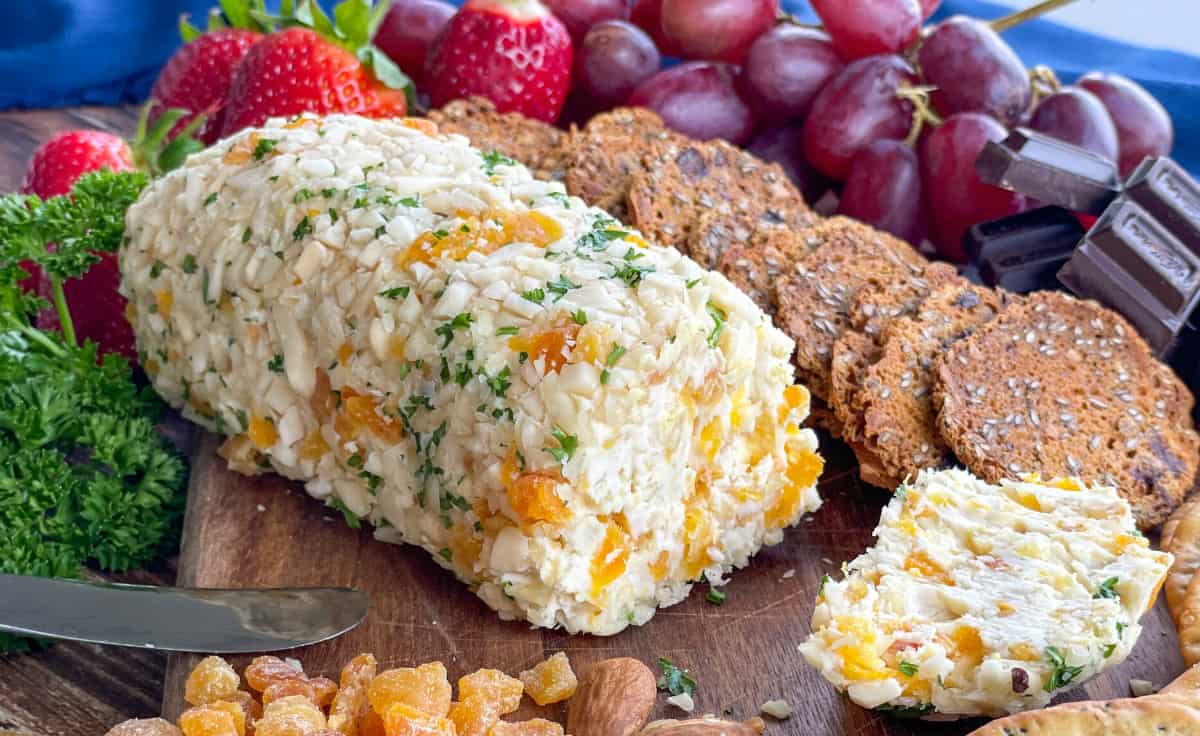 I love anything with Apricot and Almonds so this one was an easy idea to test. I have kept the ingredients really simple for this one so that those flavours shine through.
If you love Cheeseballs be sure to check out the Classic Cheeseball below.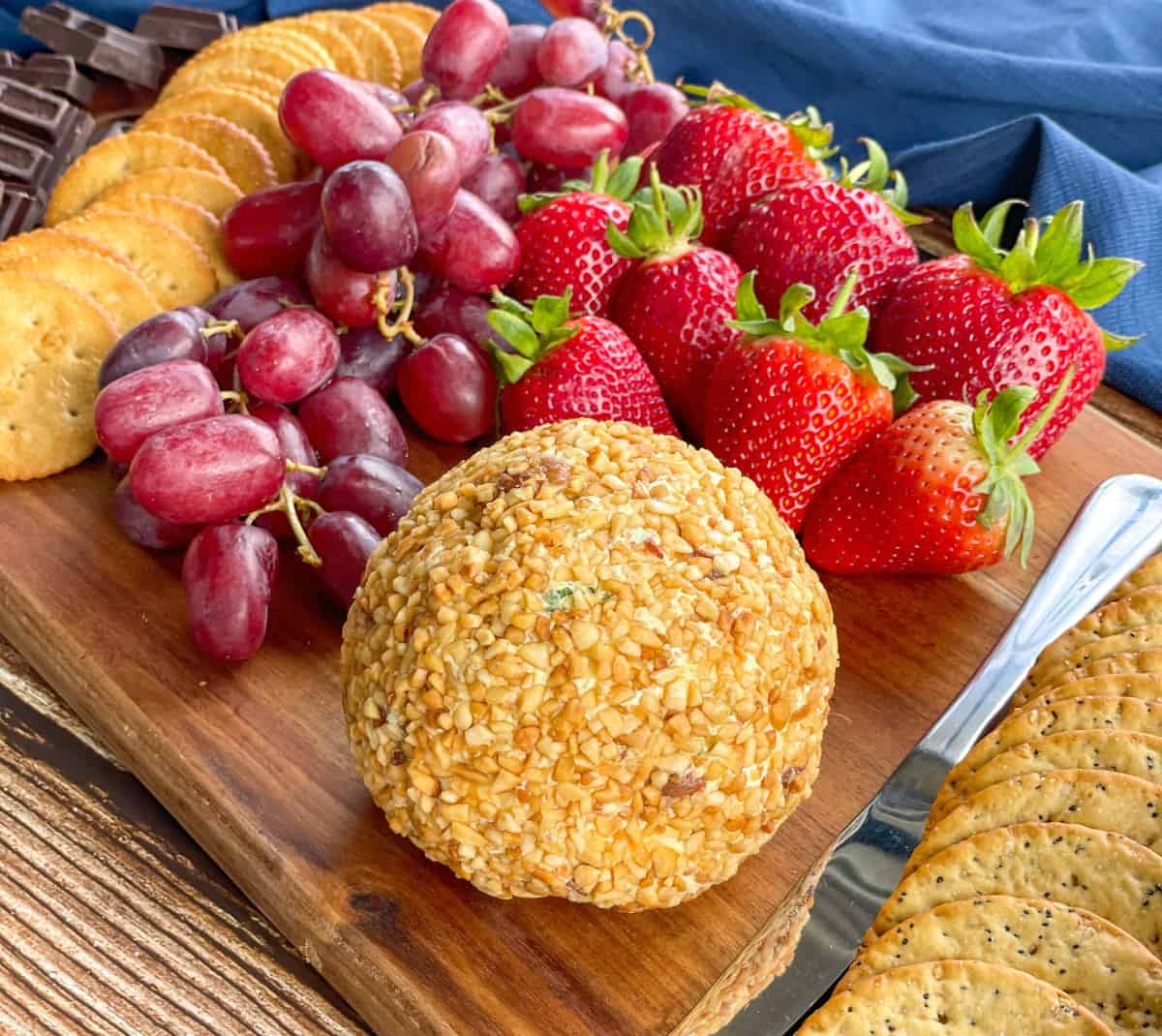 Cheeseballs originated way back in the 1800's and have had many revivals over the years, most notably in the 1970's and 1980's but I am all about bringing back those retro favourites and I know it's a reader favourite.
The ingredients are simple
Cream Cheese

Dried Apricots

Almonds

Dried Mango

Honey

Parsley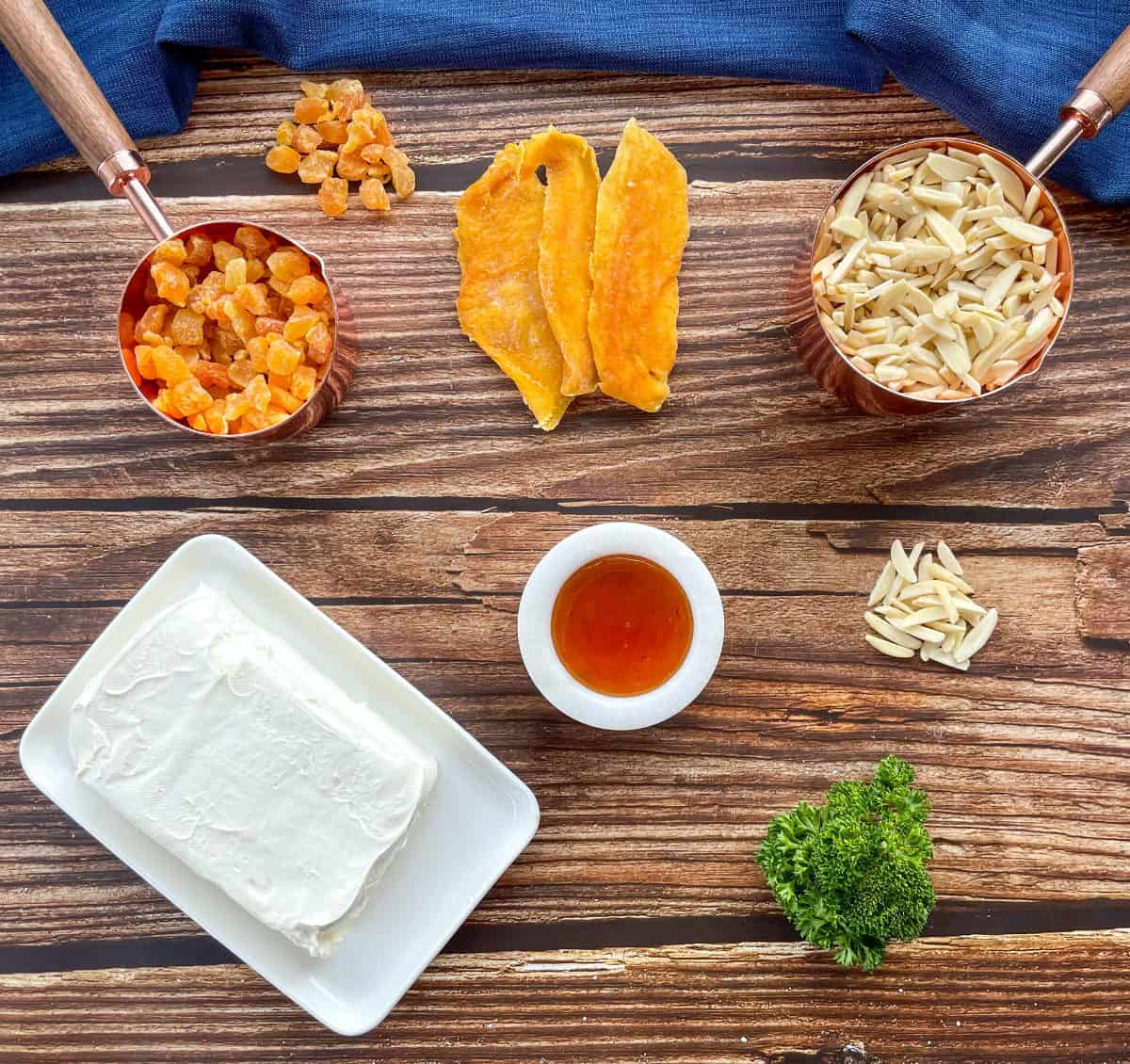 There is nothing tricky about making a cheese log, it is quick to make and can be made ahead of time. If the ingredients are fresh and have a long shelf life it can be for a week or so. It can be a little messy but worth it!
You can freeze them but lots of care needs to be taken in terms of storage and thawing and they may not be as good as fresh.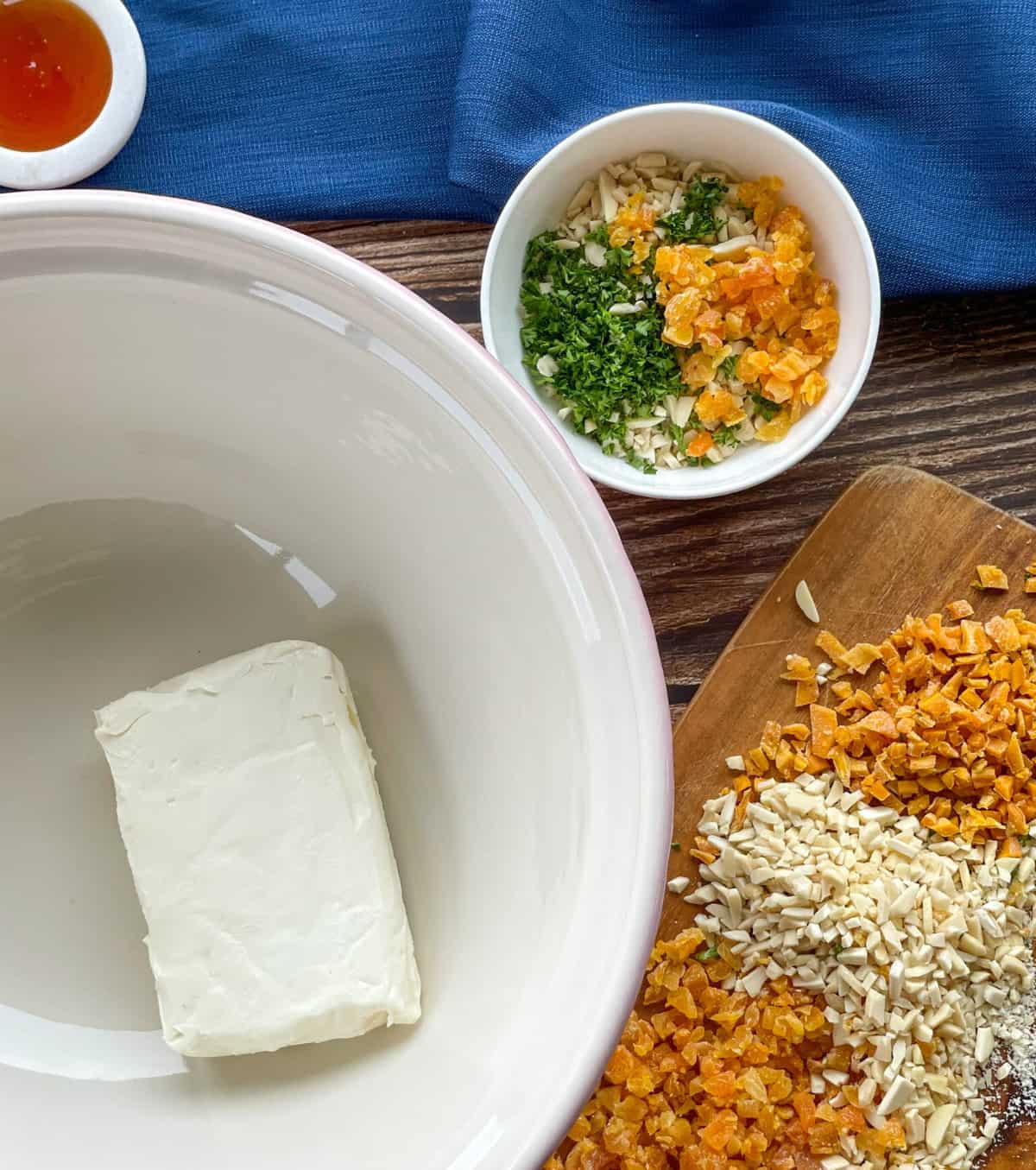 I like to use already diced apricots and almond slivers, but whatever version of apricots and almonds you use you will still need to cut them smaller. You want the flavour dispersed evenly throughout.
I also set aside some of the apricots, almonds and parsley for the coating.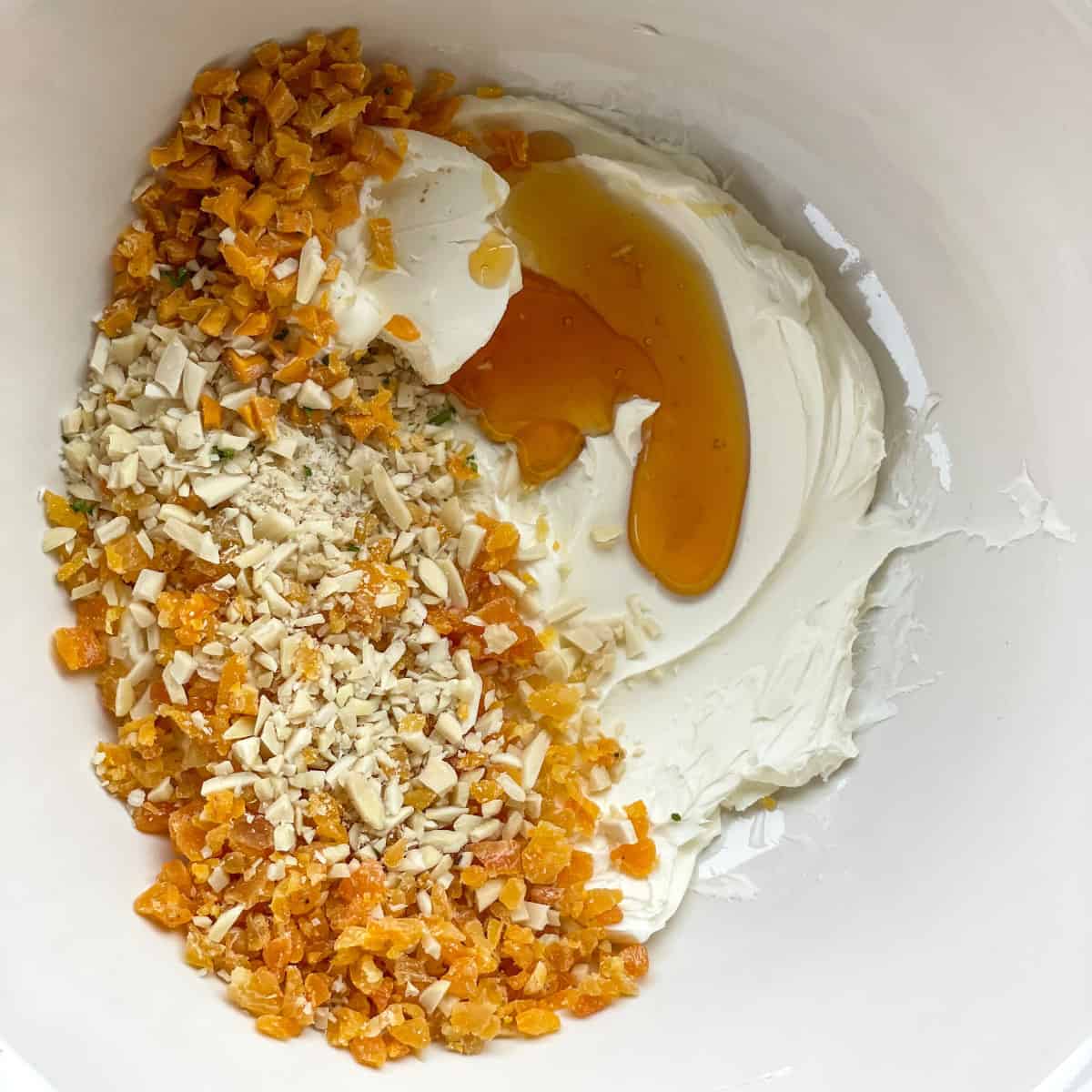 To make the cheese log you will need room temperature or soft cream cheese, to make mixing easier. Once you have stirred this well with a wooden spoon or a food mixer to soften add the apricots, almonds, dried mango and honey and mix it all together. Ensuring no lumps of plain cream cheese are visible.
Then using a rubber spatula I like to scrape down the sides of the bowl and begin to bring the cream cheese mixture together to form a rough log shape.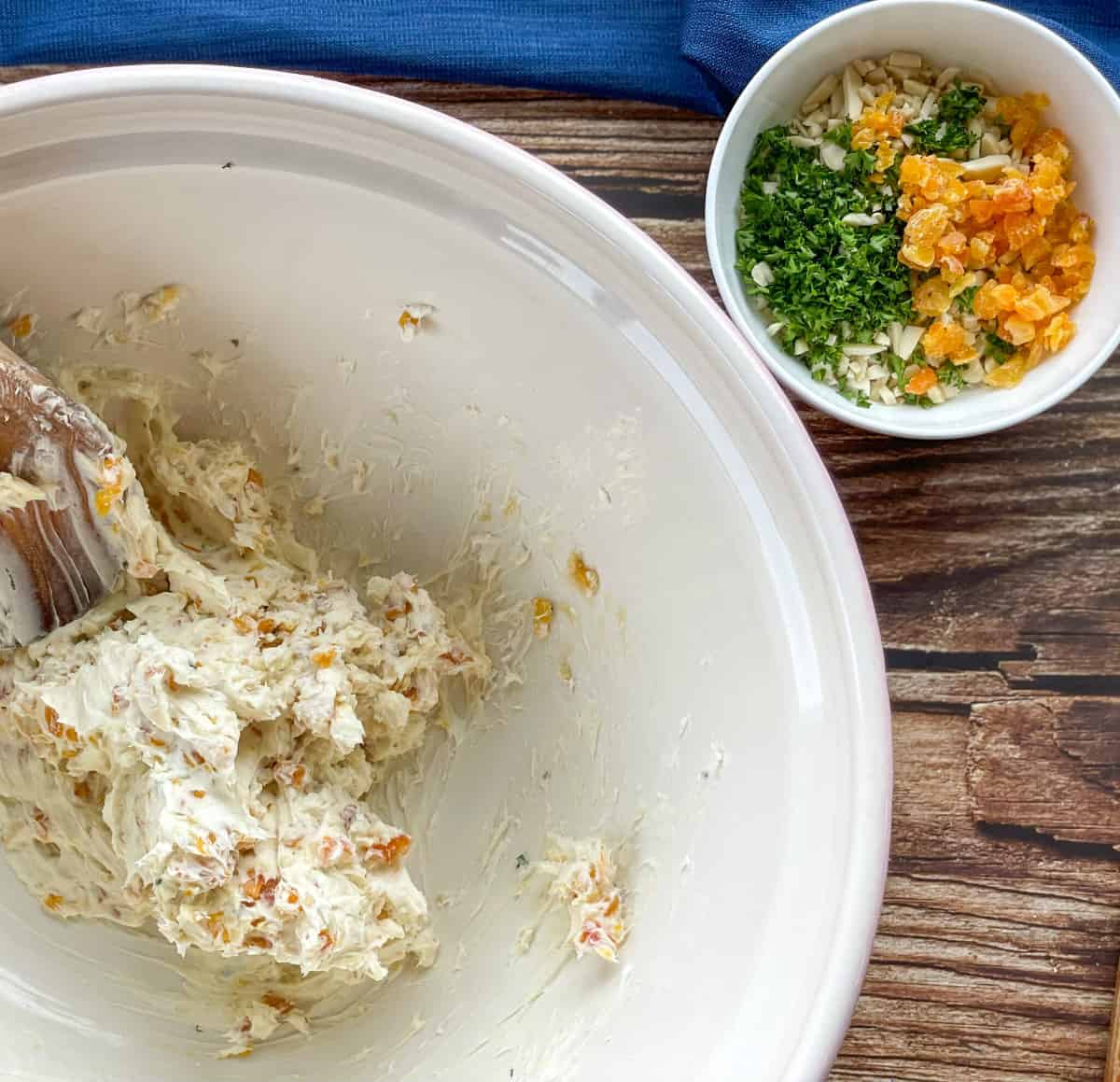 Before I handle the cheese log, I set up a plate with the extra mixed apricots, almonds and parsley that I will use for coating and also a large piece of plastic wrap (gladwrap) so I am prepared as the next steps are a little messy.
I then pick up the cream cheese mixture in damp hands and begin to shape it into a log shape with flat ends. You can make this smaller and longer if you choose. A nice idea is to consider the size of the crackers you will be using.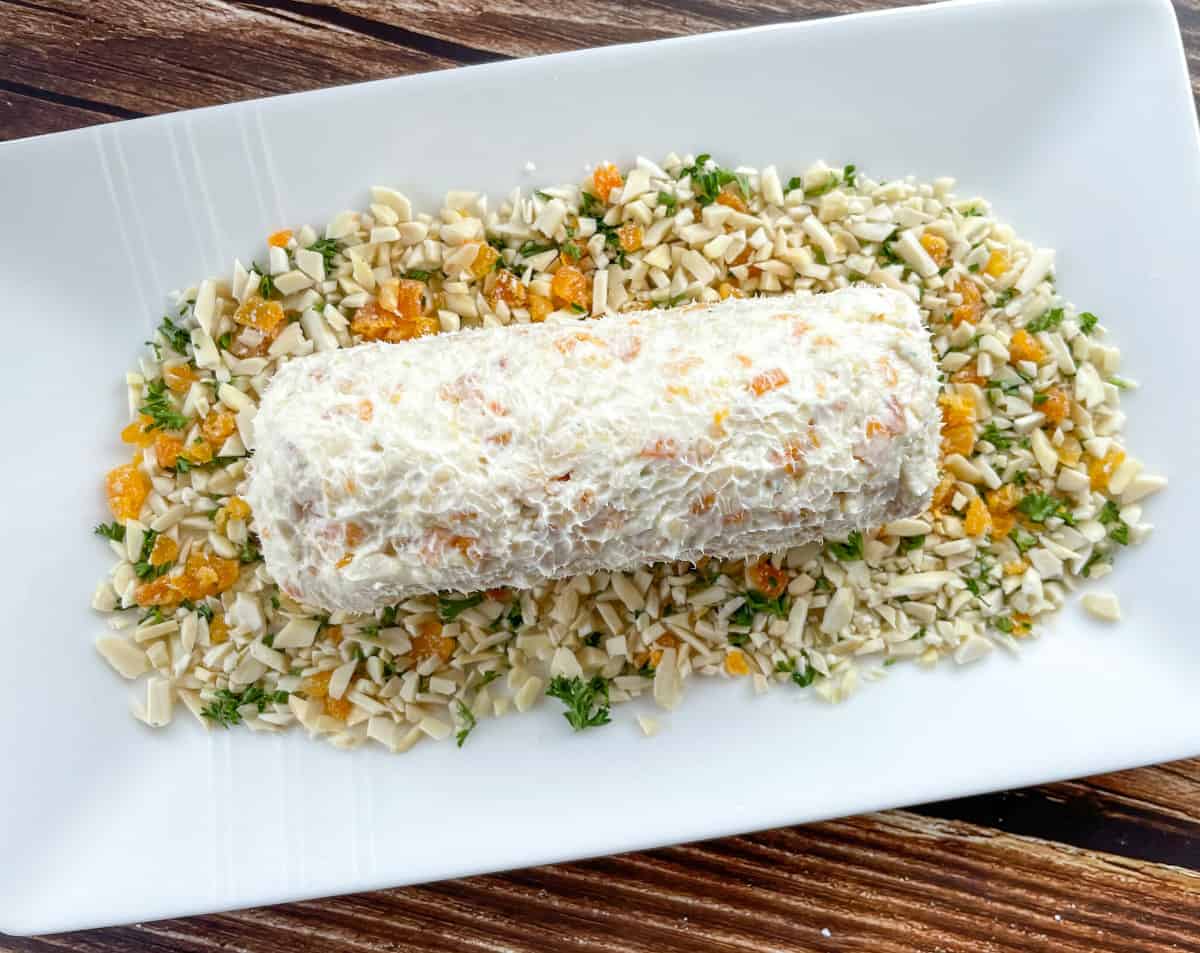 You can of course also make this a cheese BALL and make a round ball shape.
Once you are happy with the shape and it is smooth and packed firmly, pop it onto the plate with the coating mix, roll and press the coating into the sides and edges of the cheese log, and keeping the shape you desire.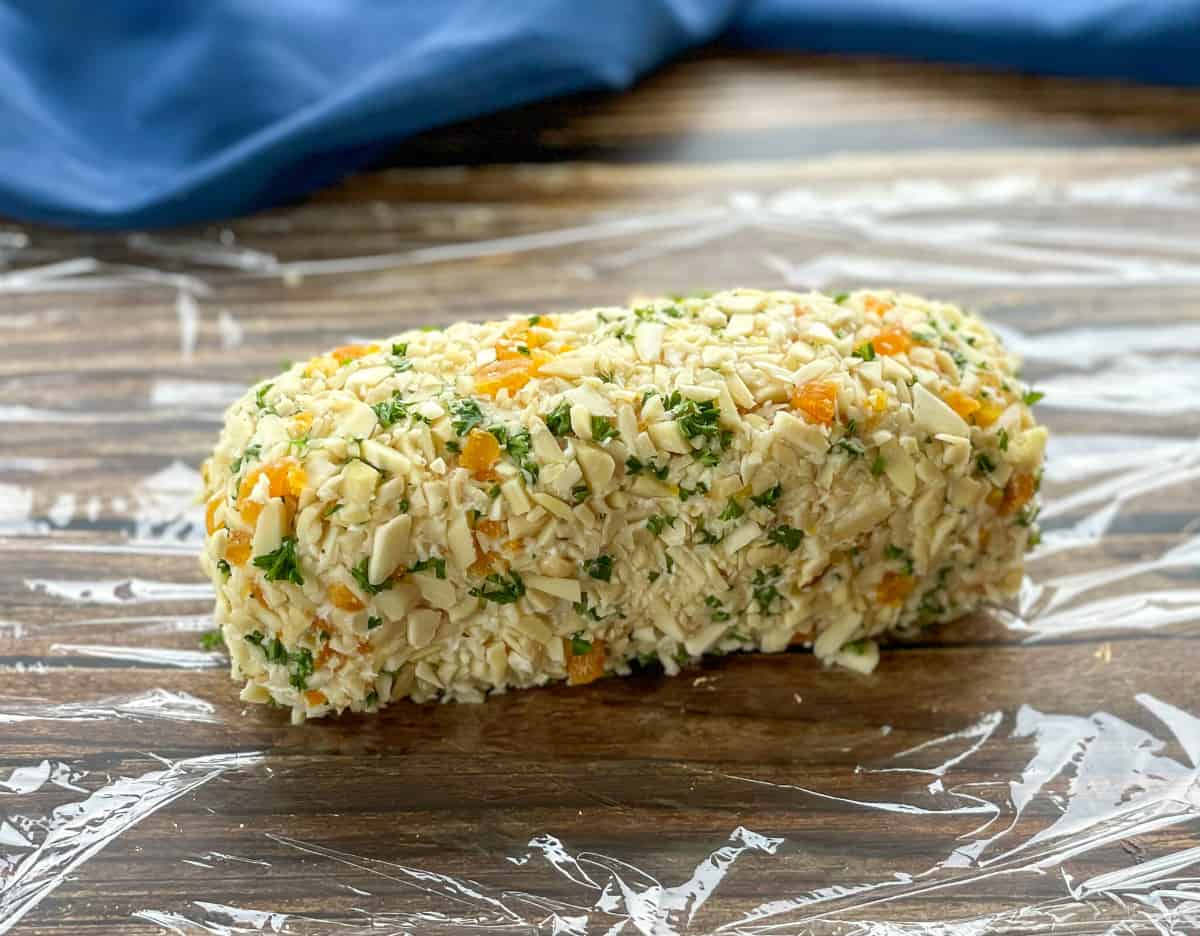 Once it is completely coated with no gaps remaining place on the plastic wrap, and with clean hands fold firmly ensuring it is fully covered. Then pop that in the refrigerator for 2 hours or until ready to serve. I like to get it out around 20 minutes before I will be serving it.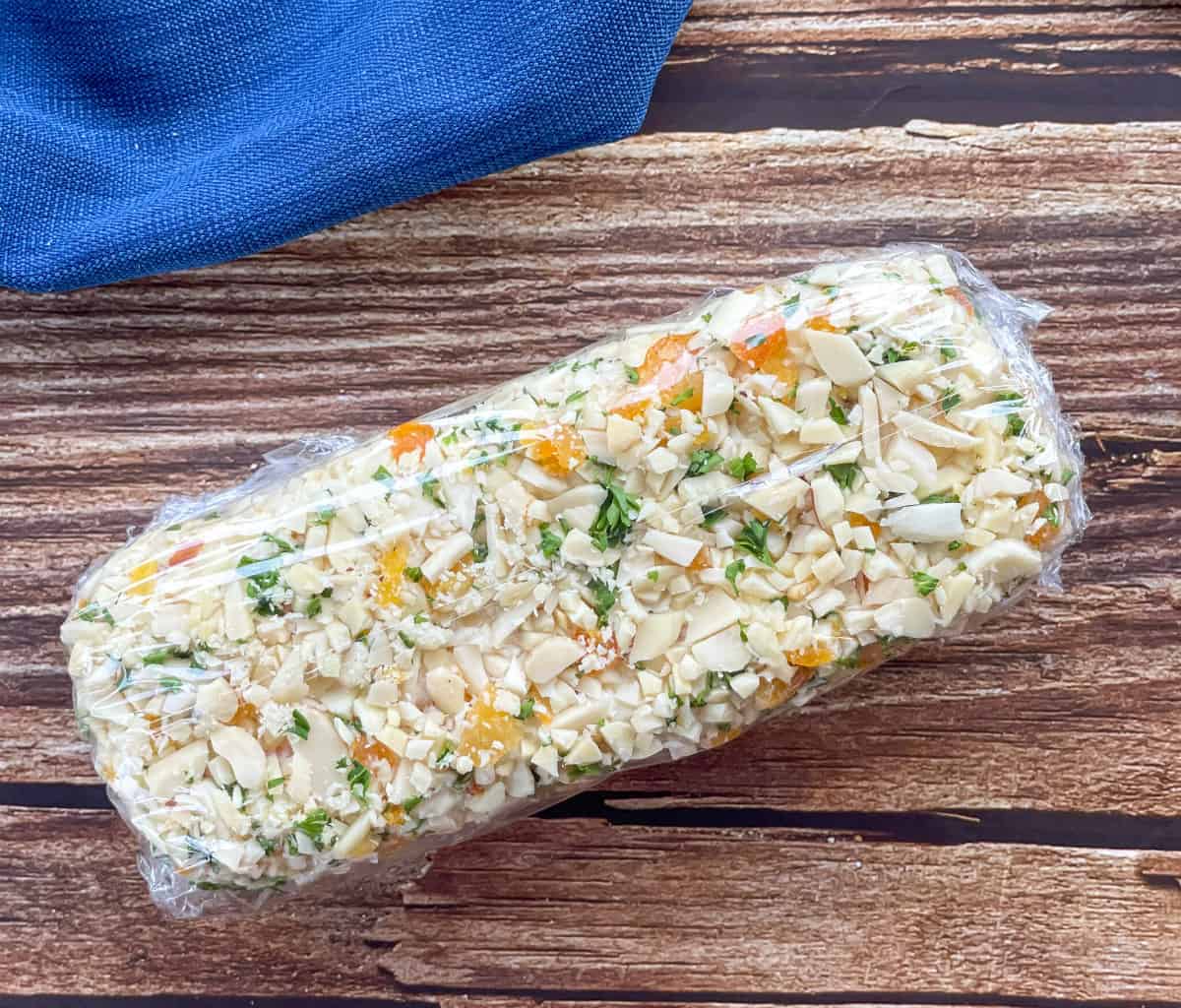 So onto the full recipe, I hope you love this one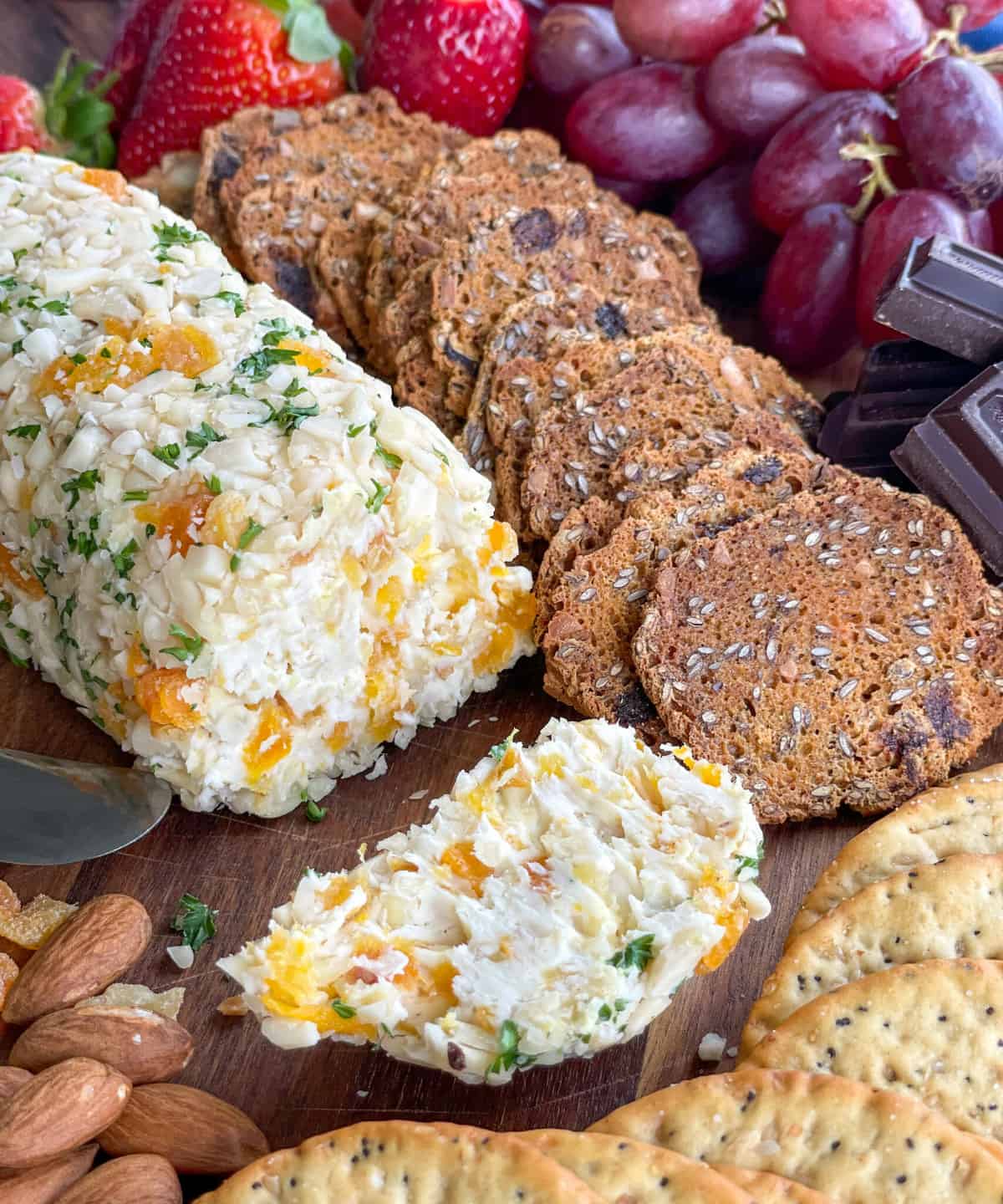 Apricot Almond Cheese Log Recipe
I hope you love this recipe, be sure to let me know when you try it in the comments below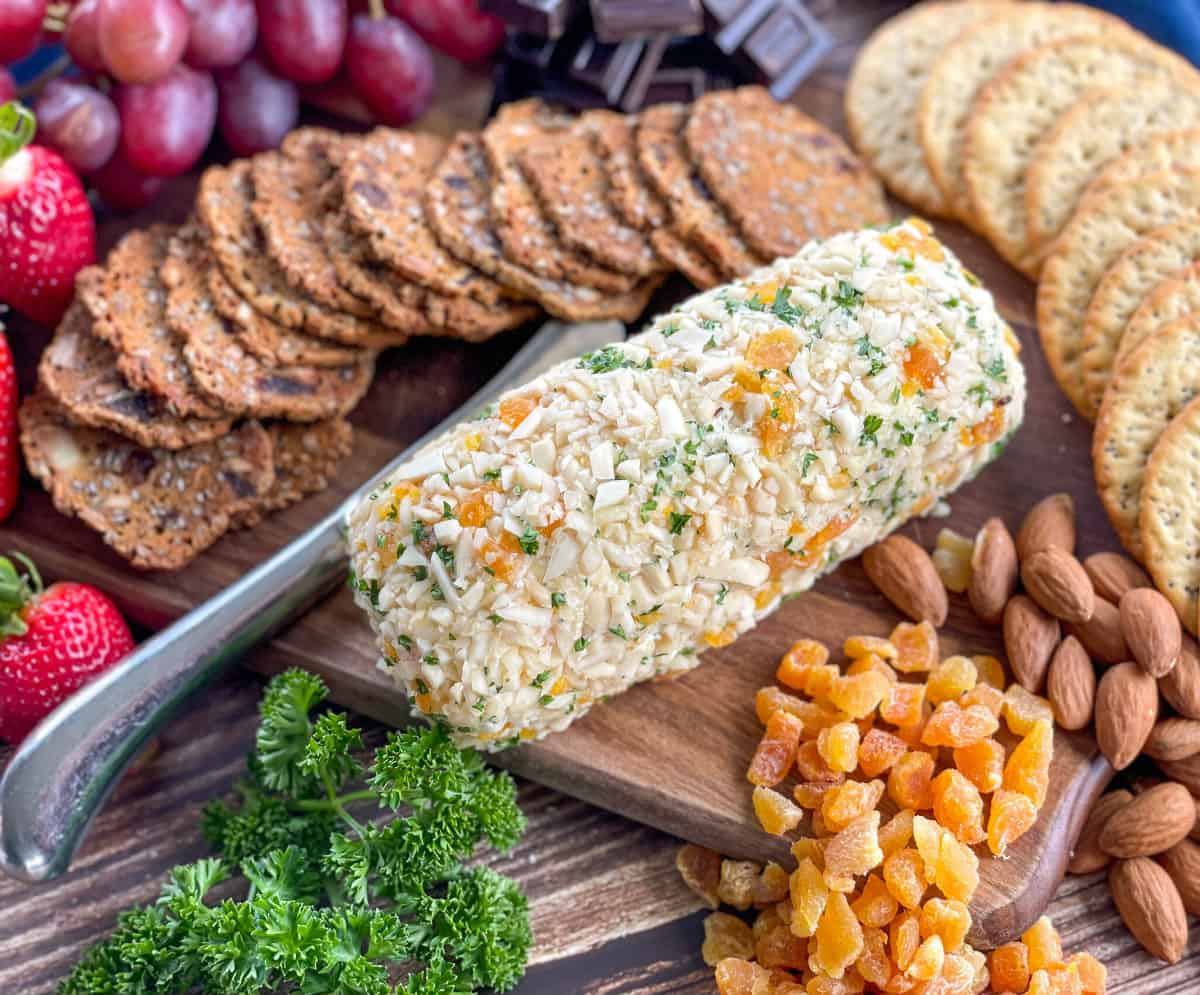 Thank you so much for stopping by to check out this recipe. If you are not already please do follow me on Facebook and Instagram for more delicious ideas.
Happy Baking!
Anna
Pin It! Pinterest