This Roasted Butternut Pumpkin Salad is absolutely delicious, simple ingredients and method, this recipe will become a firm favourite for any occasion. Hints of garlic and fresh ingredients, you will love it.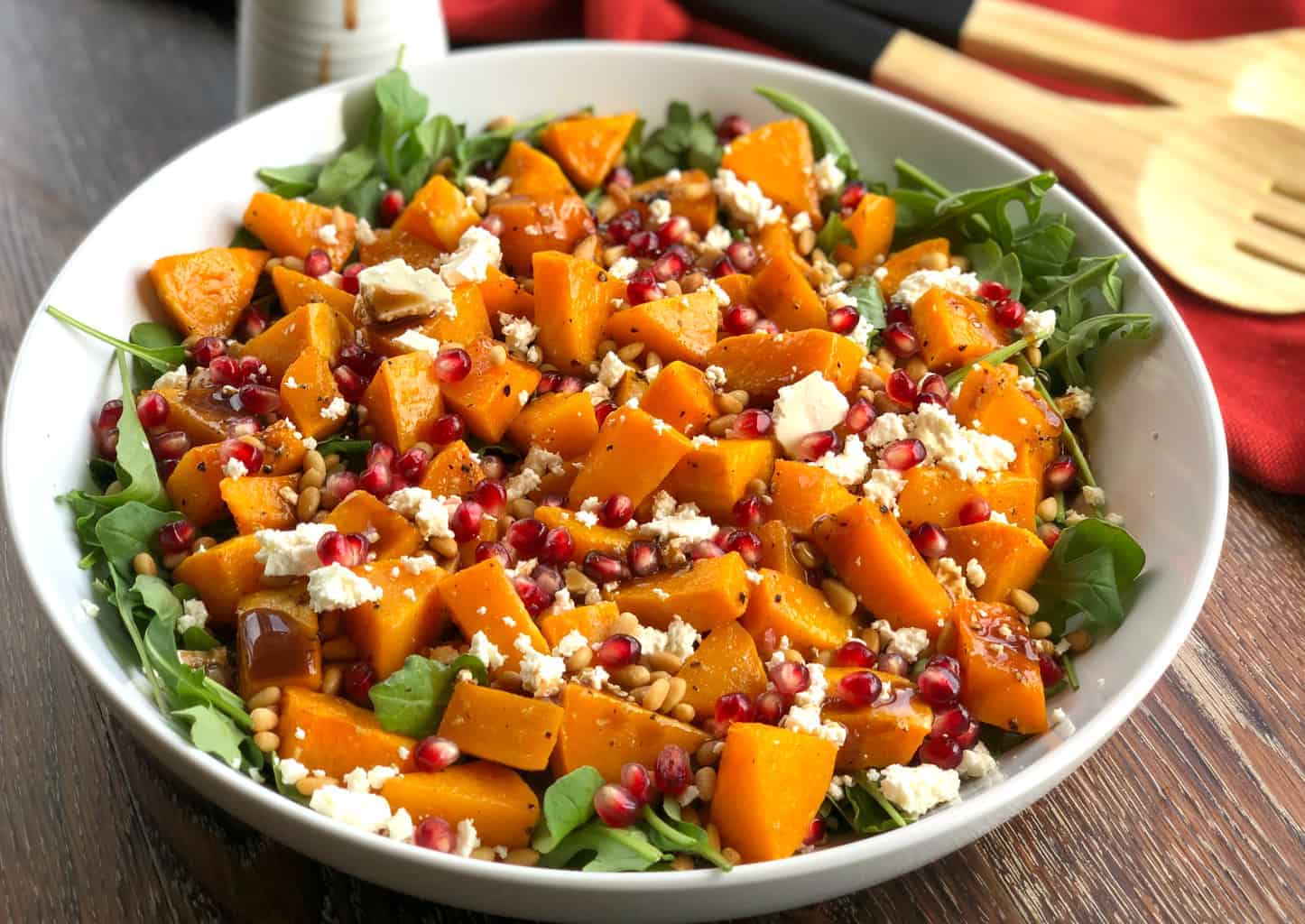 Recently I asked on my Facebook page for peoples favourite salad recipes, I had hundreds shared with me and many stood out as something special. This one was from a lovely follower called Nell, many asked for the recipe and I was lucky enough to be sent a copy! It is so easy and the combination of flavours were perfect. So thank you so much Nell, we are in for a treat with this one. As I do I amended a few things but I hope I have done her special salad justice.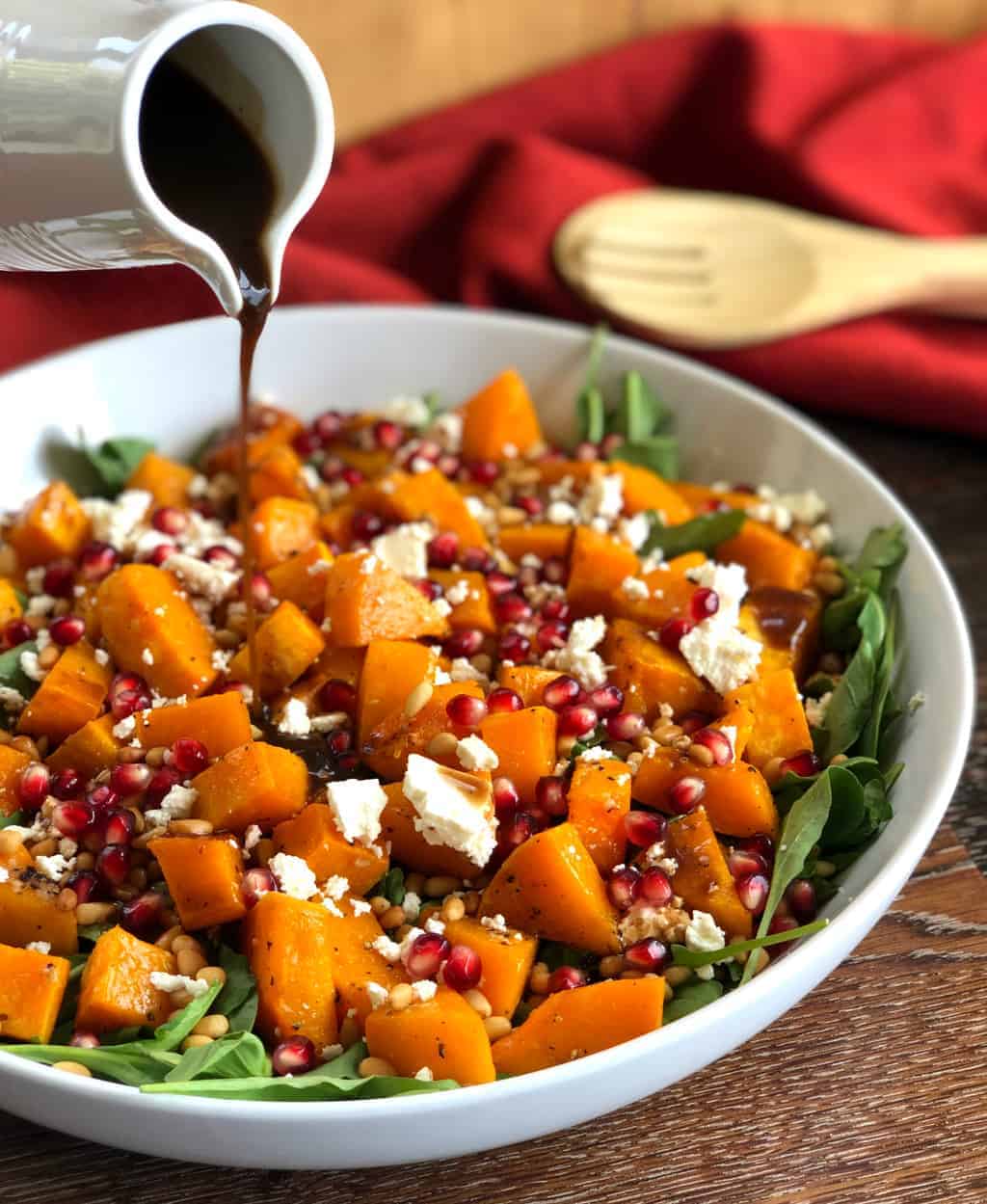 The salad itself is simple, just a few ingredients, a bag of rocket, some garlic roasted butternut pumpkin, toasted pinenuts, feta and pomegranate seeds. This is then dressed with a balsamic dressing. There are many ways to make this salad your own, and depending on the area you live in you will be able to source different ingredients.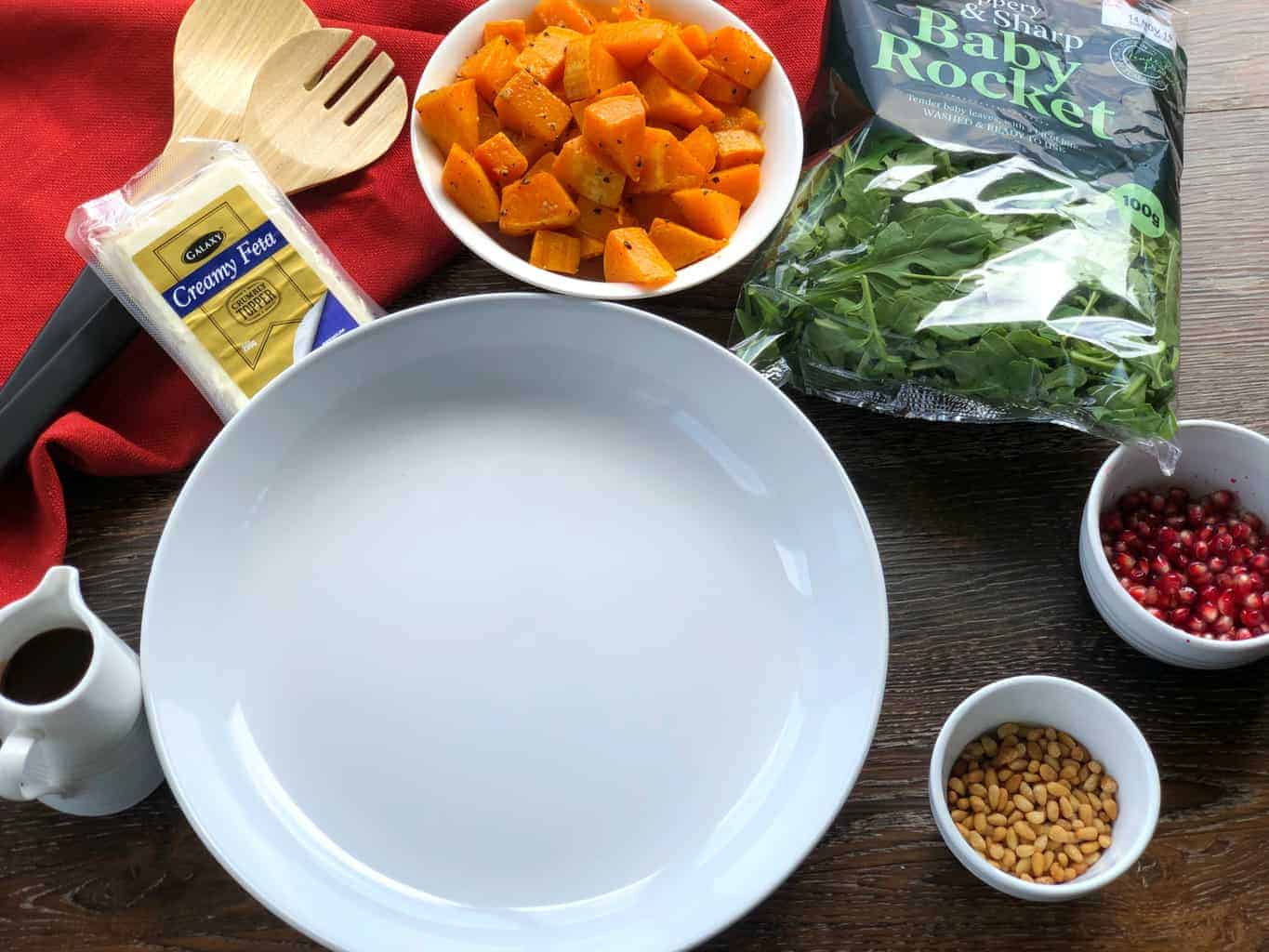 Nells original recipe called for a dressing that I could not find, it is a Balsamic Dressing with either Garlic or Pomegranate, both sound amazing. But to get around this I used a simple balasmic from the supermarket and I roasted the pumpkin with both garlic and cracked pepper. This infused the pumpkin with a gorgeous flavour before it even went on the salad!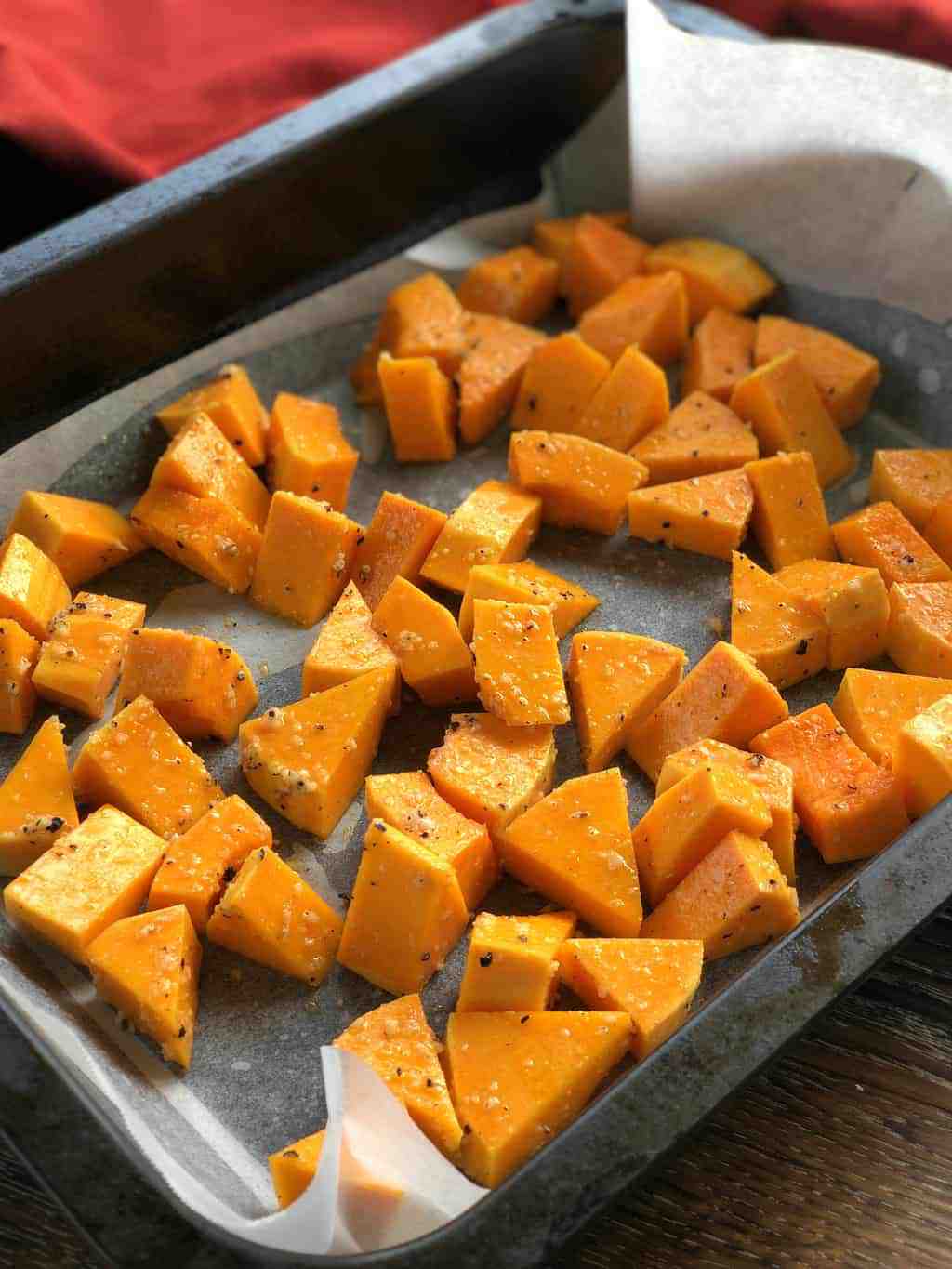 Peeling butternut is not too tricky, depending on the thickness of the skin you can actually do it with a normal potato peeler as I have done, or some chop off each end and use a sharp knife to run down the length and take off the skin. The peeler did a great job, even if only a little at a time. I then sliced off each end, cut the butternut in half and scooped out the seeds, then sliced it into halves and then quarters, then into chunks as shown above. Then combined this into a gloriously simple mixture of olive oil, garlic and cracked pepper, the roasted. Divine

Once the pumpkin is roasted, preparing the salad is easy, just layer each ingredient. Have you used pomegranate seeds before? They are a beautiful ingredient to work with. Getting them out of the pomegranate can take some patience, there are many methods online, but for me I deeply score right around the edge of the fruit, then inserting my thumbs pull apart the two halves. Then I gently open sections, again ripping not cutting, and ease away the ruby pips. If you prefer you can tap the halves with a wooden spoon but honestly I get so little seeds doing this I prefer to use my fingers.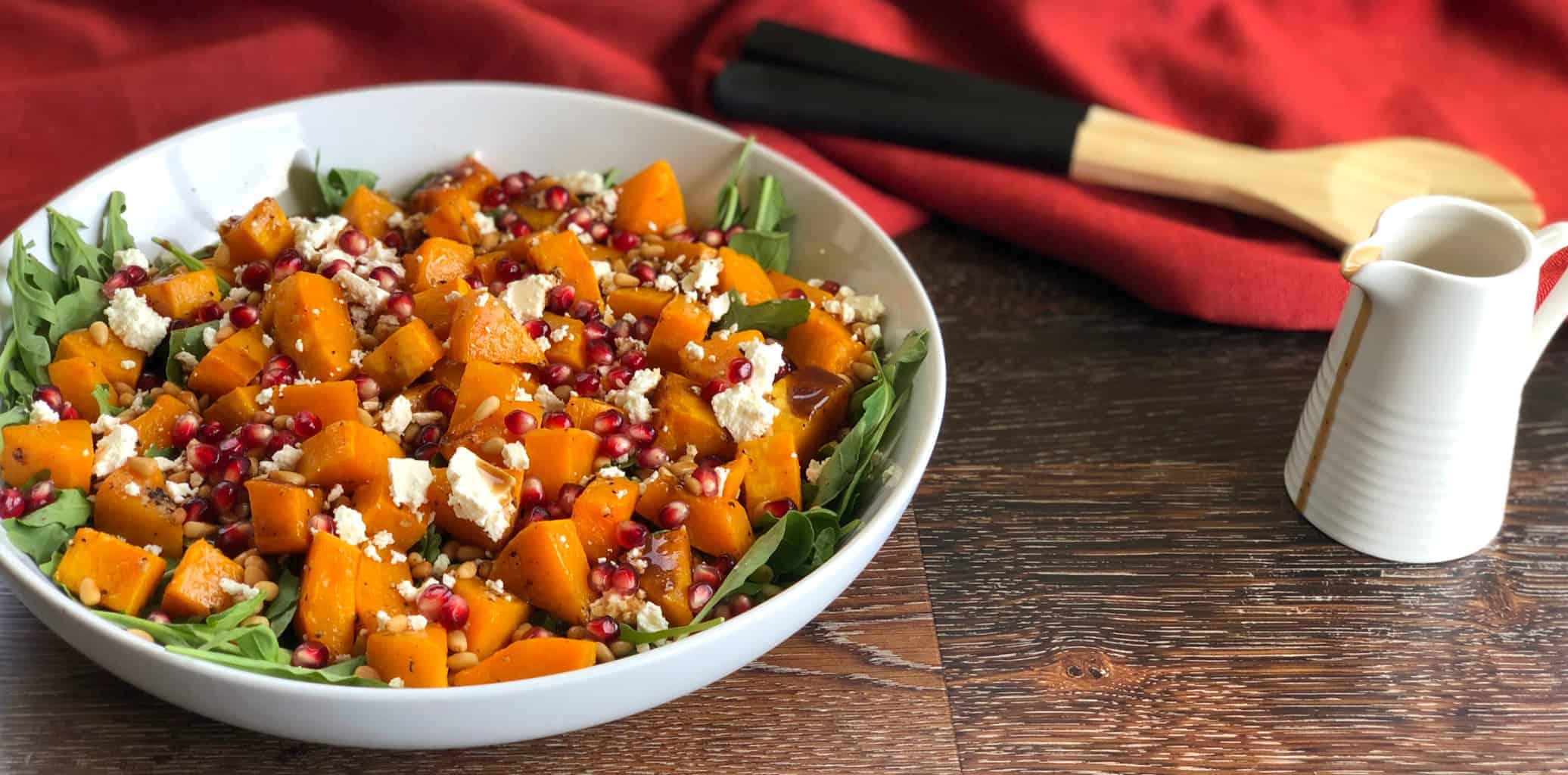 This Roasted Butternut Pumpkin Salad and the salads below are perfect for summer or your next BBQ. If you have a favourite salad you would like to appear on my blog to share with the world then sing out! Comment section below always open.
These are a few of my current flavourite side dishes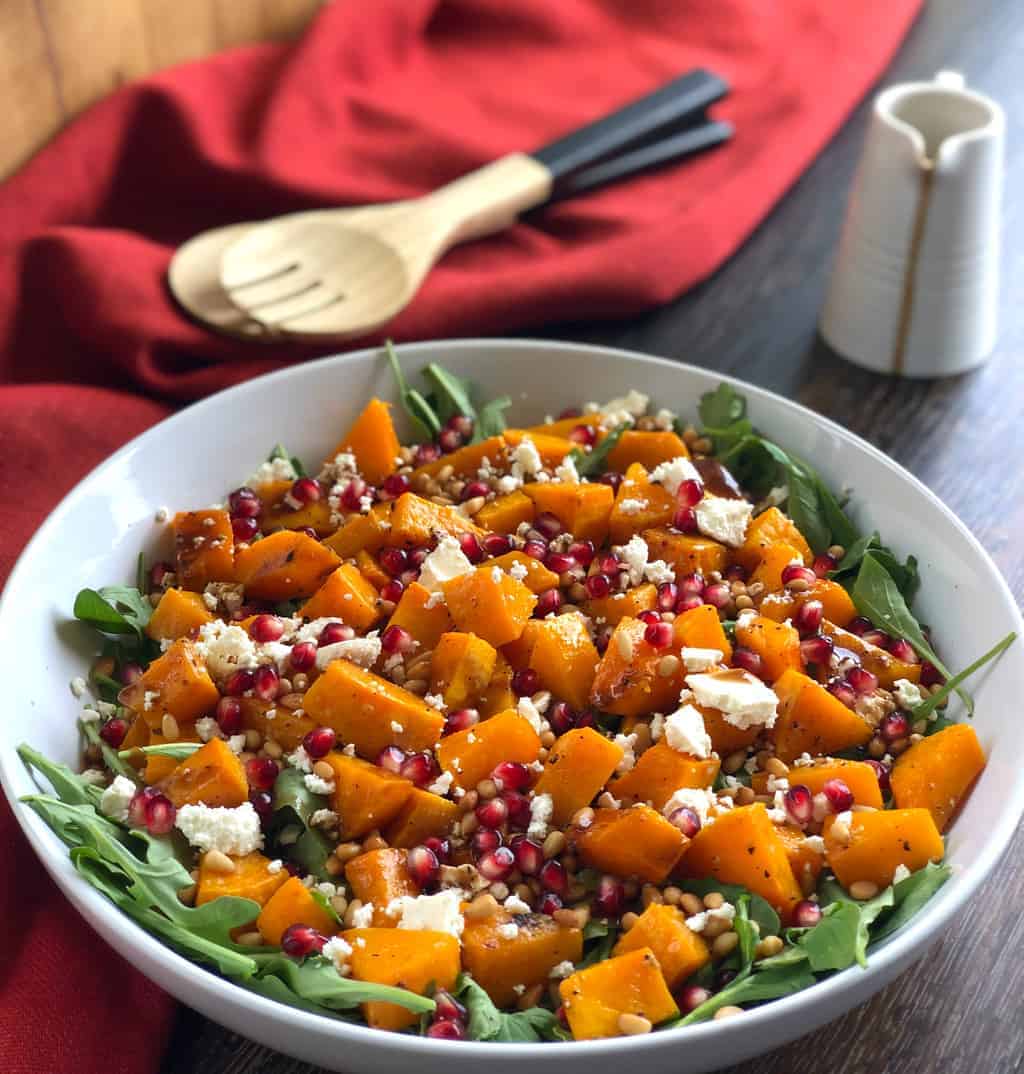 So onto the recipe, feel free to add or omit ingredients depending on what is available in your area. I hope you enjoy this as much as we have
It is oh so simple to recreate this glorious recipe from Nell. Again thank you so much, the original recipe is as per below
1 packet of fresh rocket
Pumpkin, Jap or Butternut
Feta Cheese, crumbly one
Toasted Pinenuts
Cracked Black Pepper
Balsamic Dressing – either Balsamic & Roasted Garlic Dressing or Balsamic & Pomegranate Dressing.
Nell suggests other alternatives such as adding thinly sliced pear, roasted beetroot or thinly sliced steak to make a meal of it.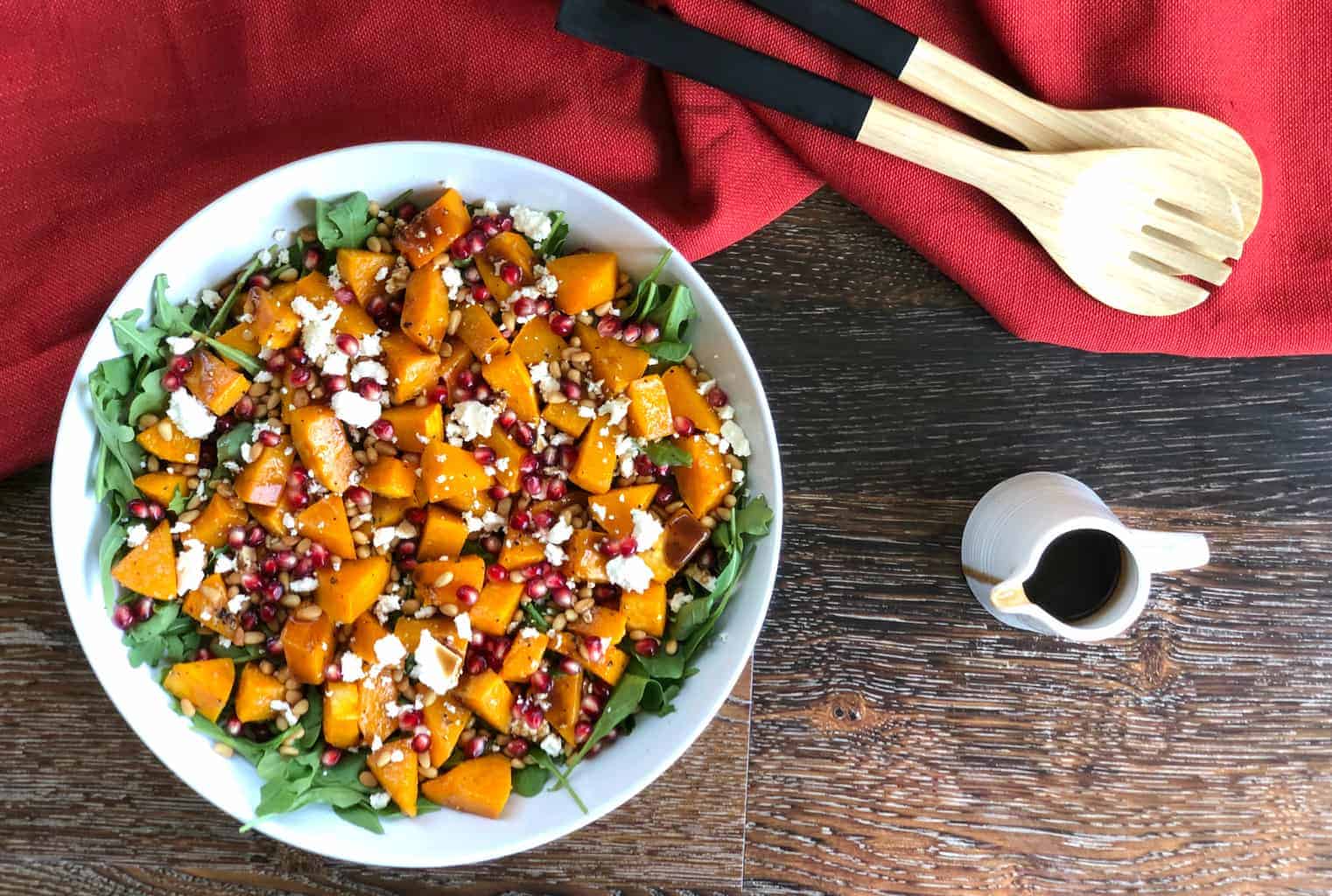 Thank you so much for stopping by to check out my latest recipes on my blog. If you are not already be sure to follow me on Facebook or Instagram for more deliciousness, and you can register your email in the subscription box below to receive all my recipes as I publish them.
Happy Baking
Anna