I am delighted to bring you this delicious decadent Easter Cookie Slice. Chewy centre and Crispy outside, a real treat!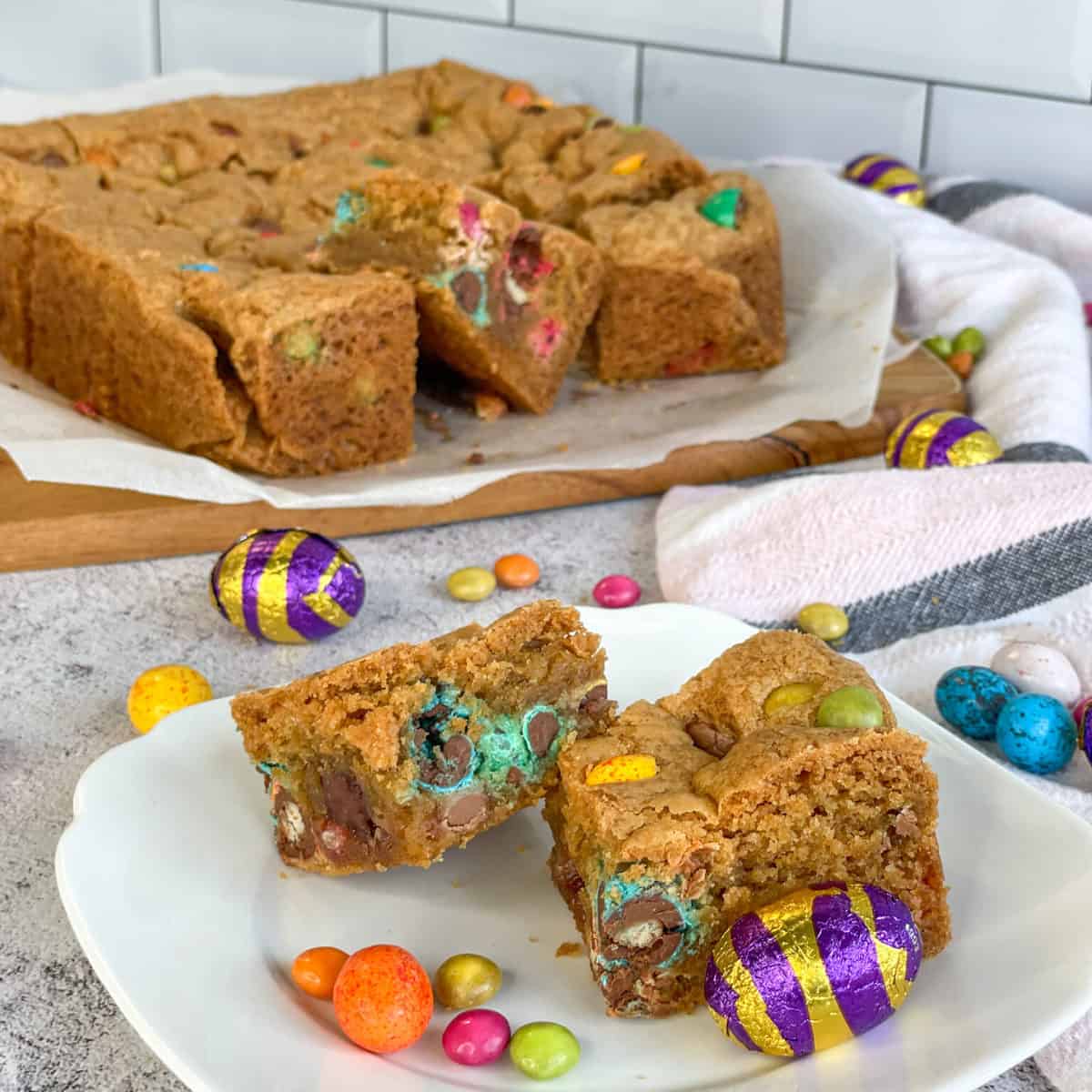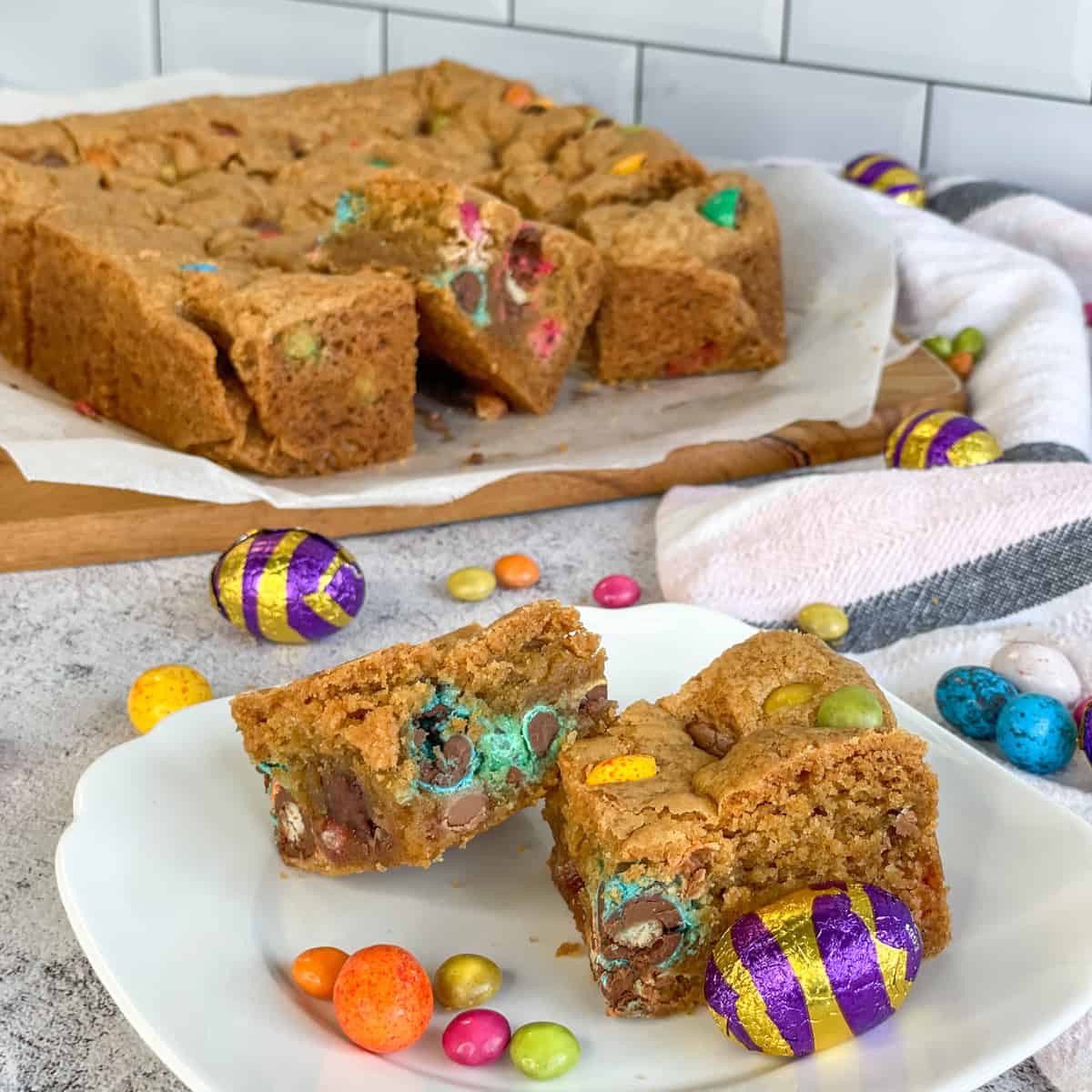 The ingredients in this recipe are provided by Countdown Supermarkets as Brand Ambassador, all opinions are my own
There are zero redeeming health benefits from this slice, but oh boy is it an amazing one! Based on my popular Best Ever Chewy Chocolate Chip Cookies I think you will love it.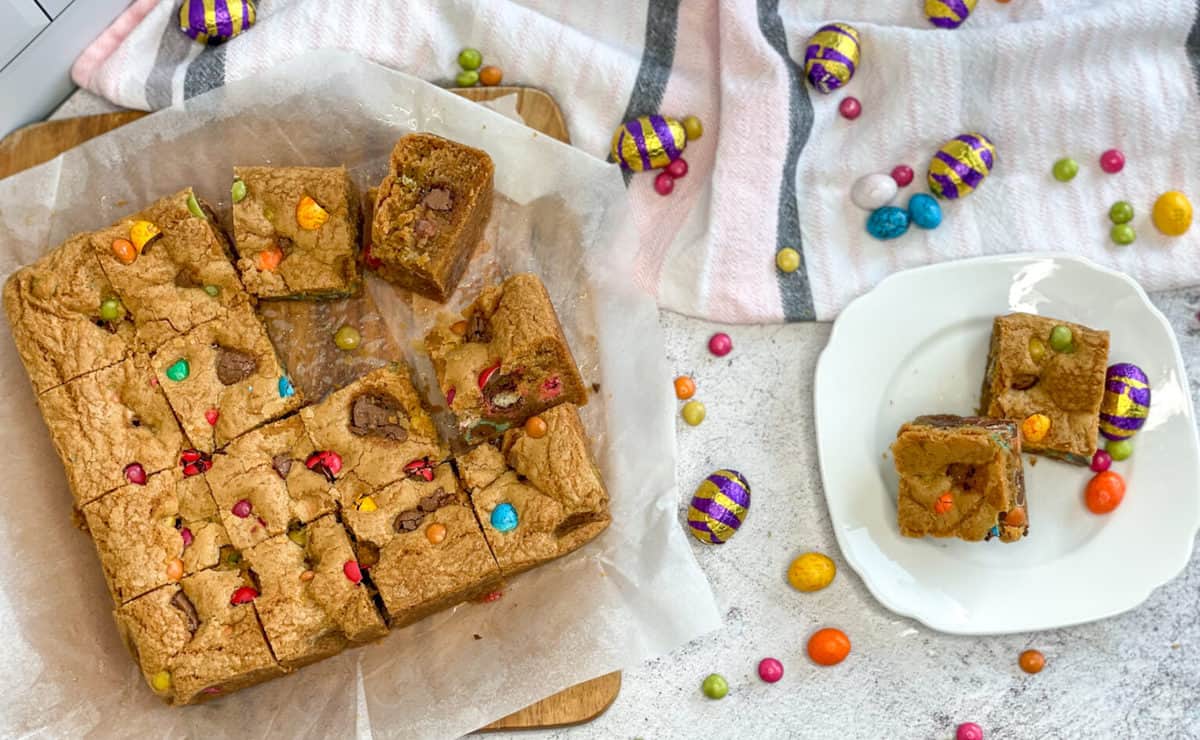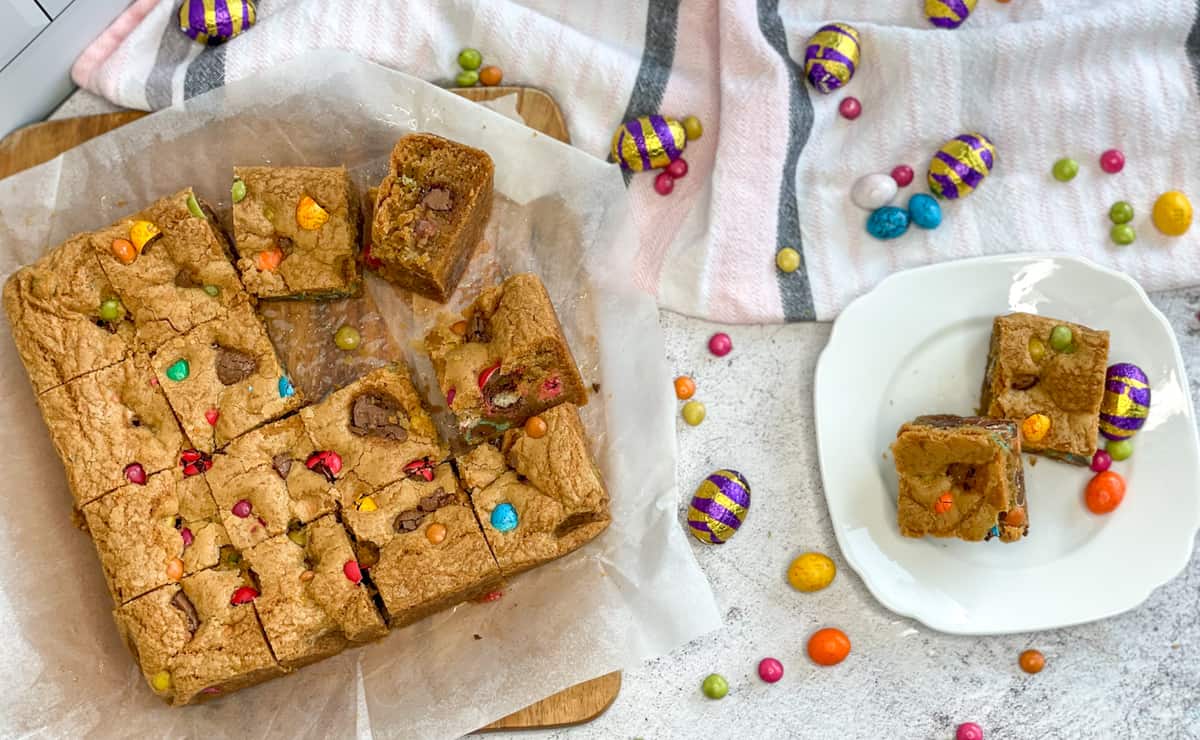 This is basically a huge cookie filled with Easter treats and it is amazing, decadent, crunchy with a chewy centre. This slice will impress any friends with a sweet tooth.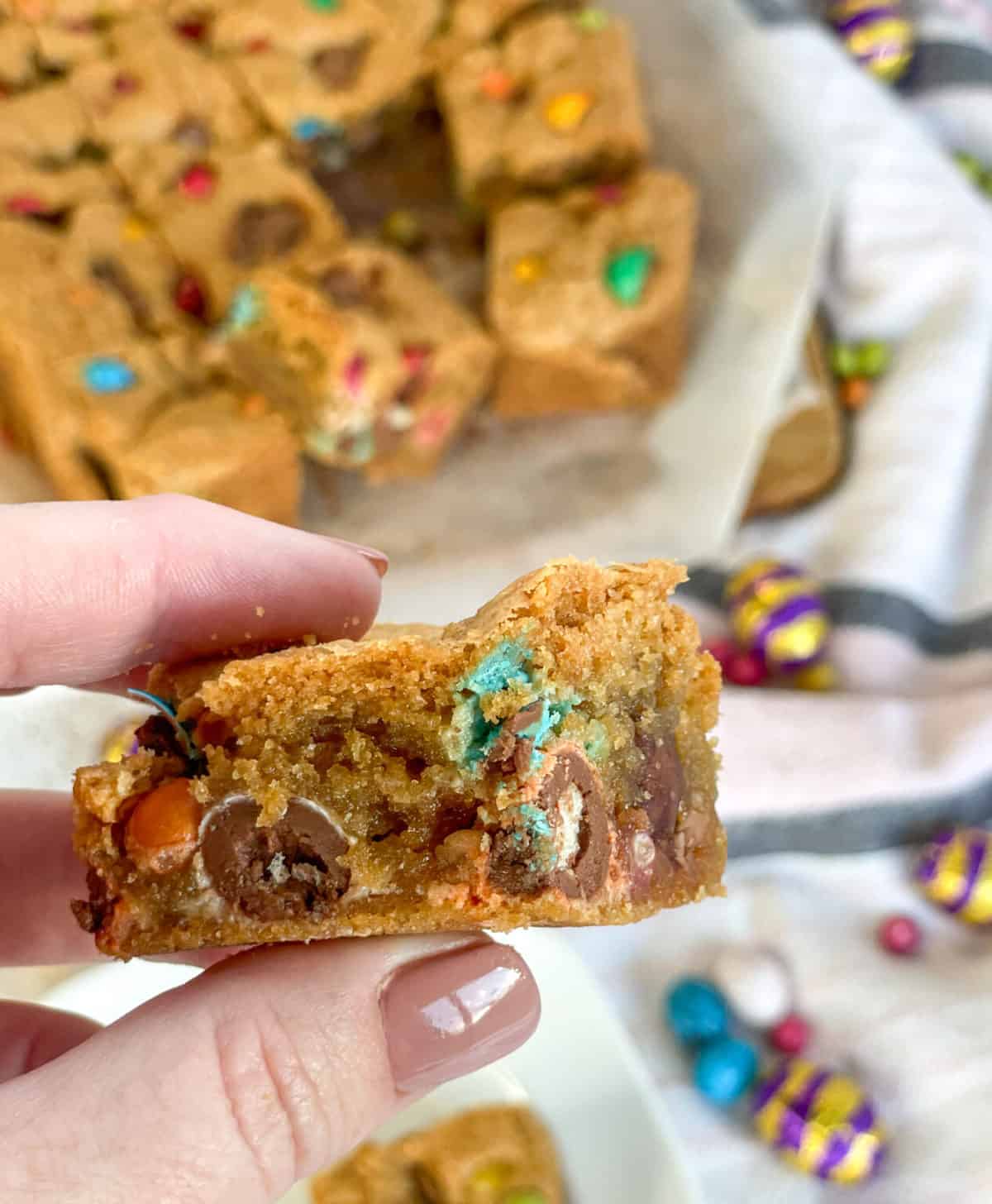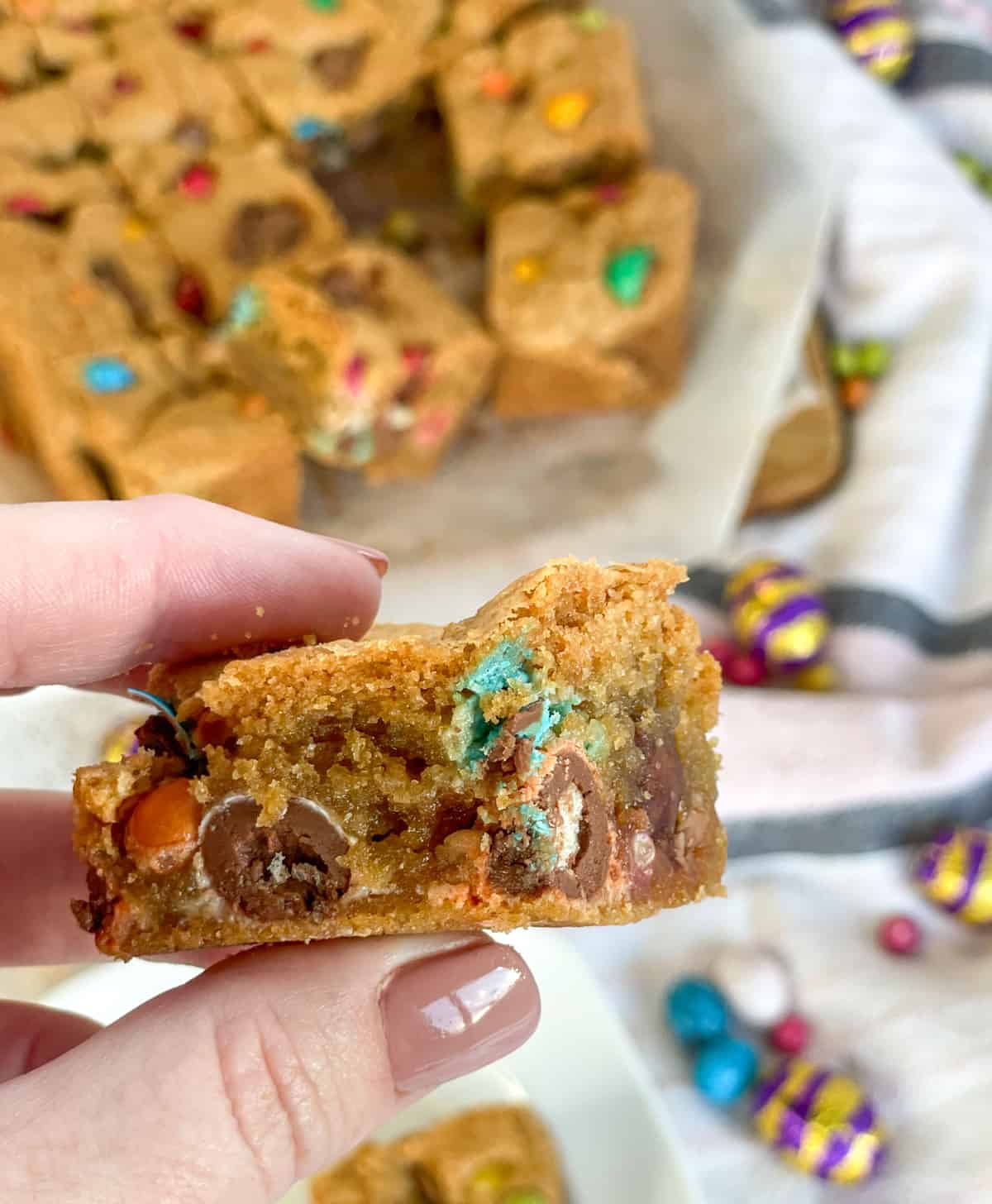 The ingredients are incredibly simple, just pantry basics and a few variaties of Easter eggs I picked up at Countdown Supermarket. You can add whatever you think will work well or have on hand, but I felt these three combinations worked so well together.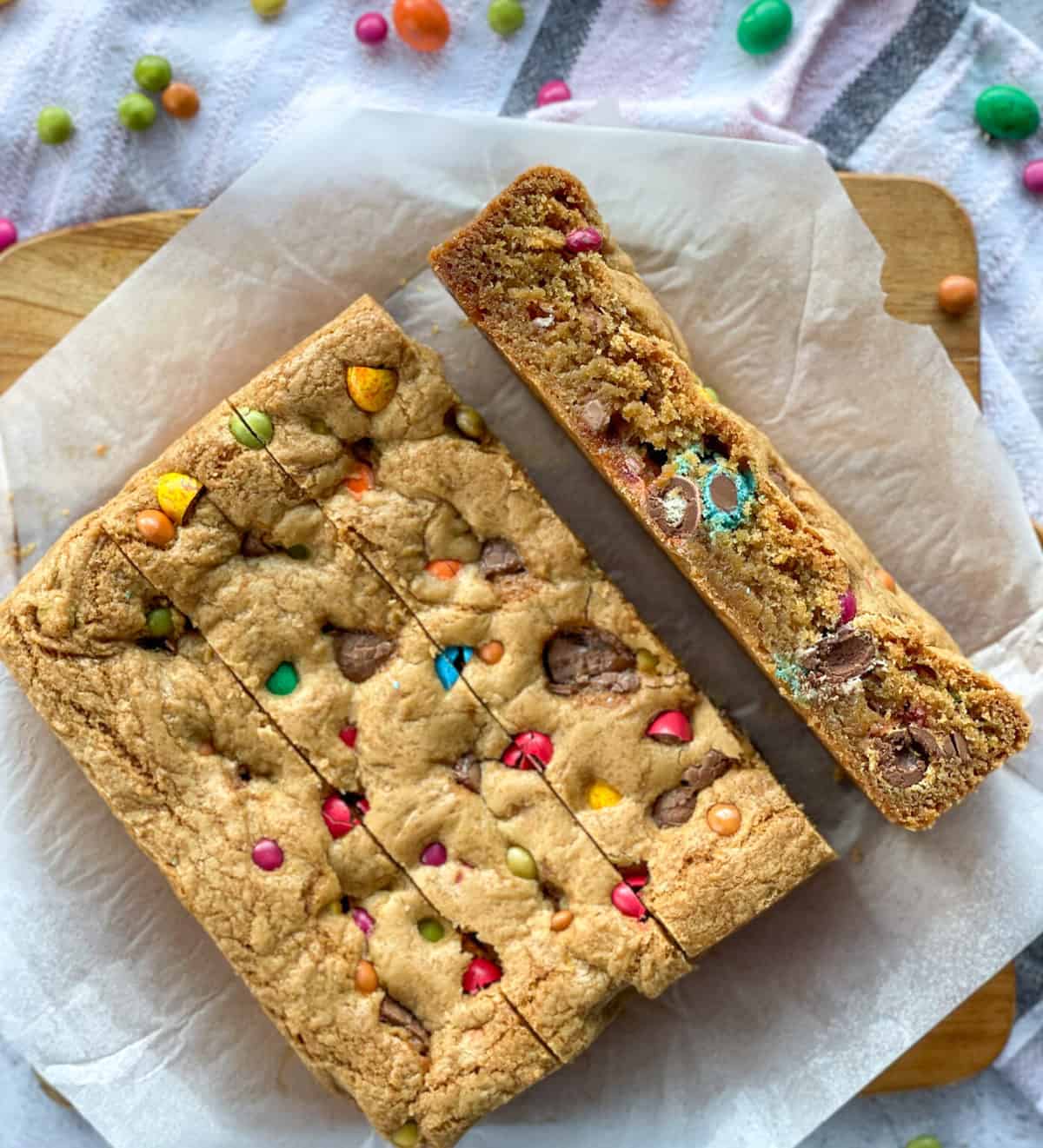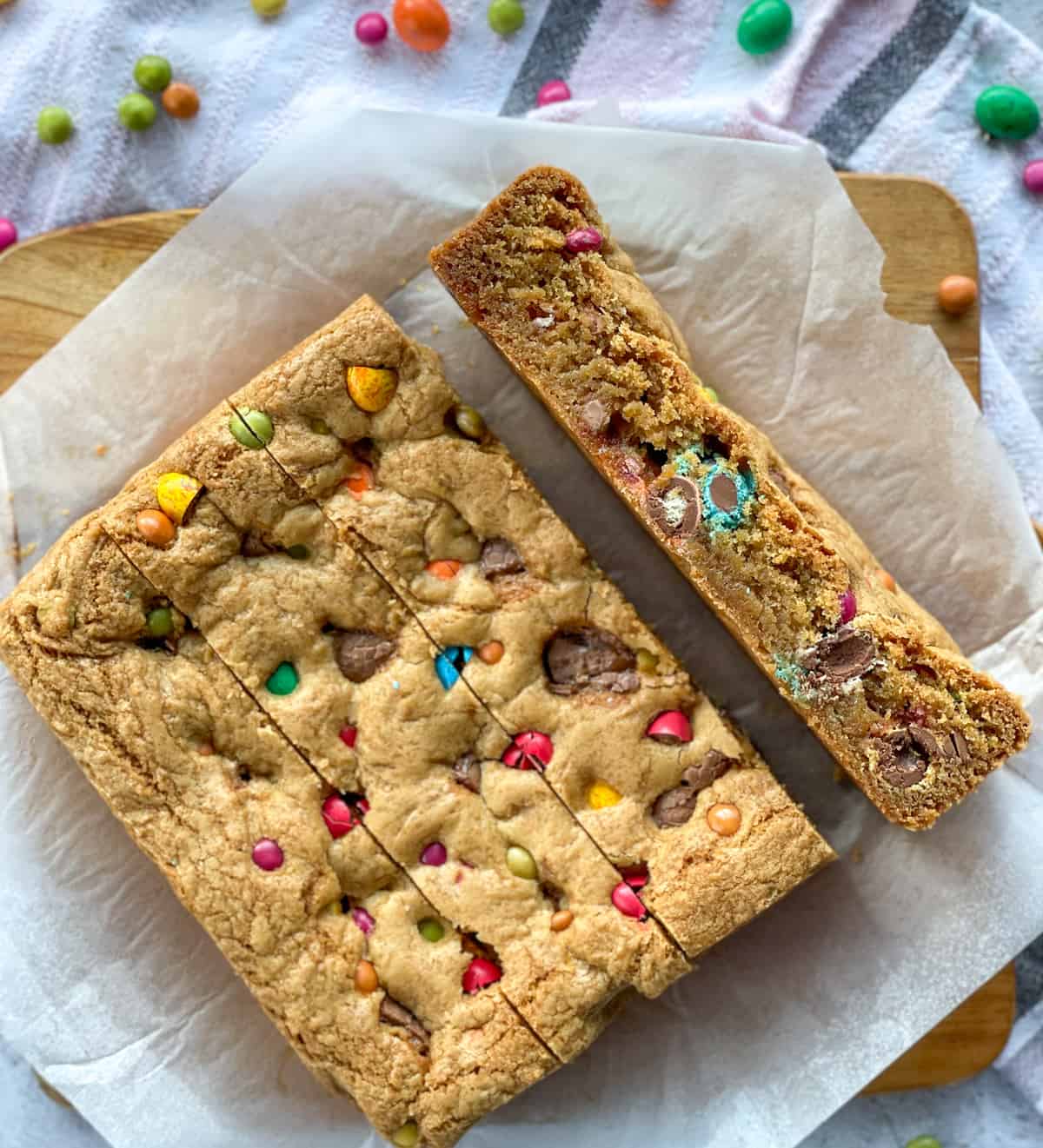 I love this recipe as it is super versatile, I have used it to create a few variations on the original so be sure to come back and check them out after you have made this one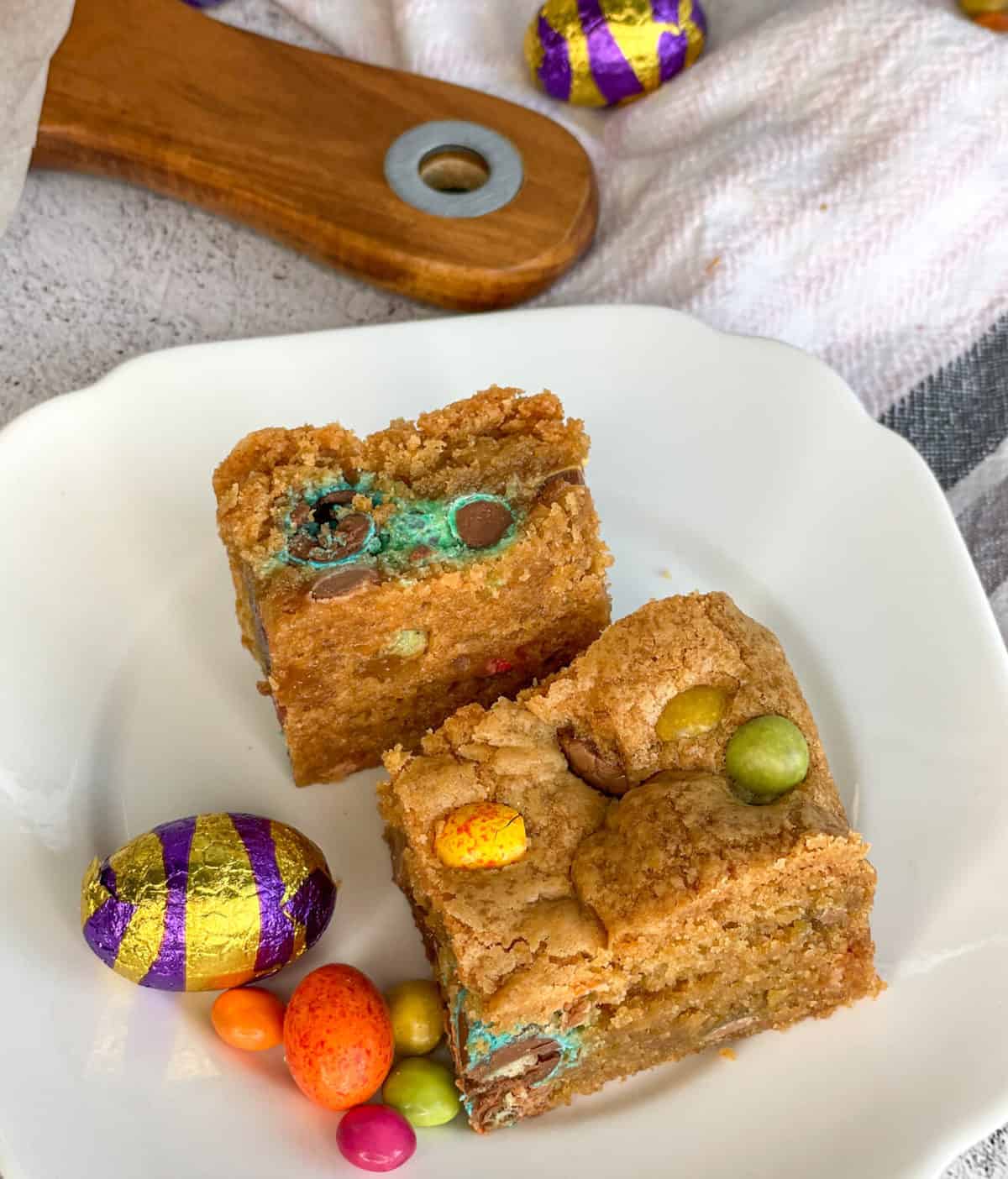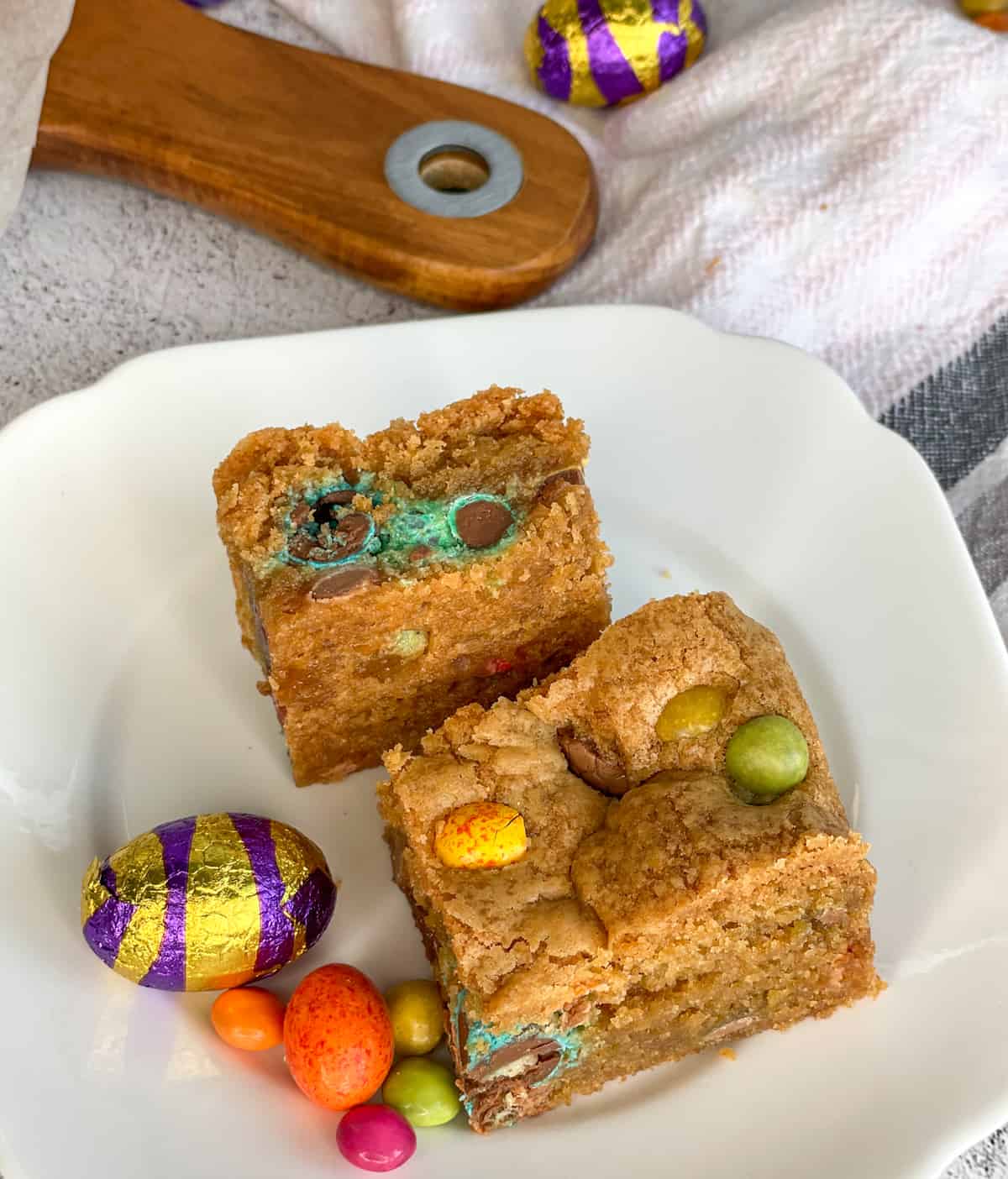 This recipe would be a wonderful Easter gift in lieu of Chocolate Easter Eggs for something a bit different for friends and family this year.
You will need the following ingredients, be sure to scroll down for the full list and method below.
Plain White Flour

Baking Soda

Salt

Butter

Brown Sugar

White Sugar

Vanilla Essence

Eggs

Easter Eggs, mini candy coated chocolate eggs, mni M & Ms & Caramel Filled Chocolate minis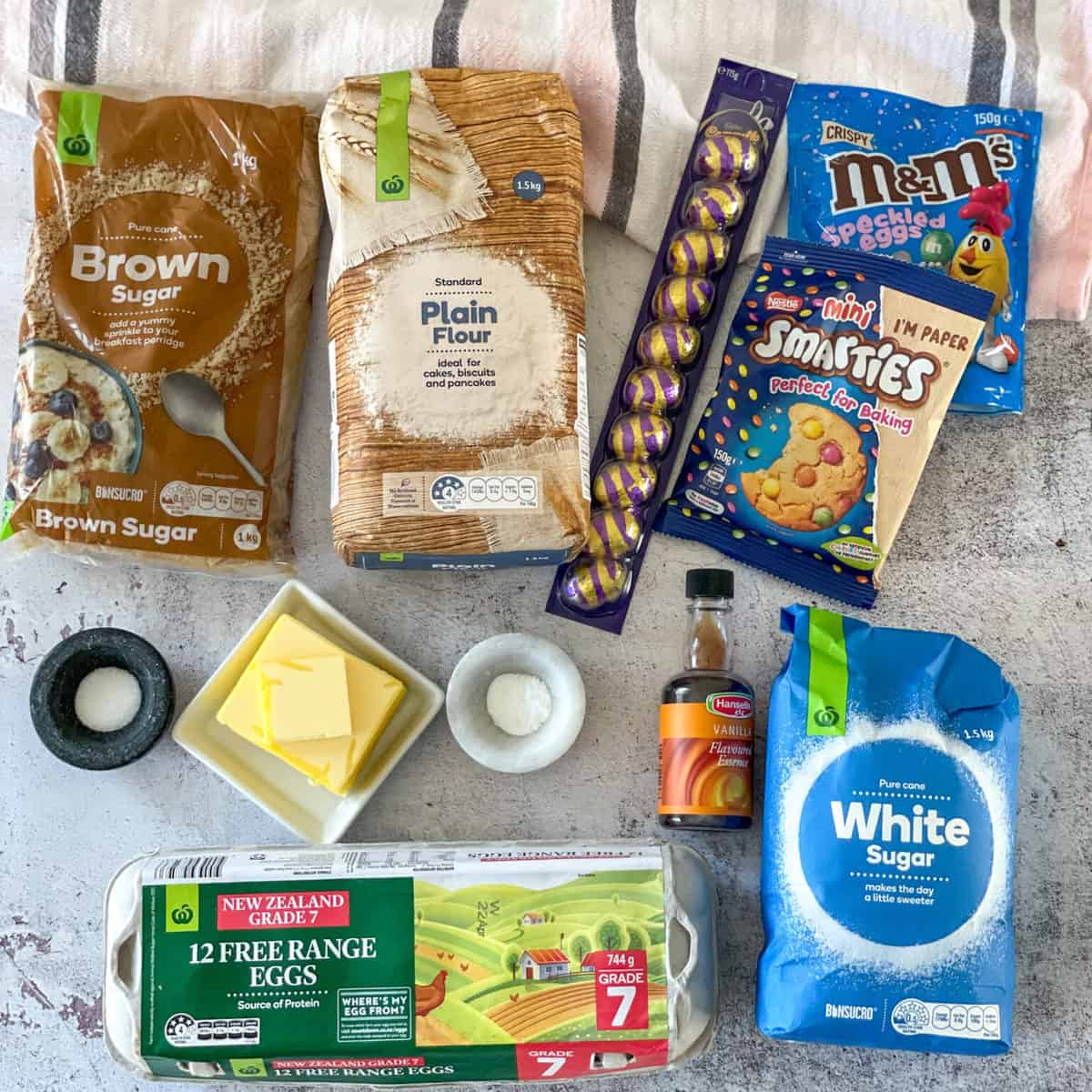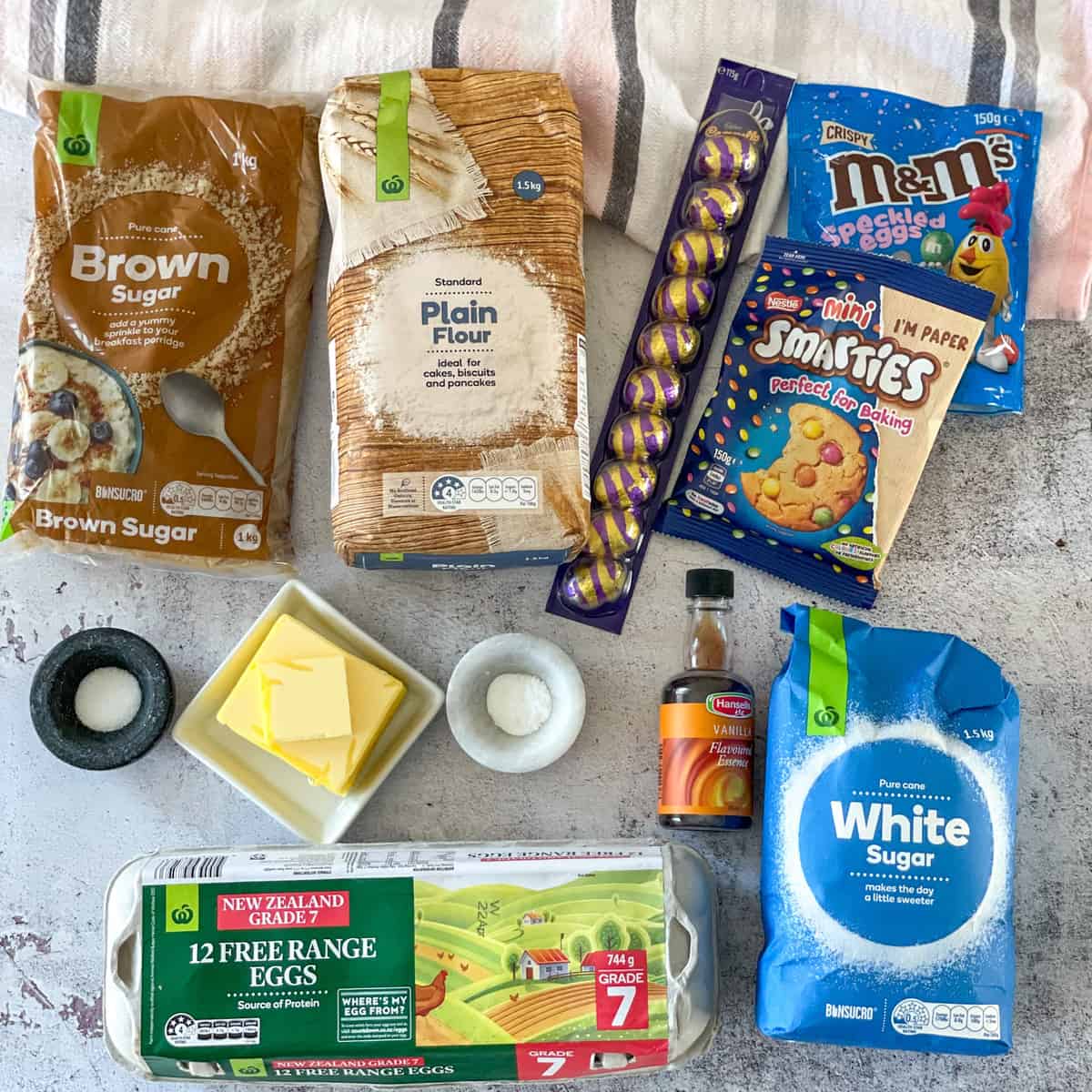 The method to make these is lovely and simple, unlike the cookie version there is no need to chill the dough so it is nice and quick.
You will need to have a stand mixer to cream together the butter and sugars, you can of course do this by hand but an electric hand mixer or stand mixer makes this so much easier.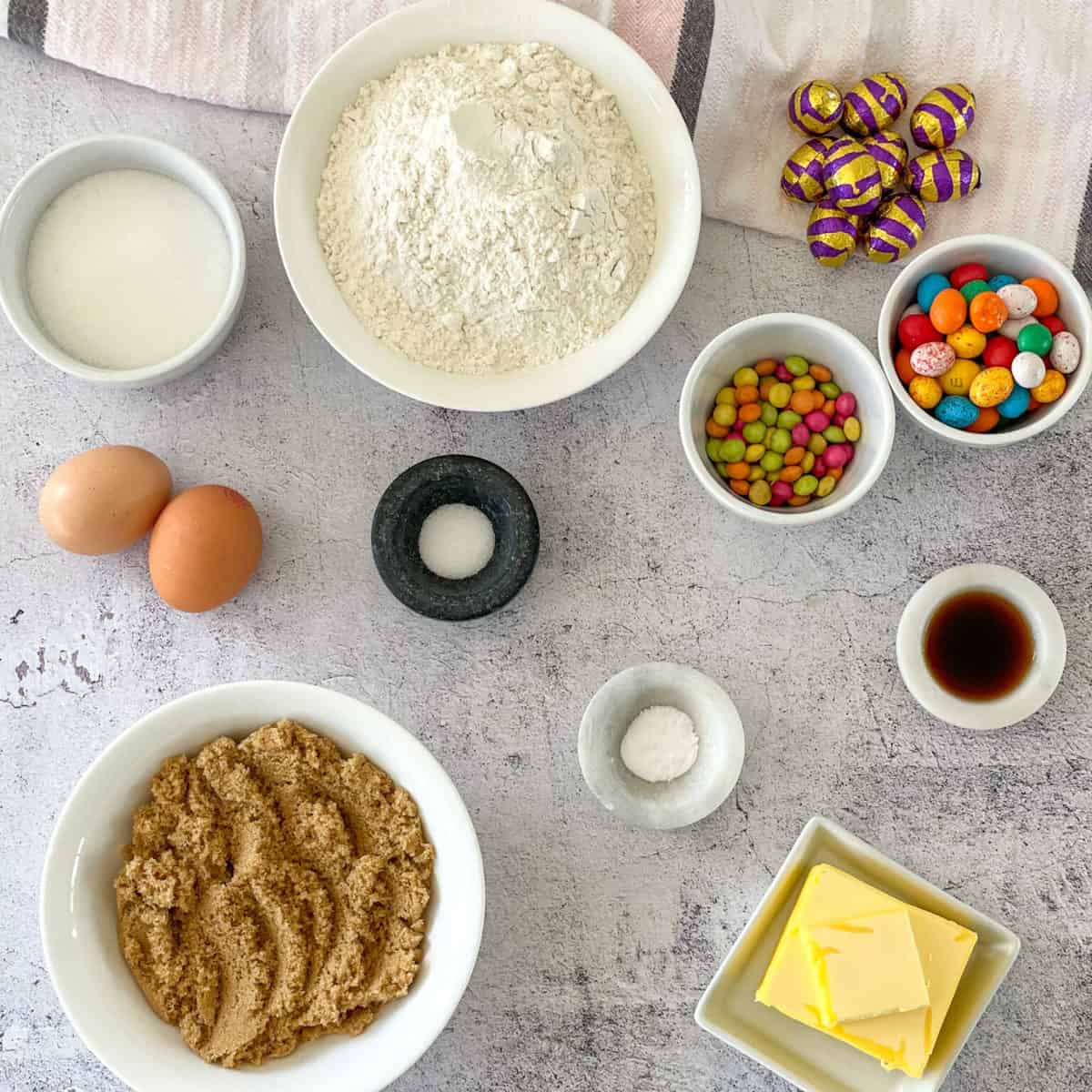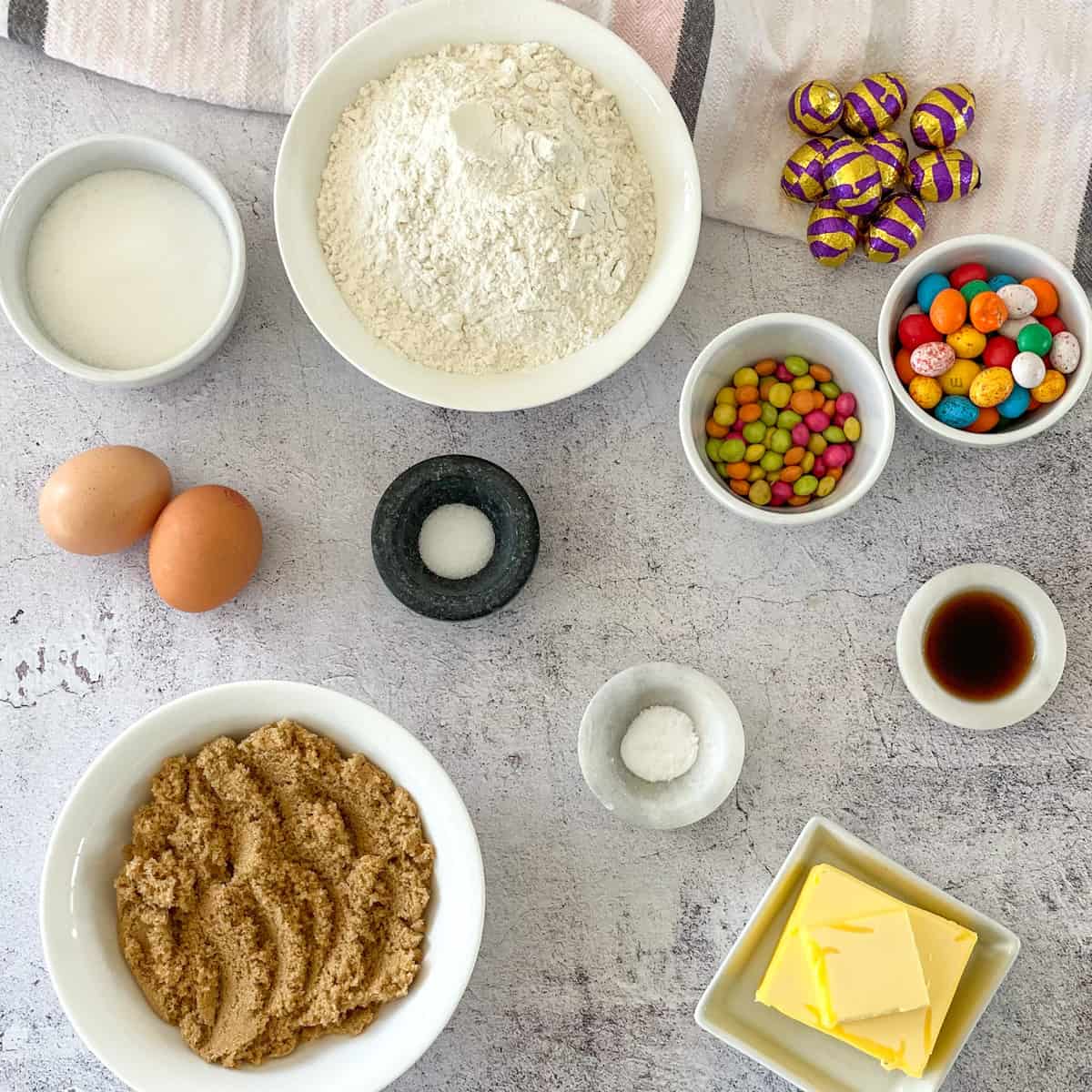 First you combine the dry ingredients and set them aside. Next it is a matter of blending together the sugars into the butter. Two sugars are used here, the combination of which gives the lovely colour and flavour to the final cookie.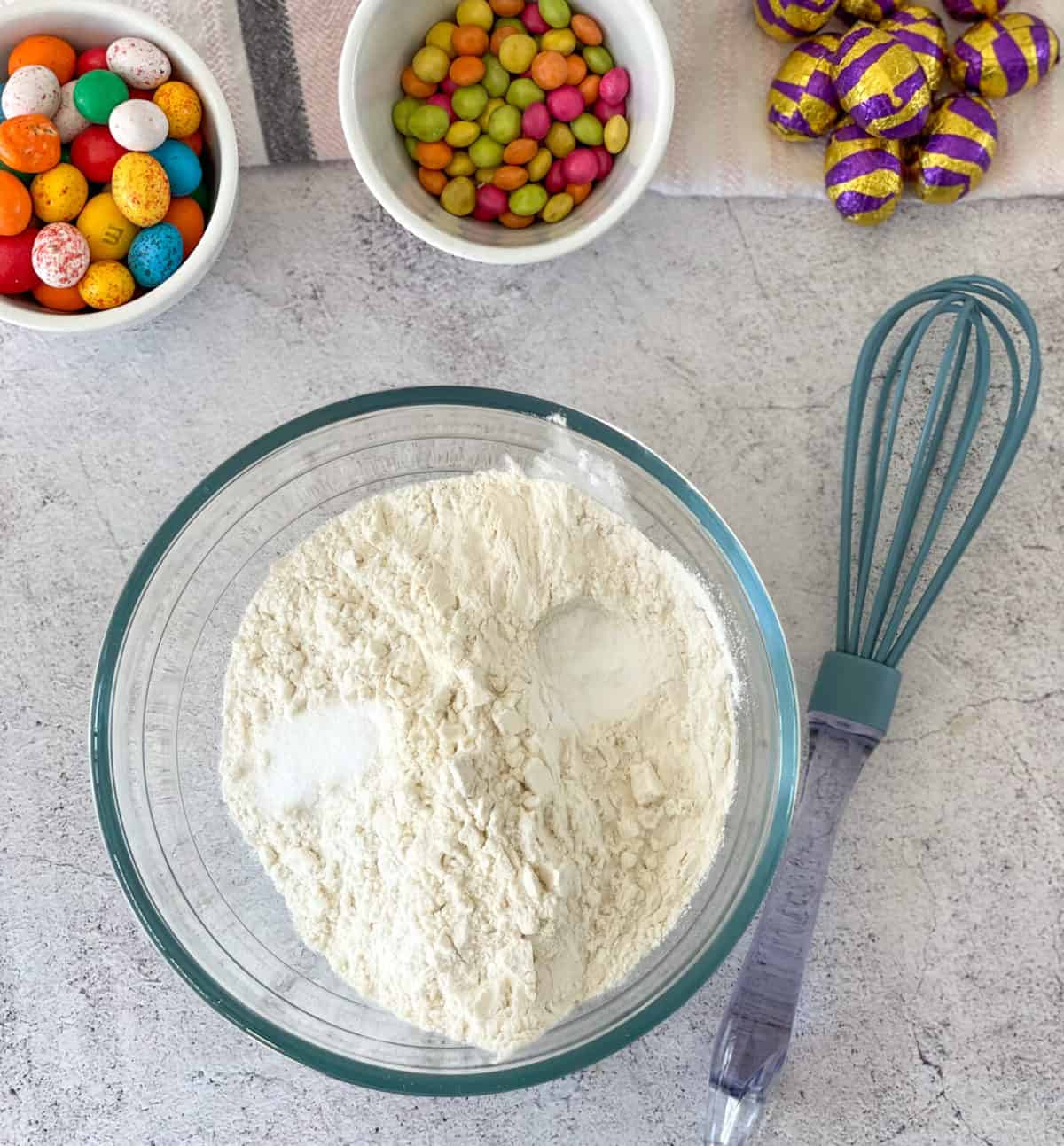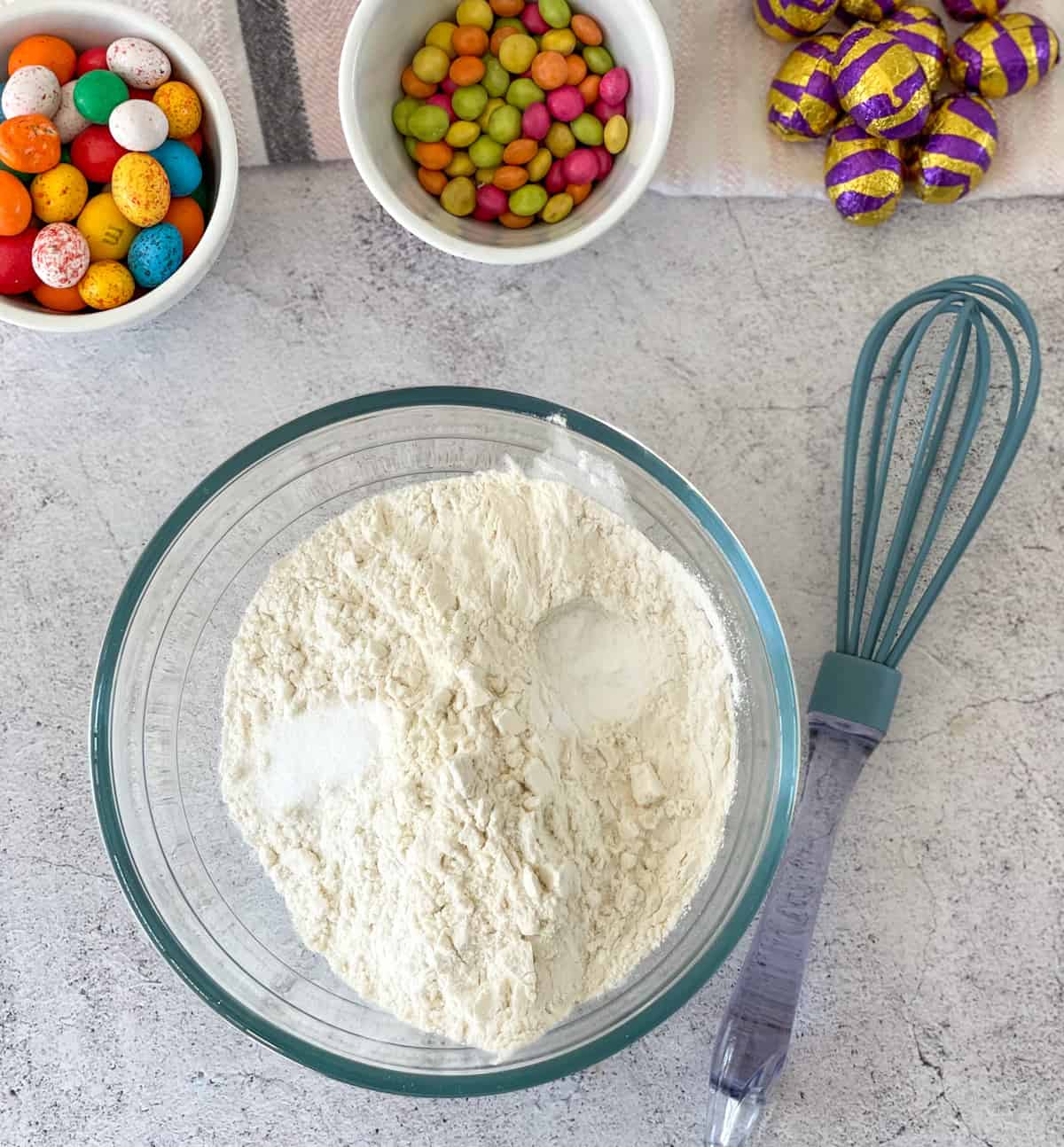 You will note the addition of both and egg and an egg yolk, this is for richness and texture and is a step not to be missed. A full tablespoon of vanilla is used to create the base of this lovely vanilla cookie.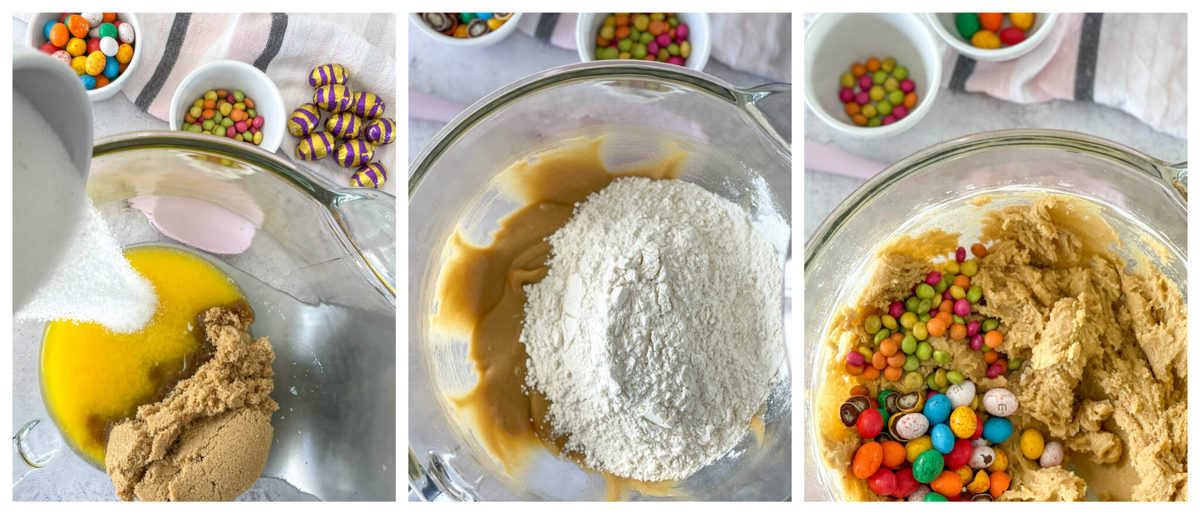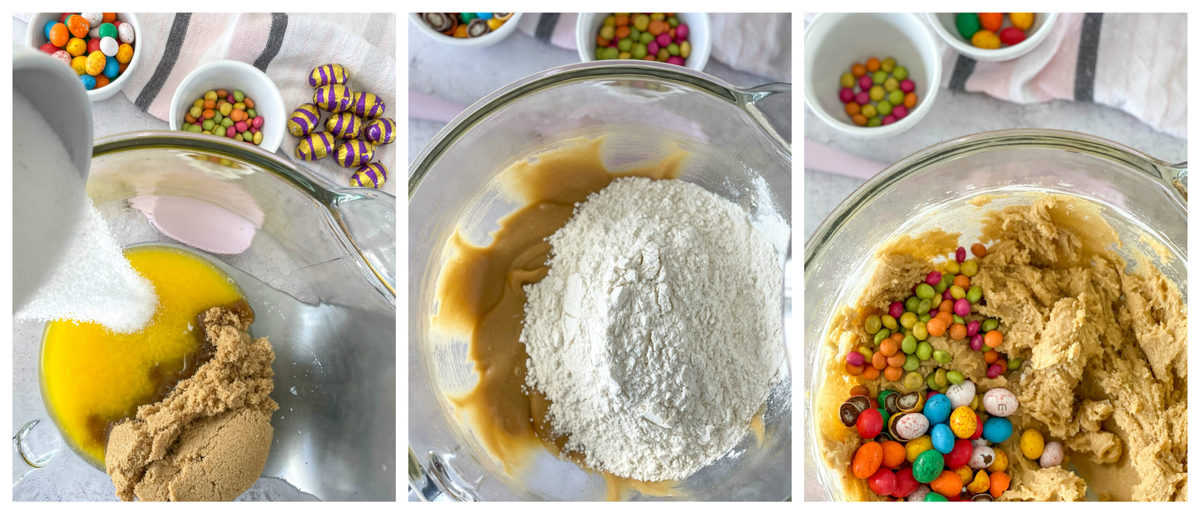 Once the flours are combined into the creamed butter and sugar mixture you will get a lovely creamy cookie dough. When making cookies you would normally freeze the cookie dough to allow it to firm up before baking, there is no need for the slice.
Today I have used Easter eggs as the final ingredient, a combination of crispy candy coated eggs, mini M&Ms and small chocolate eggs filled with runny caramel. They work so well together, ensuring every bite has some Easter goodness to it.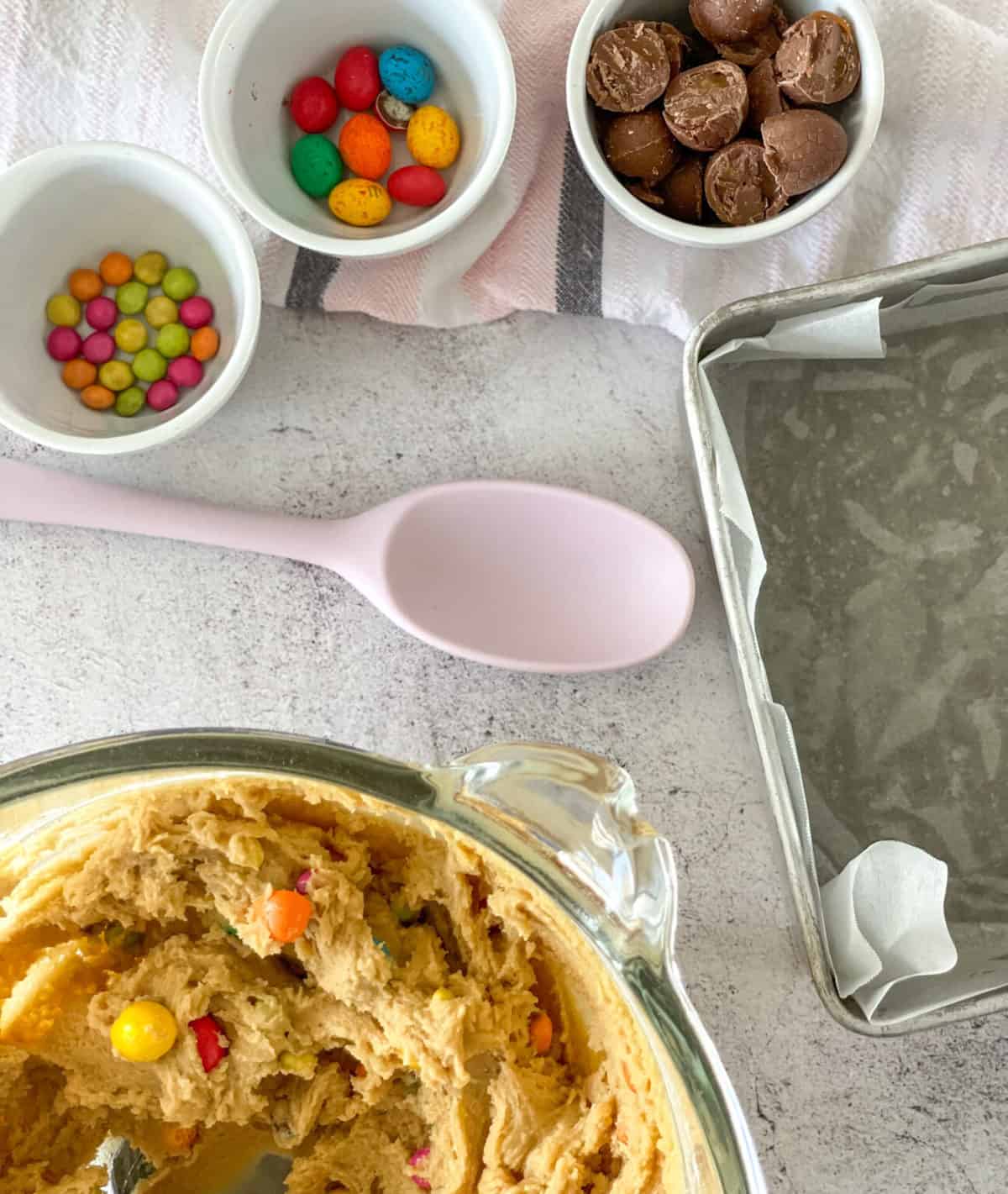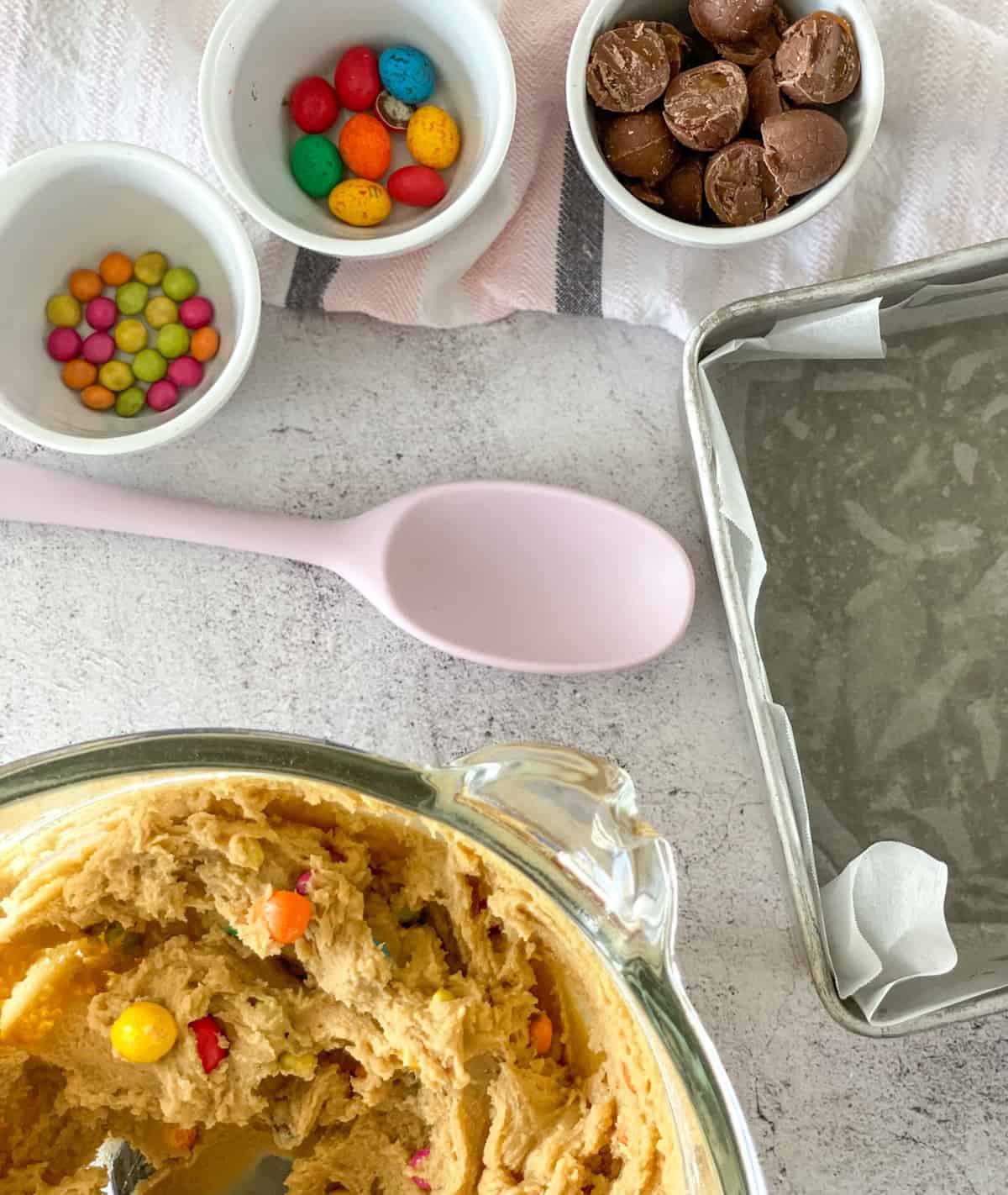 I have added most of the Easter eggs to the batter except for a small amount of each of the candy coated eggs and the caramel filled eggs. For these and even end result I have pressed them into the batter once it is in the baking tin.
This way I know they are evenly spread throughout each piece. Then a few candy coated eggs pressed on top makes it all look wonderful once baked.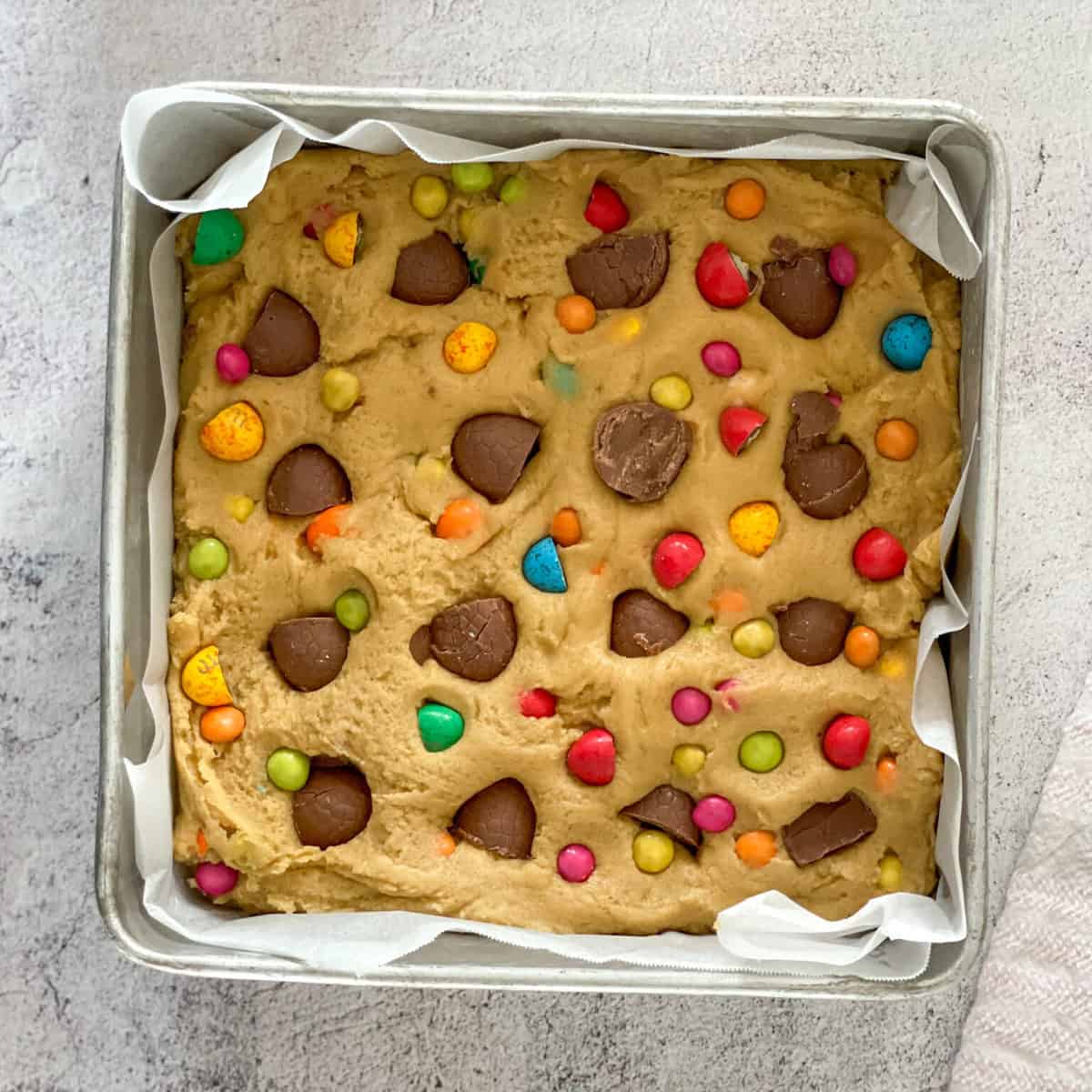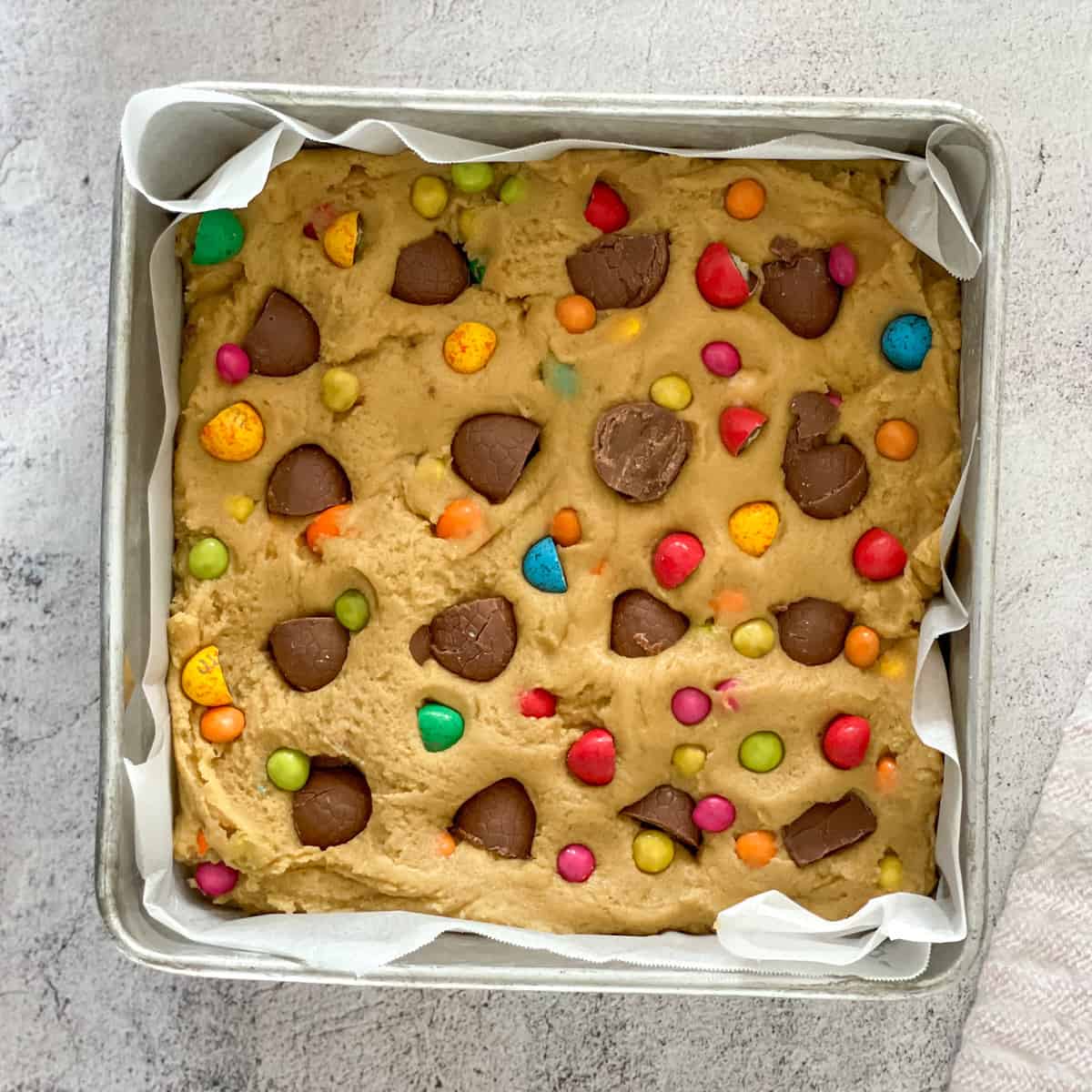 Depending on the size of the baking tin you use will determine the baking time, mine was a smaller 20cm baking tin today so took longer to become golden brown and cooked through. Approximately 50 minutes cooking time, can be as little as 30 minutes if a thinner slice.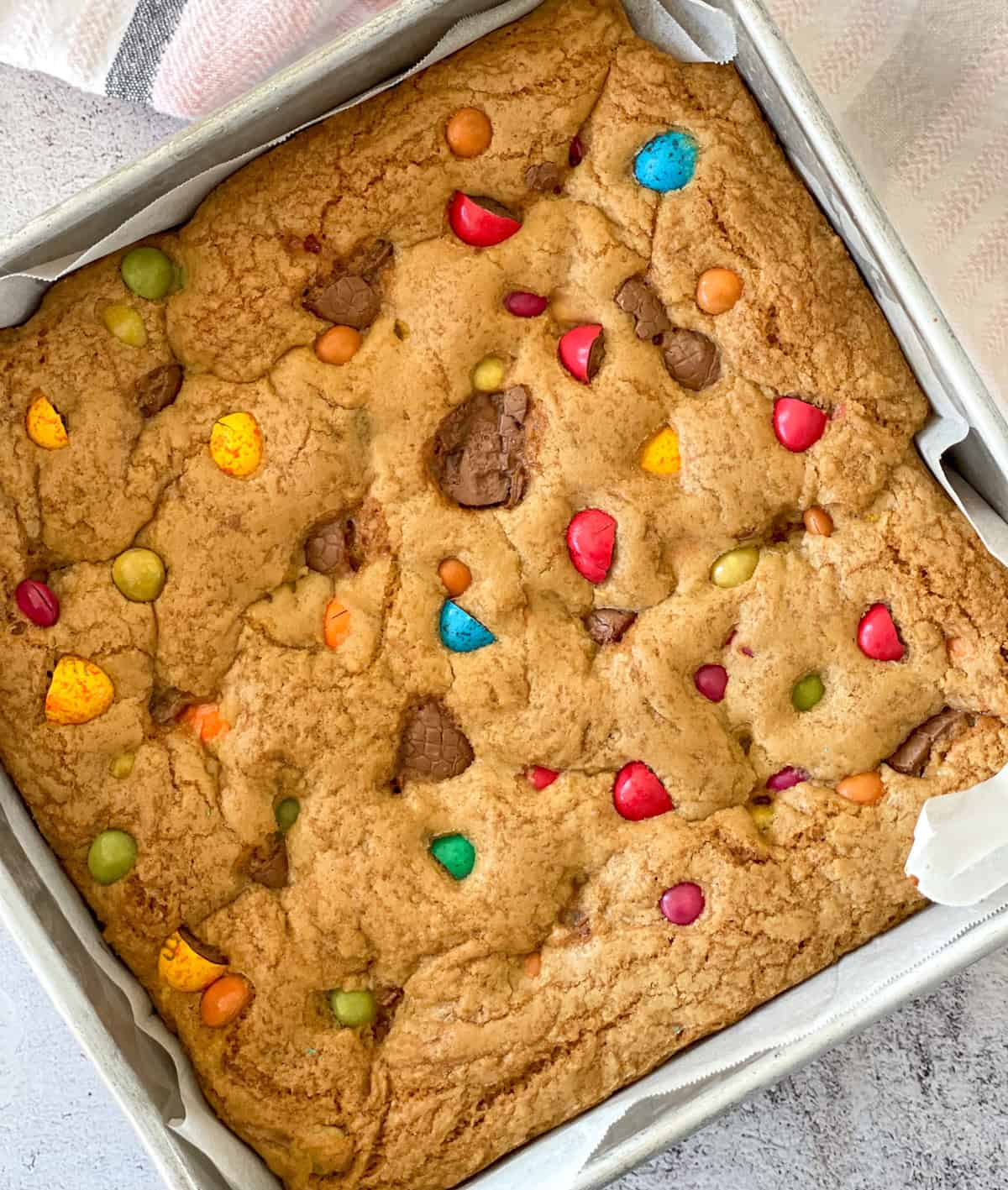 Much like a cookie the slice will remain a little undercooked in the centre, but this adds to the tastiness! But you do want it to appear lovely and golden brown and firm to the touch before removing it from the oven.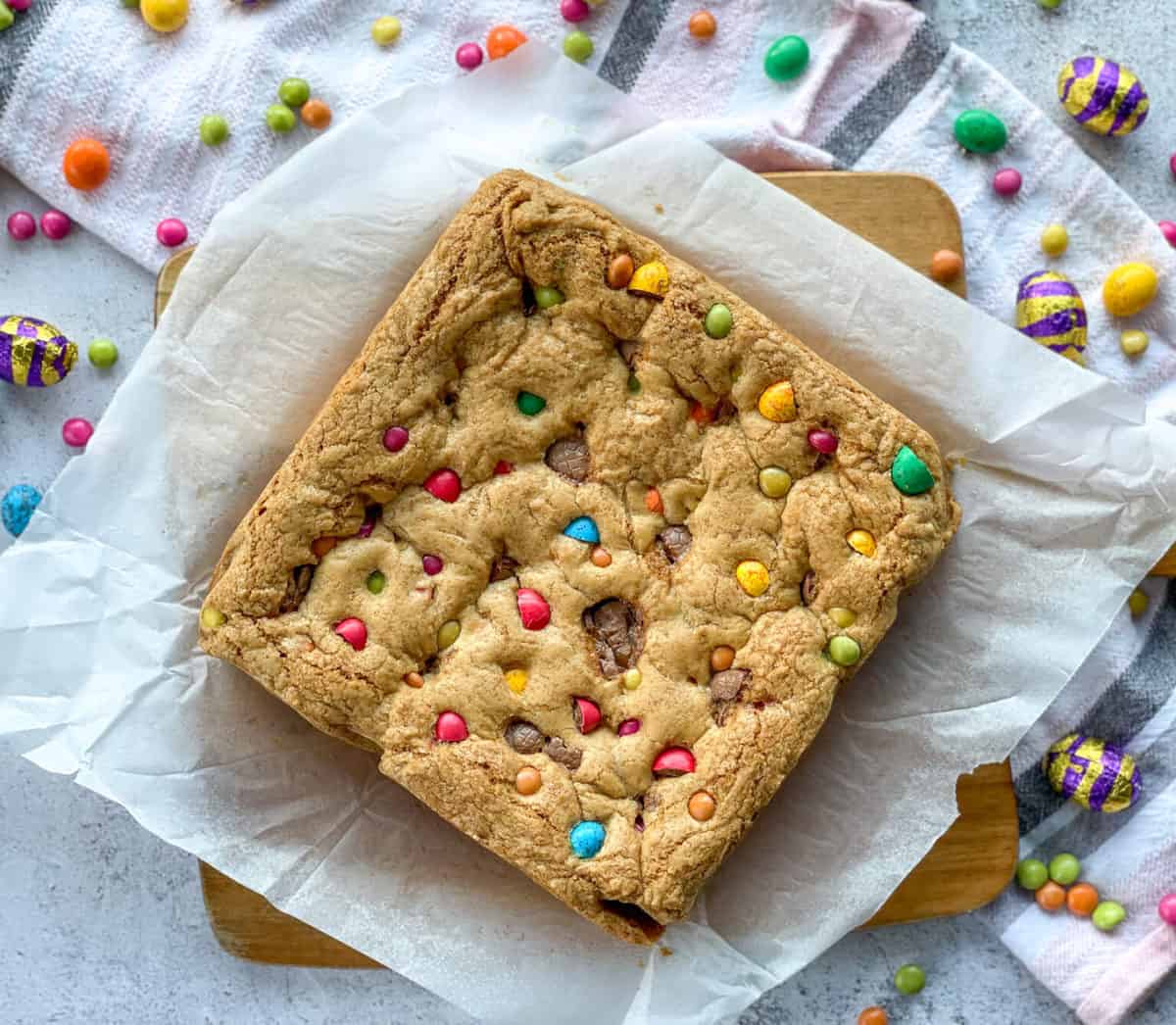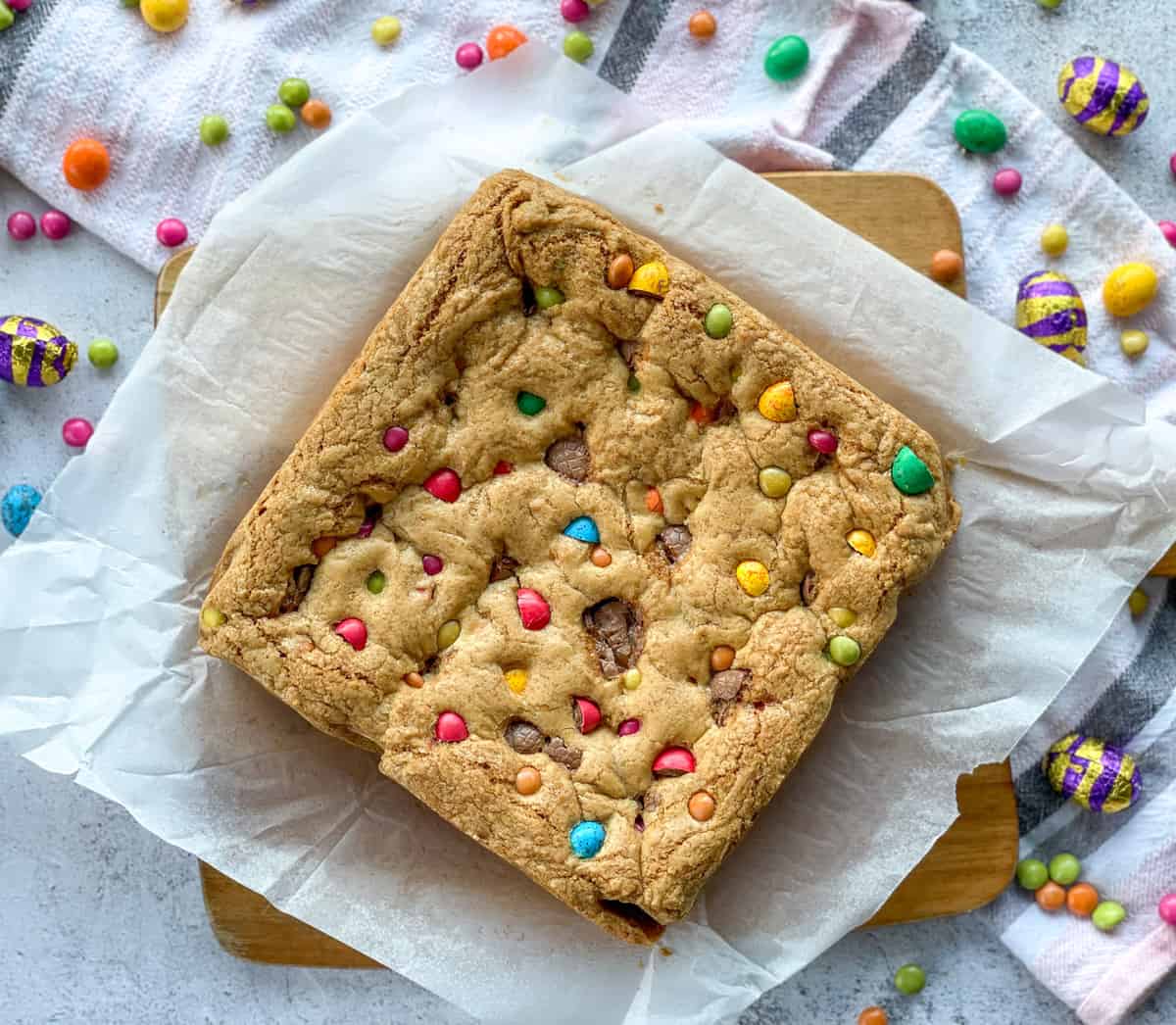 I allow it to cool completely before slicing in to small pieces, and storing in an airtight container until you are ready to enjoy!
I hope you enjoy this lovely and decadent Easter Cooke Slice as much as we do!
I cannot wait to hear what you think of this one in the comments below! A crispy outer layer with a chewy inside, you will love it I hope!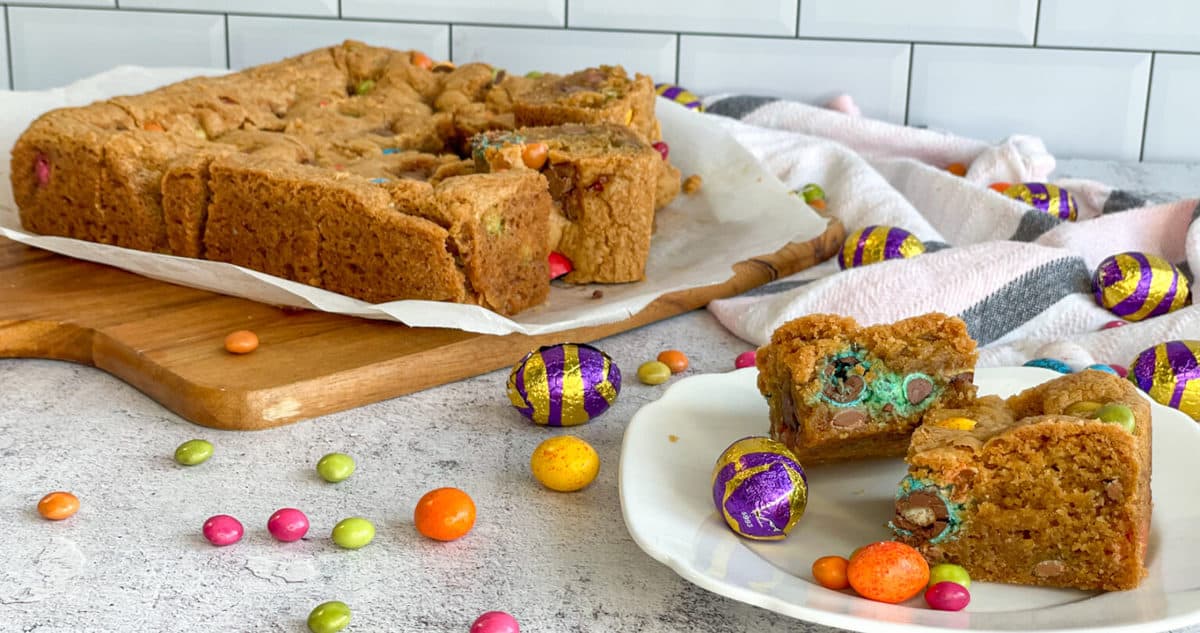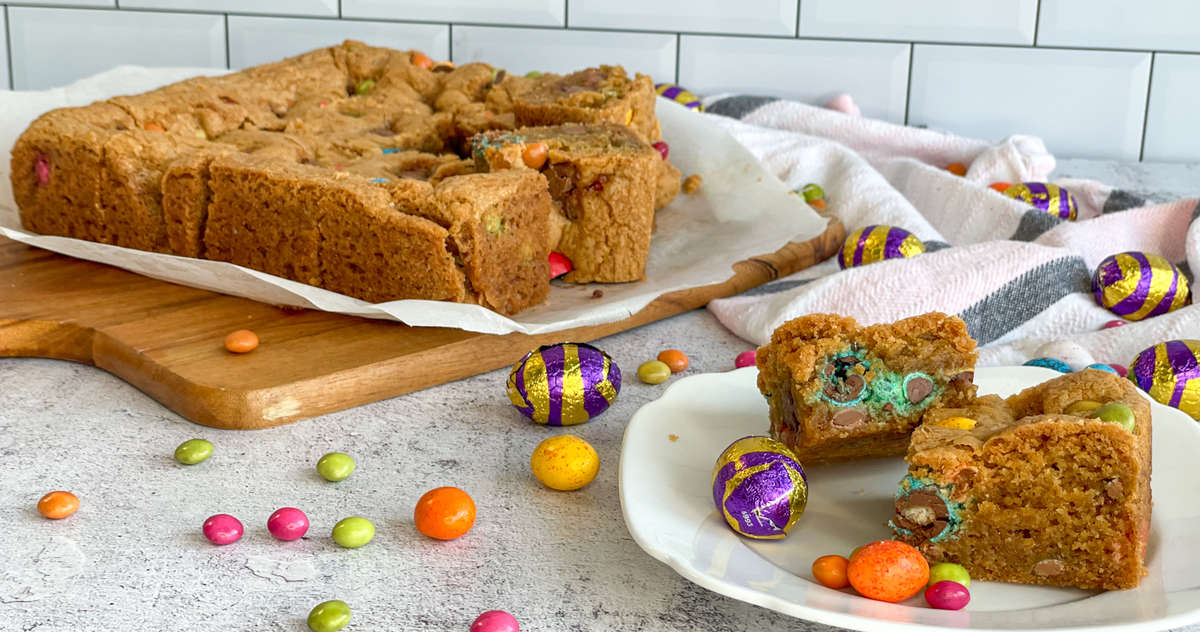 Thank you so much for stopping by to check out my latest recipes on my blog. If you are not already be sure to follow me on Facebook or Instagram for more deliciousness, and you can register your email in the subscription box below to receive all my recipes as I publish them.
Happy Baking!
Anna
Pin It! Pinterest