A delicious take on my favourite cookie recipe, this Caramilk Cookie Slice is loaded with chunks of chocolate and a very decadent treat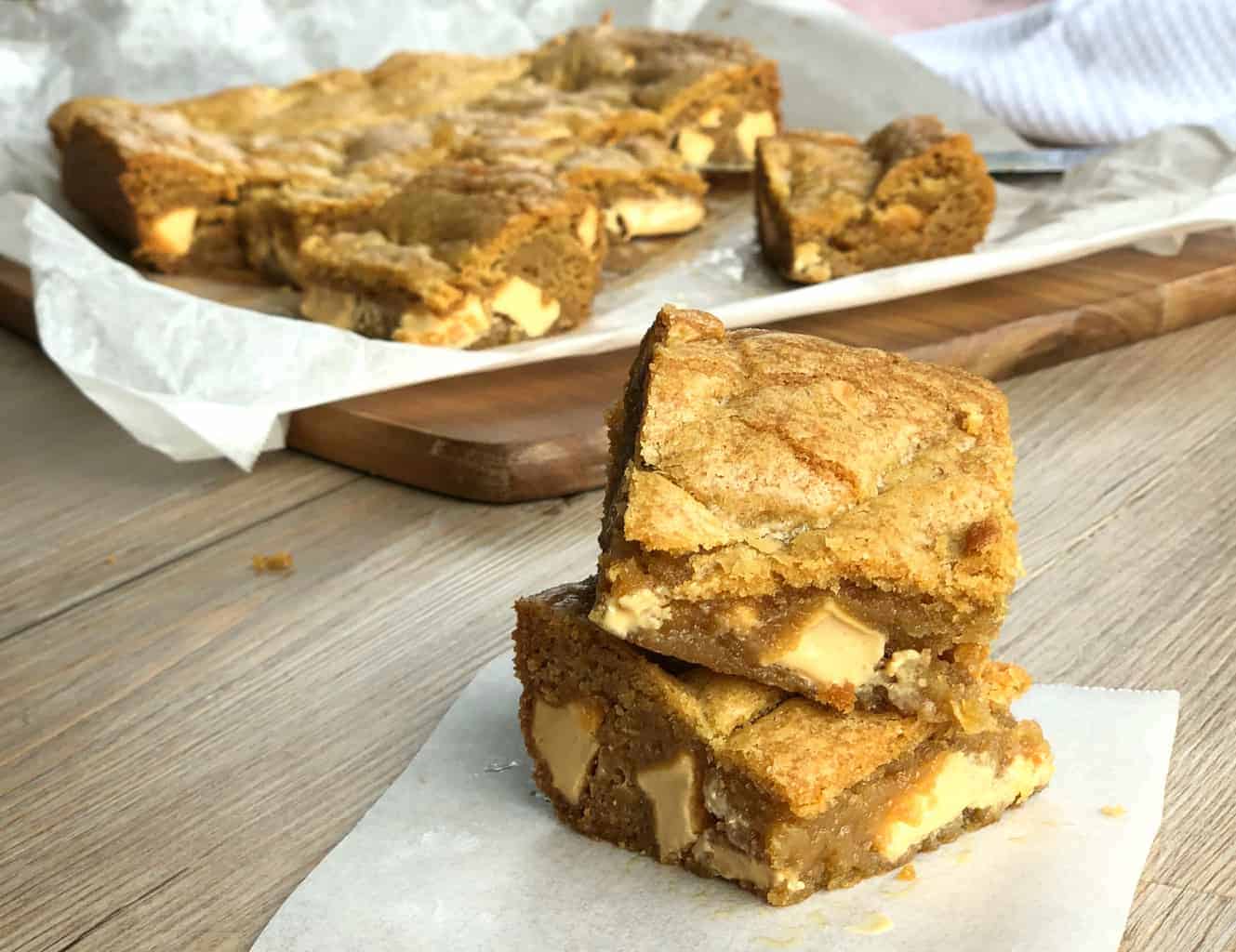 Many cookie recipes can easily be adapted into slice form which removes the need for fiddly rolling of the dough, this week my baking has been inspired by the return of Caramilk chocolate to our stores. However you can substitute any chocolate you like, including the likes of macadamias to give it a lovely texture.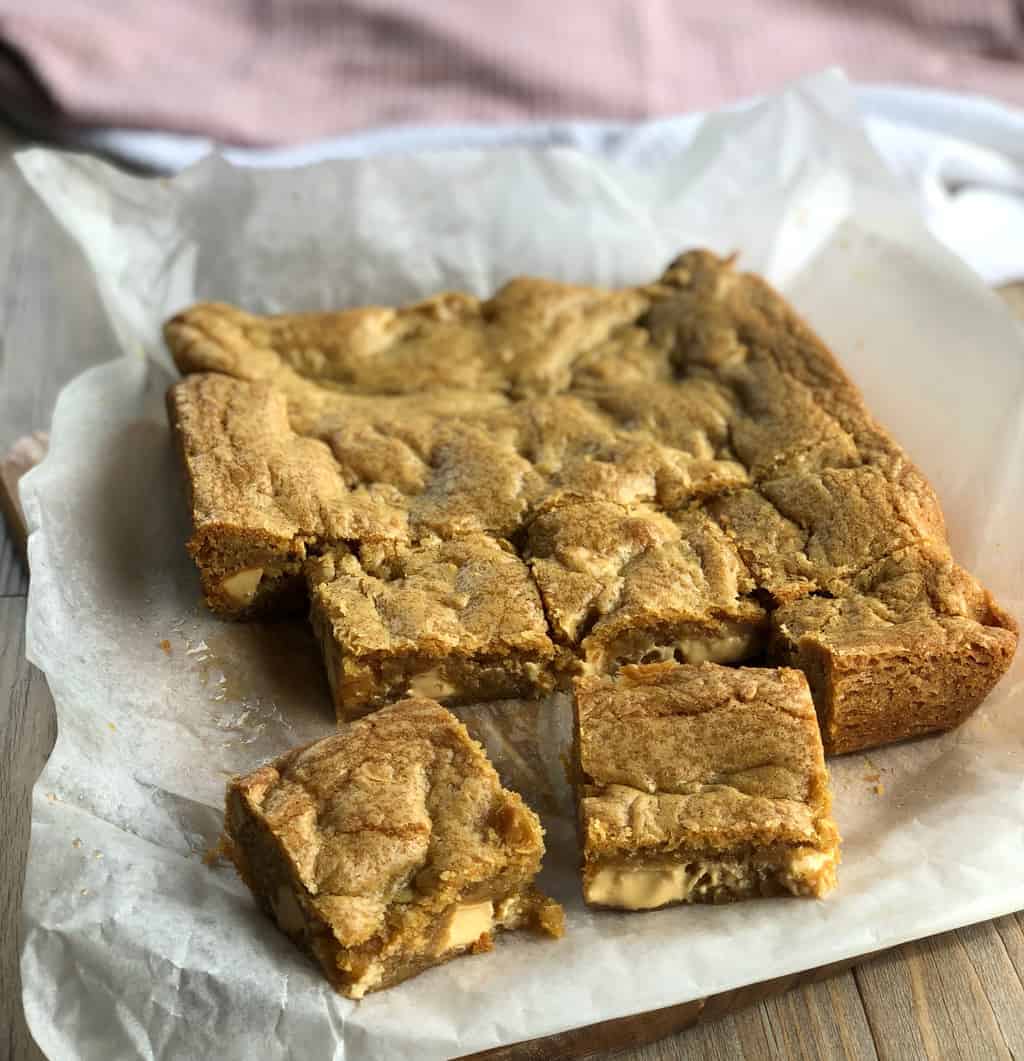 Baking a cookie slice is just like making any other slice, lining the tin and baking until golden brown. If you prefer the slice to be more gooey you bake it for a shorter time, alternatively give it a little longer for a more crunchy outside.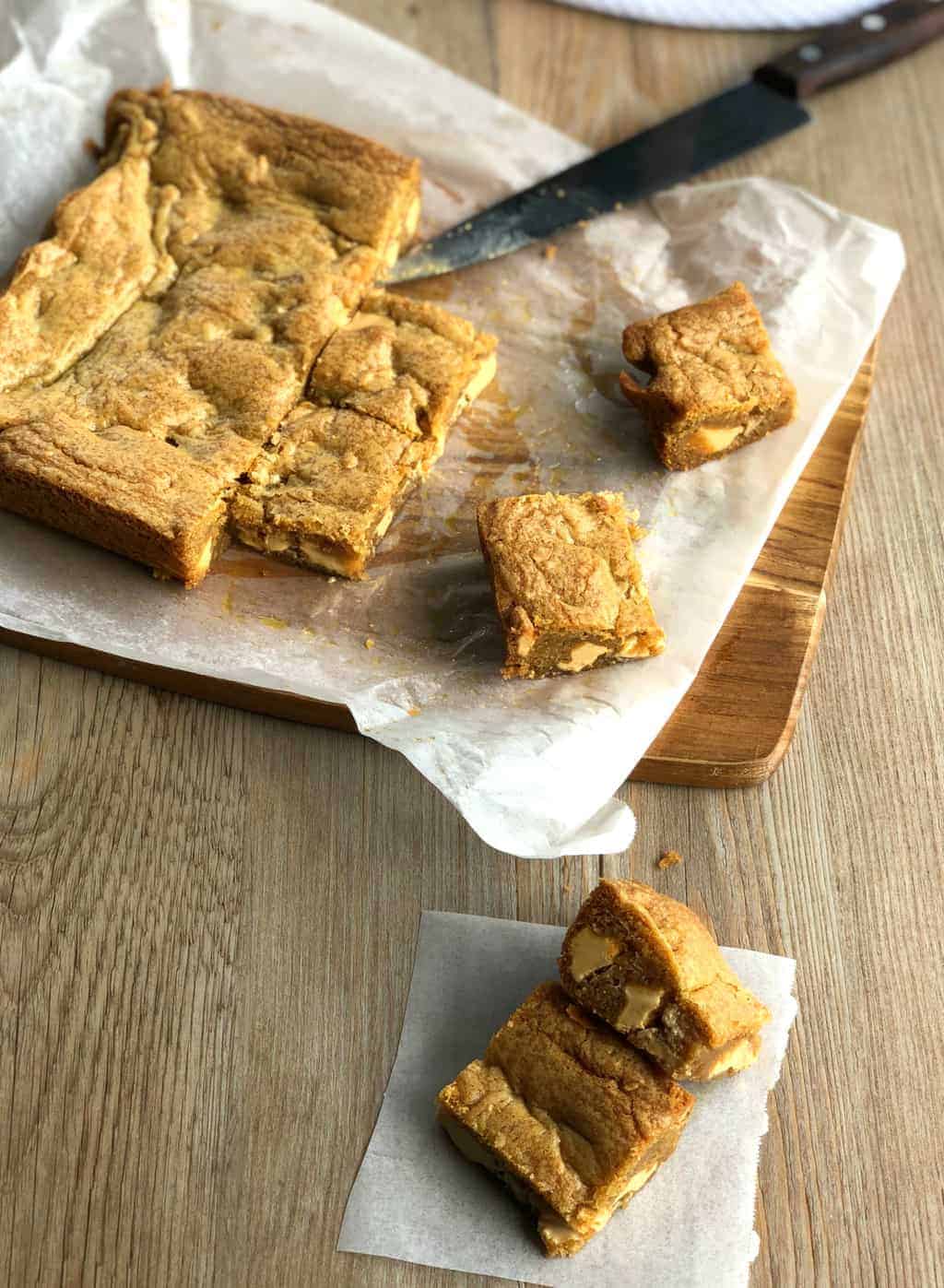 Using very basic pantry staples I think you will enjoy this recipe, inspired from my Best Ever Chewy Chocolate Chip Cookie, which is based on the classic subway, wild bean or ma baker cookies everyone loves so much. It is really versatile so you can include any chocolate you like, such as dark chocolate chunks or milk chocolate to white chocolate.
According to my sources at the always reliable Wikipedia, Caramilk was sold in NZ and Australia in the mid 1990's before eventually being stopped. It is a caramel flavoured white chocolate. In 2017 it was released in New Zealand and everyone went crazy to get their hands on some. You could find it in Australia occasionally but at times it was 30 times the recommended retail price!!!
Again they bought it back in early 2018 on limited release. After a lot of requests it is now to be a permanent flavour in the range, available in both New Zealand and Australia. Which is great news for all fans…..now do you think they could also bring back snifters and tangy fruits???

The process is easy, you simply cream the butter and sugar in a food mixer and add ingredients as per the recipe. Depending on the thickness you desire you can change up the tin size. This also freezes well so you can either freeze the dough or the actual slice to thaw for another day.
I have had a bit of a frenzy on Caramilk baking, so here is lots to inspire you!
Click on these links for more delicious inspiration

So onto the recipe, super simple, I hope you enjoy this and let me know which versions you try.
So it is as easy as that! I hope you enjoy this recipe and check out my other Caramilk recipes while you are here. There is something for everyone.
Thank you so much for stopping by to check out my latest recipes on my blog. If you are not already be sure to follow me on Facebook or Instagram for more deliciousness, and you can register your email in the subscription box below to receive all my recipes as I publish them.
Happy Baking!
Anna