Are you looking for fun ways to entertain the kids? This is such a neat idea – Table Hammocks – all you need is a sturdy table and a bed sheet.
After having the kids home sick all week I was desperate for something to keep them quiet but happy and came up with this! A new take on the usual sheet over the table tent – we created table hammocks! And it was so easy and they had hours of entertainment – simply using a queen sized sheet tied over the top of the table 🙂 (Turns out this is not an original idea – but it was to me ha ha – the joys of Google prove me wrong but happy to share my version 🙂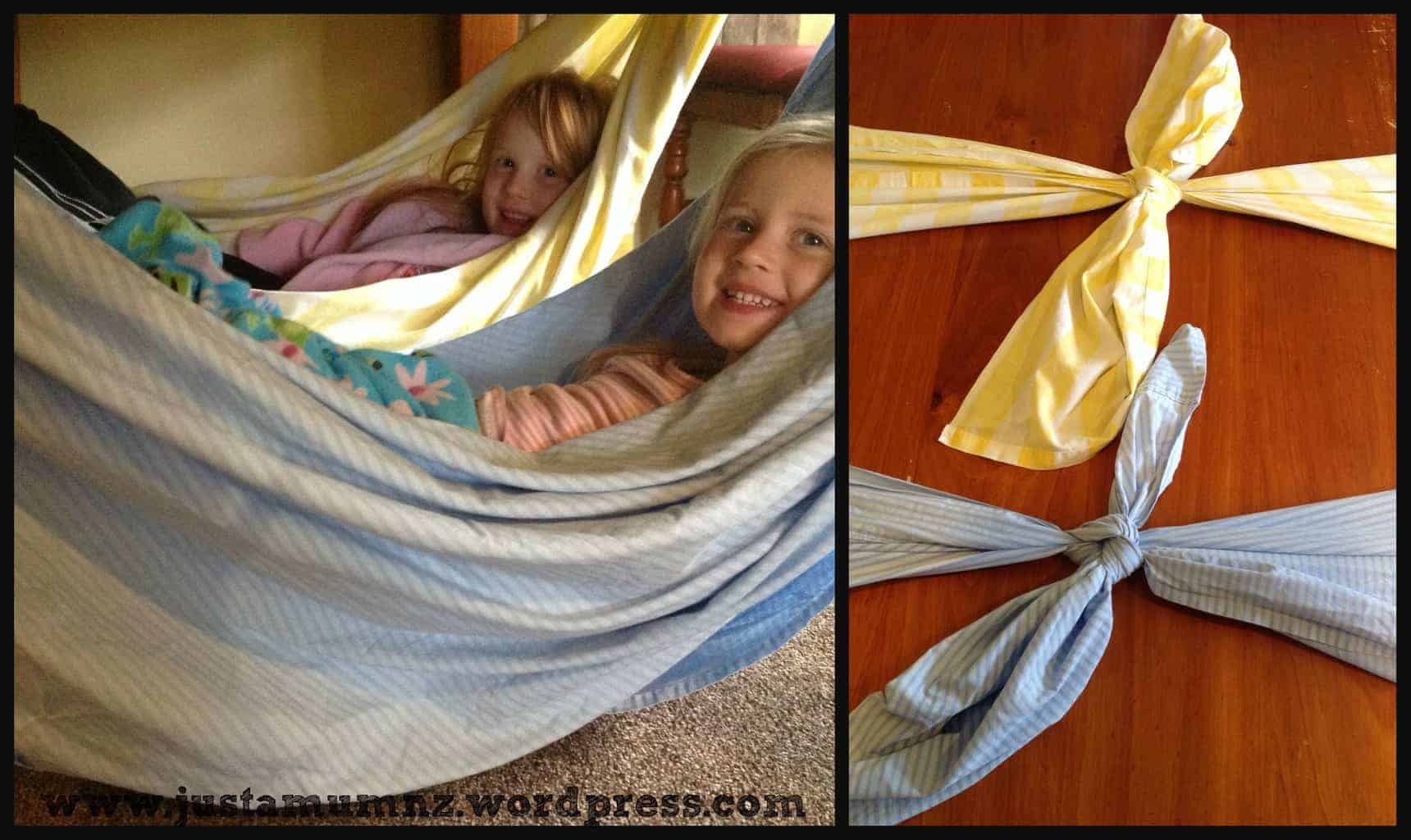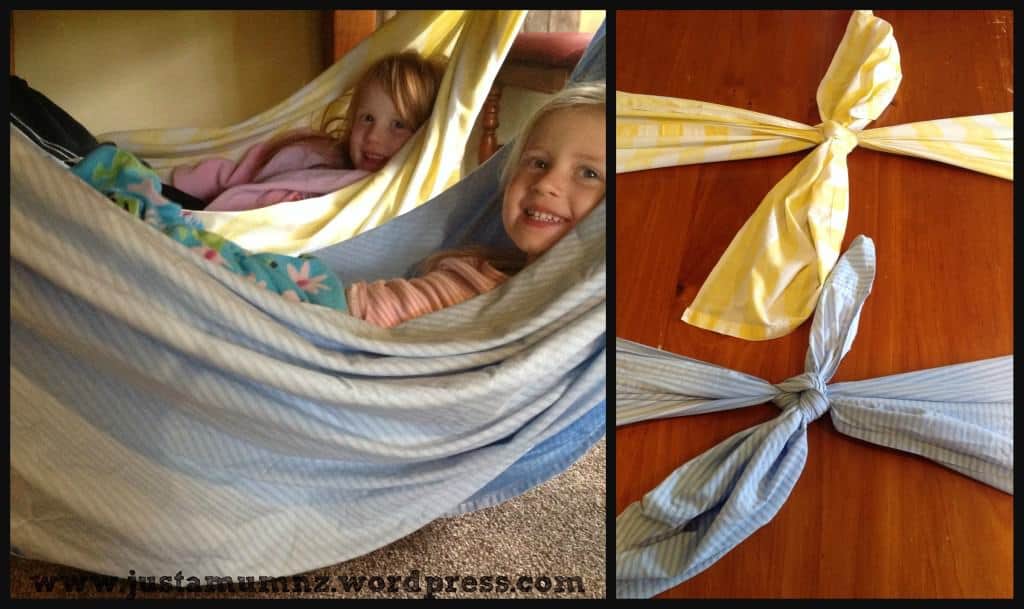 (Please ensure that you take all practical steps to ensure safety for your little ones and do so at your own risk with constant supervision, consider the child's age, strength of your table, child's understanding and size of your child before you set this up please- I cannot accept responsibility for you trying this at home)
For other Activites for a rainy at home day check these out
What you need:
Queen sized sheet
Strong Sturdy Dining Table (a Must!)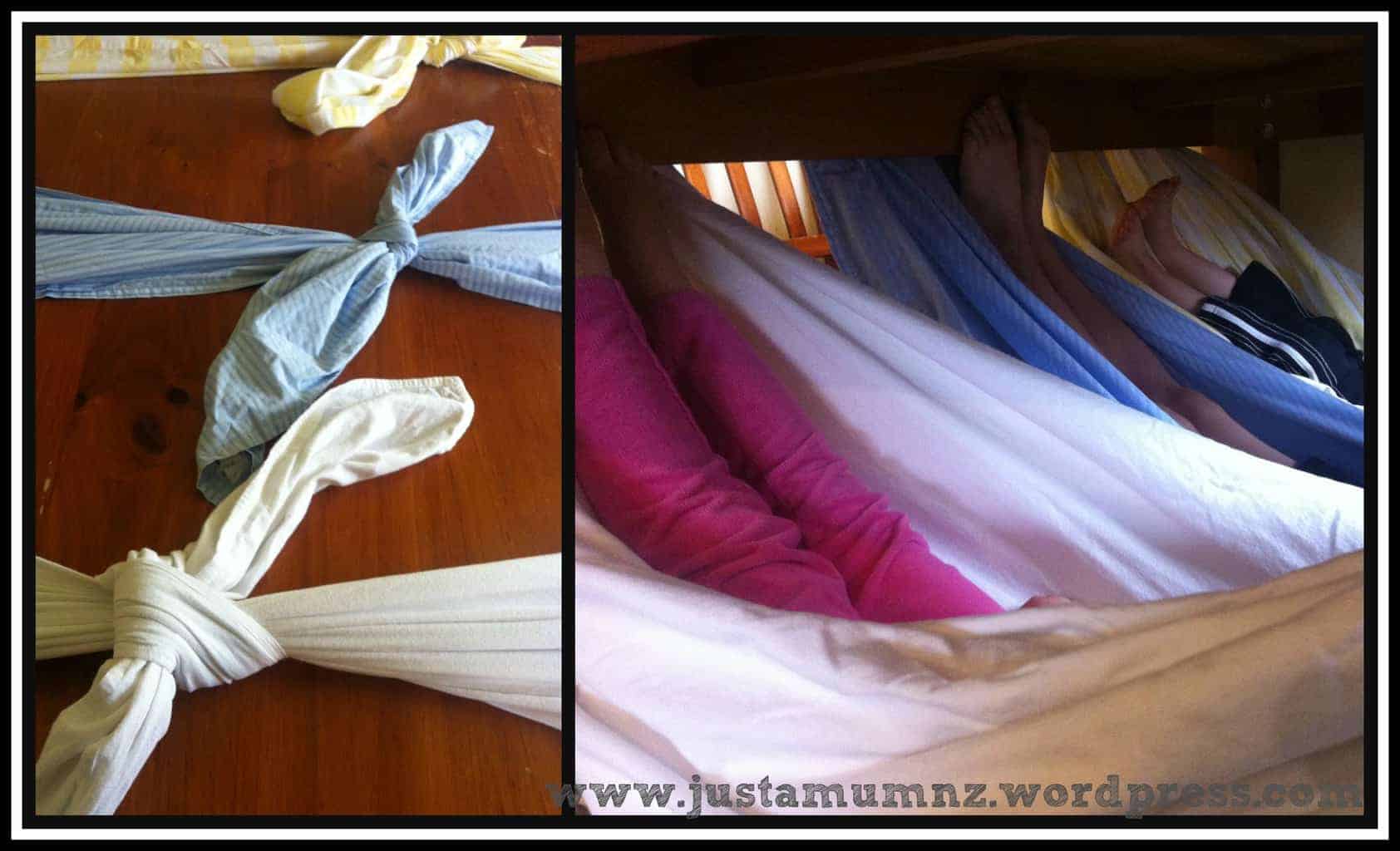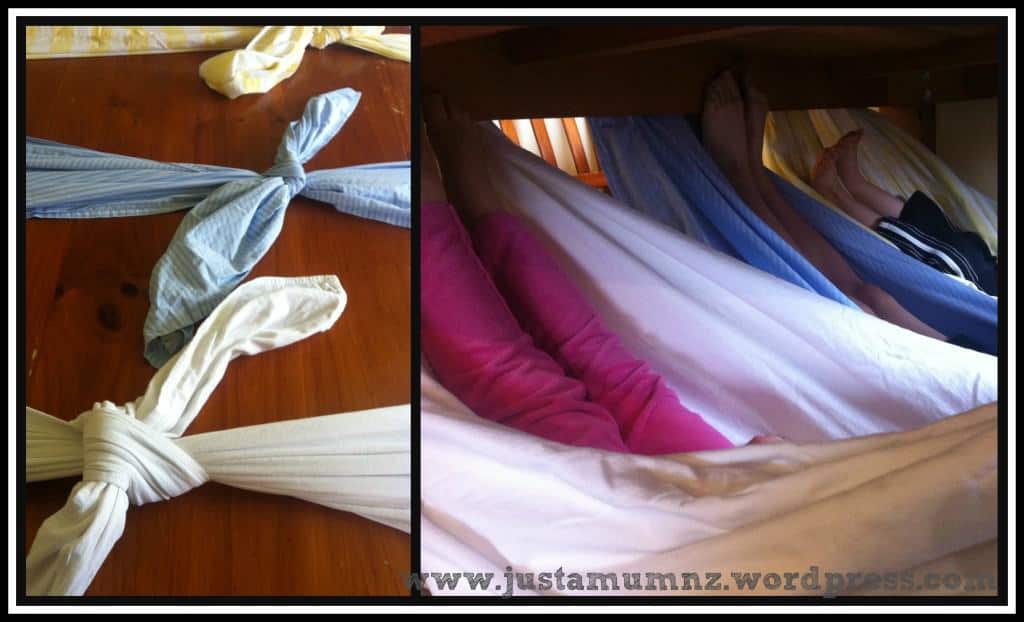 How:
Simply take two opposite corners (on the diagonal) of the large sheet bring them up from underneath the table tie them on top of the table. We tied it width ways across our table (which is approx. 1.2m wide) You may want to try a few times to get the sheet the right height – high enough so they are off the ground – not too high so they are kissing the table! 😉 You will need to tie a tight strong double knot.
Once you have the sheet tied to a suitable height, take your little one under the table and teach them how to hop in – bottoms first in the very centre of the hanging sheet – then gently lay back and lift their feet, after a few tries they will be away! Once they are in they can pull the sides of the sheet out a little to make a wider hammock if needed so their shoulders are supported – the other corners of the sheet make a comfy cover if they want to snuggle down in there and pull them over like a blanket.
When they are ready to get out – teach them to gently roll out and come out of the table on their hands and knees to ensure they do not bang their heads.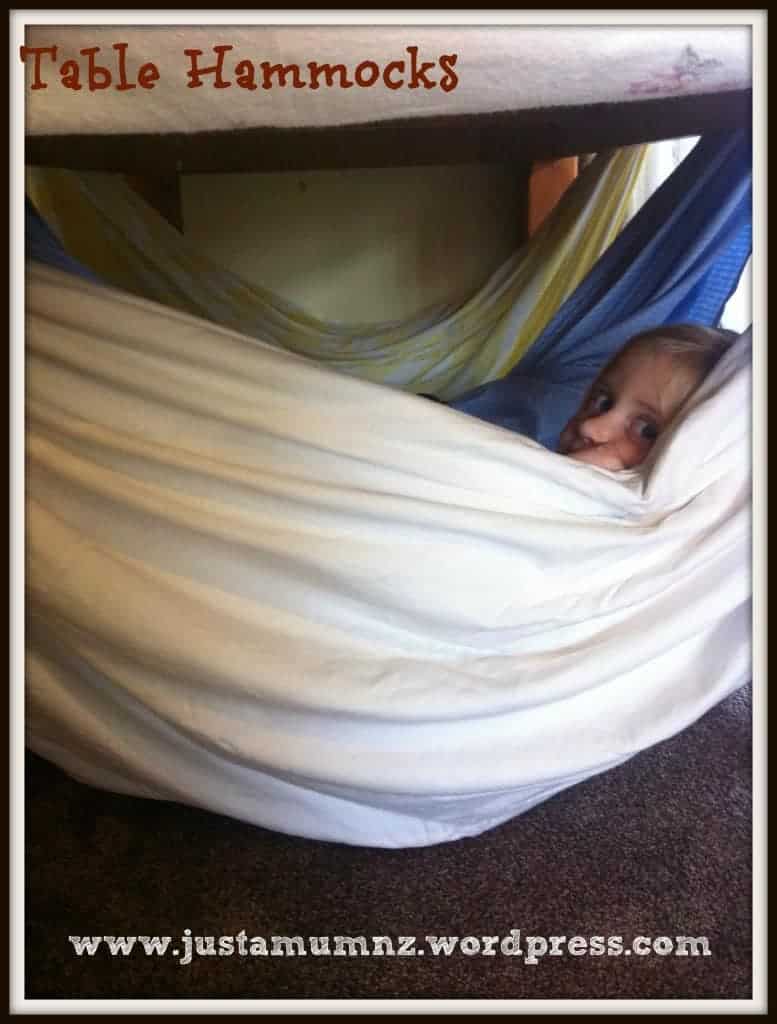 This is one of those activities that is so simple and easy BUT you need to use common sense. My table is very very strong solid wood – I know it would not collapse under their weight and I did not allow them to swing when they are in there so they did not bang their heads etc and also taught them the safe way to get in and out. I double knotted the sheets and checked it from time to time to make sure the knot was still strong.
So my 3 loved it – we started with only one hammock and quickly needed to accommodate all of them under there – they took in a wee table with some fruit on it, books, teddies and dollys, even the ipad was played on under there. It made a special place just for them – somewhere quiet they could be and create their own special world. We covered the whole table with a large sheet so it was cosy and snug in a little world made for 3.
And it saved my sanity on a sick day!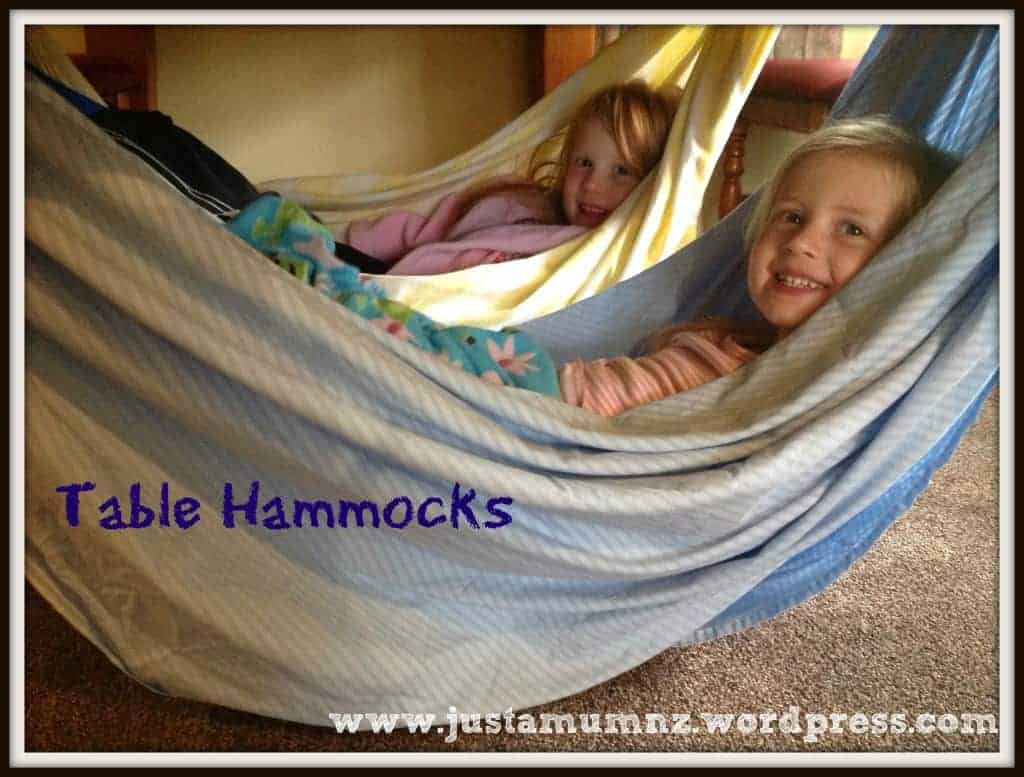 Feel free to ask any questions if you are not sure how to set it up = but try it a few times first and see how it goes – remember the opposite corners on a diagonal on the sheet.
Thanks for stopping by to check out this quick easy idea for kids – I have more under the Fun Kids Activities tab and lots and lots of yummy recipes too.
If you are not already be sure to follow me on Facebook or Instagram for more deliciousness, and you can register your email in the subscription box below to receive all my recipes as I publish them.
Happy Baking!
Anna