I have wanted to perfect an easy Baked New York cheesecake for 15 years now, finally I have and I am delighted to share the things I have learned with you!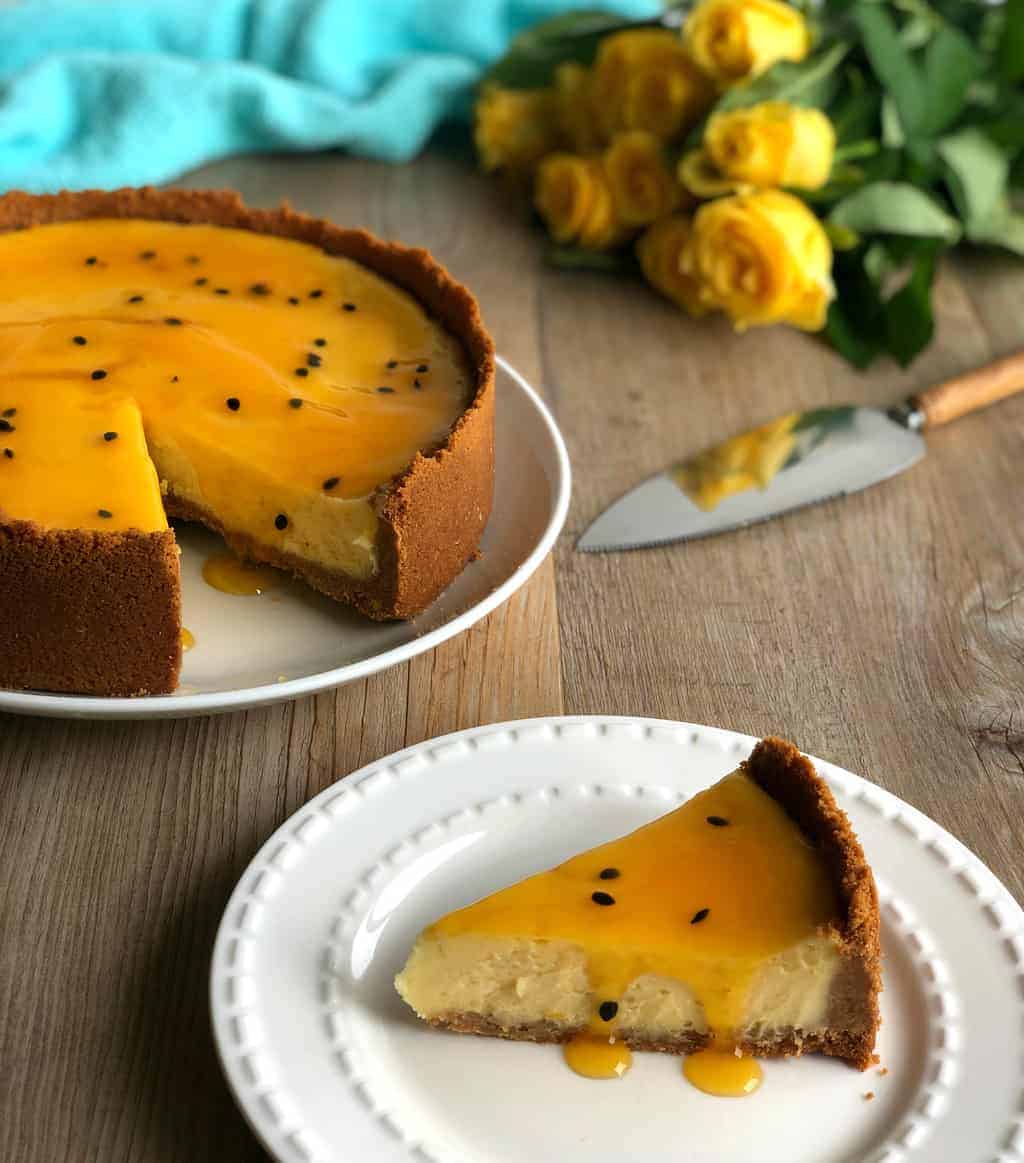 This post will not be the usual casual rambling of a recipe blogger, but hopefully choc full of tips and tricks that will make the process much easier for you. I have made all the mistakes and want to make it easy for you to follow along the recipe. This is a make ahead recipe, it needs to chill for 12-24 hours so a great recipe to make during the week for a weekend event.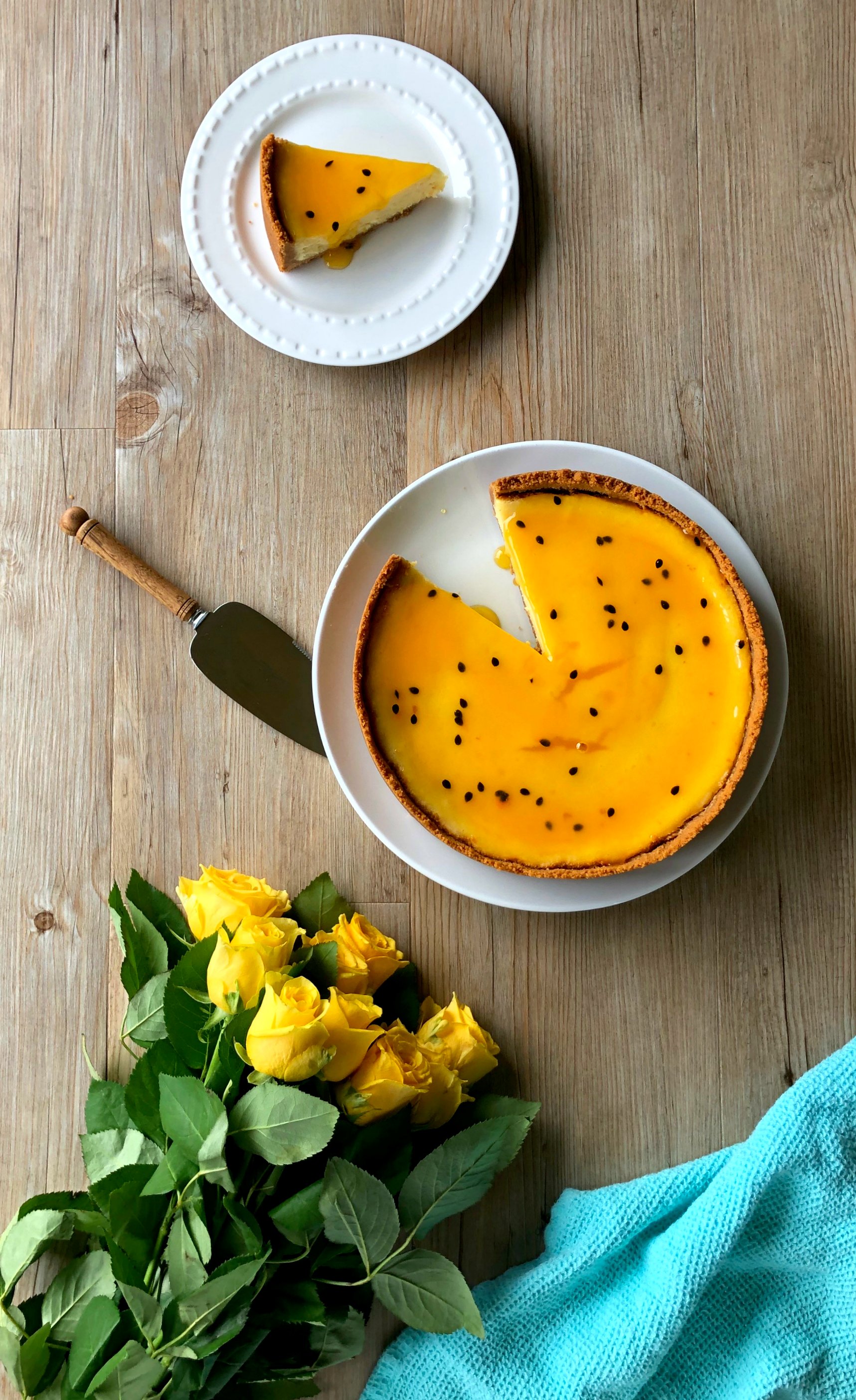 There are so many different methods for making a baked cheesecake. This recipe is for the classic simple version, often referred to as a New York Cheesecake, it is creamy, rich, dense and firm and gets its subtle flavour from the cream cheese, vanilla and lemon. I have altered and amended it to suit our tastes and hope you enjoy it as much as we have.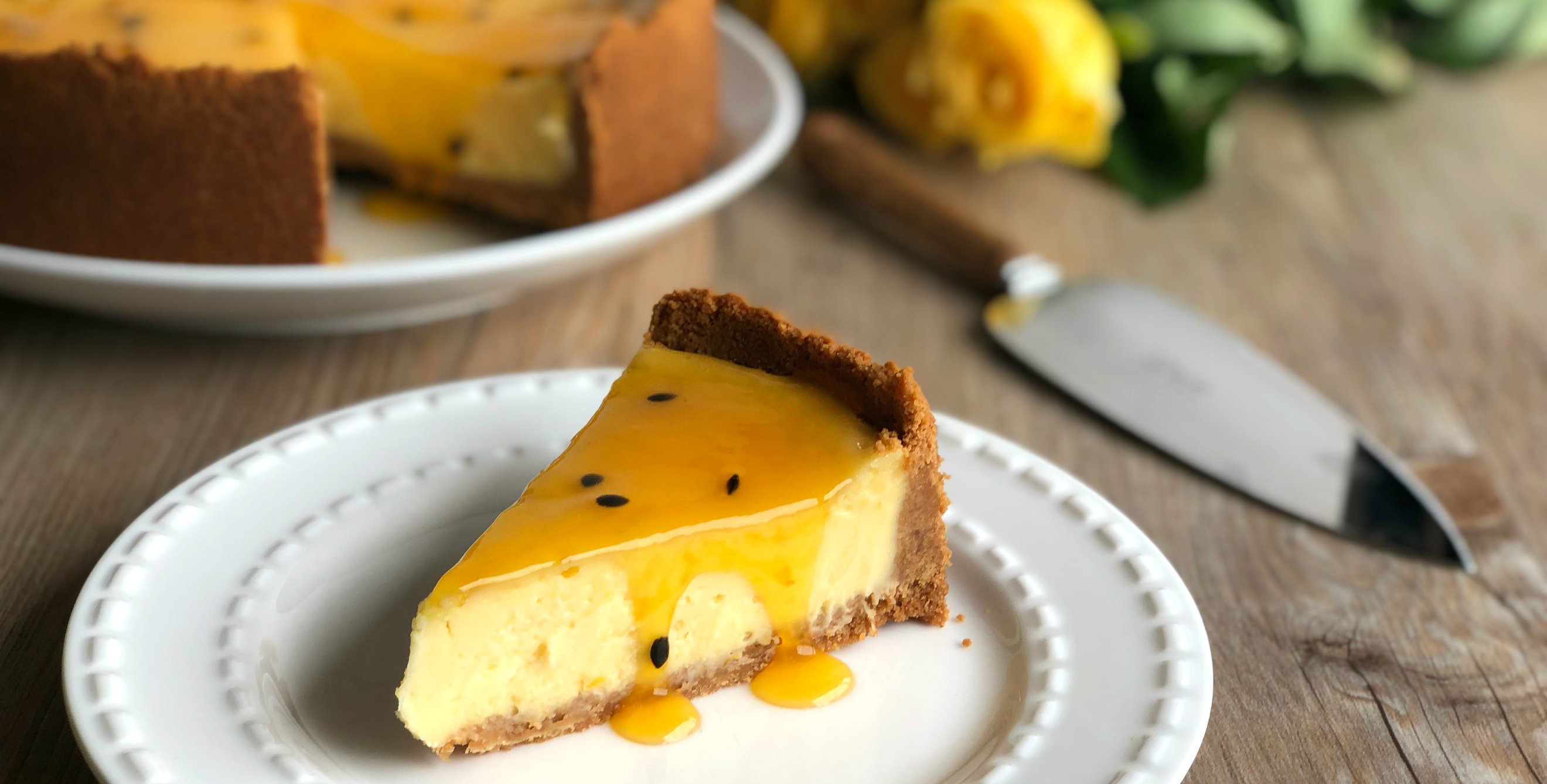 The ideal New York Cheesecake is pale, completely smooth and creamy. If all the tips don't work out perfectly for you, then that is 100% ok because it will still taste amazing. If you over cook it or it develops cracks this is ok, if you look at my photos I have cracks, just filling them with topping! Do not worry unless you are preparing it for Heston Blumenthal and then even he would not begrudge you a few cracks. The great thing is you can easily cover up any cracks with a sauce, seasonal berries or even a dusting of icing sugar.
If you are a fan of Cheesecakes – I have lots of lovely NO BAKE CHEESECAKES
Caramello Chocolate Cheesecake
The Best Oreo White Chocolate Cheesecake
Delicious Coconut Ice Cheesecake
White Chocolate & Raspberry Coulis Cheesecake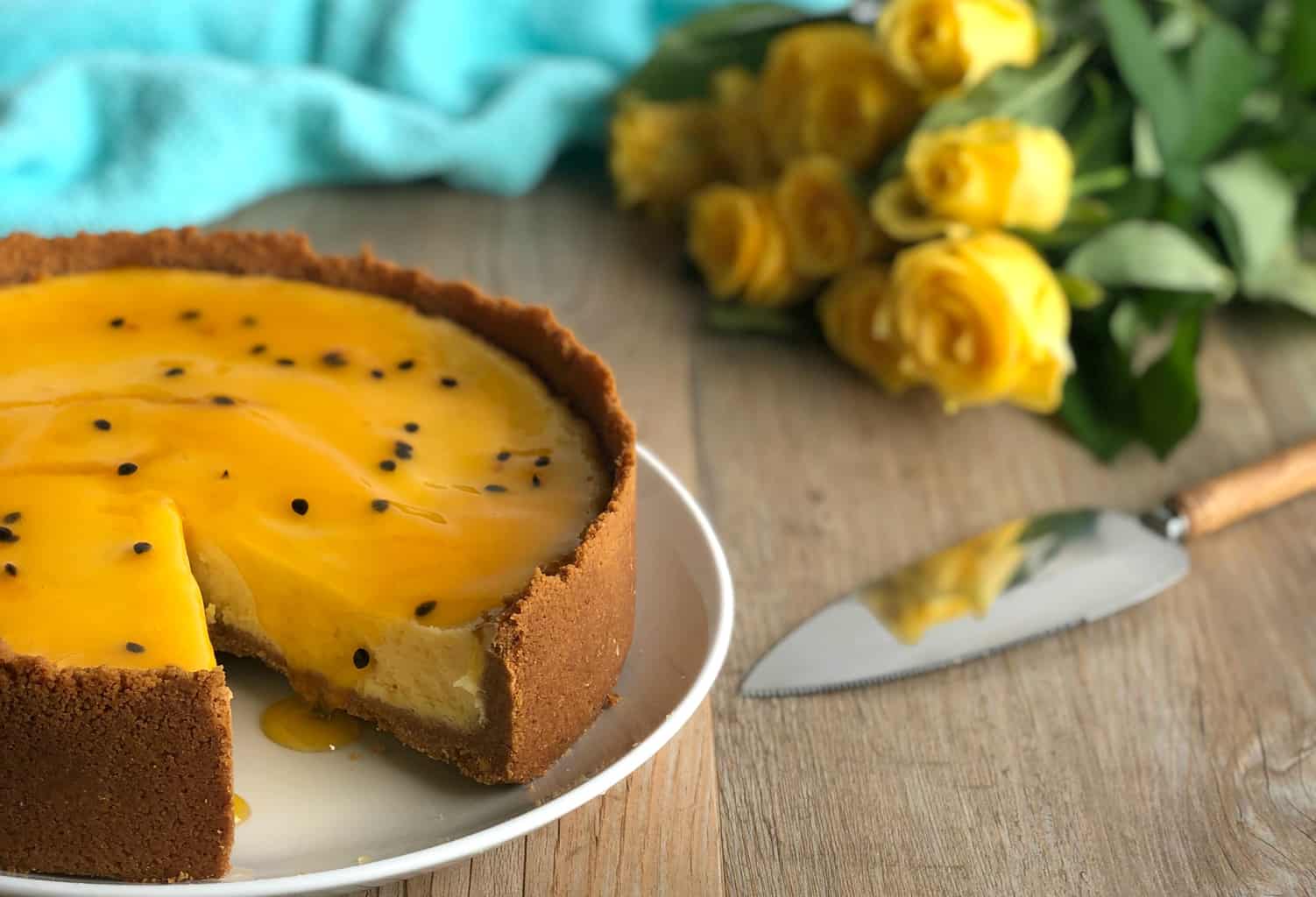 I will break down the tips on the preparation of the base, the preparation of the filling and the baking of the cheesecake. Please read these tips before you begin to create the cheesecake as having all this on board and knowing what is coming next will be super helpful. There is no water bath, no gelatin, no fussy techniques, actually once you get the hang of it its a super simple process
Preparing the Base
Prepare in a 23cm Springform Tin – invert the base of the tin, this means the base is smooth and there is no 'lip' for the cheesecake base to get stuck in and makes it easier for the cheesecake to slide off
Lay a piece of baking paper over the base THEN attach the sides of the ring tin so it sticks out the sides of the bottom, this overhang makes it easy to slide off when you are ready to serve.
Spray the sides of the springform tin then add strips of baking paper to form a circle as shown in the images below, I used three strips. The cooking spray will help the baking paper stick and stay smooth and flat
For the crust blitz the biscuits, butter and lemon zest well as per recipe and add to the spring form tin and spread gently around with a spatula to evenly cover the base and begin to push towards and up the sides ready to firmly pack it.
To form a firm crust on the base and sides of the tin use a round 1/2 measuring cup with a flat bottom and sides to firmly press the base and up the sides of the tin to create a very compact and smooth even crust. It takes a little practise but you will want a firm and uniform crust.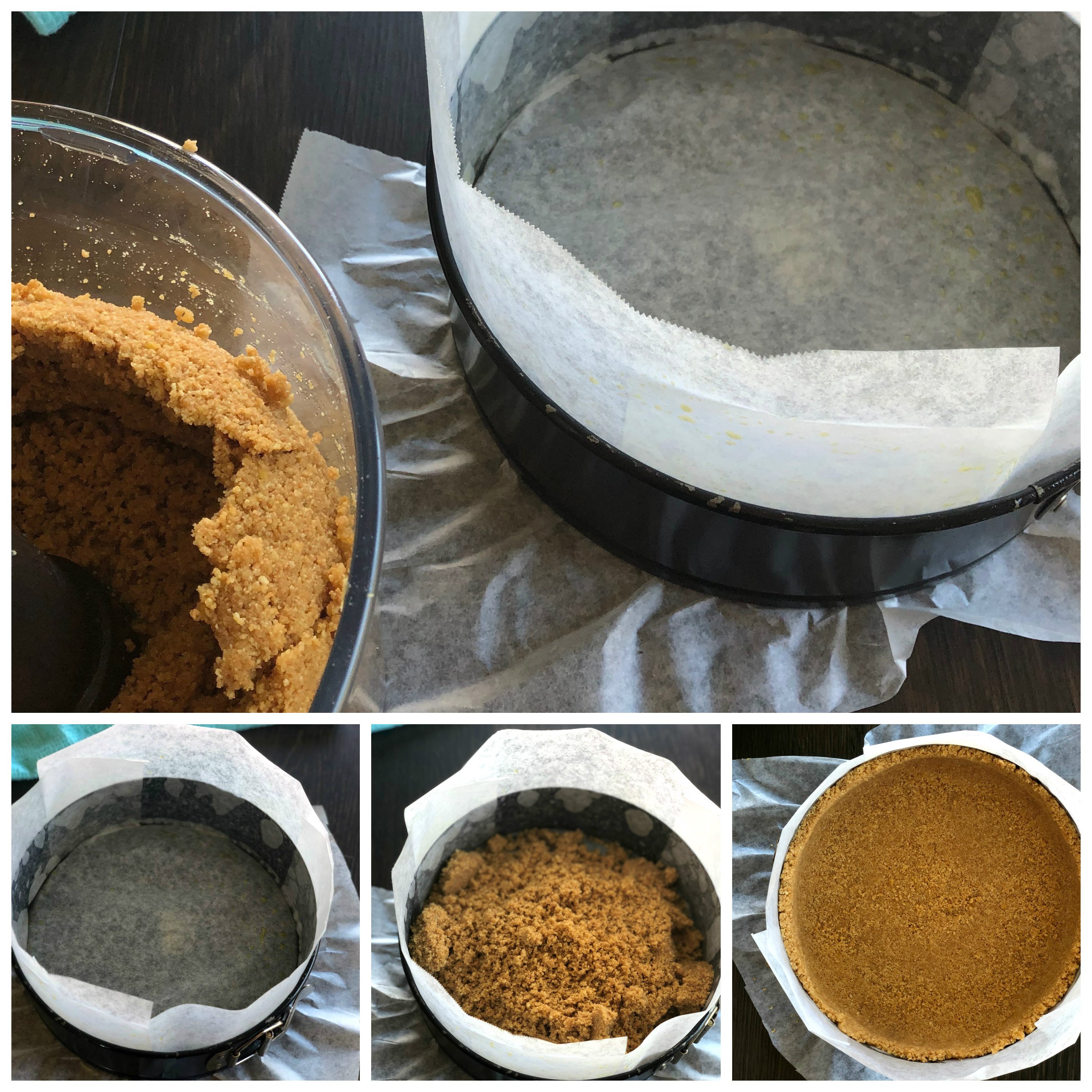 Preparing the Filling
All ingredients MUST be at room temperature, mainly the cream cheese, eggs and sour cream. This is key, if you can plan ahead get them out of the fridge at least 2 hours before you need them, cold ingredients leads to cracks.
Have everything ready before you begin to assemble the cheesecake filling, you will need to use a stand mixer to combine quickly but in short bursts so as to not overmix or aerate the filling
Do not overbeat or mix the filling it is important that the mixture does not have extra air incorporated into it to ensure a smooth finish. If you do overmix this can cause the mixture to rise too much during cooking and cause the cheesecake to collapse or crack
Full Fat is best You want full fat cream cheese. Either the block or the containers but make sure it is original not spreadable. Also full fat sour cream.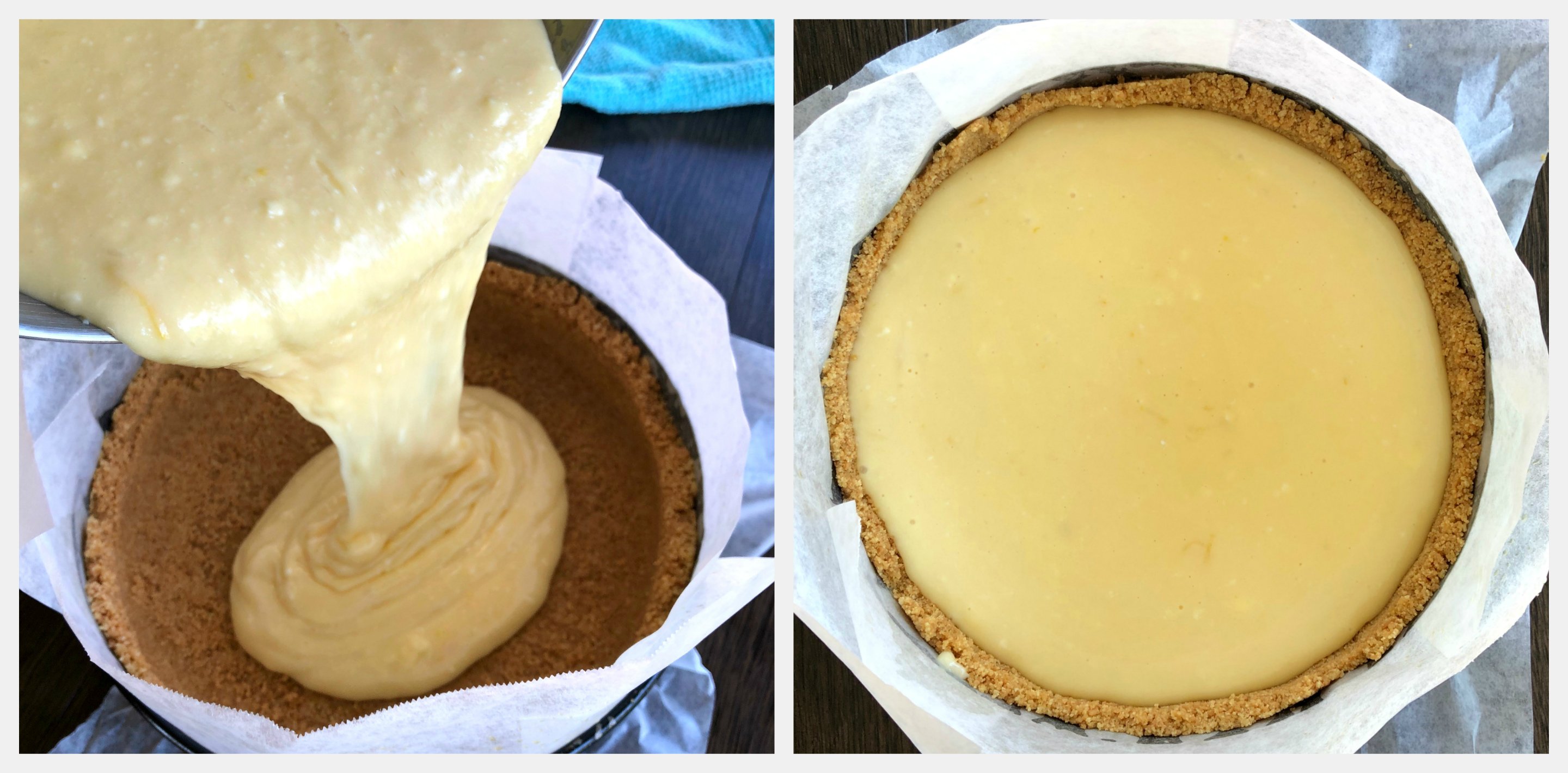 Baking The Cheesecake
Don't open the oven! Trust your oven to do it's thing for the first 50 minutes. If you open the door this can change the temperature too much and lead to cracks, after 50 minutes sneak peaks opening the door just a smidge to see what is going on
Do not overcook! The cheesecake is done when it is pale and there is a 3 inch (7cm) uncooked or wobbly middle portion. Cook for 5 minute increments until you see this occur. You do not want any colour and the edges should not puff up too much.
Leave in the oven to cool Once you achieve your desired pale cheesecake with a wobbly centre, turn off the oven and open the door a small amount (8-10cm) to allow it to cool in the oven. A quick change in temperature can lead to collapse or cracks, in some ovens you may wish to use a wooden spoon to lodge it open.
Remove once oven cooled and place on the bench to further cool to room temperature before transferring to the refrigerator.
Allow to set for at least 12 -24 hours this is a make ahead dessert, it will firm up and set during this time
Cheesecake is best served at room temperature so get the cheesecake out of the fridge at least 30 minutes before serving.
Cracks are OK even if like me, you follow all these tips and you get cracks that is totally fine. Simply disguise them with berries, a sweet sauce or coulis or dust with icing sugar and enjoy.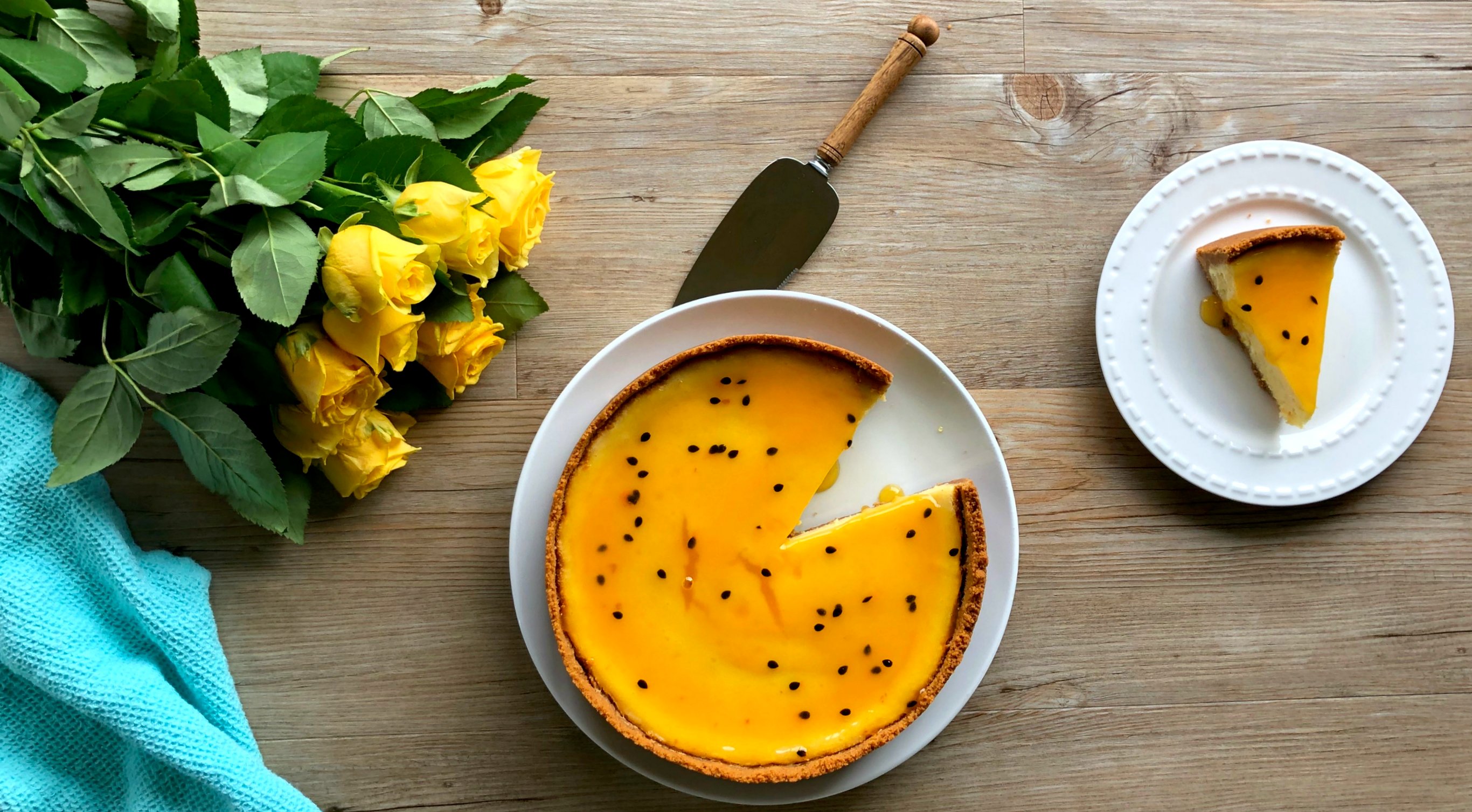 Onto the recipe, I hope you enjoy the process
Phew that seems like a lot of things for you to do in order to make a cheesecake but I can assure you once you nail those tips you will be away and it will take no time at all!
I cannot wait to see all the photos and hear from those who try this so reach out on FB, Insta or email to share your successes (or fails – even fails will be delicious and salvageable!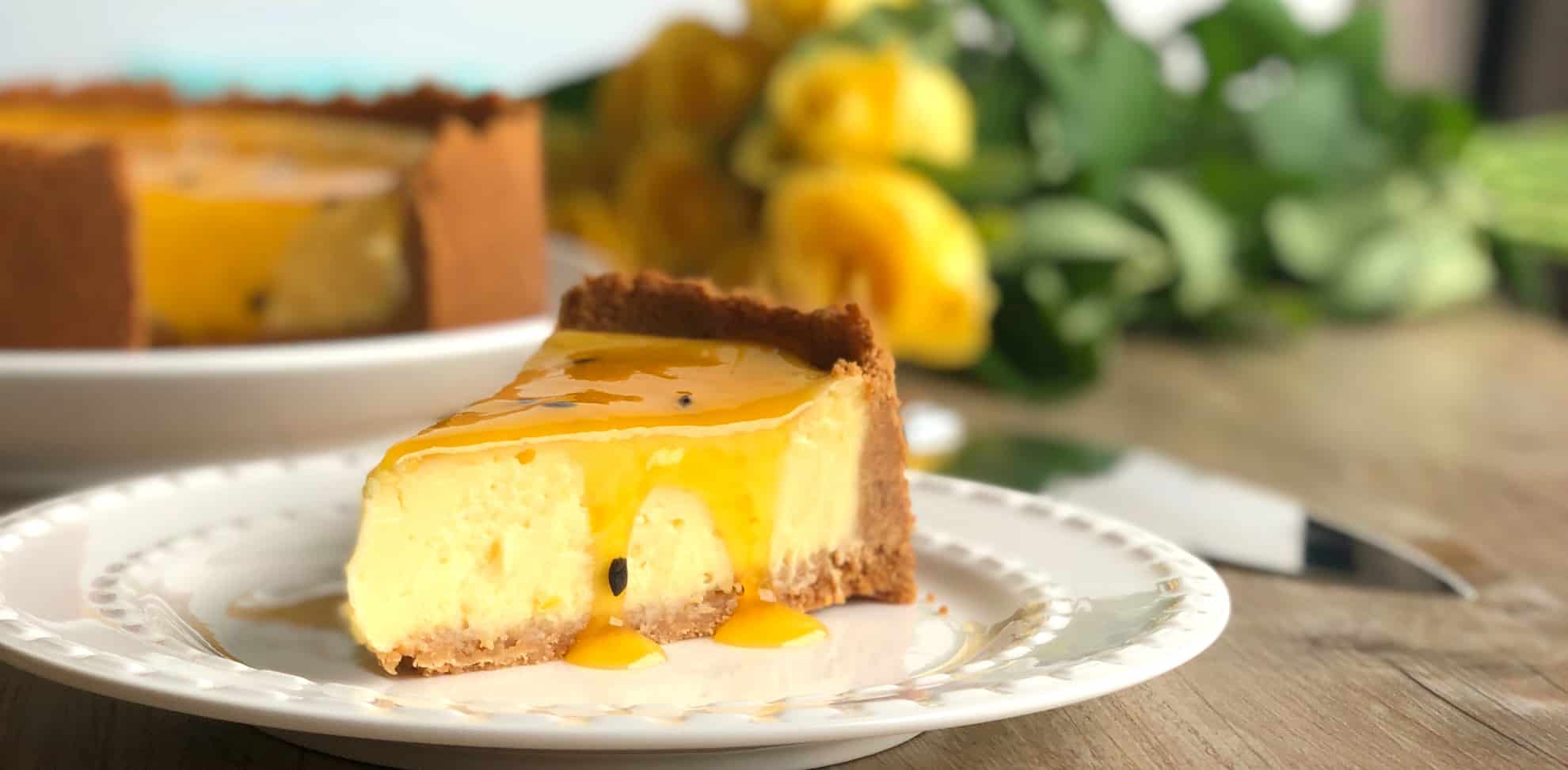 Thank you so much for stopping by to check out this recipe. Please also follow me on Facebook or Instagram and you can be one of the first to receive my new recipes by subscribing via email in the link below.
Happy Baking
Anna