This delicious 5 Minute White Chocolate Easter Fudge is sure to be a big hit with your family, just 4 ingredients too!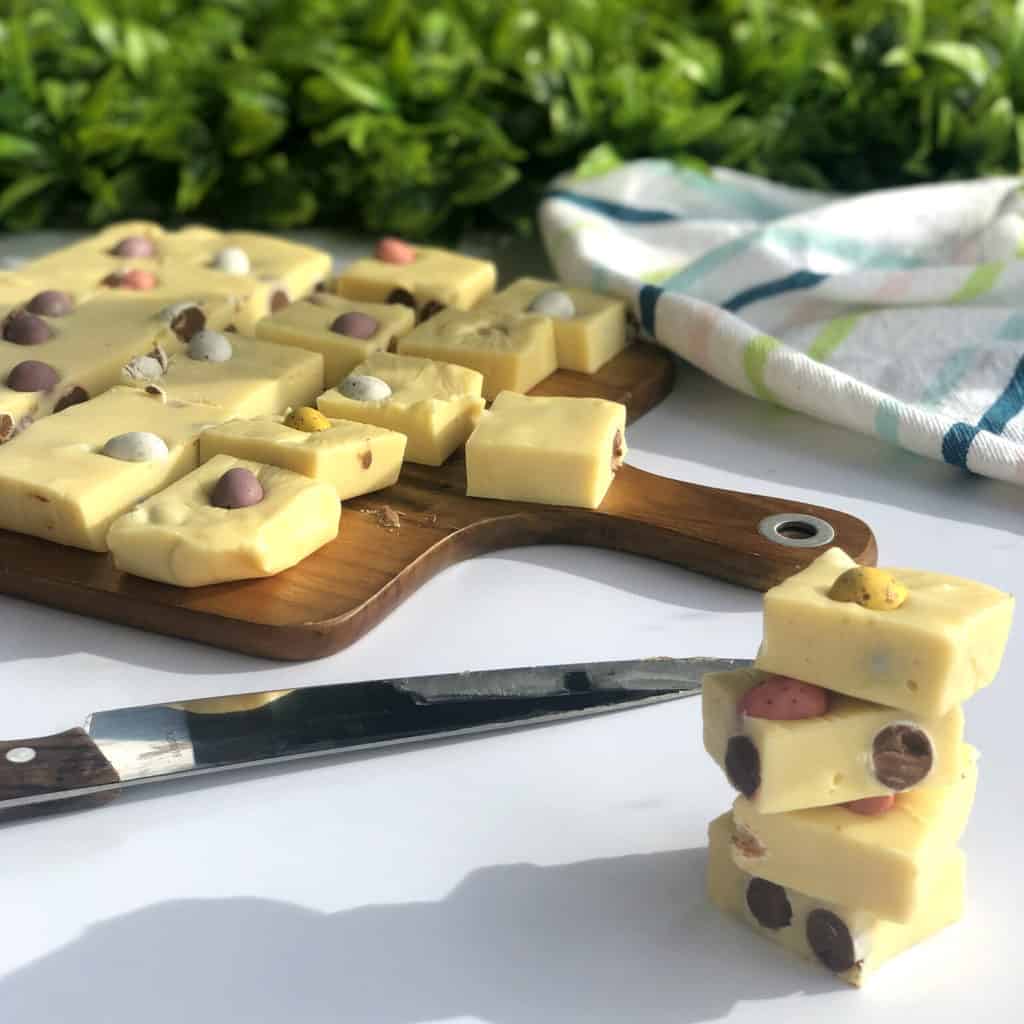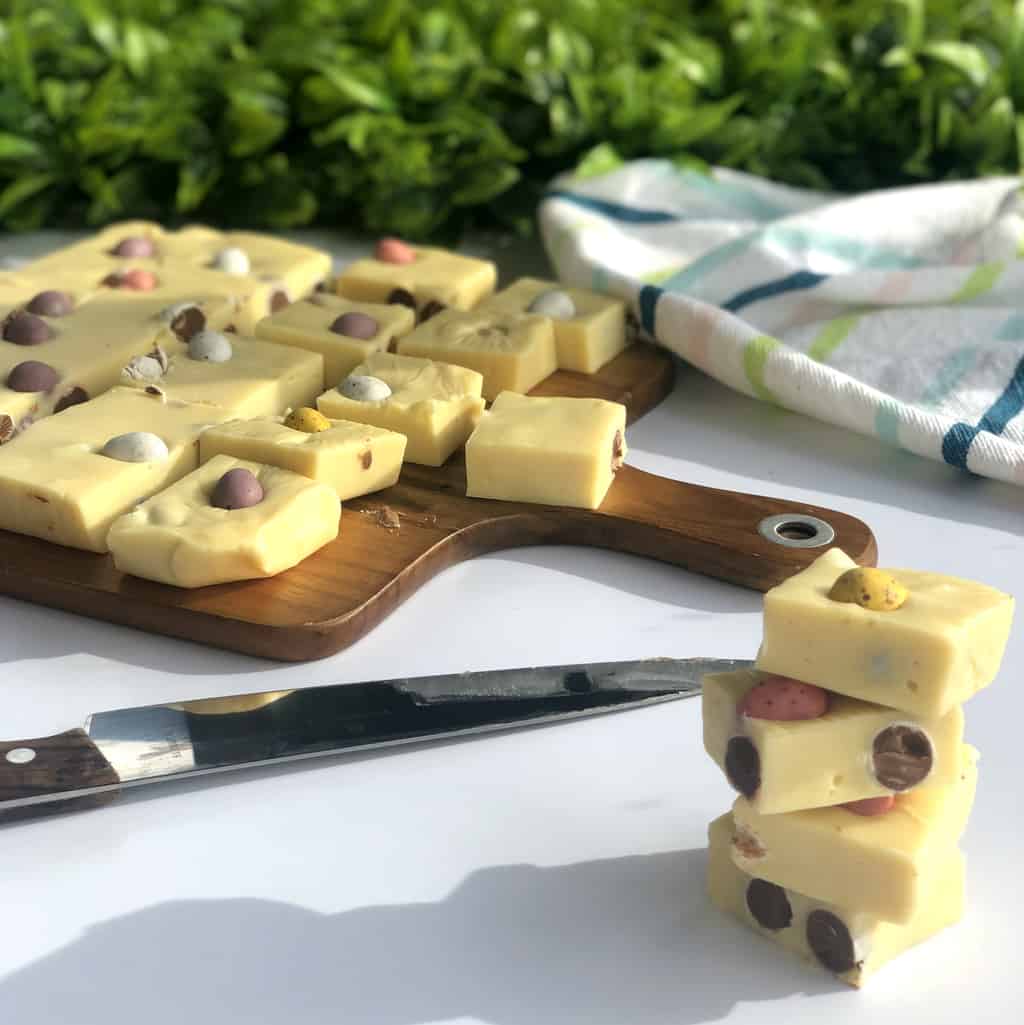 I love sharing these easy recipes. This one has been around for years and was one of the first ever recipes I shared on my blog, but it is time for an update so the first version I am bringing you is this Easter Version, made with white chocolate and easter eggs for added colour and texture!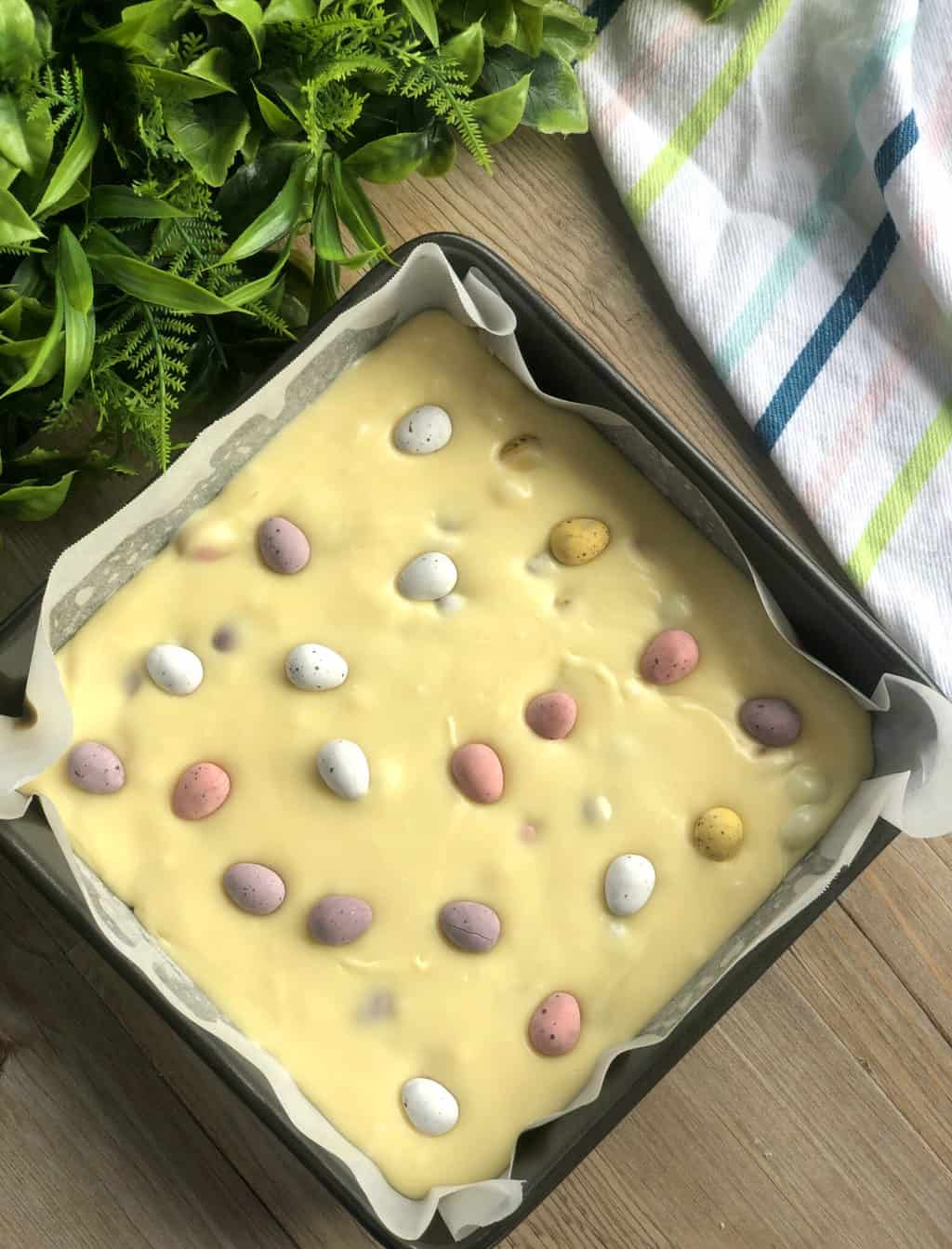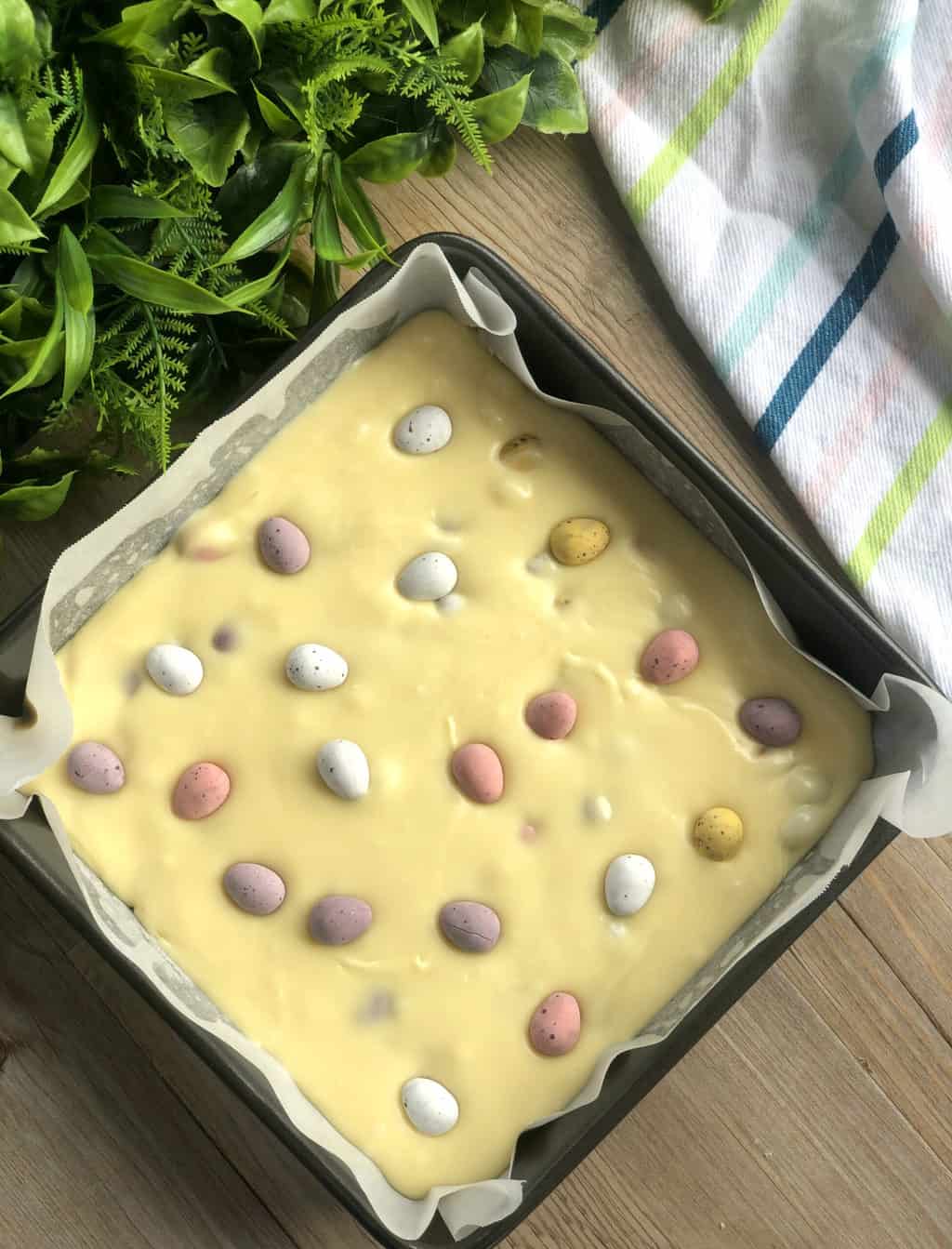 This is a 3 ingredient fudge, made in the microwave it could not be easier, or quicker! The cooking time usually takes less than 2.5 minutes so there are no excuses for not whipping this one up.
All you will need is
White Chocolate

Condensed Milk

Butter

Easter Eggs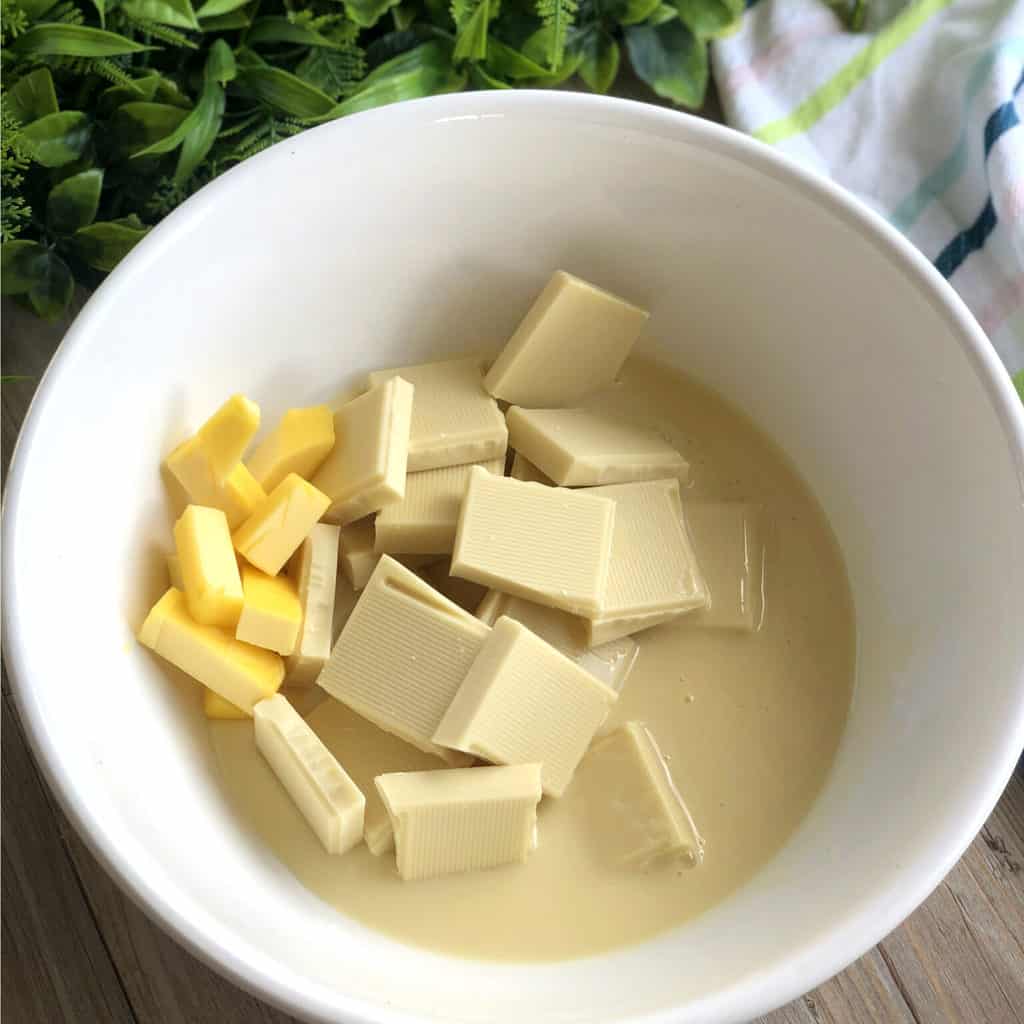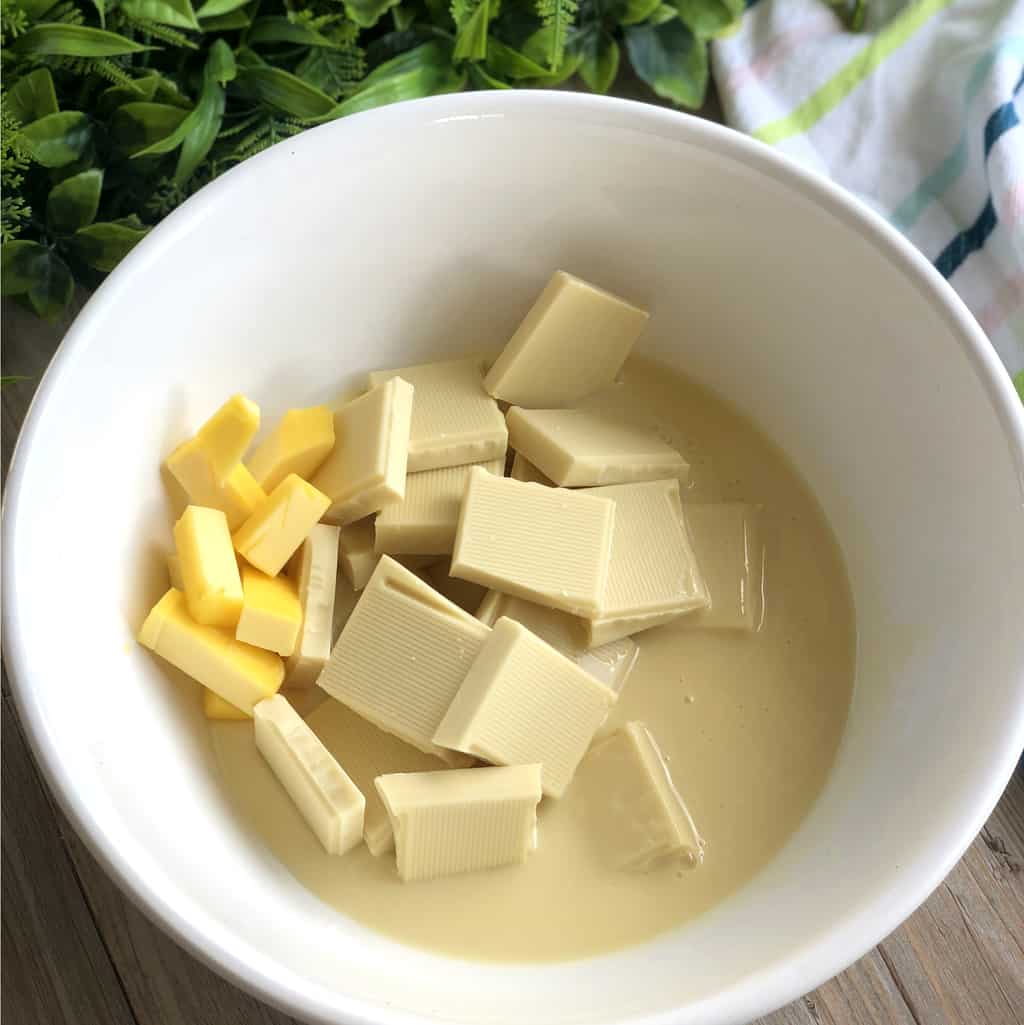 There are versions of this made on the stove top and in the slow cookier – I will share those in time too, but this is by far the easiest! All you need is a large microwave proof bowl, a big spoon and a slice tin to chill it in – plus a little bit of patience for setting time. Ideally it will take 6 hours to chill, or overnight.
I love all things to do with Easter baking, the bright colours, family coming together or just quiet time at home. I do have more elaborate Easter recipes, I will share some below, but sometimes you just want a chocolatey hit and this is definitely that!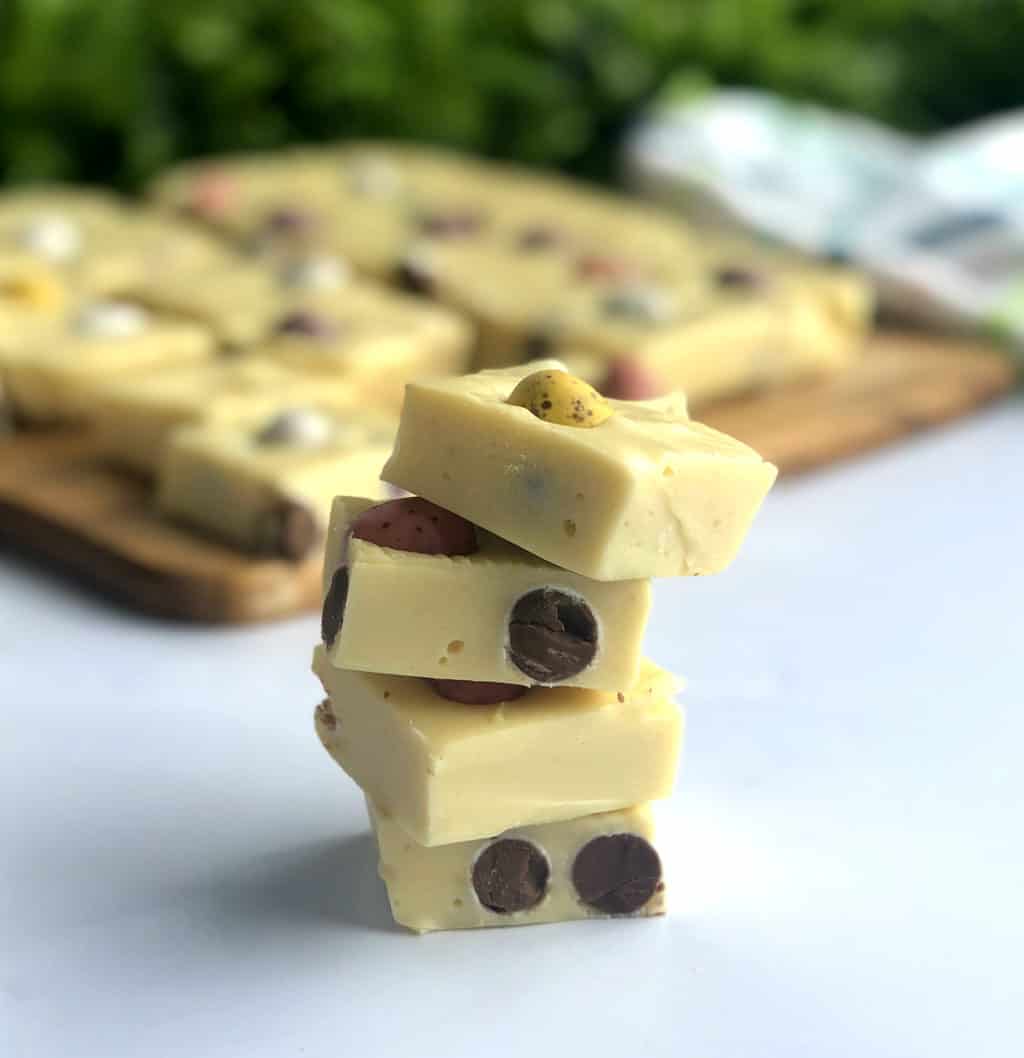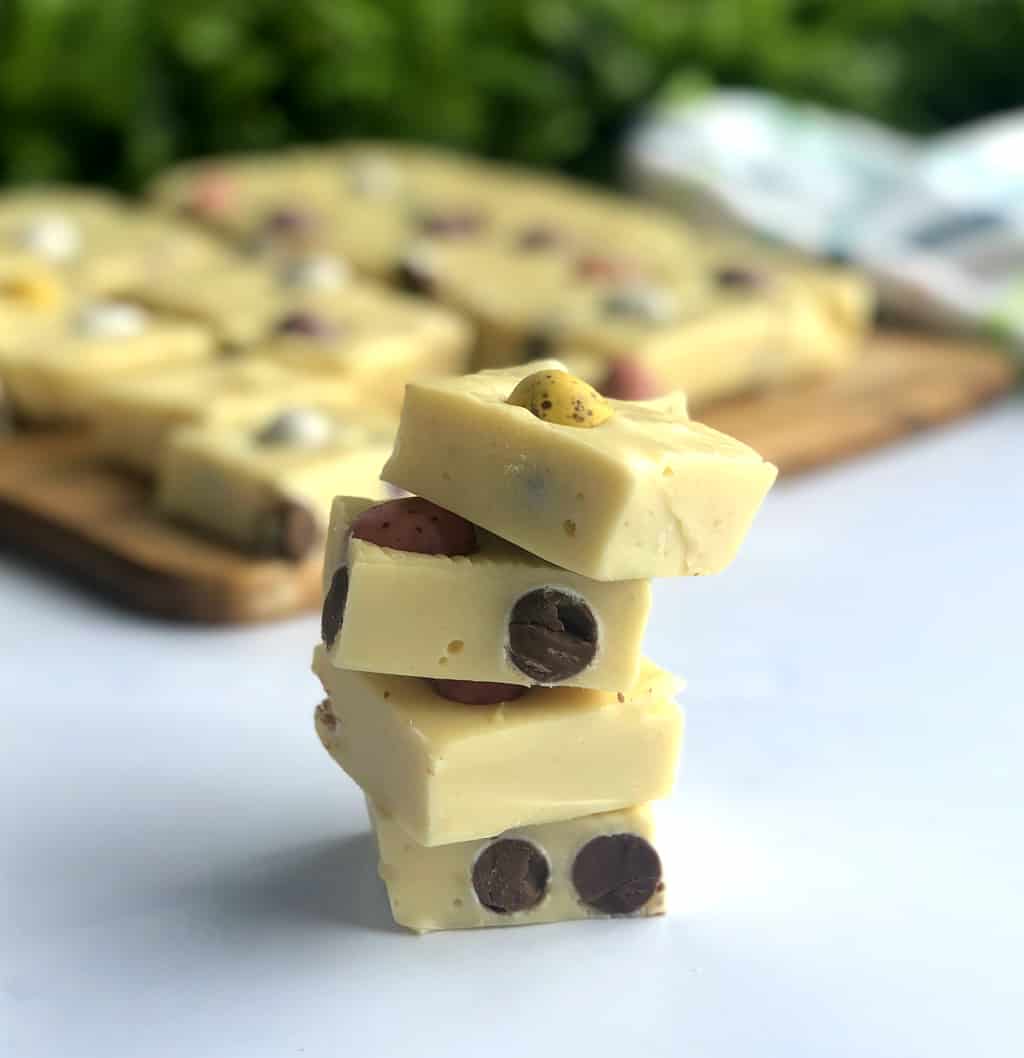 My favourite Easter Recipes – click on the title to go to the recipe
Our family loves this recipe, it really has the most simple steps, you could even make this one during the ad breaks on tv – if you watch anything with ads these days!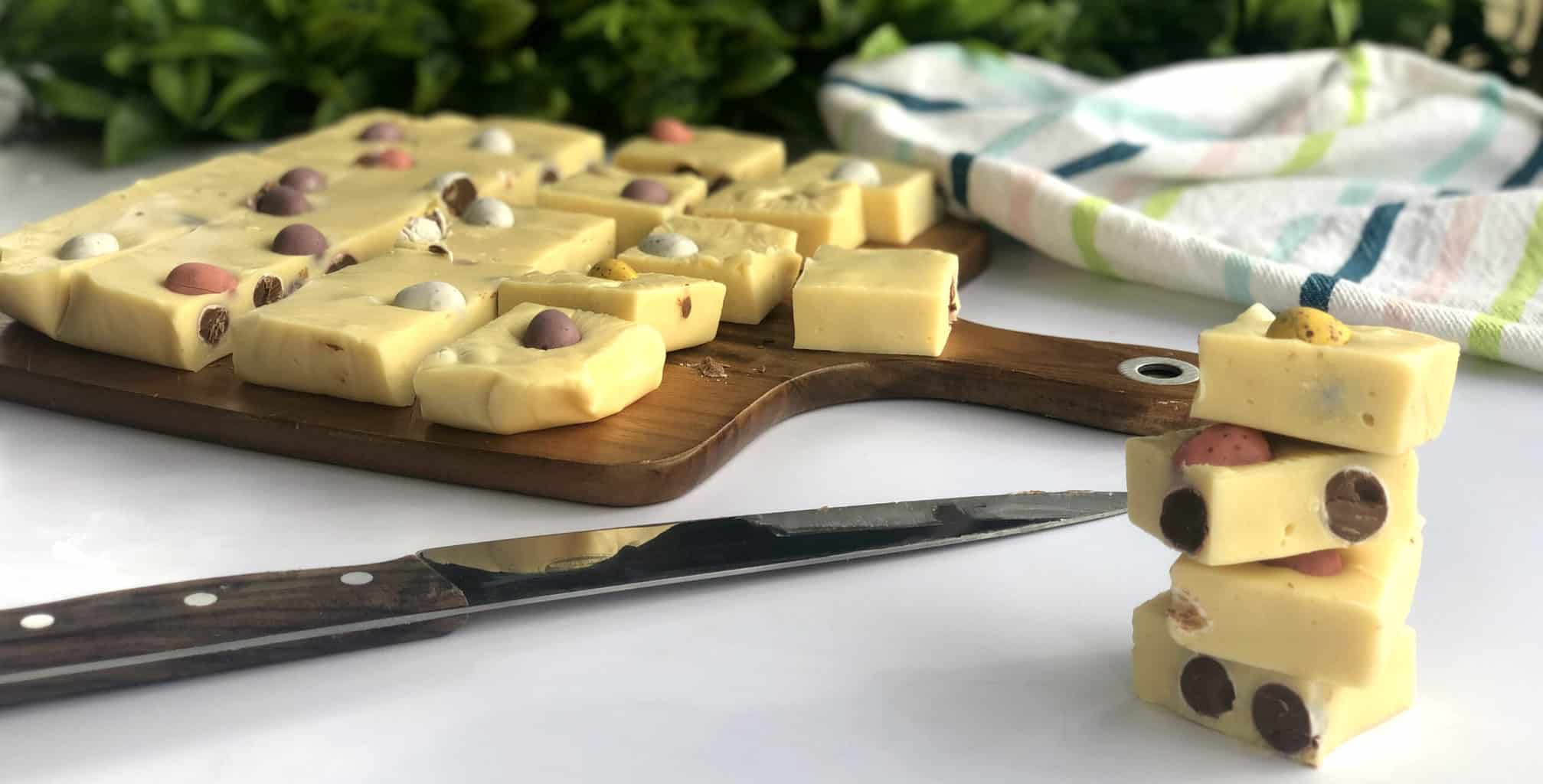 These are the steps – all microwaves are different so you can amend each step
Add all the ingredients to a large microwave proof bowl
Heat for 1 minute and stir
Heat for a further 1 minute and stir really well, bringing together all the ingredients.
If you can still see a few chunks of chocolate heat for a further 20-30 seconds at a time
Once the mixture is completely blended with no lumps remaining add your easter eggs, stir and pour into a prepared slice tin
Chill and wait impatiently until you can have a taste!
This is a creamy soft fudge, it is best stored in the fridge and will last really well stored in an airtight container, not that it will last that long! It does not keep so well out of the fridge or in direct heat.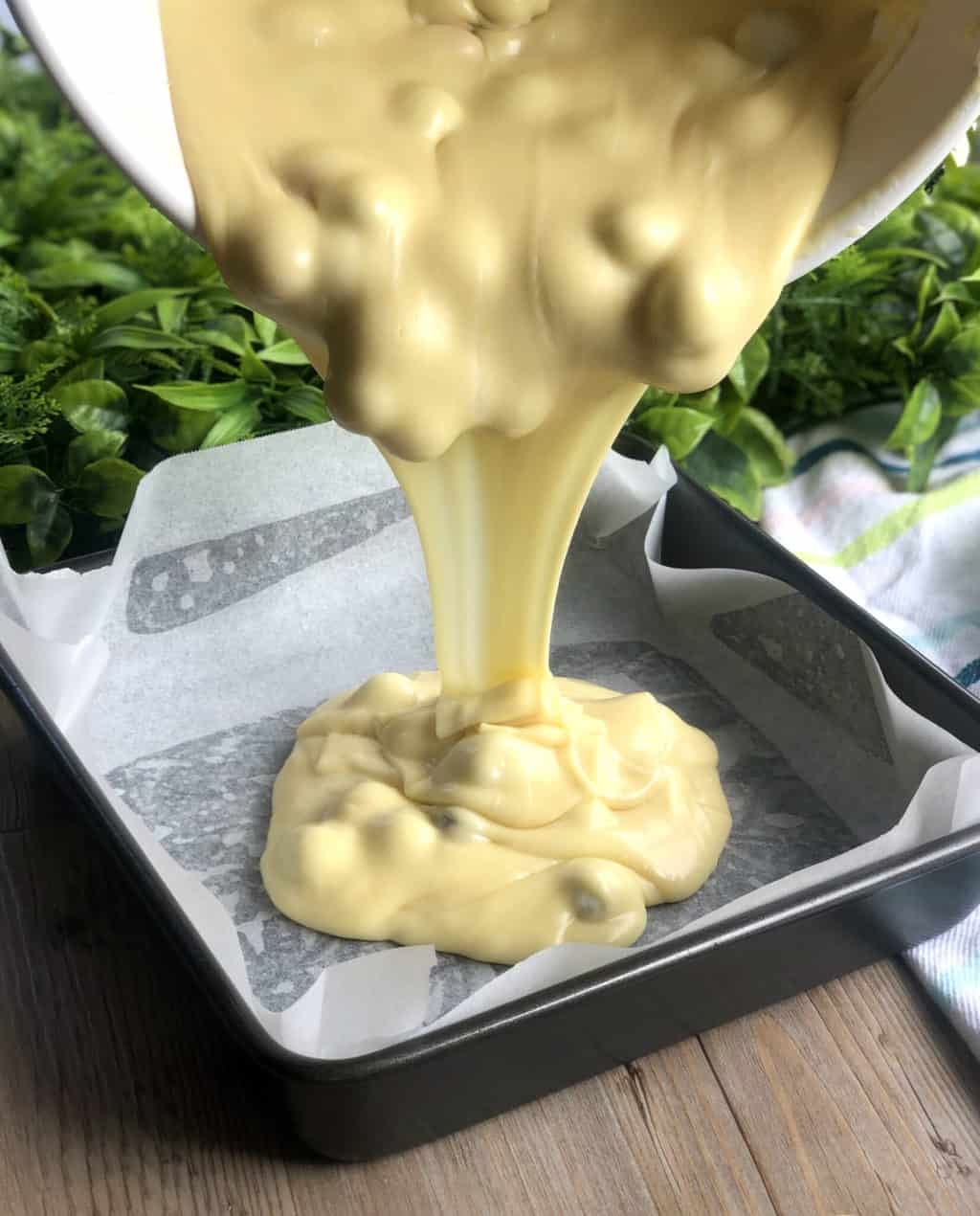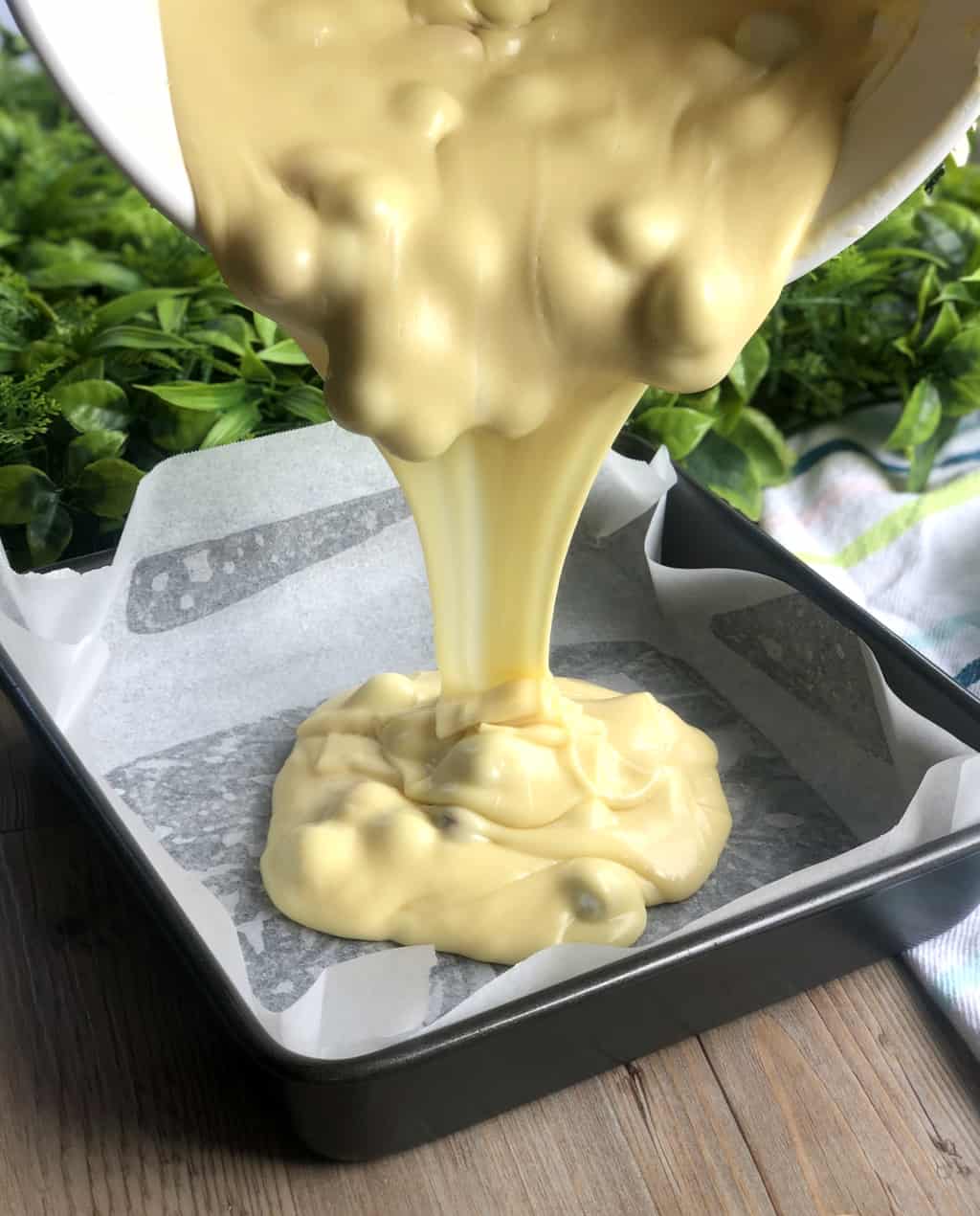 Commonly Asked Questions
Can I freeze Microwave Fudge with Condensed Milk?
Yes! You can, simply wrap the whole slice in plastic wrap, then in aluminium foil and then place this in an airtight container or freezer bag.
How long will Microwave Fudge Last?
Stored in the fridge it should last 2-3 weeks in an airtight container
Can I use any chocolate in my Microwave Fudge?
Yes! Simply swap out the same quantity of chocolate, dark chocolate, milk chocolate, or white chocolate
How long does it take to set Microwave Fudge?
Allow at least 6 hours, or overnight to set the fudge.
So here is the recipe, I hope you enjoy this 5 Minute White Chocolate Easter Fudge as much as we do, so lovely and simple, makes great gifts too!
How easy is that! You might need a few block of chocolate for this one, but it is well worth the ingredients.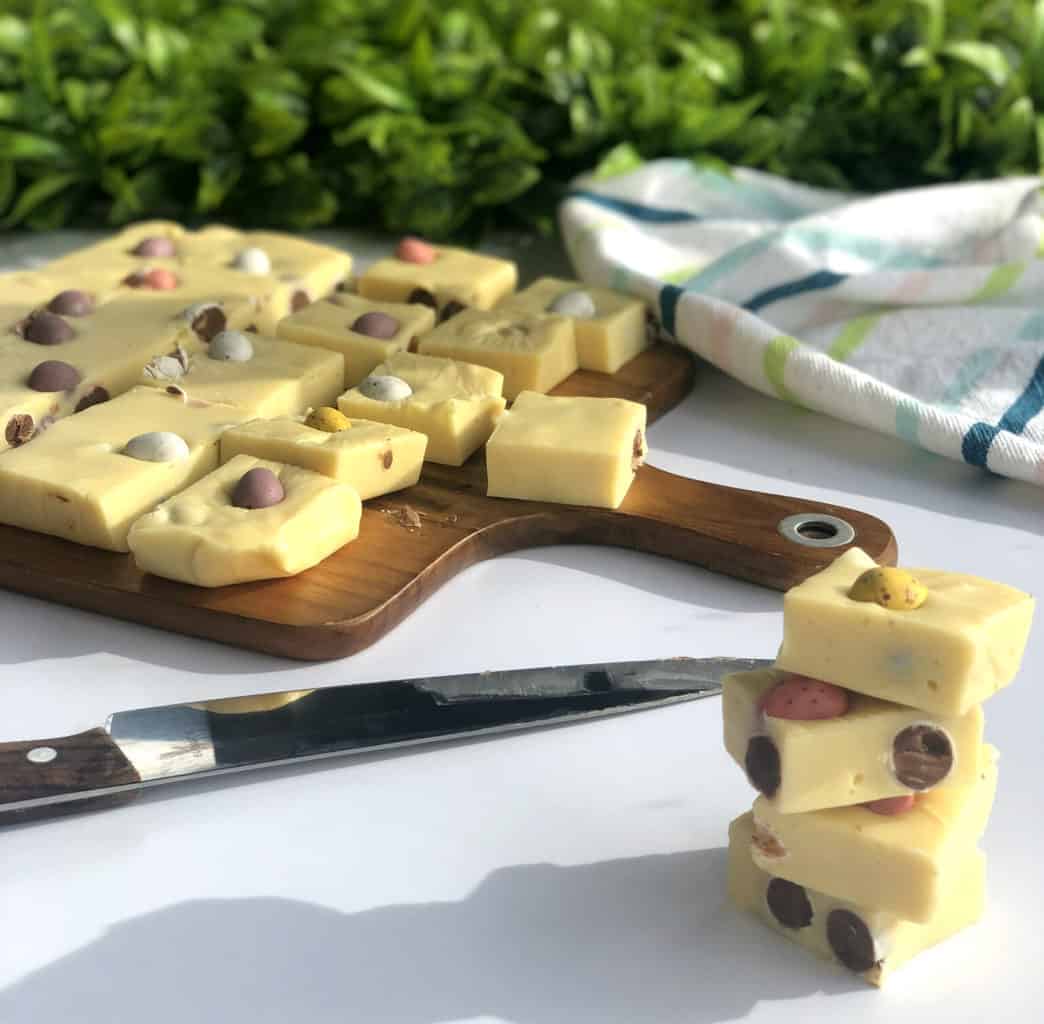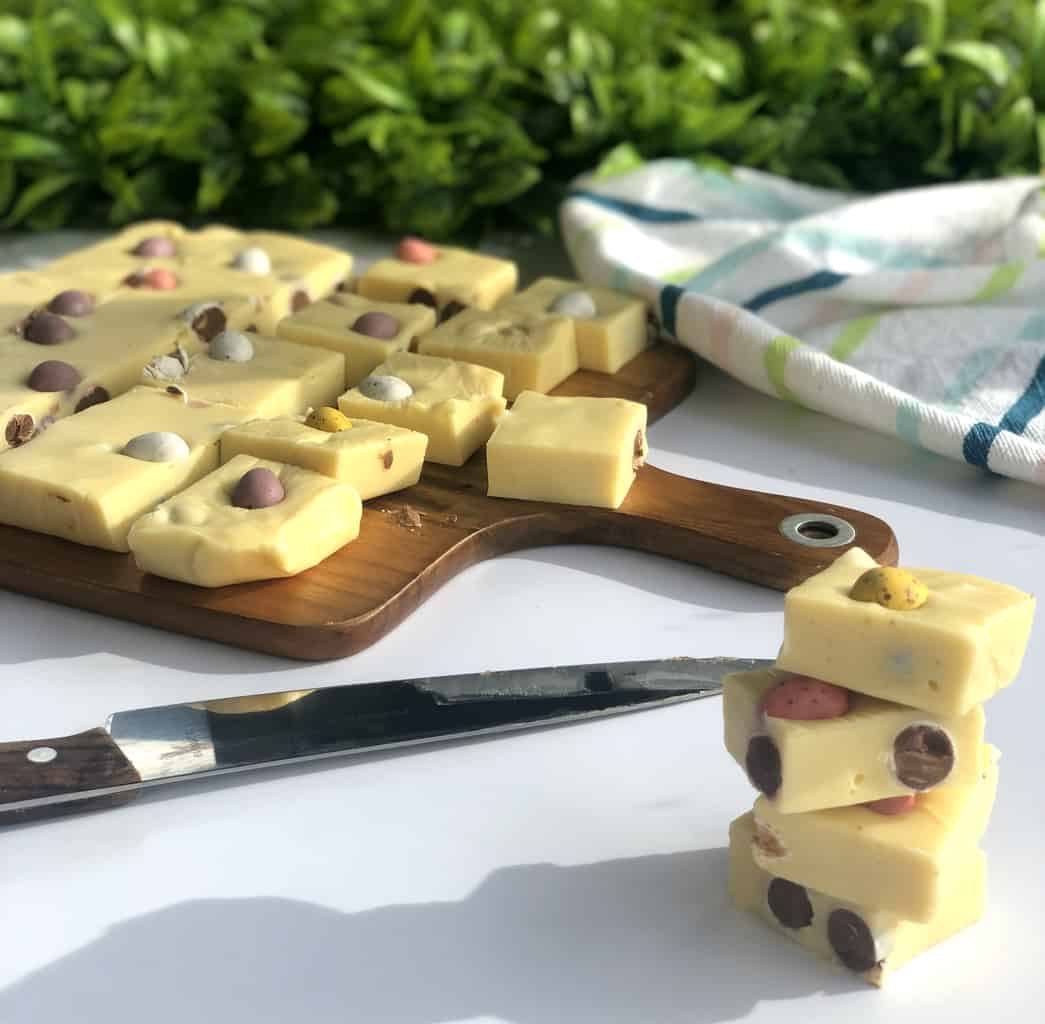 Thank you so much for stopping by to check out my latest recipe and others on my blog. If you are not already be sure to follow me on Facebook or Instagram for more deliciousness, and you can register your email in the subscription box below to receive all my recipes as I publish them.
Happy Baking!
Anna
Pin It – Pinterest!