This recipe for Easy Sticky Asian Chicken is a family favourite!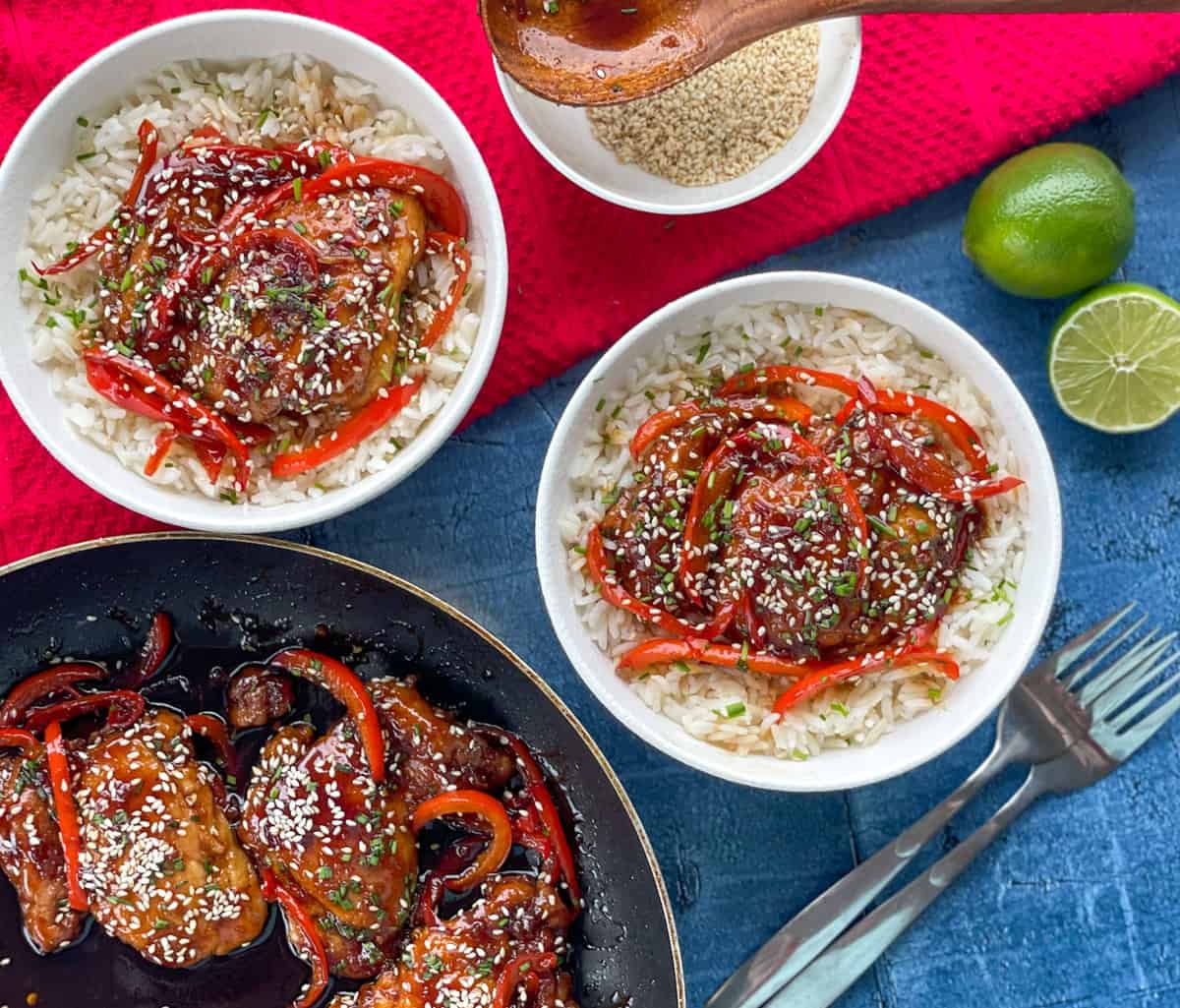 This recipe is sponsored by Lee Kum Kee, all opinions however are my own
I was asked again to work with one of my favourite brands, Lee Kum Kee, their products are a pantry staple for us, from their ready made sauces (try the Honey Soy Stir Fry Sauce!!!) to their range of staples, I am a huge fan.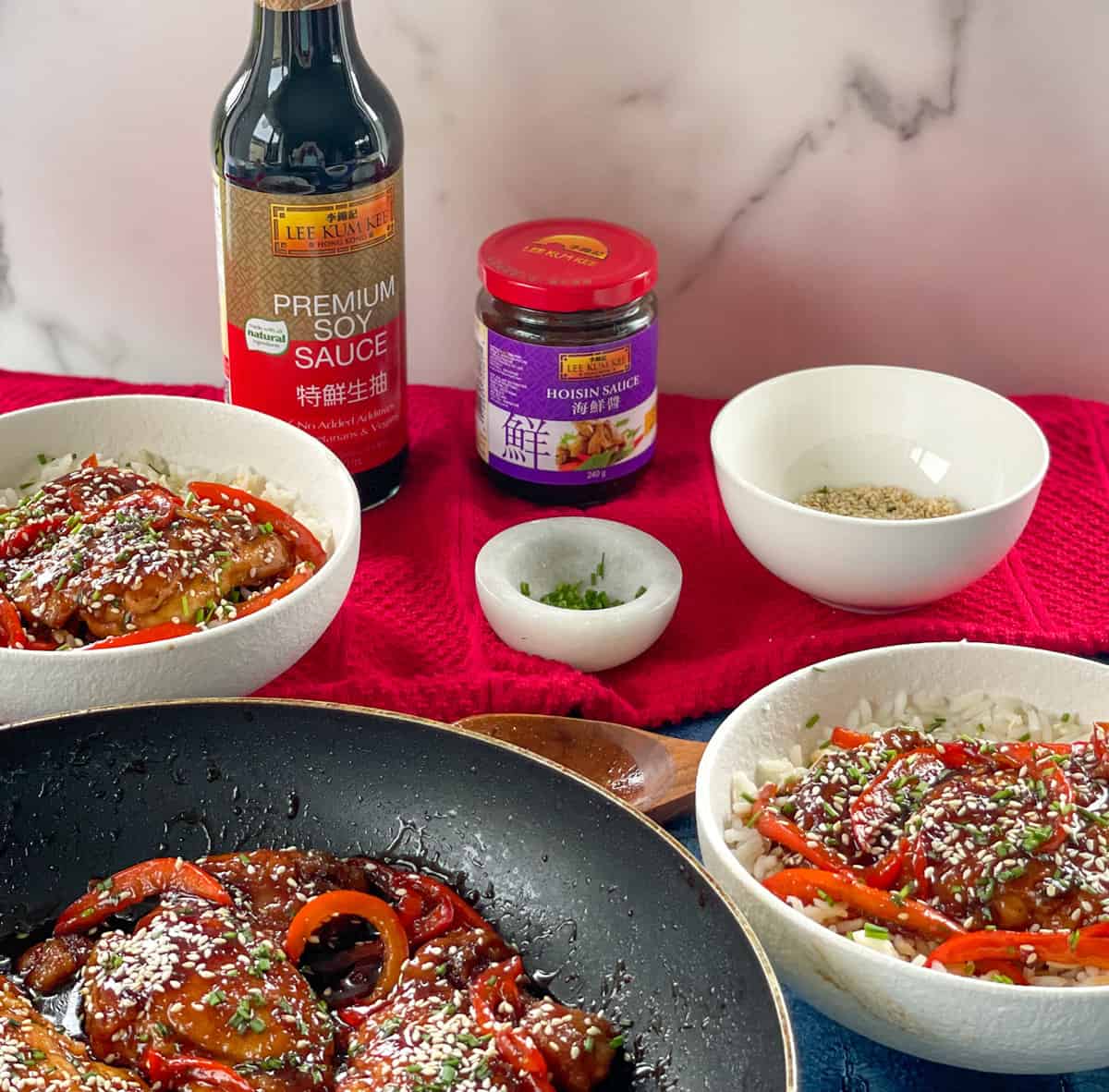 The Lee Kum Kee Premium Soy Sauce is not only delicious but made from just five all natural ingredients. Along with their divine Hoisin Sauce it is a marriage in heaven in this recipe.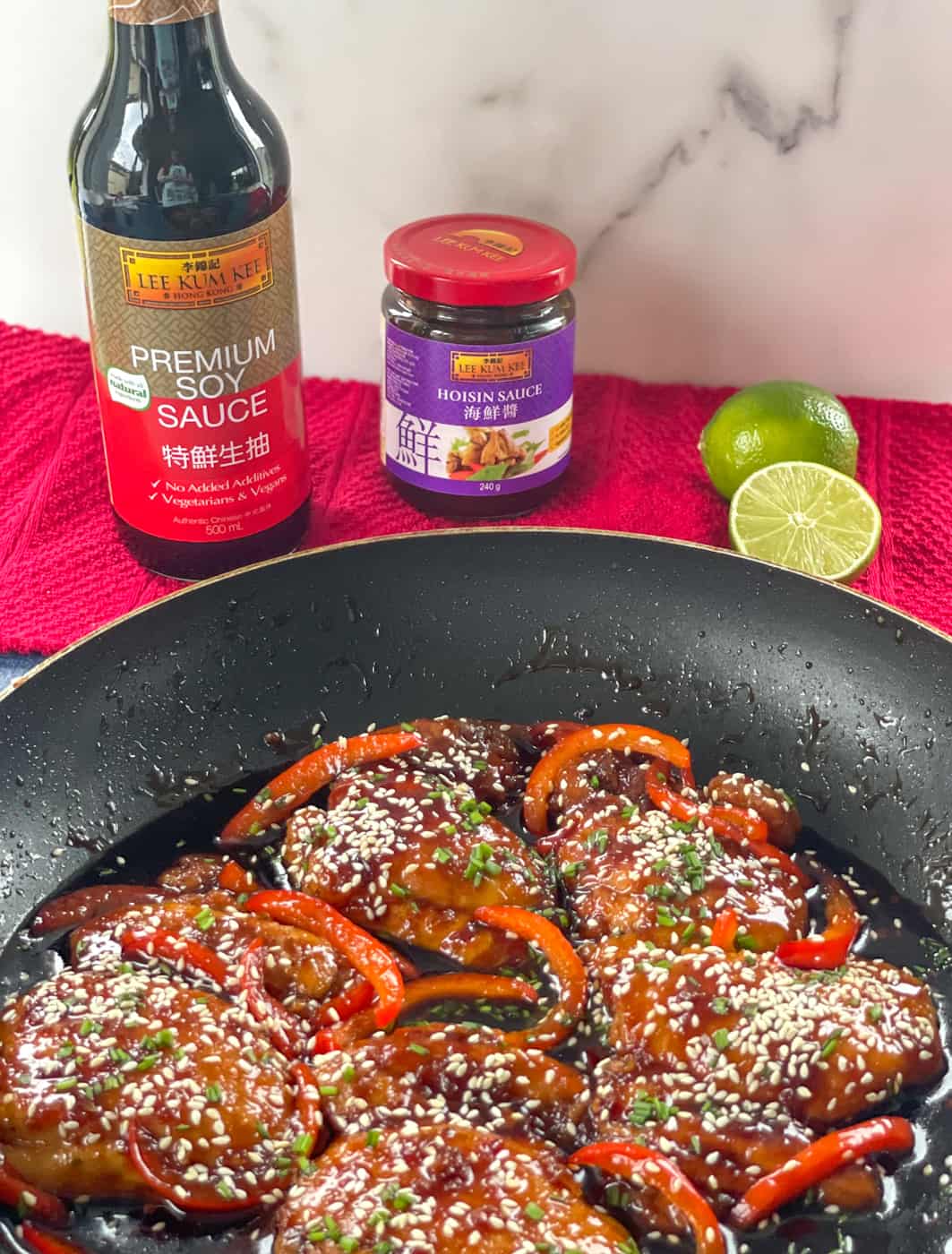 If you are not familiar with Hoisin sauce it is a thick dark sauce with a soy and garlic base which is very flavourful, with more of a sweet taste than straight soy. It is used in a number of other sauces as it elevates the flavour.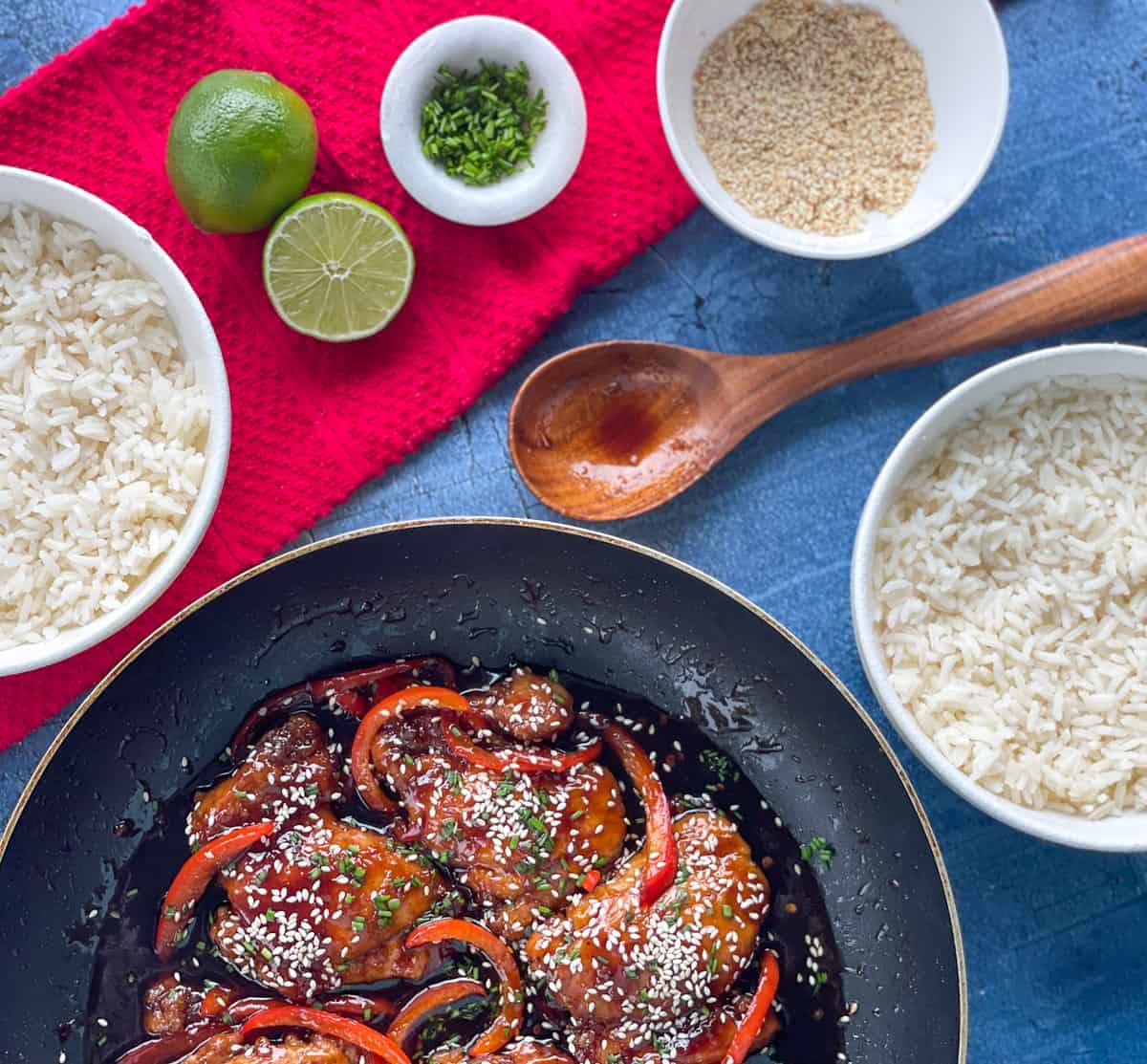 If you love Asian flavours then this recipe is for you, as always this is a super easy version of a sticky Asian sauce. It is a beautiful glaze that is incredibly quick to put together. Over the years we have perfected it to suit our family of fussy eaters and it is a winner.
If you are a fan of this sort of delicious Asian fusion cooking please check out these recipes of mine showcasing Lee Kum Kee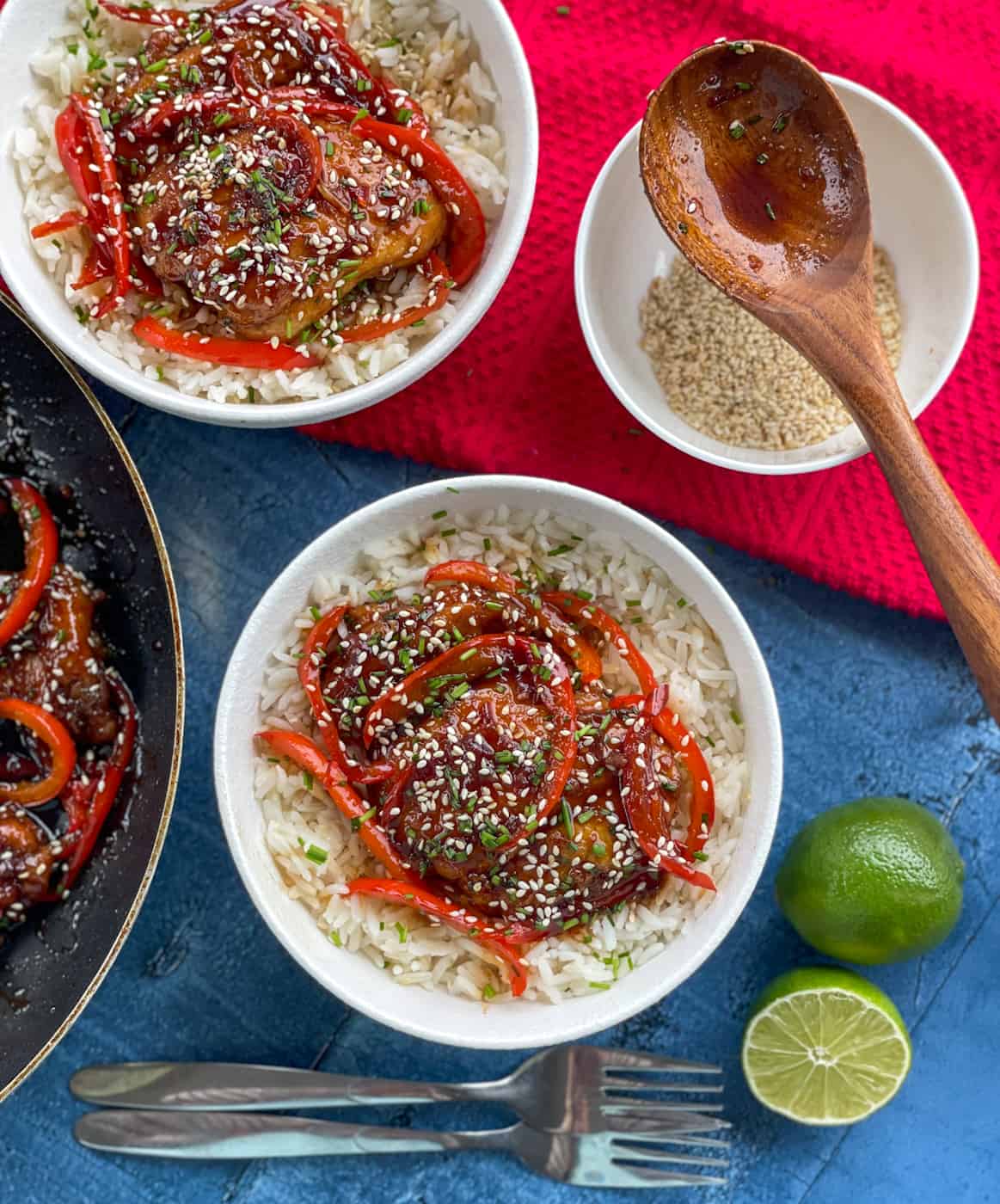 The ingredients you will need for this are
Chicken Thighs

Cornflour

Salt & Pepper

Olive Oil

Lee Kum Kee Premium Soy Sauce

Lee Kum Kee Hoisin Sauce

Brown Sugar

Ginger

Garlic

Sweet Chilli Sauce

Lime Juice (or white wine vinegar)

*Optional Red Capsicum, green beans or vegetables of your choice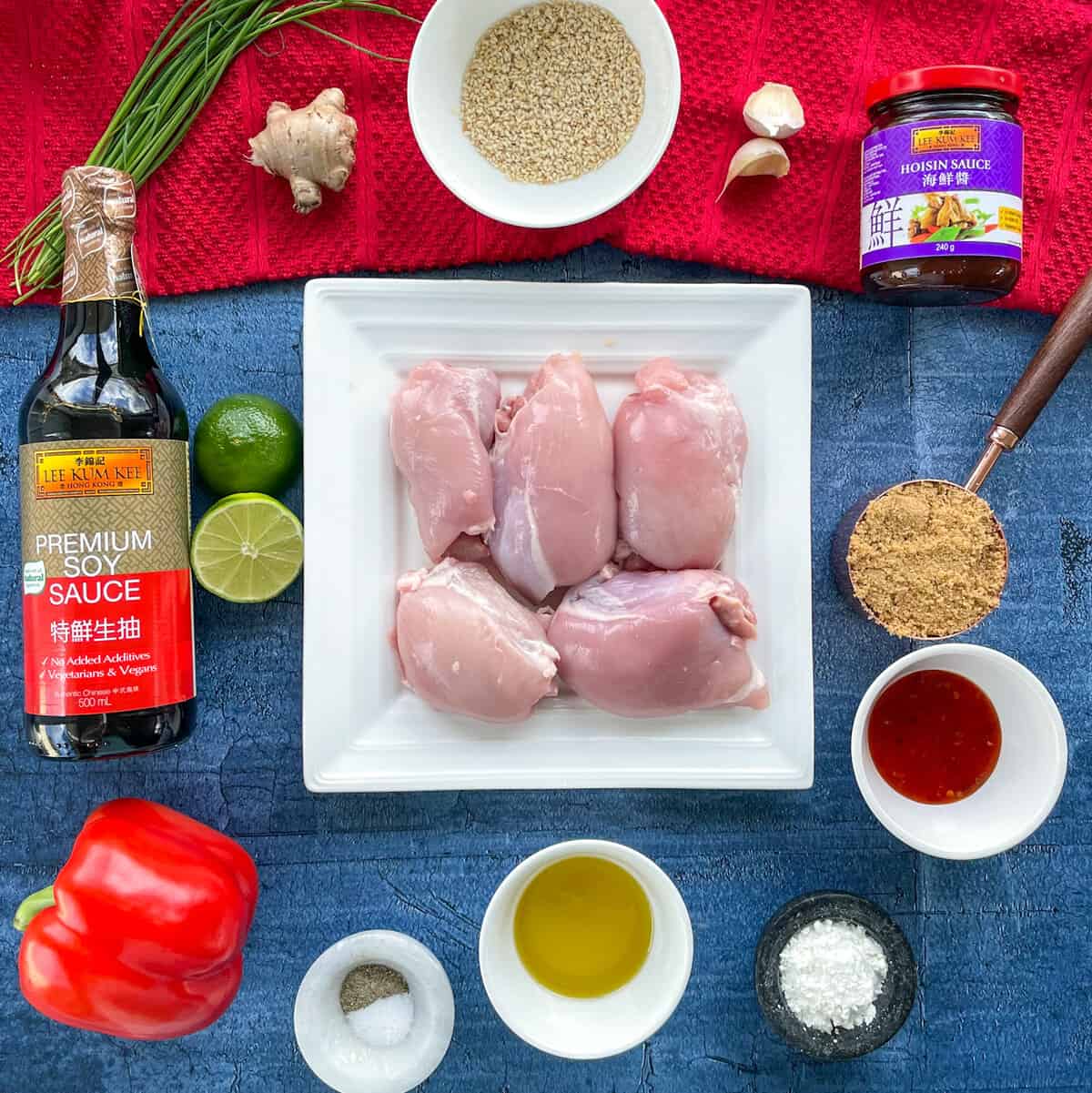 The ingredients all work beautifully together to create a lovely fusion of flavours. You can definitely play around with this recipe, if you prefer a bit of heat you can look to add chilli flakes, or prefer it more sticky add more brown sugar, if not a ginger fan you can omit that.
This is our version which works really well for us.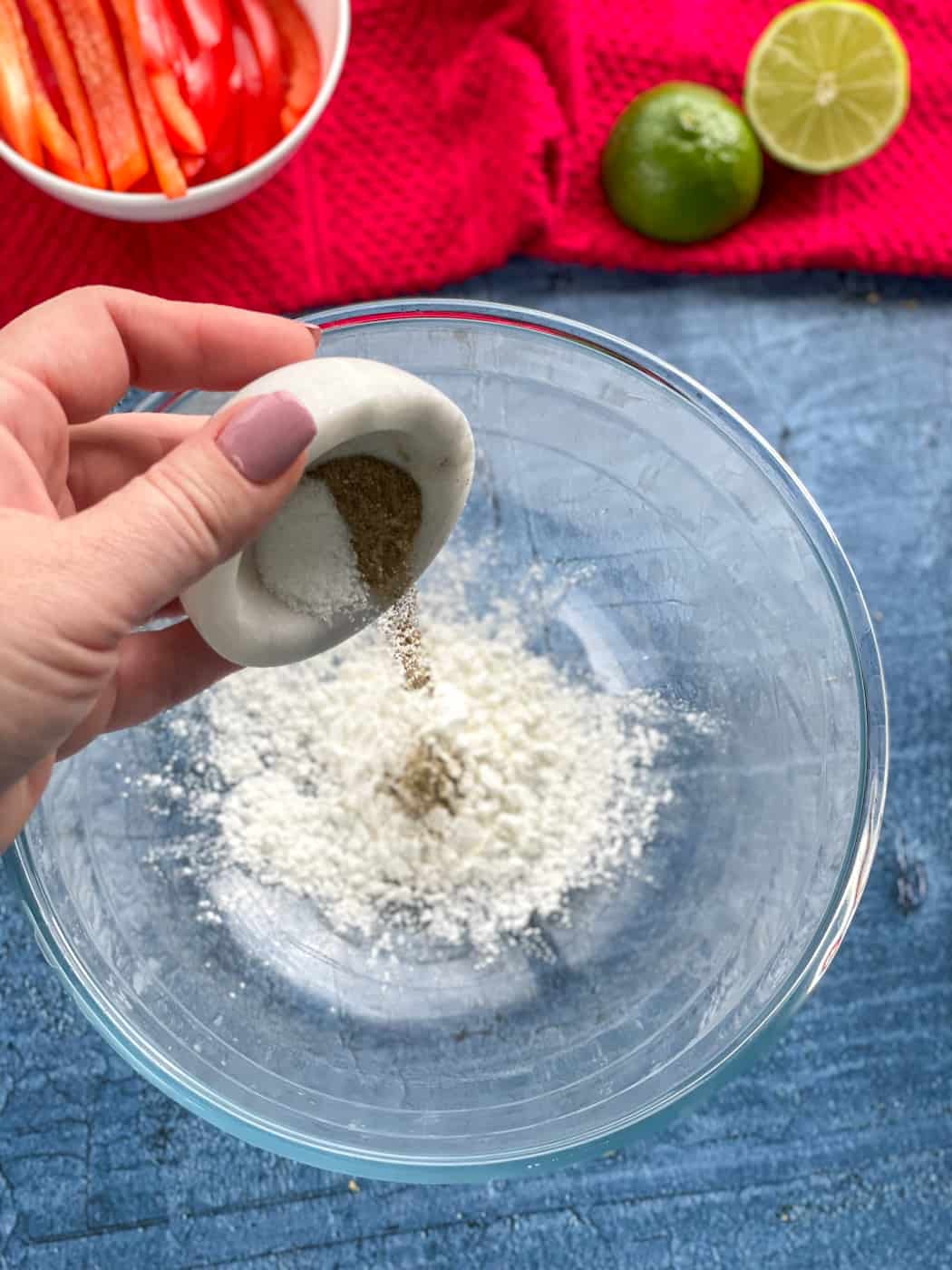 To make the recipe is super simple. With recipes like this I like to have everything prepared before I begin to cook, once the chicken thighs are ready it just takes a few more minutes to put together.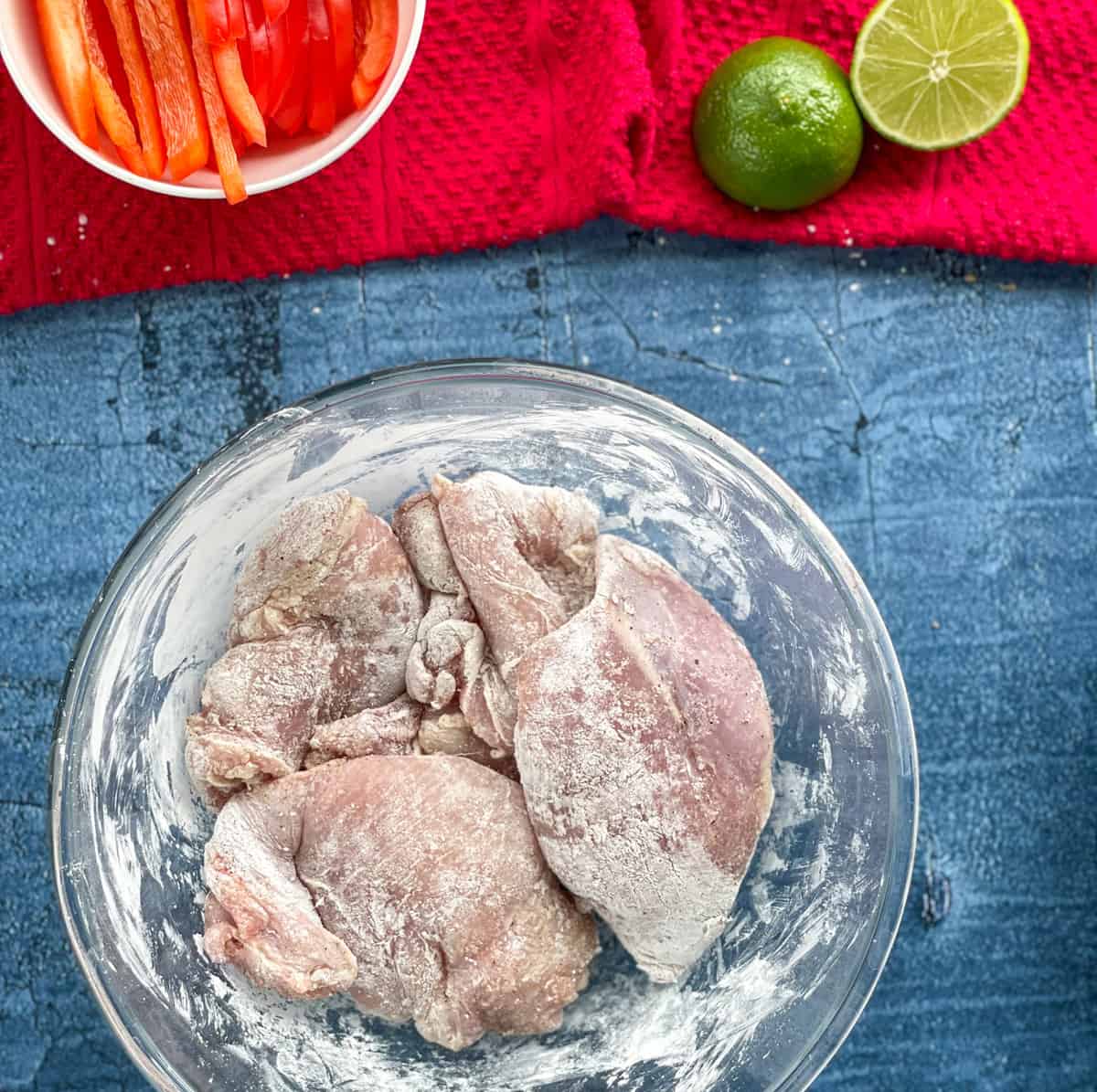 The chicken thighs are coated in a mixture of cornflour and seasoned with salt and pepper. This is for two reasons, to create a lovely crisp outside to the chicken, and also it slightly thickens the sauce in the end from deglazing the pan.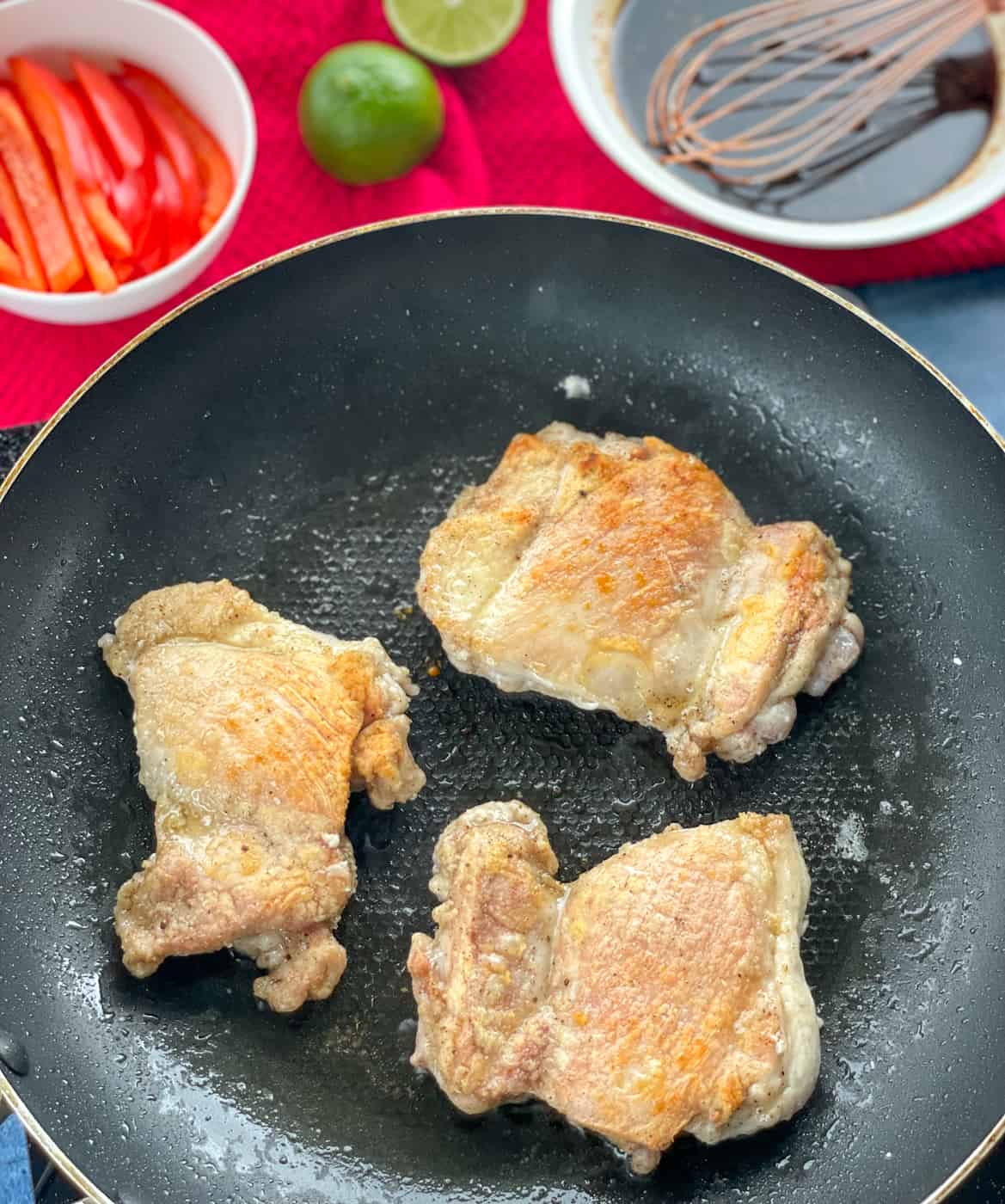 I use chicken thighs for these sorts of recipes as I find they are much more flavourful and tender. I use boneless skinless thighs, and I like to just trim them of the visible fat. You can cook them whole or slice into strips, they will cook much faster as strips but the other steps remain the same.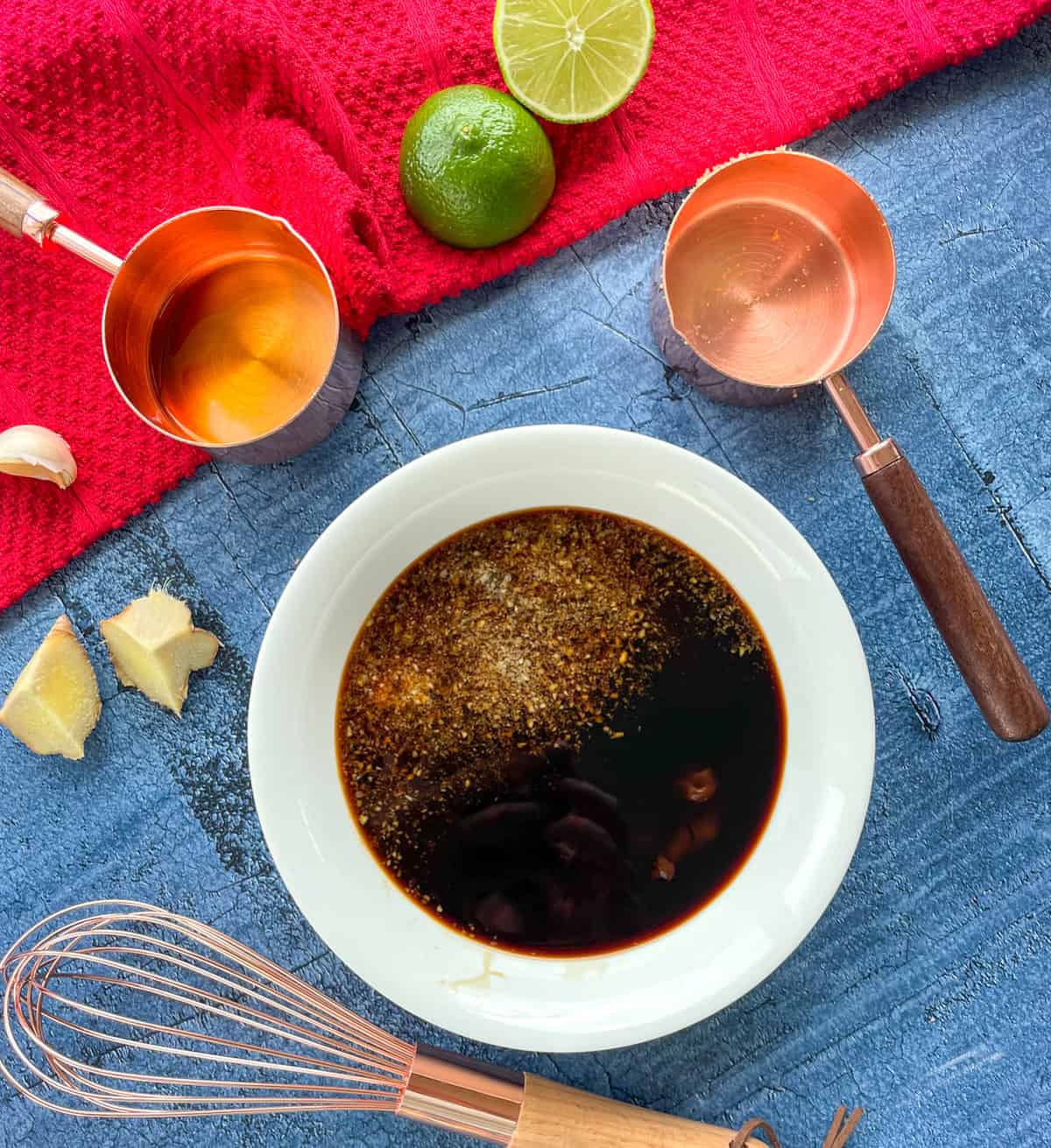 While the chicken is cooking I combine the sauce ingredients, this is where you can amend the recipe to suit your tastes. Feel free to try the recipe as is then add or omit things as you prefer. We don't tend to use ginger when cooking with the kids, but for adults we do. Its really versatile.
Once the chicken is cooked then I remove it from the pan and pour in the sauce ingredients, bring to the boil for a few minutes and once it starts to thicken I return the chicken and any vegetables I am using to the pan, turning the meat to coat well until the vegetables just soften, only a few minutes.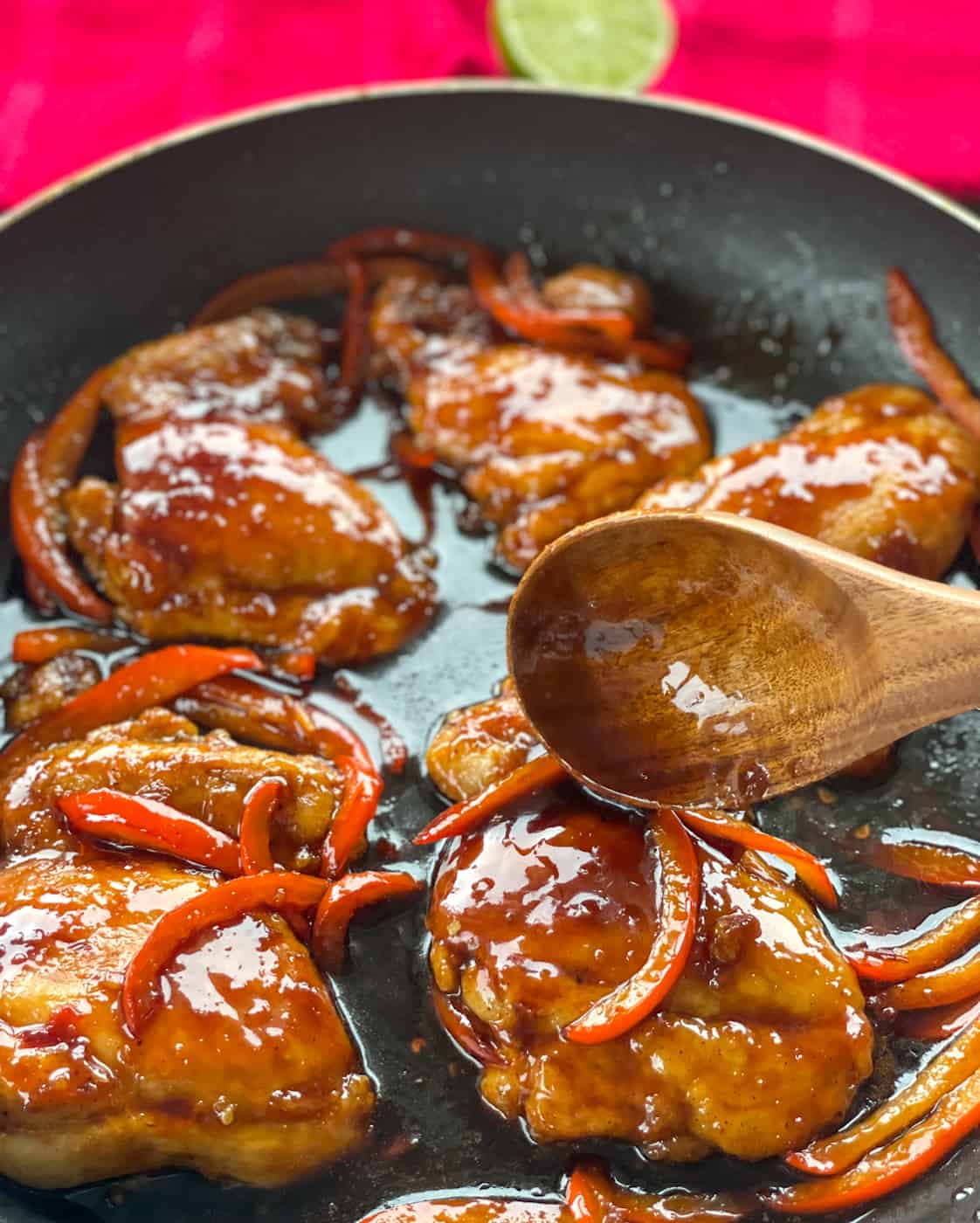 We serve it with rice, it is lovely with some parsley, chives or coriander sprinkled over the top with toasted sesame seeds to elevate the flavours. Also as a treat we often serve it with a Japanese mayo drizzled over the top as a treat.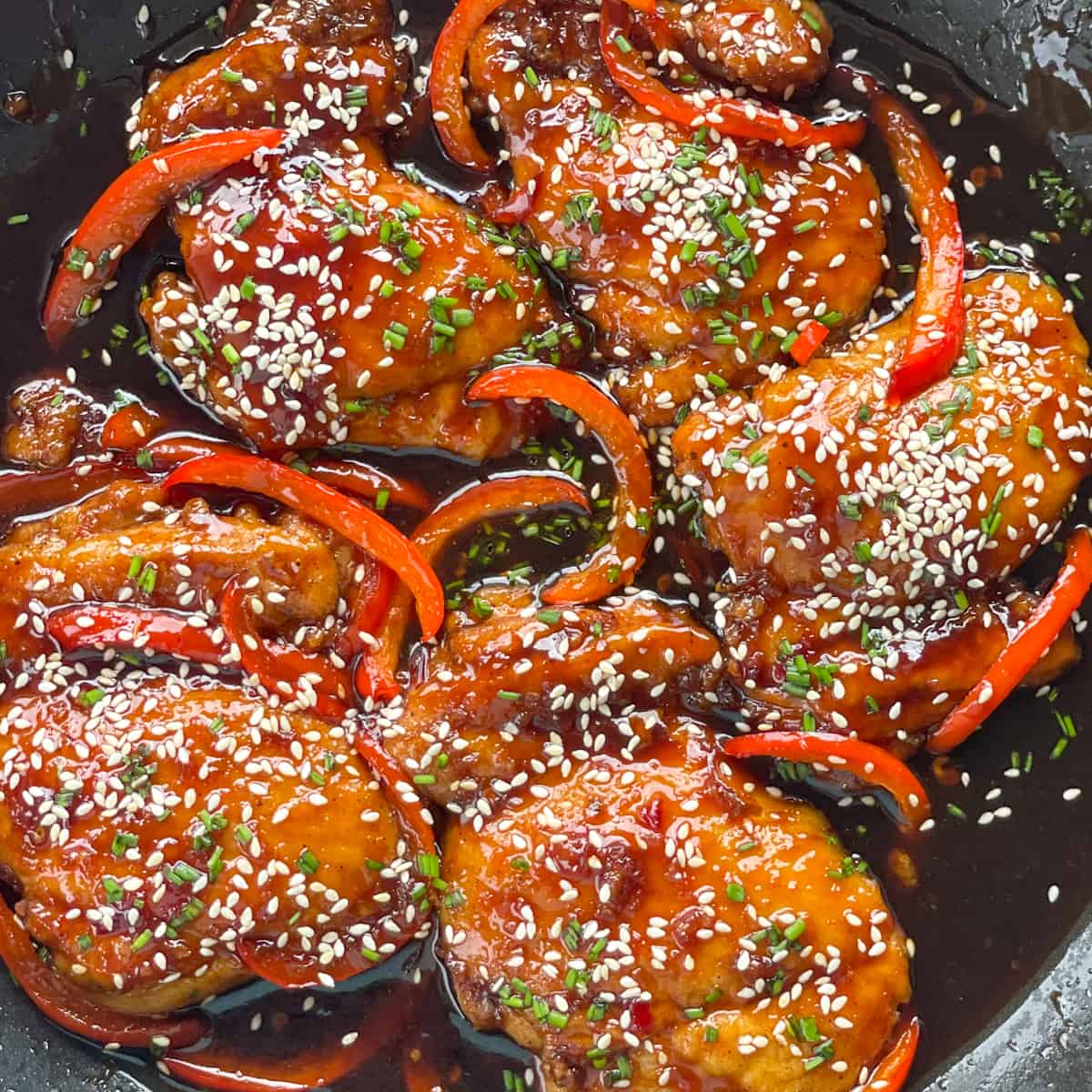 So that is it! I hope you love this recipe as much as we do, add it to your weekly meal plan!
Sticky Asian Chicken Recipe
I hope you love this recipe, be sure to let me know what you think in the comments below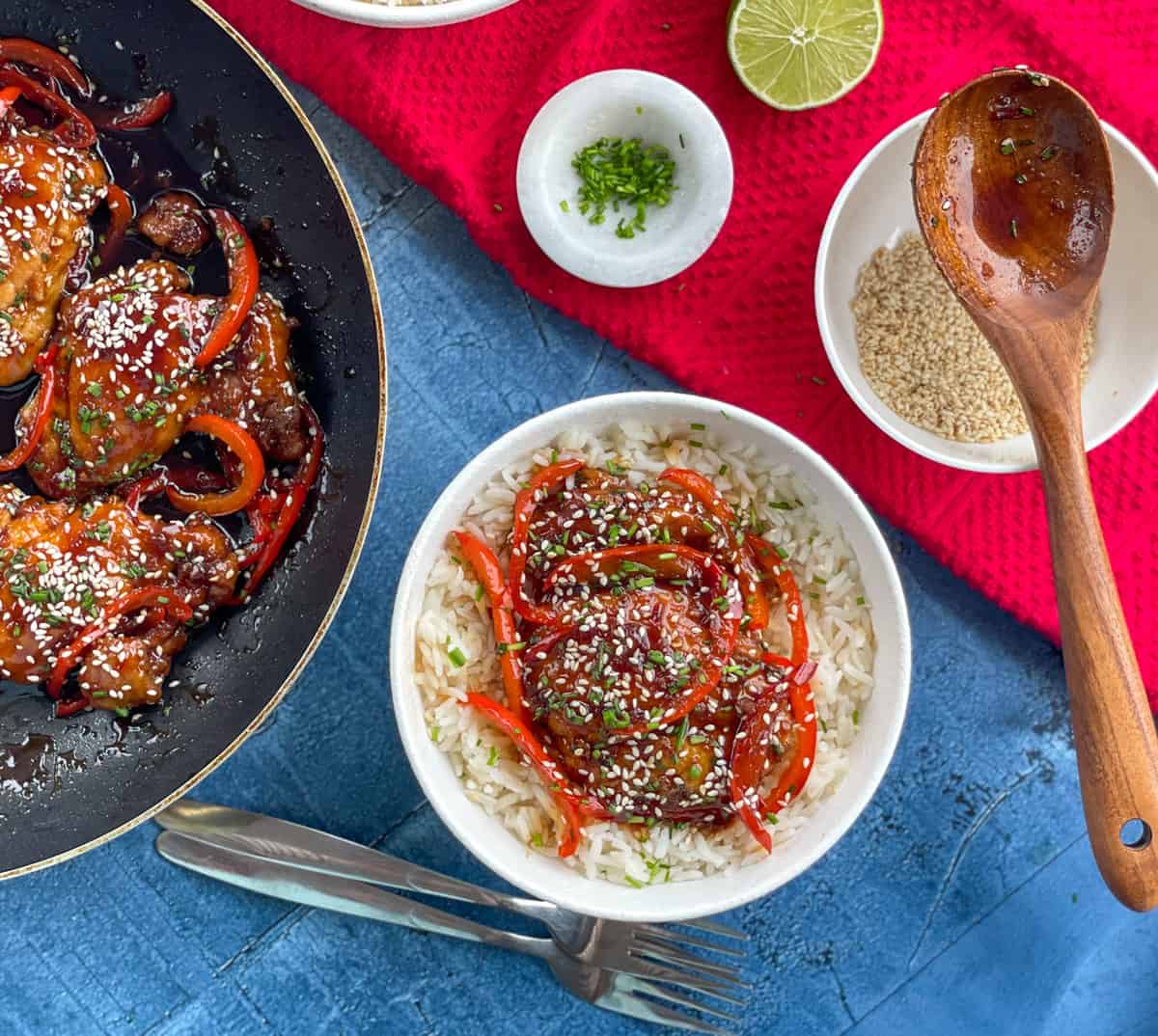 Thank you so much for stopping by to check out my latest recipe and others on my blog. If you are not already be sure to follow me on Facebook or Instagram for more deliciousness, and you can register your email in the subscription box below to receive all my recipes as I publish them.
Happy Cooking!
Anna