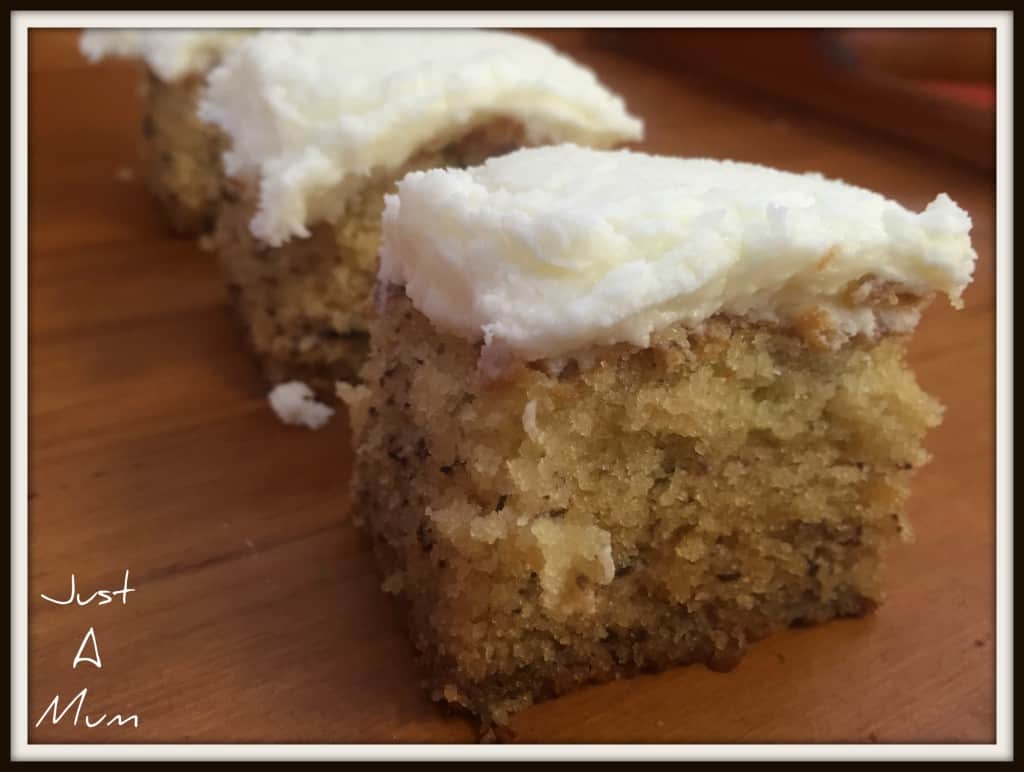 I love a good banana cake, I always use my Grandmas recipe as it is tasty, delicious and close to my heart. But when I came across this recipe I had to try it, it sounded weird and fabulous which is right up my ally! And oh my goodness it is absolutely amazing!!!
I cannot stress enough how gorgeous this cake is, moist as a moist thing, easy to make, tasty, huge and with my easy Lemon Icing absolutely delicious!
There are some odd things about this recipe, I have found it in dozens of places online so have no idea where the original recipe comes from, I found it on Happy Hooligans page but you can find the same recipe or similar in lots of places. Often it comes with a cream cheese frosting but I wanted to try it with a fluffy lemon icing and it was just lovely! As you can see I went over the top with the frosting, but you can happily halve the recipe I have included and have a thinner layer and still be pretty happy with yourself!
So onto the odd things, firstly it is cooked at 135 Degrees Celsius! Yep, not a typo, cooked long and slow, for around 1 hour 10 mins in my oven. THEN once out of the oven you put it straight in the freezer for 45 minutes, yep that is what it says! Now I suspect that the cake would still remain moist and delicious if you missed this step but hey – it works so why not! The theory is that it helps retain its moistness. I am not one for changing things too much so if this works then lets do it. I popped a wooden board in the freezer to protect the other food and in it went!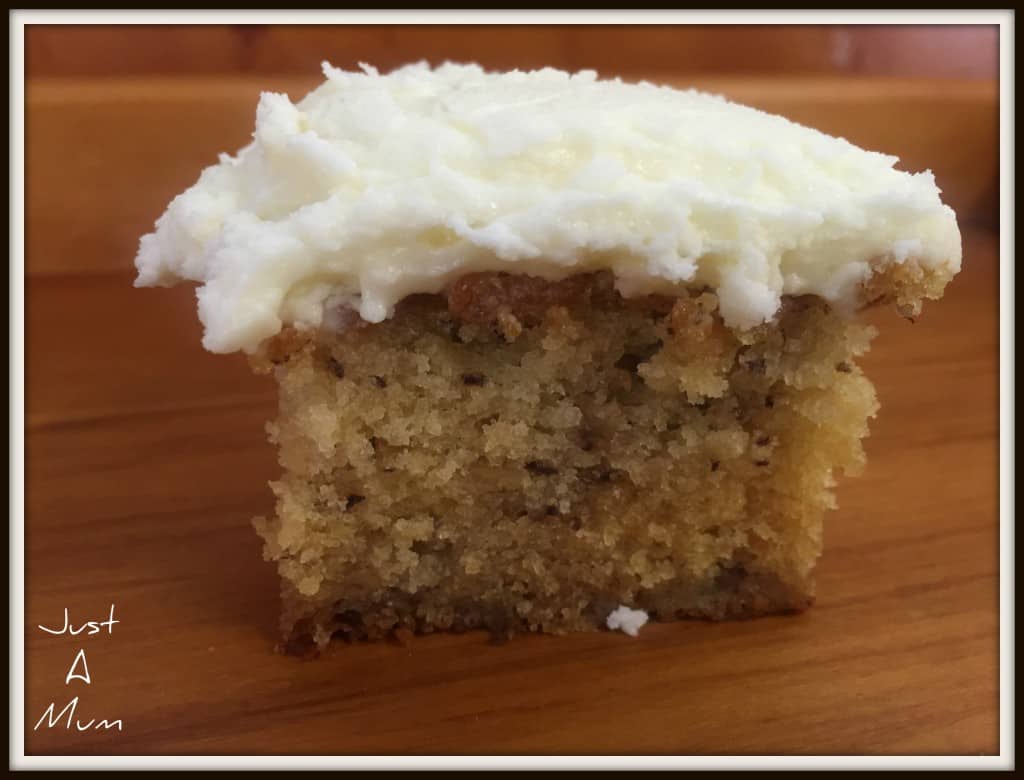 Then I got it out of the freezer and smothered it in delicious Lemon Frosting and it was being served an hour later to a team of hungry Mums who were well impressed! You will have to excuse the photos, I forgot to take some and by then it was nearly all gone! 😀
I made this recipe in my roasting dish, the original recipe calls for 9 in x 13 in (22cm x 33cm) feel free to use what you have but amend cooking time accordingly – the deeper it is the longer it will need to cook – it's a lot of batter so go large! Be mindful you will need to use a dish that can go from oven hot to the freezer without breaking.
I just know you will love this recipe to use up any past their best Bananas, it certainly smelt and looked fabulous!

Amazing Banana Cake
Ingredients
1.5 Cups very ripe Bananas (3 fresh bananas or 4 thawed, previously frozen bananas)
2 tsp Lemon Juice
3 Cups All-Purpose Plain Flour
1.5 tsp Baking Soda
¼ tsp Salt
175 grams Butter - softened to room temp
2 Cups Sugar
3 Eggs
2 tsp Vanilla
1.5 cups buttermilk (OR milk soured with one tbsp white vinegar or lemon juice)
~*~Lemon Frosting~*~ Feel free to halve this recipe if you want a thinner layer
100g softened butter - room temp
6 cups icing sugar (confectioners sugar)
6-8 Tablespoons Fresh Lemon Juice
Method
Pre-heat oven to 135 Degrees Celcius
Prepare your 22cm x 33cm Cake Tin or Roasting Dish, best to spray lightly with oil and add baking paper - makes lifting cake out later easier!
Mash banana and mix with lemon juice and set aside.
In a medium bowl, mix flour, baking soda and salt and set aside.
If you're making your own buttermilk, combine milk and vinegar (or lemon juice) in a small bowl, and set aside.
In a large bowl, cream butter and sugar, I used my food mixer for this
Beat in eggs, one at a time.
Stir in vanilla.
Gently beat in flour mixture a little at a time alternating with buttermilk.
Stir in bananas.
Pour into cake pan and bake 1 hour and 10 mins (or until knife comes out clean). *if need be, cook longer, checking every 10 minutes until cake is fully cooked. And no you do not need to adjust temperature!
Immediately place in freezer for 45 minutes. (if not completely cool upon removal from freezer, let cool further before icing).
Remove from tin and cool completely
~*~Icing~*~ Remember you can halve this recipe if you want a thinner layer
In a large bowl add softened butter, icing sugar and lemon juice, using electric beater or food mixer beat well until icing comes together and begins to fluff up to right consistency - feel free to add some more lemon juice if you feel it is not the right consistency, a little at a time.
Spread over the cake, if not eating right away store in an airtight container until ready to serve.
Un-iced cake will freeze well. Wrap well in plastic wrap and store until needed.
This is such a fun recipe to make, you will absolutely love it, takes moist banana cake to a whole other level!!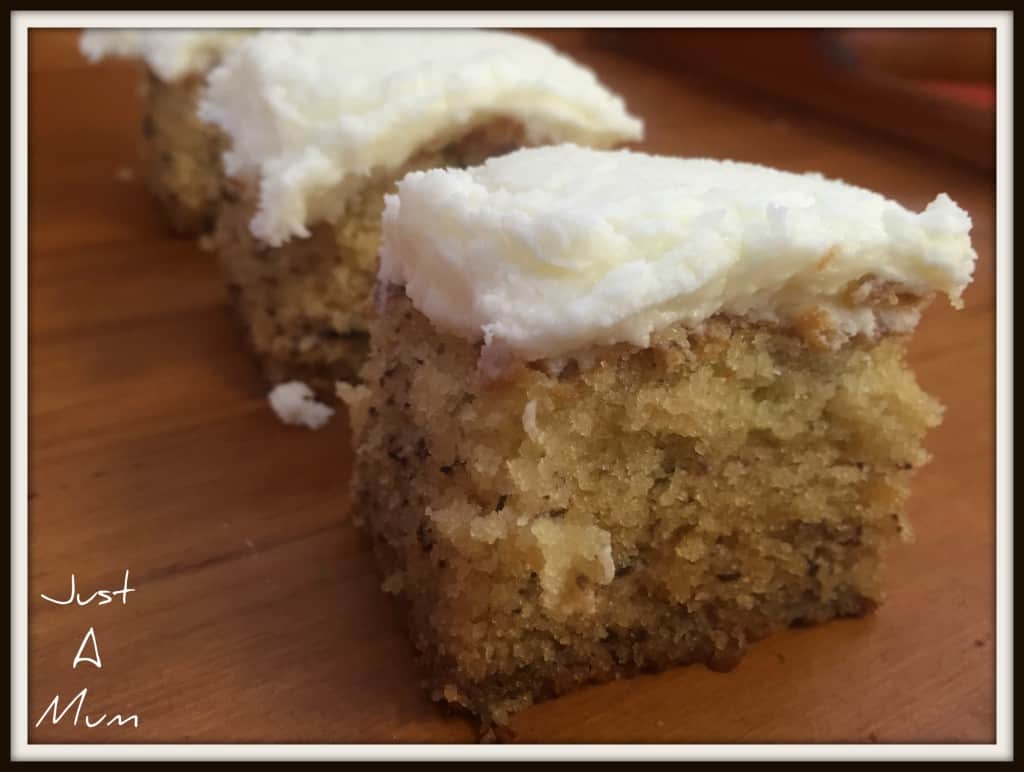 Remember to follow me on Facebook and also feel free to follow the blog via email subscription above right, you will receive my recipes as I post them.
Thank you so much for stopping by and Happy Baking!
Anna 🙂