I am always on the look out for new recipes, so it is a treat to go places and try other peoples baking for new ideas! This one is from a very dear friend and was so easy to make too.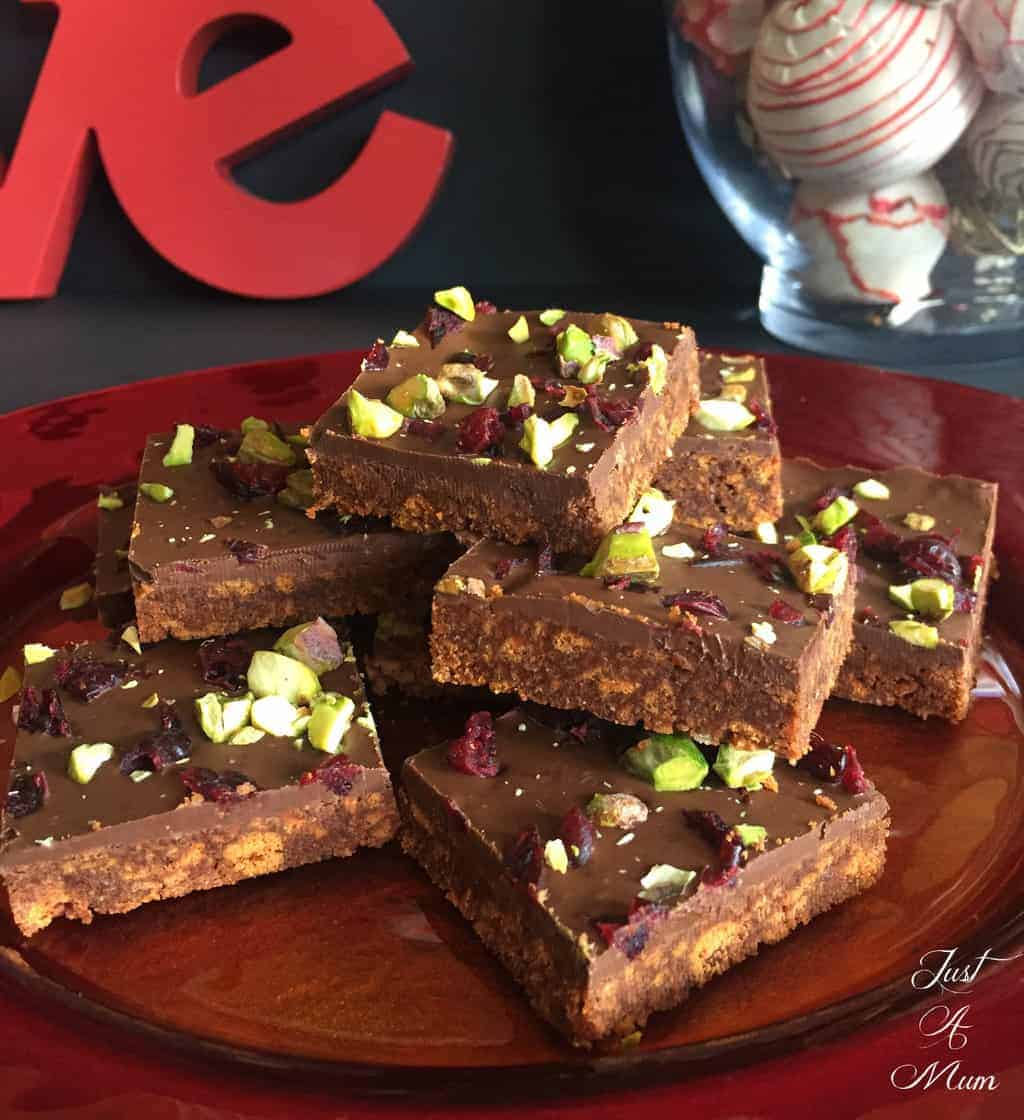 Originally this appeared in a fundraising cook book so unsure where the original recipe is from but it is a classic recipe for sure. You always know a recipe is a favourite when the page is covered in chocolate! In fact I am sure some of the best recipes around have been handed down and appear in school fundraising cook books all over the world!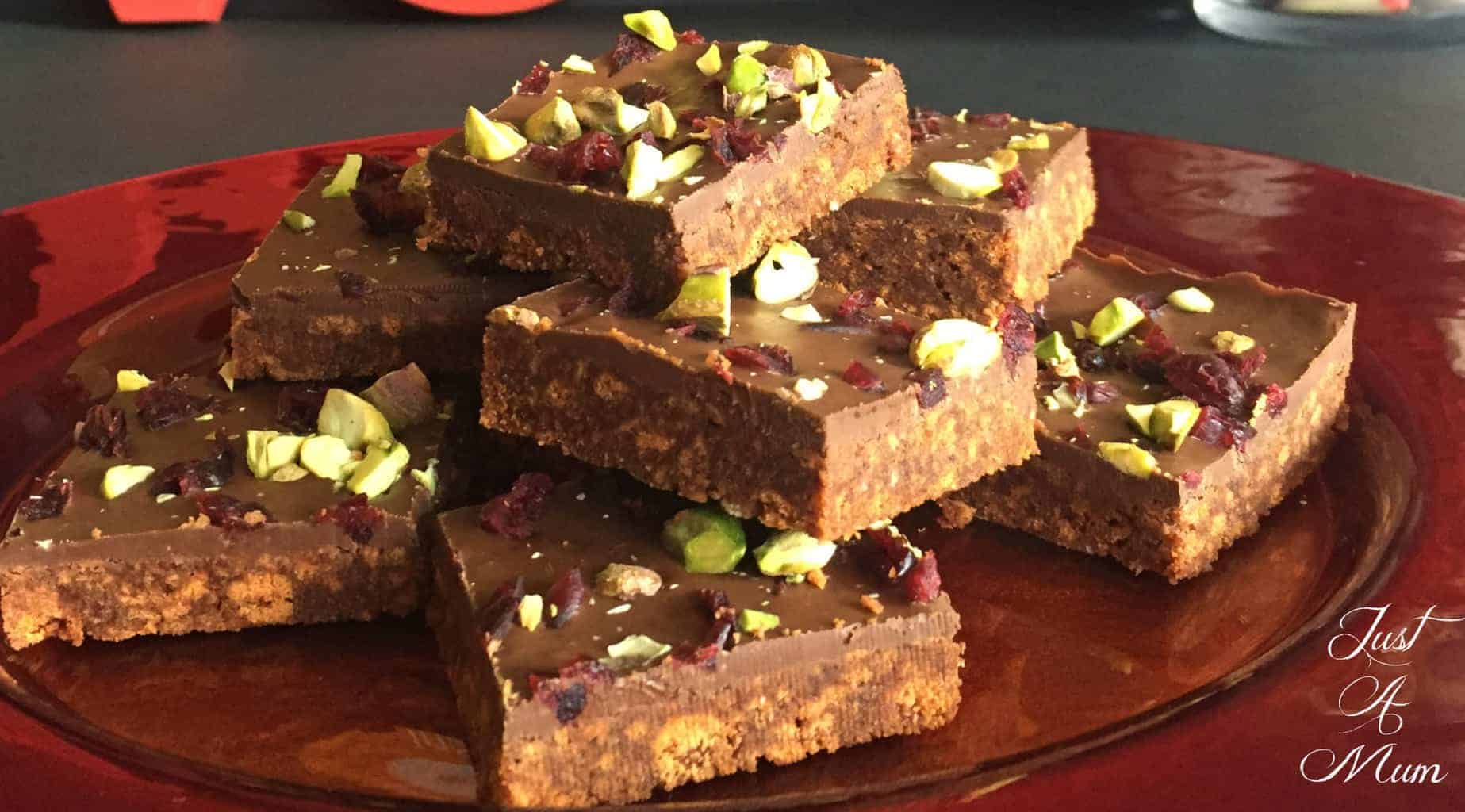 It brings me onto an interesting point, the origins of recipes. I often joke that there are surely only so many ways to make say an Afghan biscuit for example – it is hard in some instances to claim a recipe as completely your own. Often when we think a recipe is our own version a quick google will show you that it or a close variation already exists. I always try and credit the original recipe 'owner' where possible, but often if I am going to share a recipe I will look it up online and find the recipe exists in many other places so it is a tricky business. What I do work on is adapting it to suit my cooking style and using my own words and methods.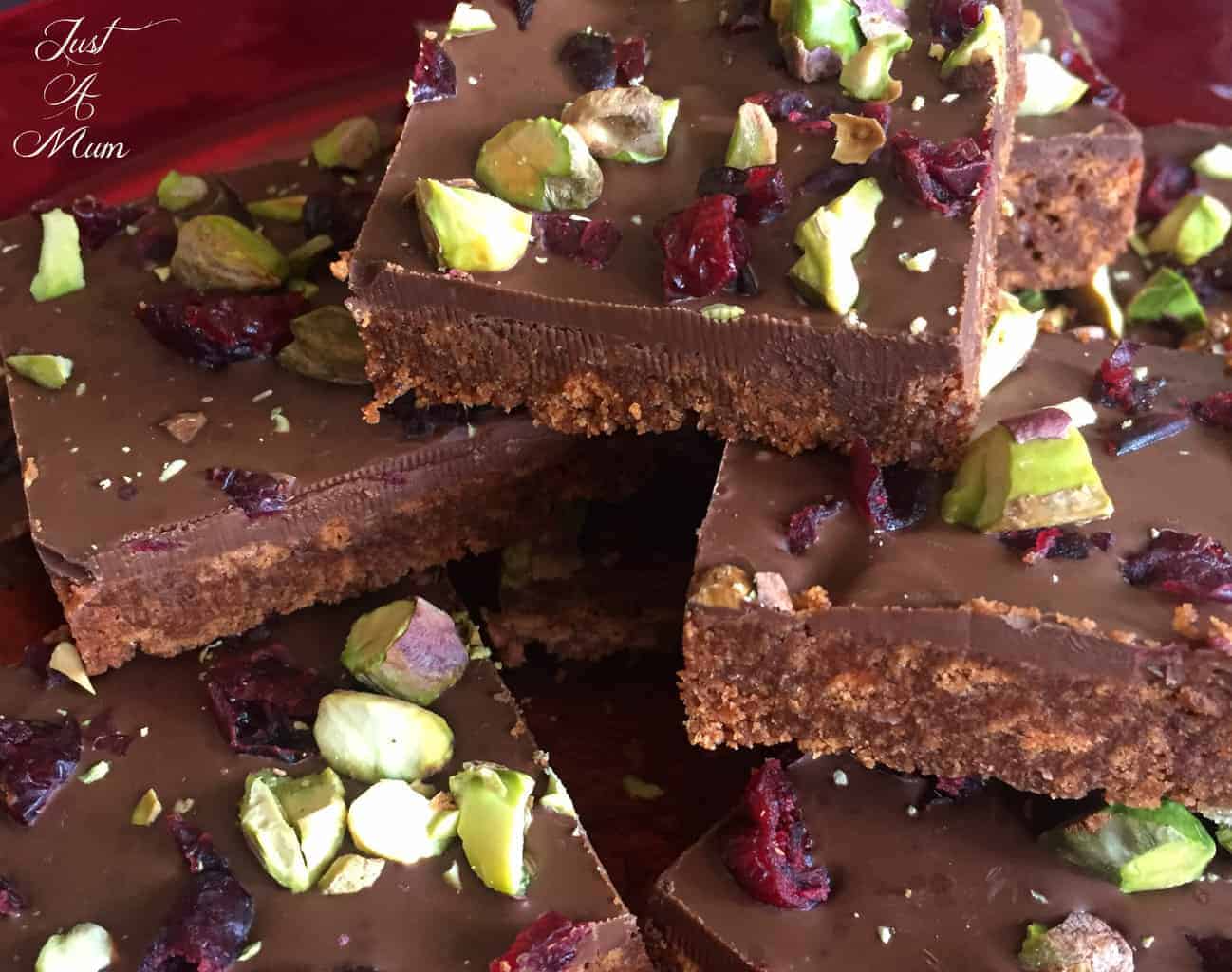 I do love receiving new recipes to try so if you have a lovely family favourite do let me know by emailing me at justamumnz@gmail.com and I can test it out and may feature it on my blog if you are happy to share with the world!
Onto this recipe, there are only a handful of ingredients and it is a very versatile. My friend jazzed it up with a gorgeous sprinkling of cranberries and pistachios, but you could easily use cranberries or almonds, it definitely lifts the basic recipe. Also the original version called for coconut and sultanas, but in the slice I tasted there were neither so you can absolutely make this one your own.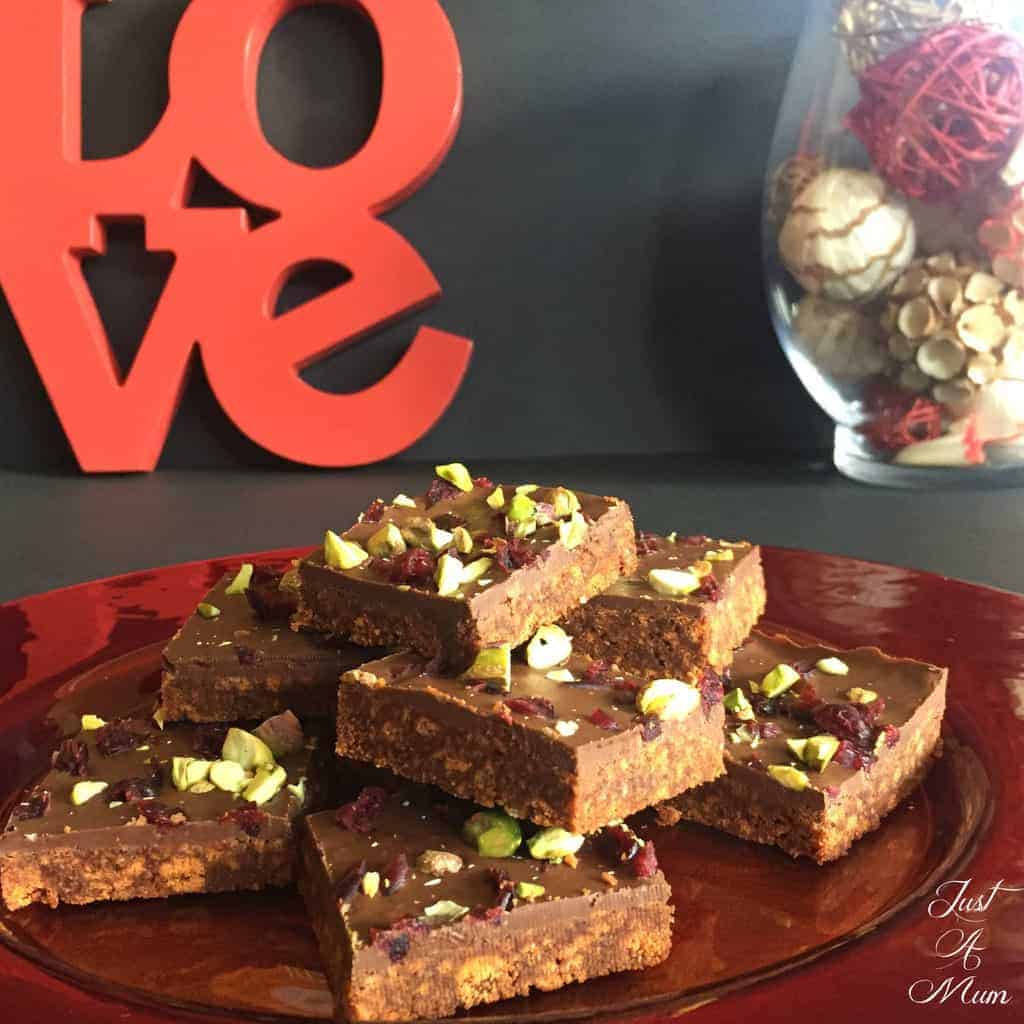 You can either use Malt biscuits or Super Wines, the Malt seems to give it a more fudgy finish, but either is just lovely. I recommend blitzing the biscuits up as finely as you can, this seems to make the finished slice more moist. So even finer than I have done in my images. I used melted chocolate in this version but I think my basic chocolate icing would be just as delicious – if not more so! I have included instructions for both below.
Without further ado – onto the recipe!

No Bake Chocolate Fudge Slice
Ingredients
125 grams Butter
⅓ Cup White Sugar
1 Egg
1 Tablespoon Cocoa Powder
1 Packet Malt or Super Wine Biscuits, crushed
Optional - featured in original recipe
1 Tablespoon Coconut (finely desiccated)
1 Cup Sultanas
Icing
150g Melted Chocolate or/
Basic Chocolate Icing
1½ Cups Icing Sugar
1 Tablespoon Cocoa Powder
½ teaspoon Vanilla
1 teaspoon Butter, melted
1-3 Tablespoons Water
Optional Topping
Sliced Cranberries & Chopped Pistachios or Cashews
Method
Prepare a slice tin with baking paper and set aside
In a medium sauce pan add the butter and sugar and begin to melt, do not boil or cook.
Once ingredients melted stir in a beaten egg and remove from the heat.
Add the cocoa, crushed biscuits and coconut and sultanas if using and stir in well.
Press the mixture into the slice tin and set in the fridge until hard, then ice.
Icing
If using melted chocolate break up the chocolate and melt in 20 second bursts in the microwave until just melted then pour over slice and sprinkle with topping if using
If using Basic Chocolate Icing:
In a medium bowl combine icing sugar, cocoa, vanilla and melted butter
Stir in water 1 teaspoon at a time until you have the desired pourable consistency, spread over slice and sprinkle with topping if using.
Allow icing to completely set before slicing and serving. Store in an airtight container. Best served and room temperature.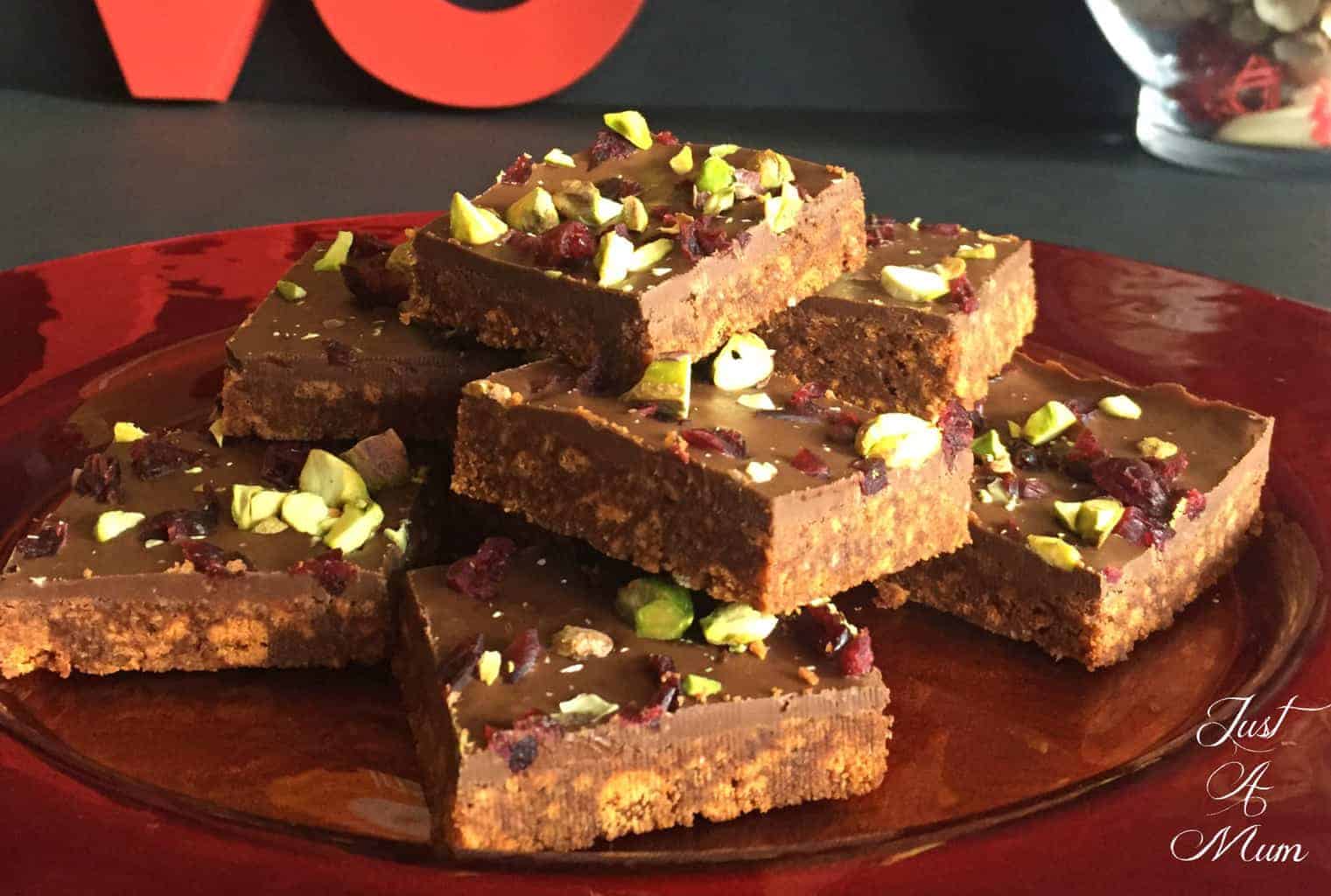 I hope you enjoy this simple recipe, with the gorgeous bright topping it would be perfect for Christmas time but indeed any time of the year!
Thank you so much for stopping by to check out this recipe. Be sure to follow me on Facebook & Instagram too for more deliciousness and behind the scenes pics.
Happy Baking!
Anna