I have been wanting to share a Maltesers recipe for a while, but honestly every time we buy a packet they never last long enough to bake with! So here is my favourite Maltesers No Bake Slice.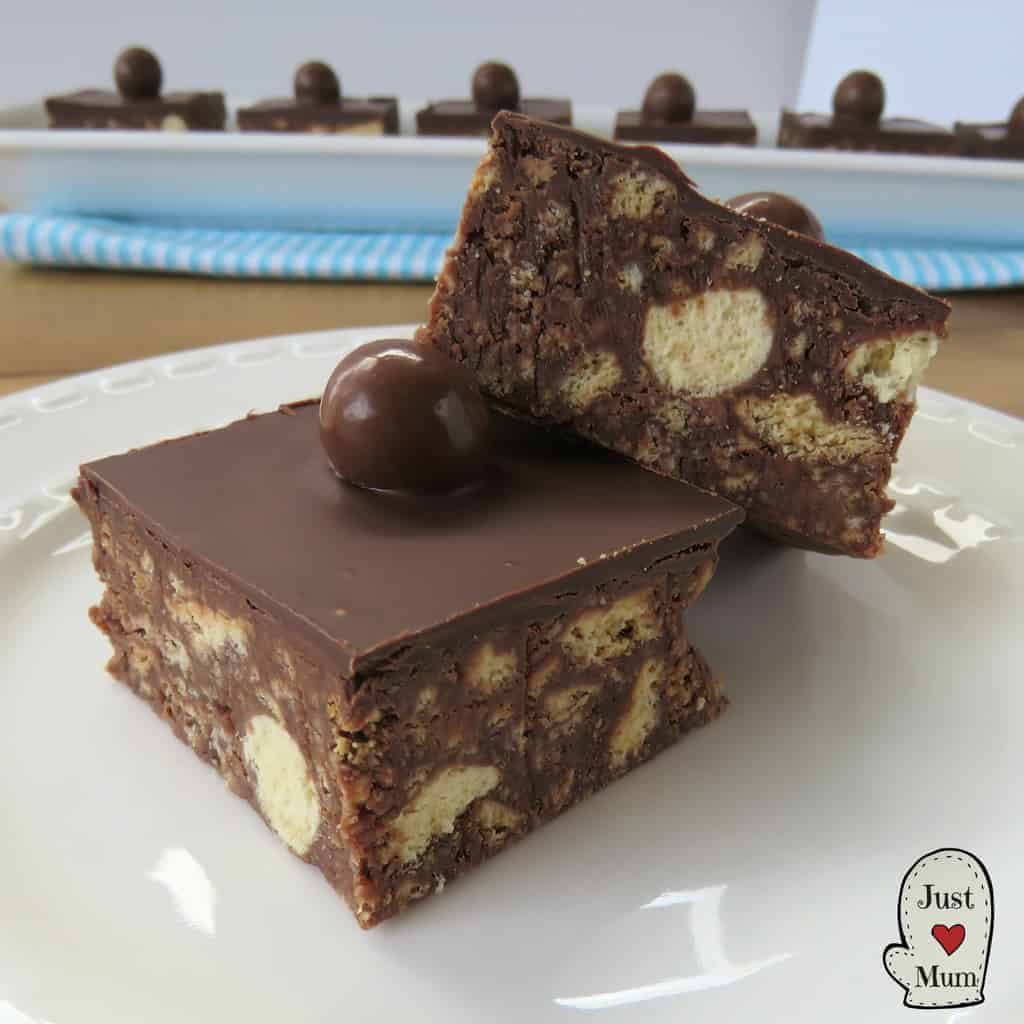 This is a simple play on my Chocolate No-Bake Slice. It is one of the most versatile recipes, you can create all sorts of variations of it. I finally found at K Mart here in NZ a bucket of Maltesers for a great price so I knew I would have a chance of them lasting long enough to use!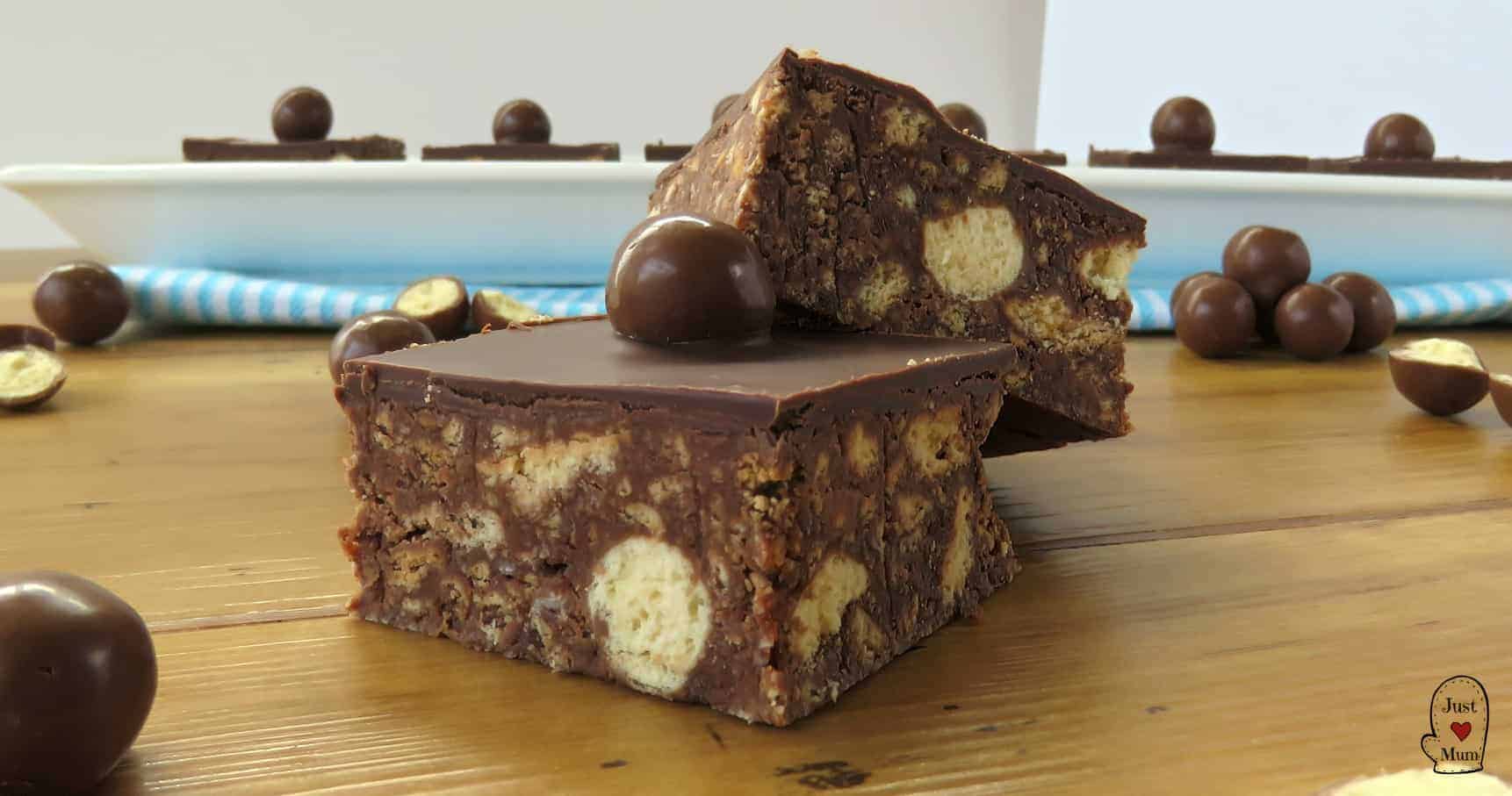 Seriously, what is it about us Kiwis and KMart – it used to be the very last place you would want to shop and now it has the 'must have' items of the year. I am probably lucky that I do not have one where I live or I would spend more on stuff we really don't need than I do already!
I digress….. back to the recipe. You can use your favourite blocks of chocolate to create an even richer more decadent slice. I have used just chocolate buttons this time, it is cheap and cheerful and definitely still tastes great! But I can imagine a good quality dark or milk chocolate would be amazing.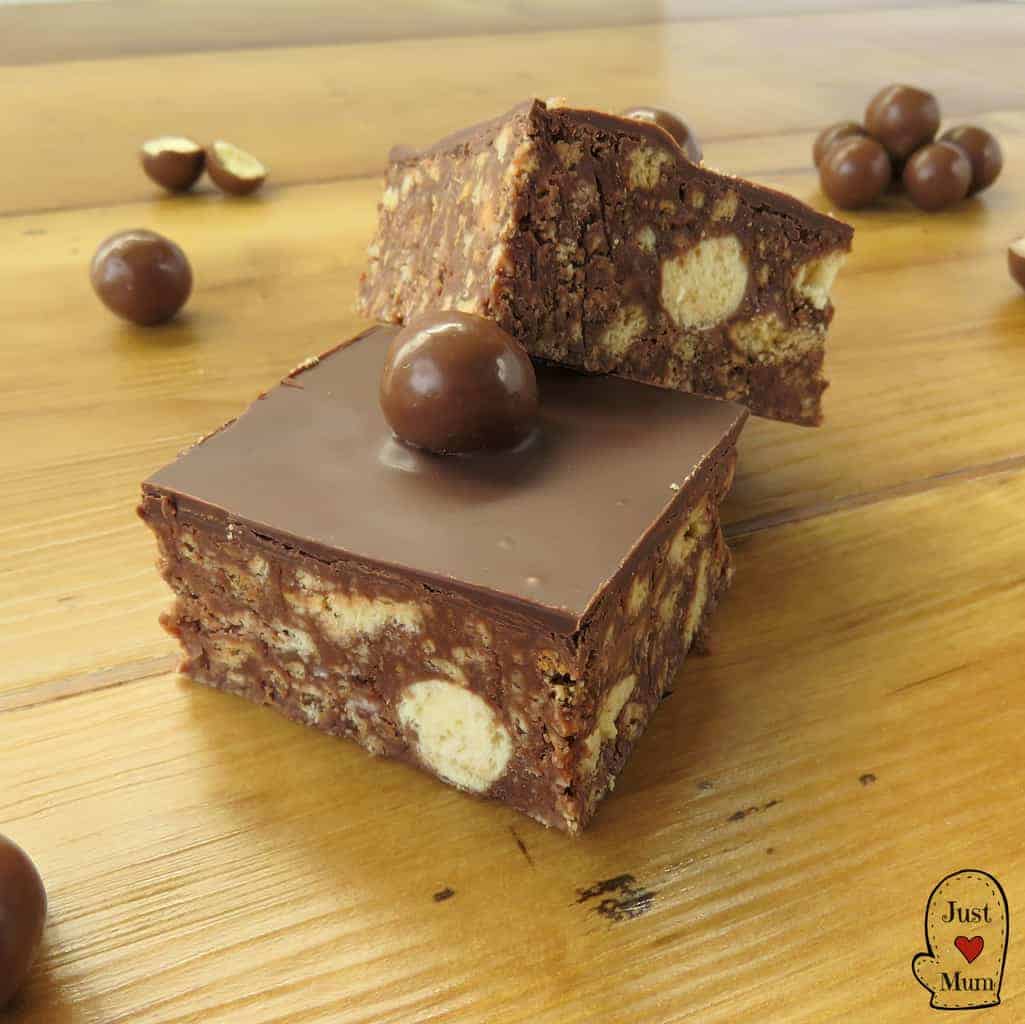 Another tip is to wait at least 5 minutes for the initial melted ingredients to cool slightly or you will strip the maltesers of their chocolate and they begin to melt.
I hope you enjoy this recipe and I would love to hear what you would do to this basic recipe to make it even more amazing than it is.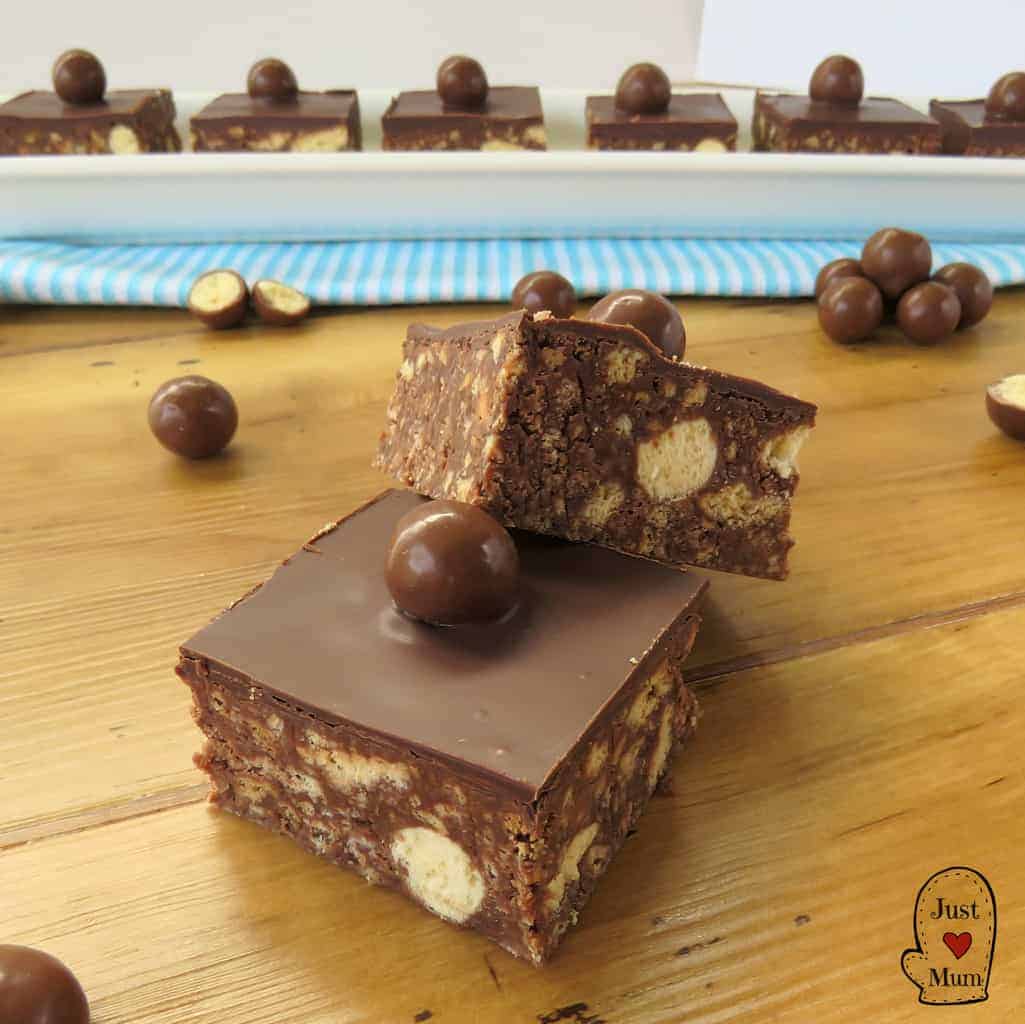 QUICK TIP: To halve the Maltesers, simply take a sharp knife and press down on the ball, with enough pressure and a few practises you will find they break in half…..more or less. If you try and cut them they can fall to pieces!
Pin It – Maltesers No Bake Slice
And now onto the recipe!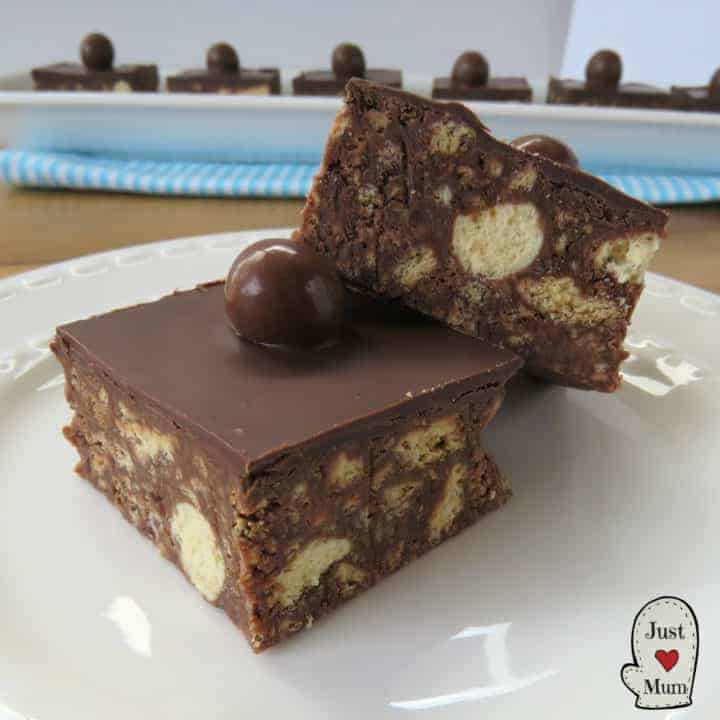 Maltesers No Bake Slice
Yield: 16

Prep Time: 20 minutes

Cook Time: 20 minutes

Total Time: 40 minutes
Ingredients
1 cup (150g) of Dark Chocolate (Melts, Drops, or your favourite dark chocolate block)
100g Butter
395g Can Sweetened Condensed Milk
250g packet of Plain Biscuits (I use Superwines)
½ Cup (40g) Desiccated Coconut
2 TBSP Cocoa Powder
1 Cup Maltesers, halved
Chocolate Icing
1 ½ Cups (225g) Dark Chocolate (Melts, Drops, or your favourite dark chocolate block)
1 TBSP Vegetable Oil
Instructions
Prepare a 25cm square slice dish or baking tin with greaseproof paper (I always give my tin a quick spray with cooking oil then line with paper so it sticks nicely) and set aside.
Using a food processor roughly crush the biscuits (or pop them in a ziplock bag and bash them a bit with a rolling pin) You want them all sizes not fine and set aside.
Halve your Maltesers - *see the tip above
In a large saucepan slowly melt together the chocolate, butter and condensed milk, stirring often to ensure it does not catch until butter completely melted and ingredients blended together.
Allow the mixture to cool slightly for at least 5 minutes, then add to this the biscuits, coconut, maltesers and cocoa powder and mix thoroughly.
Pour mixture into the prepared pan and using the back of a large spoon spread it around and flatten mixture until it is completely smooth and packed tight.
Put the biscuit base in the fridge to cool for 30 minutes
Chocolate Icing
You can prepare this either on the stove top in a double boiler or in the microwave. Quicker and easier to use microwave.
Place the chocolate in a medium sized microwave proof bowl
Heat for 30 second bursts, stirring in between until the chocolate is completely melted and smooth.
Add the oil to the chocolate then pour over the cooled biscuit base. (The Oil is to prevent the topping from cracking!), once it is smoothed out with the back of a spoon, give it a little shake to settle the topping evenly.
Pop some more maltesers on the top, allow for the chocolate to set and slice!
Store in an airtight container in the fridge.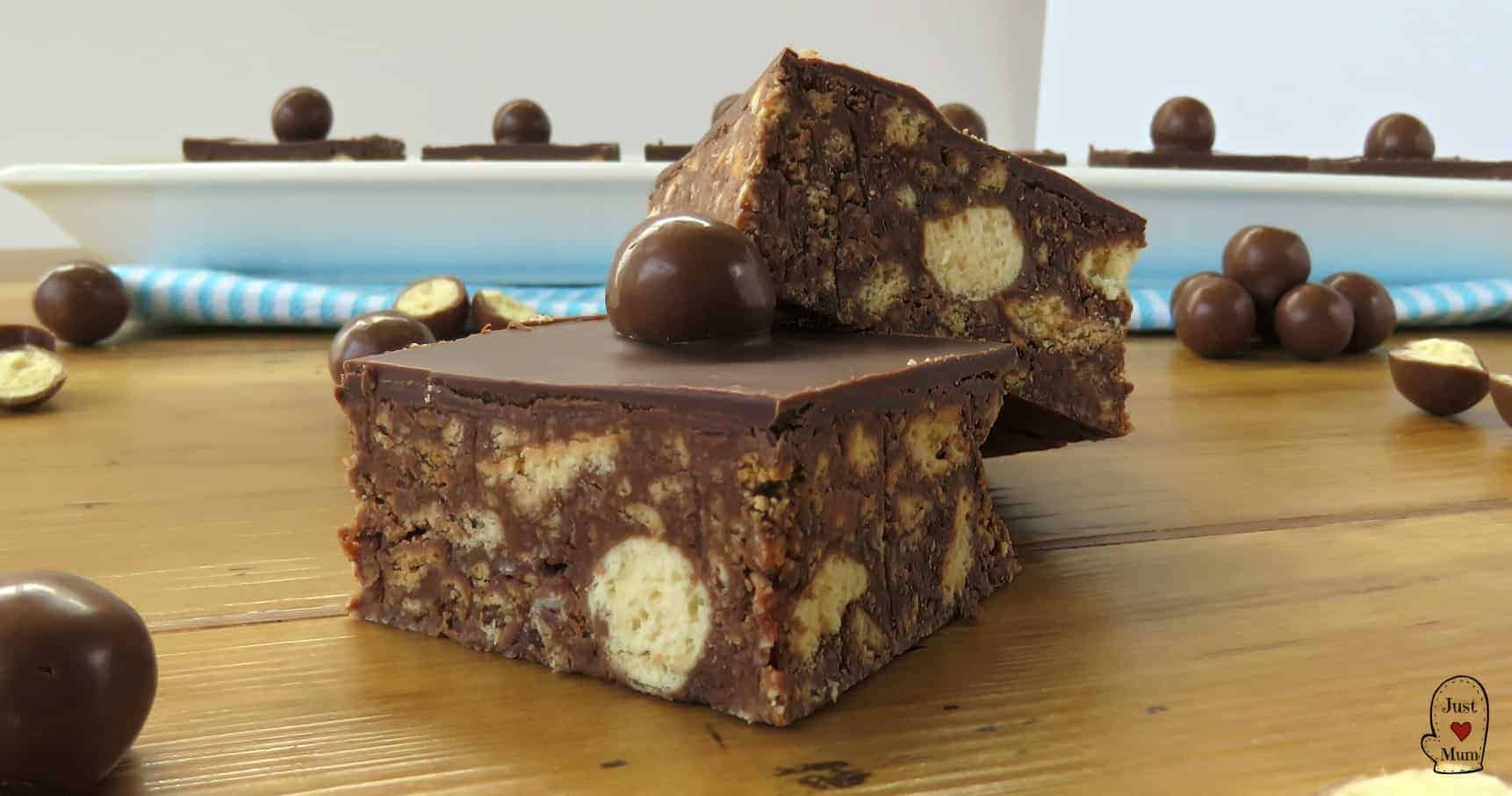 I hope you enjoy this recipe, and always feel free to share photos of what you make from my site, I just love it!
Thank you so much for stopping by to check out this recipe and others on my blog. If you are not already be sure to follow me on Facebook or Instagram for more deliciousness, and you can register your email in the subscription box below to receive all my recipes as I publish them.
Happy Baking!
Anna