I am delighted to bring you this post which is a delicious collaboration with Tasti, and my Grandma's very special recipe.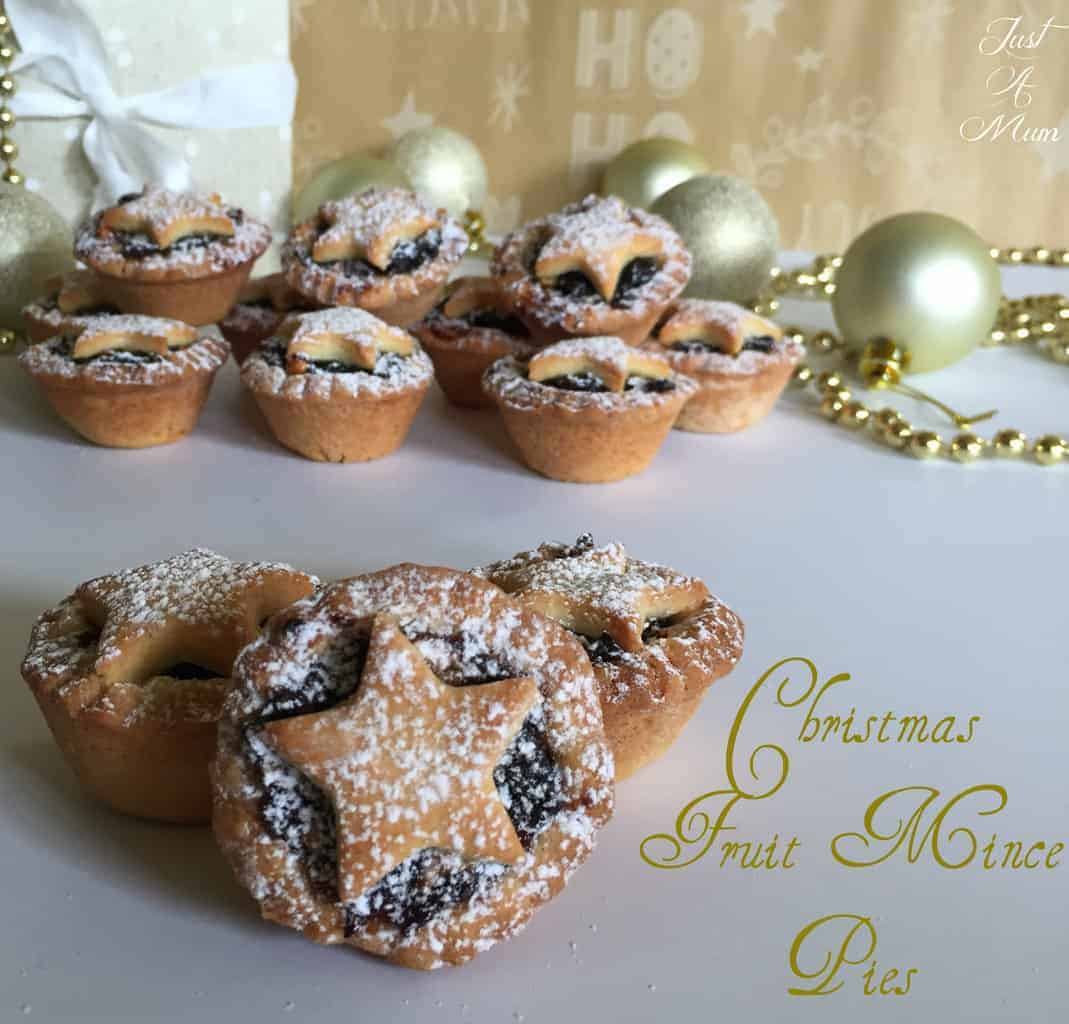 I love baking with my Grandma's recipes, it brings back such wonderful memories of her and reminds me of what a fabulous cook she was! When I was thinking of the recipe for this blog post I could not go past using her shortcake recipe which partners perfectly with the gorgeous products from Tasti. Plus of course a few amendments of my own – I can hardly ever just leave a recipe alone, I always want to add a few elements!
The base pastry for this recipe comes from a very popular treat on my site for Apple Shortcake, it is absolutely delicious. Buttery, crumbly, easy and versatile. The simplicity of this shortcrust pastry went beautifully with the strong flavours of the Tasti Old English Fruit Mince. It is so fun partnering with a brand like this as they have SO many products I can choose from! To give my recipe a little twist and some more texture I have added both Tasti Natural Cashews and Almonds and a dash of fresh orange zest. These additions do not take away from the gorgeous rich deep flavours of the fruit mince, but add some extra elements that bring it all to life!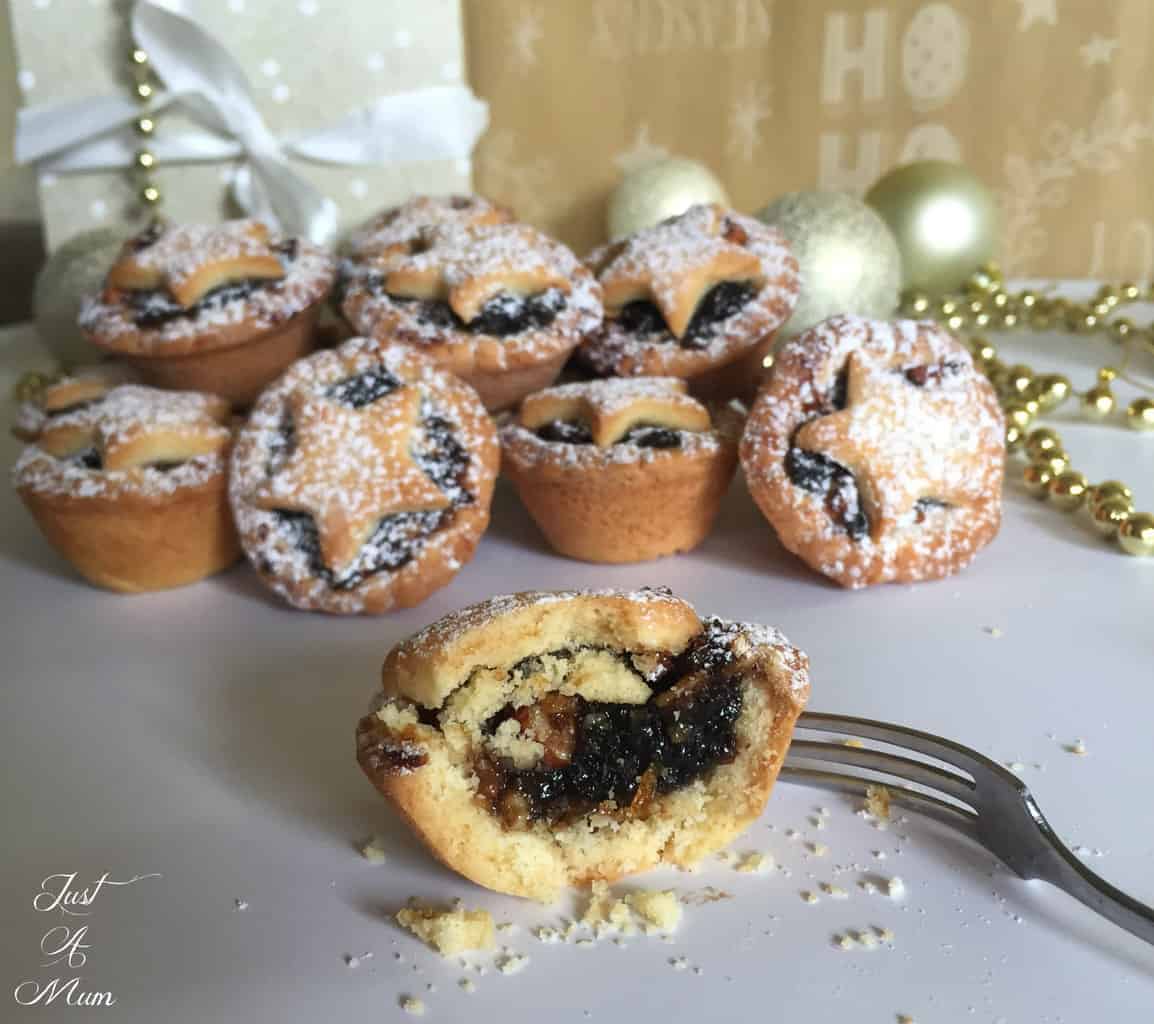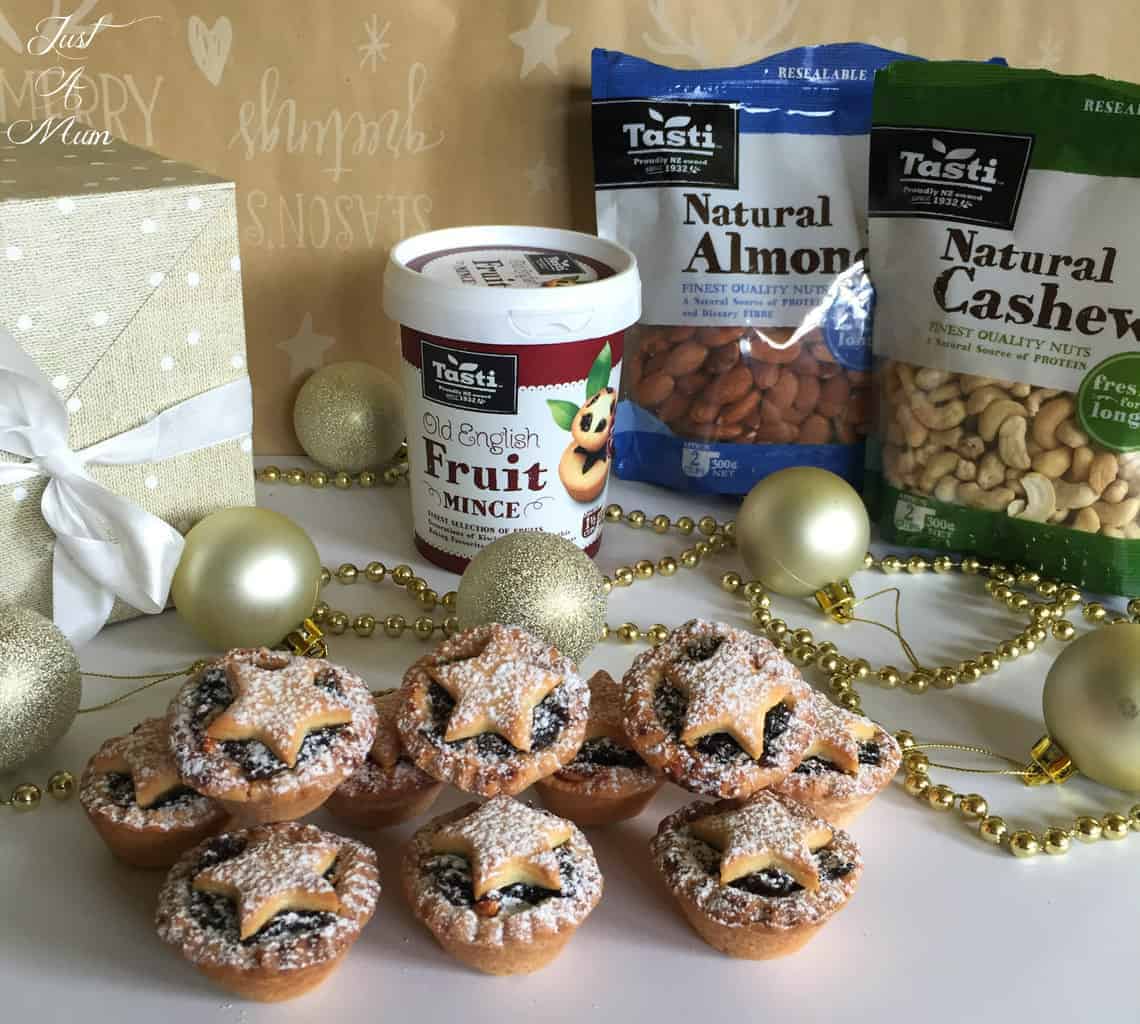 I could add orange zest to just about everything, it is one of my favourite flavours, in fact if you wanted something a bit more special again you could always add it to the pastry base!

Making the pastry is not hard, but you do need to plan ahead a little as the dough needs to chill in the fridge for at least 1 hour. But after that you will have a wonderful end product that is so easy to use and handle. And for all of you thinking that you can simply buy pre-made cases or ready made pastry, I know I know…..but this way you get to feel so much more virtuous and it tastes SO much better!!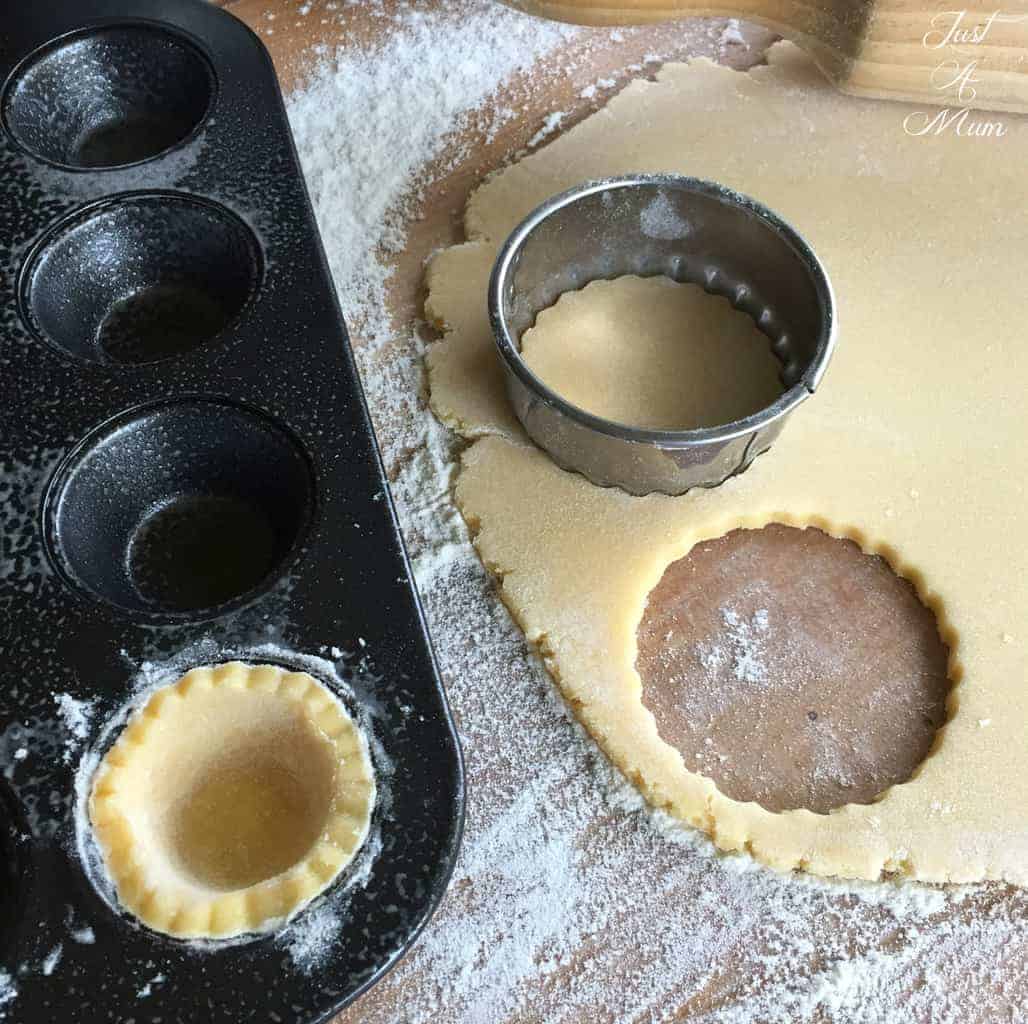 As I mentioned above I used both Tasti Natural Almonds and Cashews, loved that these were both unsalted so perfect for baking. They are always available in the supermarkets so definitely stock up on their gorgeous range this Christmas. We use so many of these products in baking and salads. Yum!

So onto the recipe, since the fruit mince is already made for you, it is all down to making the pastry then gathering your tools for creating the cases. It is actually really fun and simple. I made mini mince pies, using my mini muffin tins. So for that I used a 7.5cm cookie cutter (3 inches) and a 4.5cm (1.5 inch) star cutter for the tops. You may add more or less nuts, and more or less zest depending on personal preference. The 500 gram pottle of Tasti Old English Fruit Mince and the pastry made 30 mini pies, so it goes a long way! If you wanted you could make the pastry even thinner than I have.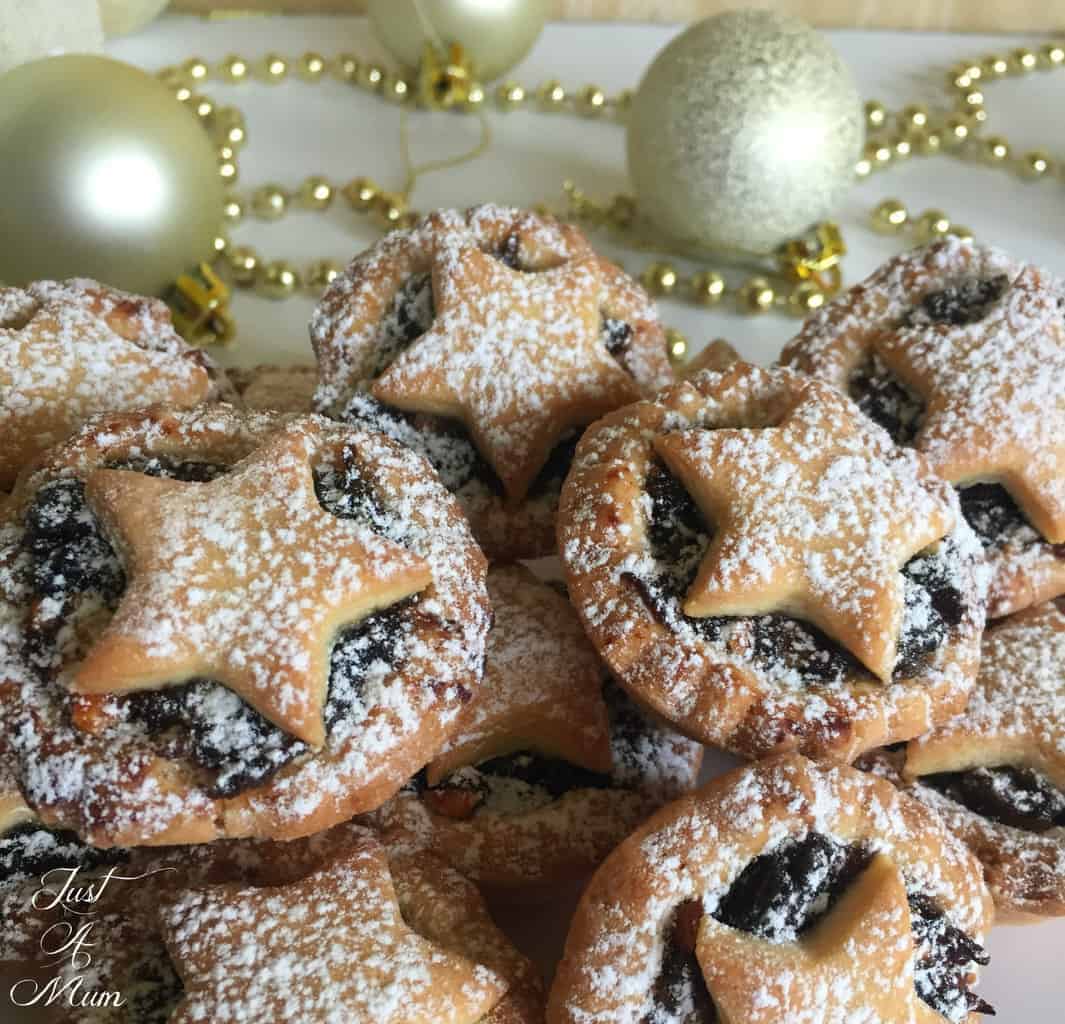 And here is the recipe! I have amended the original slightly as it includes cream of tartar which not everyone has on hand, but if you do then check out the Apple Shortcake recipe on my blog.

Homemade Christmas Mince Pies
This recipe makes 30 mini fruit mince pies, if you do not need that many you can store and even freeze this dough and the fruit mince will keep well too!
Ingredients
PieCrust
170 Grams Butter, Room Temperature
1 Cup White Sugar
2 Eggs
3 Cups Plain White Flour
3 teaspoons Baking Powder
Tasti Fruit Mince Filling
1 x 500gr Tub of Tasti Old English Fruit Mince
½ Cup Tasti Natural Almonds
½ Cup Tasti Natural Cashews
Zest of Two Oranges, washed and finely grated or zested
Method
Pastry
In a large mixer bowl add the room temperature butter and sugar and begin to cream the mixture, until it is pale and fluffy (approx 4 minutes)
Add the eggs and combine well for a further minute
Combine the flour and baking powder and add this to the bowl and continue to mix until the mixture begins to come away from the sides of the bowl.
Lay out a sheet of plastic food wrap and tip the ingredients onto this, create an oval and fully wrap in the plastic and refrigerate for 1 hour.
Filling
While the pastry is chilling prepare the Fruit Mince Filling, pour the Tasti Old English Fruit Mince into a medium bowl, chop the Tasti Almonds & Cashews into tiny to medium pieces, and zest the oranges.
Combine all ingredients together and set aside.
Pastry Cases
Preheat Oven to 180C (355F)
Prepare mini muffin trays with liberal amounts of cooking spray and set aside.
Once the dough has chilled remove from the fridge and set up your bench with all the tools you will need, a rolling pin, 7.5cm cookie cutter, star cutter, flour, and a teaspoon.
Sprinkle flour on the bench and break off a cup sized chunk of the dough, knead it gently until it is more pliable and comes together and with a floured rolling pin begin to roll the dough until it is approx 3mm thick.
Take the cookie cutter and cut the dough, then transfer this to the mini muffin tray, slightly draw together the edges of the circle and gently lower it onto the tin and press down around the base and sides with your fingertips.
Repeat until your tray is full. You can combine the scraps to form more dough and take more from the original batch as needed.
Add one teaspoon sized amounts of Tasti Fruit Mince filling into each case.
Again knead and roll out a cup sized ball of dough and using the star cutter create lids for the mini mince pies.
Bake for 18-20 minutes, until they appear golden in colour, I always gently lift one pie out to check the base has coloured also.
Remove from the oven and allow to cool for 5 minutes in the tin then gently transfer to a wire rack - they should slide out using a knife on one edge to lift them.
Allow to completely cool on a wire rack, then dust with icing sugar to serve.
Merry Christmas & Enjoy!
The house simply smelt of Christmas! Whether you are a lover of Christmas Fruit Mince Pies or not they are an absolute tradition at this time of year.  I hope you enjoy this recipe as much as we did. I think the addition of nuts gave it such a lovely taste and texture.
If you DO love the look of this recipe, Tasti are offering to send one lucky winner a delicious Tasti Gift Pack including the Tasti ingredients I used here to create this recipe! How cool is that?! To enter simply pop your details in the giveaway box below. Open to only NZ postal addresses, the winner will be announced in the evening on the 11th of December 2016.
Thanks so much to Tasti for partnering with me again, be sure to keep an eye out for their products in stores. You can find out about their full range and more recipes at http://bit.ly/TastiXmasBaking.
Thank you so much for stopping by to check out this recipe. Be sure to follow me on Facebook and Instagram for more deliciousness.
Happy Baking!
Anna
 #tastixmas #tastirecipes