Delicious Greek Orzo Salad infused with all the flavours you love and so easy to make!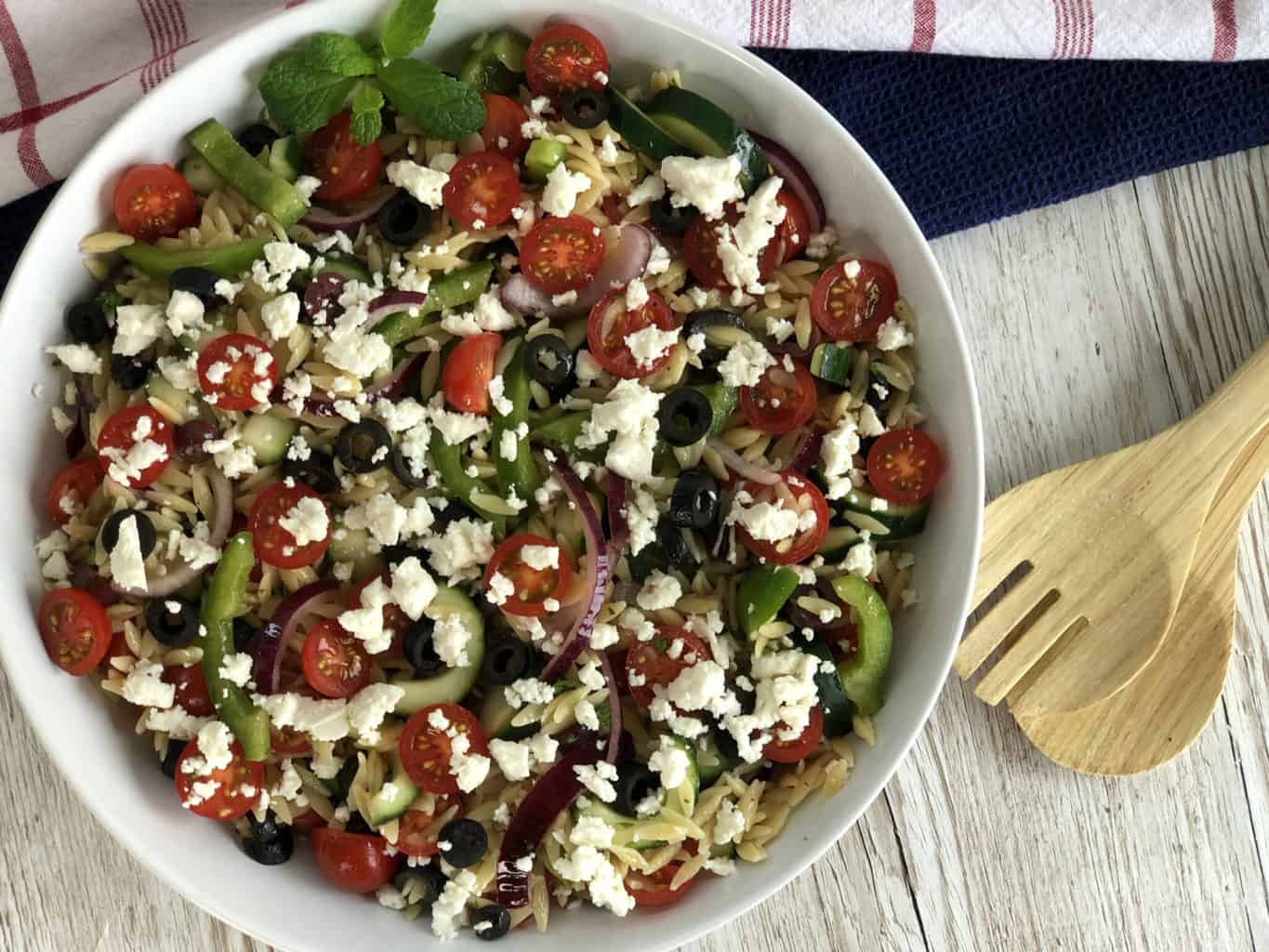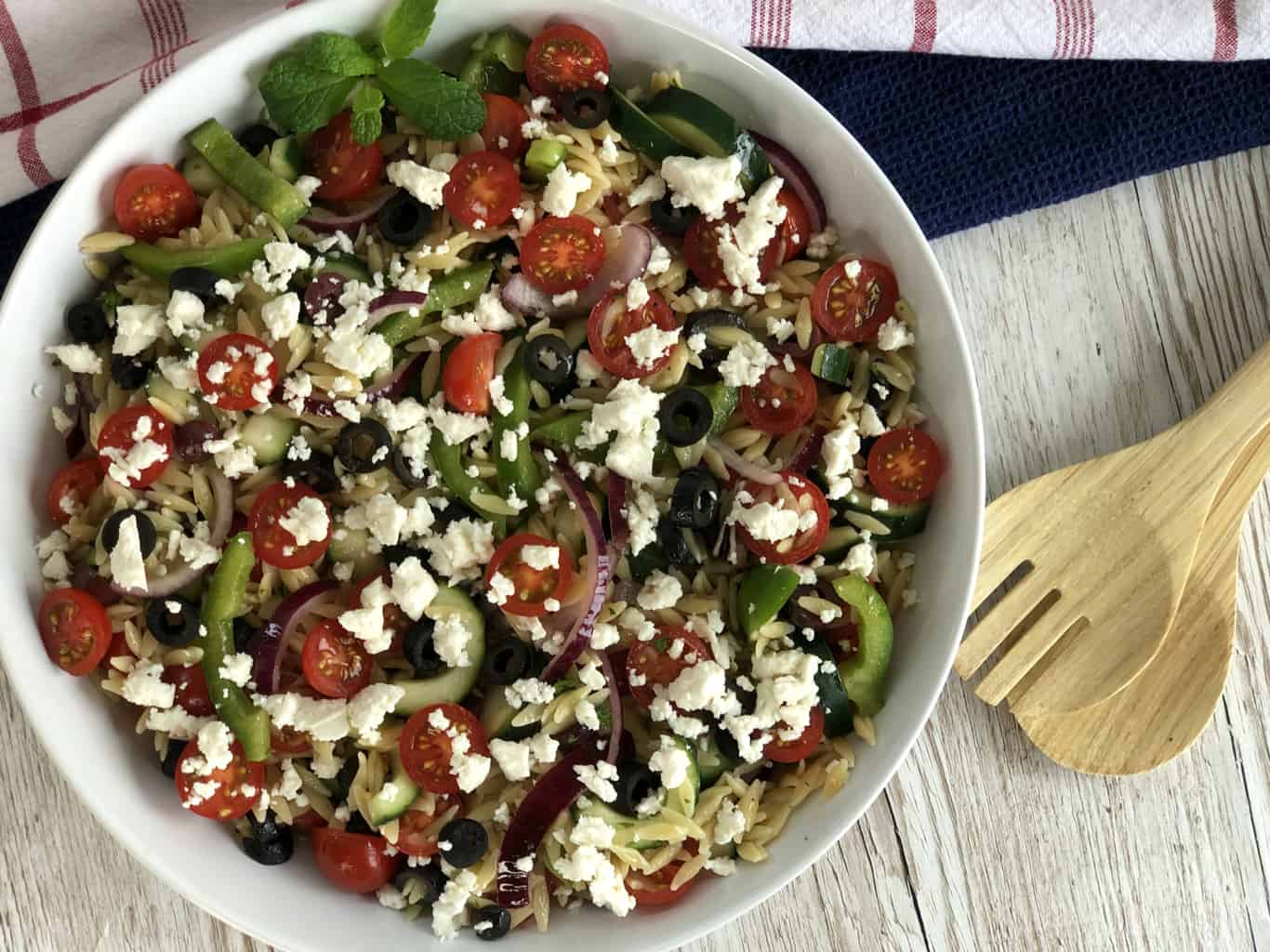 The ingredients shared in this recipe have been kindly gifted by Countdown Supermarkets, all ideas are my own
I love sharing salad recipes, you can never have enough. It is also really important to me that the ingredients and techniques are really simple. Few of us have time for lots of fussy slicing and dicing but all of us want great flavour!
Greek Salads are such a popular summer recipe. So simple to make with the classic flavours we know and love. Adding Orzo pasta to this salad takes it to the next level. It becomes a more complete meal on its own.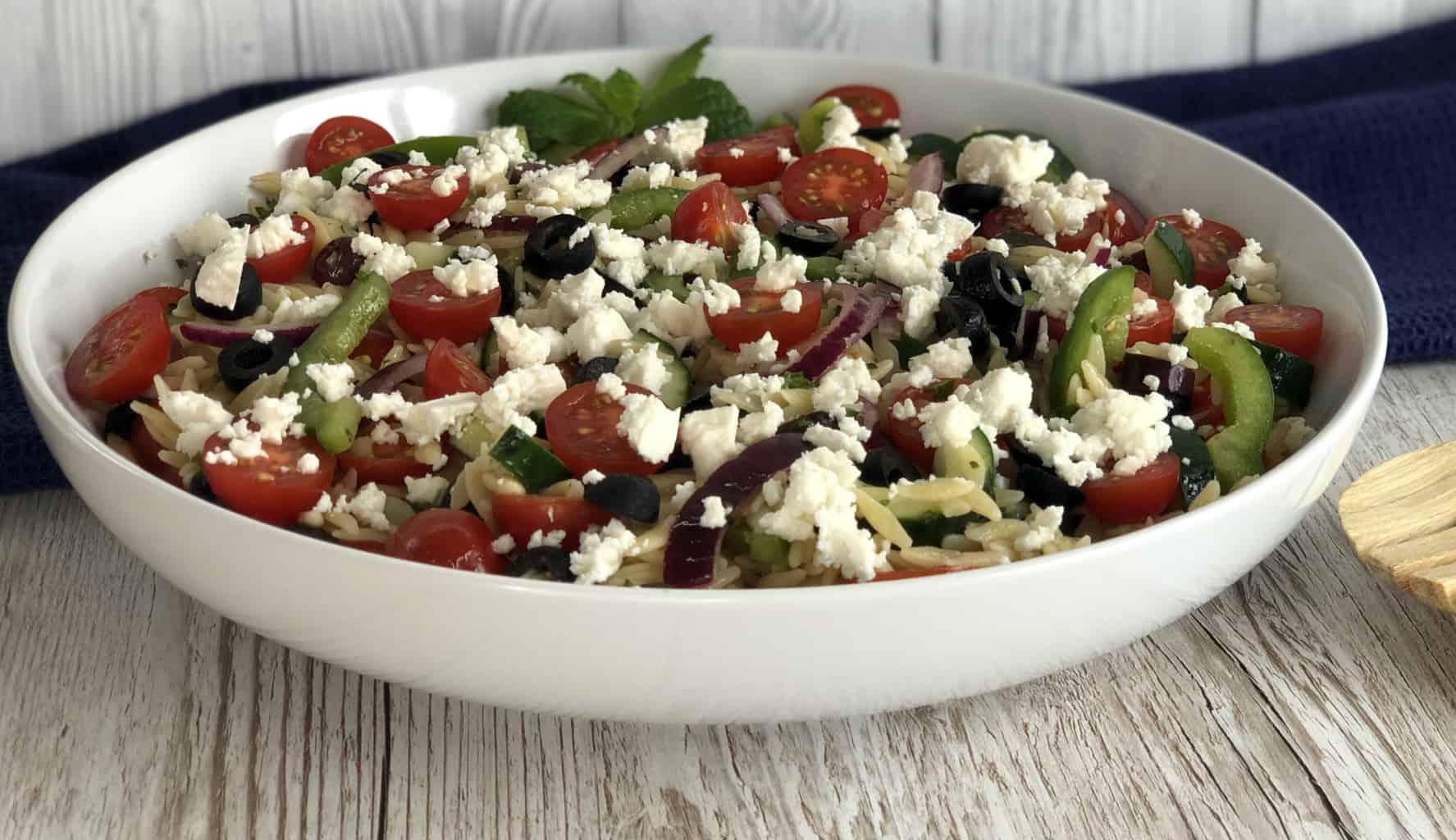 The other benefit of adding the Orzo pasta is that it soaks up all the delicious flavours of the ingredients and the dressing. This salad is definitely better in the days after it is made so I will suggest making it the day before for the best results.
Ingredients for a Greek Orzo Salad
Orzo Pasta

Lebanese Cucumber

Green Capsicum (Bell Peppers)

Cherry or Roma Tomatoes

Red Onion

Kalamata & Black Olives

Feta

Greek Salad Dressing
The key for the ingredients for the salad is you want to have a little bit of everything in each mouthful so try and cut things in similar sizes and spread them throughout the salad. Many salads you can build from the bottom up – this one definitely get in there and mix it all together!

If you are making this salad ahead to store for a day or two I recommend that you keep the tomatoes and cucumber out until you are serving. These two can go a little soggy and are best fresh. However if you are simply storing leftovers then you are fine to add it all in.
Cutting the cucumber requires you to remove the middle seeds, again this is just to make sure the cucumber retains its crunch – you can do this by slicing the cucumber lengthways and using a small teaspoon run it down the centre of the cucumber and drag away the centre seeds.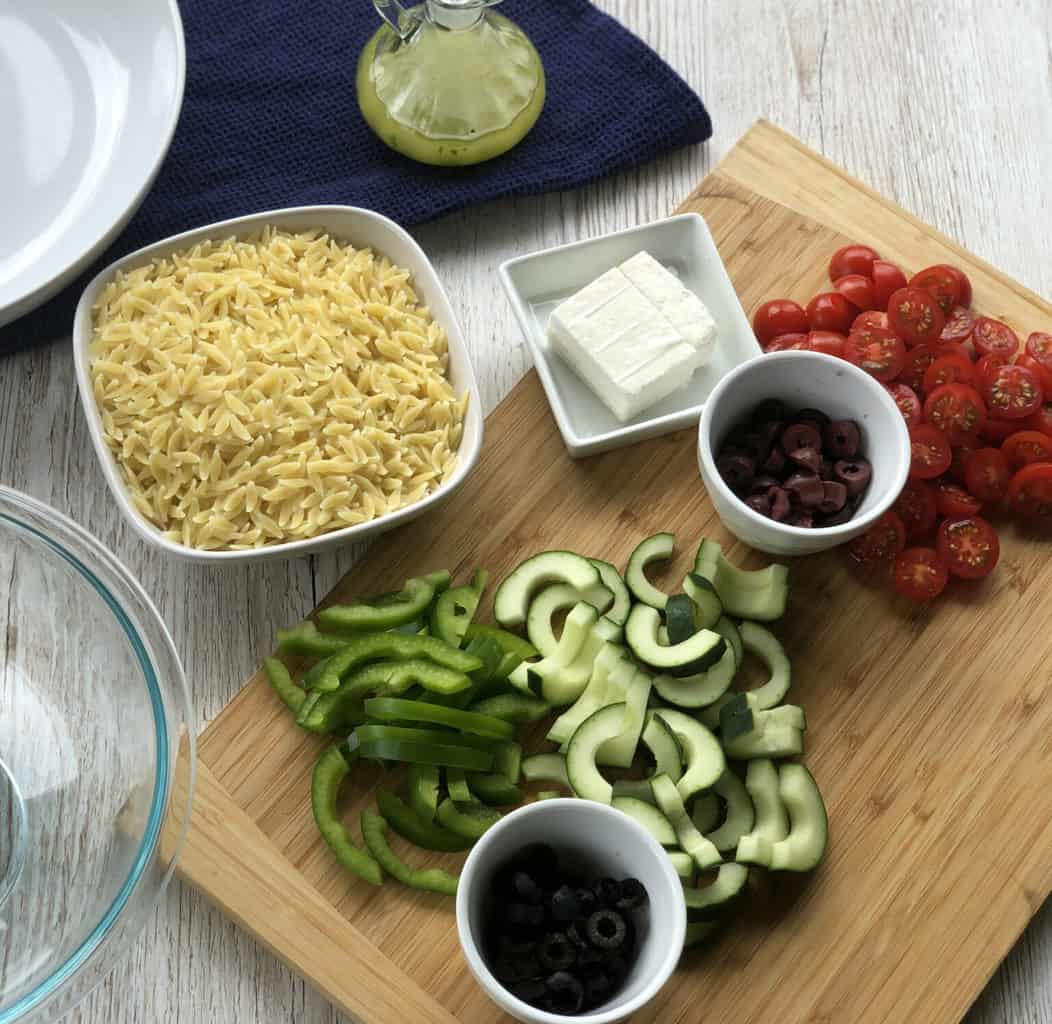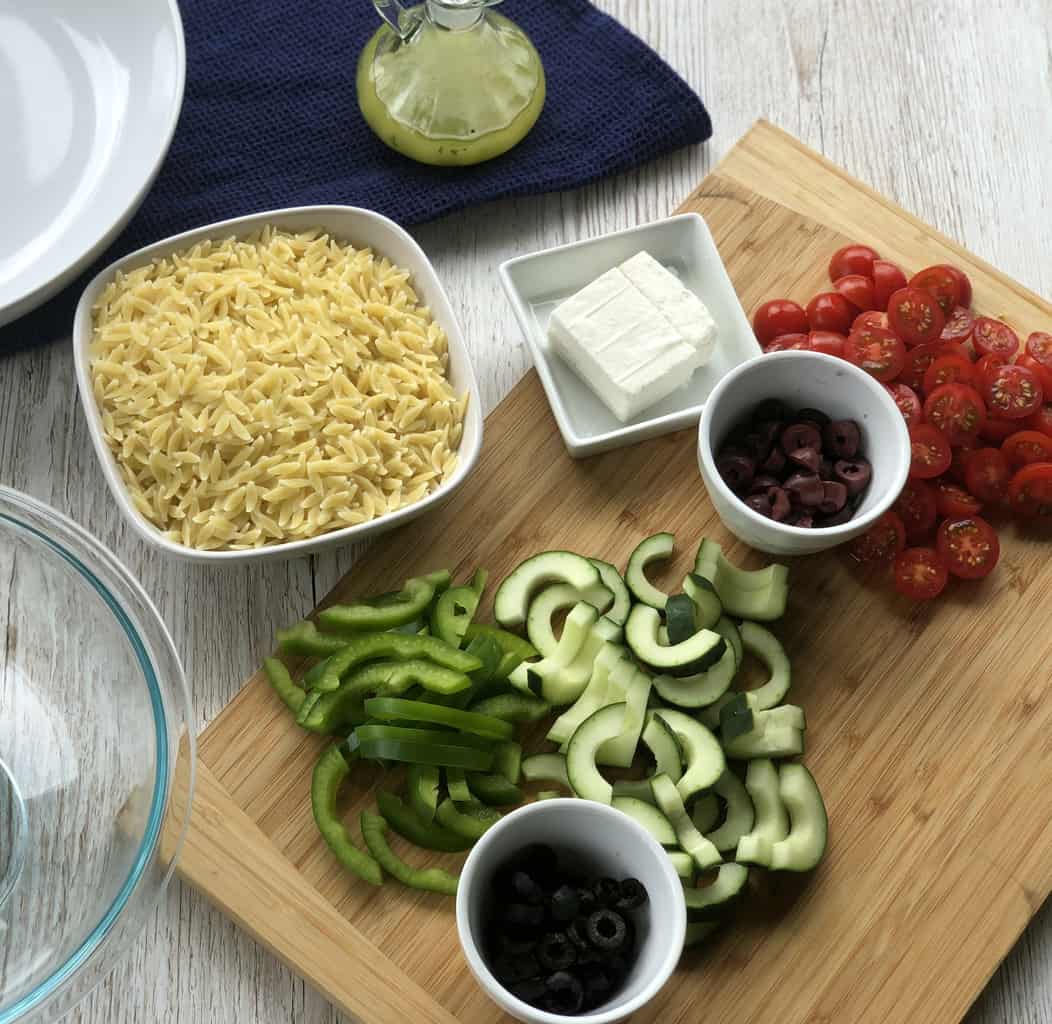 I have another great tip! Often red onion can be quite strong and it is not to everyone's taste. You can reduce the heat and sharpness by soaking the red onion in tepid water for 10 minutes then drain and dry off.
For some this is sacrilege and we should toughen up – I say you do you. Others soak red onion in vinegar or lemon juice for similar reasons, to change the flavour. If you are not a red onion fan at all of course you can leave it out altogether.
The dressing is lovely and simple. I have used white wine vinegar, you can substitute this for red wine vinegar or apple cider vinegar, whichever you have on hand. If you have none of these simply use more lemon juice or even a little mustard. Something to add some tang to the flavour.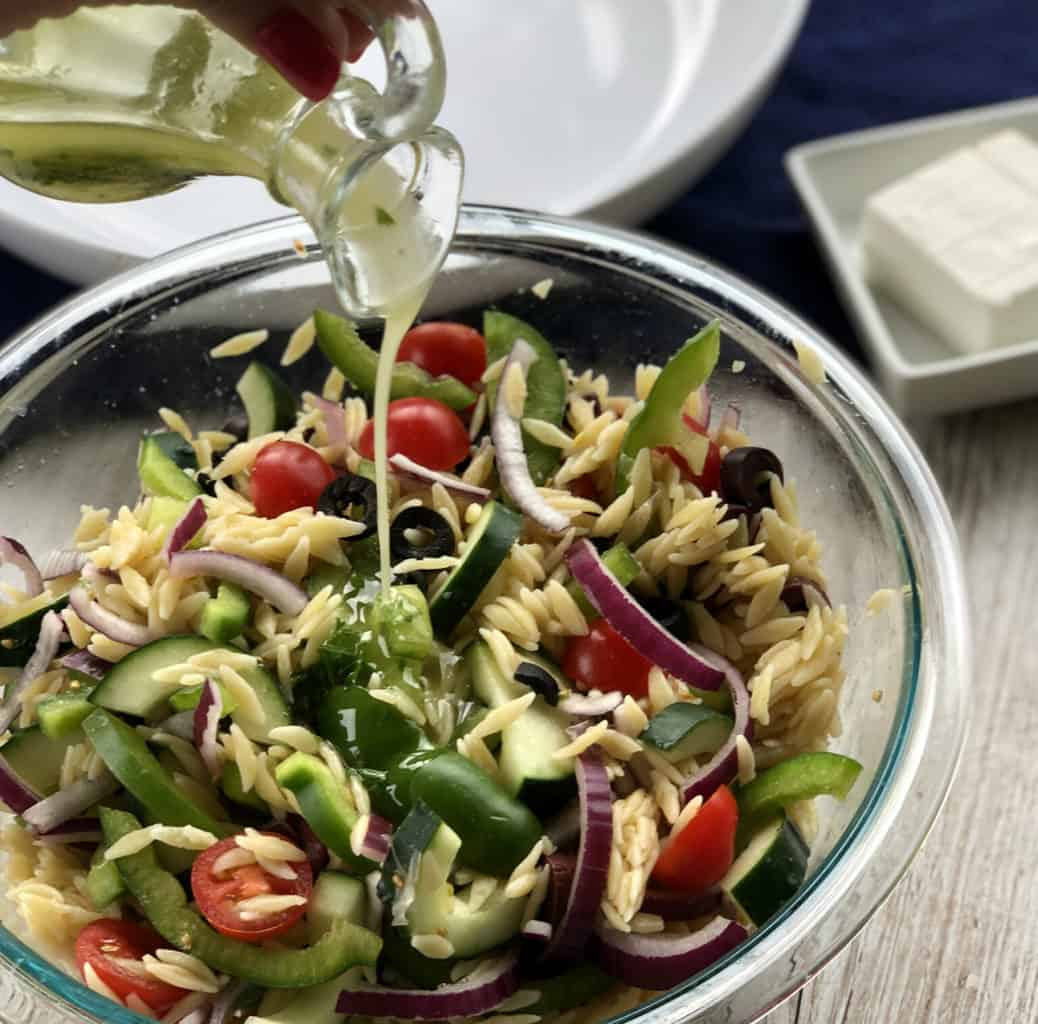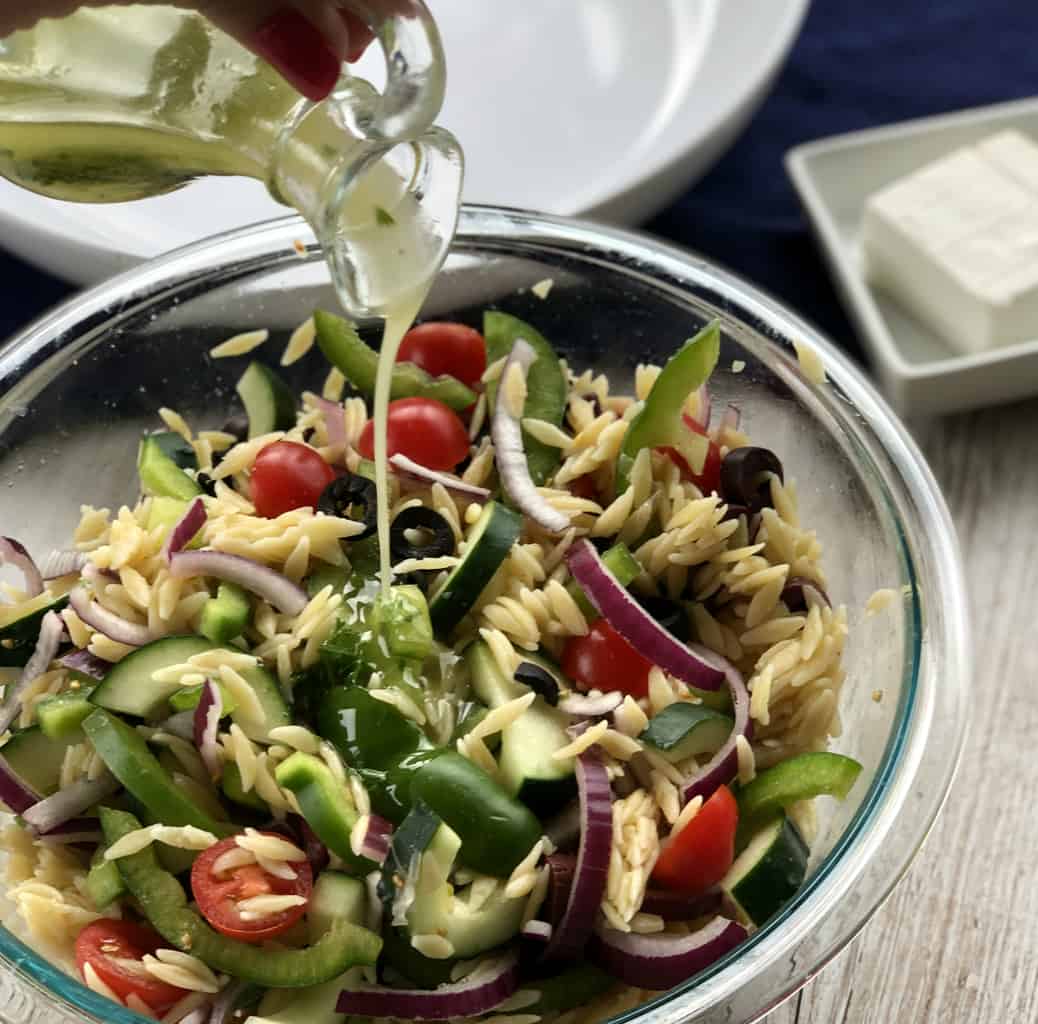 Ingredients for a Greek Salad Dressing
Olive Oil

White OR Red Wine Vinegar

Lemon Juice

Fresh Parsley

Salt & Pepper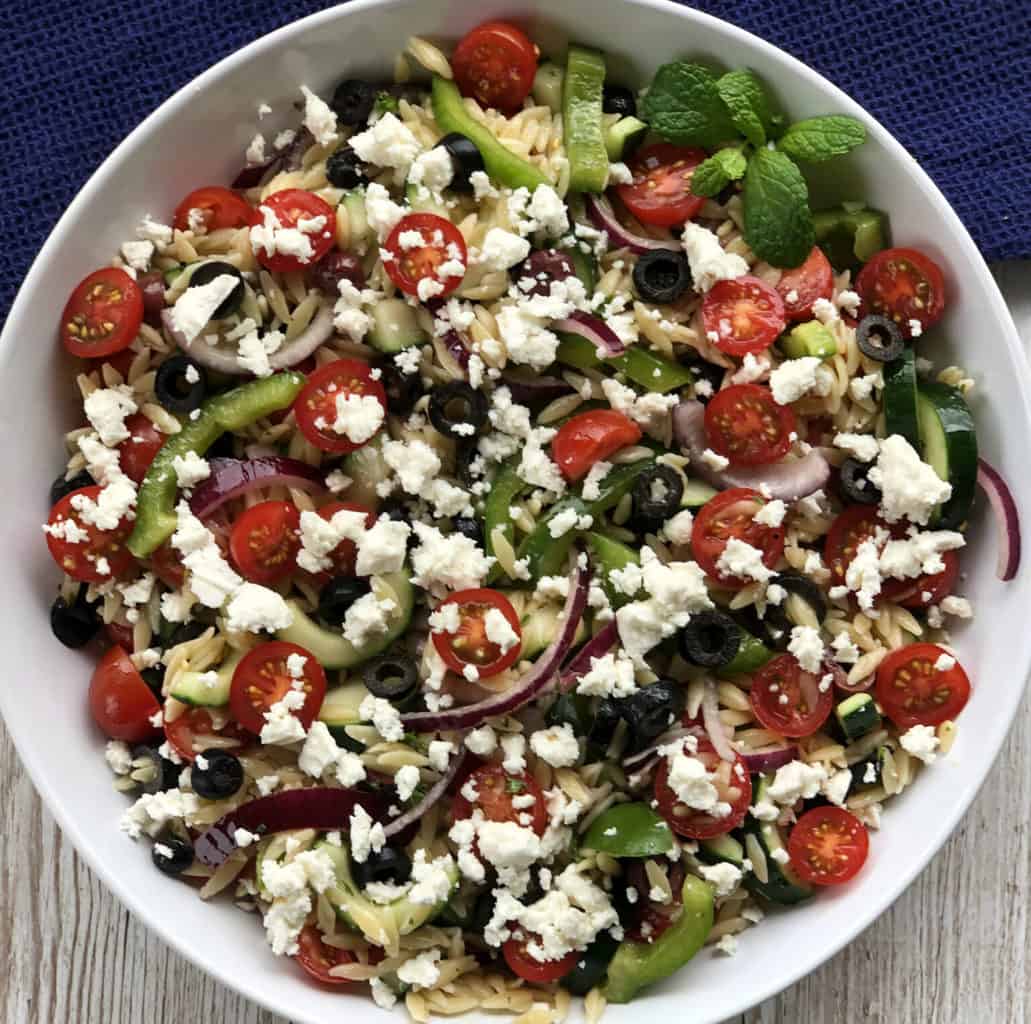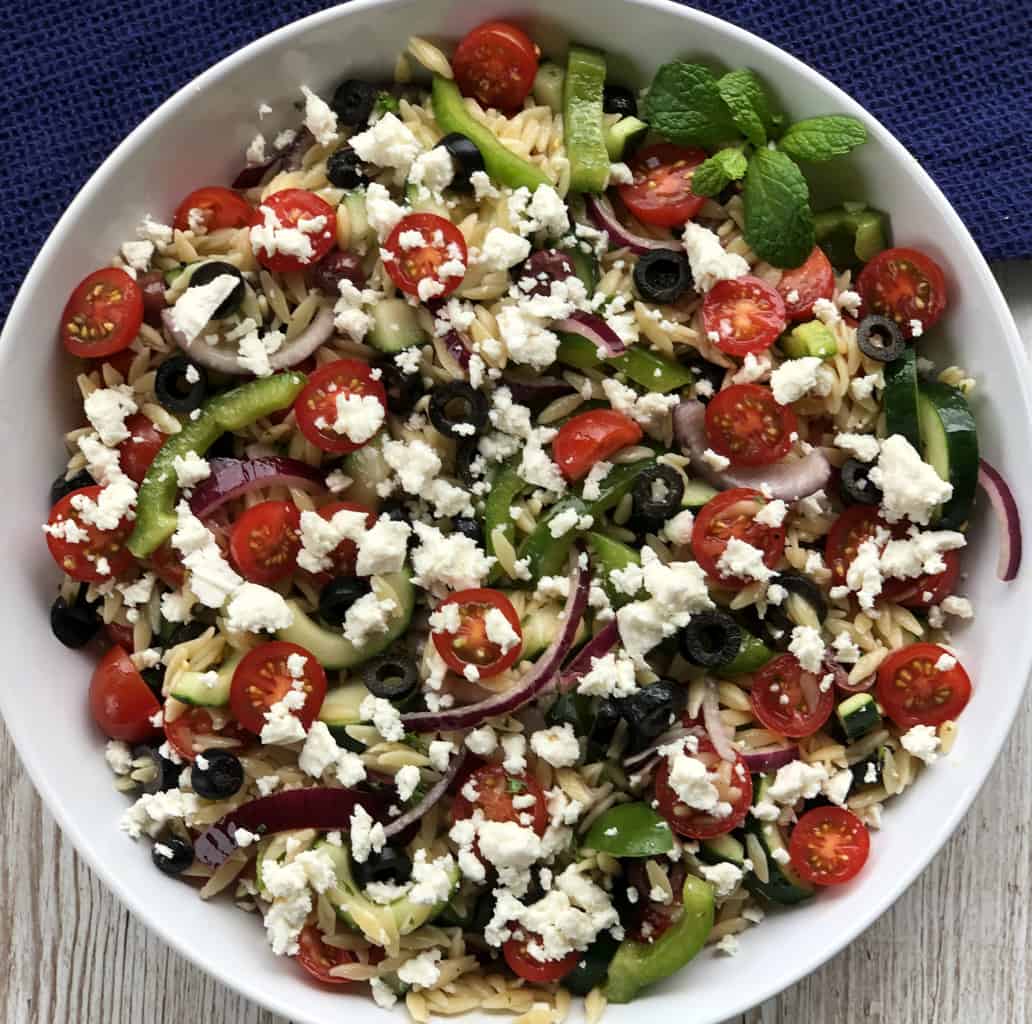 To make the dressing you simply whisk together these ingredients and pour over the salad. This is the same dressing I use for my Greek Salad. And for this to soak into the orzo pasta you want to make this salad ahead, so either in the morning or a day or so beforehand.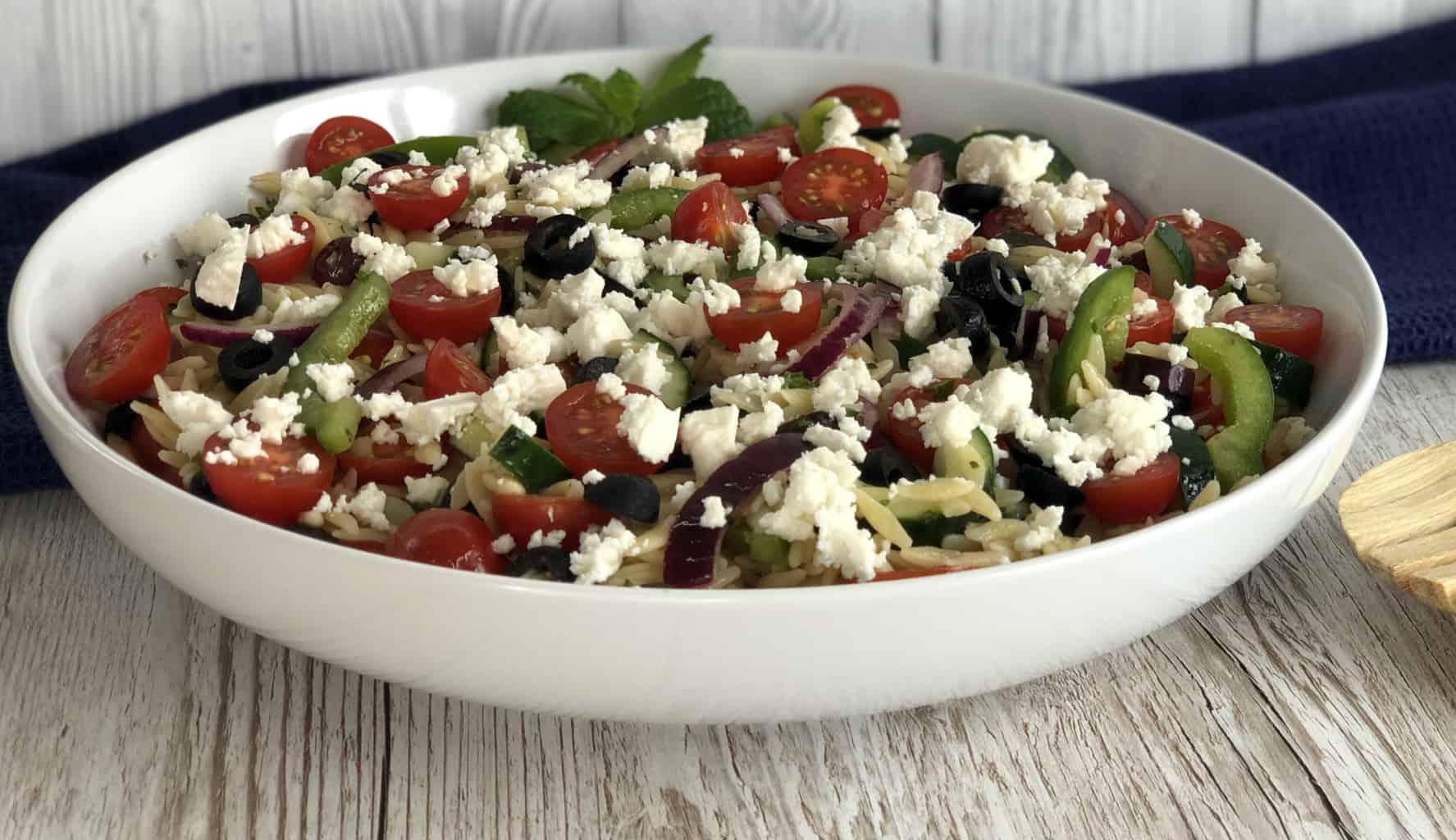 If you love this salad be sure to check out my others, something here for everyone, bright and beautiful on the table this summer!
Onto the recipe for my version of Greek Orzo Salad
I hope you enjoy this lovely easy salad recipe, if you have not made it before it should be one to keep for years to come.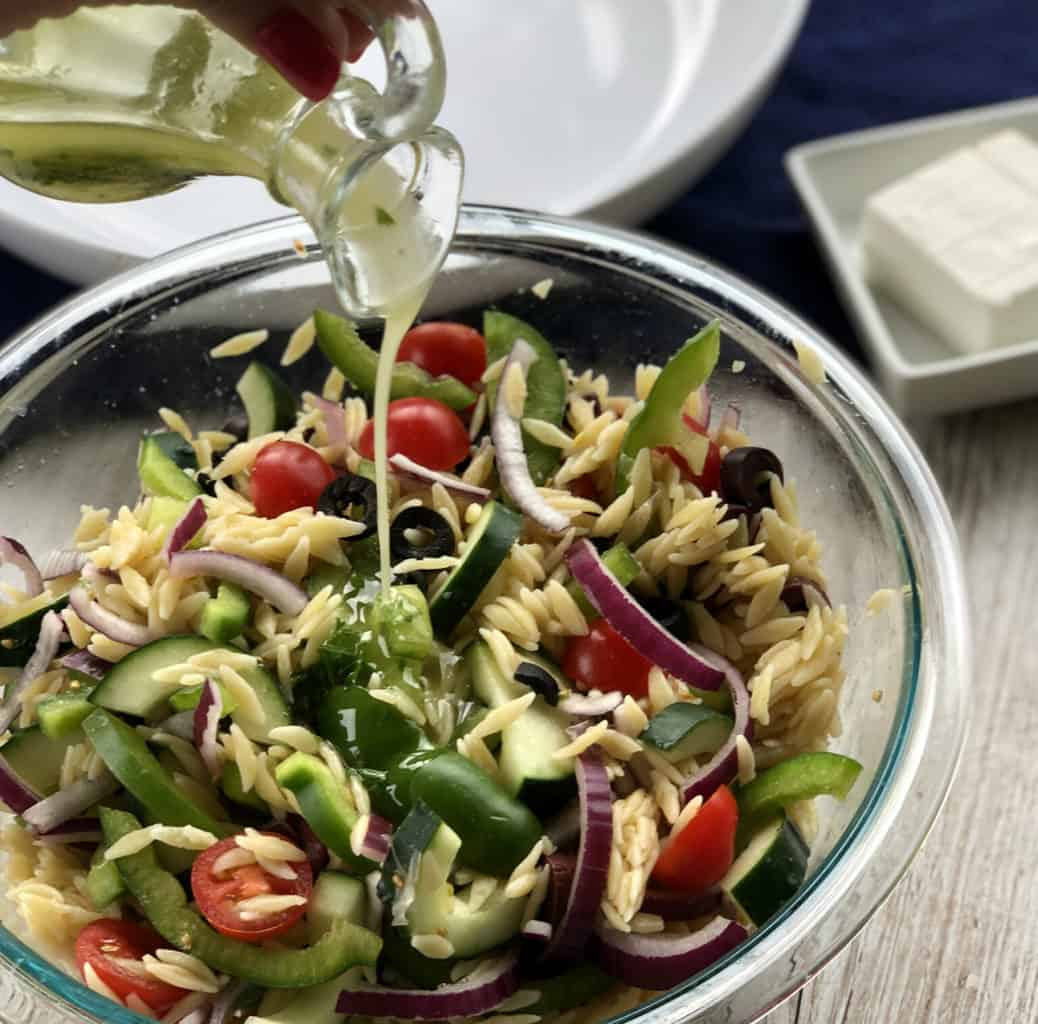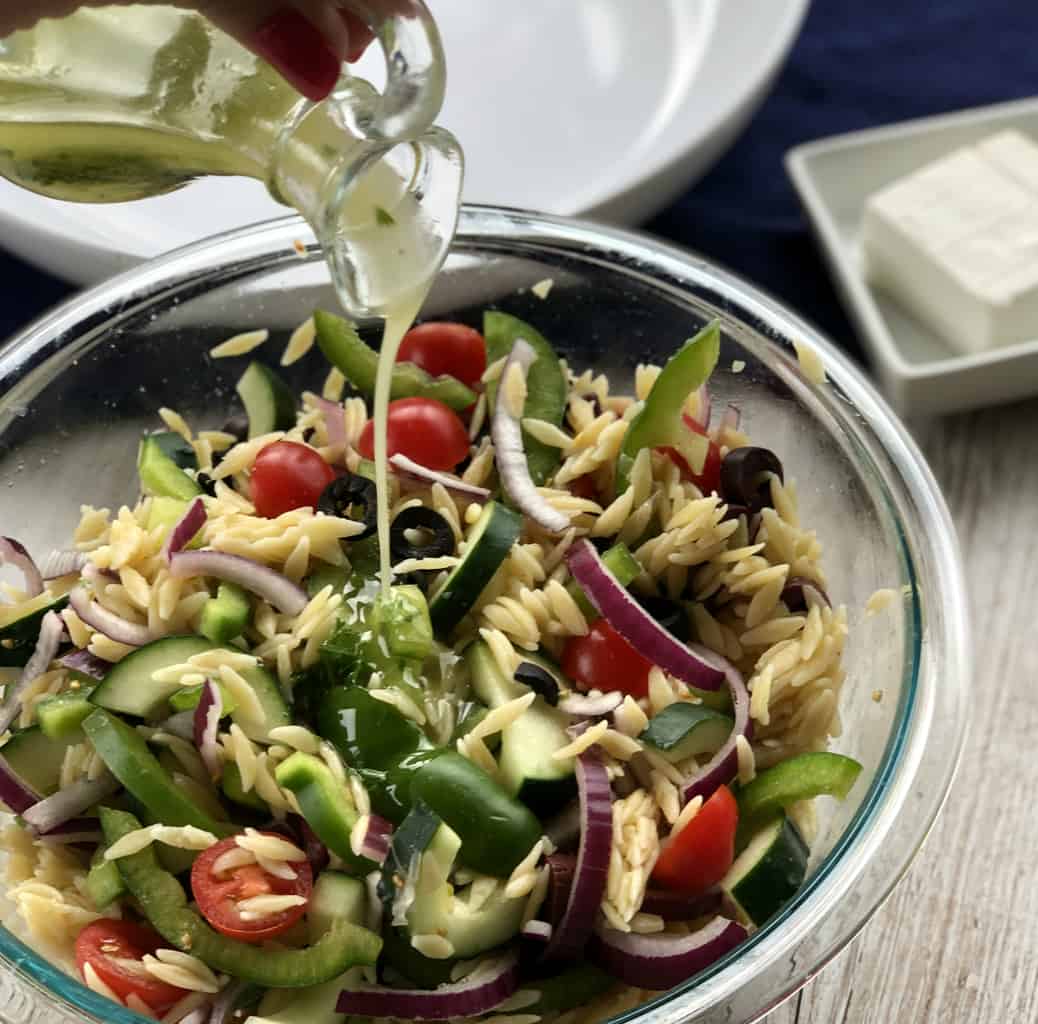 Thank you so much for stopping by to check out my latest recipes on my blog. If you are not already be sure to follow me on Facebook or Instagram for more deliciousness, and you can register your email in the subscription box below to receive all my recipes as I publish them.
Happy Baking
Anna
Pin It! Pinterest