These Easy Lemon Squares are absolutely lovely and the perfect recipe for all the lemon lovers out there.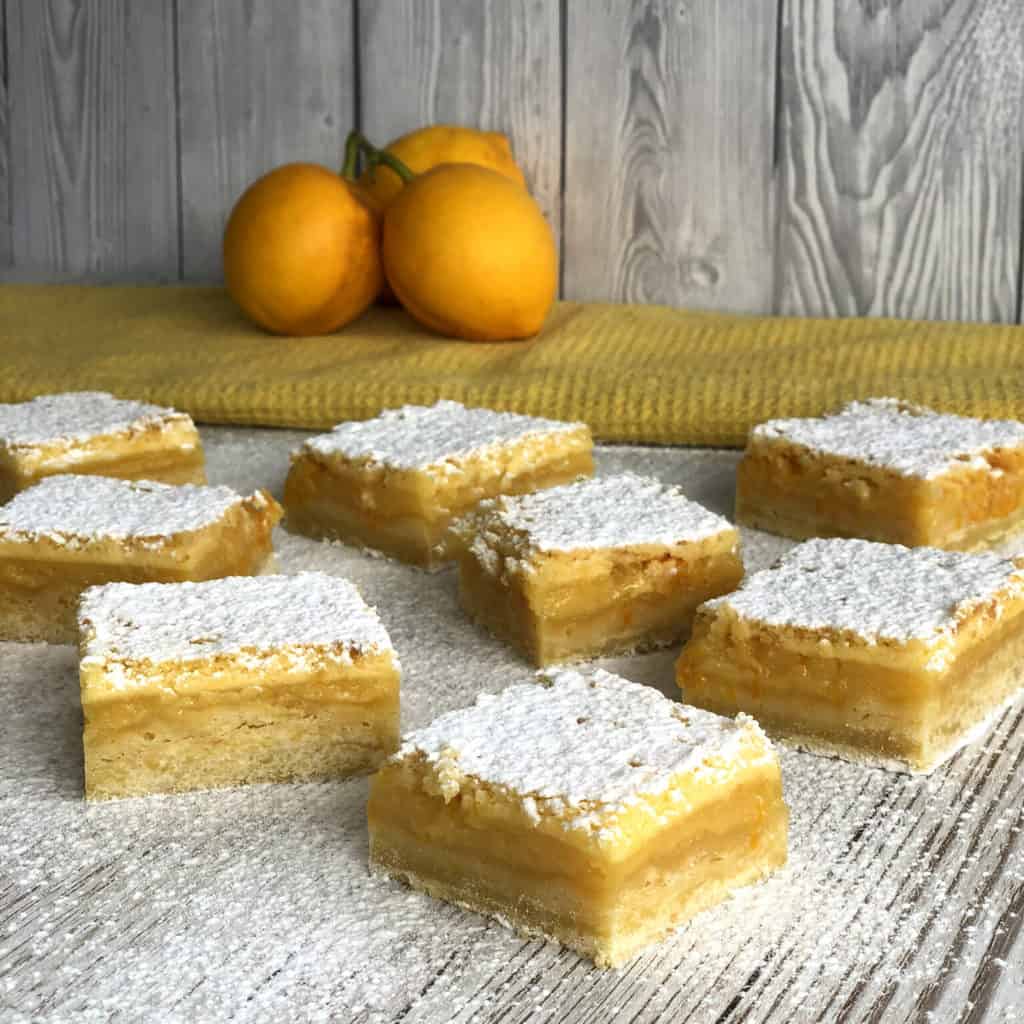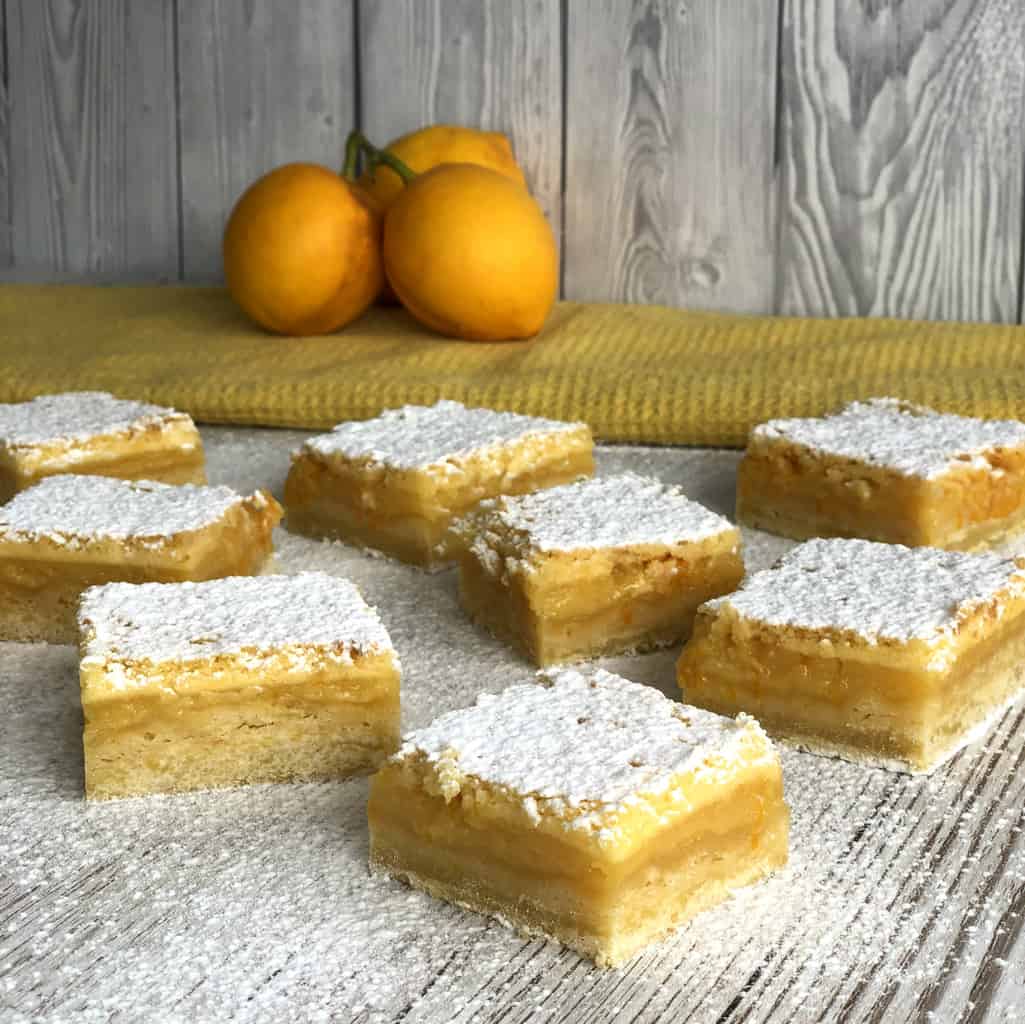 The ingredients in this recipe have been kindly gifted by Countdown Supermarkets
You can never have too many lemon recipes, it is such a lovely ingredient to bake with. I have been so lucky to receive so many from my Dad's lemon tree. They are sweet, juicy and delicious. A good lemon makes all the difference. It is all in the PH of the soil he tells me!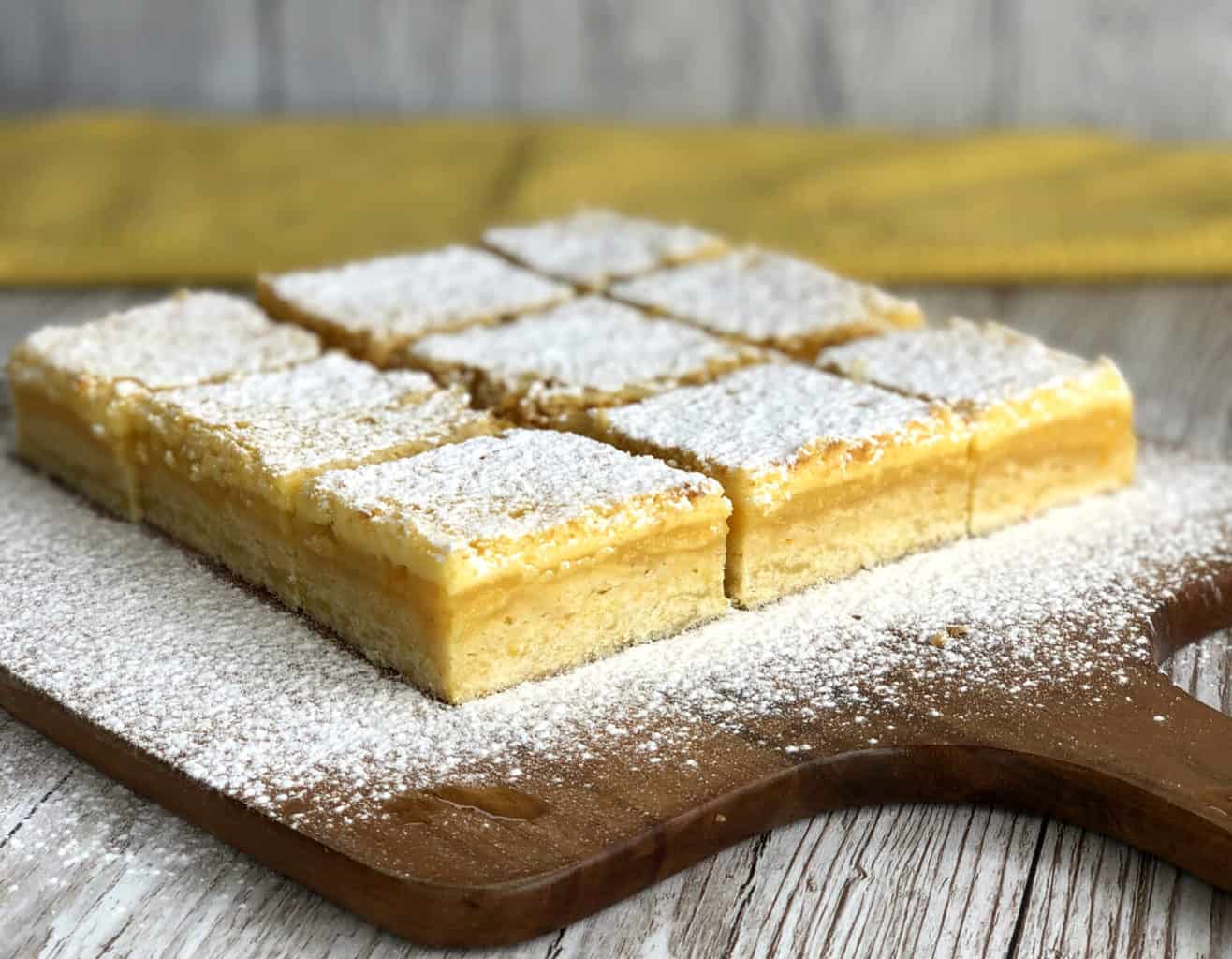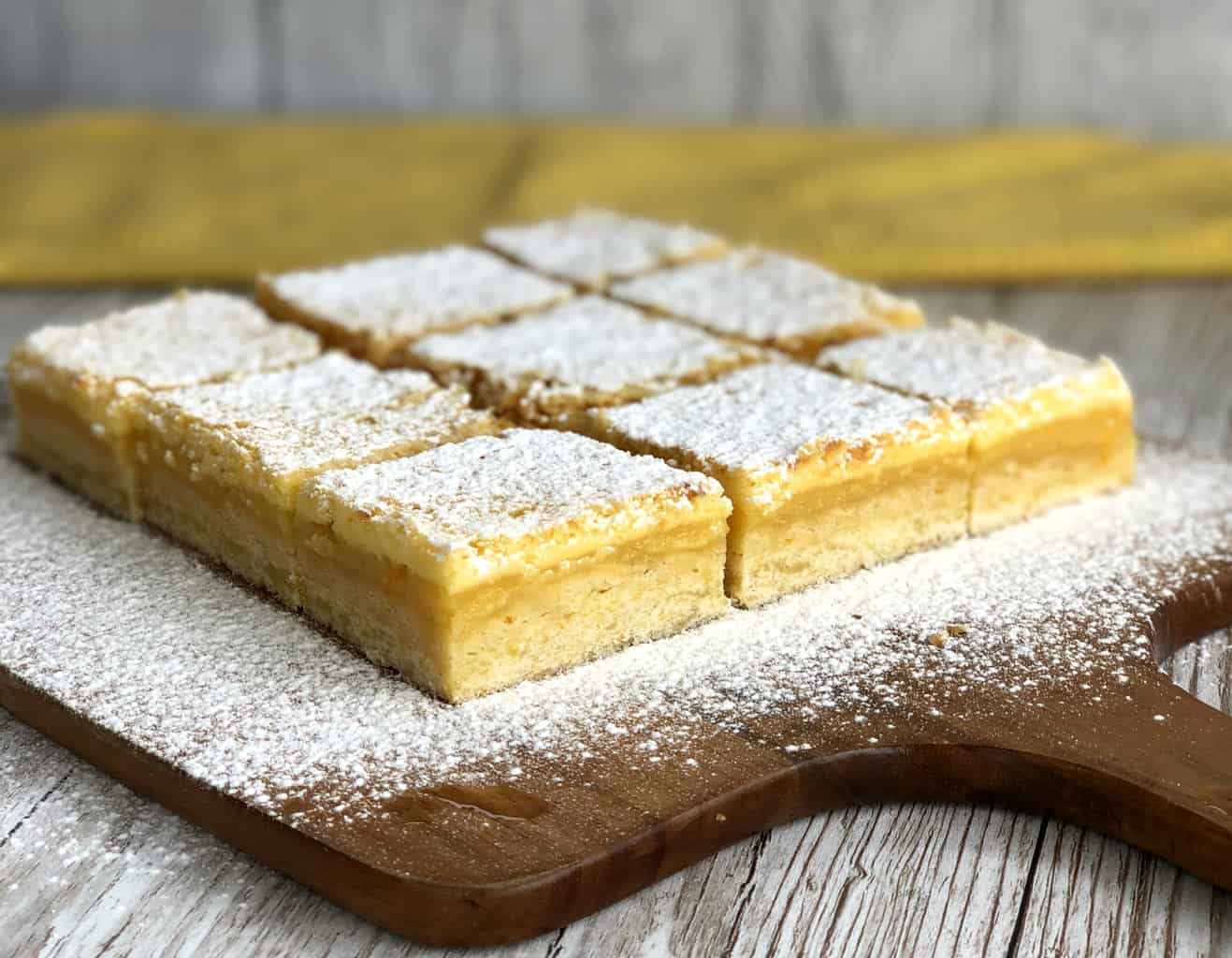 This recipe has been around for years, I have found a copy of it in an old Rose Society Fundraising booklet, I see Allyson Gofton has a version on her site, but I am unsure of the original recipe to attribute this too. This is the sort of recipe that should be around for generations.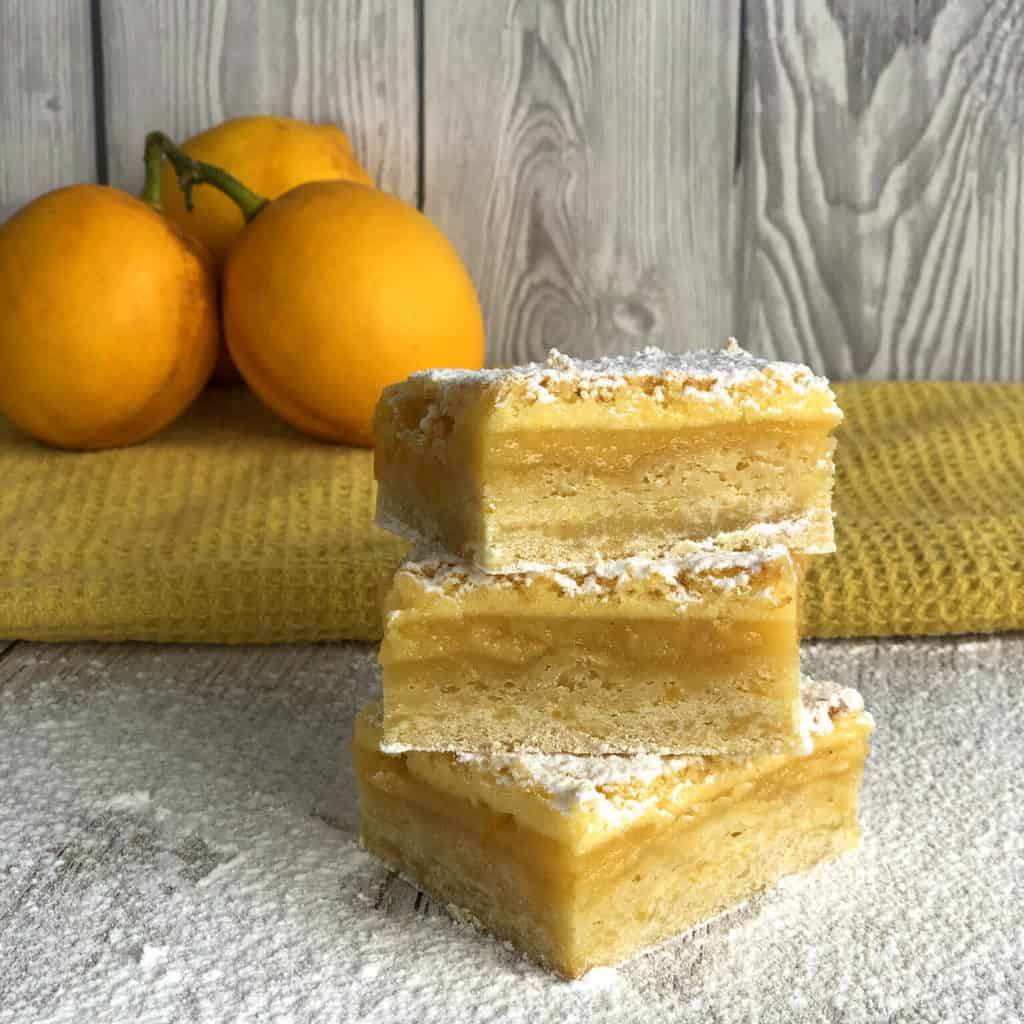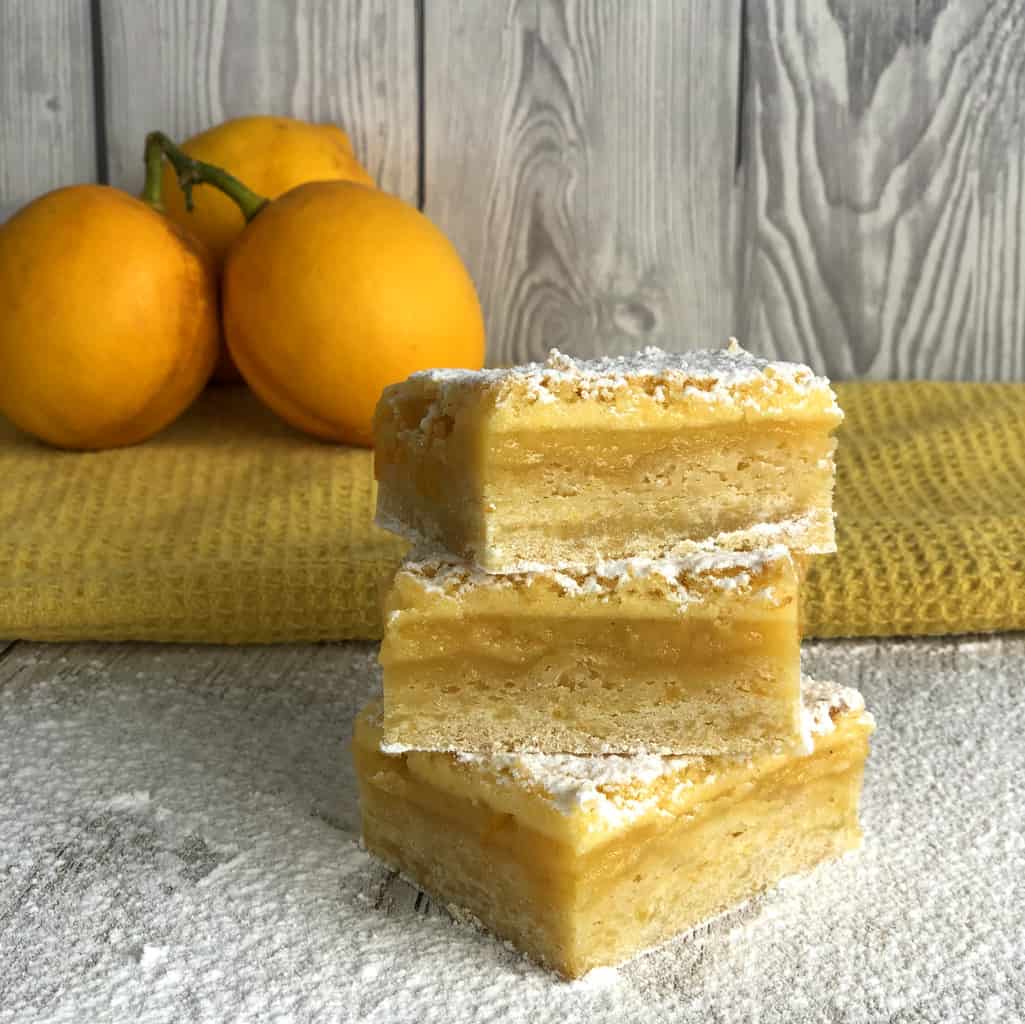 There are only a 7 ingredients in this recipe, simple everyday pantry staples that you often have on hand. Which of course makes the best recipes.
Always look out for Countdown Supermarkets own brand products – they are really well priced and excellent in baking!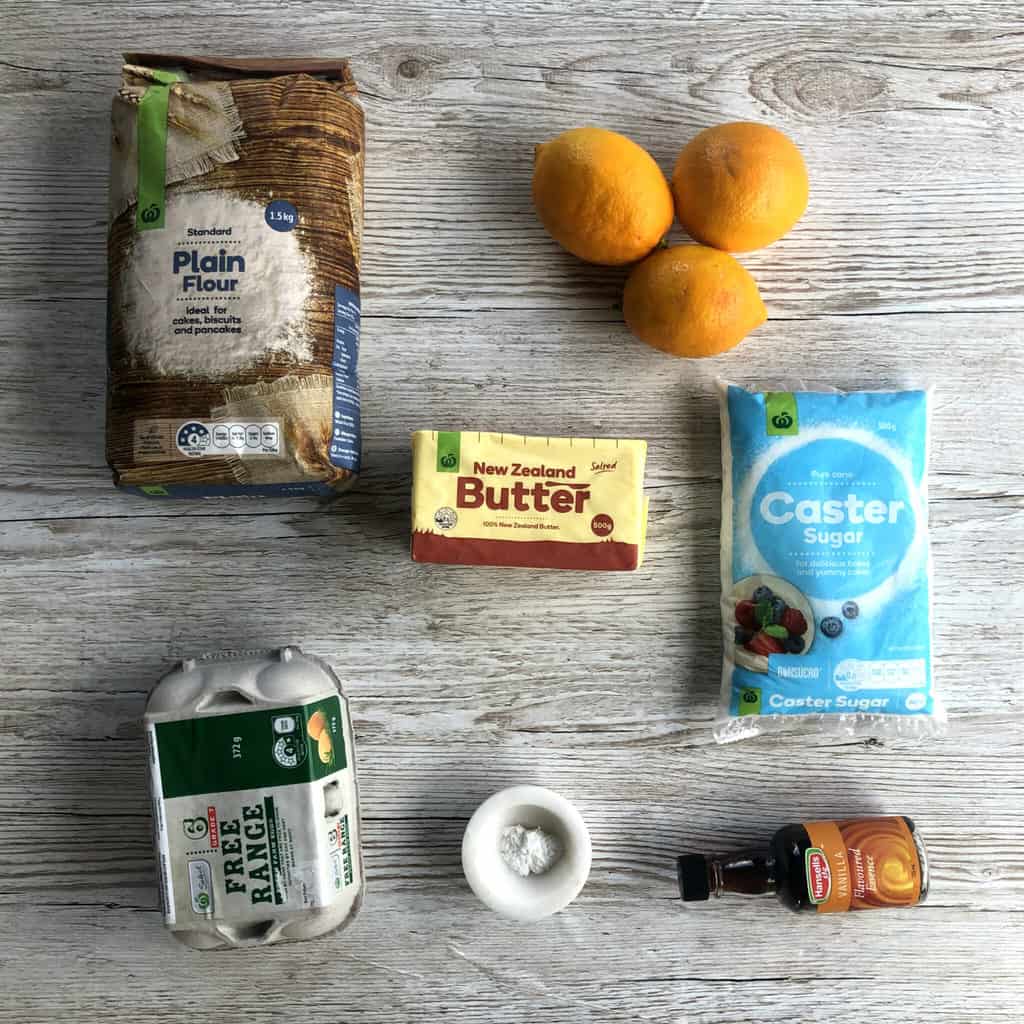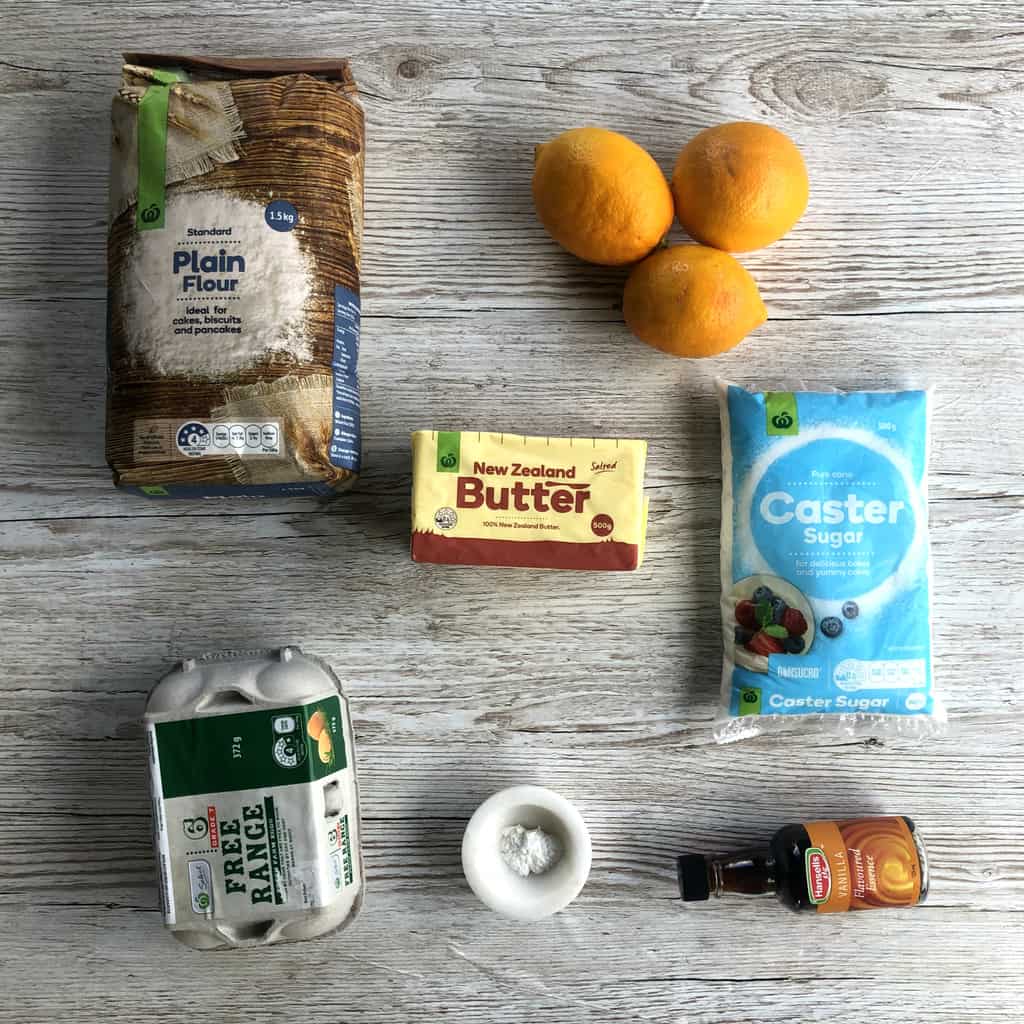 All you need for both the topping and the base is:
Flour
Butter
Lemons
Baking Powder
Castor Sugar
Eggs
Vanilla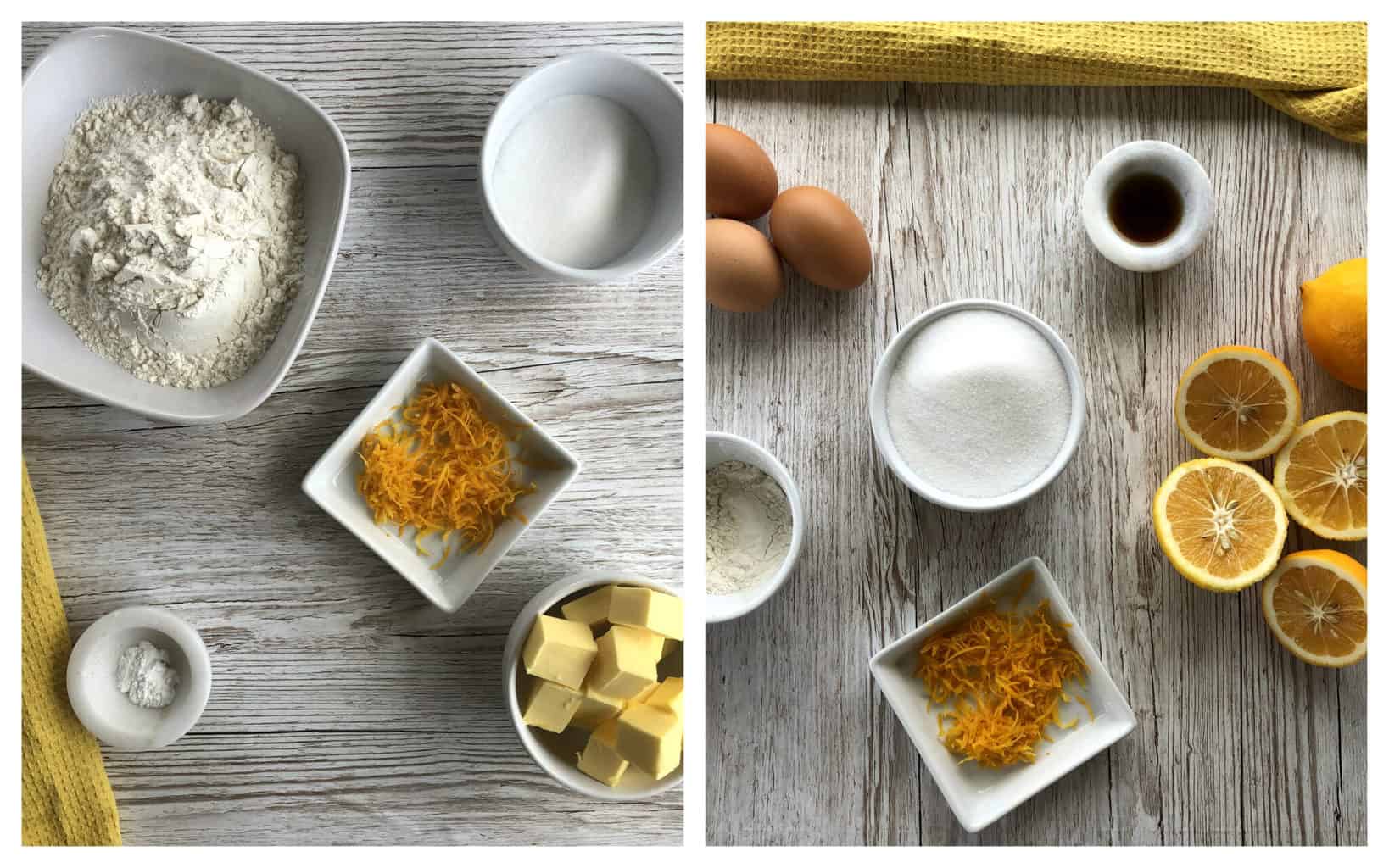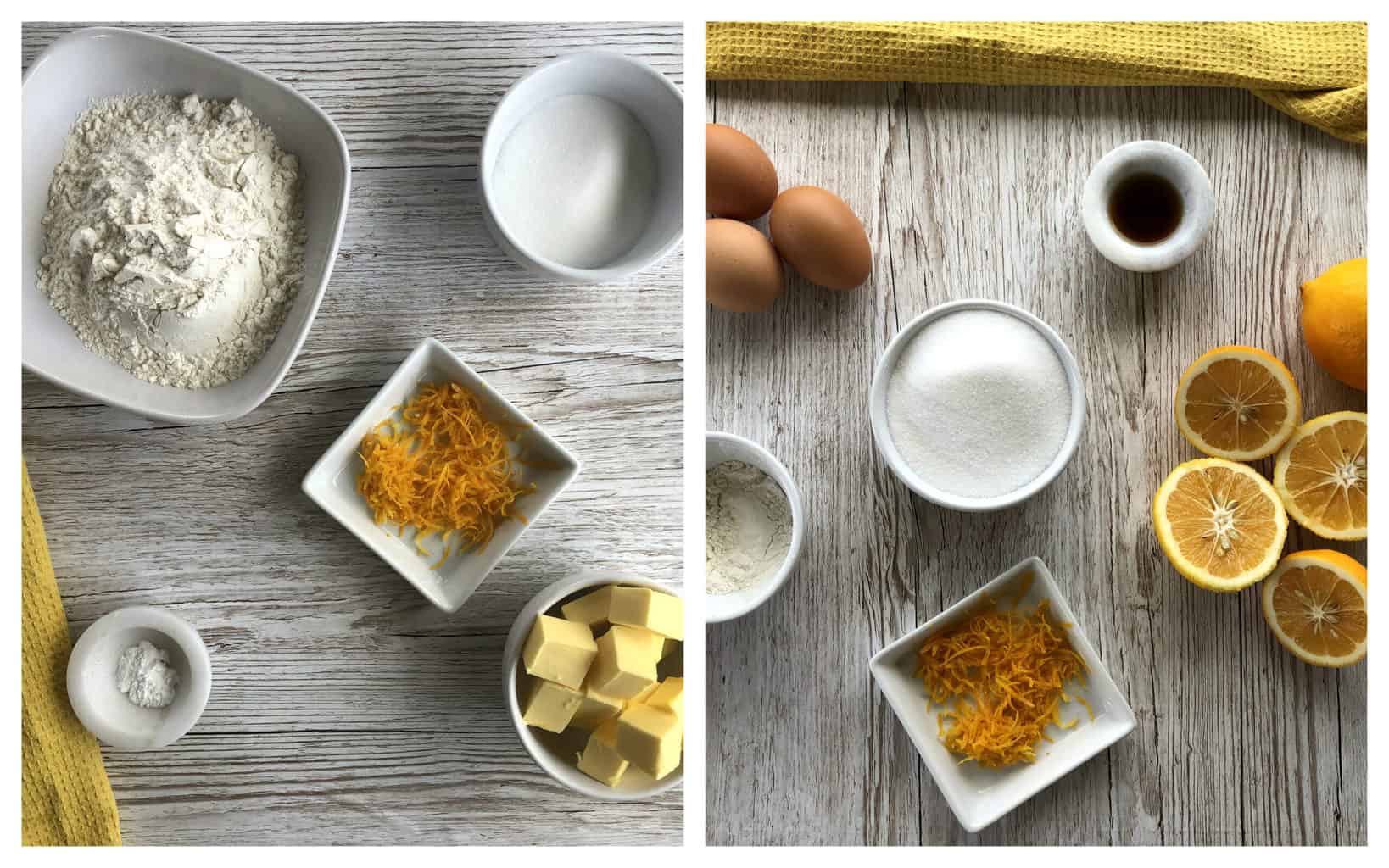 The technique is lovely and easy, but you will require a food processor and an electric beater to make your life much easier!
To prepare the base simply combine all of the ingredients in the food processor and process until they begin to form balls of dough, then turn this out onto a bench or chopping board and form the dough into a ball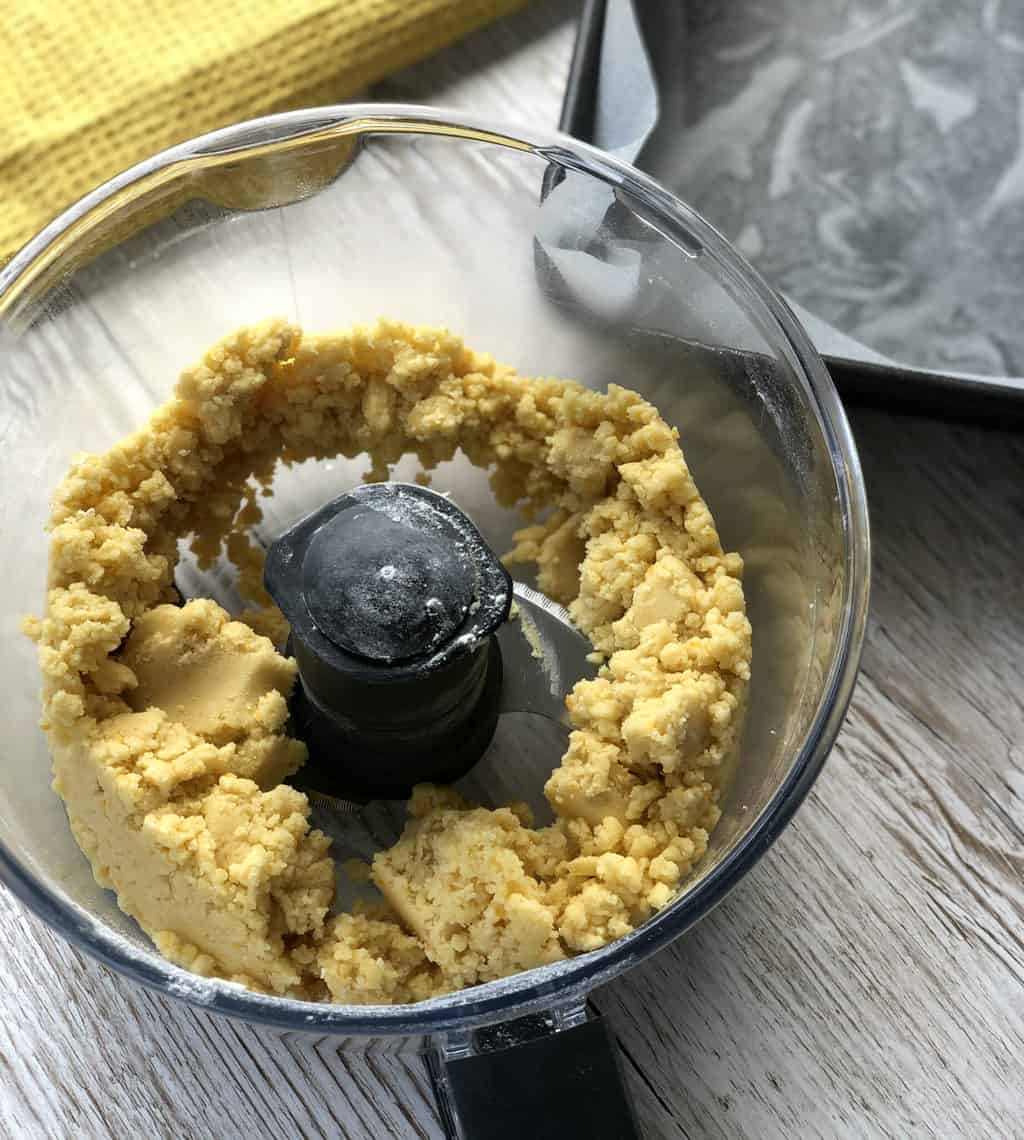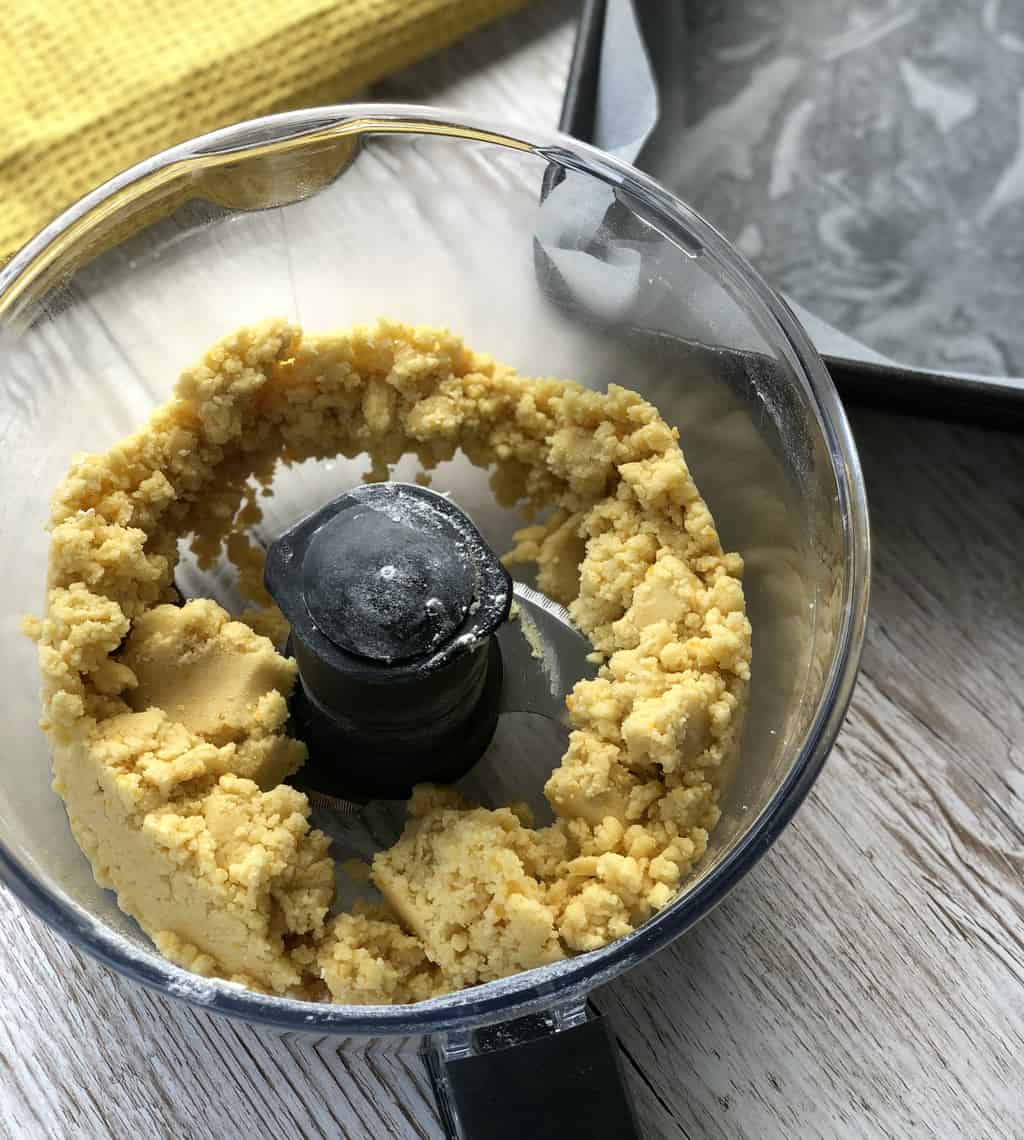 Press this into a prepared tin and par bake while you prepare the topping. The key to not having the base rising is to prick it with a fork before you bake. Otherwise the dough can rise and it makes the topping and base combine.

The topping is a lovely combination of ingredients that forms a delicious sticky soft baked lemon curd. The key here is to whip the caster sugar and eggs until they are light and fluffy, at least 5 minutes. This means that no sugar crystals will remain and the finished product will not be grainy.
When pouring the topping over the base use a large spoon to disperse the mixture so it does not dig a hole in your base. Then you continue to bake until the topping has set.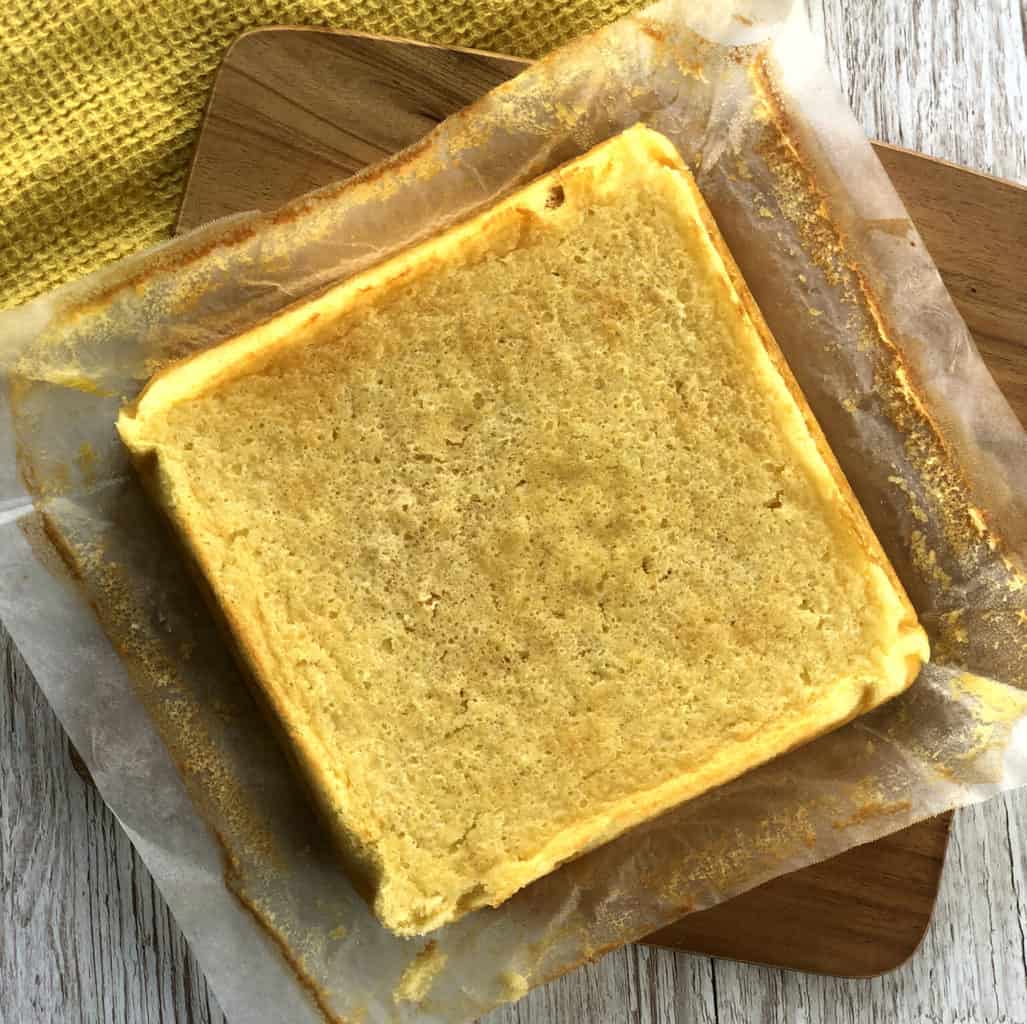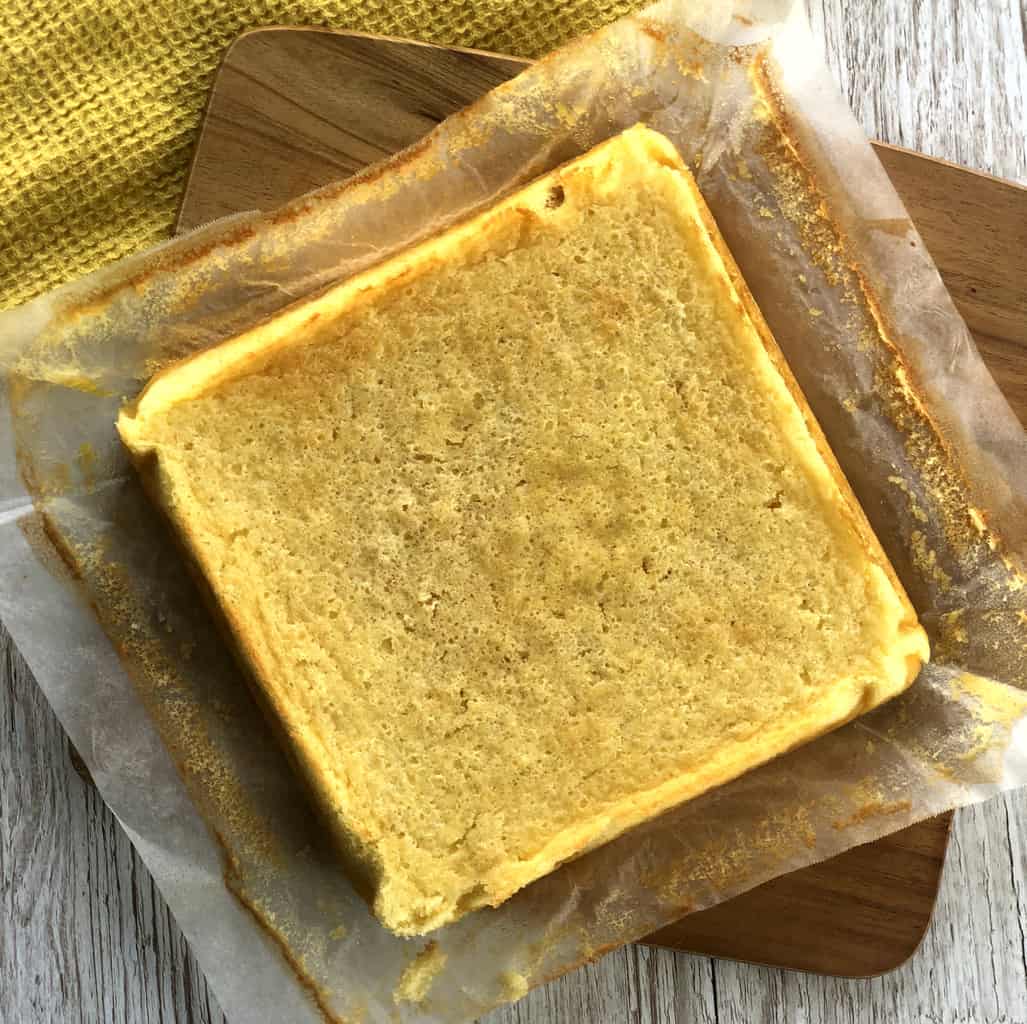 My next tip for this slice is to ensure that the slice is completely cold before attempting to slice it. If you are in a hurry you can speed up this process by cooling in the fridge, or I cool it overnight in the fridge.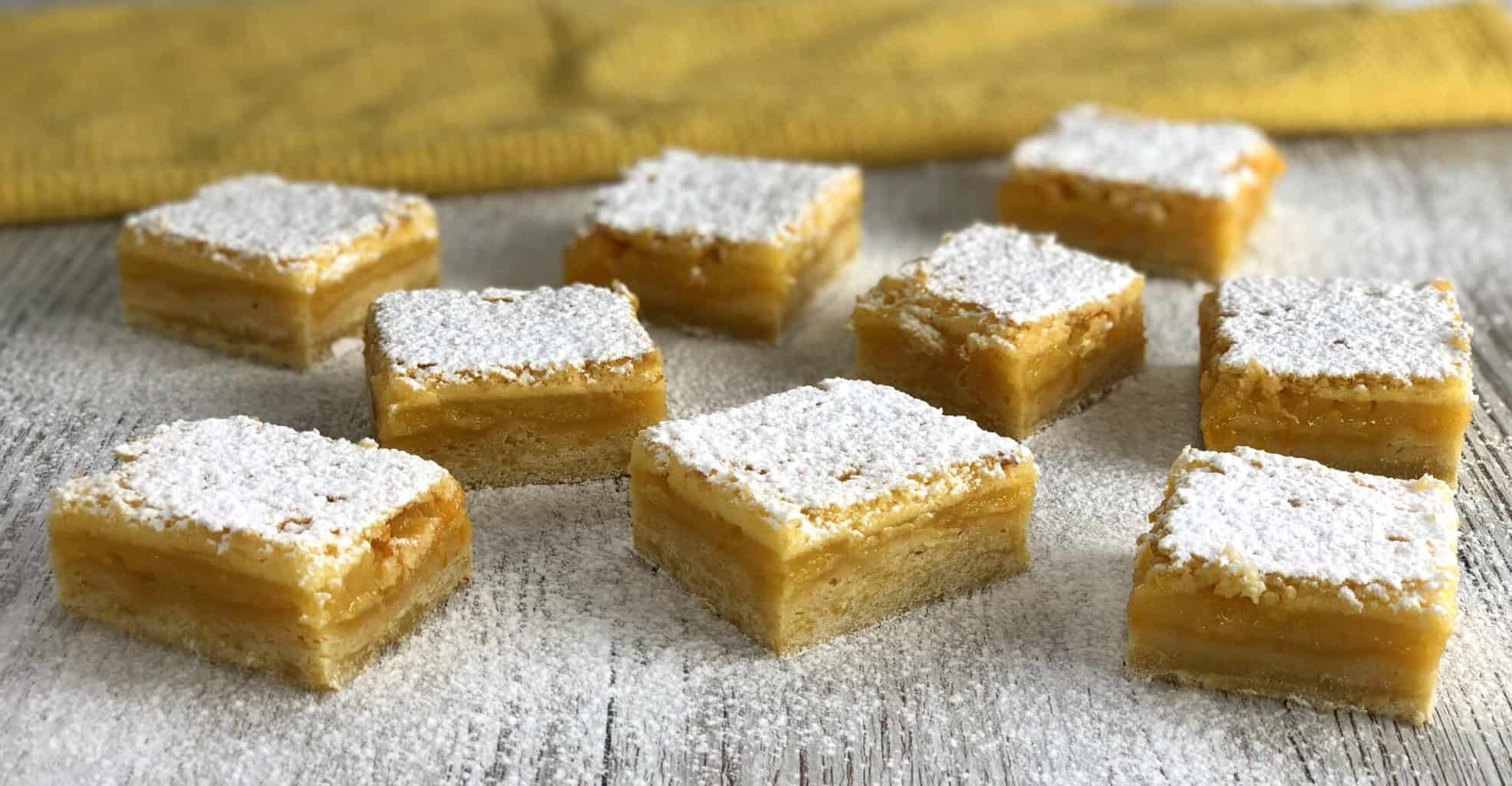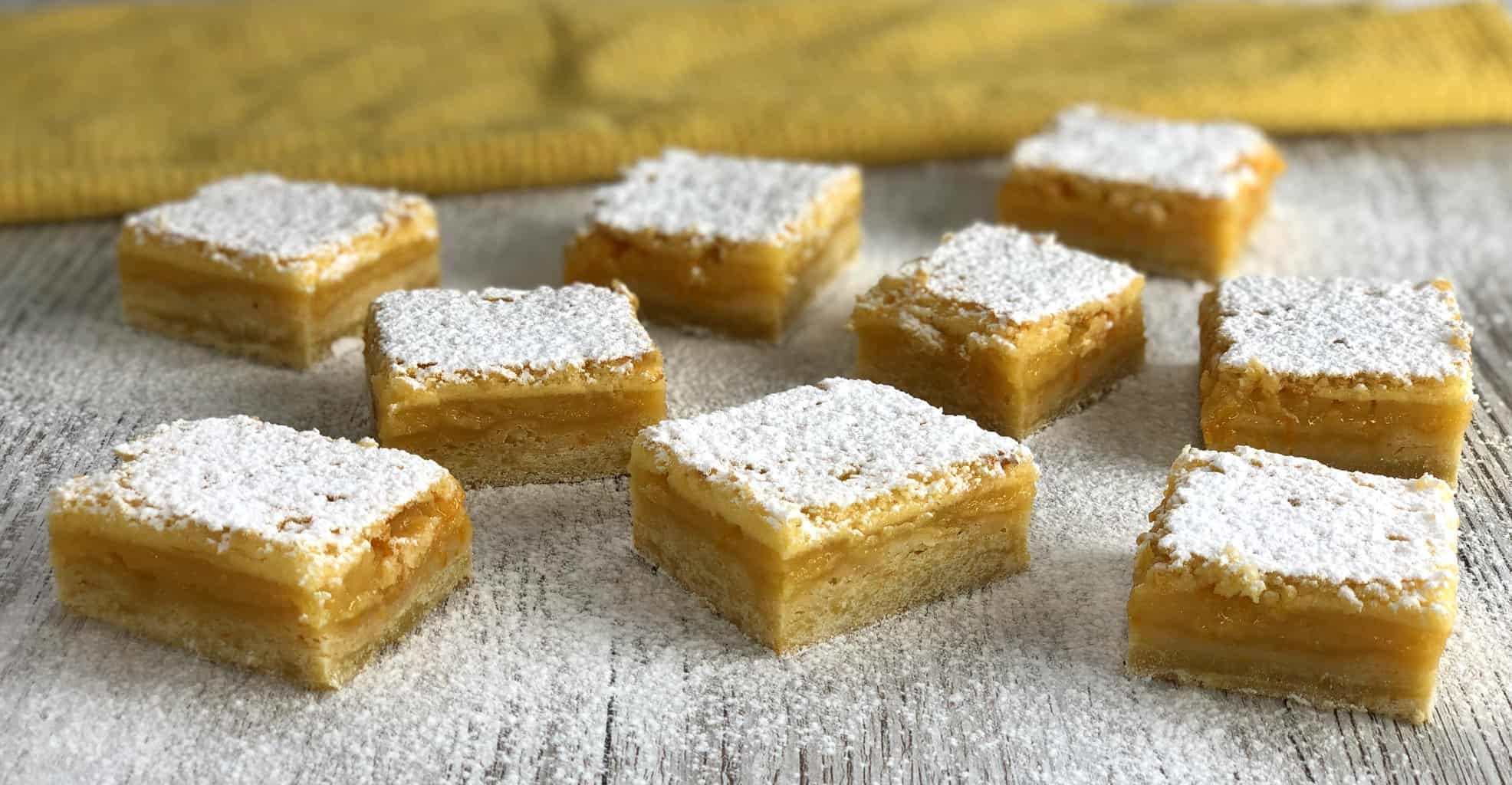 I also wanted to answer some commonly asked questions.
How can I cut Lemon Squares?
To Cut Lemon squares make sure the slice is completely cold. Use a sharp damp or hot knife, wiping between each slice if you want a clean line. The topping is sticky and sweet, so using a slightly wet hot knife helps with this.
Can I freeze Lemon Squares?
Yes you can freeze lemon bars, ensure the slice is completely cold and place in a single layer in an airtight container. You can freeze these for up to 3 months. To serve simply allow them to thaw then dust with icing sugar.
Do I serve Lemon Squares Chilled?
I do, I find that they hold their shape better, but room temperature is ok too. I always chill the mixture in the refrigerator before slicing as this helps the mixture to completely set.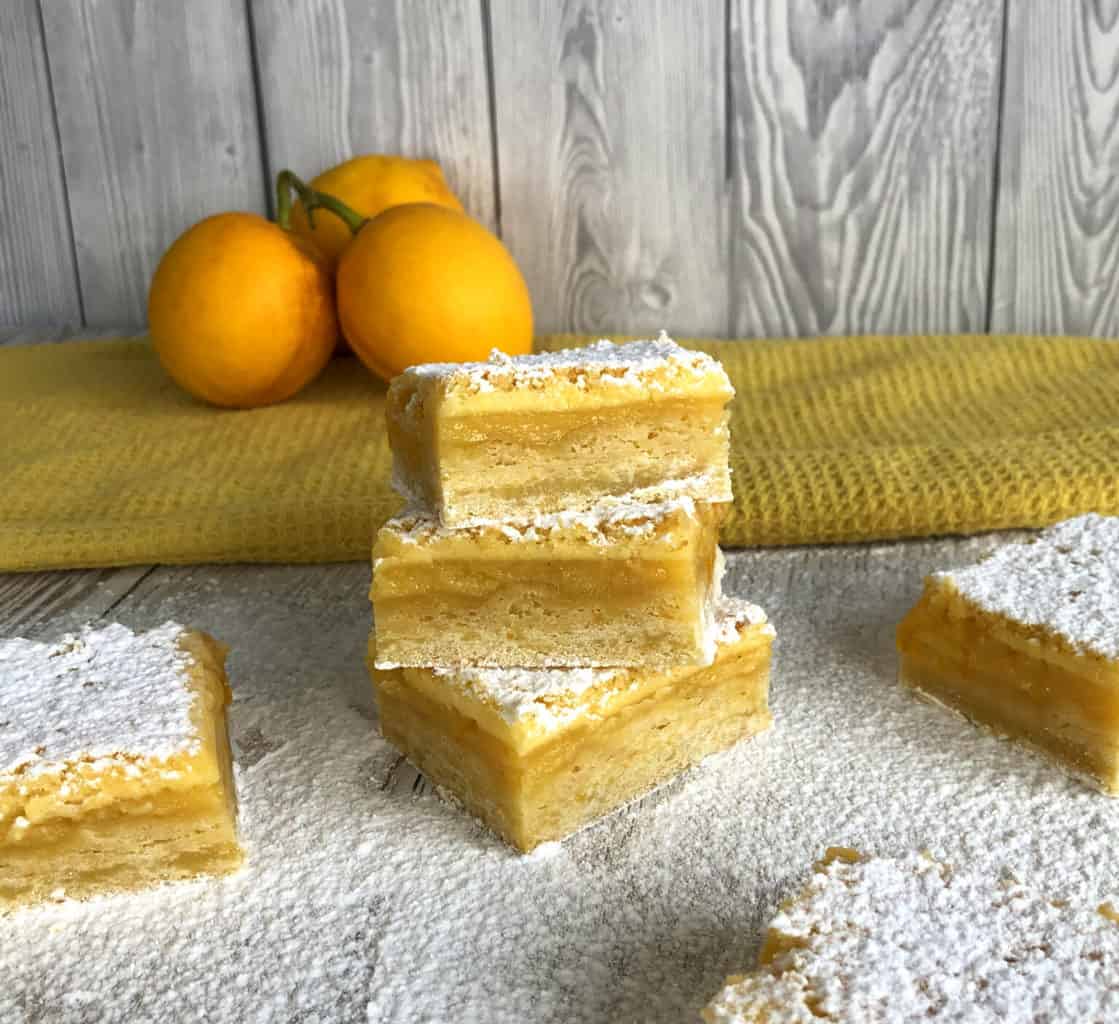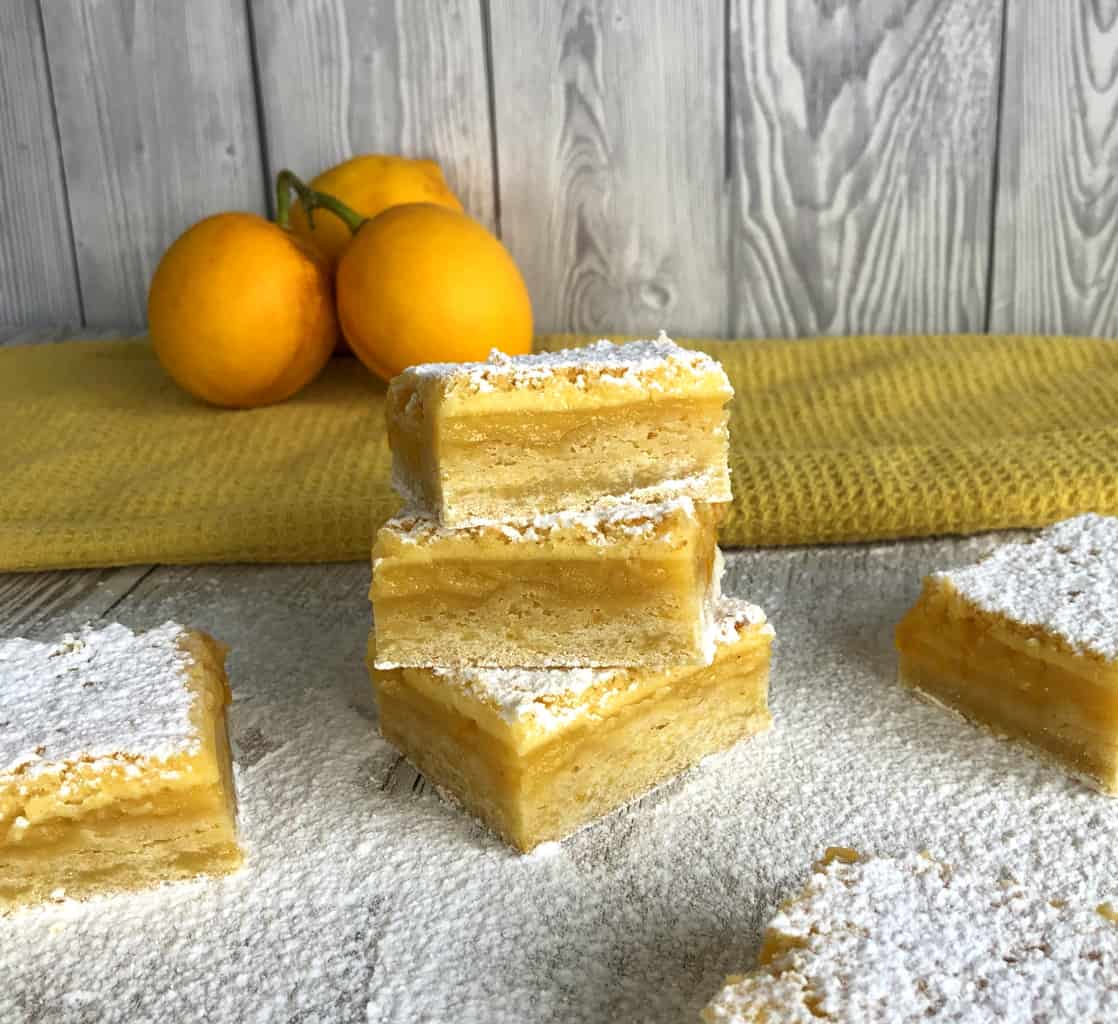 Are you a fan of lemon recipes? Please check out just a few of my favourites linked below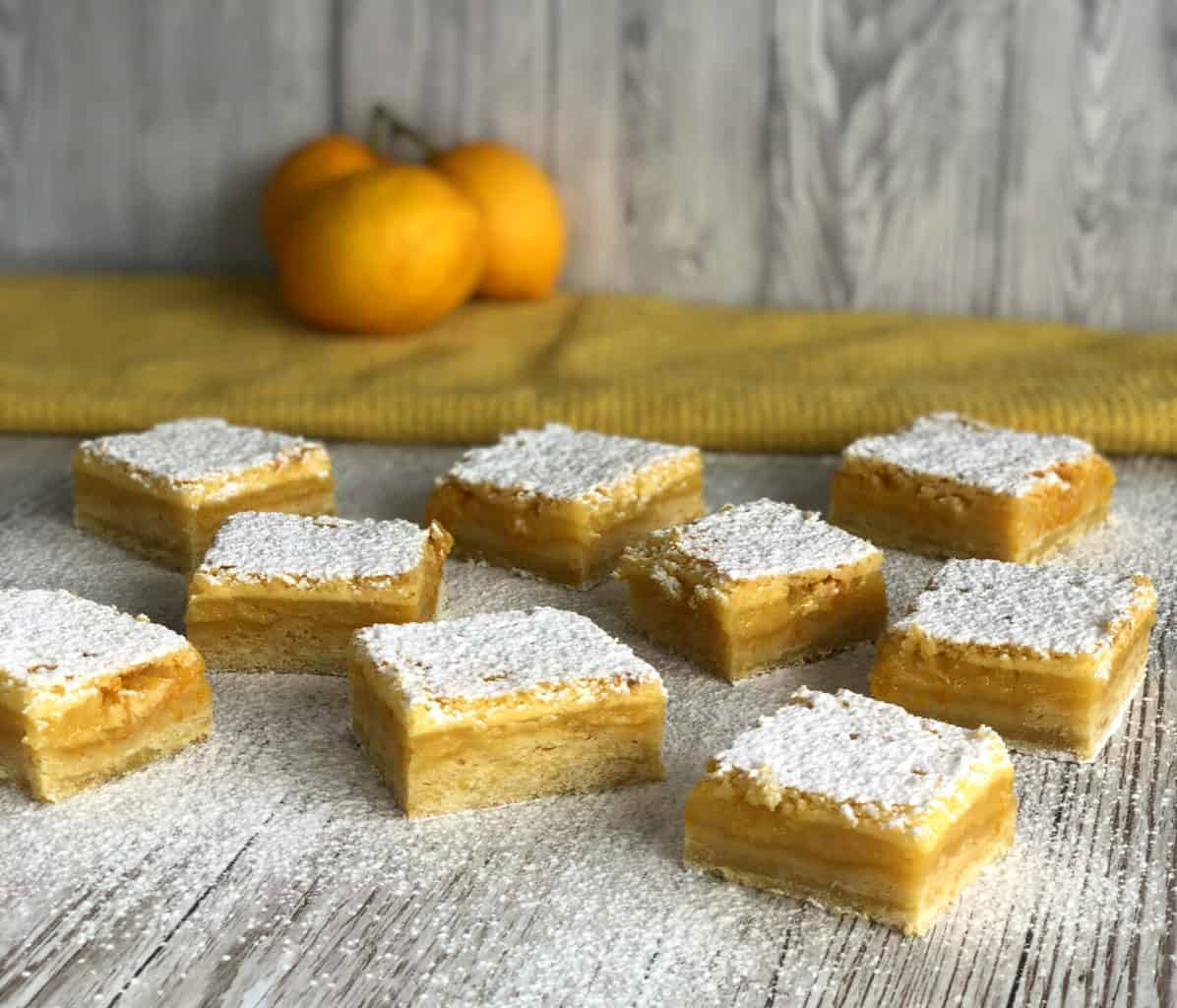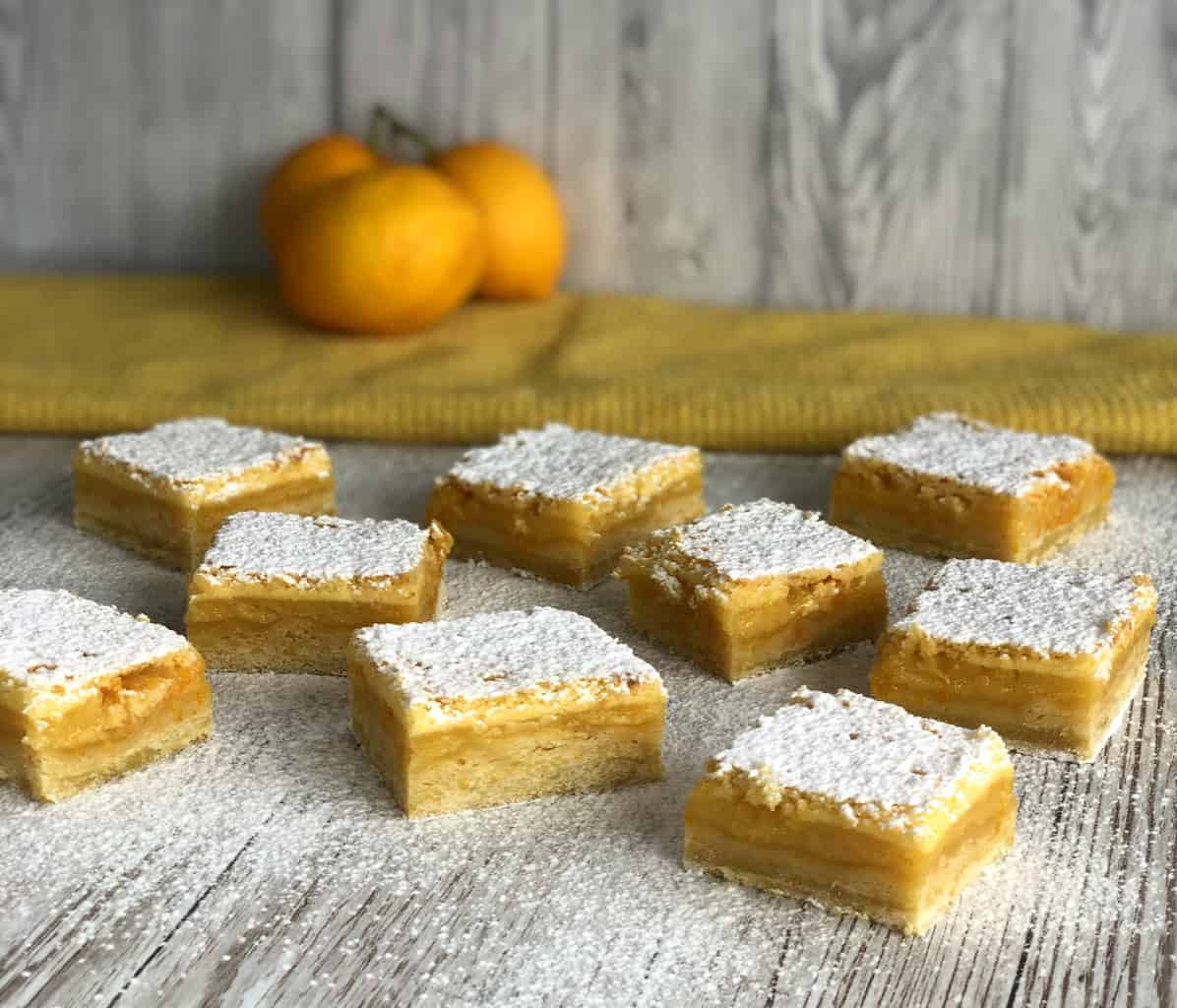 I cannot wait to hear what you think of this one!
Onto the recipe for Easy Lemon Squares
So easy – so delicious! Please let me know in the comments below when you make it. What lemon recipe should I make next?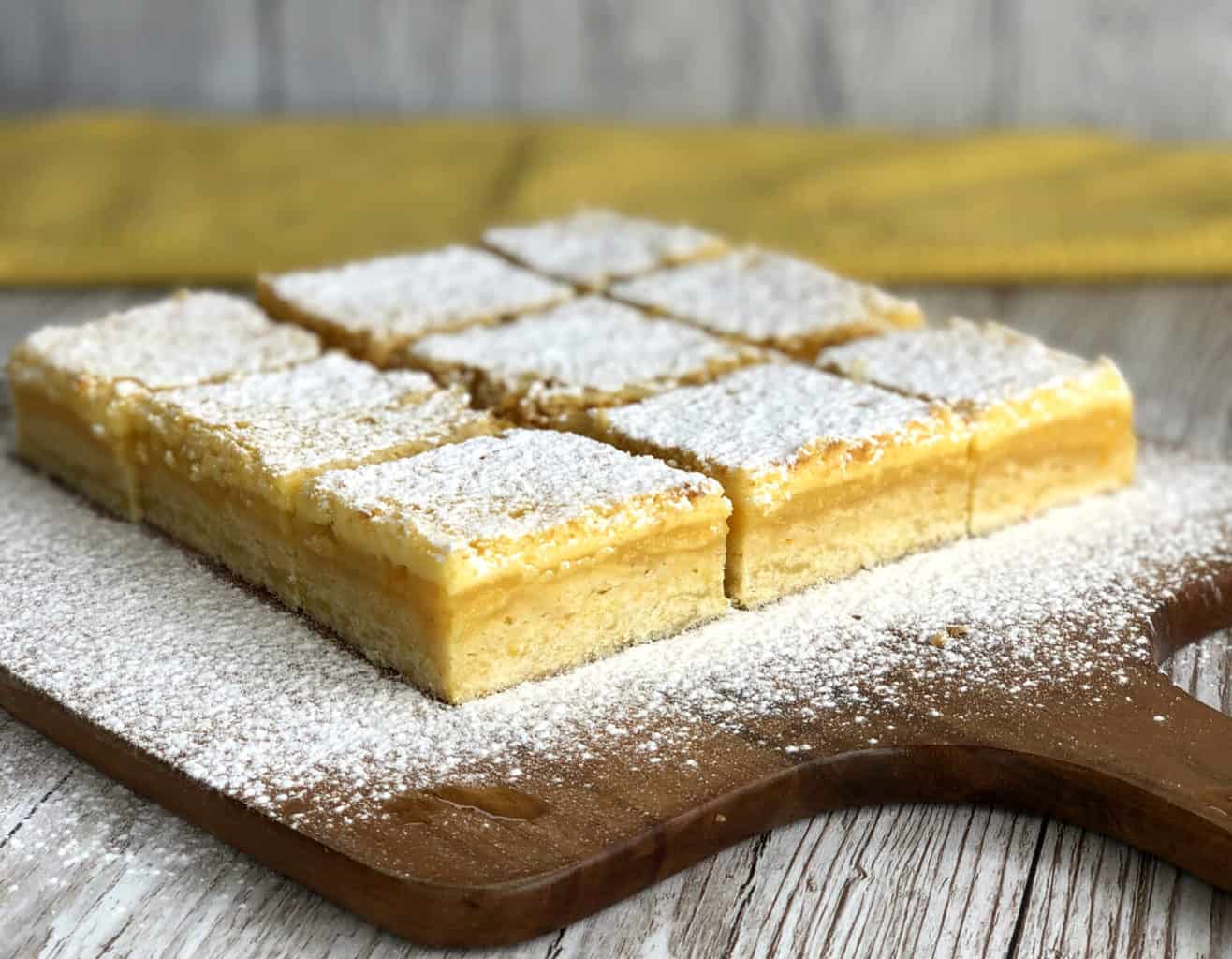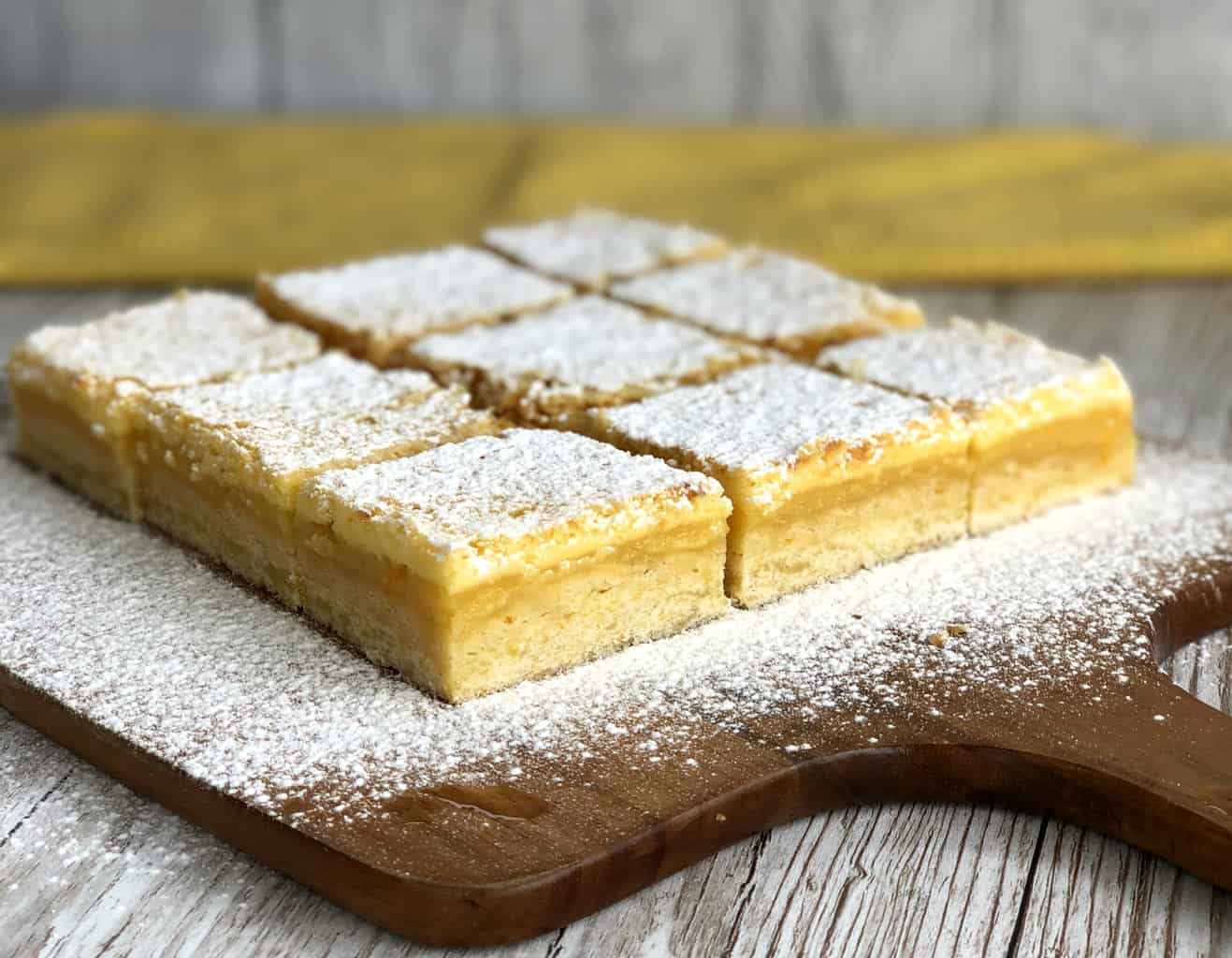 Thank you so much for stopping by to check out my latest recipes on my blog. If you are not already be sure to follow me on Facebook or Instagram for more deliciousness, and you can register your email in the subscription box below to receive all my recipes as I publish them.
Happy Baking
Anna
Pin It! Pinterest