Wow! What a year 2016 was, I still have to pinch myself to realise that this little hobby I had has become kinda like my full time job! As I sit here in the sun thinking about last year I realise that the end of the year definitely did not resemble my life at the beginning of the year! It was not all sparkles & sunshine I can assure you, but what I have learned is that being authentically ME will serve me so much better in the long run!
As I listen to the kids playing outside, the birds singing and lawnmowers mowering in the distance I can reflect on last year and it makes me so excited to see what this year brings. I have so many ideas for what I would like to do with the blog this year, but I always welcome feedback so if you have an idea hit me with it!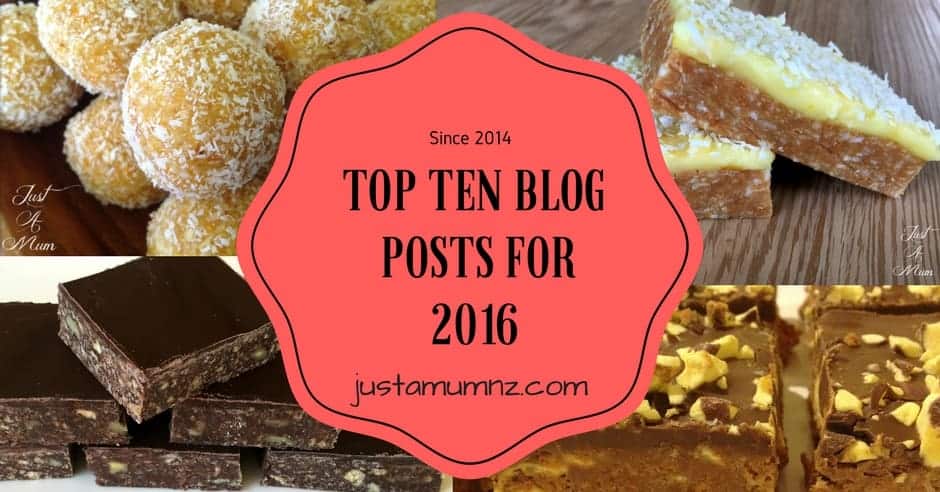 I thought it would be fun to see what posts came out on top in 2016, as an exciting aside I have hit 1 Million Views since my blog started, that is amazing to me.  I am still sitting at my dining table typing, my kitchen is still the same tiny thing with a barely functioning oven and 3 super busy kids, so with a bit of imagination and some long hours you really can create something quite cool as a side hustle!
The top ten were a mixture of some old favourites and a few classics and the number one will definitely surprise you if you are a fan of my sweet treat creations. What is so interesting is that all the recipes are simple ones from when I first started out with my blog, so I can see my focus should be on more easy quick recipes that are delicious and old school! Although as you can see from the photos and layout I have learnt a lot about blogging along the way!
So here's to a fabulous delicious 2017 and without further ado, my top ten blog posts for 2016!
Number 10
Number 9
Number 8
Number 7
Number 6
Number 5
Number 4
Number 3
Number 2
Number 1
Thank you so much for your support over the past three years, here's to a great 2017!
Anna C xox